Rottnest Island
Rottnest Island is only 25 min away from Fremantle by ferry, but it is kinda expensive to get there. I paid 100 bucks for the ferry and a day bike hire. But when we got there I realized that it was totally worth coming here, it was so beautiful and I couldn't wait to explore the island, Elisabeth seemed to be impressed too especially because she hasn't been travelling that much.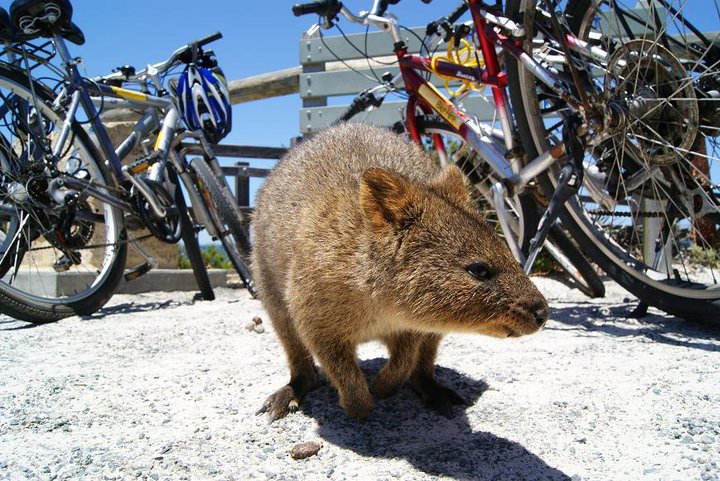 Quokkas, only found in WA and especially on Rottnest Island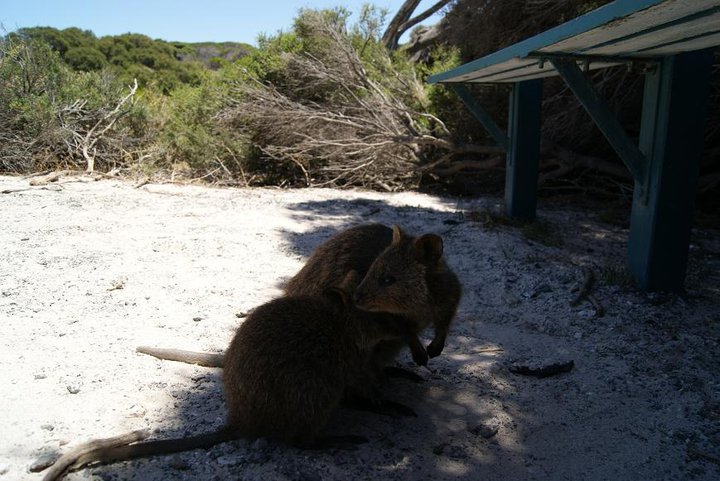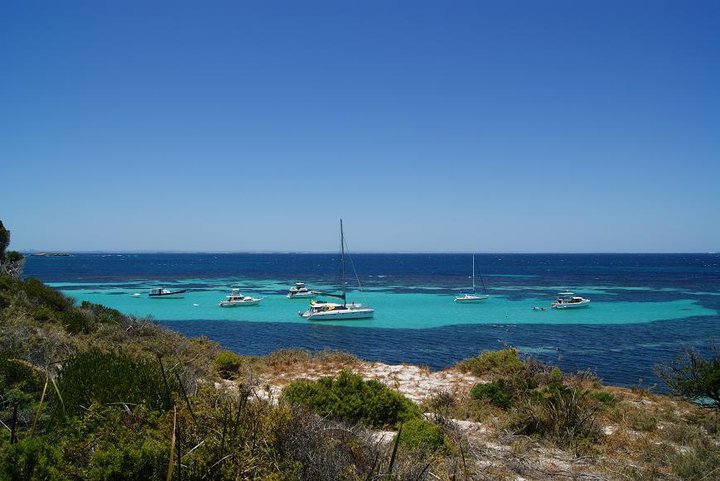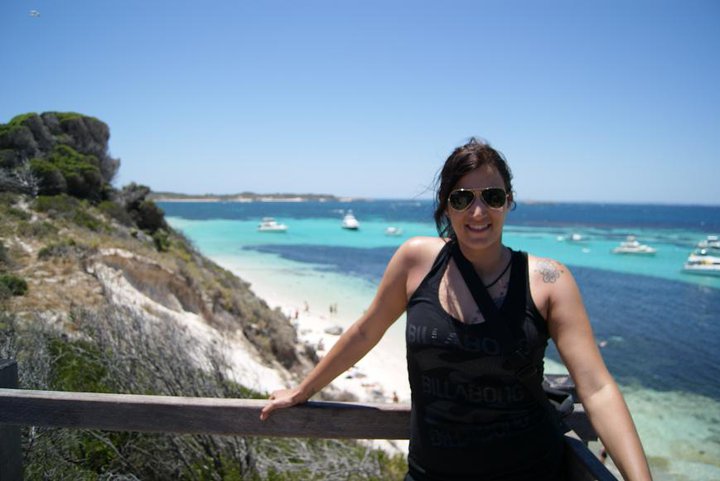 26 km cycling around Rottnest Island, very exhausting but at the same time very beautiful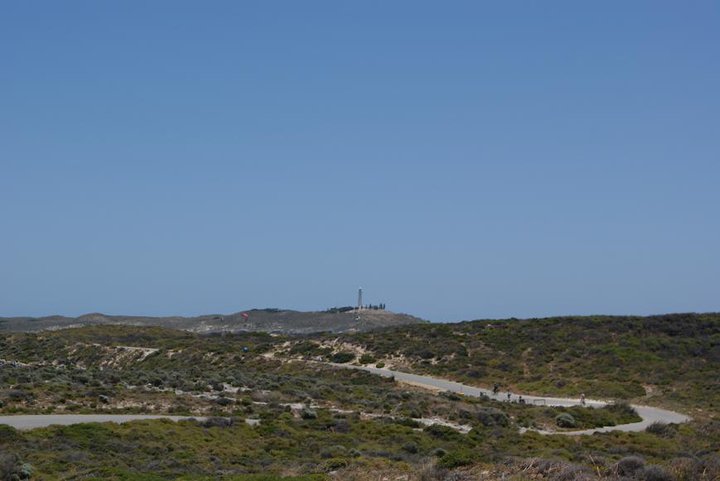 no cars on the island
Rottnest, or Rotto as it's called locally, features some of the world's finest beaches and bays, as well as unique plant and animal life, including the famous rarity, the quokka, a small kangaroo-like marsupial. Rotto is a car-free zone, which adds to its relaxed feel. And with 63 sheltered beaches to choose from, the island is refreshingly uncrowded.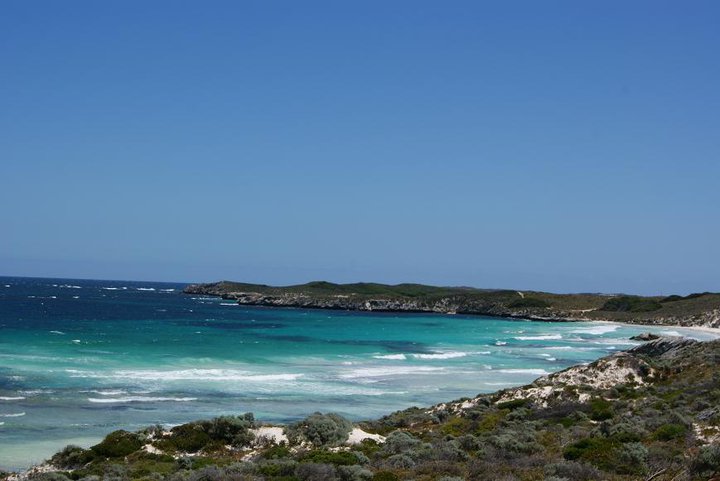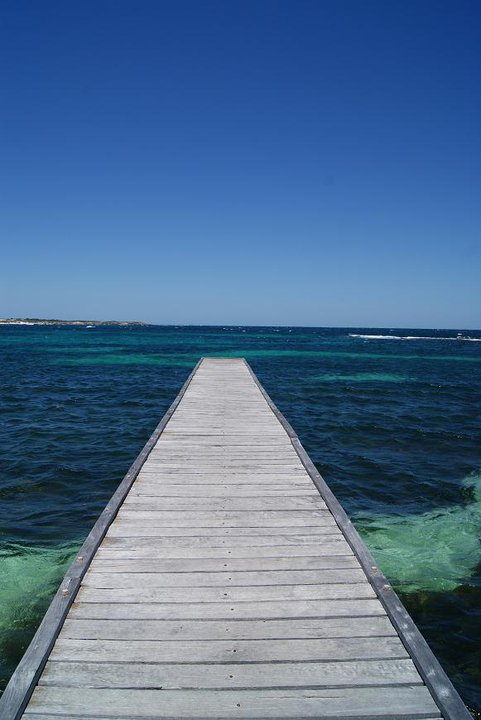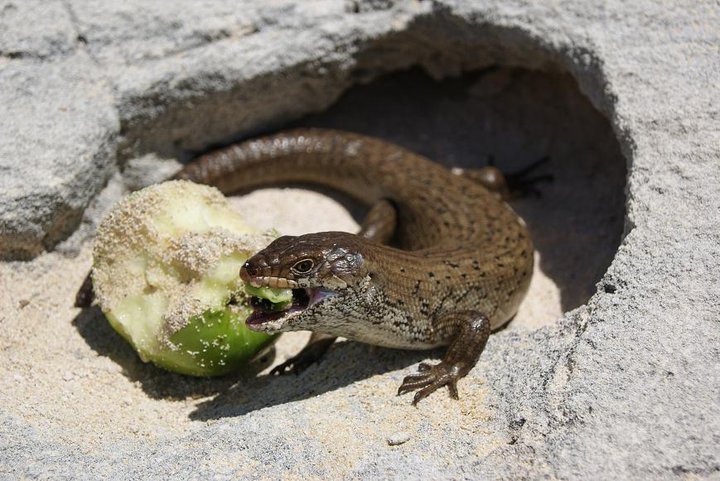 the little guy stole my apple
Hiring a bike is the best way to get around and find those secluded beaches and secret surf spots on the other side of the island. So that's what we did, but we didn't think it was so exhausting, we were riding against the wind the whole time because we went the wrong way around loool. haha that was totally our fault, it was a good day of exercising.
Bunbury
The next day it was time to say goodbye to Elisabeth and Fremantle. I had to go back to East Perth to catch a bus to Bunbury, which is about 3.5 hours south of Perth. Because my time is limited I've decided that I wanna travel South West because u see the most in a short time, lots of beautiful secluded beaches and nice little coastal towns, exactly what I was looking for.
When the bus dropped me off in Bunbury I was confused because it seemed that I was nowhere near town. There was another lady who got off but she had a bike, so I asked her, if she knew how far the town centre was and how to get there. She said the centre is about 5km away and there is a bus, but today is Sunday and there is no bus on Sunday! Great! She told me that I had to get a cab. So I walked to the taxi stand and this old lady was waiting for a taxi, I explained to her my situation and asked if we could share the cab into town. She lived outside of town but said I can go to her house with her and she would take me to the hostel. She even gave me a book to read. Just before the taxi got there the other lady with the bike rode by and said she wanted to give me the money for the taxi because she felt bad for me. How nice are people in Bunbury??? So the nice old lady drove me around town to show me all the beaches and even introduced me to her family who had a BBQ on the beach.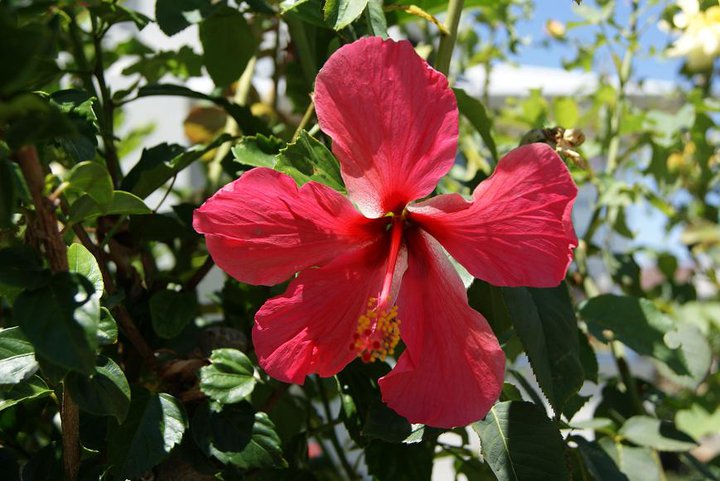 Hibiscus, my favorite
I checked into Wander Inn Hostel and they were so nice, they put me into a room with 4 Asian girls who didn't speak English at all, spent their time in the room all day and went to bed at 8.30 p.m. The hostel wasn't all that bad but the odd thing was that in the two days I was there people were always watching Titanic. Everyday when I walked by the tv room Titanic was on and there were always guys sitting there and watching. So no Titanic for me in the next few months;-)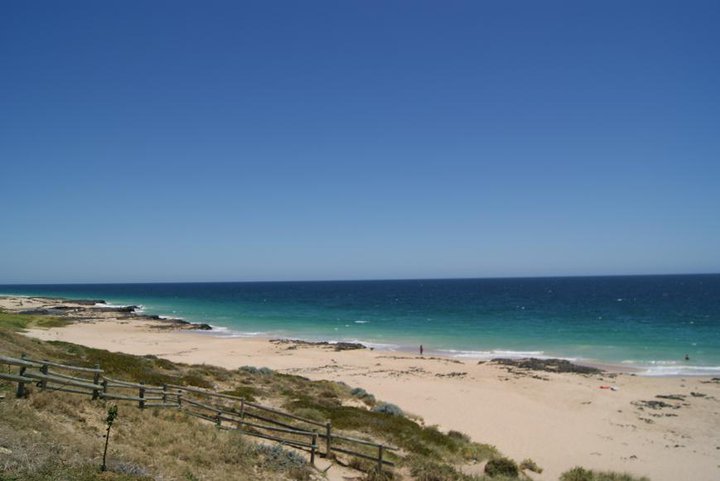 I met Andrea, a girl from Peru who works in Dunsborough and because her car broke down she had to stay the night at Wander Inn, thank God she was in my room. So we went to the beach and had pizza afterwards, the worst Pizza of my life I must say! Andrea left the next day and my plan was to go to the Dolphin Recovery centre to see Dolphins, but I got there at noon and they told me that usually the dolphins come into the bay in the morning. So I booked a Dolphin Cruise for the afternoon because I just really wanted to see them:-) There are over 200 dolphins living in Koombana Bay so the chances are really big to see a few.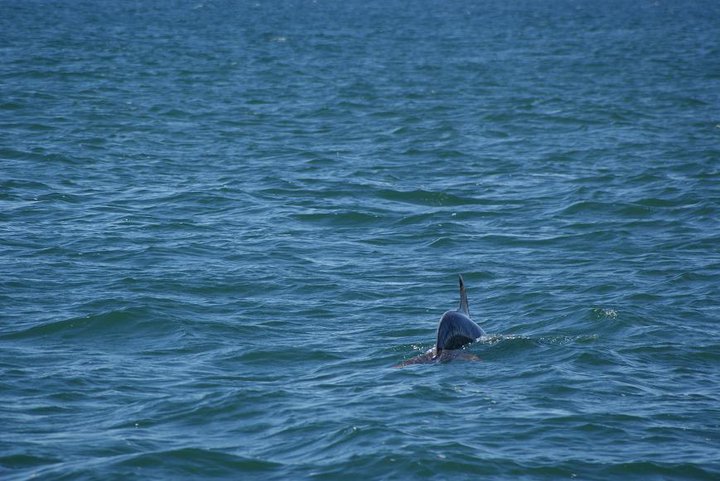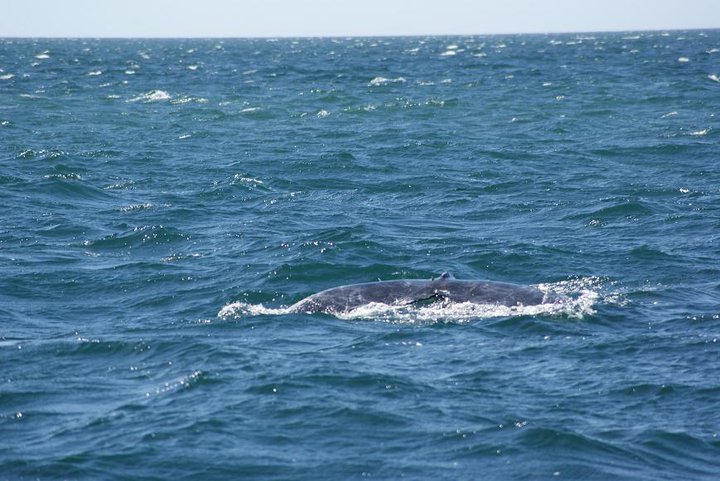 the baby humpback whale got lost in the bay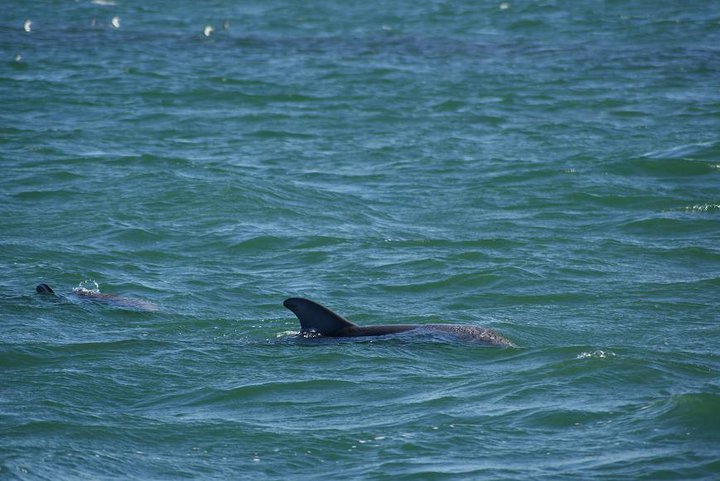 The skipper of the boat told me that today he saw a baby humpback whale who lost his mommy and is now swimming in the bay following the big boats because it thinks one of them is his mom. He said in the 3 years he has been there he has only seen a whale twice. He also said if we wanted to we could go looking for it, maybe the whale is still there. And we were just out on the water for maybe 20 minutes and suddenly the whale jumped up! It was awesome to see it so close I even took a few pictures. After that we saw about 15 dolphins playing with each other. What a great day!
Dunsborough
Today Wednesday January 18, I left Bunbury and took the next bus to Busselton and from Busselton to Dunsborough which is a small town just before Margaret River. Very nice place I gotta say.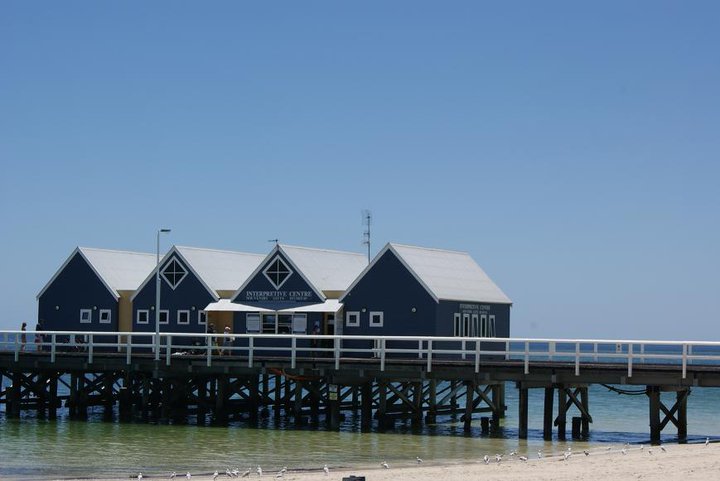 short visit to Busselton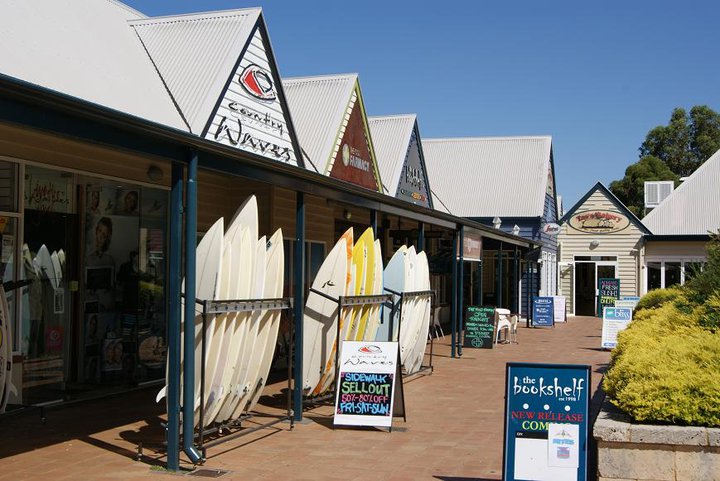 I wanted to stay at the hostel in Dunsborough but it was all booked out, so I heard that at the motel in town you get a single room for 40 bucks which is only ten dollars more than in a dorm. Yeah finally some privacy lol
The first night I wanted to watch a movie but they didn't have a dvd player only video. So this Australian guy Drew who lives at the motel (many Australian's do because they got seasonal jobs here) heard me saying that I wish I had a dvd player, so he organized one for me and got me movies from the video store. I just love Australians ;-)
At the Dunsborough Inn there are also alot of Italian's who are doing the working holiday program (what I did in 05/06) and most of them work at wineries or restaurants as waiters. So Daniele of of them asked me if I wanted to come to a BBQ on the beach the next day. BBQ on the beach? for sure!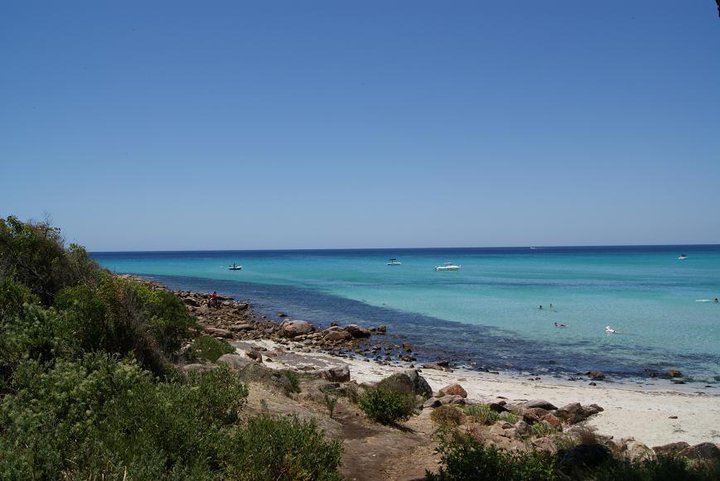 Meelup
pink snapper on the barbie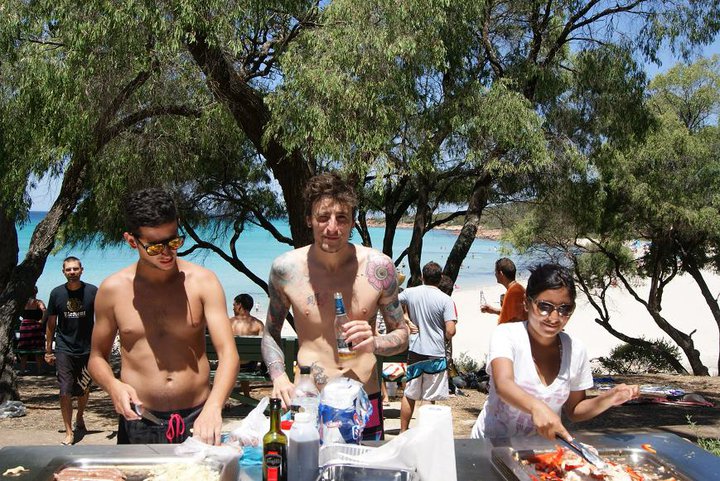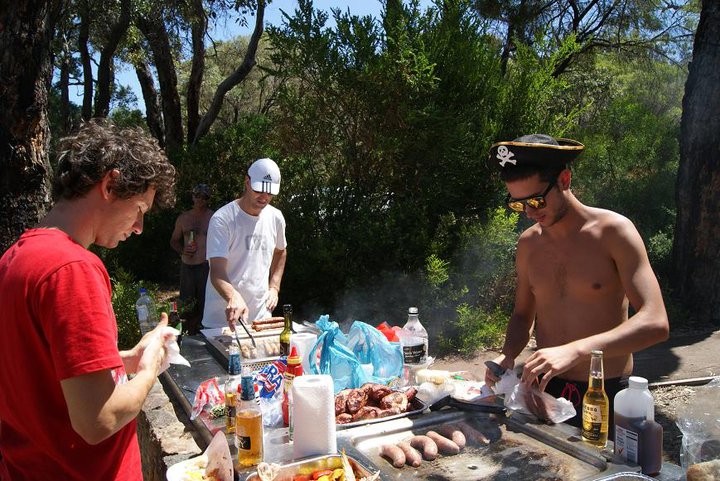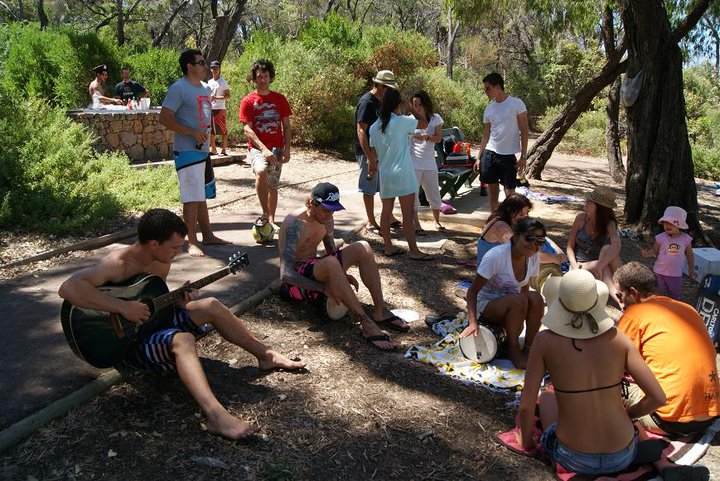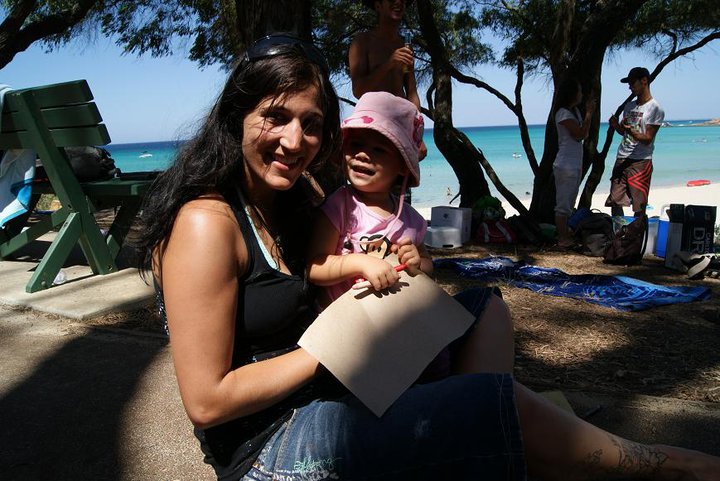 babysitting little Lucia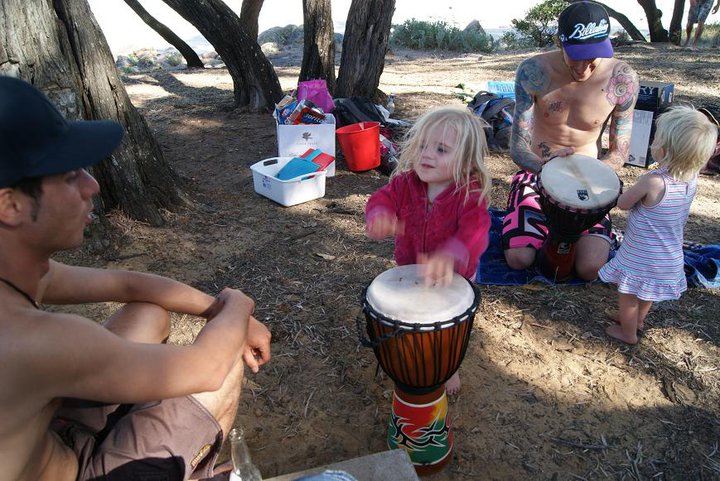 It was crazy I felt like I was in Italy and not in Australia, there were about 20 people at the BBQ and maybe 16 of them were Italians, it was so much fun. One guy came with his little daughter Lucia and I played with her for a long time, she was so cute.
In the evening we all went to Malt, a pub in Dunsborogh and Drew did some breakdancing, at least he thought he did, it was hilarious;-)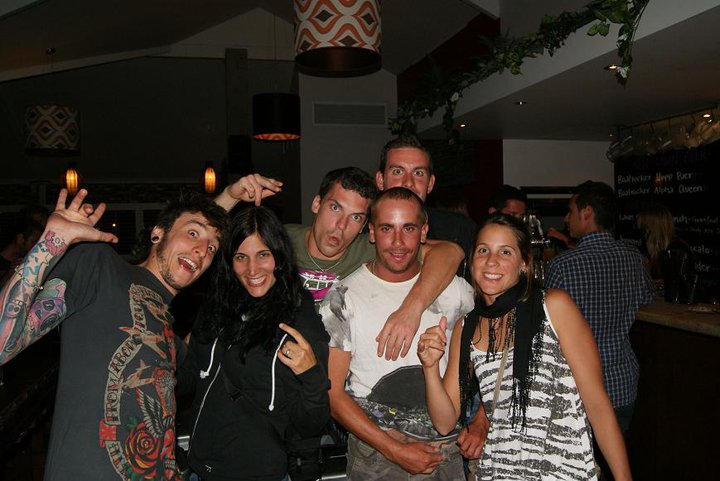 the Italian crew at the bar
Maurizio and and his Italian friend told me they wanted to go surfing the next day at Yallingup and that I should come too. After that we had lunch at the Bootleg Beer Brewery.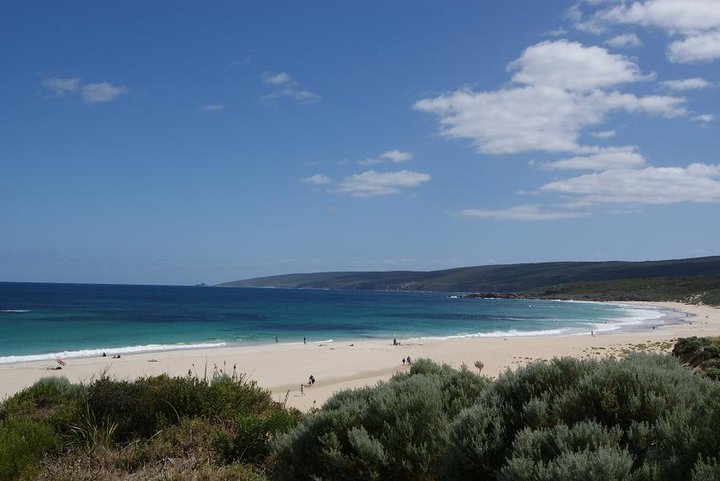 Smiths Beach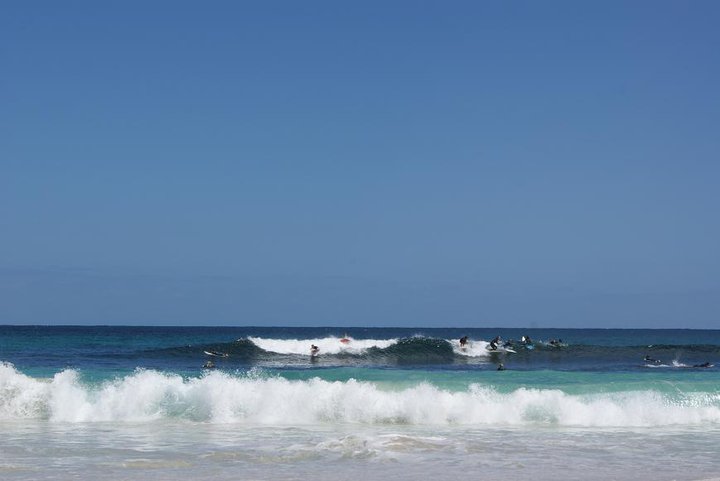 surfs up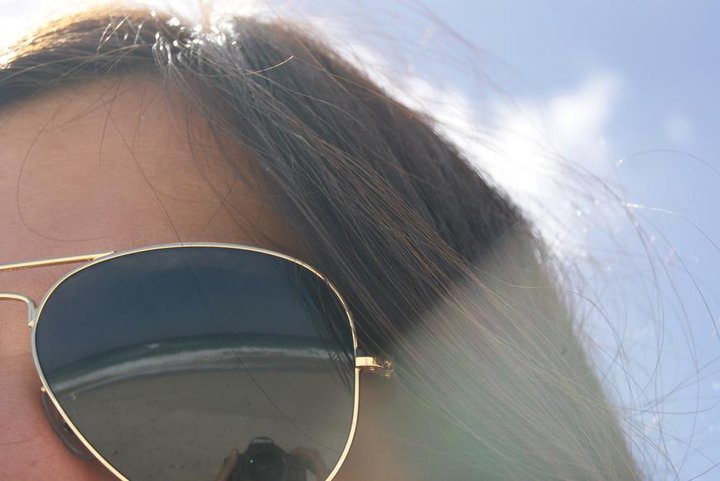 On my last day in Dunsborough Luca, Francesca, Drew and I went back to Meelup beach, best spot to go swimming.
At night we partied at some surfer dude's house and went to the wine bar afterwards for a great concert. Then it was time to say goodbye to the awesome Italian's.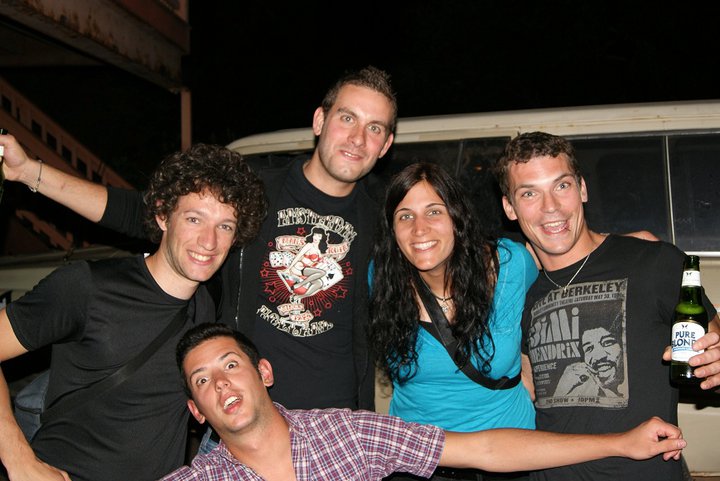 awesome guys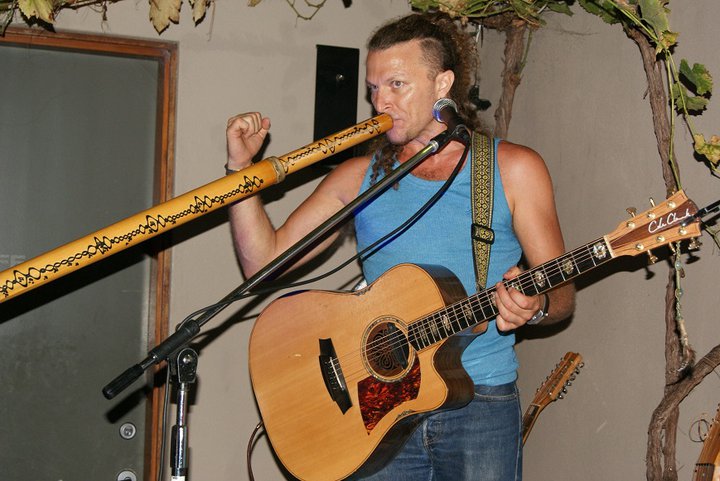 great concert
The next day I had to catch the bus from Dunsborough to Bunbury (where I was before) and from there another bus to Albany. The distance is only 360 km's but because public transport in WA sucks the bus stops about a million times and it took me 8 HOURS to get there!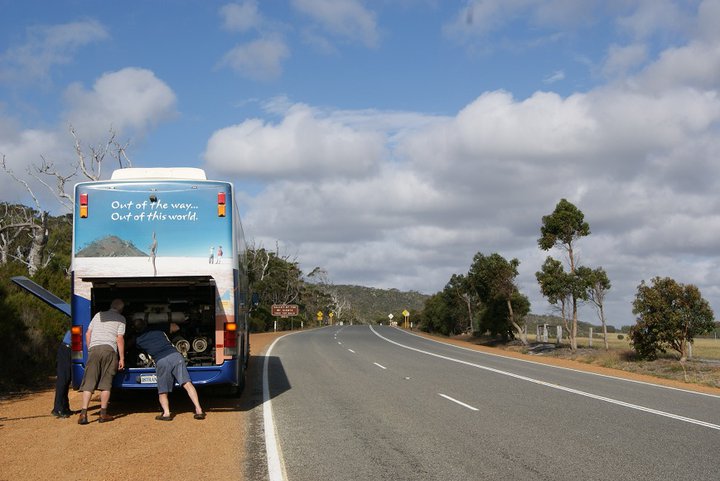 the coach broke down on the way to Albany
Albany
When I arrived I felt really sick, I checked into a hostel, but only a few hours later I had to change to a hotel because I was throwing up several times.
The hotel was in a pub, full of alcoholics-very dodgy, but it was cheap and I was just glad to have my own room and privacy puking lol
The next day it was raining all day and I was suppose to meet some guy from couchsurfing at 7 p.m., so I checked out, stored my backpack and had a lot of time to kill. Because I had no car there really was nothing to do and I was bored out of my mind and still feeling ill.
Finally the guy called at 5 p.m. saying he couldn't make it by seven and was gonna be back at around 10. Great! I could've stayed at the hotel! So I checked back in and was really annoyed. Supposedly four other couchsurfers were going to stay at his place and one of them called me if I wanted to go to the beach with them for dinner. They were all from Germany who just met on the road and in the 3 hours I spent with them, all they did was arguing. So I was glad when I left them.
My plan was to go further to Esperance and then up into the Southern Outback to Kalgoorlie and from there with the Prospector train back to Perth. Good thing I checked that out on Sunday because like it turns out the bus only goes to Esperance twice a week and the other bus also twice a week. But I guess it was my lucky day because the bus was leaving on Monday and the other on Wednesday. If you wanna travel the West Coast of Australia buy or rent a car! I now really missed my red rooster, the car I had in Australia when I was living here. It was a piece of shit car but took me from A to B.
Esperance, Cape le Grand National Park
I was glad to be leaving Albany, I didn't really like the town and it had been raining for three days. The bus ride to Esperance was 6 hours and when I arrived it was raining there too. I talked to Maaikel (Dutch) and Will (Welsh) and we've decided to rent a car together for the next day hoping and praying the weather would be better. When I woke up the sun was shining and that made me very happy.
The three of us drove to Cape Le Grand National Park and the guys wanted to climb the Frenchman Peak but Maaikel and I were wearing Flip Flops. It was 262 meters high and the walk up very steep. I told them I was gonna try, but my knee was still hurting from Rottnest Island. About half way up I told them I wasn't going any further it was too dangerous, you slip once and that's it. I waited for them to get back. We drove to Lucky Bay, which is known as the most beautiful beach in Australia. It was definitely stunning, but I wouldn't say it's the most beautiful. For me that would be Whitehaven in the Whitsunday Islands (East Coast).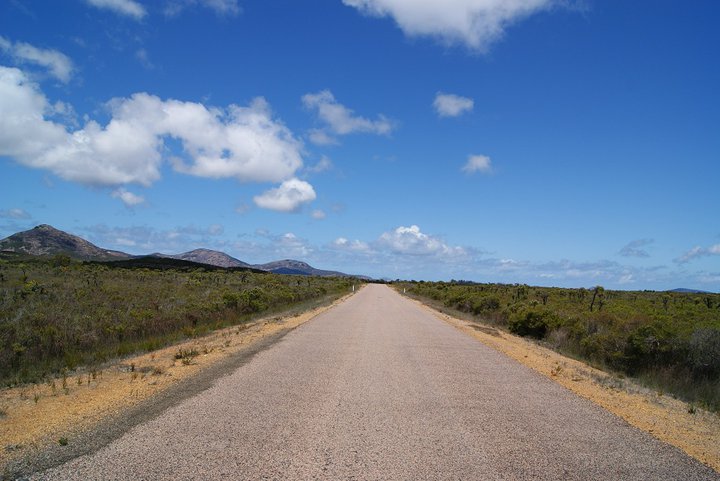 Cape Le Grand National Park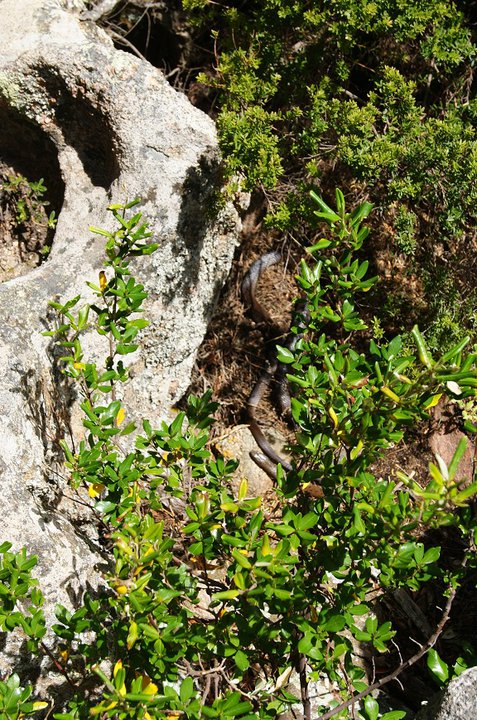 deadly snake alarm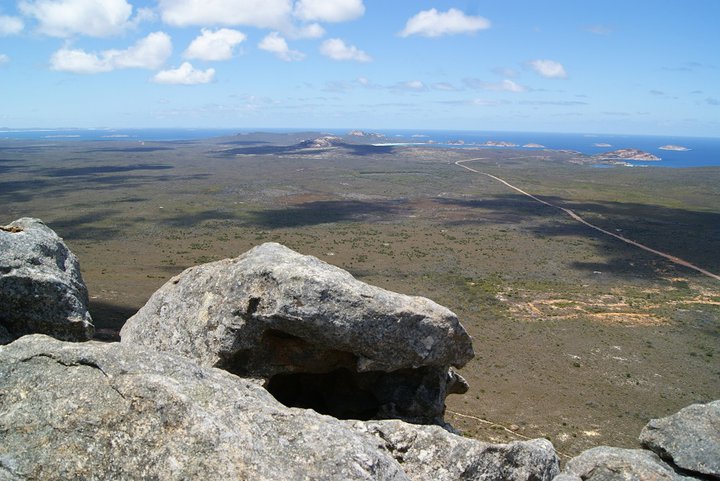 the view from the Frenchmen Peak 262 m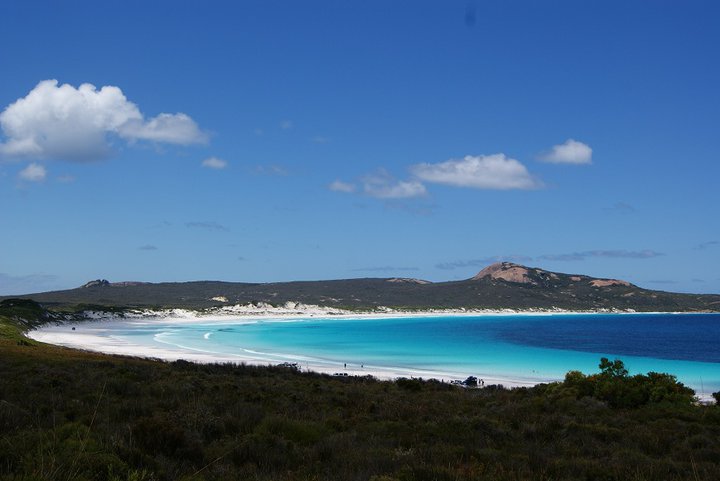 Lucky Bay-has the reputation of being one of the most beautiful beaches in Australia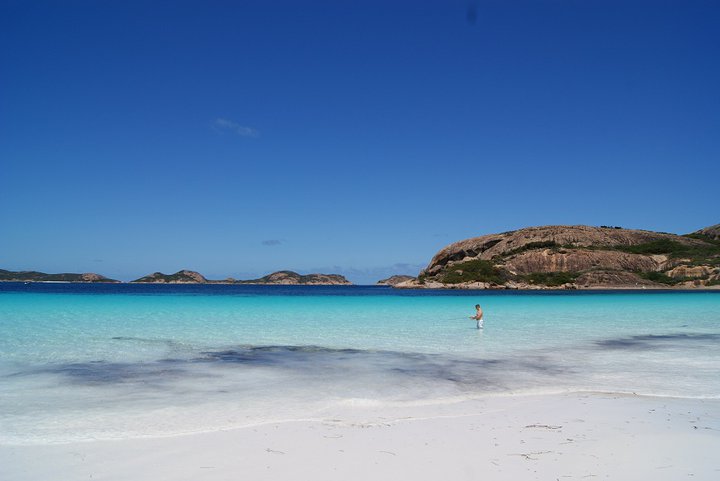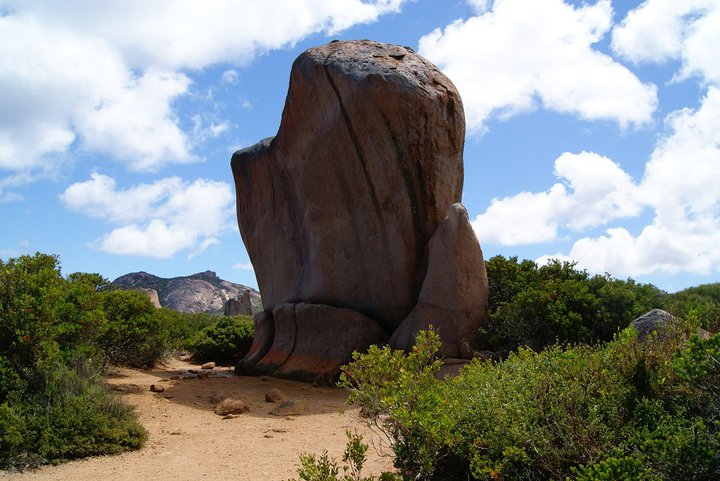 Whistling Rock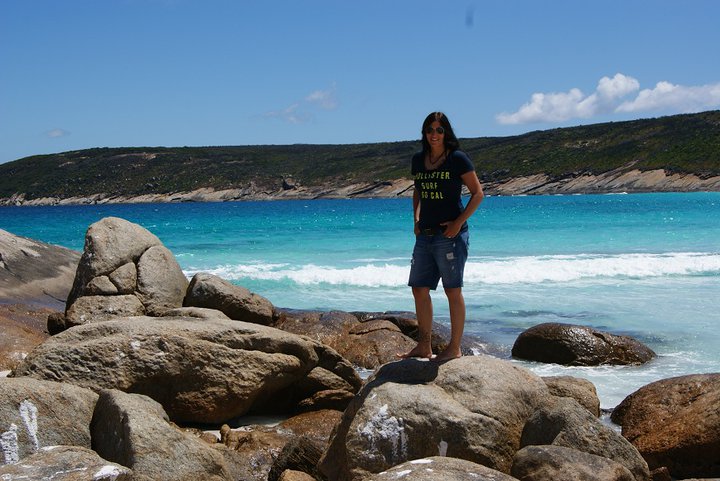 Hellfire Bay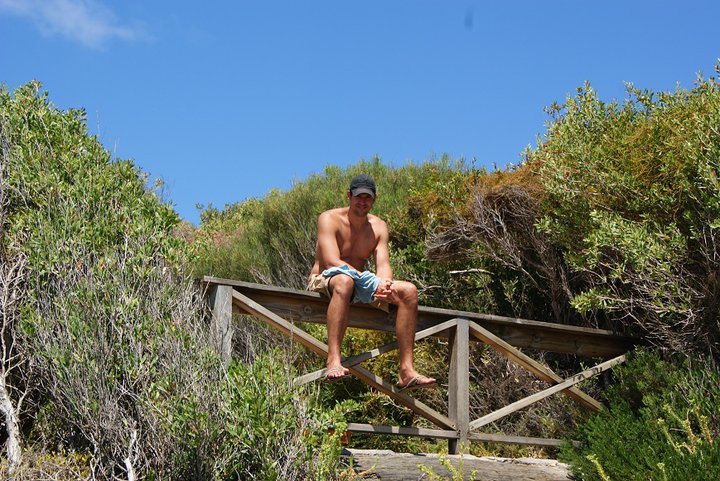 Maaikel, my roadtrip buddy for the day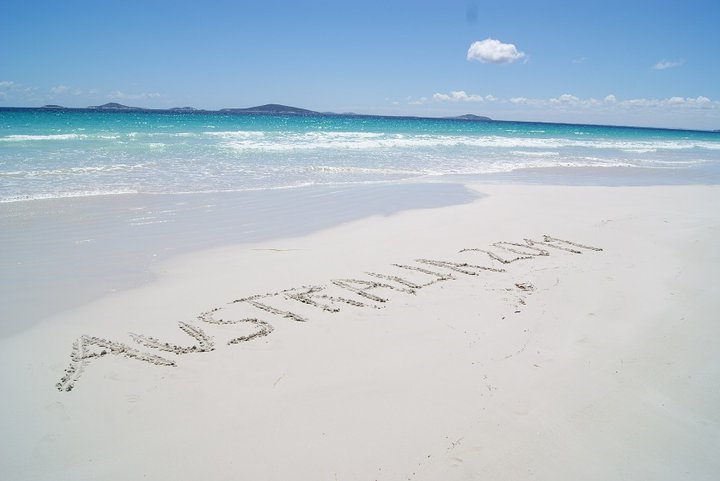 Alot of the beaches in the National Park were deserted, so nice! We spent about half of the day in the Park and in the afternoon we drove the Great Ocean Drivre and stopped at famous Blue Haven beach and Twilight Cove. When we returned the car we went to the pier to see Sammy the sea lion of Esperance. He is very cute but also very fat because people always feed him fish.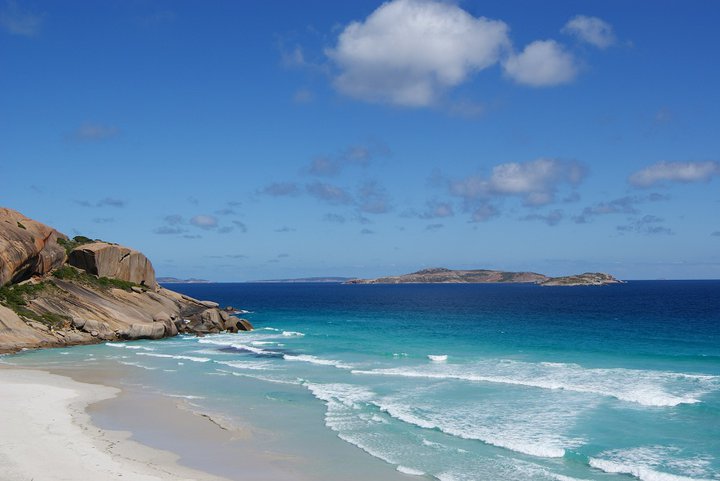 Blue Haven Beach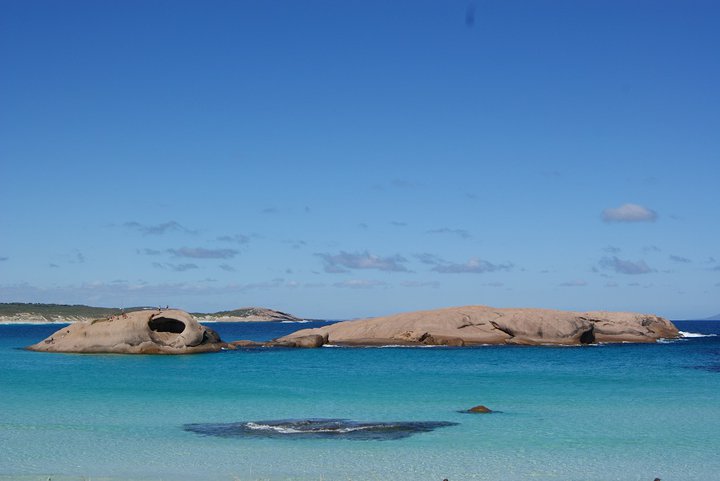 Twilight Cove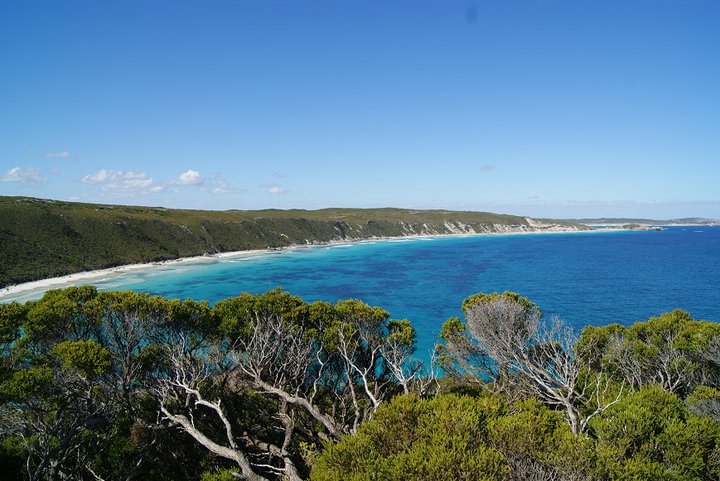 the view from the Observatory Point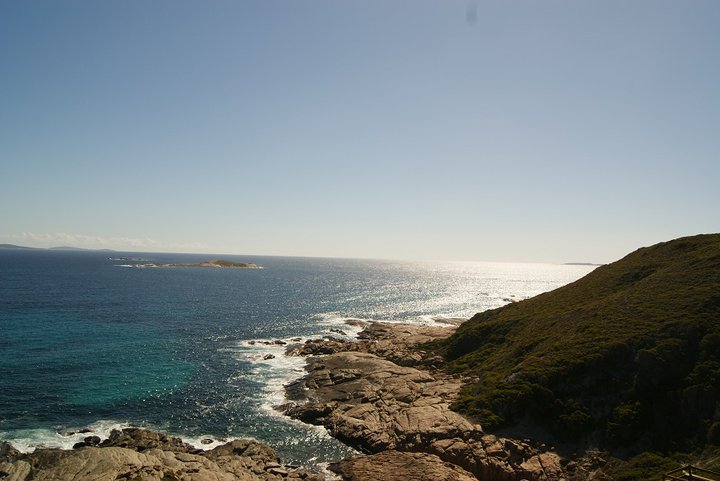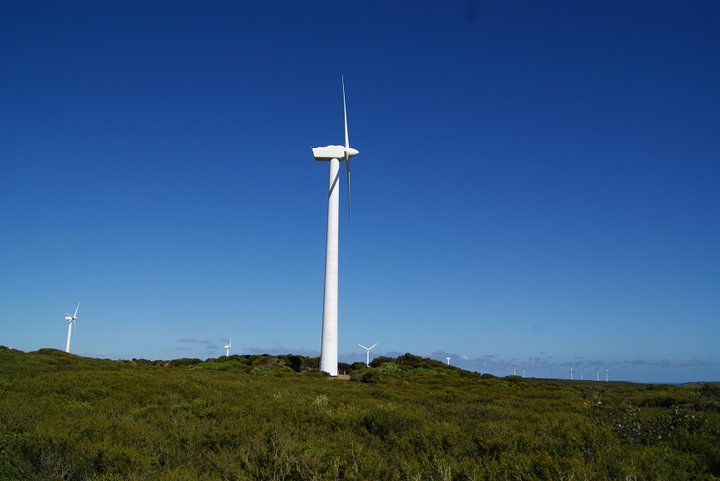 these windmills produce 23% of Esperance's electricity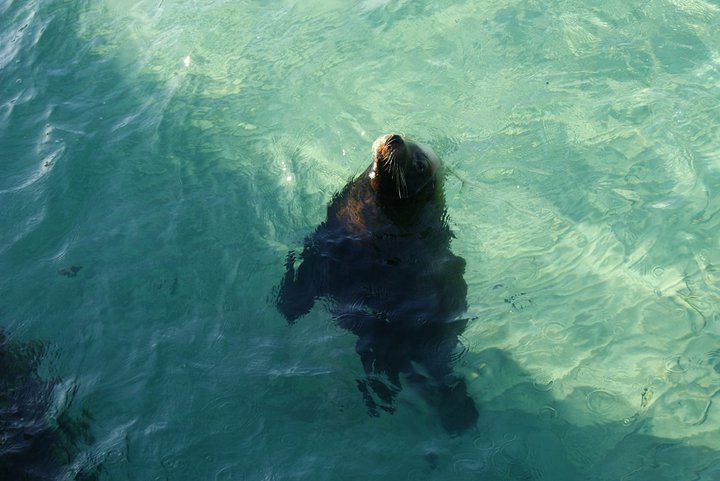 Sammy the Sea Lion always comes to the pier to get food
Kalgoorlie, Southern Outback
The busride to Kalgoorlie was 6 hours and it was Australia day, so when I arrived I thought this was a ghost town. All the shops, restaurants etc. were closed and it was 40 degrees hot! 30 degrees is nice 40 is suicide!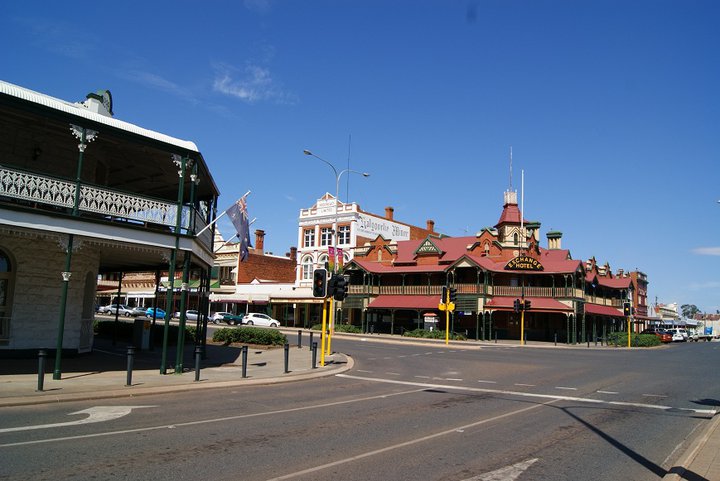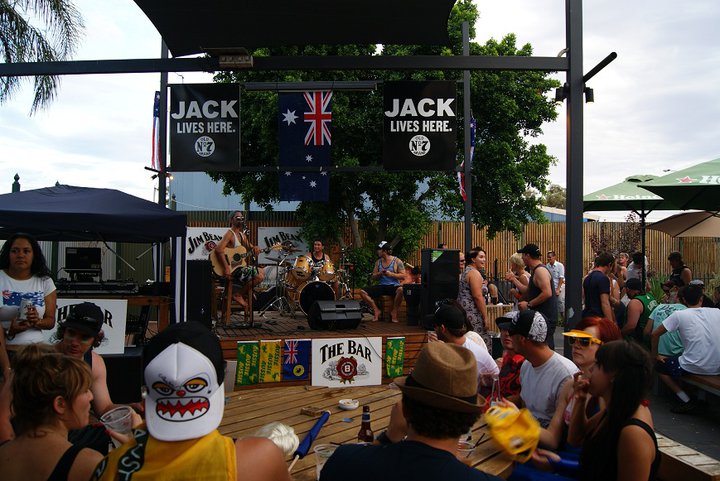 Australia day at the pub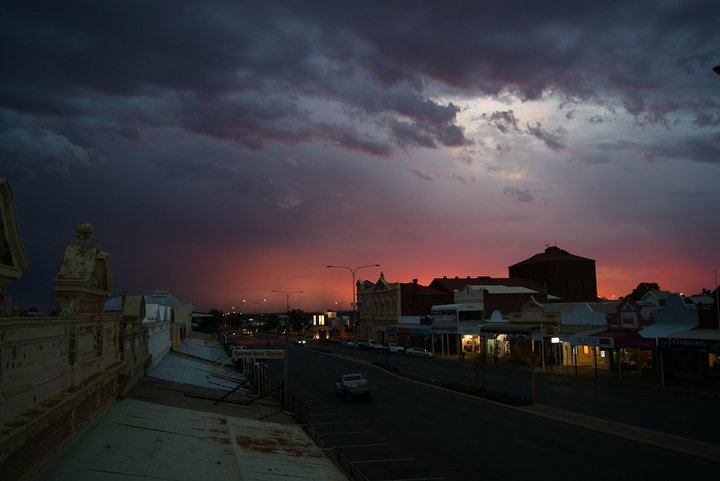 ghost town
Luckily I was only there for one night and the next day I went back to Perth on the Prospector train which took seven long hours because I had a fight with one of the staff there. She wasn't the smartest person. When the train left Kalgoorlie station there were 2 seats empty and because I had an aisle seat and wanted to take pictures I sat on the empty window seat. She told me to go back to my seat because that seat belongs to someone who is gonna get on the train soon. 2 hours later the seats were still empty and I asked her what the exact reason was why I couldn't sit there until these people got on. She said because then the seat isn't fresh anymore. I looked at her, laughed and said: Miss, what exactly is a fresh seat? She replied: a fresh seat is when nobody has been sitting there before. I laughed even harder and said: are you serious? There is no such thing a a fresh seat on a train! A thousand people have been sitting there before. And she looked at me really confused..well I hope you have better luck next time. Thank you but there is definitely not gonna be a next time, there are less rules on an airplane and that flies in the sky.
Perth
So I was back in Perth for a few days, but I couldn't stay at Selby's place because she had French couch surfers staying with her. But her sister and her family offered me to take me in, which I really appreciated.
My time in Australia was awesome, lots of people helped and supported me on the way, it still is a country where I could imagine myself living in a few years.
I am sad to leave but also happy to see new things...Still a long way to go...Farewell Australia!