Australia 2005-2006
In the year 2000/2001 I went to Highschool in Sylvan Lake, AB, Canada after that I started my apprenticeship at the Swiss Federal Finance Administration! In Summer 2002 I went back to Sylvan Lake for one month, in Summer 2003 my mom and I went to Vancouver, Victoria and Seattle for 3 weeks, in Summer 2004 I spent my one month vacation in Thailand that's when I passed my final exams and my apprenticeship was over! I started working at the PostFinance, so I could save money for my next real trip! AUSTRALIA!
On July 10th I am leaving for Australia where I will stay up to 12 months (depends how much money I spend there on shopping;-), I got a working holiday visa. That means I will be able to work in Australia whatever I want, wherever I want and when I want! I am going to start in Sydney, where I'll buy a car and then the journey begins. This is my journal that I wanna keep throughout the time I am in Australia. I will also put pics on here so you know whats down under like, if you've never been there before.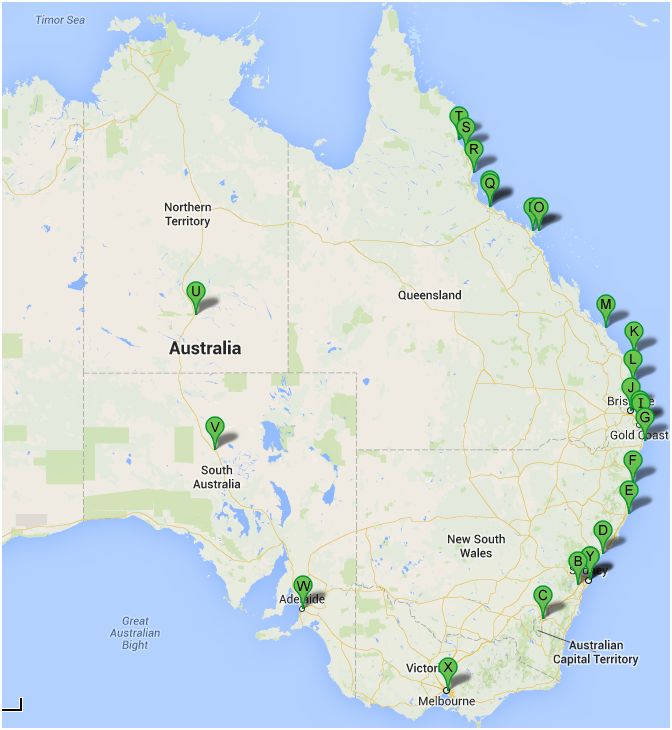 Sydney, Camden, Liverpool
July 23 2005: It's been almost 2 weeks since arrived here in Australia. On July 11 my plane landed with only half an hour delay in Sydney, where Andrew the son of the family I am staying with for a couple weeks came to pick me up. The Rogers family is very nice, they have 4 kids (the oldest is around 30 and the youngest 19), 3 dogs, 3 cats, a nice house and a swimming pool (it's winter here now, so forget about swimming). I even got my own room. In the first week I was never bored, we went shopping, sightseeing in Sydney and to the movies three times (the longest yard (Adam Sandler), house of wax (Paris Hilton (she sucked though) and war of the worlds (Tom Cruise). We went and had Chinese in Chinatown and walked around at darling harbour and checked out the famous Sydney Opera house.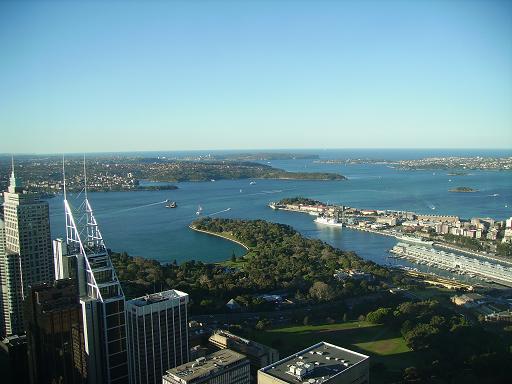 darling harbour at night
You wouldn't believe it but it is so cold here, of course I knew it would be winter, but it's Australia! I didn't bring warm clothes, so I am always freezing my ass off!
So after the first week my friend Jennifer who flew to Sydney with me but then went to Brisbane came down cause she was really bored there. So on Sunday she jumped on a plane and came here. On Monday we went shopping! I know I shouldn't go shopping cause I am shopping addicted but I just love surfclothes so much, that I had to go! I already bought so much stuff! A volcom hoodie and sweater, a billabong watch (the nicest watch on the planet) and a ripcurl t-shirt, cap and suitcase! Check this out, it's so sweet:
my love at first sight
I know the pink wont be pink for very long but I just had to buy it. I've never seen as many surfshops as here. But I have to stop buying things or I wont be here for very long.
Canberra
So on Tuesday July 19 Andrew, Jennifer and myself drove down to Canberra (the capital for those who didn't know). In Australia everything is different, when we have winter they got summer and when you go south it's colder when you go north it's hot. So Canberra was cool but not like I had expected. It's a small city for the capital. We stayed at a backpackers and even saw the first kangoroo's at some park we went to.That was awesome!
the first kangoroo's we saw
The next day we rented bikes and rode around Canberra, the lake...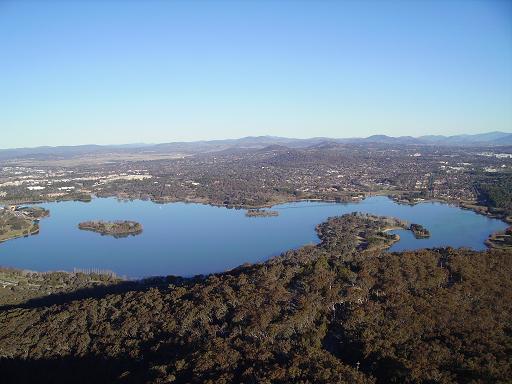 ...the parliament house...that was nice.
me da homie on top of the parliament house
Later on we drove to Batemans Bay that's a place right by the ocean. We walked around the beaches, slept in a caravan and ate subway.
me on the cliffs near Batemans Bay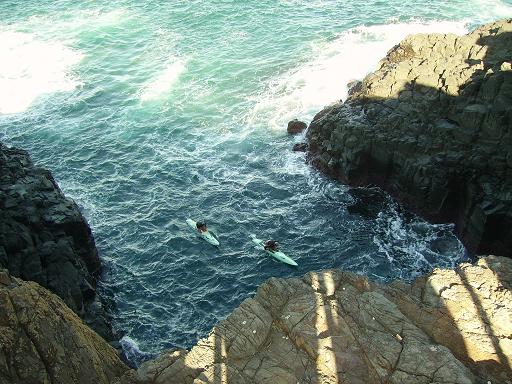 On Thursday the 21st we got back to Camden (that's where the Rogers live). We (Jen and I) decided that we could go to Sydney by train and do some shopping and sightseeing. So we got up at 6 o'clock, got on the train and where in downtown Sydney by 8.30! We walked down George Street stopped at the billabong and roxy store. Went down to the ferry got on and landed in Manly (surfer and backbacker place). It was awesome there! And on the way back we had the nicest view on Sydney.
Sydney Skyline
Me and Jen in front of the Opera House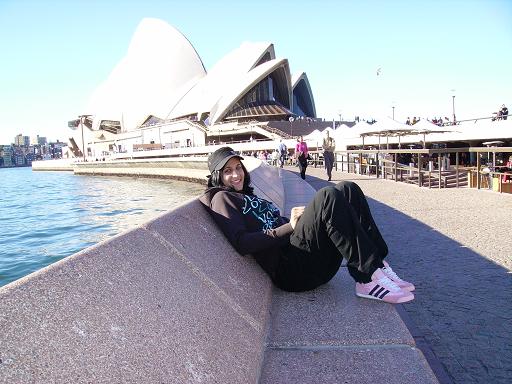 Oh and what I forgot to tell is, that Jen and I booked a flight to Fiji on September 2nd. You know it's my birthday on August 07 and I thought why don't I surprise myself with a little vacation on the Fiji Islands! Hahahaha you know that travelling is very exhausting and then you need holidays to relax.
In September Jen goes to language school in Brisbane and I have to finally look for a job that's why I am here for, not only to travel, to work. I mean I am lucky that I got that working holiday visa, I can work whatever I want to.
A lot of things happened since we left the Rogers house. Jen and I went to Sydney and stayed there for one night and went and saw the other things we haven't seen on Friday. We walked around Darling Harbour, went to the Opera House again, ate in Chinatown, went up the Sydney tower and enjoyed the view and drove around with the Monorail and went to the aquarium.
the Opera House
me in the tube of the aquarium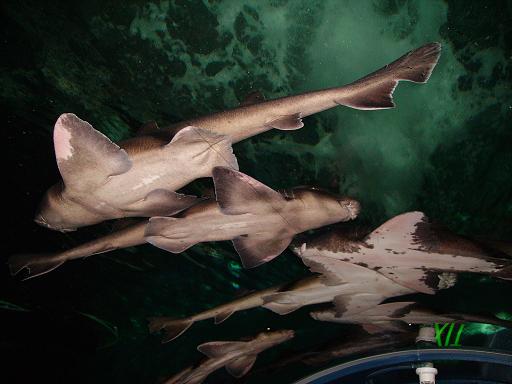 Newcastle
The next day on Wednesday the 20th of July we left Sydney by greyhound and drove up to Newcastle. We didn't really know why we went there because there wasn't much to see. So we decided that we need a place where we can stay for free cause we had spent too much money already on surfclothes! Dude they got the sweetest surfshops and clothes in Australia!!! No good for the shopping addicted Marisa! So we bought a wwoofing (willing workers on organic farms) membership and looked for a farm near Newcastle! We found a sweet place(at least we thought that), the Barrington Outdoor Adventure Center!
Gloucester
The next day we were on our way to Gloucester a little town in the middle of nowhere! A redneck guy named Brian picked us up!
this is Brian live!
He even had two Dingoes (Australian wilddogs) and a big army 4-wheel-drive!
in the army
We got to a big House where Leith his hot housmate (a mix between Brad Pitt and Collin Farell with Rastas) was waiting!
Leith the Kiwi (That's what the Aussies call the New Zealander's)
The place was big but very dirty! They sat down and smoked a joint and told us they were growing their own weed and selling it and that Leith is vegan so Brian eats that shit too!
the Barrington Outdoor Adventure Center
We went to bed and everything was so gross and in the middle of the night we woke up because we heard a really loud bang we thought it was a burgler! But there were rats running around in the kitchen and eating everything that wasn't locked! That was so bad! I hate rats!
The next morning we had to get up at 9 o'clock and clean the whole house and oil and paint the doorframe!
me working
They made lunch for us and when we started eating the salad it wasn't washed and there was dirt on it and Jen had a big bug and I had a wurm on my salad! How gross is that?! So we decided that we would go shopping and cook everyday! For Dinner we cooked pasta and when we opened it there were moths in it! And the spices were all expired in 1991! I asked Brian about that and he said, it's just not fresh anymore! Not fresh anymore?! That's 14 years! After dinner Jen puked everything out and from that day on I had really bad stomach-cramps! That place was hell and Brian a big moron! He thought we were slaves so we always went downtown or went for a walk with the puppies so we didn't have to work!
the two Dingoes,Ernie and Regie
On Saturday we were invited to a Swiss National Day Party a Swiss friend of Brians had. It was cool, we celebrated the Swiss National day in Australia and there were 40 Swiss People from Sydney, Newcastle and other places. We ate sausages and cookies and had a big bonfire!
he was one of the Swiss! Yeah "Geissepeter"
me as a patriot
On Sunday I had to mow the lawn because we decided we would leave on Monday the 1st of August and that pissed Brian off.
Yes it was my first time
Jen and Regie
Port Macquarie
From Gloucester went to Newcastle on train and hopped on a greyhound to Port Macquarie! There we first washed all of our clothes because they smelled weird from that Outdoor Place. We stayed at a really cool hostel, very small but cozy and cheap. We went shopping and layed around the beach even though it was freeking cold! On Wednesday we went to the Billabong Koala Park where we saw koalas and their baby:
the koala and the baby holding onto it
Jenni got to pet a snake:
Jenni: I've seen bigger snakes...
monkeys, wombats, wallabies and kangoroos and one kangoroos baby:
first time I ever seen a kangoroo baby
I got to pet the koala and the kangoroos:
the little one is a kangoroo albino
On the same day we left to go to Coffs Harbour on the bus.
Coffs Harbour
We stayed at a Motel right on the beach and everything was so cool! We had a twin room for 20 bucks each and got the second night, BBQ, a beer and surfboards for free! And we had tv, shower and toilet in the room! That's very good for a backpacker cause compared to Sydney (we stayed in a dorm with 4 other people) we payed 31 bucks and didn't get anything for free. On Thursday the 4th we got the surfboards and went to the beach.
It was cold and windy and there were no other people there, so we had the beach for ourselves. I didn't catch any waves and got slapped in the head from my surfboard! Surfing looks so easy on tv but really it's not!!!
even holding it was hard, but surfing...!
In the afternoon we went to Coffs Harbour Racing Cup! That is a really big event there an everyone goes there dressed up!
the chicks all dressed up
And it was cool cause we were the only tourists and we were wearing caps and flip flops! It was awesome cause we have never been to a horse race!
unfortunately we didn't bet
We wanted to go back to the backpackers, but there was no bus only cabs. So we shared a cab with to elderly women and they payed the taxi for us, 15 bucks! How nice is that?!
for me life is a beach and not a mountain
On Friday we rented bikes and went into the town centre, did some more shopping ( I got sweet black/pink Roxy bikini for 30 bucks) and went to the famous big banana tobogganing. Oh and I was bored so I got my lip pierced! It didn't even hurt and it looks really cool.
near the big banana
Byron Bay
On Saturday 06/08 we went to Byron Bay, the place everyone loves and wants to go to. We stayed at the backpacker holiday village in an appartment with 3 stupid English chicks who we never talked to! They didn't stay in our room though that was good. We didn't do much on Saturday just walked around downtown and went to the beach. Right on the beach there's a Hotel that Crocodile Dundee Star Paul Hogan owns, he even lives in Byron Bay. This town is so cool, it's the nicest I've been to! There alot of surfers, backpackers and hippies and every second shop is a surfshop, many little cafes and restaurants and there's no junkfood places and the beach is wonderful.
On Sunday the 7th of August I celebrated my birthday! The big 21.! We went on a little bus to Nimbin (probably the hemp capital of the world, full of hippies).
the mainstreet in Nimbin
We had a crazy bus driver who was so funny. We didn't smoke any weed there or ate the famous Nimbin cookie...
in the hemp museum
We went back to Byron and they had a big hippie market and all the hippies were dancing.
it's just like woodstock,she said
So I guess I had a hippie b-day. We ate at a fancy and kinda expensive thai restaurant and it was delicious. So happy 21st b-day to myself:-)
On Monday Jen and I decided that we had to do some exercise and walked the 2km up to the lighthouse of Byron Bay.
the famous lighthouse of Cape Byron
The walk was exhausting but the view up there was just beautiful and we've seen dolphins, 3 big ones and a baby.
nice view
Cape Byron with the lighthouse on top of it
At night we went to the theatre and watched the island, wasn't what I had expected but not bad at all.
Tuesday was my big day cause my b-day present from Jen were surf lessons. We went surfing with the Kool Katz surf school in Ballina. Finally someone showed us how to stand up properly. I didn't stand up on the first wave but on second one I did and it felt so good! Surfing was so much fun but it is so hard and you need to practise alot.
The next day we just hung around the beach and the town and packed our stuff to go to Surfers Paradise on Thursday.
Surfers Paradise
I was excited to go to Surfers Paradise because the name just sounds really cool and we would go to Queensland a new state for me.
the gate to the beach
Surfers Paradise is a little bit like the Australian Miami, a lot of Skyscrapers and even more tourists.
skyscrapers everywhere
We stayed at the Surf n Sun backpackers right on the beach but kinda far away from the towncenter. I've never seen that many headscarves (Moslem's) as in Surfers Paradise. You think almost you're in Dubai instead of the Gold Coast.
my favorite store in the whole world! City Beach!
On Friday we wanted to take surflessons again. Cause in Surfers they only cost 25 bucks and that's with a world champion as a teacher. But the weather was really bad and it ws even raining. So we played bowling and went to the Ripley's believe it or not museum. At night they had punch night at the hostel and we all went together to the down under bar. We met some English guys, an American, a cool Australian from Adelaide who was travelling around Australia with his motorcycle and a Canadian from Cold Lake! Yeah Alberta rocks!
cute street in Surfer's
On Saturday we went to Dreamworld one of the themeparks at the Gold Coast (Movieworld, Wet n' Wild, Seaworld and Dreamworld). I even went on the rollercoaster (I am a wimp) and we saw the Dreamworld studios where they have the Big Brother finale coming up.
the Claw, the Wipeout and the Cyclone
Paradise Point
On Sunday, we got picked up by Jen's friend (she is Swiss but lives in Australia since 15 years) from the hostel. She had to go back to work so she let us drive her car. It was weird driving on the left side of the road and sitting on the right side of the car. But we got used to it and it was fun. So now I am thinking again of buying a car. The next two days we just hung around a little bit! Went to the mall, to the movies and all that. On Friday we looked for a new farm cause we we're starting to run out of money!
Burleigh, Tallebudgera Valley
Saturday August 20, we went to Burleigh (that's where they got a lot of surf competitions)
Burleigh Beach and Surfers Paradise in the background
There we got picked up by a nice lady named Collein and her husband Goeff. We went grocerie shopping first, they showed us the Ripcurl store and the Billabong headoffice;-) And then we drove up to the Tallebudgera Valley where they have a very nice and really big house!
Collein's and Greg's house in the Tallebudgera Valley
the nice view from their house
We we're very excited cause it was not at all like the first farm experience we made! We even had the choice of accomodation! A bedroom with a double bed! Upstairs or the caravan with dvd player! Of course we chose the caravan. Not really because of the privacy more because of the tv and dvd player.
Jen feeding the birds with mince
The next few days we're really cool, of course we had to work, but it wasn't hard work at all. Chopping wood, weeding, mulching, gardening that kind of stuff!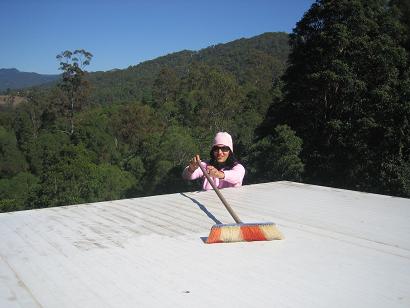 yes, I had to do some work as well
I always loved dogs
That's when I decided that I want a car really bad. I told Goeff and we started the big car shopping. Looked in newspapers and went to car yards from Burleigh to Tweed Heads. When we finally found a decent car for decent money I was really excited cause we have been looking for a couple of days. The car was a red Holden Astra, with Safety Certificate and 10 months registration and here in Australia Rego is very expensive so it's very good if it's got another ten months rego on it. He wanted $ 1500 for the car and I thought about it for a while cause I didn't really have that kind of spending money. When I came here I said to myself, either you are going to Fiji or buying a car. But I ended up buying the little Holden and called him the red rooster (hahaha got it?).
the Red Rooster
We also visited Collein's sister. Her and her husband are breeding donkeys and the one donkey just had a baby.
the baby donkey and his mommy
So Goeff and Collein we're doing a lot for us and their cooking was delicious! Goeff also had a huge dvd collection and we watched movies everyday, cause there's not much else to do on the Valley. I think because we we're their first Woofers we got a little bit spoilt!! So we stayed there for one week and the next Saturday they we're going to a birthday party in Brisbane so we drove with or better behind them and we got to Everton Park (suburb of Brisbane, where Jen's godfather lives) safely and without any problems!
Brisbane
When we got there we had like 2 hours at his house and then we we're off to work! He owns a catering business with his wife and they have 2 rooms at a function centre where they have weddings, b-day parties...and they cook for them. It took us an hour for just a few kilometres to find the place! Oh my gosh is it hard to drive in Brisbane! Everything is really confusing! I worked in the kitchen the first night and so was Jen! She was the dishpig (washing dishes) and I helped with the deserts and stuff! It was a wedding with 105 people! I always wanted to become a cook, but I gotta admit, that it is way more stressful than I thought it would be!
The next day we checked out Brisbane city and what surfshops it has to offer;-) We also saw Jen's Language school and walked around Queen Street mall. The next time we worked was a function and I was a waitress and that was exactly as stressful as working in the kitchen!
It was very cool living at Walters house! His wife is nice, her brother (he lives there too) is cool too and they got a little dog named Guzy and she just loves us!!! She always runs in circles when she see's us and pee's on the floor!
We only had a couple of days until we left to go to Fiji on September 2nd! So check out the Fiji link to see what we have done and seen there!
click here to jump to the Fiji Islands page
September 9th we got back from Fiji at 6.30 at night jumped into a taxi and drove right to Annabelles in Albion (the function centre) to work. They had a pre-gradutation party with 200 people! it was crazy they we're all dressed up and had fancy hairdo's! I was a waitress again.
On Saturday we just slept in in the morning, did some laundry, met the neighbours and found out that they we're going to the Boyz II Men Concert too so we asked them, if we could go together. Cause if we went all by ourselves we would have gotten lost anyway! They we're cool chicks with a great sense of humour! The Boyz II Men Concert was pretty good! It's not that I am a huge fan or something, they we're in town and so we went!
wasn't bad at all the Boyz II Men concert
On Sunday we worked again and this time I was in the kitchen and kind of like a cook asistant! I really had a lot of responsibilty and I really messed up the desert, but Walter just laughed and it was alright!
On Monday I was thinking that I have been travelling for exactly 2 months now and that I need a job! So I looked in the newspaper and there was one ad in there that I was really interested in! They we're looking for fun-loving, adventurous and independent people to travel around Australia in teams. That was ME they are looking for I thought! So I called them and got a job interview at 2 o'clock in the afternoon and when I left I had a really good feeling about it! I had to call them back at 4 and they told me I had the job and training starts tomorrow! Gee was I ever excited! That night Jen and I went to a new outlet shopping centre near the airport where we spent alot of money! Oh well I got a job now;-)
So on Tuesday morning at 9.15 my training started! My job is to travel around Australia in teams and doing interviews with parents about their kids and setting up appointments for a demonstration! It's about kids education, thinking and learning skills! They got really cool books, dvd's, cd's...in their programme! On Wednesday my training continued and I found out where in Australia they are gonna send me! It's Melbourne and they are flying me out there and all my food, travel and accommodation is paid. And you get more money for setting up appointments which result in orders! Per order I get $135! So I am pretty pumped about it and looking forward to meet my team.
Melbourne
On Thursday I got on the 09.00 flight with Qantas to Melbourne. Two other guys came with me. We got to Melbourne and took the train to Spotswood, some suburb where Ned our Teamleader picked us up. Ned is 31 but acts like he is 22! He talks all the time and he is the bubbliest person I've ever met. We got to the house that the company owns and the whole team lives there. With the us the new guys there were 10 people now. We met everyone and they all seemed very nice. There was Ned the teamleader half Australian/half Croatian, Joyce from Holland, Travis from New Zealand, Q from South Africa and Sarah, David, Amanda, Scott and Chris from Australia.
GUYS!
At 2 o'clock we had to get ready for work. There were two vans and we listened to music really loud and sang to it. We went to a park and played hack for 20 minutes, did some training and then got droped off at our area. Lucky for me that the first day you fieldtrain with someone so I didn't have to go out there by myself. I went fieldtraining with Joyce and the first night I was out there I didn't like it. It's really hard, you knock on people's door and try to talk to them, but 99% just tells you they are not interested or even to fuck off. She didn't get one appointment that night.
The next day I went out there by myself and I got one appointment, but it didn't sell so I got no money. Saturday we worked from 8 o'clock in the morning till 6 in the evening! At lunch I talked to Ned about the job and that I don't like it and that I might quit. He said that I've only been there 2 days and I should give it a try. He just talked me into it.
Sunday we got our day off and Scott, Chris and myself went to Melbourne and Scott and I booked a flight back to Brisbane for Tuesday September 27! I just knew I don't like the job and I will never like it! It's a waist of time! You set up appointments, but still don't get any money cause it doesn't sell. Off course we didn't tell anyone about our plans!
The following week I didn't wanna go to work but I had too. So everytime I was out there I would cheat and just write housenumbers down and hide in a park for 1 hour because Ned always drove around in his van and checking on us. I got appintments everday except for Tuesday. On Wednesday we got up and jumped into the two van's and went to St. Kilda beach and had a BBQ. That was fun! Every night they would get drunk of cheap beer or wine.
Ned and his BBQ
On Thursday we got two new people a chick from New Zealand which I didn't like at all, she was the biggest Dizzie ever! Her voice annoyed me so much and her bed was like a Princess bed, she had a teddy bear and a blanket with pink fur on it. And the new guy was really arrogant and started bossing around after 5 minutes he was there. On Thursday night everyone was really pumped so we took a cab and went to the Mercury Night Club at the Casino. Ned bought me like 5 Bailey's and the some other guy's 1 beer, 3 Malibus and 2 Tequilla Sunrise. I was really drunk and we danced like idiots and I talked to everyone in the whole club. That was a fun night. At six in the morning we got a cab back to the house. I had 6 new phone numbers in my cell.
When I got up and went to work I was still drunk. That night I worked till 6 and then hid in the park for 2 hours. I decided that would be my last day at work. I thought Scott would leave with me, but he decided to stay. When we got home I packed all my stuff and put my bags out the windows, I went to bed with my clothes and then waited till everyone was asleep. I couldn't go to sleep because I was scared someone would see my bags and tell Ned. I was so paranoid that I didn't sleep at all. At 4.30 I got up really quit grabed my sleeping bag and my bags and then walked to the trainstation. I always looked back cause I thought Ned knew and would follow me. The train left at 5.30 and I got to Melbourne at 6.00. I checked into a backpackers and went to sleep right away. That day I was so happy that I left, I felt free again. I went sightseeing a little bit and then to the movies to see the Dukes of Hazzard.
a cool mall in Melbourne
On Sunday September 25th I went on a daytrip to the Great Ocean Road. That was awesome! We went to the Surf Coast, then had lunch at Apollo Bay, checked out the 12 Apostles, Shipwreck Coast and London Bridge. I also saw some more kangooro's and koalas!
the 12 Apostles, only 8 are left
how nice is that?!
I better not fall down...
on the Shipwreck Coast
no, this pic is not fake
the London bridge
how nice is this???
On Monday I went to Chinatown and to the movies again. I watched the perfect man and this one guy who was sitting beside me started wirting me sms with his cellphone. That was funny. In the evening I got an e-mail from my friend Jen in Canada saying that a really good friend of me, Candice is in Australia as well! I wrote her an e-mail and she told me that she was in Melbourne! How small is the world?! That's just crazy, I was so excited cause I haven't seen her in 4 years!
On Tuesday Candice and I met and it was just like in the good old times at Highschool! We had a nice day in Melbourne, went to Victoria market, to the mall, the Crown and St. Kilda.
in the mall
Candice has a Boyfriend in Melbourne and that's why she is here. I told her she has to come to Brisbane and visit me!
long time no see, me and Candice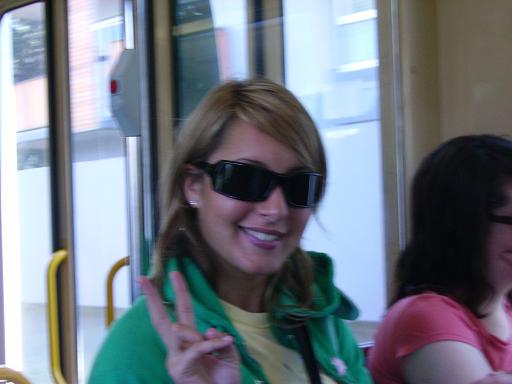 Brisbane
On Tuesday evening I flew back to Brisbane with Jetstar. Jetstar is such a weird airline! You can chose where you wanna sit, just like on the train. I went back to Walter and Teresa's house in Everton Hills.
The following weeks I didn't do much, I met Davide in Brisbane and we went to Byron Bay together, where I won a daytrip worth 60 bucks doing some stupid party game at a bar. I applied at more surfshops in Byron and Surfers.
me and Davide in Byron Bay
When I got back, I realised that I can't wait till Christmas to work at a surfshop because I need money now! I started applying at Cafes. I could've gotten a few jobs at Cafes, but they we're too dodgy and I had to turn them down. I mean I wanna work, but it has to be at least a little bit fun. I still worked at Annabelles in the Kitchen which is always fun. And one time I worked at the Golfclub at a wedding being a waitress! There were a 105 people and only 3 waitresses and I have no experience at all! But everything went allright and it was fun.
I was driving in my little Red Rooster and then they said on the radio that there were bushfires in the area where we lived. When I got to the house, it really smelled and I could see the smoke over the hill. So Teresa, Guzy (the princess dog) and myself got into the car and chased the bushfires! I took pictures like a real tourist!
smoke everywhere
I went to water aerobics a few times with Teresa, it was called Aqua Easy with all the old Ladies...Hahaha and they we're fitter than me! Dude I am getting old!
we tried to teach Guzy water aerobics, but she didn't like it
On October 15th Jen and I moved into a house in Albion, it's a 4 bedroom house and we share it with two guys! They are really weird though! But we just thought it's time to move out and grow up! Hahaha! Albion is very close to the city and there is a busstop right in front of our house. We are moving out on Sunday because we think we are paying to much for that ****hole!
I applied at a Turkish Restaurant, where I could have gone for a trial, but I didn't and got a job at the Mill Pharmacy Espresso Bar in the City. I work there since October 24 and it's been o.k. but not great! It's very small and I get paid a third what I got paid in Switzerland because I have to pay so much tax. I might have to get another job, so I can acutally have fun to not just paying my rent and food. I am always looking for other jobs though cause it's way too stressful and this chick I work with is just the rudest person I've ever met and I don't think I can put up with that for the next two months!
Because 6 of seven people of Jenni's class are Swiss, they decided that they wanna go to the only Swiss Restaurant in Brisbane to eat Fondue. Because I don't like Cheese Fondue I had Fondue Chinoise, it wasn't Swiss quality though;-)
this is the Fondue Chinoise table
On Friday October 28 Jen and I worked in the Golfclub in Albany Greek at some Christian Function as Waitresses! The next day we decided that those two guys we live with and the house, just isn't right for us anymore, so we went house hunting! It's so hard to find something decent though, there are too many freaks around. We didn't fing anything till Sunday evening and that's when we packed all our stuff and moved right into Chinatown! We live in an appartment now, it has aircon, Foxtel and it's very nice and there's even two spas in the building. The only thing in the city is, you can't park your car anywhere, so I have to pay for public parking! But whatever! We live in the Valley now!
I still work at the Espresso Bar.. I wanted to quit today cause that Chinese chick was so mean to me that I almost lost it! She is bossing me around and everything is my fault! And in the morning when I say hy to her she doesn't answear me, she just walks off! How rude is that! With that adittude she really has to watch out. But she is leaving in a week so I thought maybe it'll be better when she is finally gone!
It turned out that she wasn't leaving so two weeks ago on Friday, I just walked out of there after 30 minutes cause I couldn't put up with her anymore! It's been two weeks now and I have been working at the Golfclub and at Annabelles at the weekends and a couple of times during the week. I was also looking for a new job and I could've gotten at least 5 jobs, but I just didn't wanna work in a cafe or restaurant anymore. And then suddenly last week, the manager of the industrie store called me for a job interview. I went there on Friday and tomorrow I start work there. I am very happy about that cause it's a cool store, a nice boss and sweet people who work there.
My first day at Industrie was cool, they treated me as if I had worked there forever! I worked just floor all they and I had fun at work..finally.
2 Swiss and 2 Dutch
The next week I had off because I was supposed to start in a week, but I started Friday because one guy was sick. So I worked at the Golfclub on Tuesday and then on Thursday I was off to Fraser Island.
Hervey Bay, Fraser Island
On Thursday, November 25 we (Jenni, 7 people of her class and me) drove to Hervey Bay where we stayed at a Backpackers for the night. The next day we had to leave at 6 o'clock because we had a meeting at the 4-WD Place where we hired the Jeep. The meeting was boring but necessary. We had to put all the stuff from the two cars into the big Trooper and then drove off to the ferry, which we almost missed.
trying to fit everything in the Jeep
Fraser Island is the biggest sandisland in the world and there is no proper roads except sand and you need a 4-wheel-drive to go on the Island.
we got stuck a few times like you can probably imagine
It only took 30 minutes by ferry to get to the island. There we drove off to find some toilets and then to Lake Mackenzie which was just beautiful! It's the nicest lake I've ever seen, it's just like the ocean, but it's a lake! Hahaha! We had lunch there and then it started raining! RAINING! I couldn't believe it, it never rains! And when we went back to the Jeep, we saw that we had a flat tire! And then the two guys had to exchange that and after we had to find a mechanic. It takes maybe 30 minutes for 10 kilometres, so we drove around all day and couldn't find the mechanic. We put up the tents and cooked dinner.
The next day I woke up at 6 in the morning because I wasn't feeling well. I felt sick all day which was too bad because we drove around and checked out things all day and I felt even more sick driving around in the Jeep. On the coast there's a shipwreck from 1934 which is really cool.
the shipwreck on the Fraser coast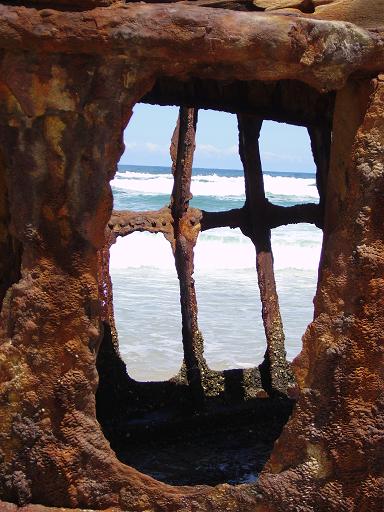 We also went to the Champagne Pools which where great! I just had to go swimming it looked so cool! We camped again and and also had a BBQ.
the Champagne Pools, fantastic!
The next day we went to another lake to see some turtles which we did and then had some gross pasta for lunch and then I got to drive the Jeep on the beach!
driving through the water was fun
I was kinda scared at first because the sand is almost like snow very slippery, but it was fun.
driving on the beach is so much fun!
At 3 o'clock we drove back to the ferry. We had to drive home 4 hours in the rain and we saw at least a thousand lightnigs and I captured one...
a bit blurry, but there sure is a flash on the pic
Brisbane
When I was back in Brisbane I worked at Industrie and then the whole weekend at Annabelles. On Saturday we almost worked till 1 o'clock at night and we were so tired that we went straight to bed. At 2 o'clock an alarm went off and it wouldn't stop...Our appartement is attached to a carpark and I thought it was a caralarm so I tried to go back to sleep, but that was impossible with that loud noise! But then it came to my mind that it could be the firealarm and not the car! So I got up and opened the door and there was smoke everywhere! I got a bit scared and told Jenni to get up and get out of here. I went outside and I couldn't breathe cause it smelt like burned plastic. I went up to the roof so I could see where all that smoke came from. There were 5 Police Cars, 4 fire rucks and even the 7 news team was there! There were two cars in the carpark on fire so I thought there is no danger for us and went back to bed. 2 minutes later the fire alarm in out building went off and the police spoke to us through the speakers and they evacuated us. They shut off the whole street and we all stood there in our PJ's on the street. We couldn't get back in until 5 o'clock in the morning. The news team even wanted to interview us, but we weren't really in the mood to become famous.
Jenni had to get up at 8 in the morning and she was pretty tired, me on the other hand, I slept in! Hahaha!
The next Friday, Walter asked me to work at the Golfclub as a waitress! So I went there at 12.00, set the tables and it turned out that there were 80 people in the big room and 20 in the other and that I was the only waitress! Great! I was never that stressed out like that day! I was running around like crazy and I was sweating like hell!
On Saturday my Japanese friend Mari came to work with me at a wedding and I thought she'd be allright with it cause she told me that she had been a waitress in Japan. But she didn't understand half of what people asked her and I felt really bad for her because it could have been a good opportunity to make some money.
That week was really weird because 3 people thought I was Canadian, 2 thought I had an American accent and one even believed I was from New York! I said No mate, I am Swiss! Haha..
On Sunday it was really hot and it was too hot to just walk around, so we went to the movies. We got the last two tickets for King Kong, which was really cool because it was in the IMAX Theatre.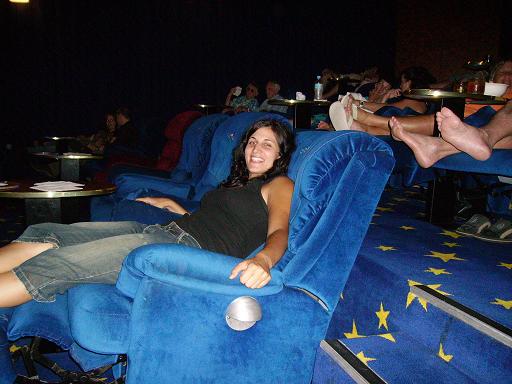 gold class cinema, thanks Teresa:-)
On Monday Jenni's last week in Brisbane started and on Tuesday we all went to a Belgium Restaurant.
Jenni's class and I
On Thursday I went shopping with Jenni and Klaus for camping gear. It took forever and then we had to go home and clean the whole appartment, which sucked. But we had Chinese food after so it was all good.
On Friday, Klaus picked Jenni up and they drove off to their journey. I went to Everton Hills, where my new home for the next month is. That night I worked in the kitchen.
On Saturday the Red Rooster died again and Walter gave me his car for the next week because Teresa and him were going on their vacation in Bramton Island that day. So it was just me and Craig and off course little Guzy left in the house.
On Monday I met Marika and her boyfriend, she went to the same Business School as me. We went to DFO and did some shopping and then to the city. Her boyfriend studied here for over a year and then they travelled together and they are flying home the next day.
On Tuesday I worked at Industrie and when I got home Craig had put the chairs and the table in the pool and was drinking beer and eating pizza with his friend. So I joined them and we invited the neighbours and had a nice poolparty.
On Friday we had alot of fun at Industrie, we were alot of people working because DFO (Direct Factory Outlet) was open till midnight. After work we had another little poolparty and around midnight I went christmas shopping.
On Saturday I picked Teresa and Walter up from the airport and we had a Chinese Fondue, which we always have at home on Christmas Eve. It was really good!
On Christmas day it was really hot, about 38 degrees and we stayed in the pool all day, had a BBQ and practically ate all day long.
x-mas lunch in the pool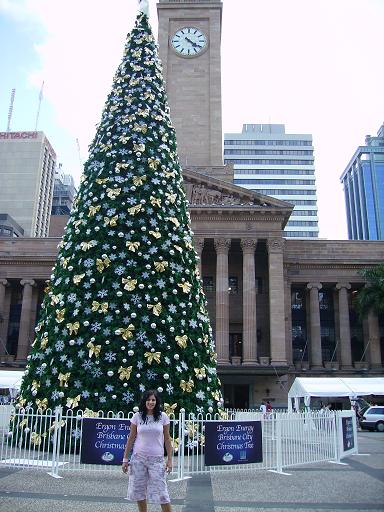 merry christmas
At night we went over to the neighbors house and sang singstar on playstation. Everyone was drunk and it was just hilarious to watch! I sang too and I even got a "hopeful" from the judge.
they sang all night long
After christmas everyone including me was really exhausted, so we didn't really do anything except for lying around the pool, going to the neighbors house or the movies.
Then on New Year's Eve Walter and Teresa had another Party at their house and they invited a few people and we had a Cocktail competition! Even though my cocktail was the best I was only 3rd. Then it was 12 o'clock and the New Year began for me earlier than for all my friends in Switzerland. I talked to my mom, dad and sister and another year had gone by.
the two lovely hosts of mine, Teresa and Walter
Yesterday January 2, Walter's oldest son who lives in Townsville came for a visit and we went to the Normanby's for lunch. We had a BBQ for dinner and went over to Club Elwood (the neighbors house) to sing some karaoke.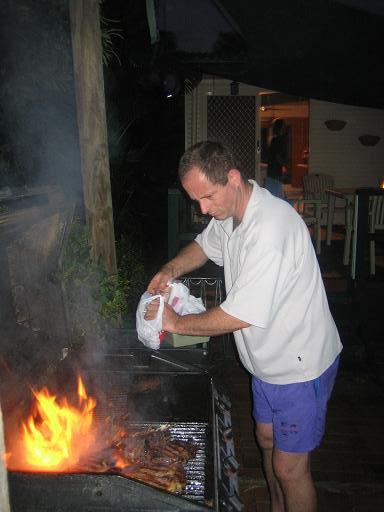 Walter heating up the BBQ...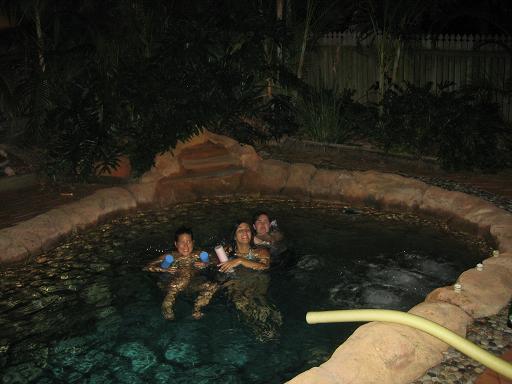 ...while the girls are having fun in the pool
Today Walt and I drove all over Brisbane to find an alternator, an aerial and a mirror for my car because my car broke down and it is not the battery, it is the alternator. Someone torn off my aerial in Chinatown and another big jerk bashed my side mirror infront off the house.
I am also looking for a job because I am not getting enough hours at Industrie and I am leaving Brisbane in not even a month.
I met Mari, the Japanese girl in the City because she is leaving Australia to go to New Zealand (good on her!) and we had a really good talk and now I know almost everything about Japanese people and their relationships.
On January 15 we (Teresa, Walter, Craig and I) went to Bribie Island with the neighbors and their friends. We took out their boat and also the tubes, waterski's and a wakeboard. We started with the tubes which was really fun and everyone had a go at it and I had two..haha. They were telling me about the sharks that are in those waters and that they like backpacker's better than Aussies and if I get attacked, that I get more publicity because I am a backpacker. And Teresa even wanted to rent Jaws 1, 2 and 3.
me hanging on to the tube
Teresa and Craig were talking about how good they are at waterskiing and when they tried they couldn't even get up! And then I tried and the 3rd time I stood up and stayed up! I was really proud of myself.
The next day we had to clean Annabelles and I was in serious pain, every muscles in my boady was aching! That day we went to Gold Class...a fancy cinema where you can lay in the seats and there's waiters that serve you.
I got a job at Gilhooleys in Chermside and the first night I worked there was horrible, tonns of dishes and no one said hy or introduced themselves! It was just bad.
Then I got a job at the Modena Trattoria in Albion, an Italian Restaurant. They teach me the traditional style of Italian cooking which is great.
Right now I am working 3 Jobs which is a bit stressful. I work 6 nights a week and then I do the breakfast shifts at Annabelles twice a week which means I have to get up at 6 o'clock.
Today Sunday January 29 we decided that we are gonna have a tennis match, the Swiss against the Australians. I gotta admit that we the Australian Open was our inspiration. I've never played tennis before, but with a bit of practice, maybe I will beat Martina next year..hahaha!
me playing tennis or trying to...
The last 2 weeks in Brisbane i didn't really do much except for working. I worked nights till 11 o'clock and then breakfast at 6 in the morning 3 times a week. It was kinda stressful and I was tired all the time, but I knew I had to make money to go travelling and it would be over soon.
I quit my Job at Gilhooleys and at Modena Trattoria on the same day and it felt awesome! I felt relieved and free cause they were the worst job's I have ever done!
I also did a few conferences at Annabelles, they were all teachers and one conference there were 85 hospitality teachers, I was so nervous because I thought they would watch everything I do and judge me cause that's they're job. But it was o.k.
And then there was another Party at Club Elwood (the neighbors house), we went out for dinner and on Monday February 13 I packed all my stuff, cleaned my room and the next day (Valentines day) I was off to Noosa with my red rooster and my luggage.
click here to continue with the journey