Brazil 2008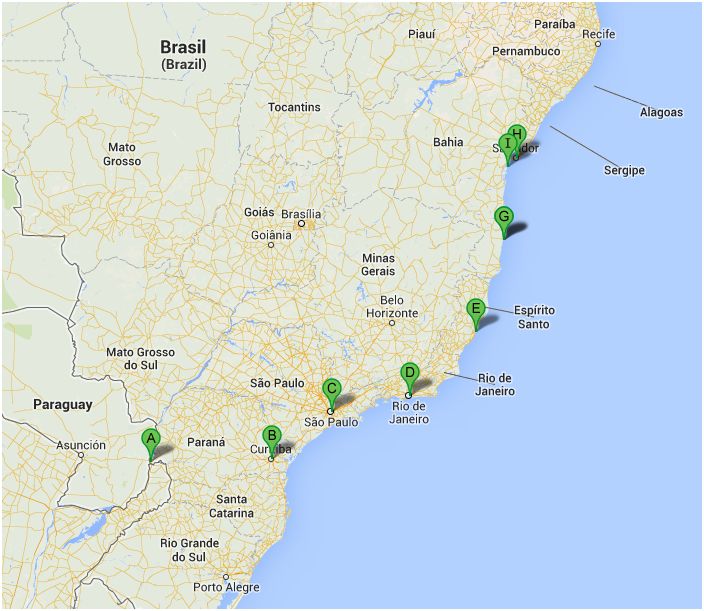 Foz do Iguazu
On February 1 we took a flight from Buenos Aires to Iguazu. It took an hour and a half and when we got there we took a cab from the airport to Foz do Iguazu. Foz do Iguazu has 300´000 habitants and it is in Brazil, Puerto Iguazu is right over the border and still in Argentina.
The town is weird, there´s nothing to do, it´s like Alice Springs you go to the outback and from here you go to the waterfalls. The people here are very friendly though compared to Buenos Aires.
Today at 9.30 a.m. we waited for our tourguide to go to the national park. We thought we would be a huge group but it was just my sister and I, so we had our private tourguide for the same price. Today we were visiting the Argentinian side of the Iguazu waterfalls, so we had to cross the border again.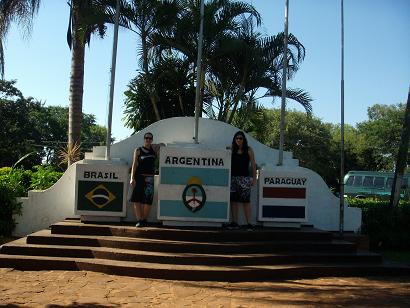 the 3 border landmark
This spectacular sight lies on the border of Argentina and Brazil. It was simply named "great waters" by the local Indians. It consists of more than 275 cascades and waterfalls, situated on a fault and created by tectonic movements. The natives have named the falls: "Devil's Throat", "Hidden Throat" and more. There is a legend about the rainbow that crosses over the waterfalls.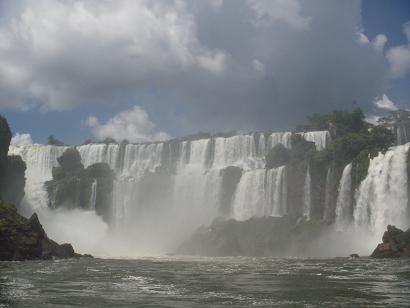 God told the shaman "I will show the world a marvelous thing". No one believed him and on the night of a full moon, there was a flash of lightning, and suddenly a rainbow appeared. The misty clouds of water endlessly engulf the waterfalls. Spray rises continually, and forms a mist that climbs high into the sky. The water eventually falls onto the surrounding forest. It is this cycle of water that has nurtured diverse species of animals and vegetation in this subtropical jungle.
First we went on a safari through the jungle, we met some really nice Australians, we don´t meet many backpackers here, it doesn´t seem to be a backpacker´s country. Lots of old people though. The safari was 8 km long through the jungle of the national park. Then we got onto the Iguazu river on speedboats and right to the waterfalls.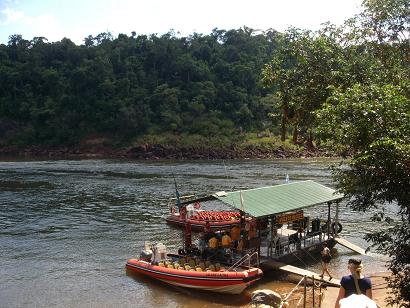 the speedboats on the Iguazu river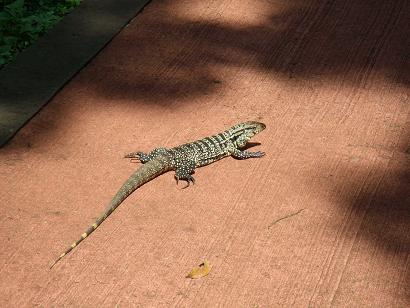 lizard on the trail
We were soaking wet, but it was so much fun. Even had the chance to take some pictures. After that we walked a few kilometres on a trail through the jungle where we had a nice view on many different waterfalls. After that we had lunch.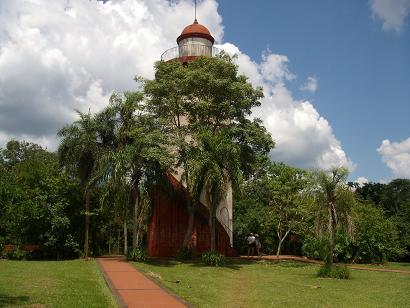 Then we took a train to The Devil´s Gorge station where we walked on a bridge over the iguazu river from island to island until we reached the Devil´s Gorge. The Devil's Gorge is a stunning waterfall 70 meters in height, which serves as a barrier separating the two National Parks, one of which is in Argentina and the other in Brazil.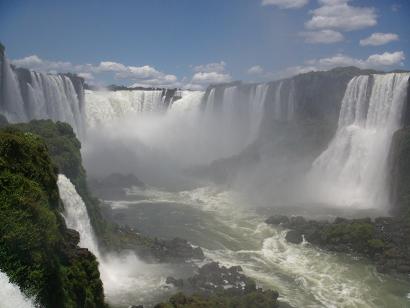 the Devil´s Gorge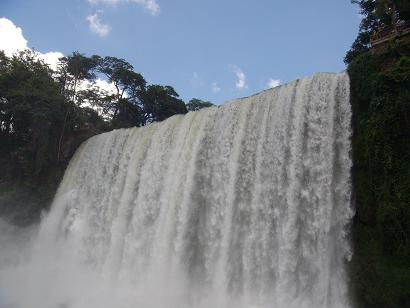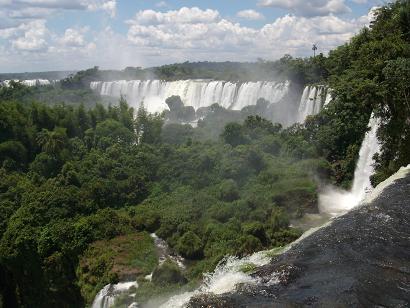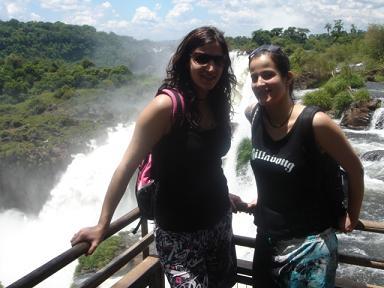 We even saw a caiman, turtles, different birds, it is stunning.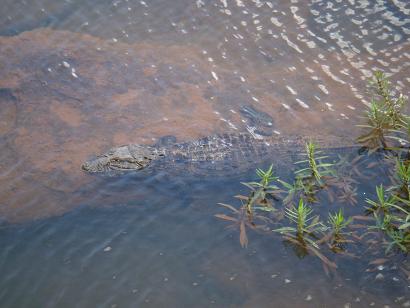 caiman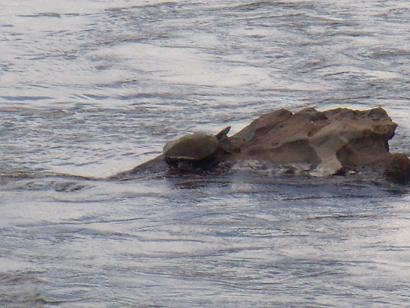 cute little turtle
bluejay like the Canadian baseball team
It was a great daytrip even though I am so tired cause we walked alot and it was 35 degrees today and I got a sunburn, but eh, welcome to Brazil right:-)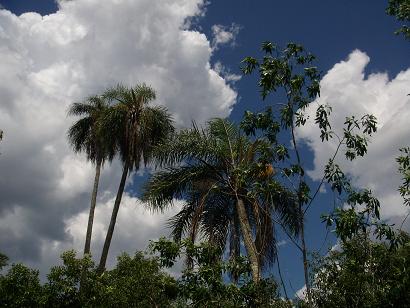 Today Sunday we went to the Itaipu dam, is a hydroelectric dam, the largest in the world on the Paraná River located on the border between Brazil and Paraguay. It was very impressive.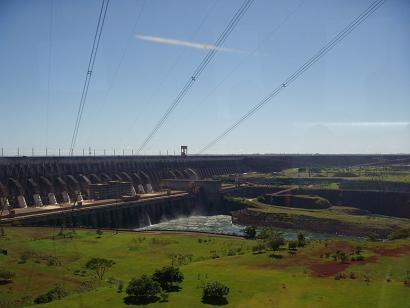 Itaipu dam
After that we drove to the Brazilian side of the waterfalls, we had to walk 1 km and the view was amazing. Took like a million pictures of the waterfalls.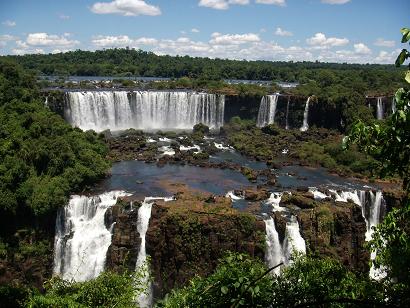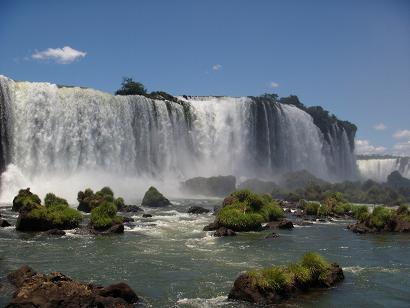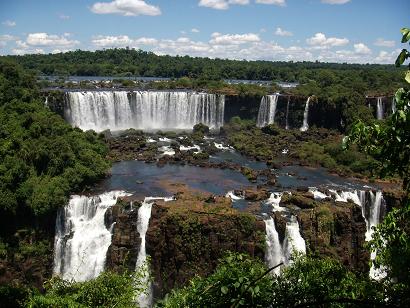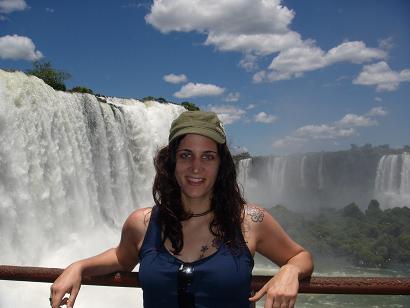 We were supposed to meet to guide back at the entrance of the national park at 3 o´clock and we were ten minutes late and he was gone. We waited for 20 minutes and went to the bird park cause that´s where they went next. We didn´t see the guide but really nice birds.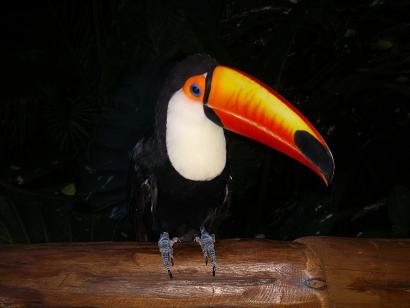 what are you looking at birdie?
Since the guide just took off without us we had to take the bus back to Foz do Iguazu. Back at the hotel I talked to the travel agent to get some money back. We got a few Reais back.
Today Monday we went to Paraguay, it´s only a few kilometres away but it takes forever by bus cause there´s alot of traffic which is crossing the border. Ciudad del Este is a shopping paradise for all the Brazilian´s cause there they can buy electronic devices 40% cheaper than anywhere else. I bought myself a Fujitsu camera and only paid US $ 150.- (of course in pink) and some movies for only a dollar each. Ciudad del Este is a duty free shopping paradise, it is a place that defies the imagination of just how much "stuff" people can possibly hock on the streets.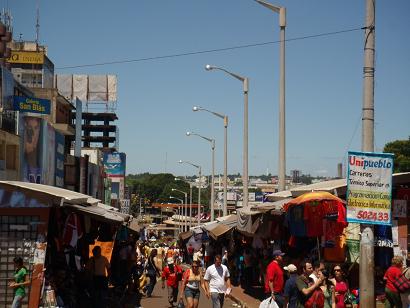 Ciudad del Este (Paraguay)
For those of you who have seen Miami Vice, there´s a scene in the movie that plays in Ciudad del Este and there´s as well one at the Iguazu falls.
CDE exists purely to entice shoppers from Brazil to come across the non patrolled border to buy crap that they don't want or need (In addition, they also exist as the top drug trafficking stop in Southern South America because of the weak border with massive Brazil).
Curitiba
We were at the bus terminal in Foz do Iguazu at 06.30 a.m., the bus left at 7 o´clock and it took us 11 hours to get to Curitiba. It was a horrible drive. The bus stank and they only played movies in Portuguese and only stopped once. I thought the time would never go by. Finally arrived in Curitiba found a cheap hotel and wanted to wash some clothes but the guy at the hotel told us that all the shops are closed because of the carnaval. So the town was dead and we went to bed really early.
The next day all the shops were open again and we did a city tour.
the best store in Brazil lol
On Thursday February 7 we left Curitiba by bus to São Paulo, the drive was 7 hours long and very nice scenery. We were driving through hills with lots of palm trees. It reminded me alot of the horror movie Turistas which is also playing in Brazil (lol I know I watch too many movies).
São Paulo
São Paulo the biggest city in Brazil has 12 million habitants, 20 million with the suburbs. It´s huge. We drove an hour through the city until we finally reached the busterminal.
We took a cab to the Formula 1 hotel, it´s a really nice hotel for a change, so we can relax here and even have a girlie-beauty-day;-)
Today Friday we went to this huge mall, it was six stories high and it only had skate, tattoo, piercing and hip hop shops in it. It was a dream for us, so we did some shopping (my backpack is getting heavier and heavier:-(
São Paulo is a huge city but pretty ugly, we are not gonna spend much time here.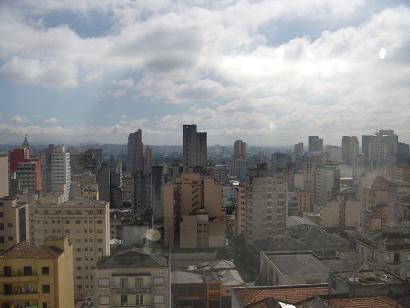 São Paulo, big but not all that pretty
wannabe Empire State building
Today Saturday is our last day in São Paulo, we went to the market and it was so funny, I wanted to buy this cd and suddenly all the dealers started running away and when we turned around we saw the police coming. That´s what happens when you are trying to sell fake stuff. You can buy anything on the streets here.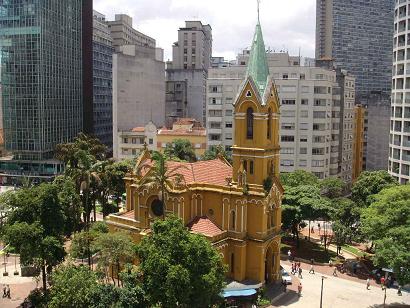 church in the center of the city
We will be leaving tomorrow to Rio de Janeiro, so we can go swimming at last. We actually wanted to book a hotel at the Copacobana right near the beach but all the hotels are booked out. Then we realized that Carnaval starts in a week. We just have a bad timing. The prices for hotels are horrendous. So we can only afford a backpackers at Botofoga, it´s not that far away from the center of Rio and the Copacabana so that´s allright too.
Rio de Janeiro
We left São Paulo on Sunday, it was a six hour drive, lots of curves and I felt a bit unsecure when the driver started to overtake gasolinetrucks. We arrived in Rio at 5 o´clock and it was so hot, the more north we drive the hotter it gets.
We checked into the Ace Backpackers in Botafogo, the room is really small and it reeks, still don´t know where the smell is coming from:-( The first night was terrible, our room is right between the bar and the TV room and about 60 people were partying there and we were so tired from the trip but couldn´t sleep cause it was too noisy.
Today Monday February 11 we started our day at the Copacabana, it was 9 o´clock and already 30 degrees.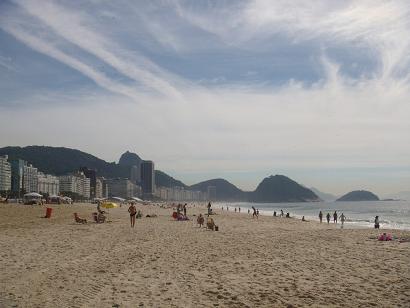 Copacabana
And then we took the metro to go downtown Rio, but we were disappointed, the downtown area is really boring, no shops, just alot of banks and one big church. After that we went to the cinema.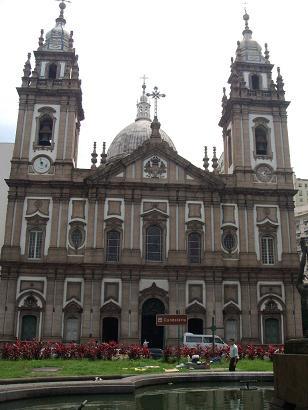 On Tuesday we went on the Corcovado, one of two famous big rocks (some might even call it a mountain, but not me, I am from Switzerland, I know a mountain when I see it;-) in Rio de Janeiro. We didn´t take the cog train which is a Swiss fabricat, we went up there by car instead. I really enjoyed the view from up there, but it was way too hot, 35 degrees at 11 a.m. From the Corcovado you can see all of Rio, of course the famous Sugar Loaf, the Copacabana, Ipanema and Leblon beach. It is just beautiful: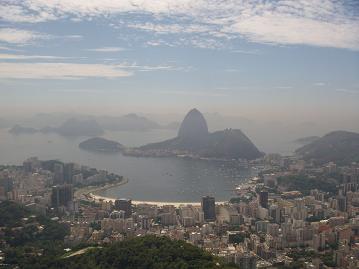 the Sugar Loaf and the Copacabana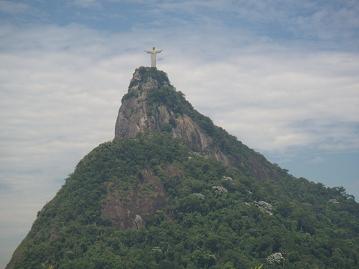 the Corcovado with the Christ Redeemer statue
overwieving Ipanema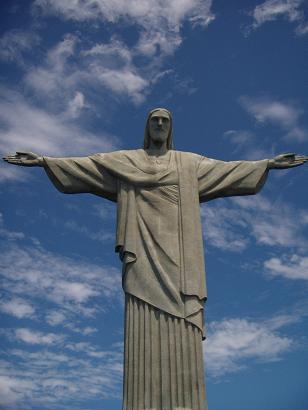 the huge monument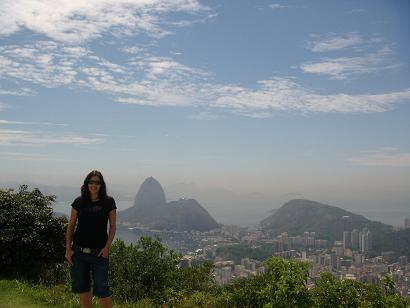 11 a.m., 35 degrees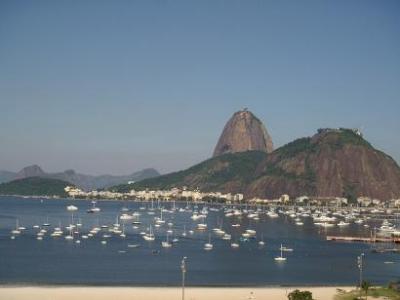 Botafogo beach
On Wednesday we went to the Rio Zoo, the entry was very cheap, but it´s kinda disappointing or rather sad, how the animals have to live there. The enclosures are way too small and dirty, the turtle´s and caiman´s don´t even have enough water:-(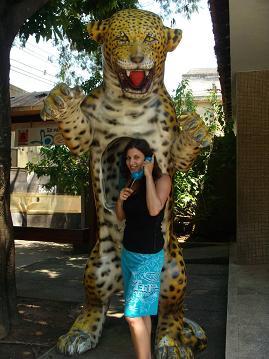 visiting the Rio Zoo
Vitória
Took us 8 hours from the Rodoviaria (busterminal) in Rio de Janeiro to Vitória. When we arrived we thought to ourselves, oh my gosh where did we land now. The town was filthy and very small. We took a cab to one of the hotels that was recommended in our travelguide, a hotel in the oldtown of Vitória.
For those who have seen hostel, yes that´s what it was like. the room smelled weird, the bathroom was all dirty, they probably havent cleaned it since the hotel was opened a 100 years ago! The worst though was that on the walls there was mould and there was dust hanging from the ceiling. I almost had to puke and I didn´t know how I would survive the night at this place. It was the worst valentines day ever:-(
By the way, if you are going to travel anywhere in this world, don´t ever buy the Vox Tours travelguide. Nothing they say is true in there, the hotels they recommend suck. I suggest the lonely planet travel guide, it´s only in English, but very good and very honest which is important during travelling.
Porto Seguro
From Vitória we took another bus to Porto Seguro. It was the worst drive of my life. First of all, the bus had no aircon, it was 35 degrees outside and there were 50 people in the bus. The bus stopped 11 times to drop off and pick up people, so we had 12 hours to get to Porto Seguro.
At 12 o´clock at night we got to the Rodoviaria and had no hotel so this guy comes up and tells us about this great hotel, we were to tired to say anything and went with him. Luckily for us the hotel was pretty good and cheap as well.
The town of Porto Seguro is very nice, lots of restaurants and shops and the people are very friendly.
cute shopping center
Porto Seguro is great there´s 90 km of beaches, it is a really nice town. Today we rented a buggy (a small car, looks like a jeep but smaller and without a roof). I had some problems changing the gears, it´s so weird to drive but also alot of fun.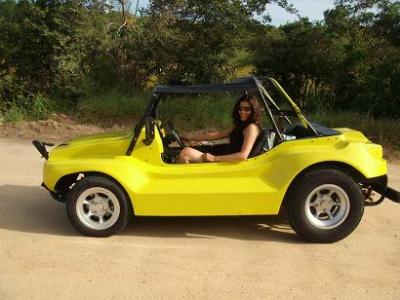 driving the little buggy we rented
So we checked out this really nice beach, they were playing music and dancing and the water was a really nice temperature. we are on holidays:-)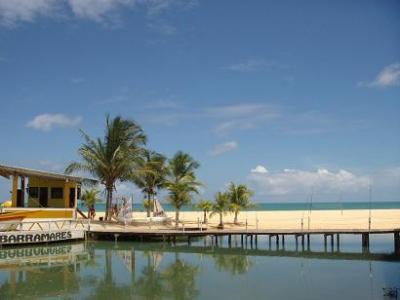 @ Barramares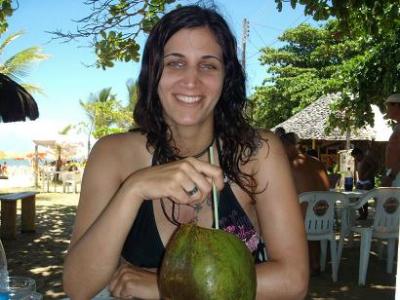 mmmh aqua de coco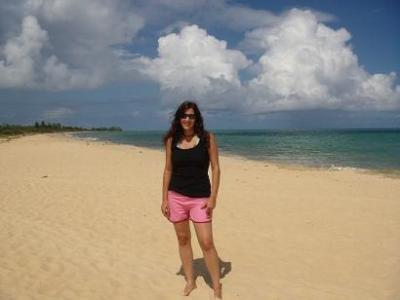 I am loving it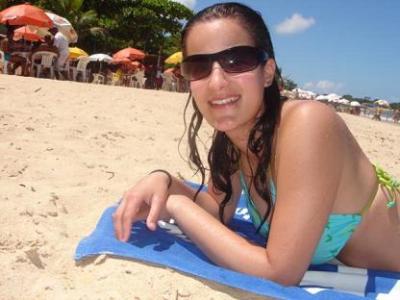 my sis is enjoying the sun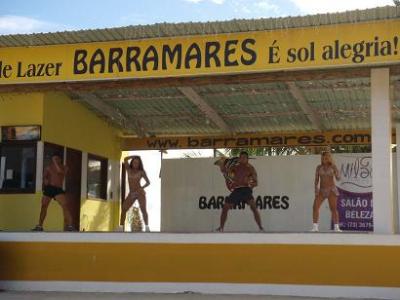 yeah shake your booties
Arraial d´Ajuda
From Porto Seguro we took a ferry to Arraial d´Ajuda, 15 years ago before electricity arrived in Arraial lots of Hippies came here to look for peace and happiness. There are still alot of Hippies and also alot of backpackers, but it is a quite and very nice place to spend a few days at. The beaches are awesome, the town is really cute and all the houses are colored or in different shapes.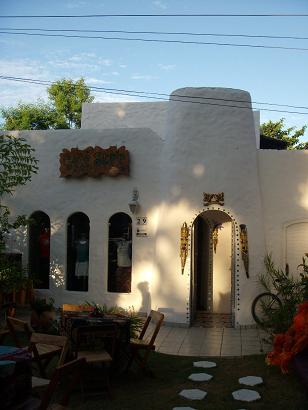 It´s the first time that we have a really nice hotel. It´s got a pool, a nice garden, a hammock on our balcony and it´s very clean and with delicious breakfast.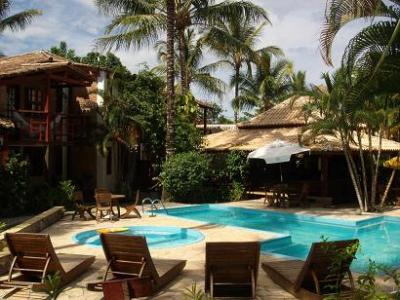 our cute hotel with the pool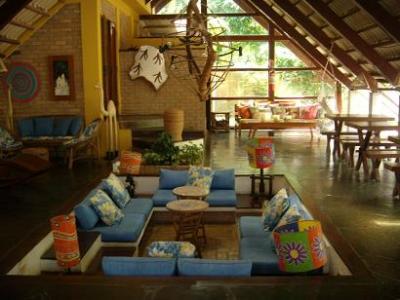 the lounge at the reception
We went to two of the many beaches here in the area, it is so nice and we are enjoying ourselves very much.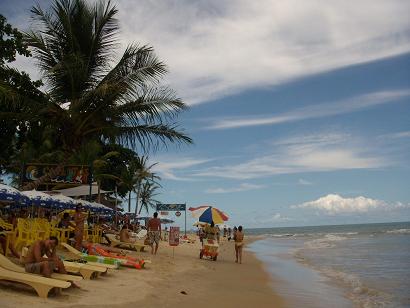 Pitinga beach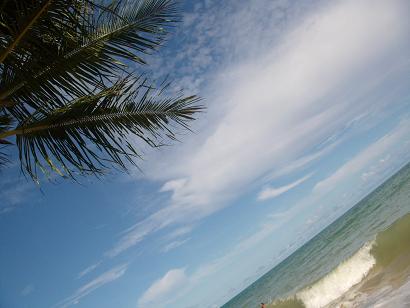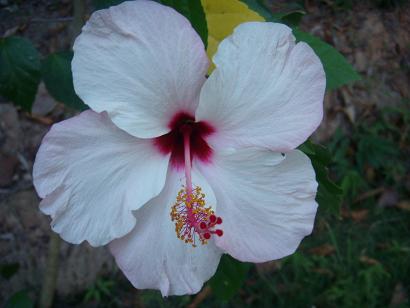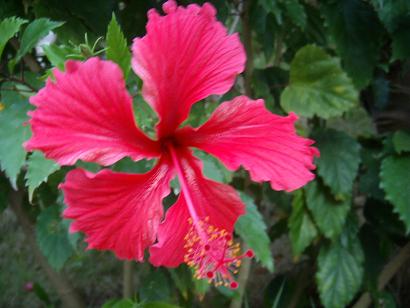 The funniest thing though happened last night when we walked back to our hotel and we looked at this little cafe called Eva´s bar and I read Roesti...a Swiss Restaurant where you can acutally eat Roesti in the middle of nowhere in Brazil. How funny is that? We are gonna eat there tonight.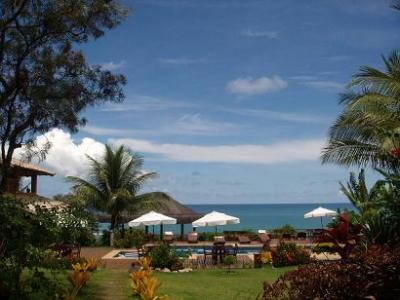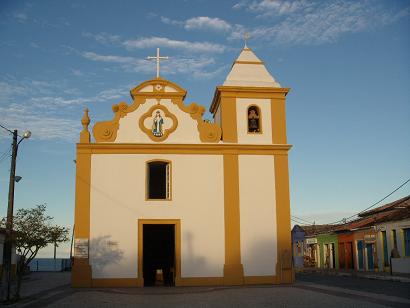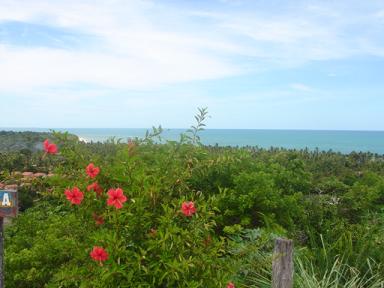 Today Thursday February 21 we enjoyed another delicious breakfast at the Pousada Candeia and walked into the center of Arraial to get a moto taxi to the auqua parc nearby.
The parc was already really busy and we locked our belongings away and off we were to the waterslides. It was so much fun. The water parc is one of the biggest in Brazil and it´s right by the Ocean.
February 23, once again we had to leave a place that we had really started to like, we got on the ferry back to Porto Seguro and then a cab to the bus terminal. We had supper at a launchonete and met this really nice Australian guy and while we were chatting away, we noticed a fire in the field right beside the terminal. We were wondering if this was normal and asked someone cause nobody really seemed to care. But the guy told us that it wasn´t. We were hoping that it wouldn´t burn down the station cause it became bigger and closer as we were watching. An hour after the fire started, the fire trucks arrived and it was time for us to get on the bus.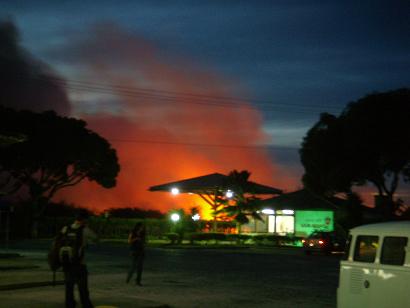 the fire almost burning down the lounge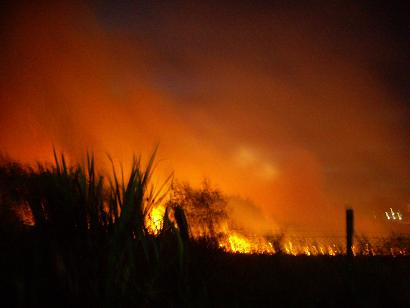 feeling the heat
Salvador
12 hours later we arrived in Salvador de Bahia. The city of Salvador has 2.5 million habitants and 70% of them are blacks (Afro-Brasilians). We checked into a hotel in Pelourinho that´s the old town in the upper part of the city overwiewing lots of old churches, monuments and the port of Salvador.
in the streets of Salvador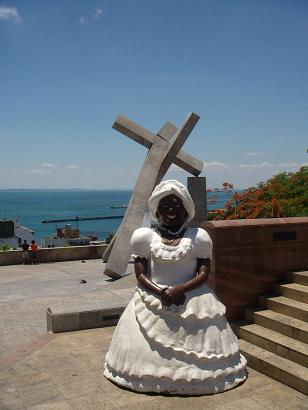 famous and typical Bahian monument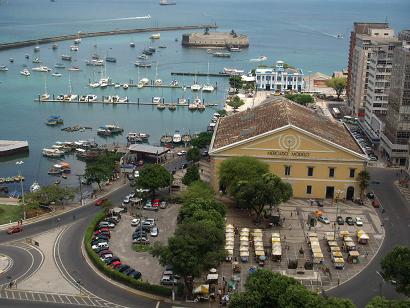 the port and in front of it the craft market
We heard many stories about Salvador, that it´s really dangerous especially at night cause the criminal rate is at it´s highest. When we were walking through the streets we started to realize that this was actually really true. Lots of beggers and homeless people, lots of little kids on the streets and they are all very pertinacious.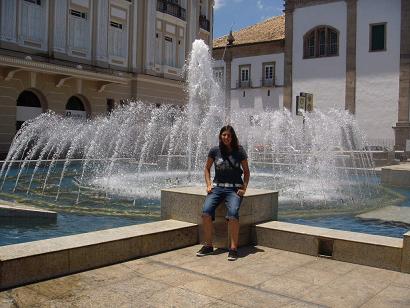 fountain in front of the hotel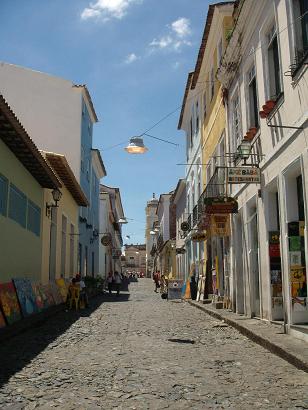 We walked around Pelourinho visited the famous baroque chirch São Francisco and the crafts market and there we´ve seen the real Capoeira for the first time. Those guys in Switzerland might be good, but the people here WOW!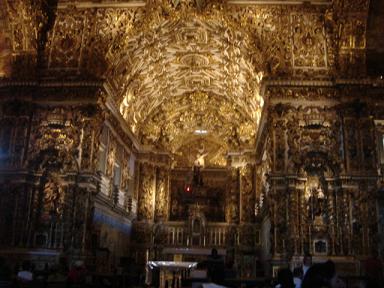 baroque, lots of gold
Bahia where Capoeira comes from
We had actually planned to stay 5 nights in Salvador but we changed our minds and bought a boat ticket to Ilha Tinharé.
When we got up at Sunday morning (my sister´s 20th birthday, we heard this really loud but nice singing and we thought it came from a church. We packed our bags and went down to the lower city by elevator we saw this huge crowd of people on the streets and it was them singing. We were told that it´s a church service with about 600 people. very amazing and even more impressive, they´re faith...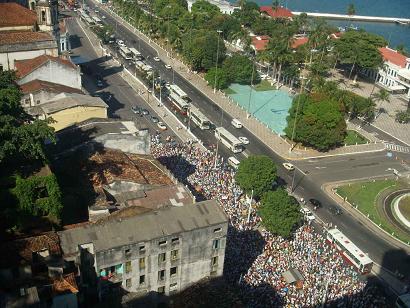 not the streetparade, church service held on the street
Ilha Tinharé/Morro de São Paulo
Two hour catamaran ride to the island on the way we´ve even seen about 6 dolphin´s swimming beside the boat, they were so cute.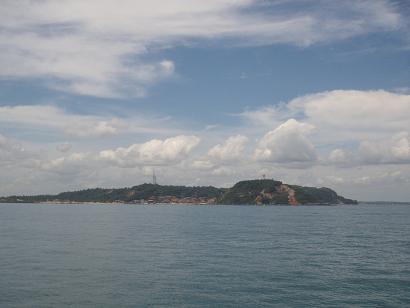 Ilha Tinharé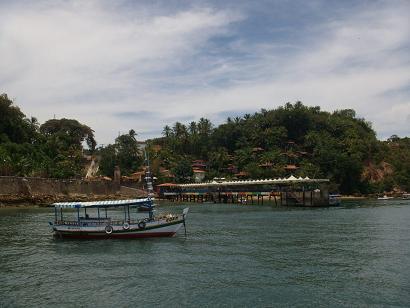 the harbour of Morro de São Paulo
There are no roads on the island and no cars, the taxis are guys who carry your bags to the hotel on wheelbarrows. Poor guy, I felt really sorry for him, since our hotel was a 12 minute walk away from the harbour, but I guess they are used to this.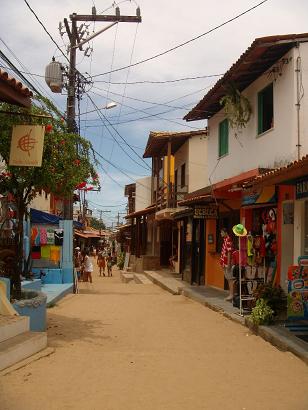 lots and lots of sand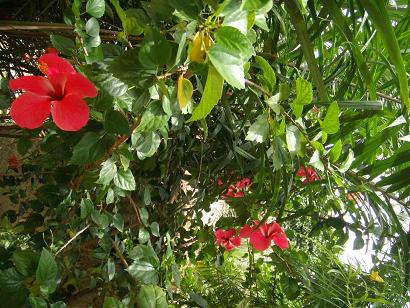 gosh I just love 'em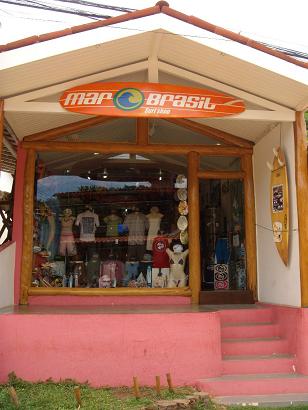 surfshop yay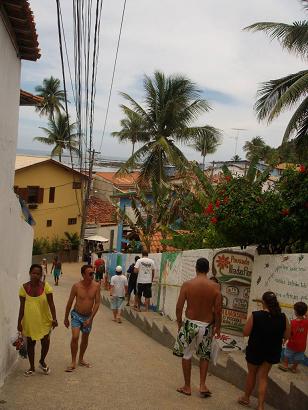 walk to the beach number one (beaches are numbered here)
Since it´s my sister´s birthday (happy birthday little sista:-) we thought we´d enjoy the day and go the beach because we are on an island and surrounded by beaches (yay, don´t be jealous, admire us lol)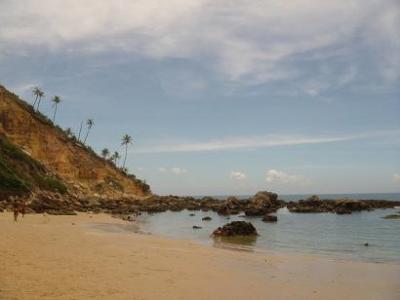 praia # 1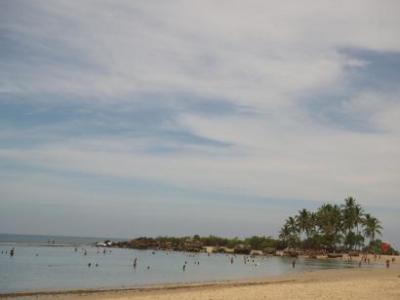 praia # 2 (yes it gets better and better:-)
no comment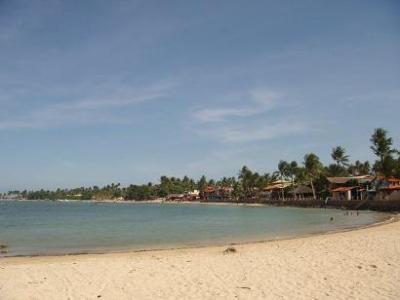 praia # 3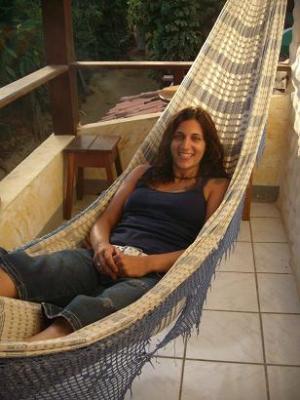 relaxing in the hammock after a hard day at the beach lol
The next day we checked out the whole island with all it´s beaches. Every night at beach number 2 there´s a big party and in the center of the village a little market and you can get cocktails and everything on the streets. we´ve had the first really good Italian food since we are in Brazil.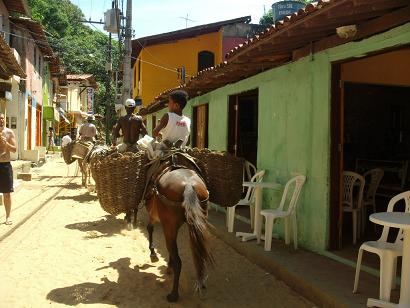 no cars but donkeys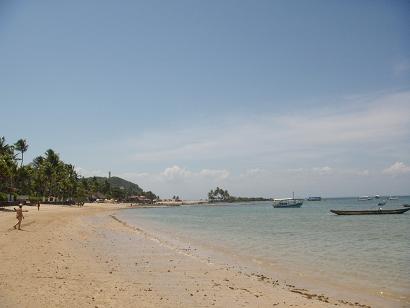 Praia # 3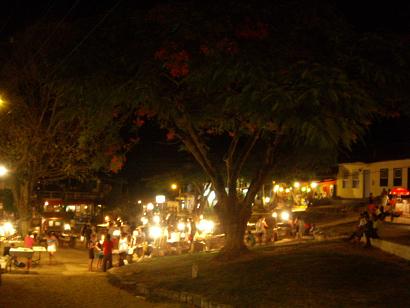 the little market in the center of the village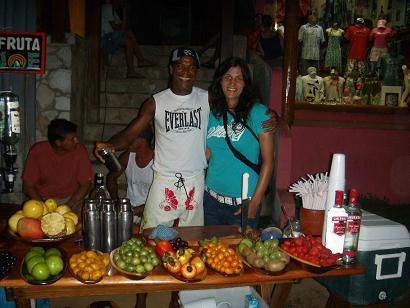 my favorite cocktails, yummi
We left beautiful Morro de São Paulo on Tuesday by boat and the Ocean was so rough that most of the people on it got seasick. They were puking everywhere. It was so disgusting I really had to pull myself together that I didn´t throw up as well! The worst 2 hours I tell ya!
Salvador
We checked into the same hotel as we stayed in before we went to the island cause it´s in the middle of everything and really save (the hotel only). Then we went to an internet cafe to put our pics online and my sister was sitting there and listeing to music and this guy just walks into the cafe, grabs her bag and wants to walk back out. Luckily one guy was screaming stop! and my sister grabbed her purse and then he walked away (he didn´t even run!). In the afternoon we watched the police arrest to guys and in the morning when we were getting ready we heard this pregnant woman screaming like she was being murdered! Then the police came and she just took off. Don´t know what the matter was with her. Anyway you really have to careful here cause it is really dangerous, not a safe place at all.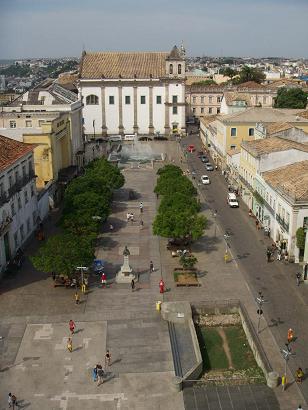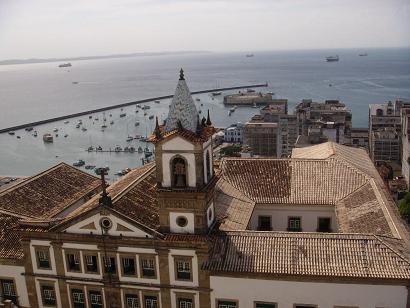 On Wednesday we wanted to go to Barra (the beach here in Salvador), got on the bus and told the driver where we wanna get off. 20 mintues later we thought hmm shouldn´t we be there by now, so we asked him and he just said no we passed that long time ago. Oh thank you for telling us you A******. So after an hour of this odyssey we got off at this huge shopping mall but didn´t have money or credit card because we intended to go to the beach, so we went to the movies instead.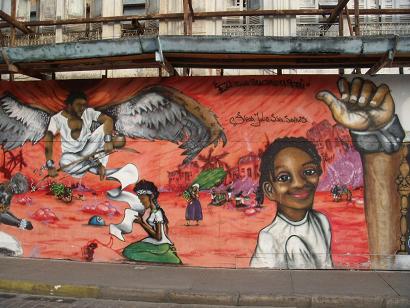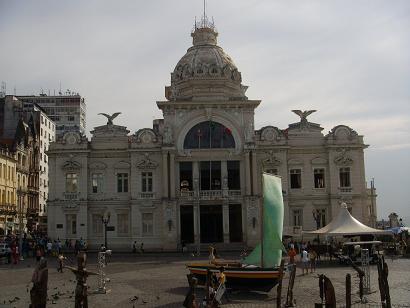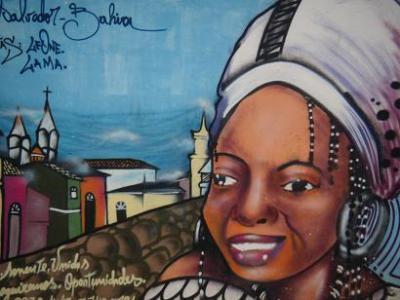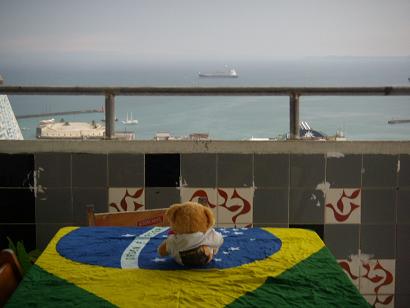 this pic is only for you Carla lol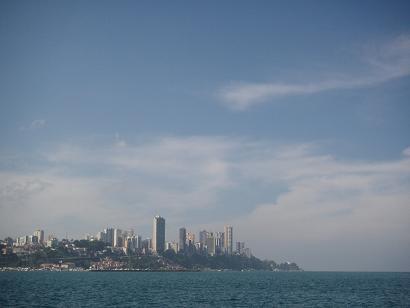 goodbye Salvador
Rio de Janeiro
On Thursday February 28th we flew from Salvador International Airport to Rio de Janeiro. We actually wanted to get a cab but the prices are horrendous so we got on a bus who took 90 minutes just to get to Botafogo. The hostel we had booked on the internet didn´t have a room avalaible even though I made a deposit and also got a confirmation. So the guy wanted to recommend that we go to the Ace backpackers the one we stayed in the first time! No way that I am ever going back there! So he paid for a cab and we drove to this other hostel at the Copacabana.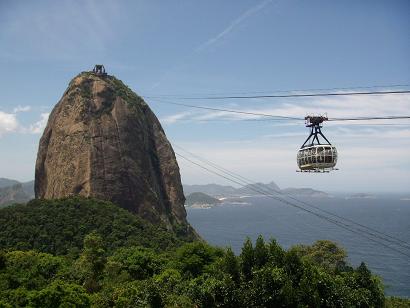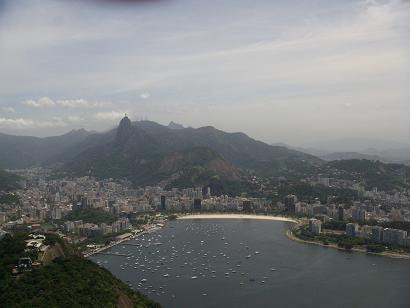 Today we went back to Botafogo to meet with the German girl Rouvena who we met yesterday at the backpackers and we took a bus to Urca the station where you go up the Sugar Loaf, besides the Corcovado with the Christ statue it´s the most famous landmark in Rio de Janeiro. The view from up there was amazing. Rio is so beautiful when you are standing on this big rock.