San José
Costa Rica had been on my bucket list for quite some time now, so I've decided to go on my first overseas trip with Leilani ALONE because I have more holidays than Debbie😅
I gotta admit I was more nervous than I've ever been before a trip turns out for nothing. Not to brag but she is the easiest kid to travel with! It was a 20-hour trip door-to-door and she was super chill. No tantrums, no crying, no mami I am bored. And when we transited in Madrid she just followed my lead and when we arrived in San José and it was 3 a.m. Swiss time and she had only slept for a couple of hours, still as cool as a cucumber 😁
What are the requirements at the moment for Costa Rica? No negative COVID test is needed, however I took a rapid test and a PCR test before coming here.. First of all I wanted to be sure I am healthy because going back home I will need one and to be fair towards Costa Ricans and not bring more of the virus because they do have lower numbers than us. I do have another test on me just in case I am starting to develop any symptoms.
Travel insurance valid during the entire stay in Costa Rica (coverage dates). US $50,000 for medical expenses, including COVID-19 disease. US $2,000 for accommodation expenses in the event of COVID-19 quarantine.
We were at the airport in Zurich 2h15 prior as usually but the check-in alone took 1h15! It was hideous, only 2 counters open and the flight was actually delayed 20 mins due to that. Then arriving at the gate our stroller broke, without the possibility to repair it. Luckily, we were just in time for our onward flight in Madrid. An angel of flight attendant told us which row was empty and we had four seats to ourselves which was pretty nice because we could actually lay down and sleep for a few hours turning economy into semi-first-class 🤩. The flight went by quickly, there was only one annoying passenger and we arrived just in time in San José. From arriving to picking up our luggage it was only 20 mins and off we were picking up our rental car. I did get lost on the way to the hotel but I guess that's part of the adventure.
So, San José is a place to either skip or stay overnight like us because our flight got in at night.
La Fortuna - El Arenal Volcano
The next day we drove 135 km to La Fortuna which took more than 3.5 hours due to Easter traffic and heavy rainfall. The drive through hilly rainforest was very beautiful, waterfalls coming down on the side of the road. La Fortuna is undoubtedly one of Costa Rica's most talked about destinations with the main star, Arenal Volcano that provides the backdrop and can been seen from almost every vantage point. Arenal is the most active volcano in Costa Rica.
There are plenty of activities: you can explore the rainforest canopy on a hanging bridge, fly through the sky on a zip line, rappel down waterfalls, and splash down churning a river on a whitewater raft.
So of course I had some fun things planned for me and my girl. One attraction that you don't want to miss is La Fortuna's hot springs. These are naturally heated by the volcano's thermal energy. So we went to Baldi hot springs, 25 thermal pools amidst tropical rainforest including a little waterpark for kids.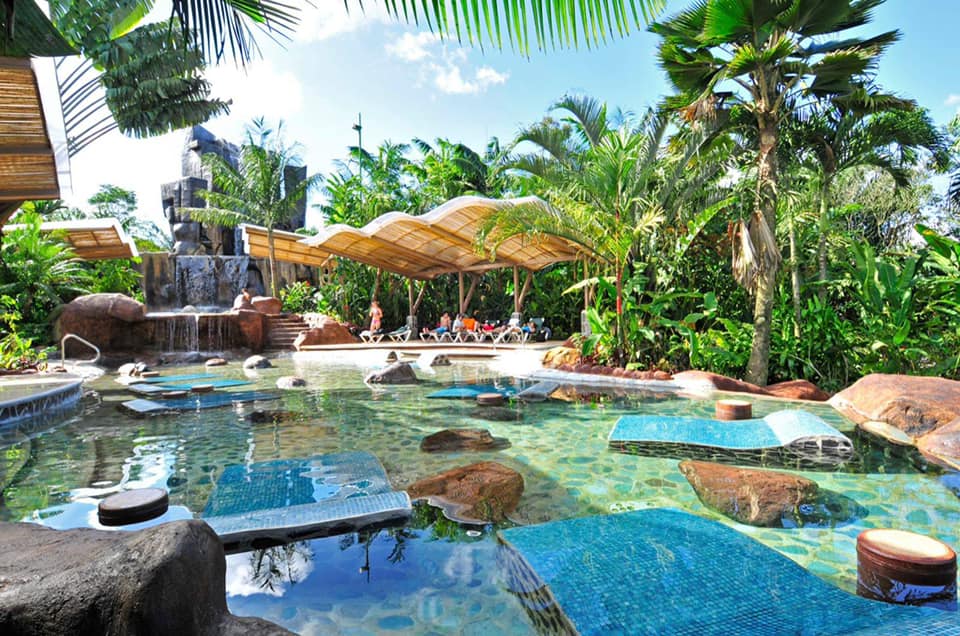 25 thermal pools heated by volcanic energy amidst the tropical rainforest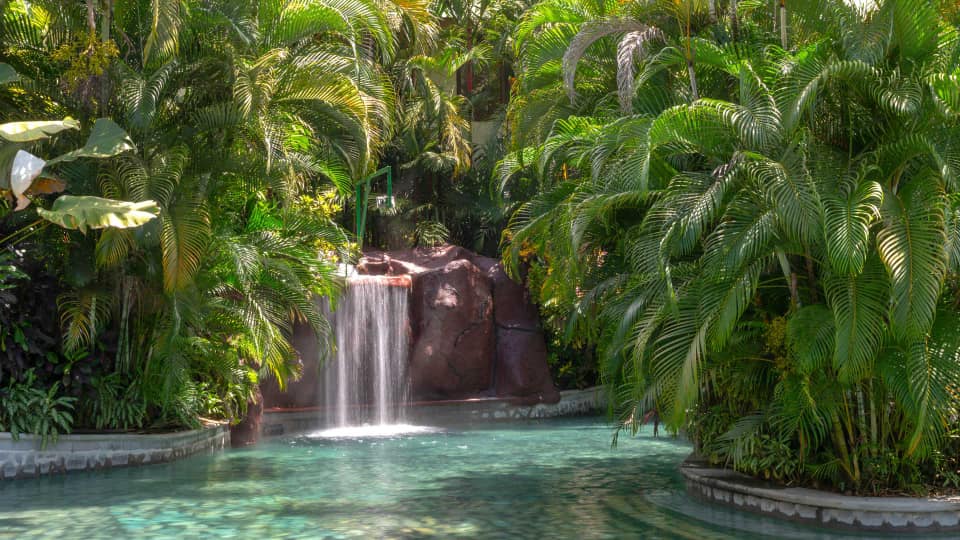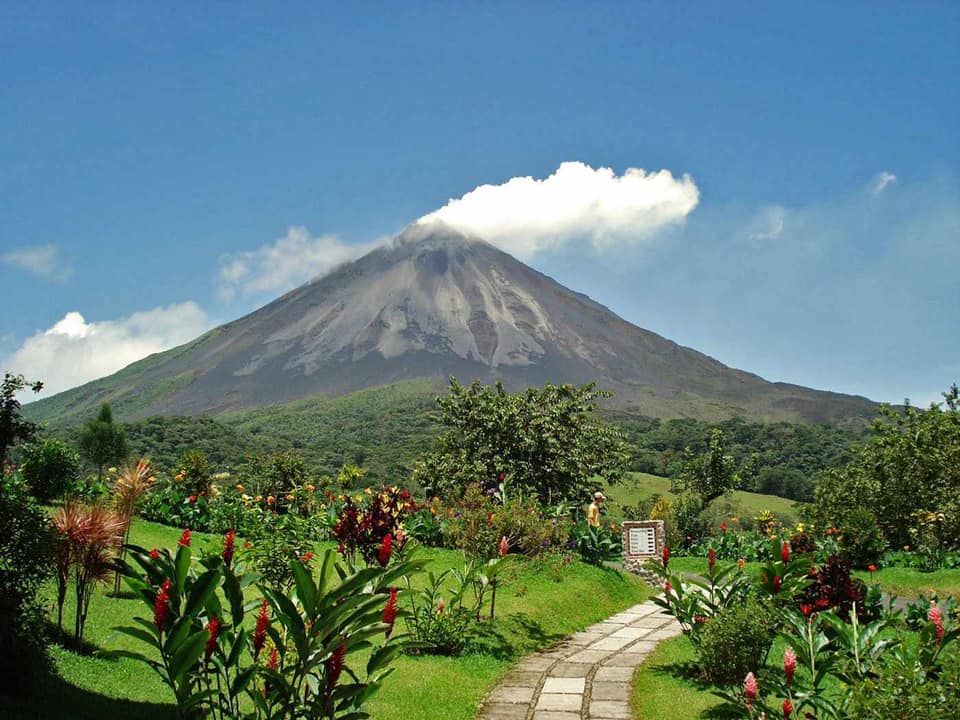 El Arenal, Costa Rica's most active volcano
he next day in the morning we did the Ecoglide Canopy Tour. Is it irresponsible to take a 3-year-old ziplining? No, not in my opinion. Plenty of toddlers do the ziplining there every week and been doing that for years without a single incident. Also they have a 5.0 review on TripAdvisor (our of 1216 reviews). So I did my research and a risk assessment because I would never put my child at risk.
This zip line in Arenal offers high standards of security such as the use of two separate zip line cables; the first is the one you ride on and second one is for extra safety precautions. Toddlers ride with a guide and on platforms are always clipped in. In the beginning there is a test cable and I asked Lani if she wants to do it and she was sure about it. She was super brave and after 6 cables I said we were finished, we are only doing the short tour, she was super upset and wanted to go on, so we did and did 5 more. So so much fun!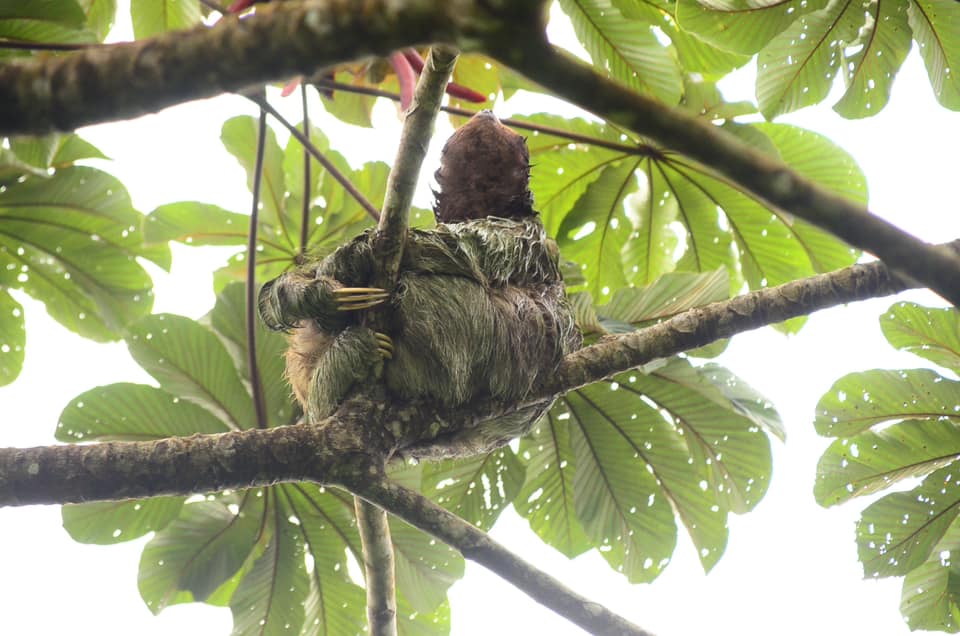 this is a sloth in case you were wondering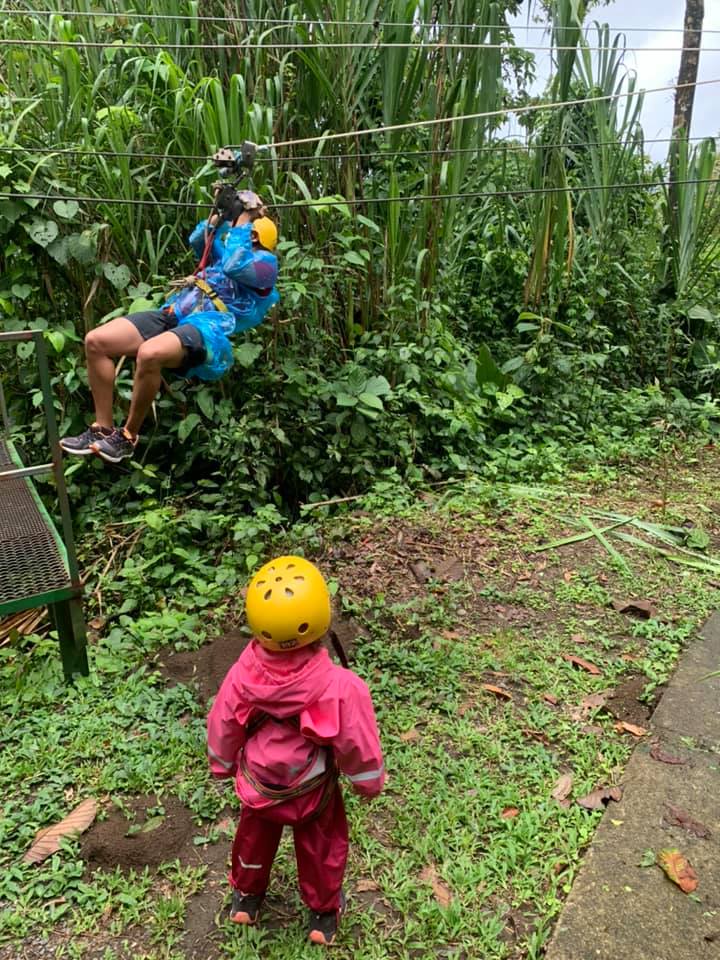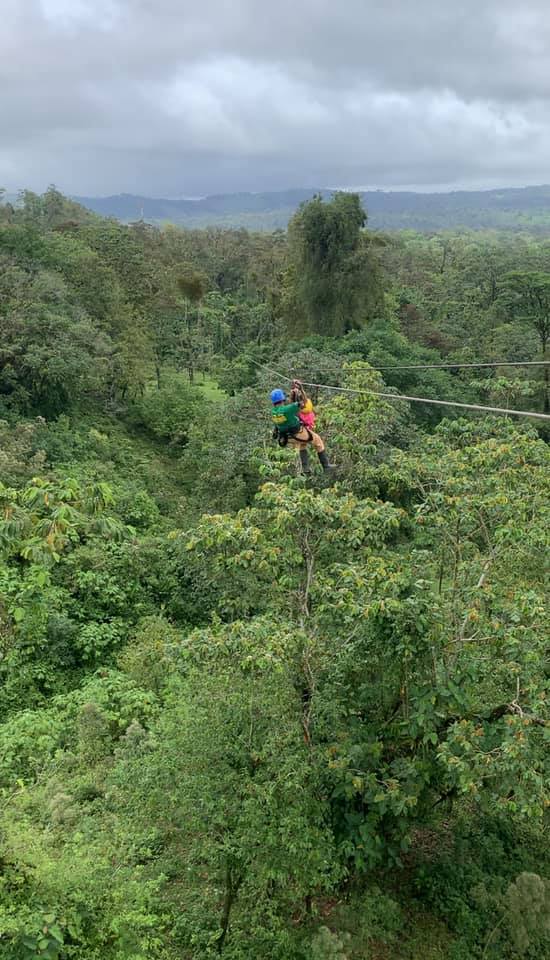 like a pro
After a well deserved lunch we headed towards Mistico Hanging Bridge Park in the tropical rain forest in front of the majestic Arenal Volcano.
Over 700 species of plants, 350 plus species of birds, means finding a wildlife sanctuary; the high density of biodiversity makes the 3.1 km trail a unique place for observing species spotted along the way. I did have a carrier to put Leilani in but when the lady at the entrance told me I could rent an off-road stroller for USD 8 because the trail is stroller accessible , I didn't need more convincing and my shoulder thanked me. Best eight bucks I've ever invested :-) We did see monkeys and a lot of birds, no sloths and luckily no snakes and spiders lol. About 1 hour in, it started pouring down and Leilani in her stroller with the rain cover was still dry and sleeping like a baby while I was soaking wet under my poncho but it was really peaceful, just us and the rainforest. So far Costa Rica has been nothing but good to us, only our jetlag needs to improve, wake-up time at 3.45 daily, not for me😅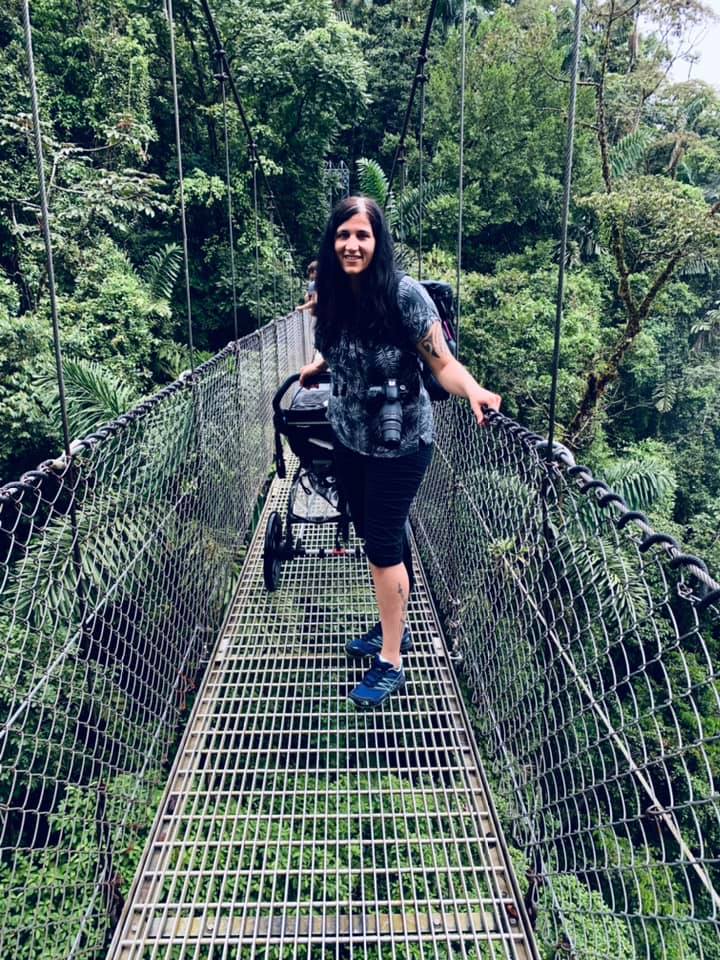 Mistico Haning Bridges Park, 3.1 km 6 hanging bridges beautiful flora and fauna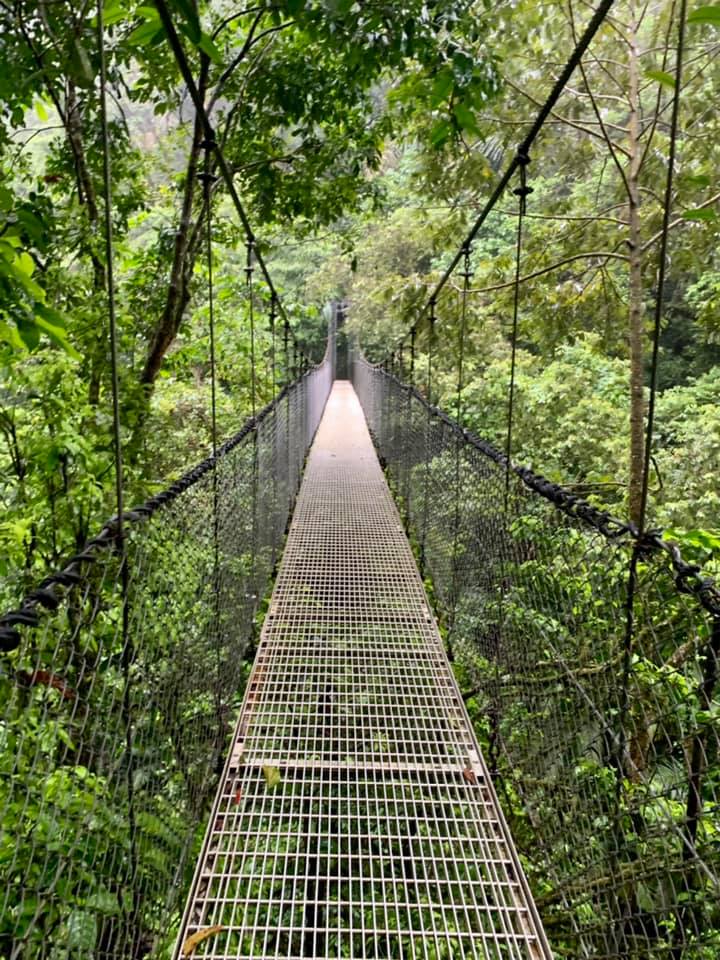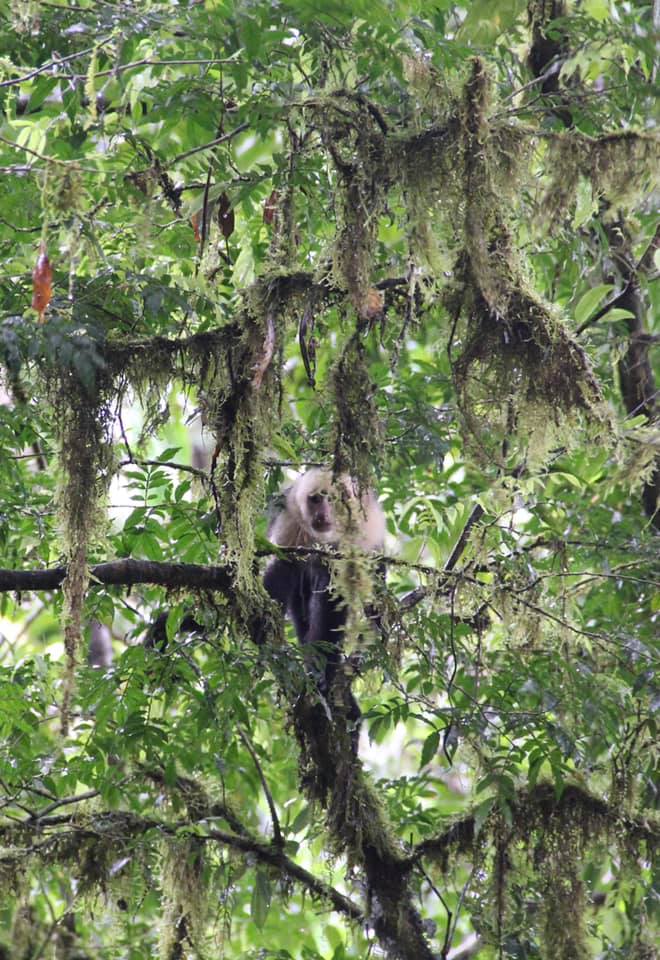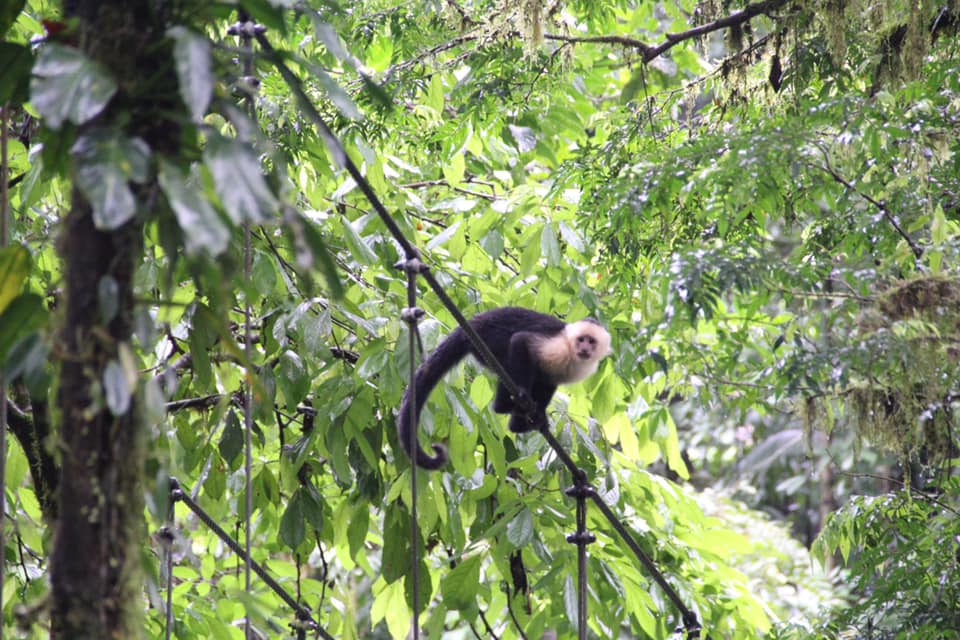 Capuchin Monkey
Tamarindo, Nicoya Peninsula
Costa Rica - Pura Vida between two Oceans.
Costa Rica's one of only 7 countries in the world that are bathed by both the Pacific Ocean and the Caribbean Sea, each coast with their own unique culture and landscapes. And that's one of the reasons that make this Central American country a paradise of diversity, a treasure to be discovered, a wonderful land full of adventures, nature and friendly people.
It feels exciting to finally visit and explore a new country
Lately, I have been going back to the same places and with Costa Rica as my 66th visited country there are a lot of things to discover. It doesn't compare to any latin American countries I've been, it's unique, it's different and most of all it is diverse in fauna and flora.
It contains nearly 6 percent of the world's biodiversity. Its natural wealth, both in species and ecosystems, is partly explained by its geographical position. For this trip though I've decided to only do the Pacific Coast because 17 days would not be enough to do both.
From La Fortuna we drove to Tamarindo on the Nicoya Peninsula. After being woken up at 4 a.m. again it was a tough 3.5-hour drive because I was so tired. That's the downside of traveling alone, you can't share the driving. However, the drive itself was so interesting because the scenery is so diverse. For quite some time you drive through rainforest, then along Lake Arenal,suddenly it looks like a prairie and then I was off-road. I trusted google maps and hoping this was the right way. That's one things about CR, a lot of gravel roads and without a 4-WD it would be difficult. Also since the risk of getting the car damaged is quite high due to that, it is recomnended to get full protection without deductible.
Tamarindo is a tourist hotspot, perfect for surfers and beach goers. Even though it was Easter long weekend, it wasn't crazy busy.
Interesting fun fact about Tamarindo, Tamarindo is a Blue Zone meaning life expectancy is among the highest in the world.
We've checked into an airbnb for $50 a night, a one-bedeoom apartment with a shared pool. First thing I did was break the key and it was stuck in the lock-there goes my review
There is a whole community of Canadians, Americans etc. doing Home Office in this building waiting for the situation in their countries to improve only then they will return home. Until then they are working from here while soaking up the sun, living la Pura Vida. I'd definitely be one of those if my circumstances were different.
In the first night I was woken up by this loud sound, I knew it was an animal I just didn't know what. But it was pretty much all night and so noisy until I was awake for good and went outside to look. It was a group of howler monkeys in the tree in front of my window
Their name is well deserved
While in Tamarindo, we visited a coupe of different beaches and did a boat trip in Las Baulas Marine National Park which is actually one of Costa Ricas most important turtle nesting sites and home to monkeys, birds, crocodiles and other species. I always bring our own life vest for Leilani, so it's safer to do boat tours.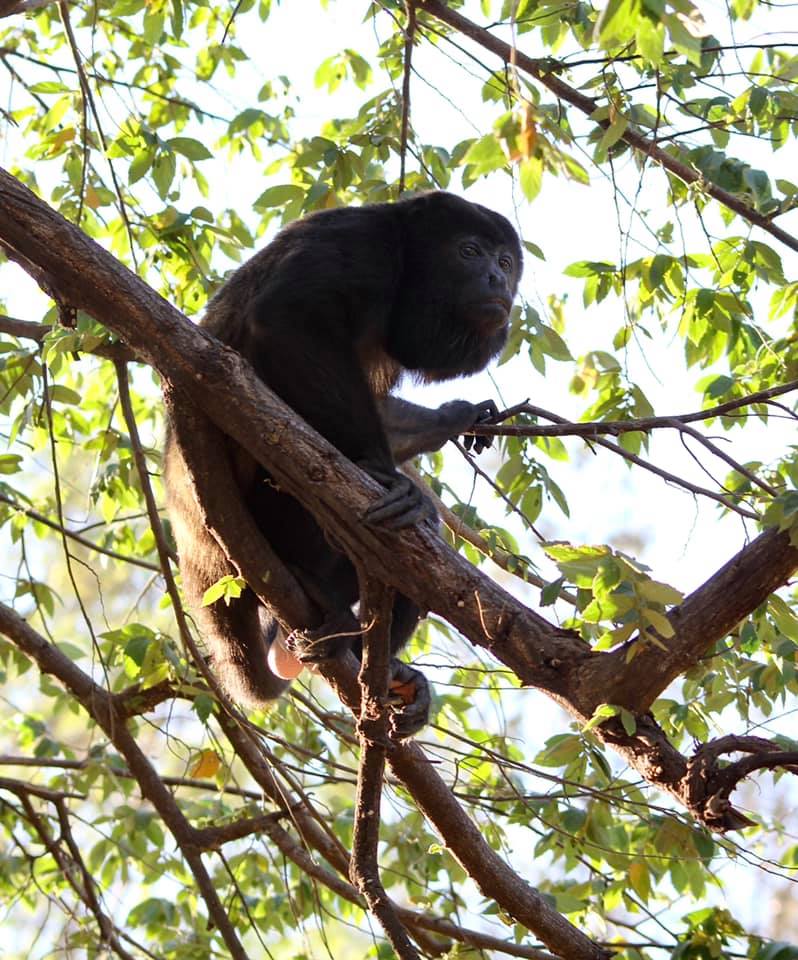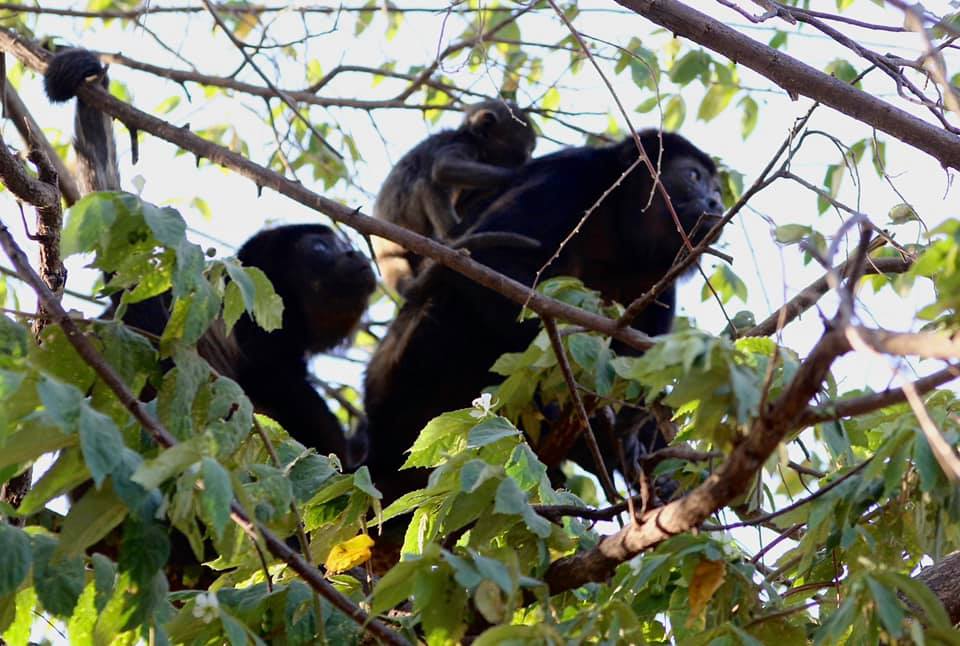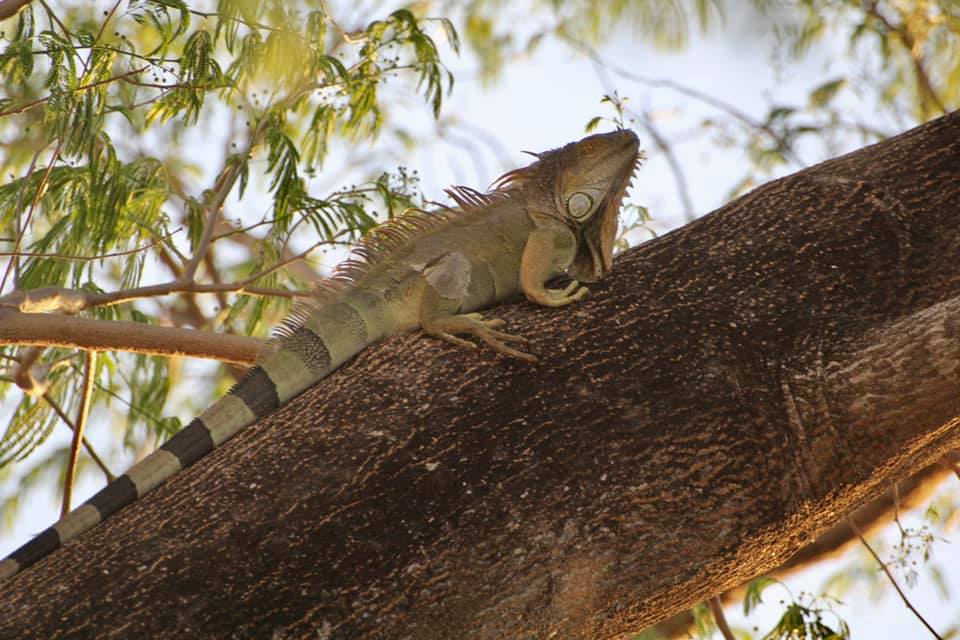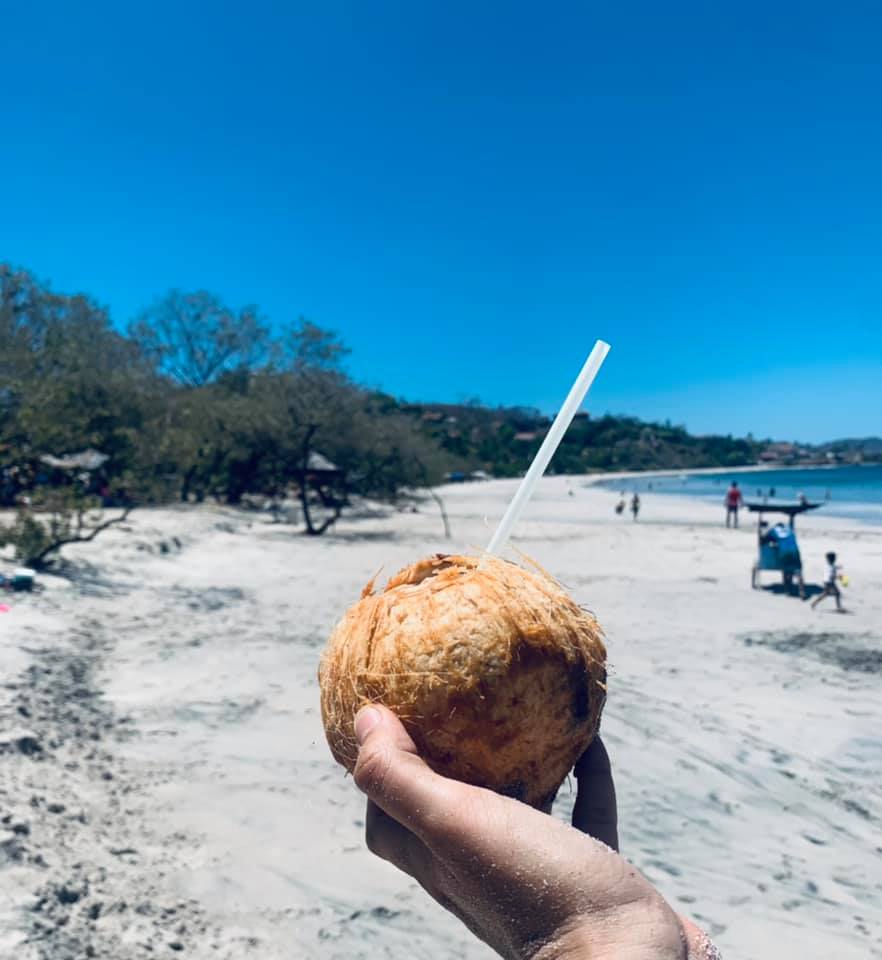 a vacation without a coconut is not complete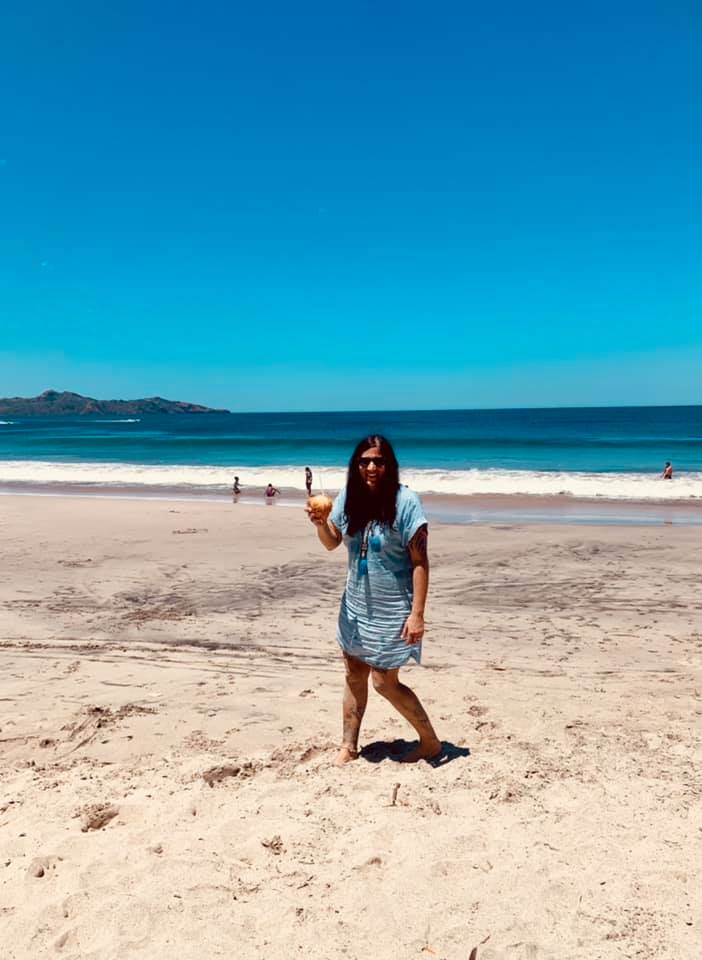 Playa Flamingo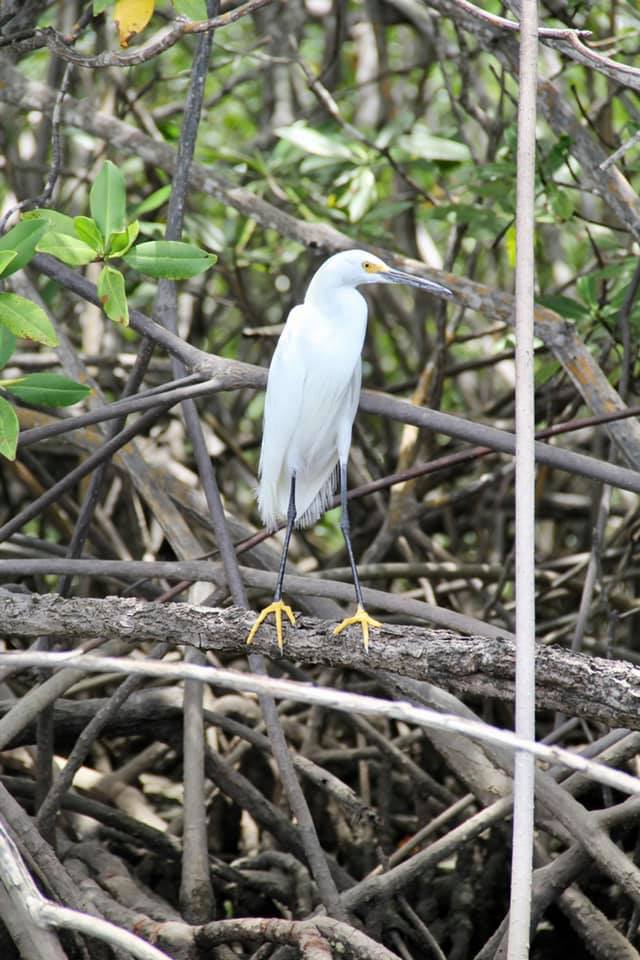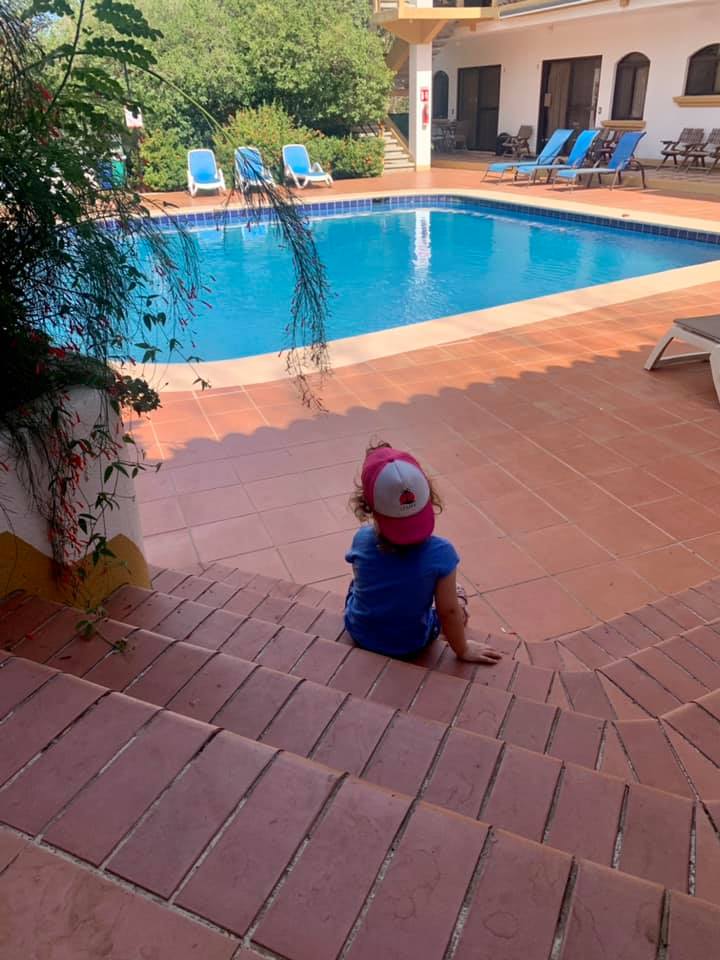 reflecting on the days we've spent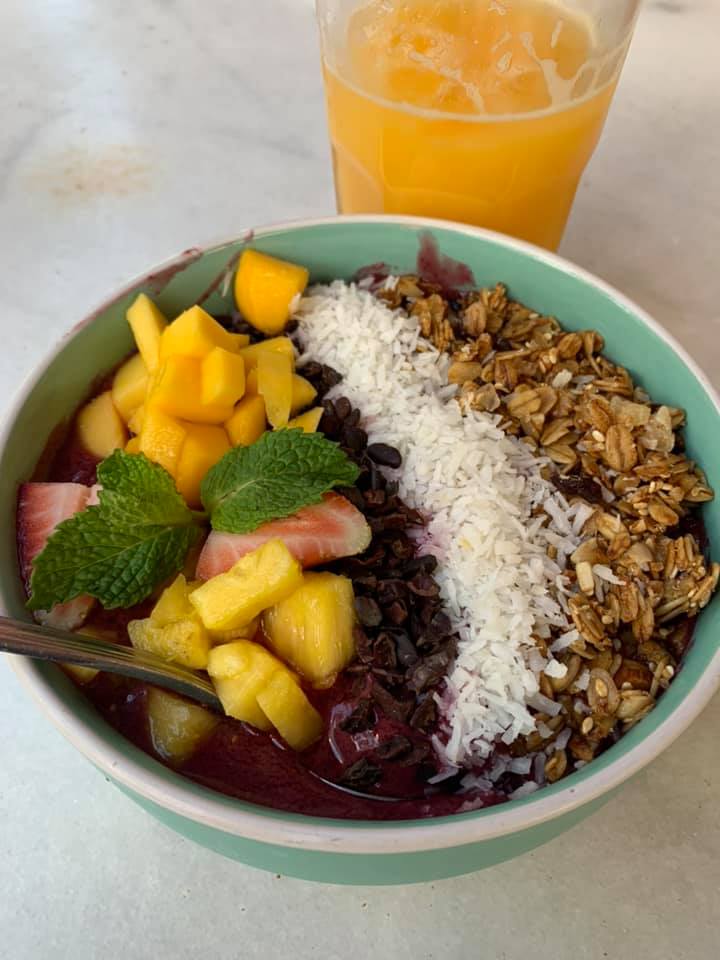 Açai bowl and fresh orange juice, breakfast of champions
Santa Teresa Beach, Nicoya Peninsula
The next destination on the western edge of Nicoya Island was Santa Teresa, another 4 hours drive away and this place was recommended to me by one of my best friends who considers this a second home.
In the last several years, this laid-back town has blossomed into a booming travel destination.
Despite its size, Santa Teresa has been hailed as world-class surfing spot in Costa Rica and became a hotspot for Yoga. So like you can imagine, Leilani and myself are doing neither surfing nor yoga but we've become world -class beach goers and pool swimmers. And you can find so many fantastic restaurants from Italian, to Sushi, great breakfasts...
The airbnb we are renting here is a dream, 150 meters from the beach, tucked away in the rainforest with iguanas and monkeys visiting regularly and because the guests from the other 4 apartments are always out surfing and/or doing yoga we usually have the pool for ourselves.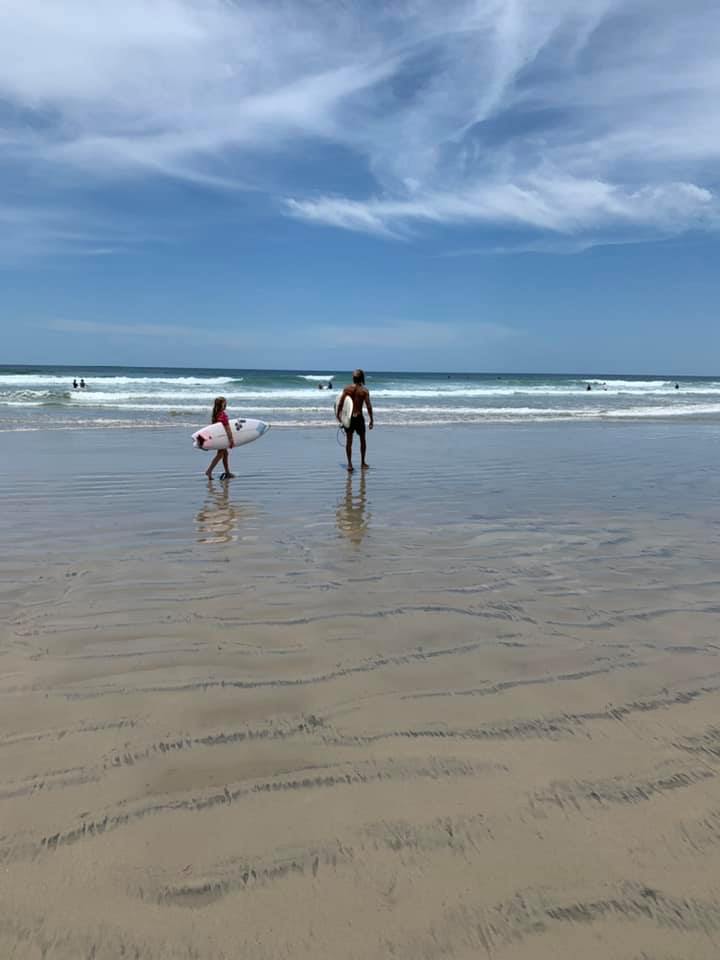 father and daughter surf
One of the best secrets of the area, often overlooked by the surf-oriented travelers here, is the giant tidepool between Playa Hermosa and Playa Santa Teresa.
It's only exposed at low tide, and at that time, you will find a HUGE natural pool, larger than an olympic swimming pool.
Filled with all kinds of interesting creatures, including puffer fish and other sea life trapped here from the receding waves, it's a really great place for families with kids and even dogs.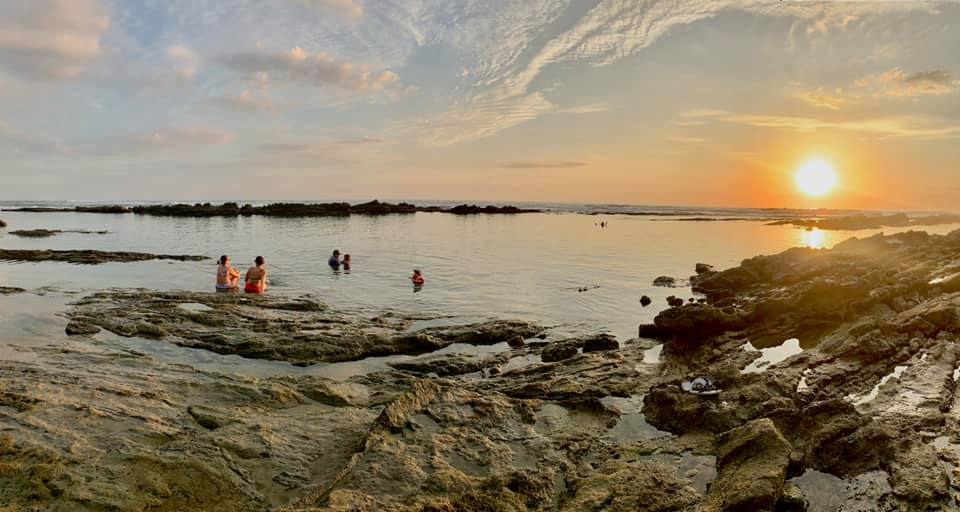 watching the sunset in the Pacific Ocean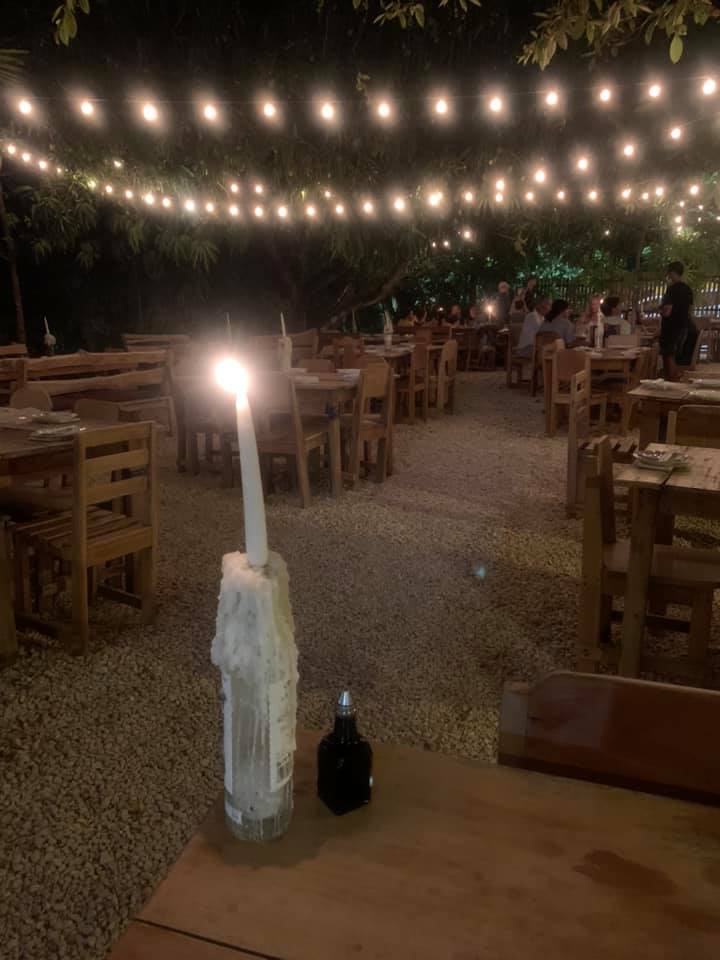 candlelight dinner with my daughter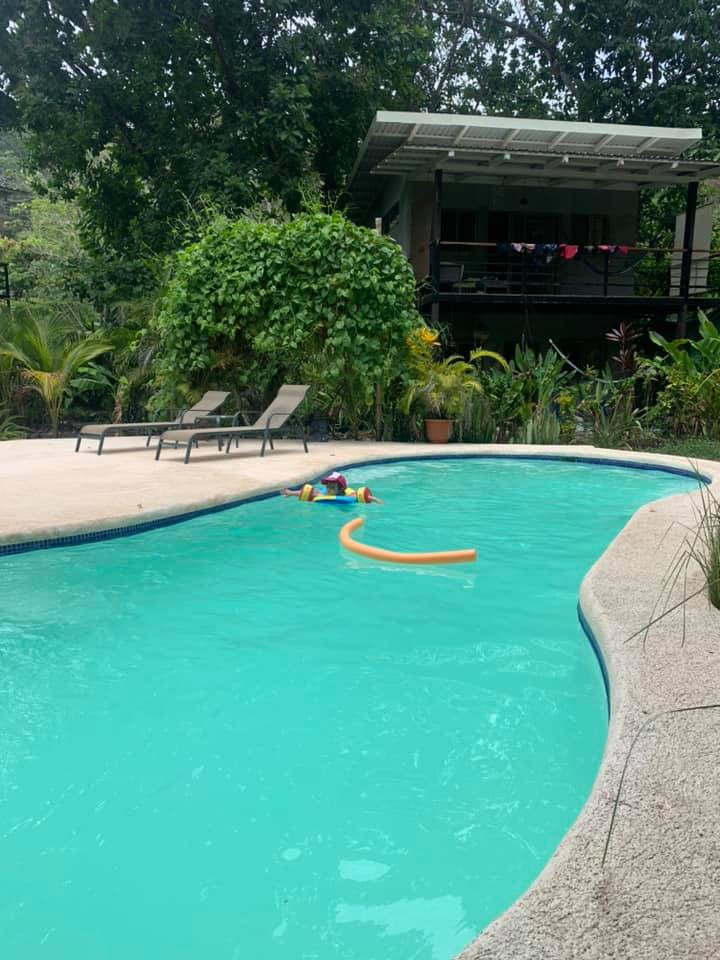 having the pool to ourselves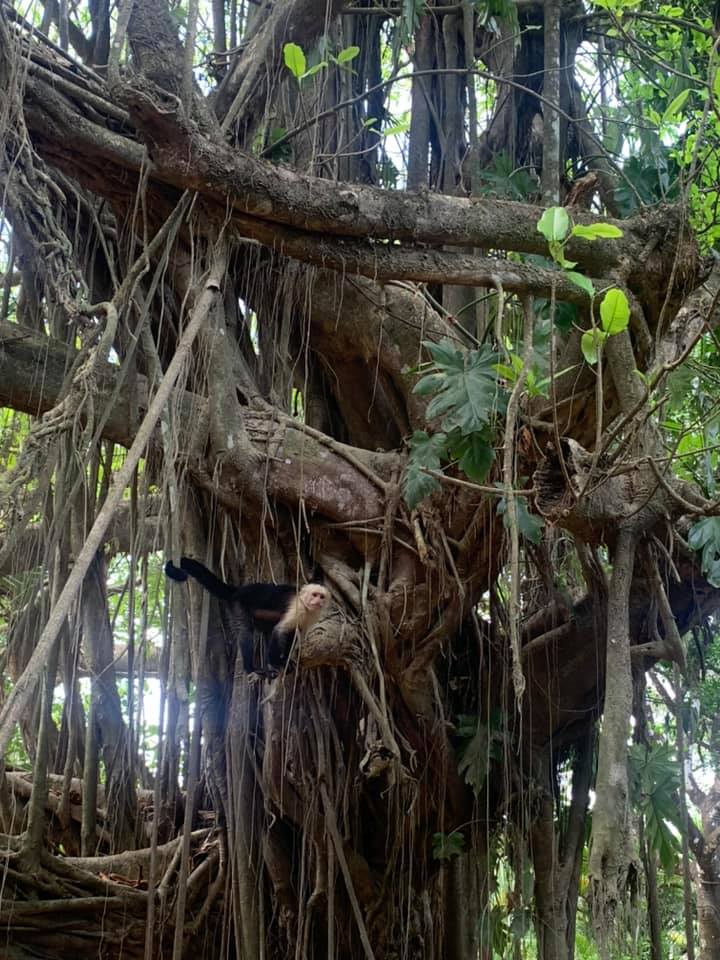 more monkey business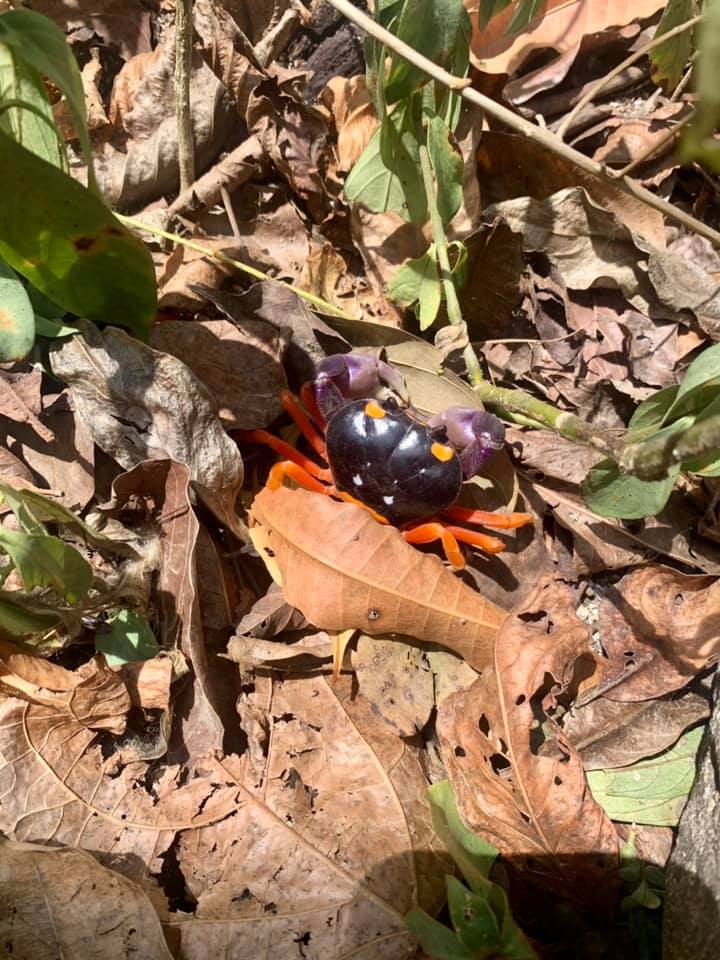 interesting looking crab orange and purple colored
Jaco
It was time to leave the Nicoya Peninsula and we drove about 1 hour to Paquera where we took the ferry to Puntarenas, where my friend told me not to stop under any circumstances because it has a high crime rate. We drove to Jaco and I been looking forward to this one stop on that road the crocodile bridge! It is a high bridge over the Tarcoles river and when you look down you see 4-5 crocodiles and I am not talking small ones, they were huge! One even had the nickname Mike Tyson. There is an urban legend going around that a drunken guy fell off the bridge and fell down into the river, all they found left of him was his head a few miles down the Tarcoles. Anyways, it was impressive but I was anxious and holding Lani extra close!
After all it took us 4.5 hours total to get from Santa Teresa to Jaco. Until now, we've only stayed in airbnbs but for Jaco I booked the Best Western, an all inclusive resort. However, it was rather disappointing after just being in Mexico where they take all inclusive to a whole different level. And having to reserve a time slot for the pool and sharing it with a bunch of people after we've had the pools at previous accommodations to ourselves the majority of the time. Anyways, we were only there for 2 nights because even though Jaco is one of the most popular places in Costa Rica, it is the Cancun of CR. Compared to Cancun though the beach is not really nice and the town is missing charme.
But I really wanted to do one thing there: A boat ride on the Tarcoles river. Why? It is home to 2000 crocodiles! So we did that, a 2-hour tour, the great thing about it was that it was just us, another couple the guide and the captain. Turns out the captain was a guy with a death wish. He saw a big croc, stopped the boat on a bank, got out and fed it with chicken. The croc jumped out and snatched it. However, the guy slipped in the mud and almost ended up as croc food, gave me serious anxiety! I would've preferred him not to do that, I am not a big fan of feeding wild animals for entertainment. I was just thrilled to see those creatures in their natural habitat and not a zoo or something. I am a sucker for these kind of experiences with wildlife. In my top 5 are: swimming with a pod of 300 dolphins
in the Pacific Ocean in Hawaii (without touching them) and seeing the Big Five
on a Safari in Kruger National Park, South Africa. Walking the streets of Nara, a town in Japan with hundreds of free roaming deer
, seeing dozens of pink flamingos
in a lagoon in Sardinia, a bike ride on Rottnest Island where I met Quokkas, the happiest animal on Earth with their cheeky smiles and this Tarcoles River Crocodile
encounter.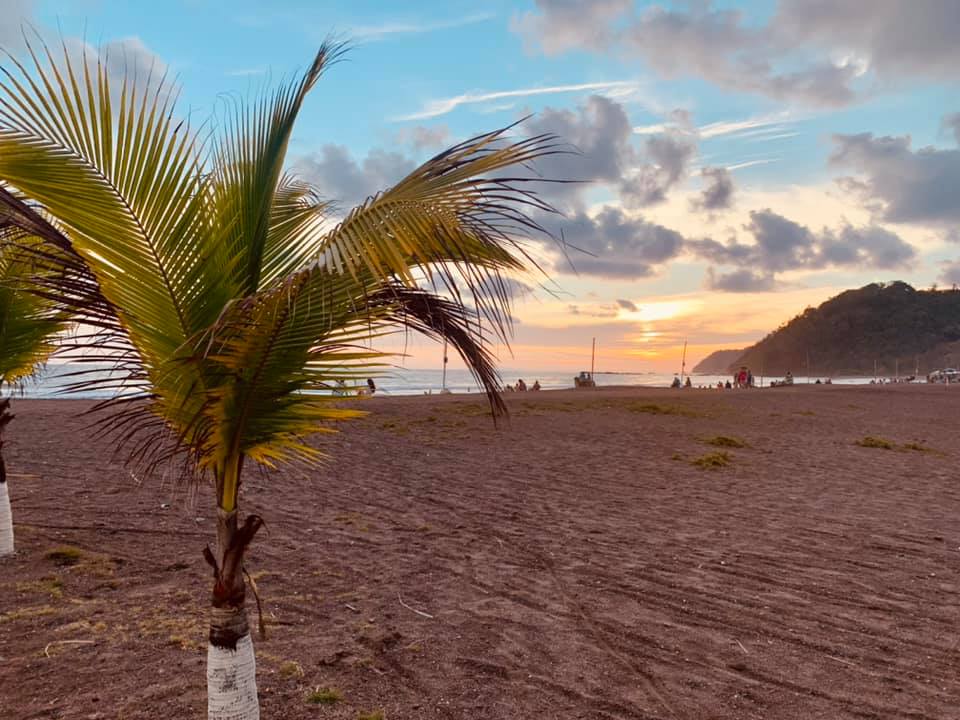 Jaco Beach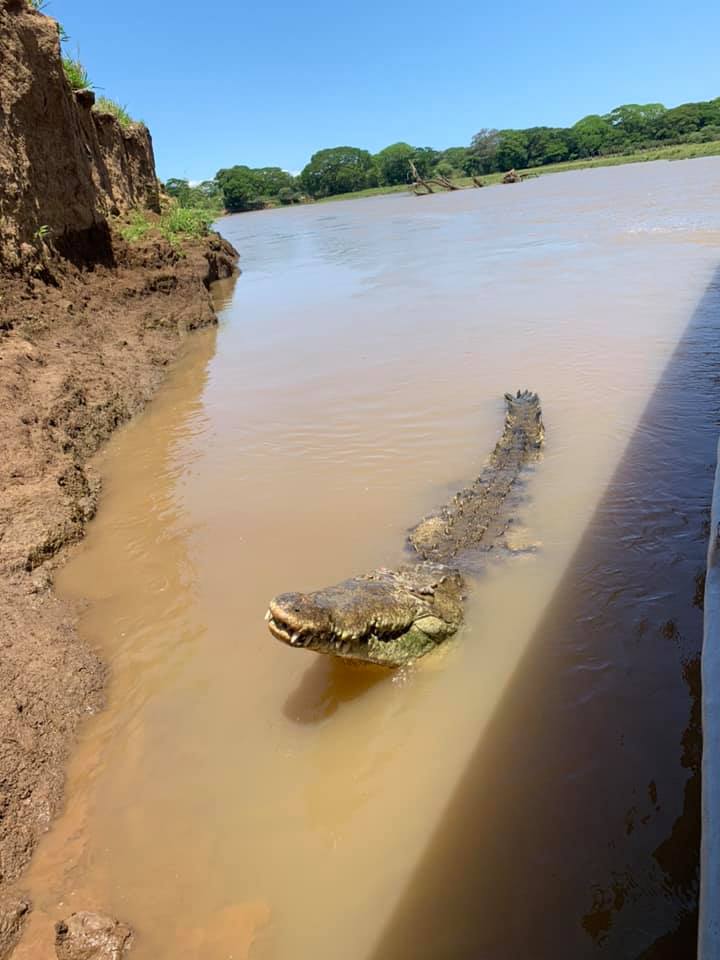 5 meter crocodile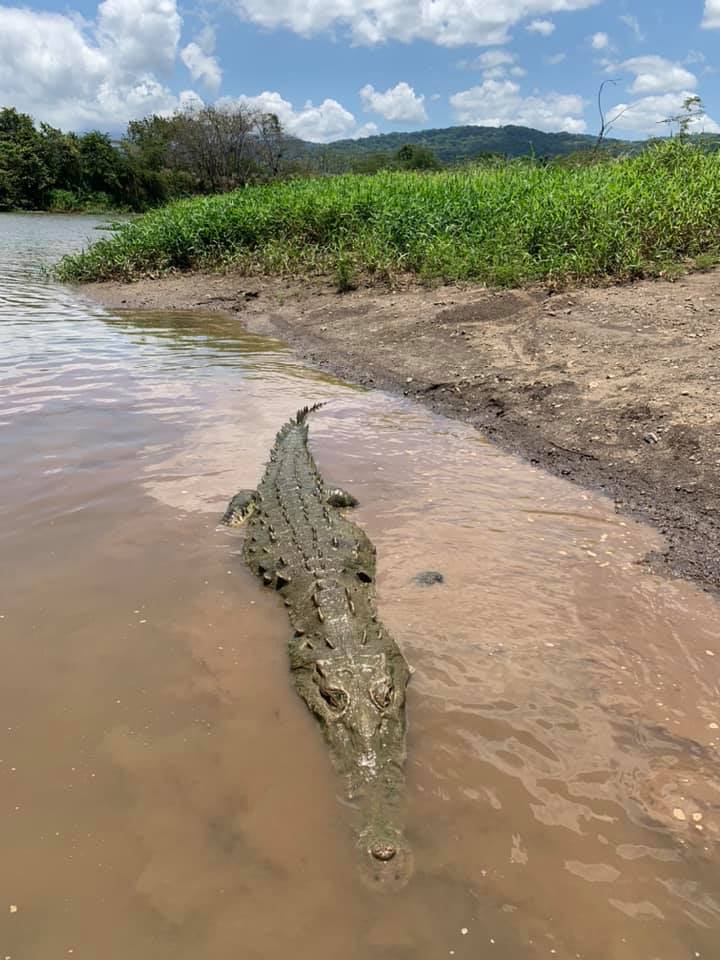 2000 crocodiles in the Tarcoles river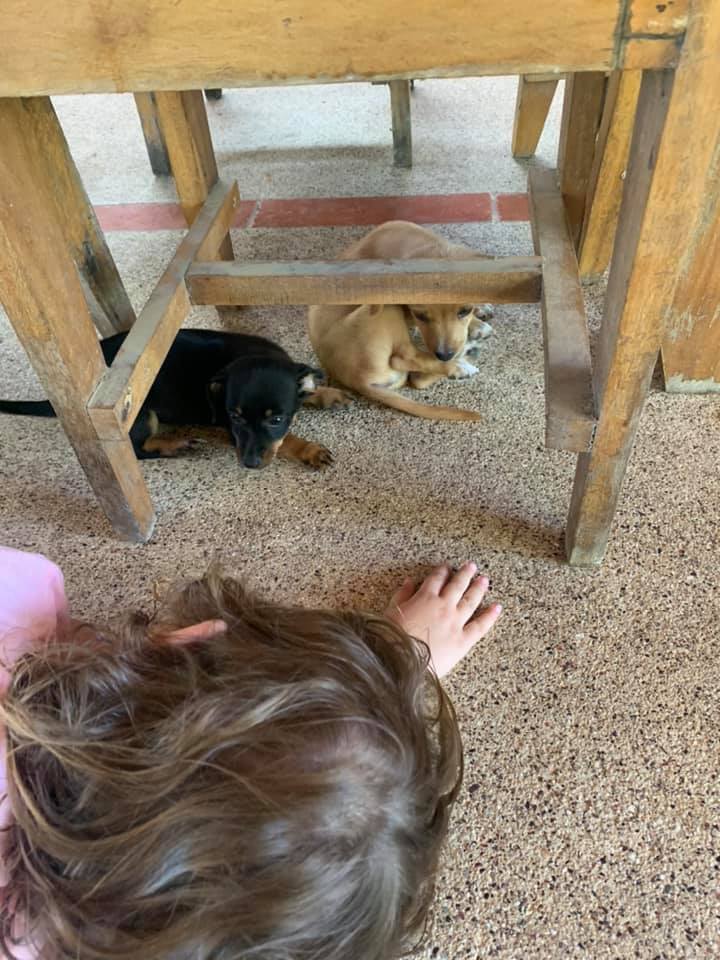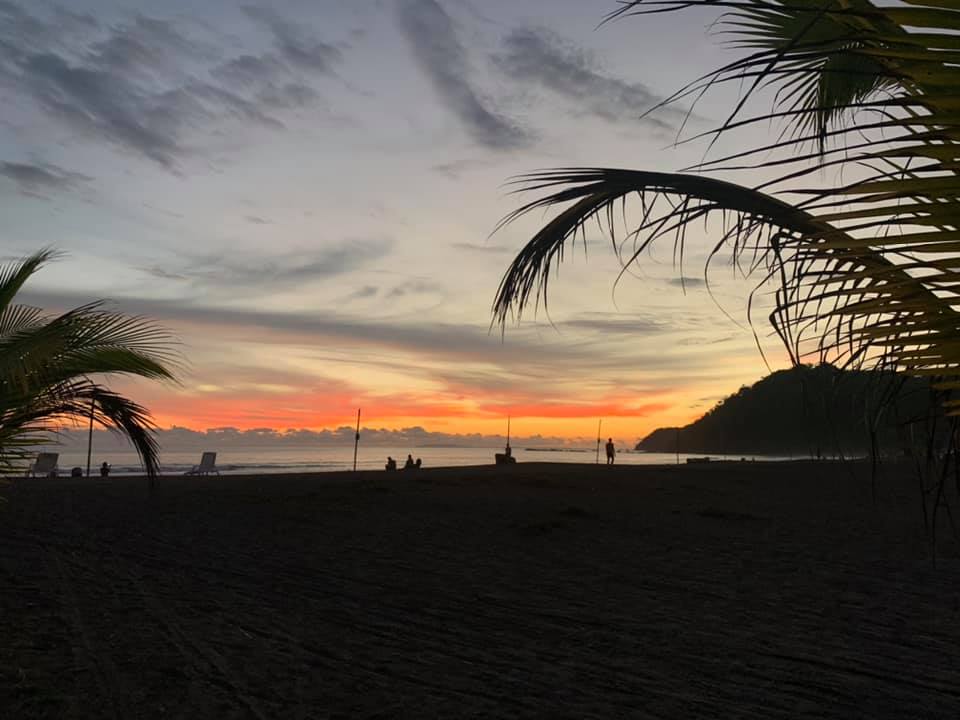 Quepos - Manuel Antonio National Park
From Jaco we drove to Quepos where we checked into another airbnb, the next 3 days were gonna be all about the jungle. The first night we were meeting our professional guide Bea for a night jungle walk. By night meaning 6.30 (right after sunset)-8.30 p.m., so don't be calling child protective services on me. They told us to wear long sleeves, pants, closed shoes and bring lots of mosquito spray. I was a bit nervous because being in the jungle in the dark means we can't see all the critters and creatures around us and have faith in the guide and totally rely on her.
I was practically stomping through the jungle so snakes would not dare to come near us
However, it was a great experience, we've seen spiders, frogs, all kinda bugs and a snake. The guide put it on Leilani's hand and she was so brave and loved it. Me myself, I could never touch one!!!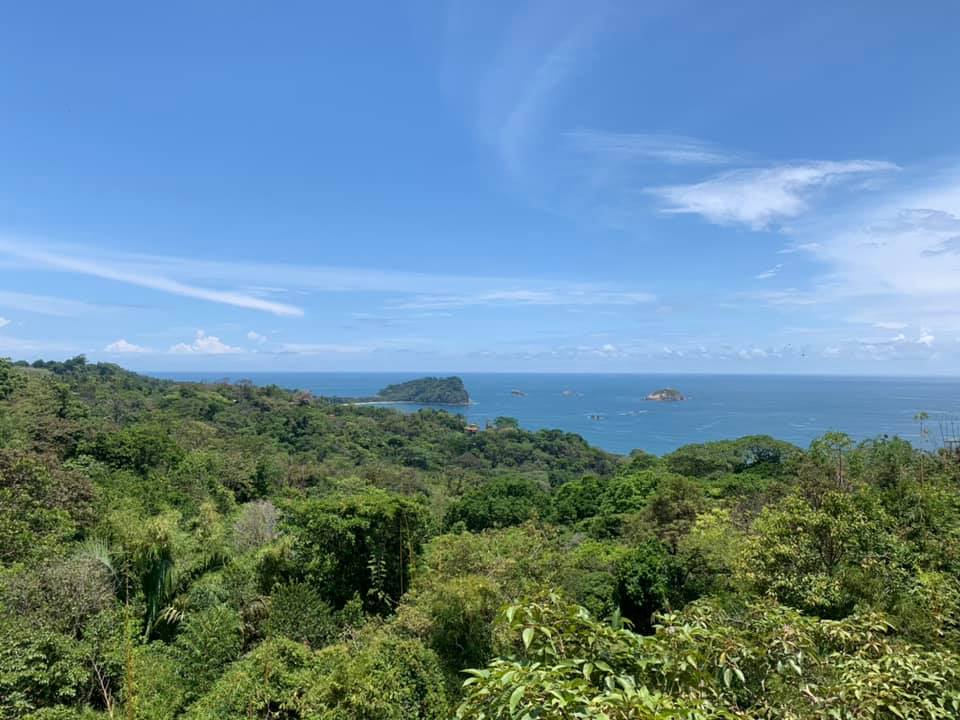 lunch with a view of Manuel Antonio National Park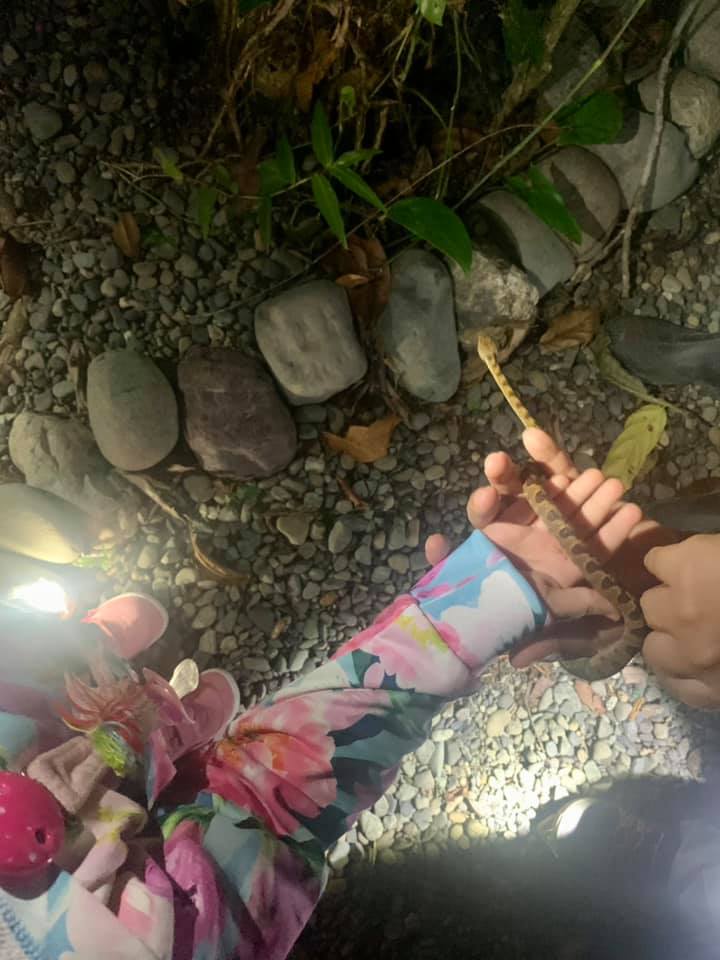 my daughter is braver than I, holding a snake on the jungle night walk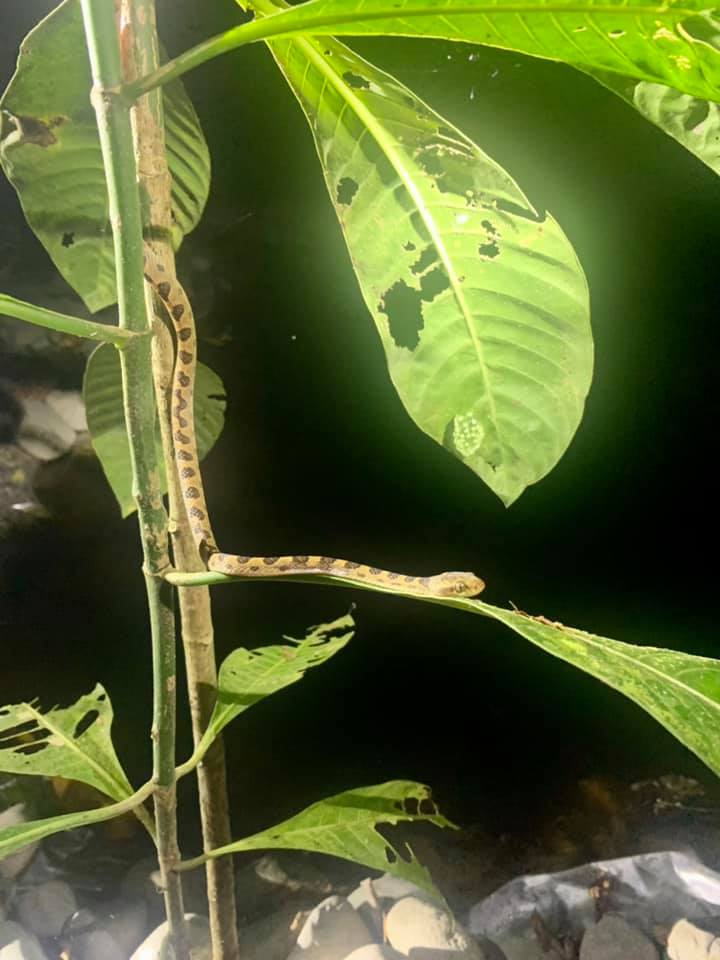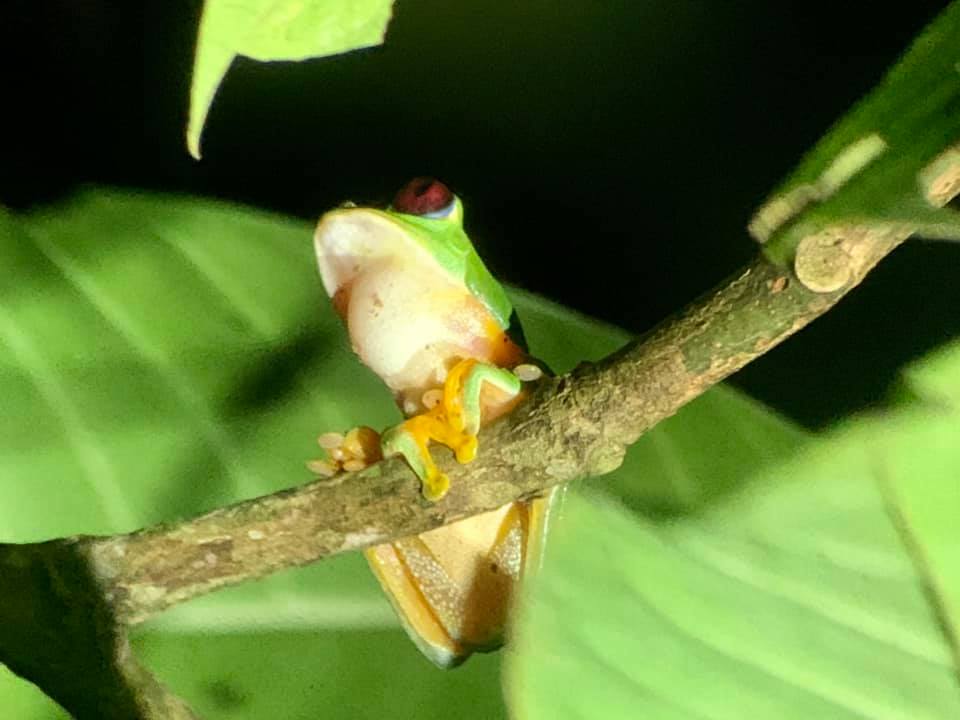 red-eyed tree frog, most famous frog in Costa Rica
masked tree frog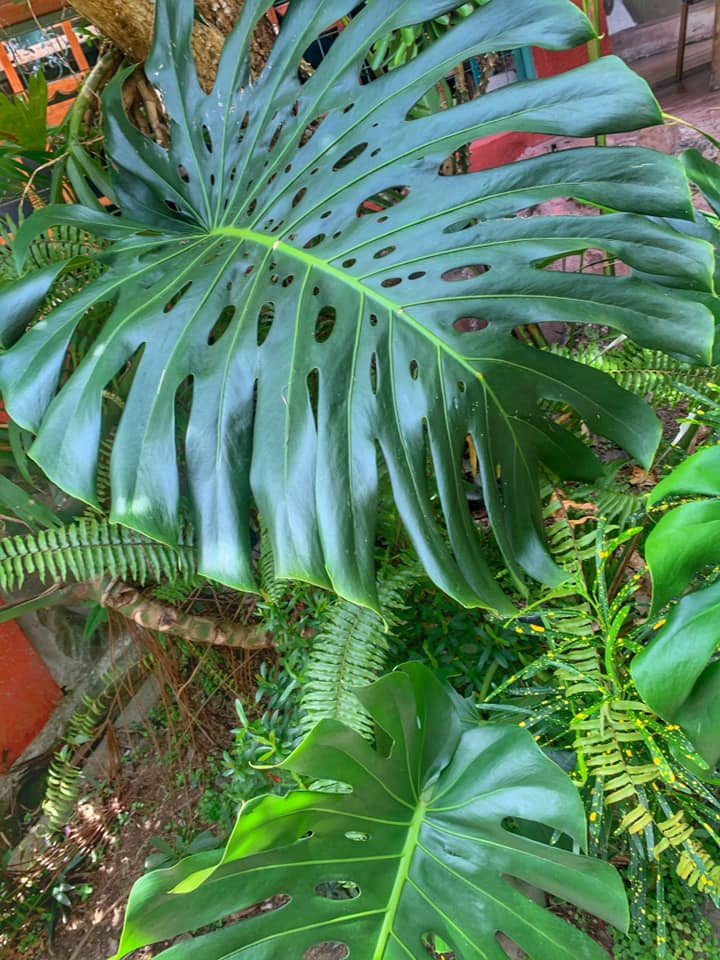 my favorite leaves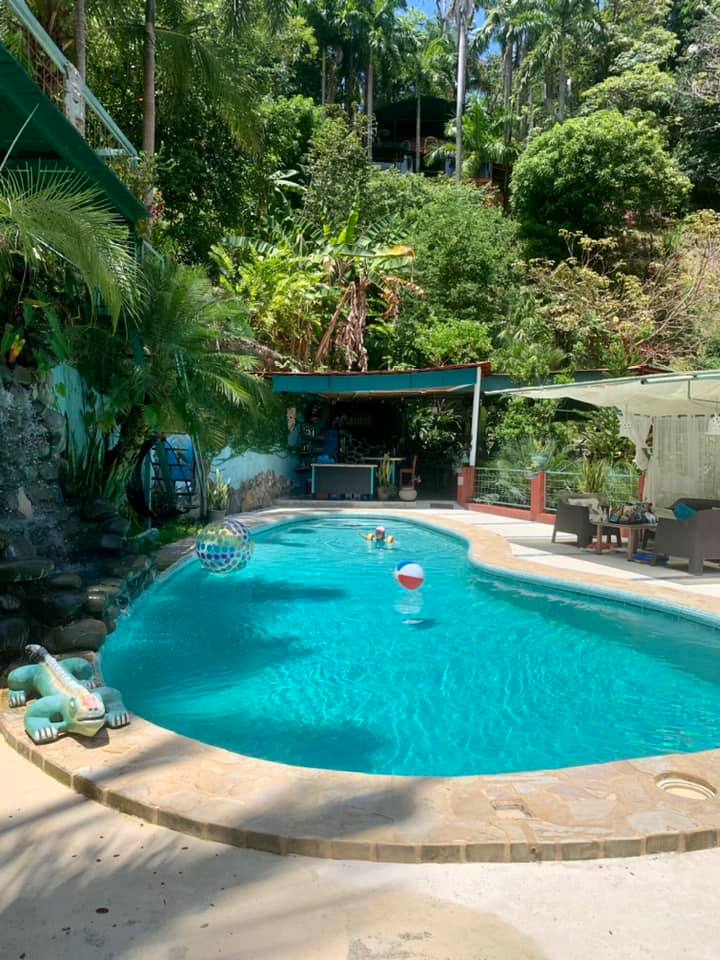 again, pool to ourselves at our jungle airbnb
The next day we went out on the Pacific Ocean on a catamaran, which was a lot of fun. That cat eve
n had 2 slides and we were sw
imming, watching the sunset and having a BBQ.
On Wednesday morning I had an appointment at Quepos Metropolitano Hospital for my PCR test in order to fly home on Friday. The test came back negative 12 hours later, which was a relief of course. Quarantining with a toddler in a hotel room, definitely not on my bucket list lol. But I am aware that that is a risk when traveling.
We were very much looking forward to visiting Manuel Antonio National Park.
Besides the spectacular beaches, Manuel Antonio offers several kilometers of very well maintained trails offering the easiest access in Costa Rica to the lowland rain forest. The beautiful beaches are very inviting for swiming but we didn't have a towel or bathing suits but we went in anyways, it was sooo refreshing! We hiked for quite a bit, or let me rephrase, I hiked because after 30 minutes Leilani wanted to be carried which in 30 degree heat is a pleasure. I don't think I've ever sweated that much in my life
My goal was to see a sloth and we did as well as red backed squirrel monkeys, which are unfortunately close to extinction, surviving only in Corcovado, and Manuel Antonio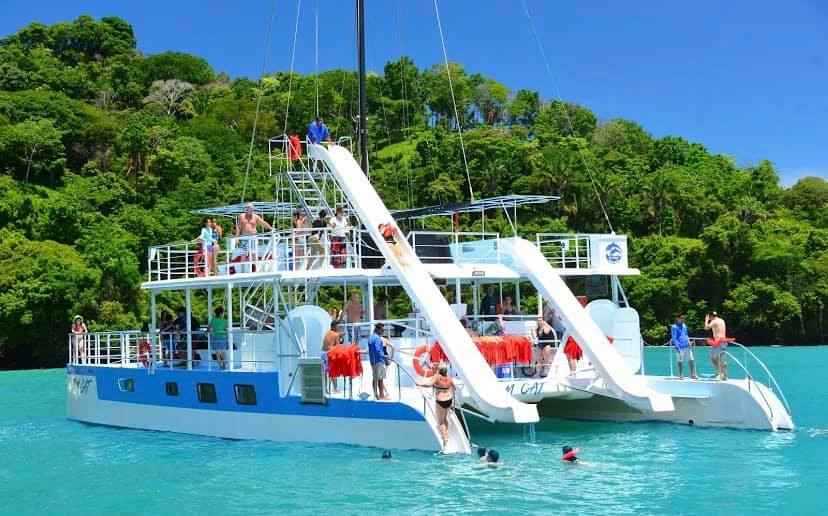 going down the slide on a catamaran in 33 degree heat - refreshing and fun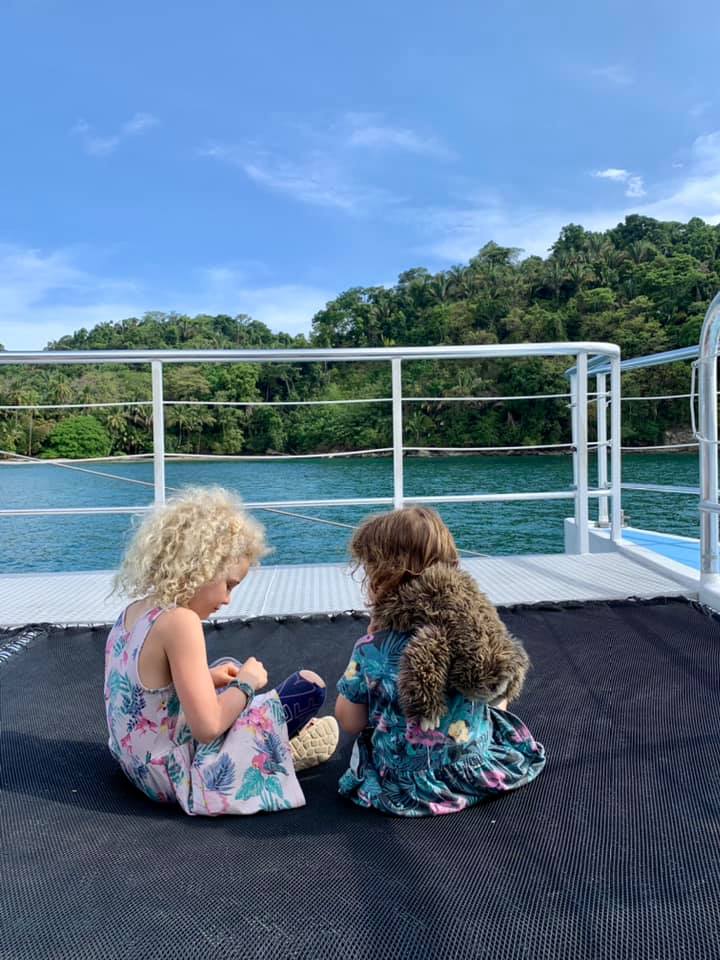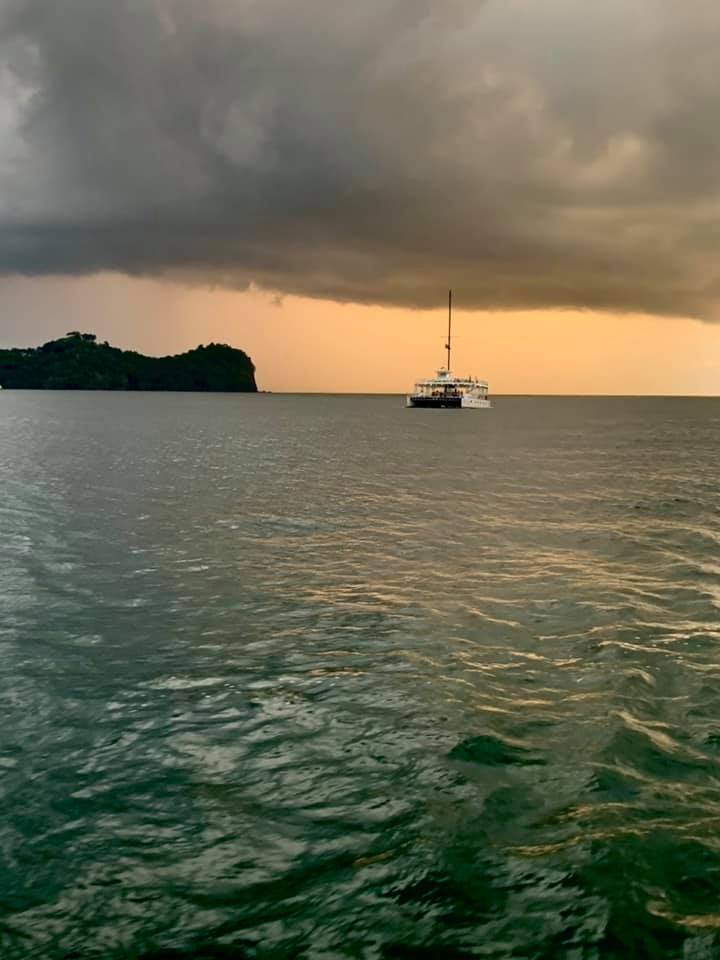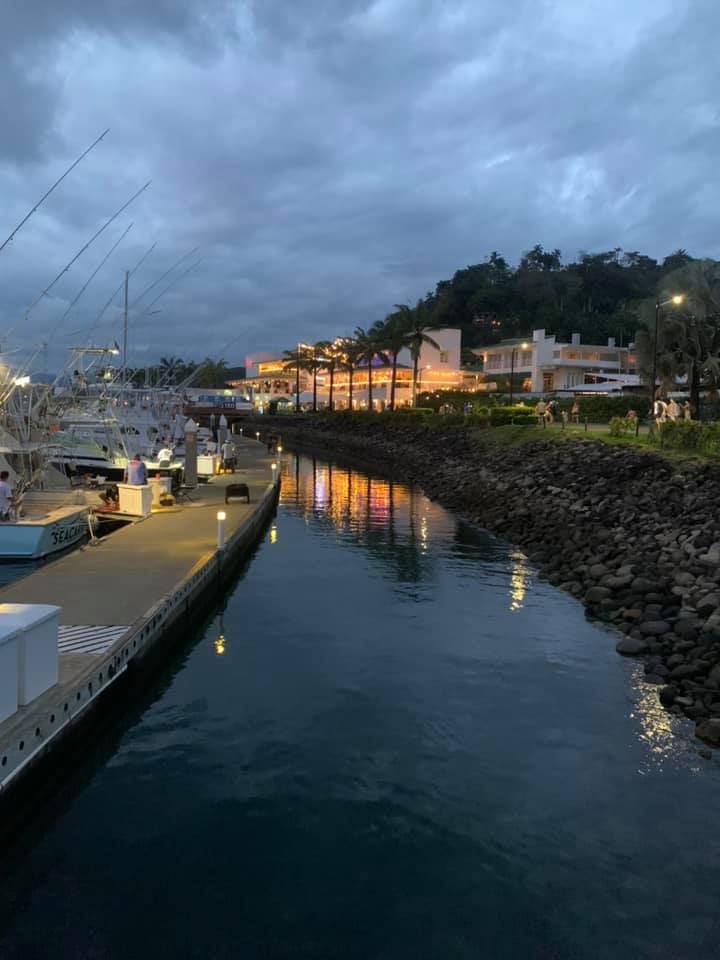 Marina Pez Vela, Quepos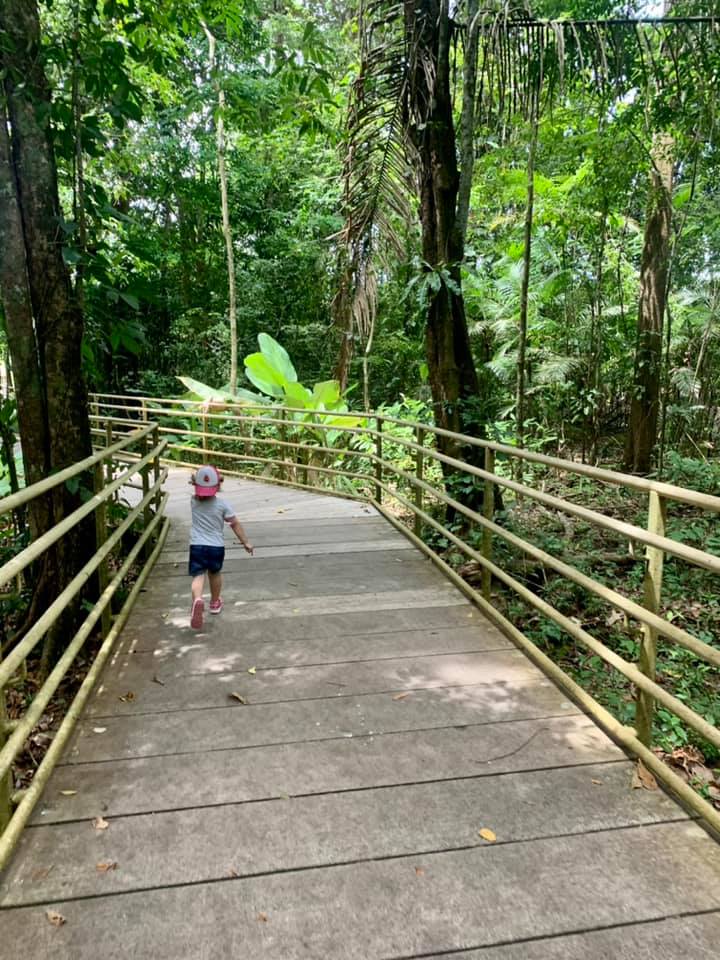 starting our Manuel National Park hike with high energy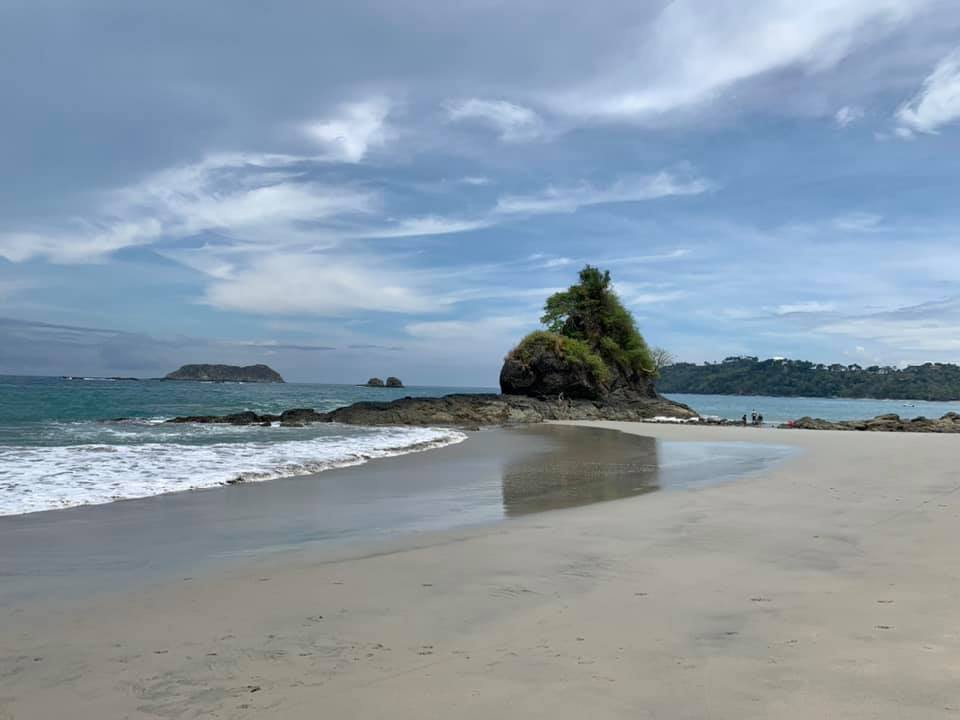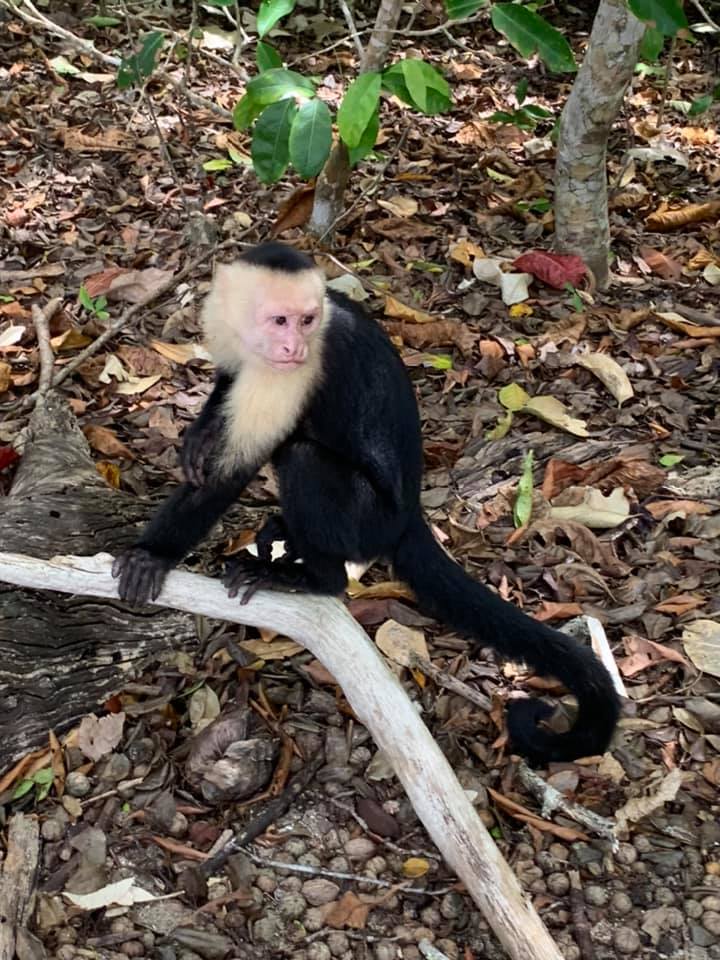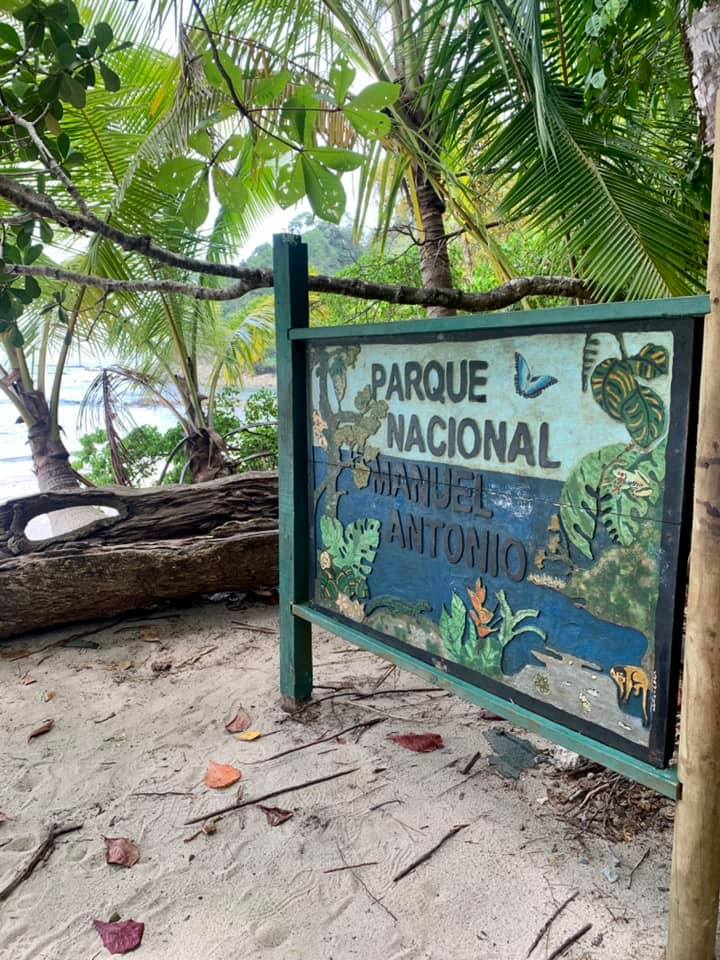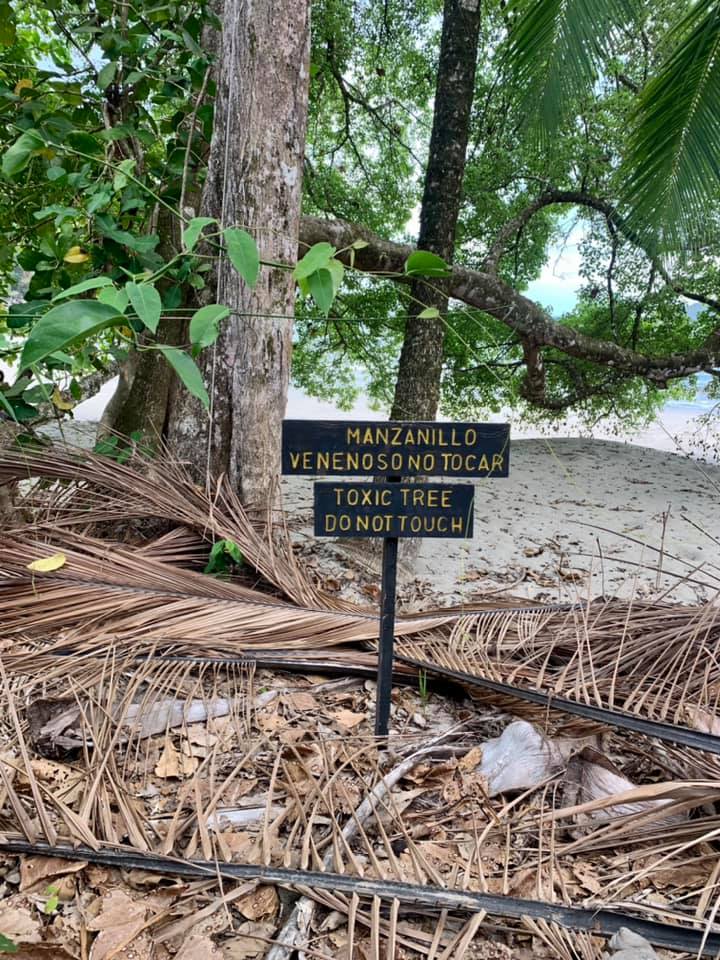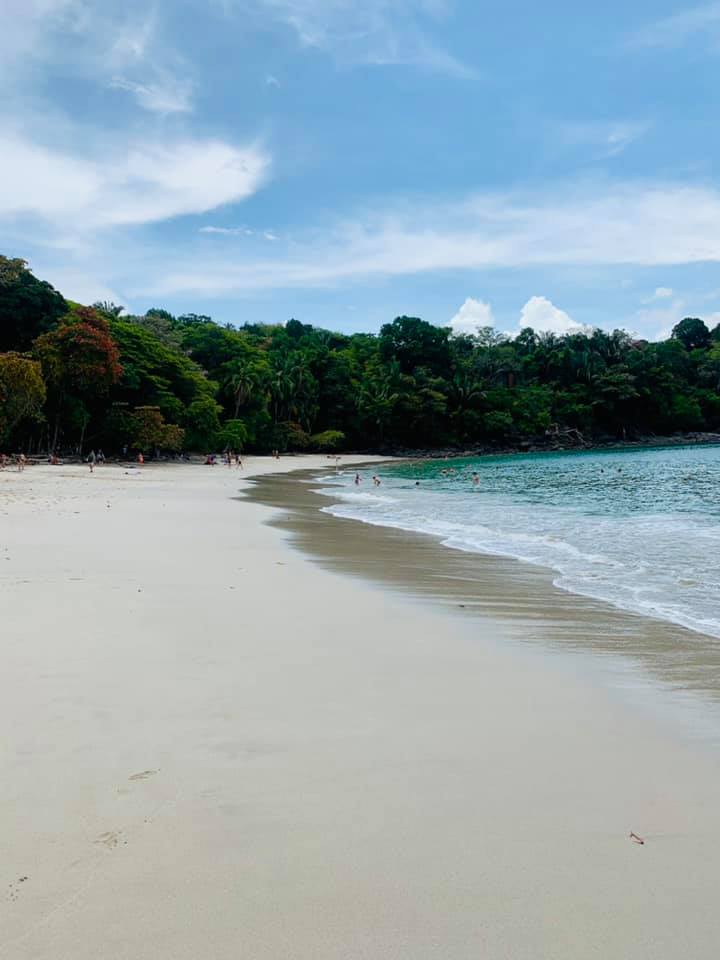 we had no swimsuits but went in anyway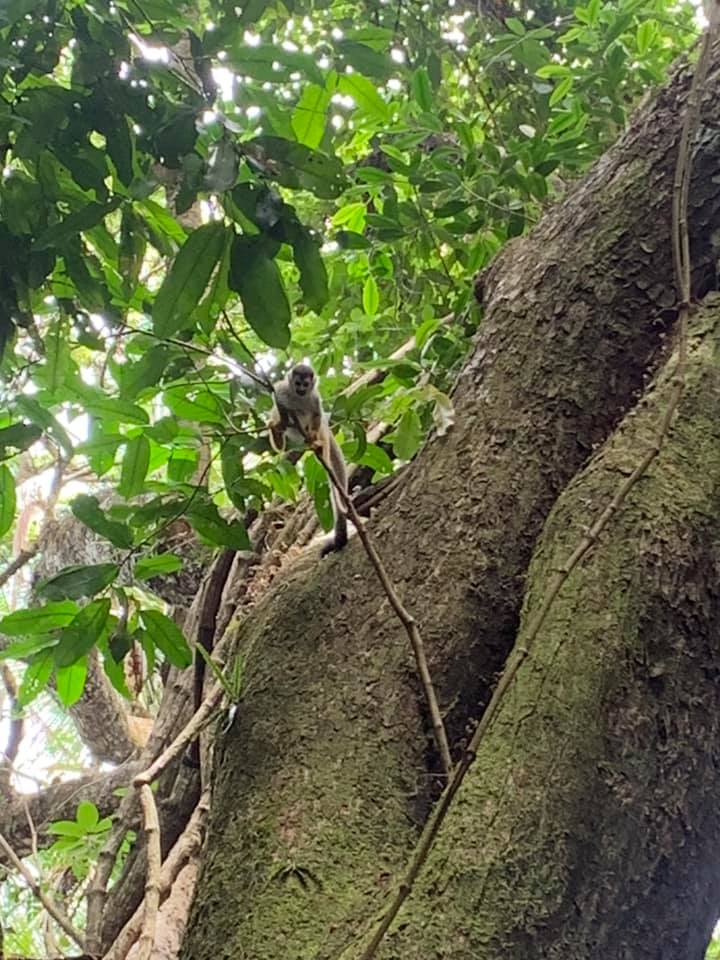 Red-Backed Squirrel Monkeys, close to extinction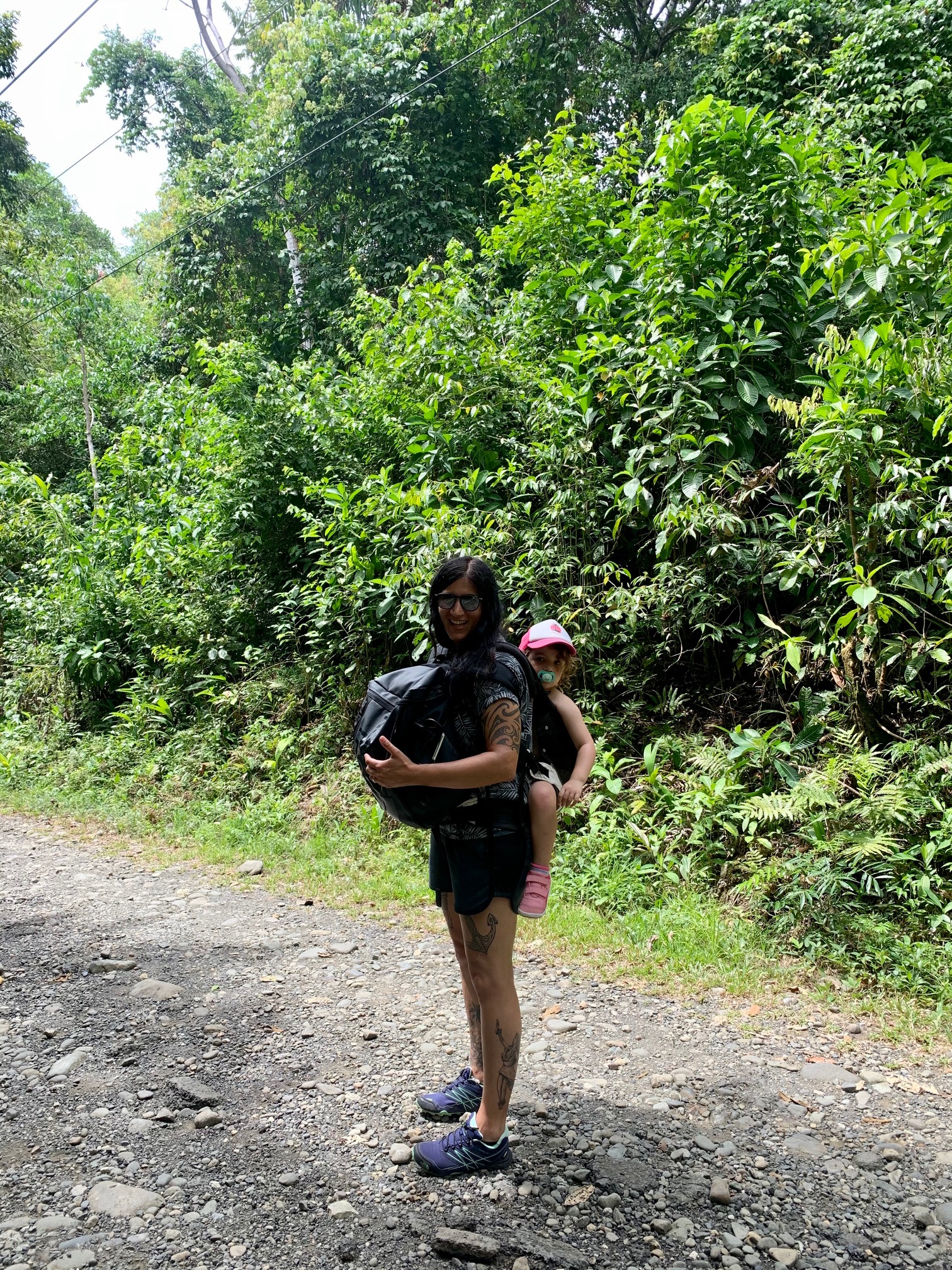 3 hours later she wasn't so keen on walking anymore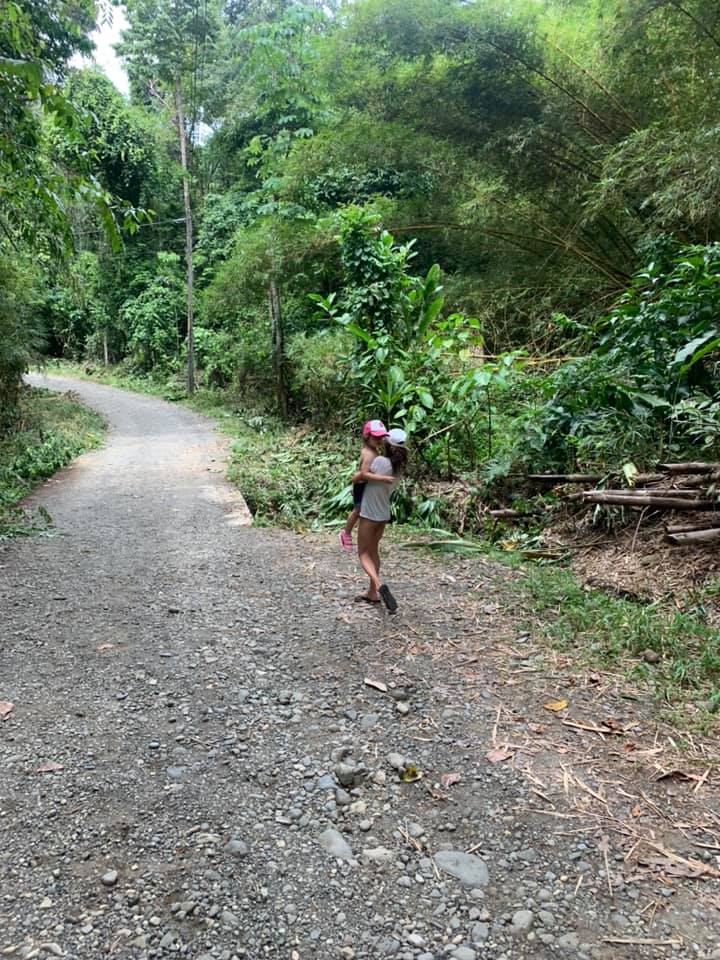 found a new friend to carry her around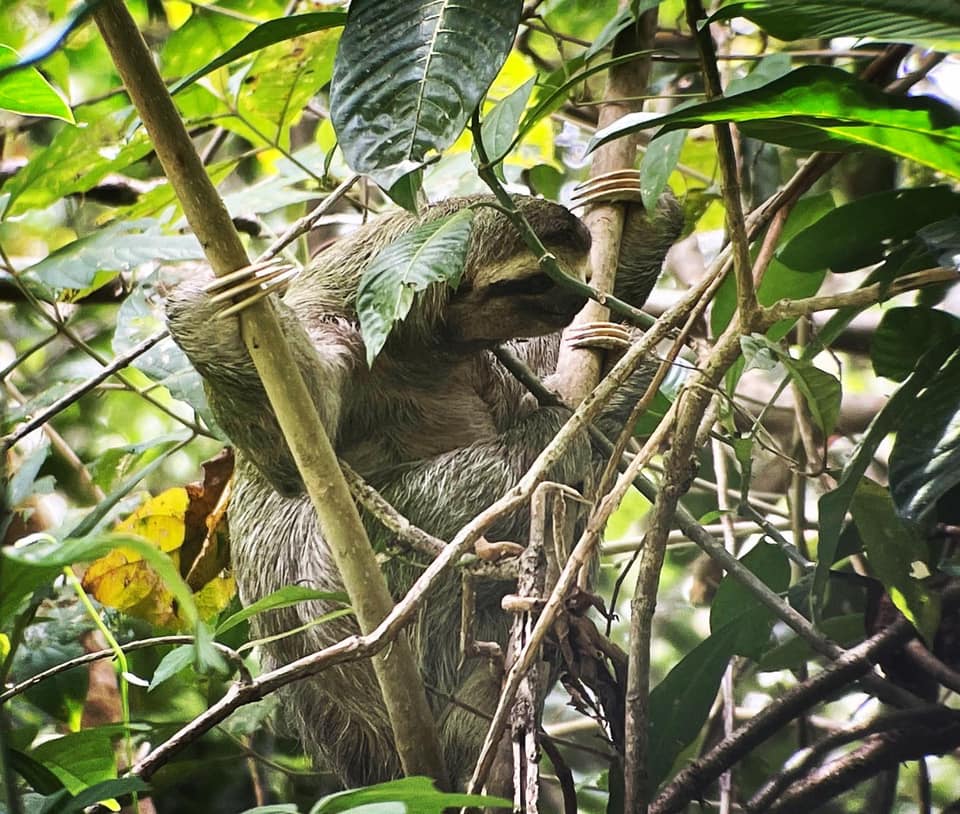 sighting of the day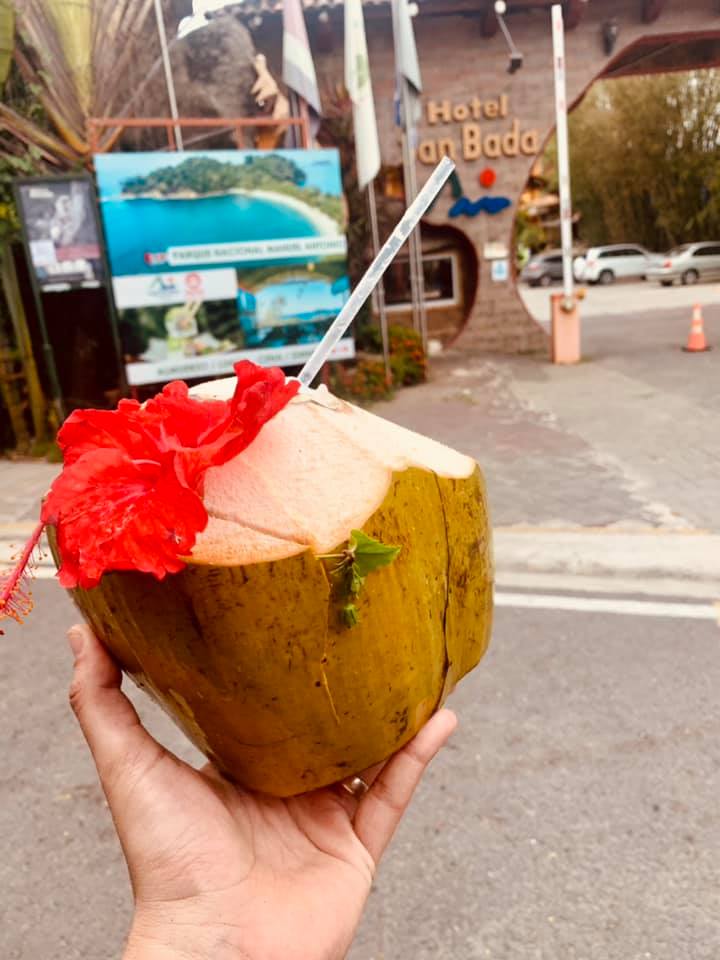 last coconut
Then it was already time to head back to San José, another night, some retail therapy
and back to Switzerland. Costa Rica has been a great adventure, I cherish the time spent with my daughter, she was so cool and not complicated at all, we had so much fun and the memories I will always have.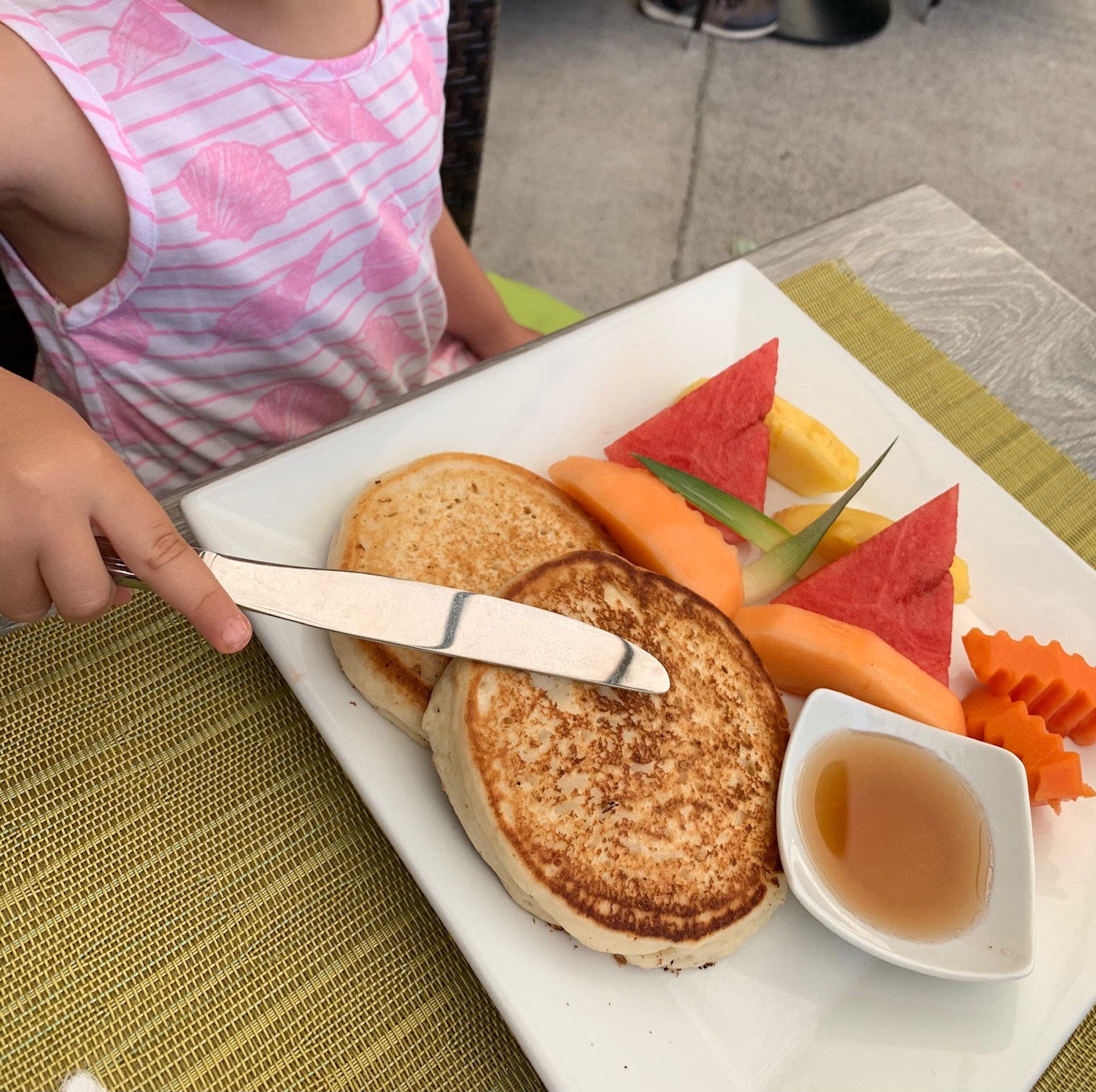 last breakfast in Costa Rica està muy rico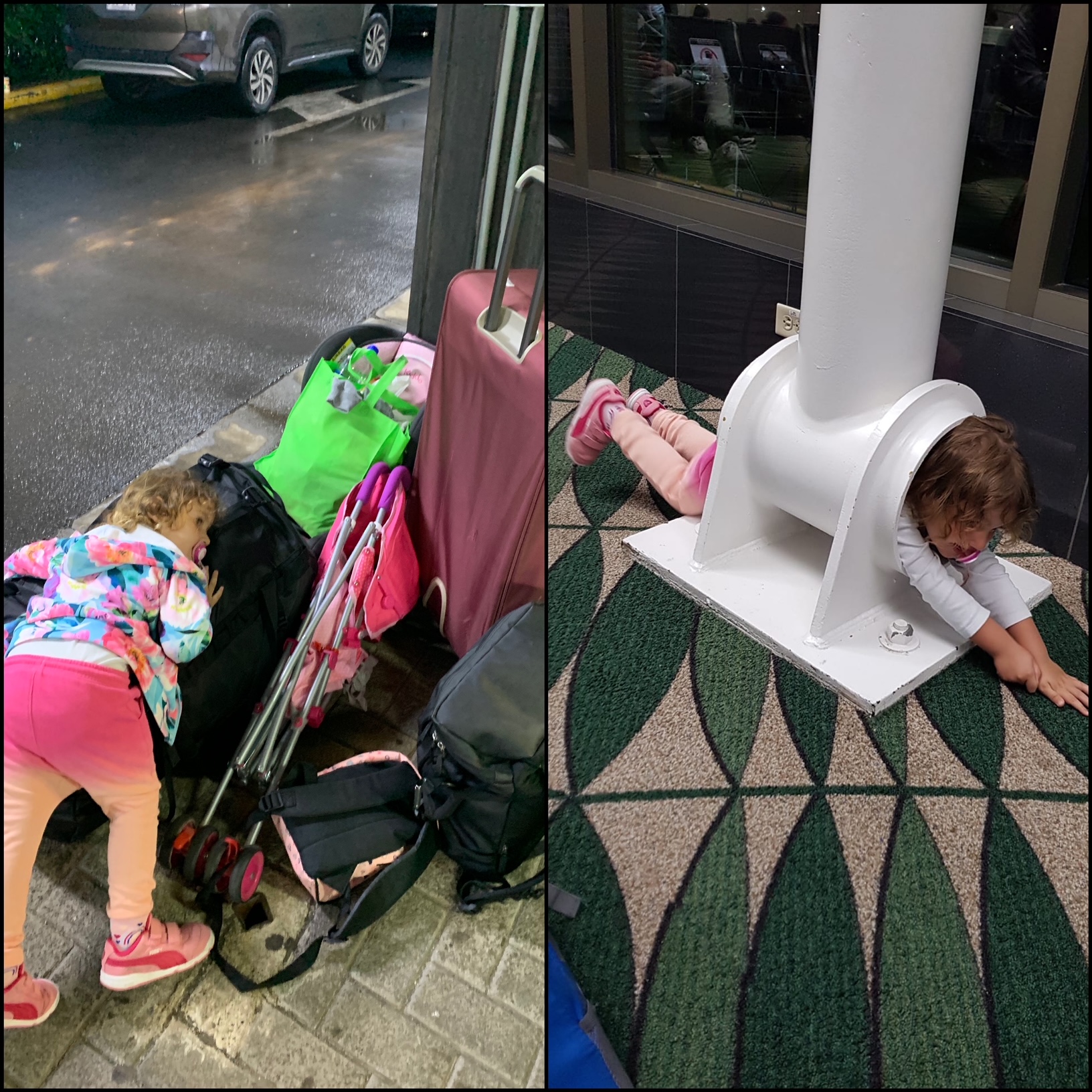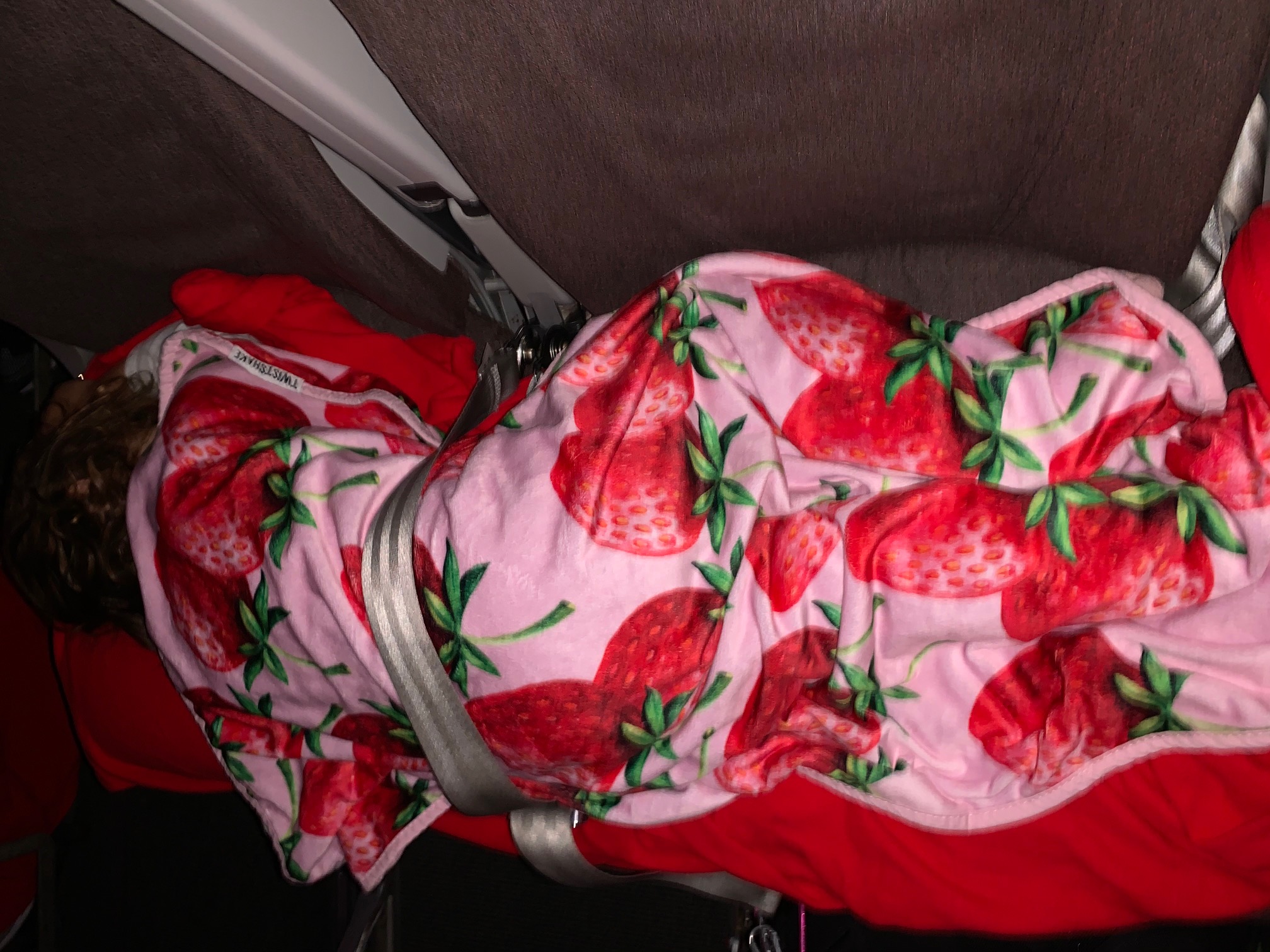 I would also sleep 8 hours like this
Heading back to the airport it was the craziest traffic I've ever seen, it was 5 p.m. rush hour and it was totally chaotic, motorcycles, huge trucks, greyhounds and it felt like a million cars on the highway. Fortunately, I dropped off the rental car 4 hours before the flight. Because that including the shuttle to the airport took another hour. Check-In went without any trouble, I had my negative PCR test and Lani didn't need one. Again she was such a rockstar. Awake for two hours, slept for 8 hours on the first flight to Madrid. Then Madrid to Zurich she was watching some tv and finally after a really long trip we landed in Zurich, on time and Mama Debbie and Billie Jean were waiting for us at the airport to drive us home. Leilani loved being on vacation however she missed her mama back home very much (even though they facetimed twice a day) and was asking for her a lot