Dominican Republic 2006
On November 14 my buddy Mattias and I flew with Iberia (the Spanish airline) to Santo Domingo. Flight from Zurich - Madrid = tranquillo, but not so the 9 hour flight to Santo Domingo.
The flight wasn't booked out, so we looked around for empty seats, so we could feel cozy. So I sat in a row where and older Italian woman was sitting. Then a Dominican man sat down next to her and she didn't like that at all, so she told him and they started fighting with each other. When we were in the air, I fell right asleep, but awoke because people were shouting. I looked around and saw that all the Dominican's in the economy were standing and yelling at the Italian woman. Then a chick started yelling at me because I also have an Italian passport and was sitting in the same row! I was a bit confused and didn't understand why they suddenly had a problem with me. They called us racists and told us to wait till we landed in Santo Domingo. None of the flight attendants said anything, they we're probably scared!
From a scale from 1 to 10 I would give Iberia a 1! It wasn't just the riot, but the board crew was unfriendly and lazy, the furnishing was from the 1970's and almost fell apart, the movies from the fifties, the food was cold and I almost vomitted and the pilot seemingly dead which we noticed during the landing. Conclusion: Don't fly Iberia!
In Santo Domingo I wasn't attacked, which was a good thing and we we're welcomed by our Swiss friends who live in the Dominican Republic with a santo libre (like cuba libre, but sprite instead of coke). The drive to Las Terrenas took over 5 hours and was grindingly.
When we got to Edith's place we went right to our bungalow and noticed that there was no water, Edith noticed to and went outside to the cistern and found here boyfriend Franklin lying in the backyard with a bullet wound in the thigh and it had hit the aorta, he was unconcious.
With the police a Belgian guy arrived who wanted to reanimate him, but the police forbid it because he was lying on his side and they didn't allow to turn him on his back. So he died shortly after, he bled to death. We we are absolutely shocked. The neighbor said that the perpetrators were to men with guns and machetes. Only 4 months before that he survived an attempted murder because a chick who was in love with him, but couldn't have him paid 4 guys to kill him.
All night and during the next day there were about 50 people around the house. They poured chlorine and cleanser over the blood and with the sun it developed a nauseous smell. We felt really bad because we knew he didn't have to die. Why didn't we come earlier and also he was lying 2 meters in front of our bungalow, but we didn't see him in the dark. Edith was in shock, she didn't realize what had happened.
Now someone had to arrange the funeral, but Franklin's ex wife was to lazy and his family (all Haitians) had no money. So we all donated some money for a coffin and some flowers.
The funeral was on the third day, it was a Haitian one. The corpse was laid out in his house. And the Haitians take pictured at funerals like at weddings, but no one had a camera, so they asked me and Mathias if we could take pictures. I didn't feel good about it, but I did it anyway, for them. Because it was raining the funeral was delayed for hours and I was starting to feel ill because of the smell.
Mättu holding a little kitten while waiting
Then they put the coffin on a pick up truck and we all walked through the town behind the truck. The people were crying and singing at the same time.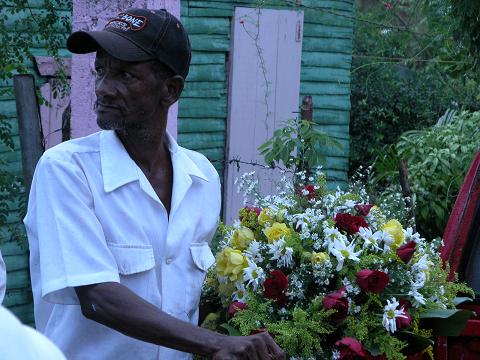 the coffin was put on the pick up truck
love this pic
after the rain
in the village where the Haitians live
R.I.P Franklin
In the Dominican the dead are not burried, but embed in concrete. At the graveyard, women started to scream and collapsed when they opened the coffin for the last time. Some had to be hold because they wanted to jump on the coffin.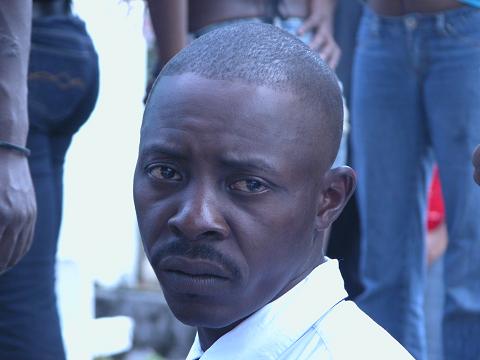 The graveyard in Las Terrenas
The sad thing for me wasn't so much seeing a corpse for the first time, but the pain and the sadness in the eyes of the dependants. When the grave was embed in concrete, the people were already gone.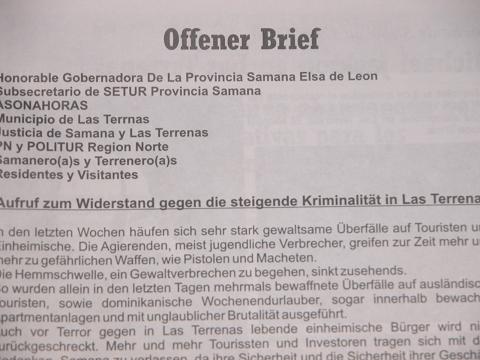 My first impression of the Dominican women was right. They always talked behind my back and told me off. Because they have more women than man living there, they are afraid that the Gringas (white women) wanna steal their men.
horsebackriding in El Limon
at the waterfall
We hired a scooter and drove to Samana and El Limon, there we did horseback riding and went to the waterfall. When we got back, the guys wanted more money than we had already paid and ten guys encircled us. With my little bit of Spanish, Italian and alot of lying we got away.
yeah fun!
nice view
At night after dinner we mostly went back to the bungalow because Las Terrenas is too criminal at the moment to walk around on the streets at night. Every third person carries a gun on him, even in the bank! Which I thought was funny. I am gonna try that in the bank here, let's see what happens.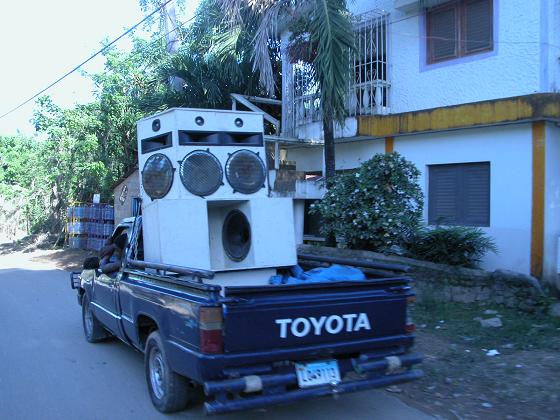 why not...
trying to get gas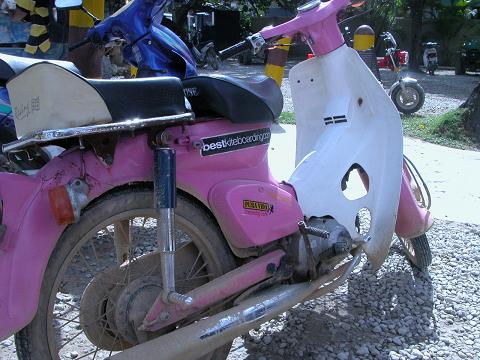 also a member of the pink mafia
me on the scooter in Samana
Mättu and I on the lighthouse
Were were woken up by gunshots twice while we where there, I mean I was in downtown Sydney, Seatlle, Kuala Lumpur, Bangkok, Vancouver, but in Las Terrenas I didn't really feel safe. Here people say, if you find an injured person on the street, let him be because if you take him with you, you are responsable for him (also financially).
But the country also has it's good sides, the dogs on the street are soo cute:
two of my favorite dogs
...the little kids even cuter:
a little Dominican Princess
...the beaches are nice and the weather awesome:
the beach in Las Terrenas
There's Bachata music playing everywhere and the Pina Coloadas are yummi!
delicious
me eating Pasta at Flavio Fashion's Restaurant
don't use to much cool gel or...
And then my sciatic nerve hurt again and we had to call the masseuse, so Mathias and I decided to put half a tube of cool gel on my back and after the night I had burns on my back from the cream. hehe please don't try that at home.
...you end up with burns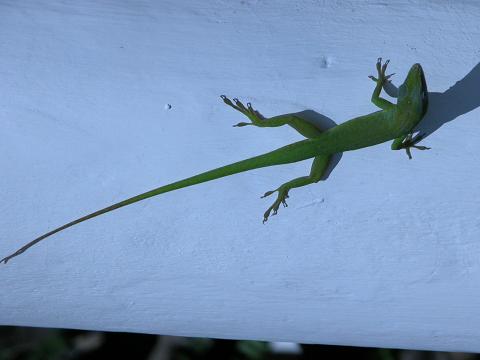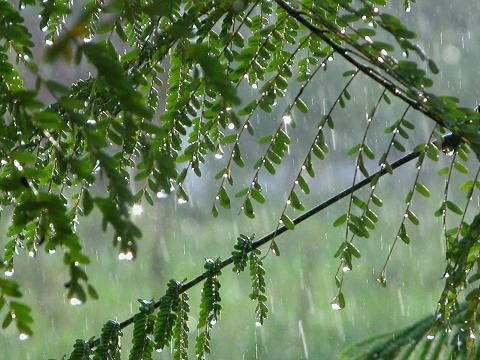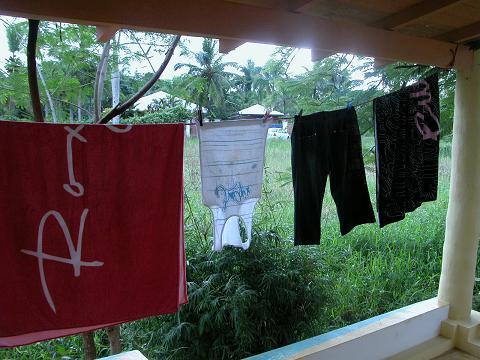 let's go the the playa
who's towel and flip flops may these be???
watching out for sharks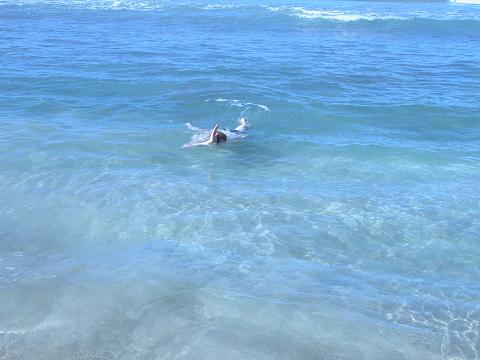 there a great white!
Playa el Cosson
No, I am still not sponsored by Roxy
Palmtrees everywhere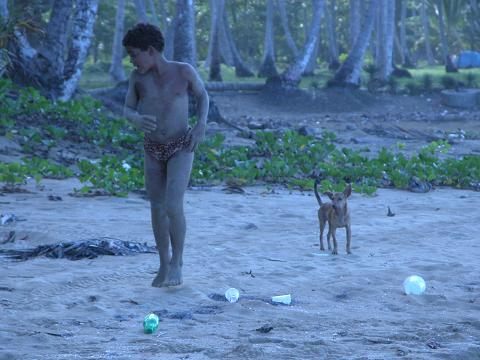 We spent some time with Anuschka, the 7-year-old daughter of our swiss friend.She is half Dominican and half Swiss and she is so cute. If I ever have a kid like her I'll be so proud.
Anuschka the sweetheart
the view from Charlie's and Antonellas house
yo man!
c
crazy as always
a smile and a kiss for a better world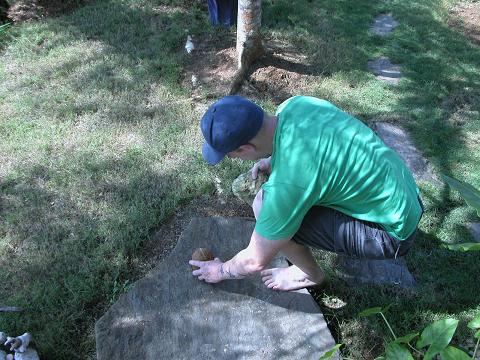 he's the man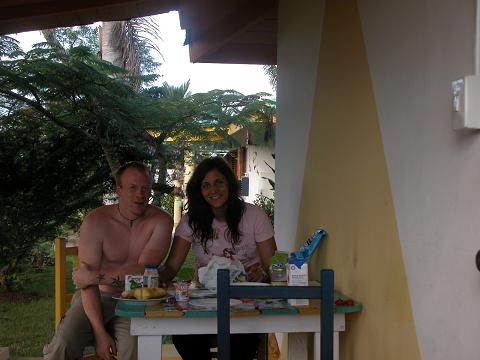 our last breakfast
On the last day, we had to be at the airport in El Portillo at 1.30 p.m., so we returned the scooter at one and the guy was saying we had to return it at 8 in the morning so now we have to pay more money! I said no, that's not what he told us when we rented it and he told us that's what it says in the contract! So he didn't wanna give us the back Mathias ID, if we didn't pay him the money. I was so mad and told him off in English, Spanish, Swiss! Then he took off and he was supposed to take us to the airport. So we had to get a cab and at the the little airport we had to pay money again and then we were broke.
the smallest plane I've ever flown with
From El Portillo we flew to Santo Domingo airport with a really small plane with only 10 seats.
And in Santo Domingo when we checked in, they told us, the flight is delayed we had to wait 3 hours and off course missed the flight from Madrid to Zurich. So we actually should have waited 7 hours for the next flight to Zurich but we got a flight 4 hours before that to Geneva. Well once again! Don't fly Iberia!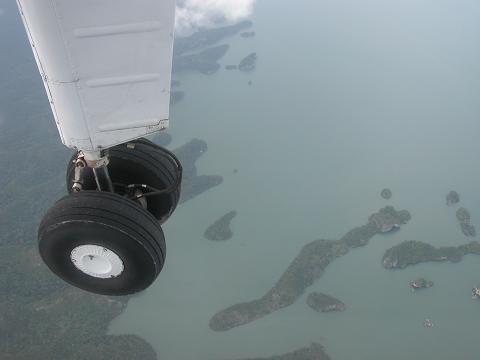 goodbye Dominican Republic
Tomorrow I am going to Barcelona on a shopping tour, my dad won the trip, so I hope I can relax a bit there before I have to go back to work...