Fiji Islands 2005
On Septemeber 2nd we went to the airport in Brisbane to catch our plane to Nadi (Fiji) which had a delay of 4 hours because the pacific blue plane was still stuck in Auckland!
We arrived in Nadi where the Nadi Bay Hotel bus picked us up and took us to the hotel. It's a nice hotel with 2 pools, 2 bars, 2 restaurants and a lot of backpackers.
The next day we got picked up by a bus at 11 o'clock cause we were going on our first Island, the Robinson Crusoe Island. We got on a little boat and had 45 minutes until we reached Robinson Cruesoe.
Robinson Crusoe Island
the islanders were singing a welcome song for us
The Island was very little and there were only like 40 travellers on the island and they were all our age! We checked in, had lunch threw the luggage in the little twin bungalow and went to the beach!
our Bure on Robinson Crusoe
Everything on that island is so cute!
Check out the homepage:
www.robinsoncrusoeislandfiji.com
We paddled around the island in like 5 minutes with a kajak. We met Davide a Italian who kinda looks like Jude Law. He was very nice, too bad I don't really speak Italian.
me and Davide
At five o'clock they we're having a booze cruise to see the sunset!
the sunset
That was awesome and alot of fun! 30 People got on a boat, they played guitar and we all sang and had a few cocktails!
yeah let's rock n' roll
In the evening they had a welcome ceremony for all the new people and we had to drink some weird stuff that tasted like mud! It was so Gross! But we met 2 really cool American chicks from Santa Barbara, and 2 American guys from Kentucky. They we're so funny and we watched the traditional Polynesian fire and dance show! That was fantastic!
the traditional Fijian dance show
and the fireshow was pretty cool too
The next day they had the island survivor competition where they had to play games and the winner got free beer.
some freak showing me a crab he caught
We also made coconut jewellery, I made a bracelet and it took me forever. At 5.30 I got a Polynesian massage for 45 minutes which was quit nice!
my Polynesian massage on the beach
In the evening we played driking games, partied in the Pirates nightclub (a small straw hut)
what happens in Fiji stays in Fiji
and then we had a large bonfire on the beach and we all sang songs again and had a blast!
on the way back to the mainland
On Monday we left Robinson Cruesoe Island got picked up at the Nadi Bay Hotel and transfered to the harbour of Denerau where we hopped on a boat to Beachcomber Island. Check it out:
On the boat we met 5 English guys who were travelling around the world in 11 months. They seemed alright in the beginning but like I said before, I just don't like'em! So all they wanted to know from us was whether we would get drunk, how often we drink, what we drink...I got kinda bored talking to them after a while! There are so many little islands on the way out to Beachcomber and Beachcomber Island itself is so cute and very nice!
Treasure Island on the left and Beachcomber
the restaurant on Beachcomber Island
me and Jen infront of Treasure Island
The island is smaller than Robinson Crusoe, but there are way more people on the island and it's not as personal as Robinson Crusoe!
me in the jacuzzi on the beach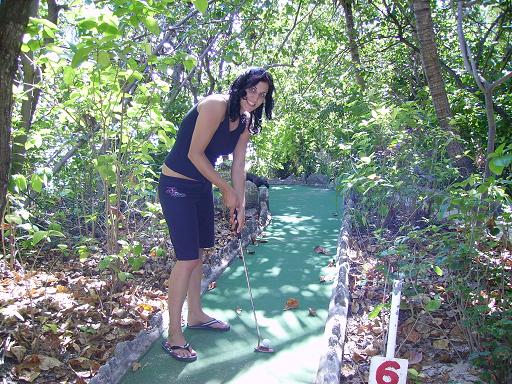 playing minigolf in paradise
The food was a little bit better, but the staff wasn't as fun as the others! We layed around the beach for awhile and then had dinner and then they had a limbo dance show.
The next day we went snorkelling which was very cool and turtle feeding at night they had a band playing and a traditional Fijian dance show which wasn't as good as the first one...
another Fijian dance show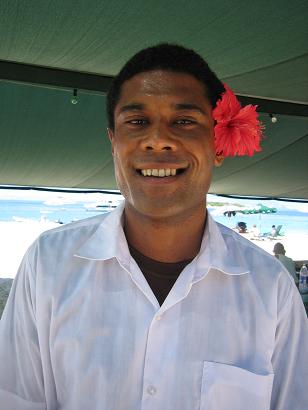 On Wednesday we went fish feeding and then played minigolf cause they had one on the island.
me feeding the fish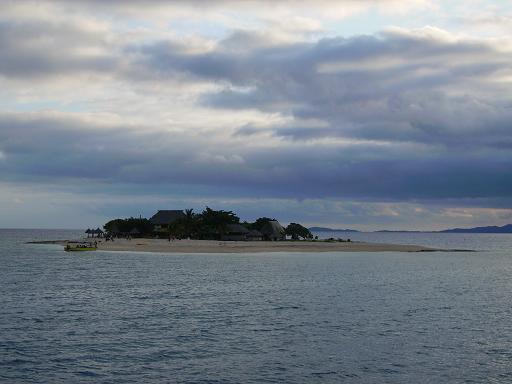 We had to get on the boat at 4.30 to go back to Nadi. We ate at Mc Donalds ( I know that's stupid, but you gotta try it in every country, so you know the difference;-). On Thursday September 8 we got up and got on the Fiji Bus (and all the stupid tourists were taking cabs for 5 dollars) and paid 50 cents to go to town. We did some serious shopping as always but we also bought alot of souvenirs to send home!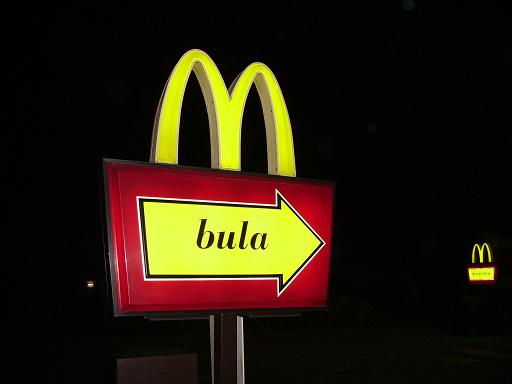 Yes I admit, I was a bit scared
We wrote postcards (for you guys)and had a delicious dinner back at the hotel, had a drink and went to bed.
That was some delicious dinner
On Friday we went downtown again to walk around Nadi for the last time.
the police station in Nadi
We packed our stuff and had to get back to Brisbane which was very sad and almost made me cry (just kidding it's not as bad to back to your holiday from your vacation:-)