ferry crossing from the north to south island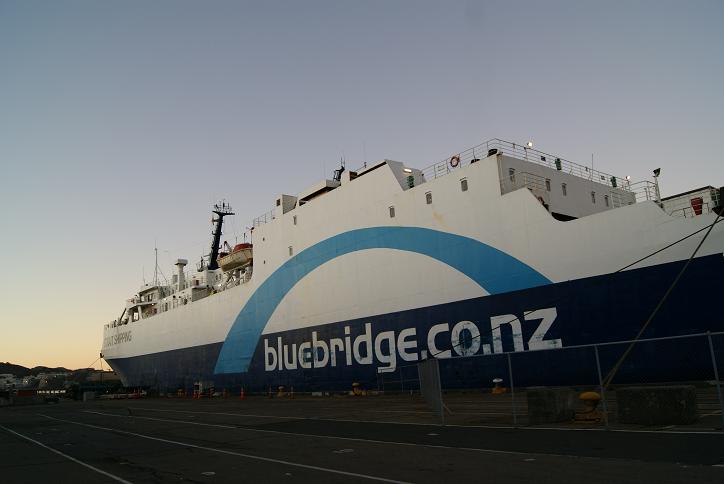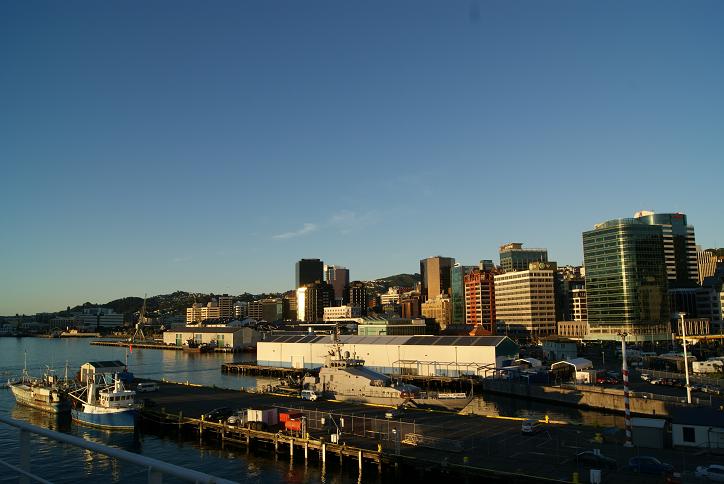 Wellington early in the morning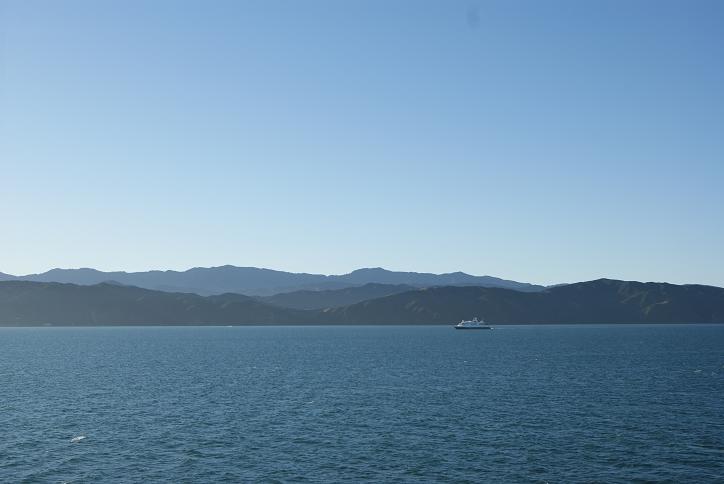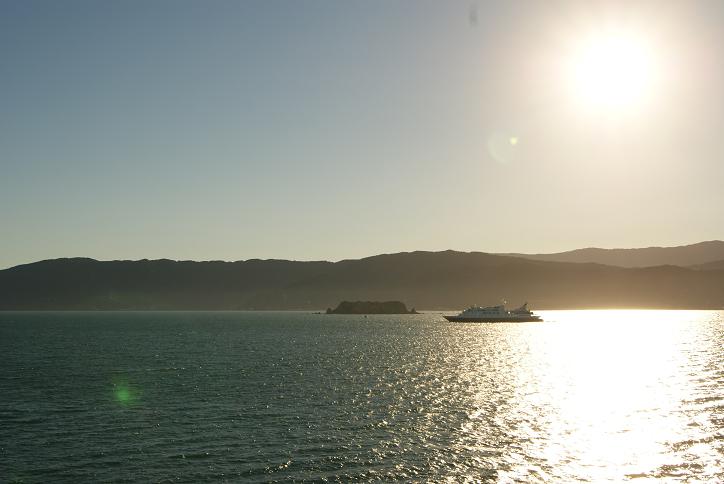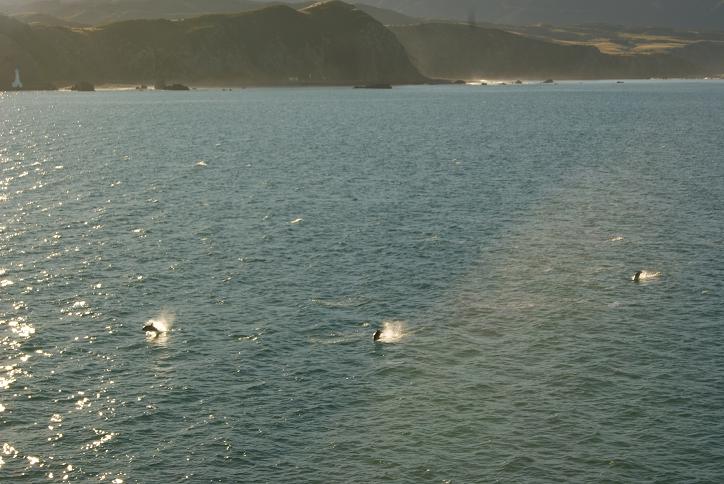 dolphins chasing the ferry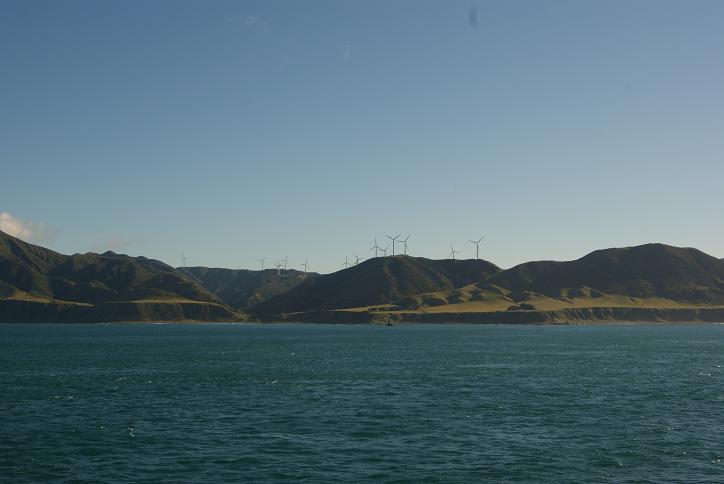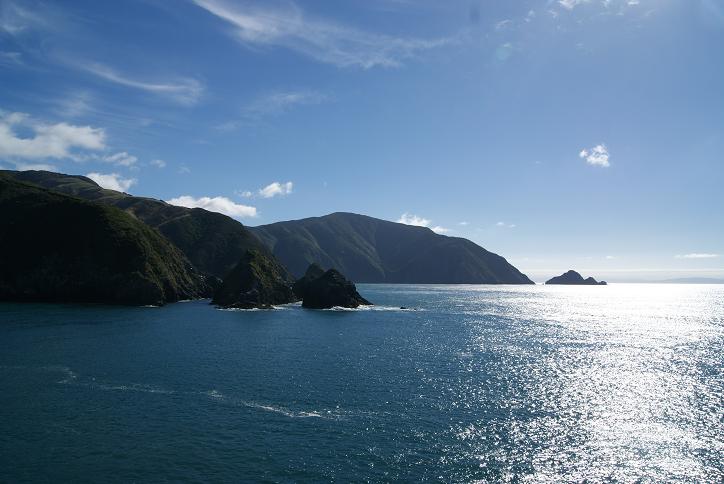 ferry crossing from north to south
The ferry crossing from the north to the South Island was so beautiful, the sun was shining, I was listening music with my ipod, sitting outside on the deck looking out on the ocean and the beautiful scenery. The crossing takes 3.5 hours...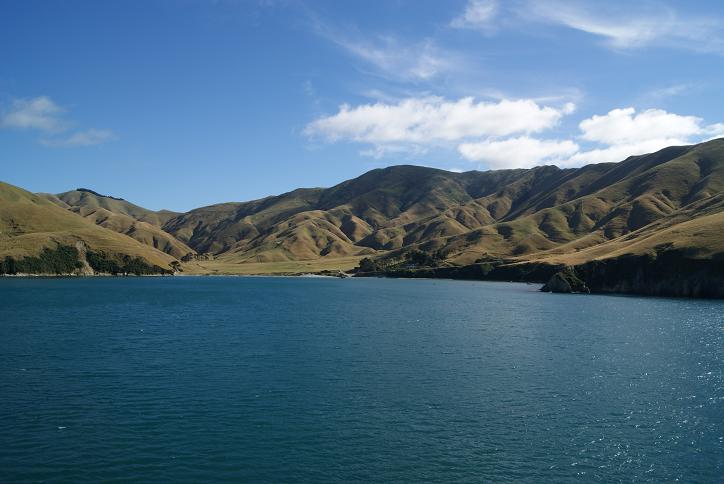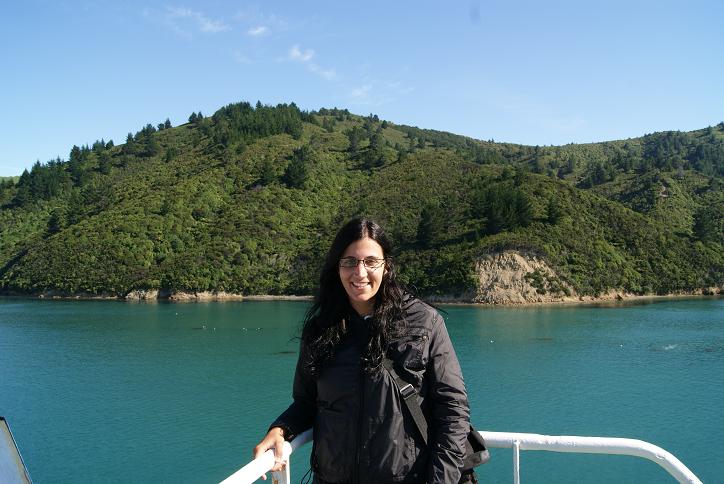 enjoying the ride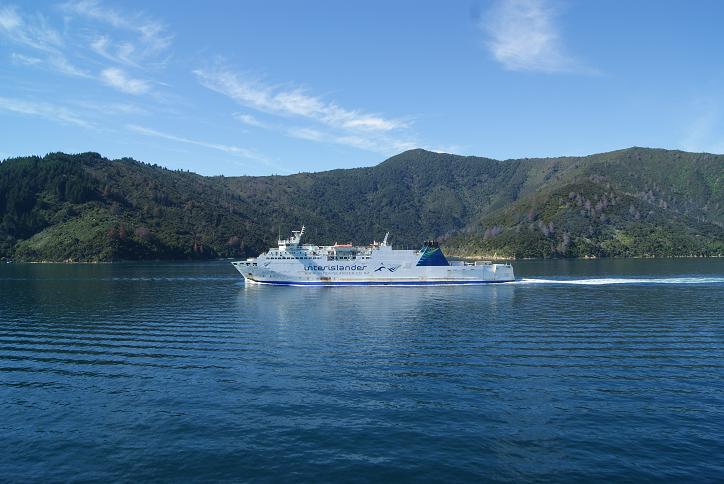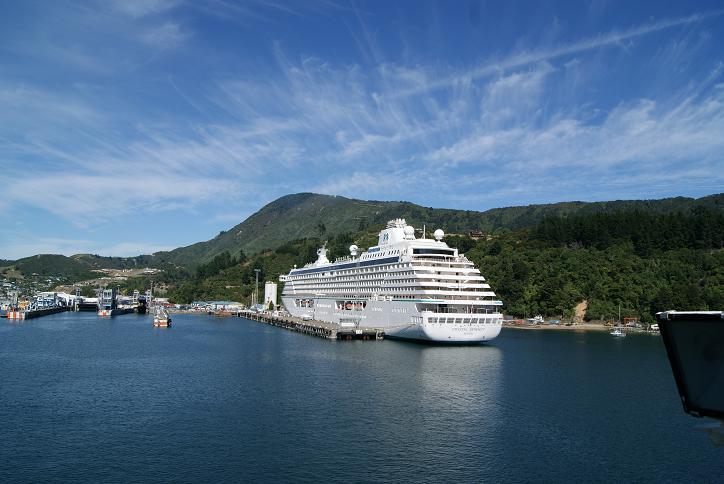 Abel Tasman National Park
When I arrived in Picton I didn't stay, got into my car and drove to Nelson. I actually wanted to go to the Abel Tasman National Park that day but when I arrived in Nelson it was already 2 p.m. and the lady from the iSite told me it was another 2.5 hours to Marahau (where the national park starts). I should've checked it out on the internet before, but it was no big deal, I went to the cinema, watched the unknown and cooked myself some pasta for dinner.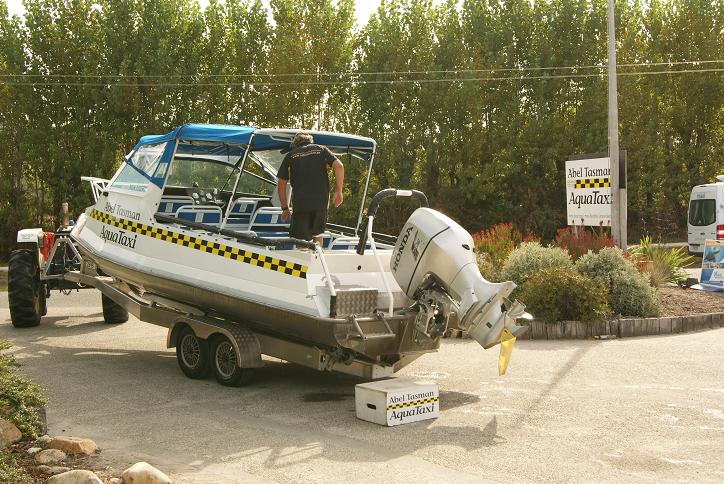 the Aqua Taxi, one of the best ways to explore the park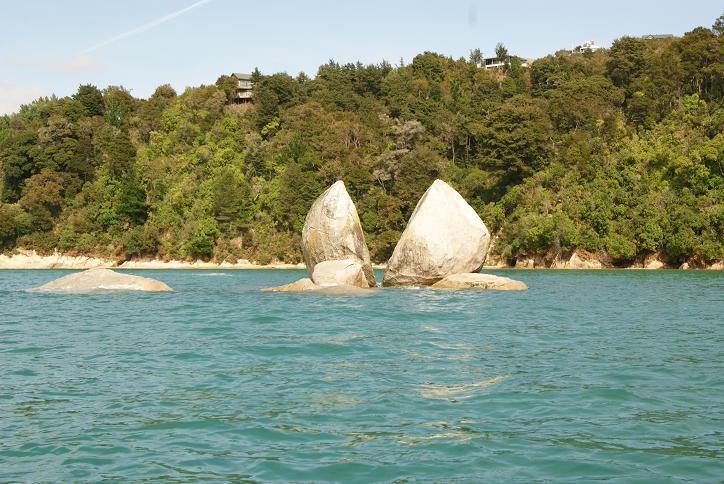 split rock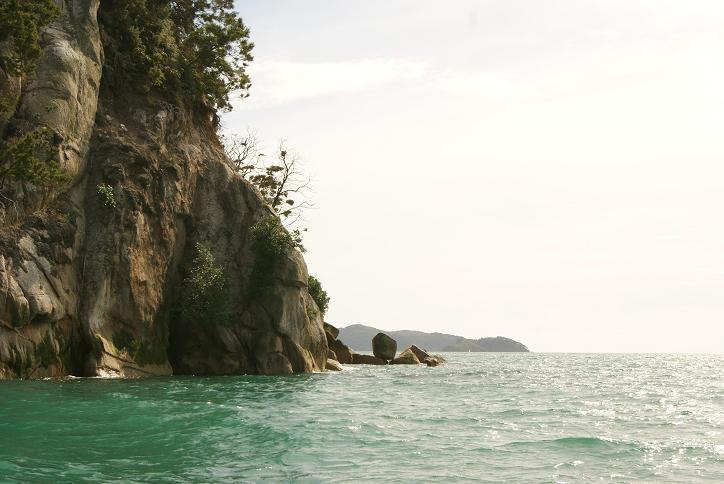 Abel Tasman National Park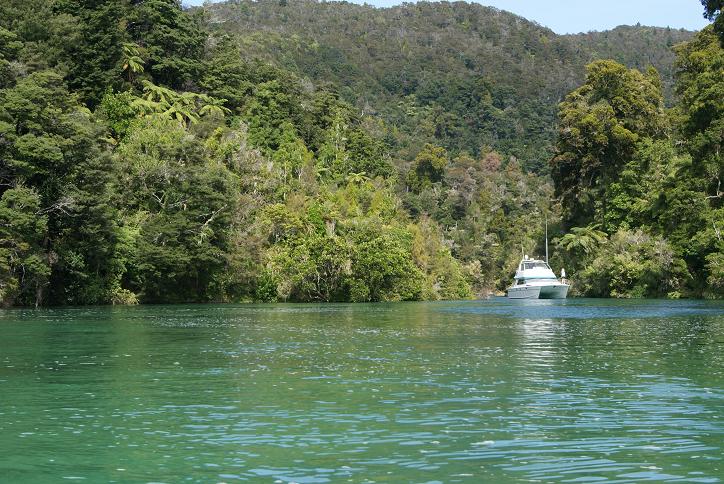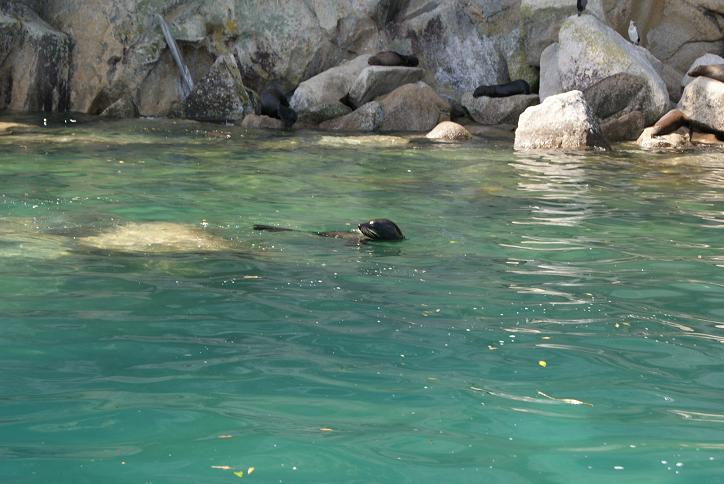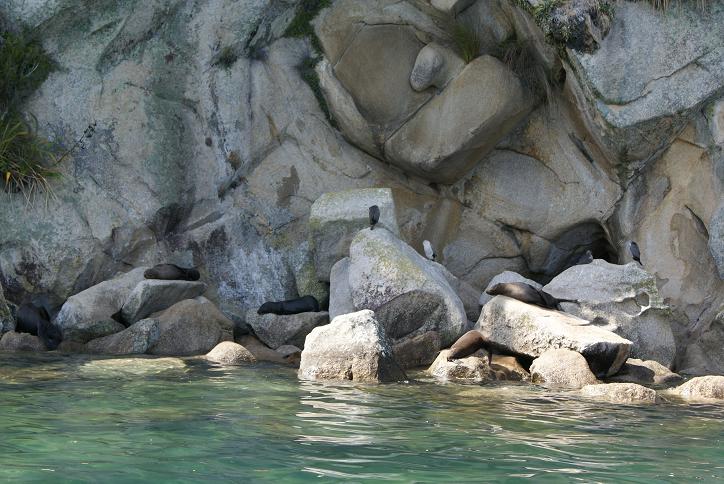 seals enjoying the sun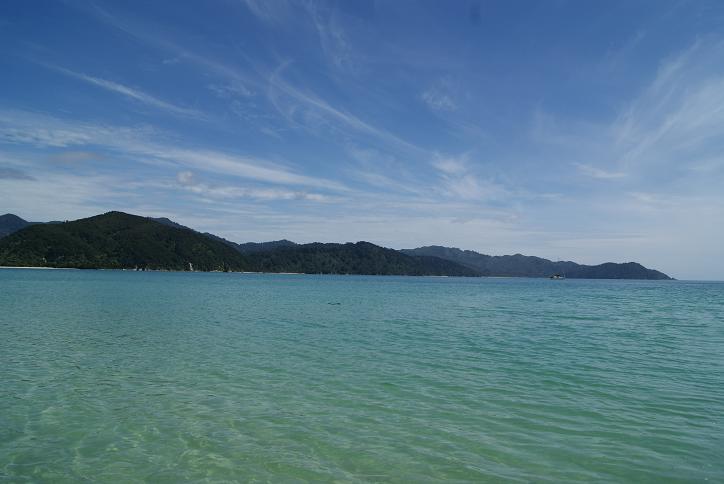 Abel Tasman National Park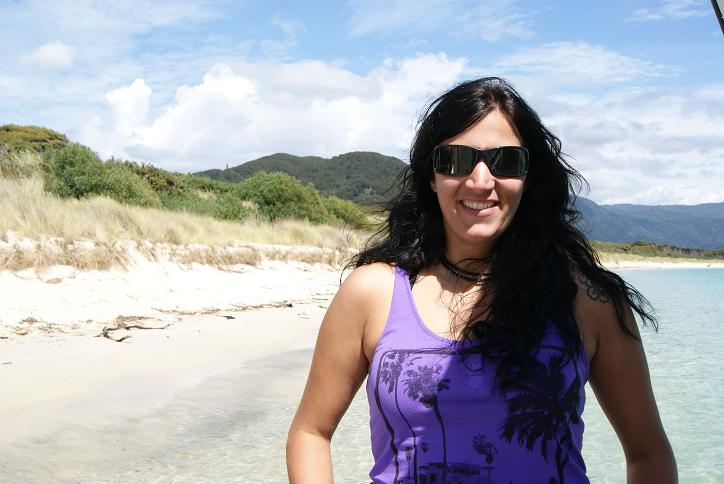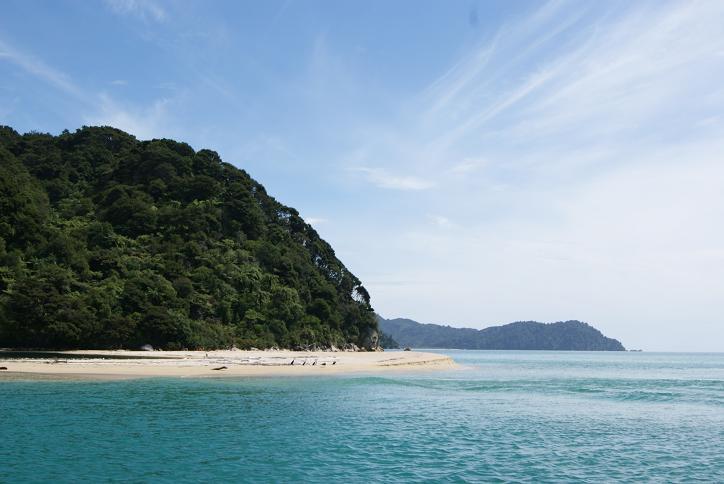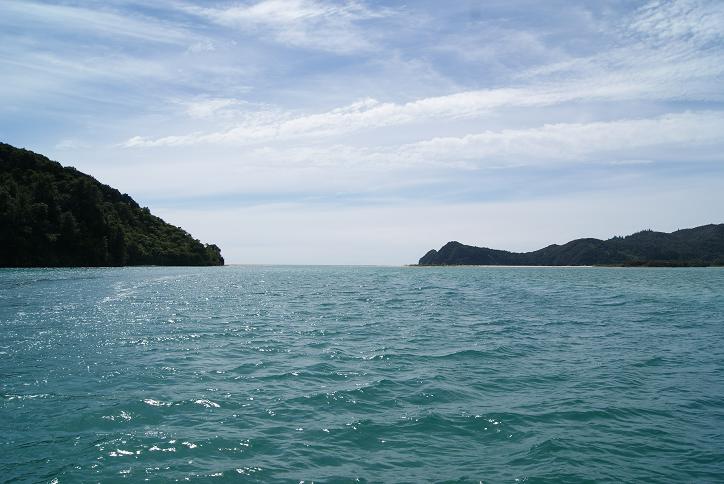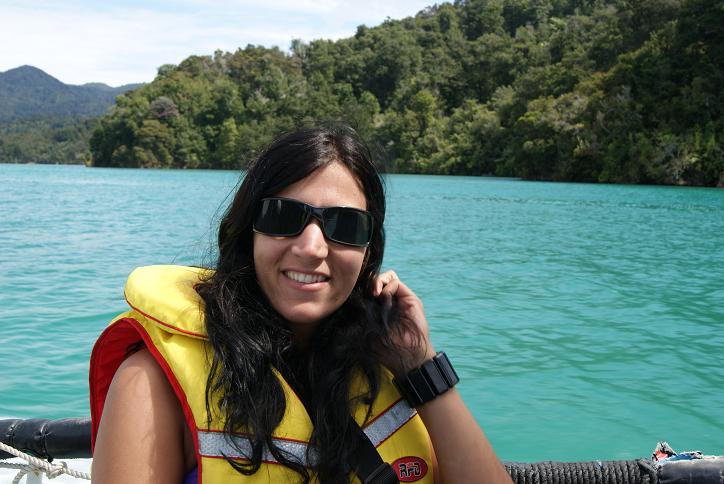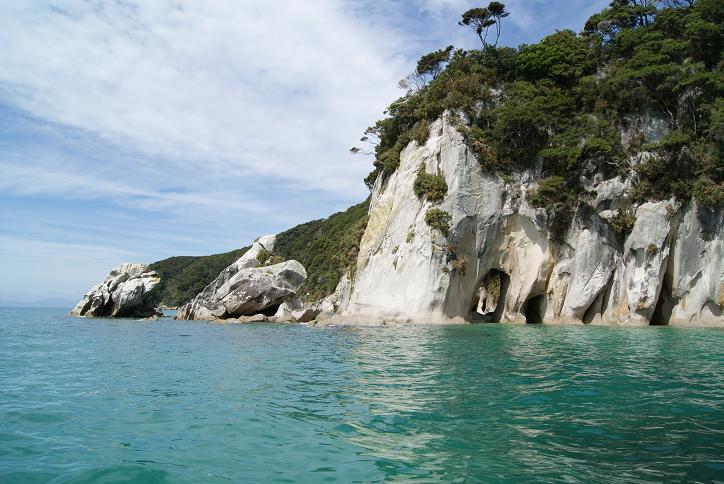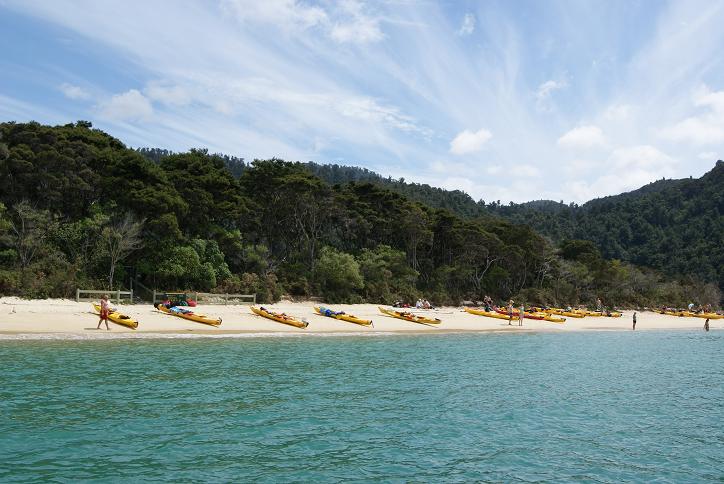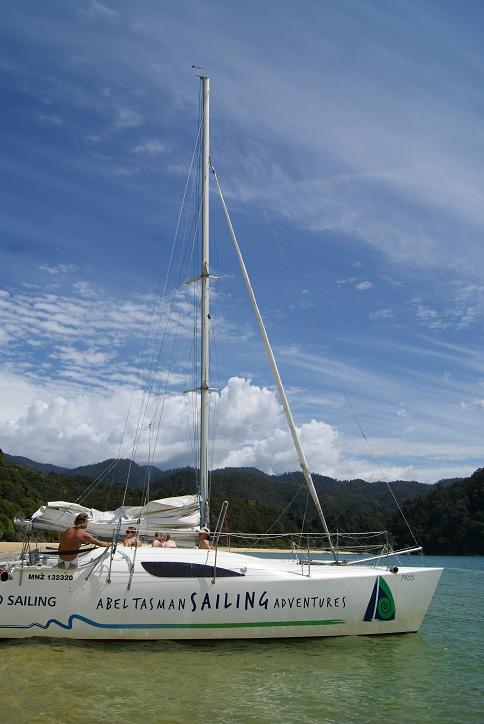 Kaikoura
I left the National Park as soon as my cruise was finished because I still had a long way to go to my next destination: Kaikoura. Kaikoura is the last stop before Christchurch and I really wanna go there because I wanna do wale watching and Kaikoura is definitely the place to do it.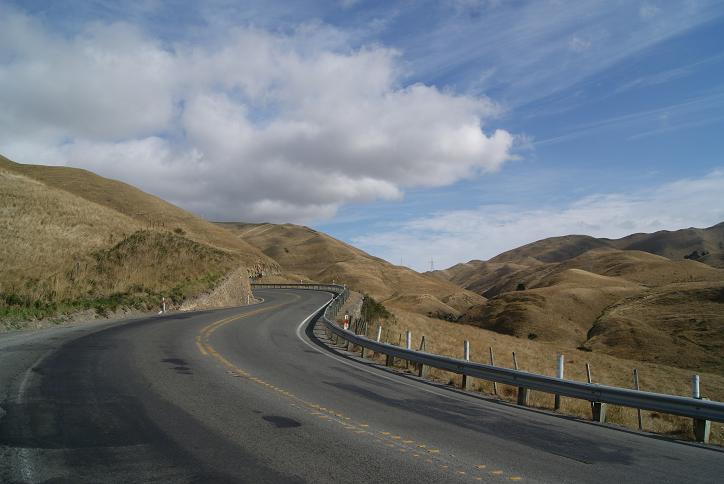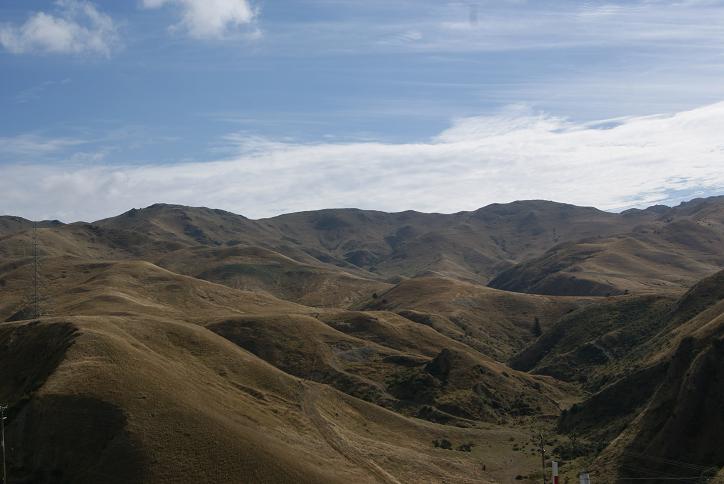 beautiful scenery
Just before Kaikoura there was a lookout pointed out so I stopped and I saw a fur seal colony. It was so awesome. I went up close took pictures and they didn't care at all, they just wanted to relax on the rocks.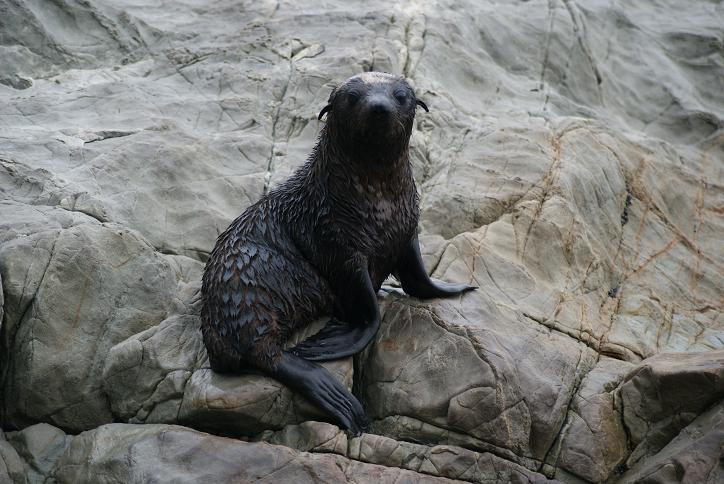 cute pup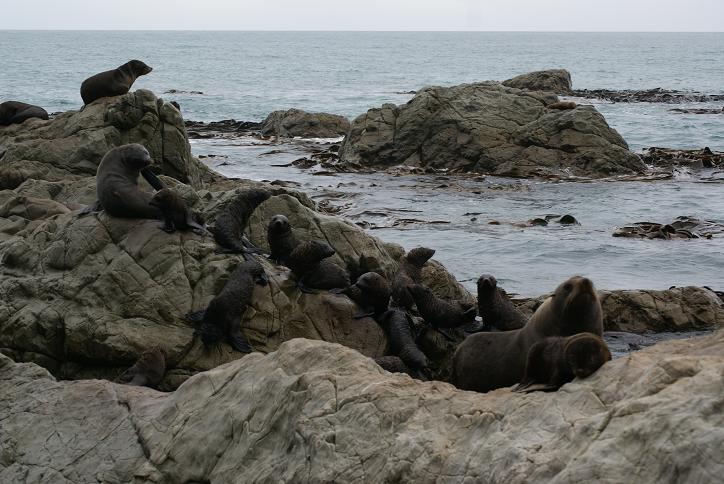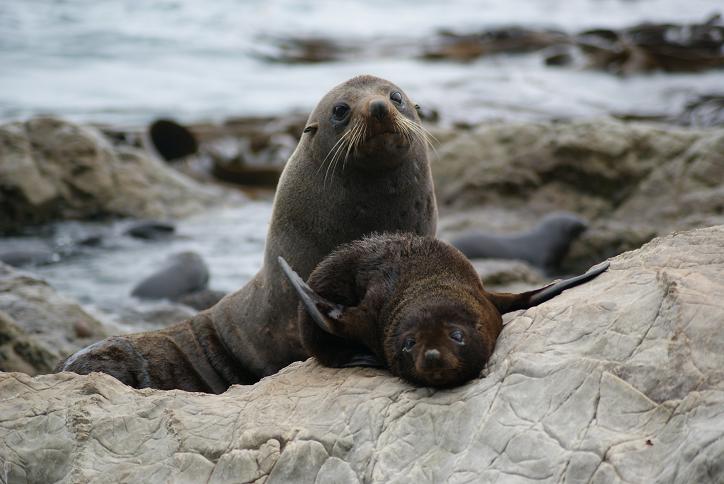 so cute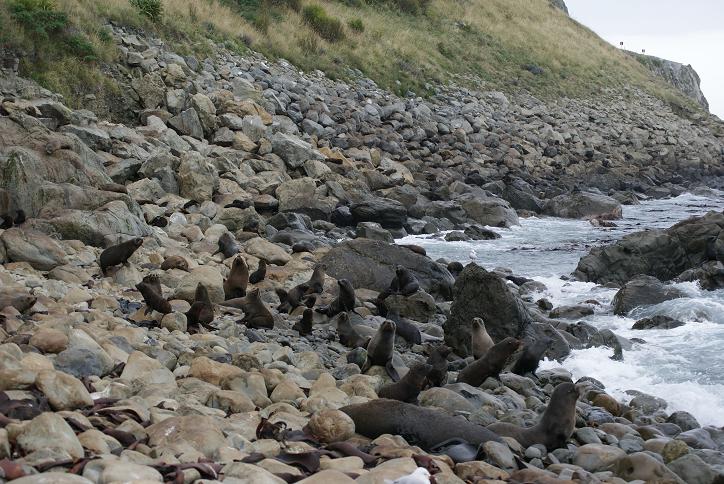 lots and lots of them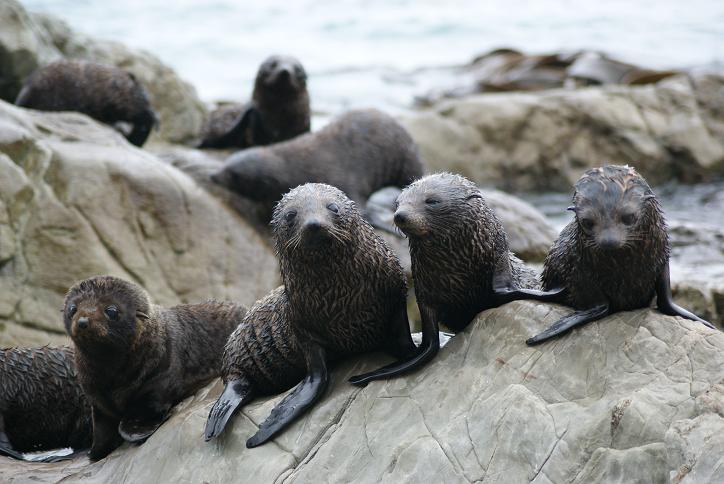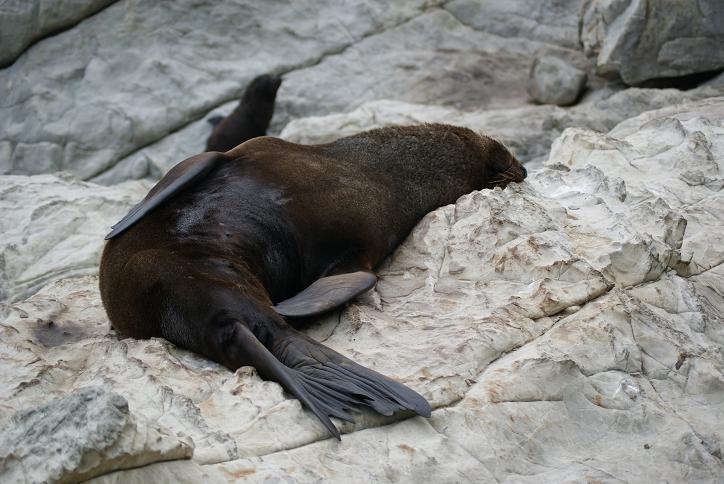 too fat to do anything lol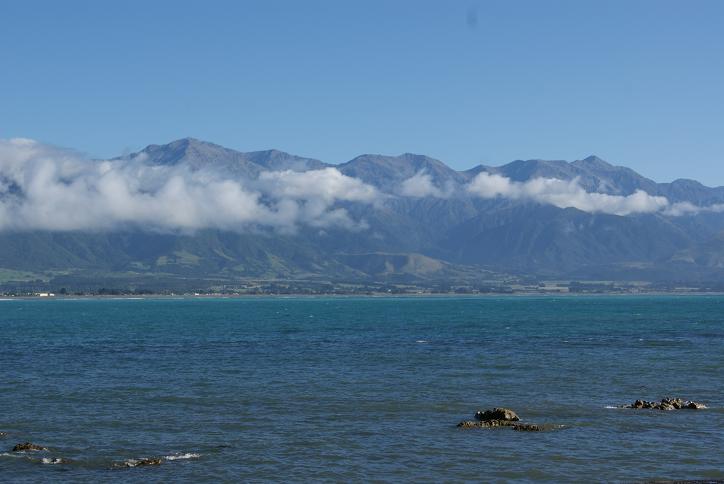 the view from my room
Kaikoura really is beautiful, the landscape and you get to see seals everywhere along the beach just relaxing. The town is a little fisherman village, you get the best fish and chips for 5 bucks and the YHA is right on the beach, no bunk beds, a really nice hostel actually. On Sunday I did a whale watching tour and it was really windy so the ocean was rough and lots of people were throwing up on the boat. But not me though, I was eager to see whales and dolphins so I had my camera ready and only after 10 minutes we approached the first whale. It was 16 meters long, just huge. They stay up for 5-10 minutes feeding and then dive down into the deep for another 40-60 minutes. That day we saw three whales and about 50 dolphins, they were so cute! I am really lucky with the weather as well, it never rains, the sun is shining everyday. I've had just 3 awesome days in a row, first the ferry ride which was beautiful and I saw dolphins, the day at the national park where we saw seals and stunning beaches and the thrid day whale watching and I also saw dolphins and seals. I am happy:-)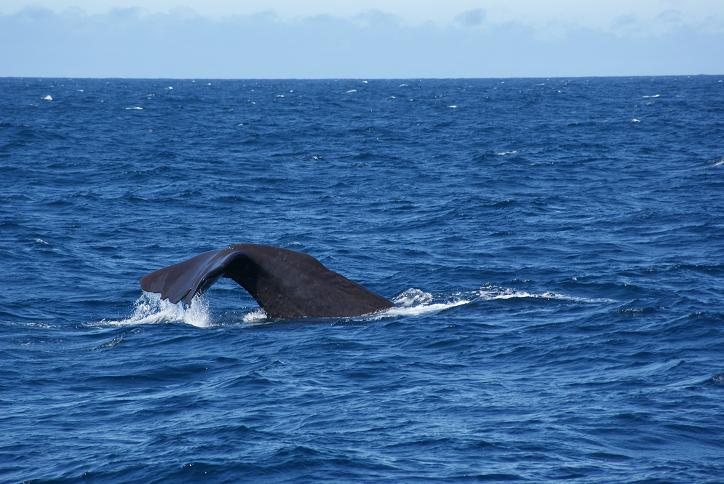 whale #1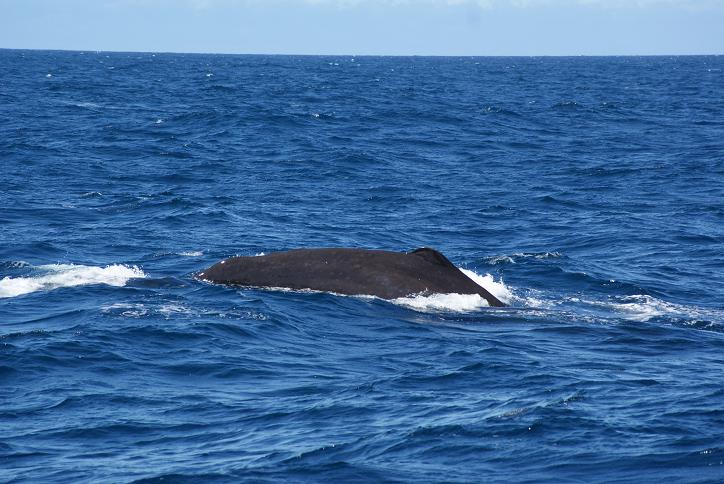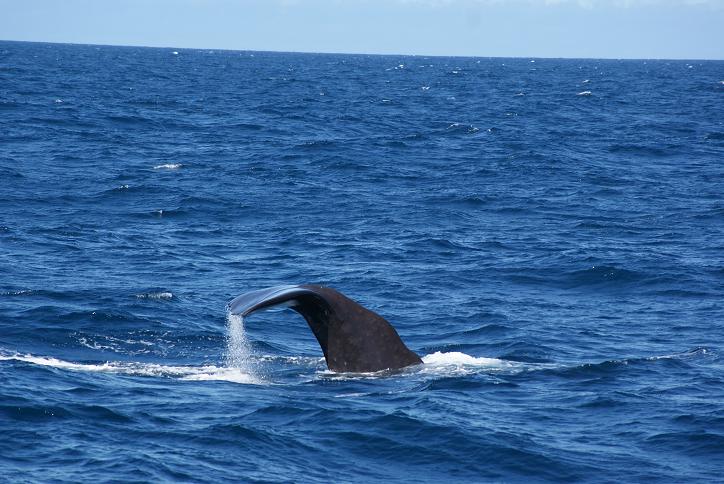 whale #2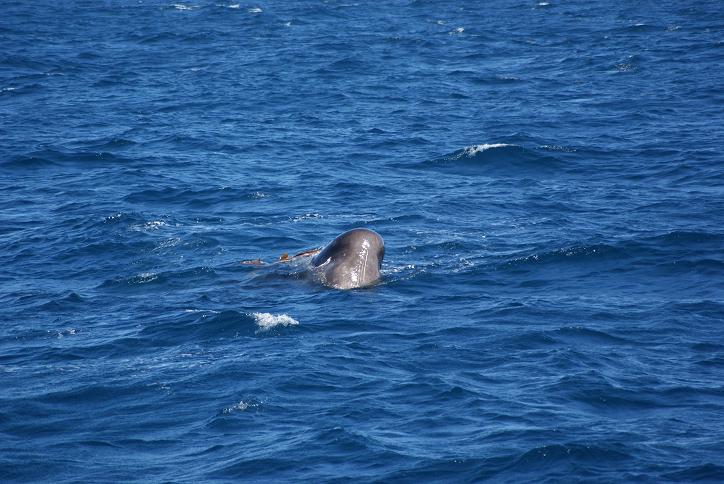 a sperm whale playing with some seaweed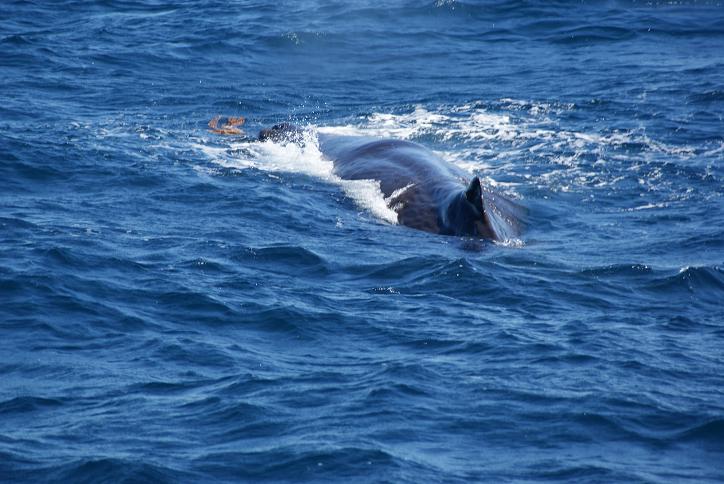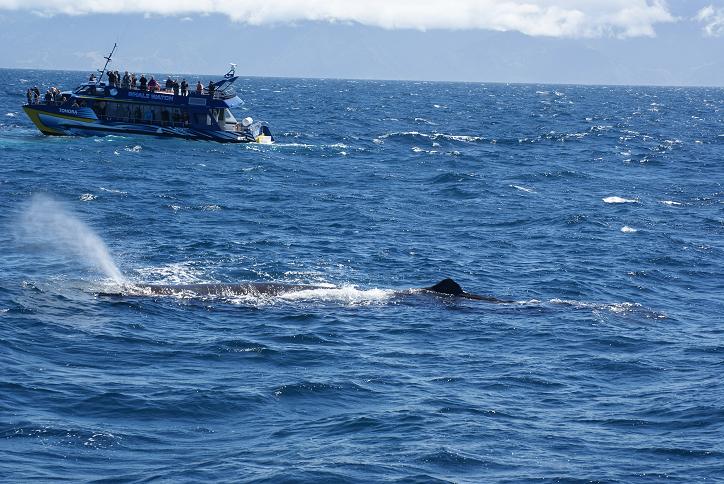 very impressive 16 meter long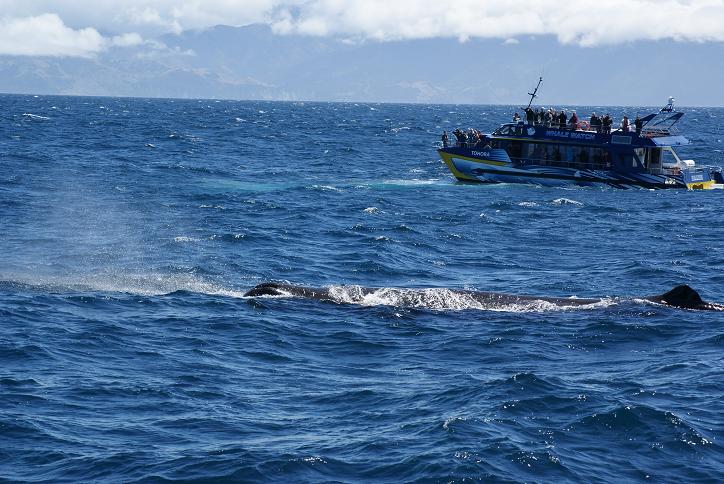 whale #3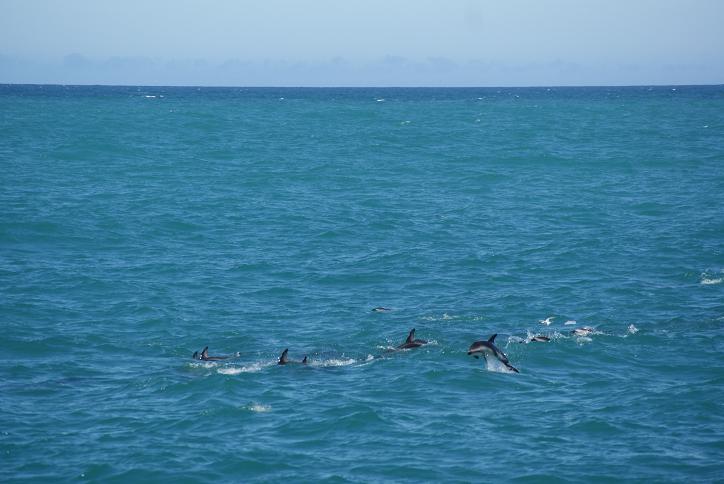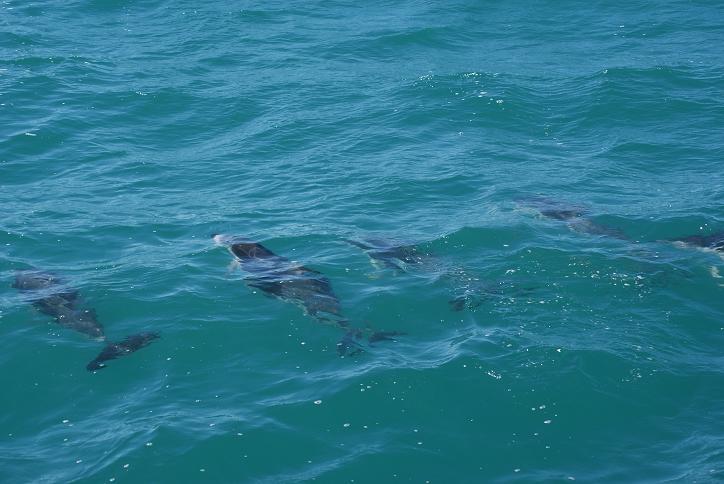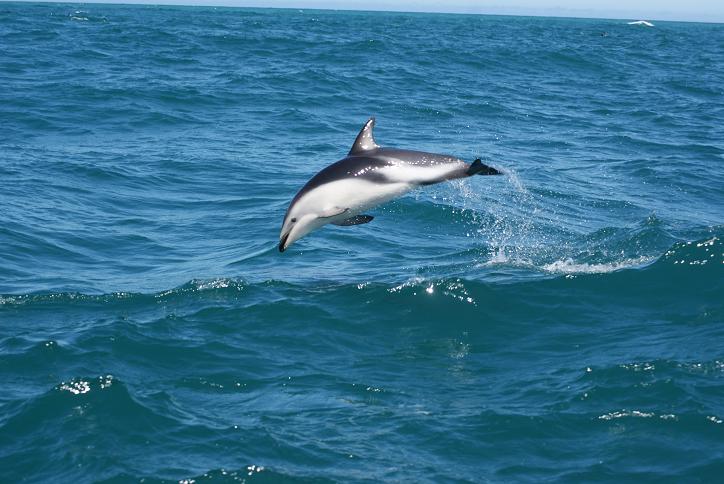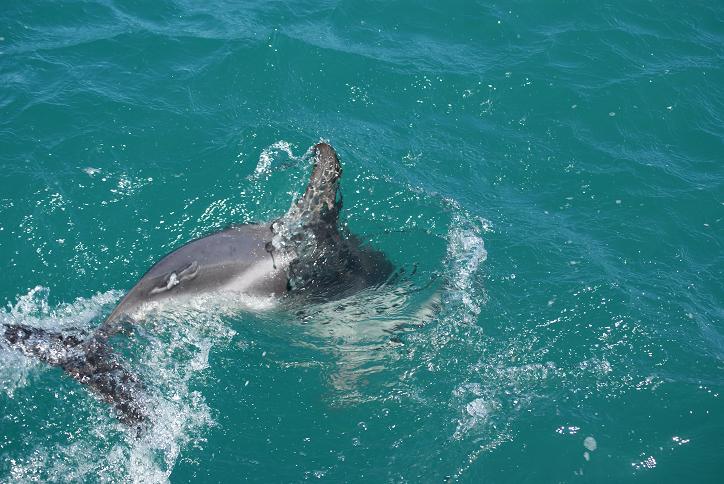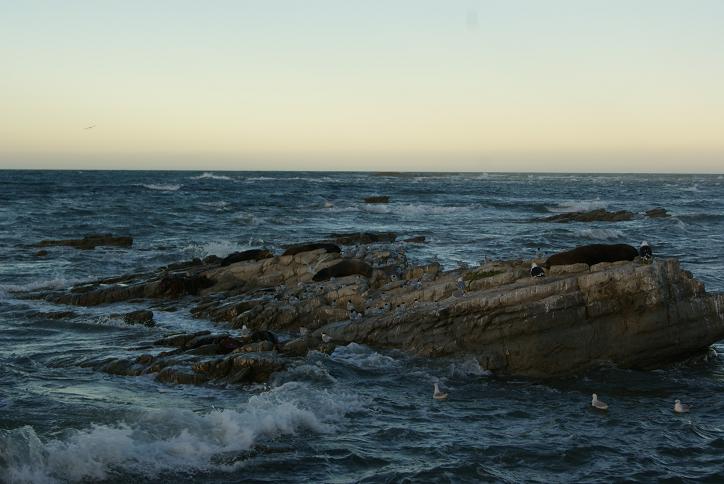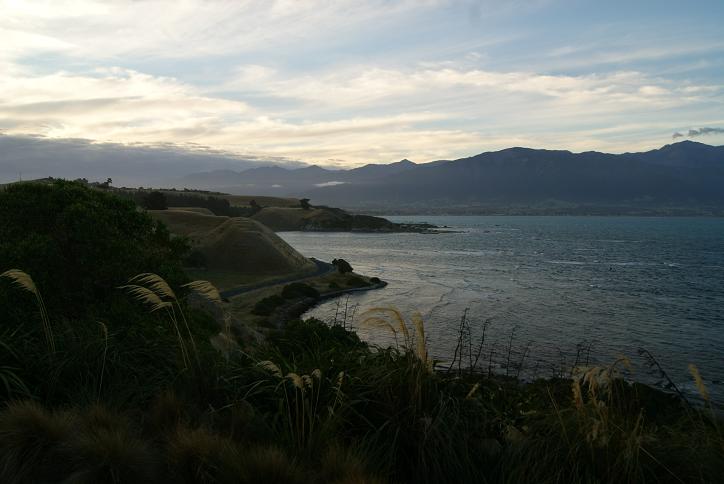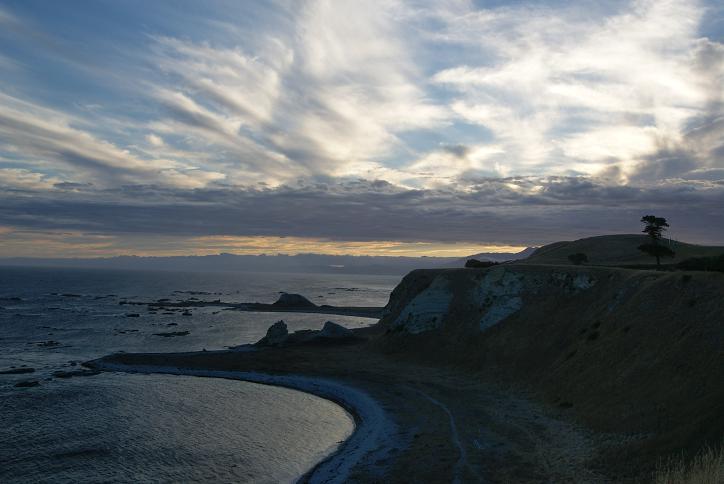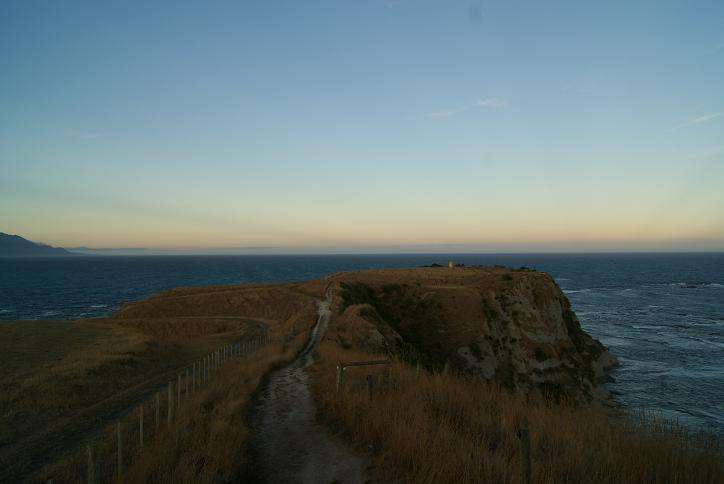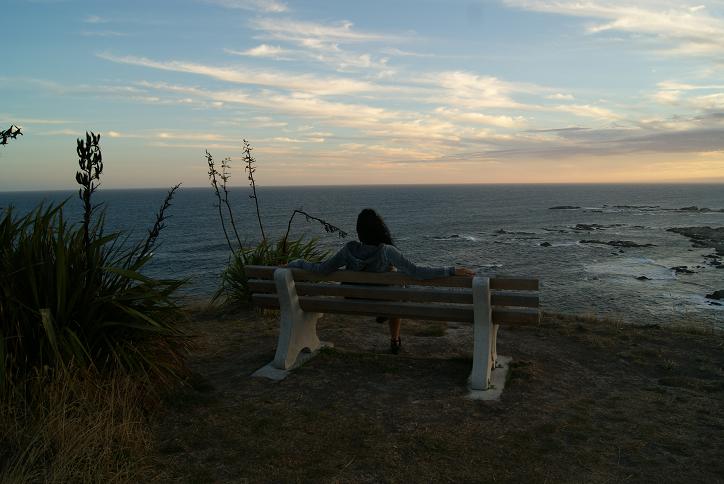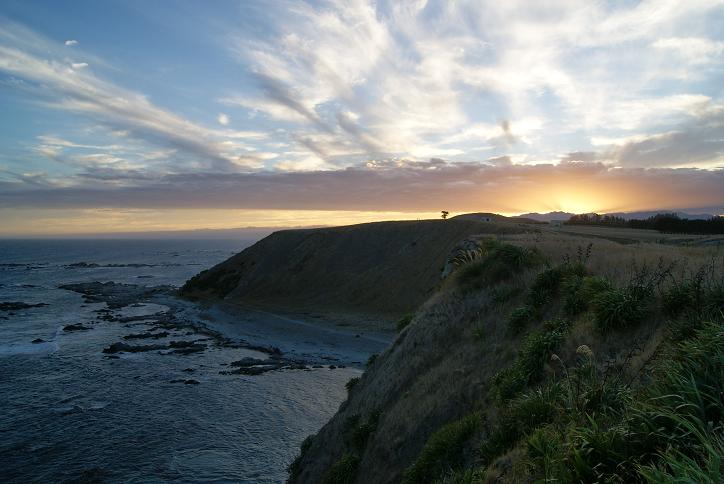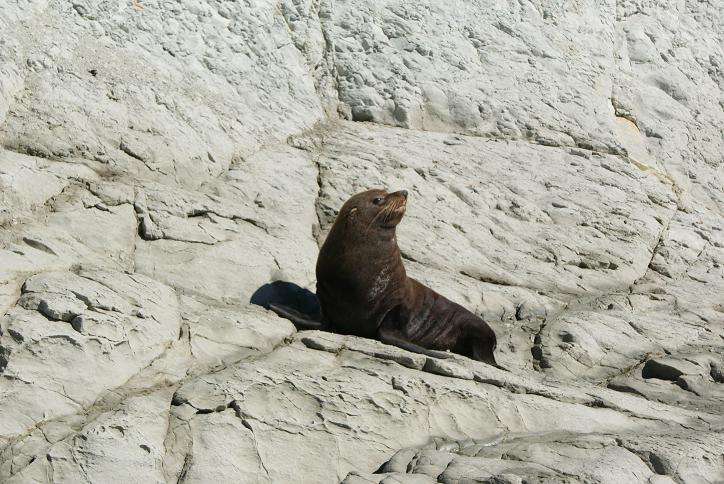 Christchurch-the earthquake
From Kaikoura it was a beautiful drive to Christchurch, I got there on Monday, 21.02.2011 at 5p.m. and walked around the downtown area (with everything still intact). I had arranged my last couch surfing experience on my trip, I was gonna stay with a gay couple Shar and Shul in Dallington, a suburb really close to the CBD of Christchurch.
They were really nice, Shul cooked some delicious dinner and we had a good talk. I also asked them about the bad earthquake they had in september last year and they told me guy predicted that there is gonna be a massive earthquake in March. I said that I just hope there is not gonna be one tomorrow on my last day in Christchurch.
I went to bed and when I got up at 8 a.m. it was raining, the first day in weeks it rained. I didn't mind since it was my last day I was just gonna take it easy anyways. So I watched some tv and thought about going into town to do some sightseeing and take pictures. I also thought of taking the bus because parking is hard to find and expensive. Like it turned out that was my luck that I didn't take the bus and didn't go into the city first cause most buildings in the city were destroyed and two buses got crushed by a building that had collapsed killing most people in it.
So my plan was to go to the shopping mall which was close to see a movie and after that if the weather was better into town. I got to the ticket office at 12.45 and the movie was supposed to start at 1.15, so I didn't wanna go in just yet (which was my luck too because the roof of the cinema had collapsed during the earthquake), I went downstairs to the Amazon surf shop, I wanted to try on some shorts and a t-shirt. I was maybe in there for 30 seconds when it the earth started shaking, it was so violent, the roaring sound of the earth moving, I got thrown on the floor and then into the wall and up and down, it was massive, windows shattering, lamps falling down, stuff flying around.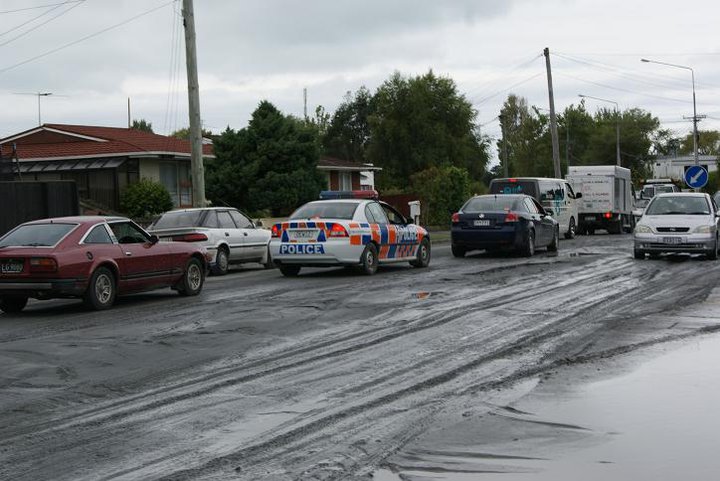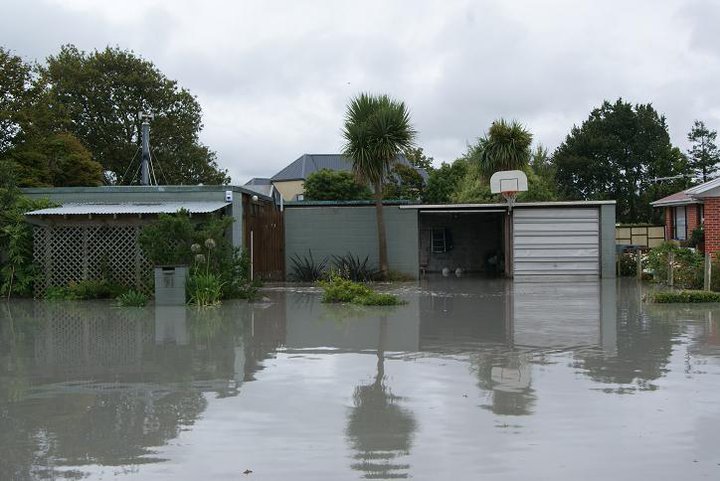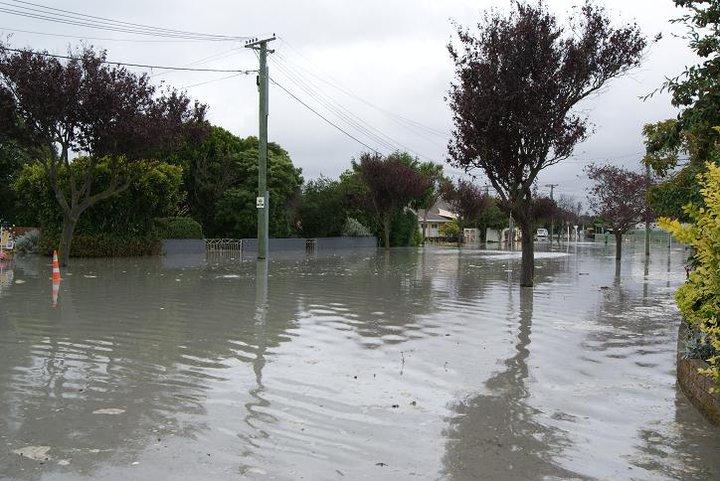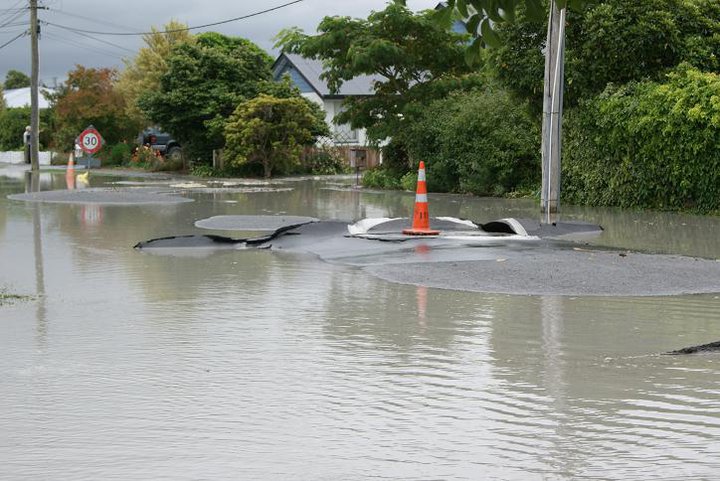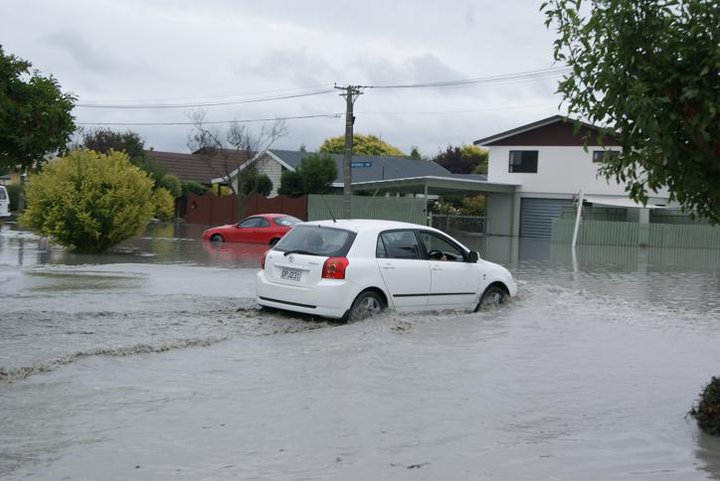 It lasted maybe 40 seconds but it felt like forever. The power went off straight away and it was pitch black and I was actually scared I was gonna die and that is not overdramatic. I thought the roof was gonna collapse on me anytime now. It didn't cry or screamed I just said oh my god oh my god over and over again and trying to hold on to something. I was laying on the floor of the dressing room stuff falling on me and then it stopped. Suddenly it was so quiet, no sound nothing...and still very dark. I couldn't really see and it took me a while to realize what just happened. I wanted to get out of the dressing room but I was trapped, I couldn't open the door because something was infront of it. When I realized I had to hurry up because the building could collapse anytime soon and there could be aftershocks. I broke the door and there I stood half naked in a shop that was destroyed. I was the only one left there, they all ran out when it started. I looked for my phone and my wallet and then a security guard came to evacuate me.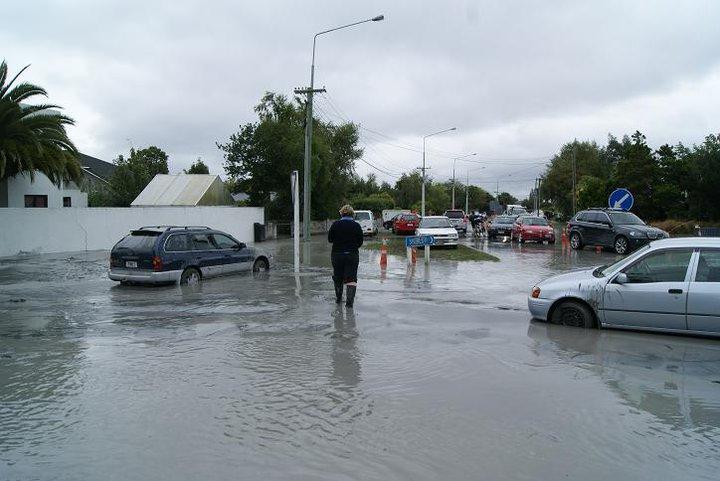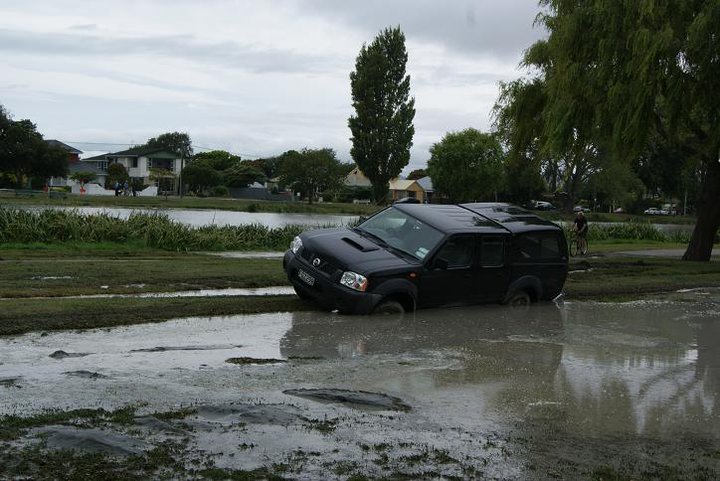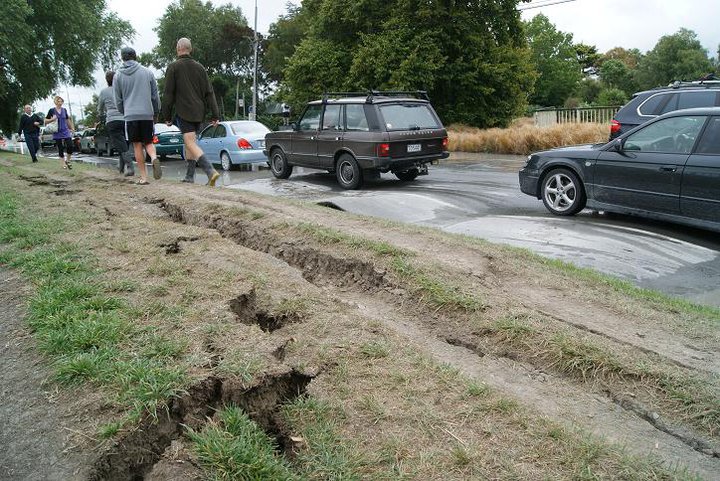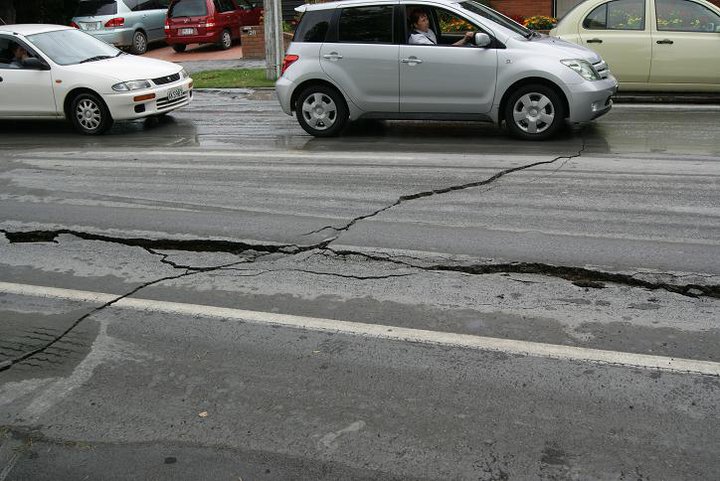 We were running through the mall like the devil was chasing us and I think he was! When I got outside I saw the devastation, people crying others were in shock (like me), a women on the street was badly injured, cars squashed, even the poles from the carpark were broken. I was lucky, I didn't park near a pole, it would've been ruined. My car was fine so I jumped into it and drove away from the mall, which wasn't easy cause there were cars, people and dogs running around the street..that's when the first aftershock with 4.5 magnitude came. The roads had big cracks in them, the streets were flodded, I was driving through 1m deep water hoping the car wouldn't die on me! I was under shock, my whole body shaking, the city looked like a warzone. Injured people everywhere, destroyed buildings, cracked up roads, flooding etc. I didn't know what to do or where to go. I couldn't think straight, I wasn't hurt, just a few scratches and bruises and a shock. I tried to find the house of my CS hosts. I couldn't get through cause the water was too deep. One lady asked me if I was okey and if I needed help. She said this earthquake with a magnitude of 6.3 was 10 times worse than the one in September which was over a 7 magnitude. Because the epicenter was only 10 kms away and the other one 30 kms. She said her whole house was destroyed but I could stay with her so I didn't have to be alone. People were so brave, looking after each other, helping, checking on their neighbours.
I texted Sharlene, she said the devastation in the city centre was enormous and lots of people had died. Shul, her partner saw a few dead people. That's so sad. I think it was my sixth sense again not to go the the city first and the rain helped too because if it was nice out I would've gone for sure.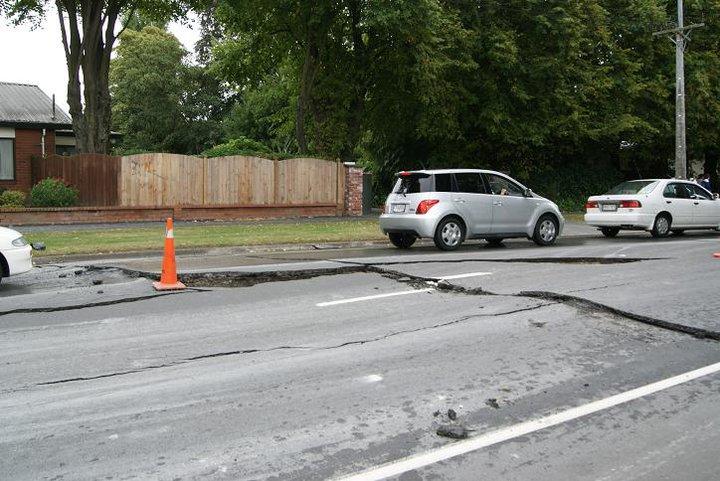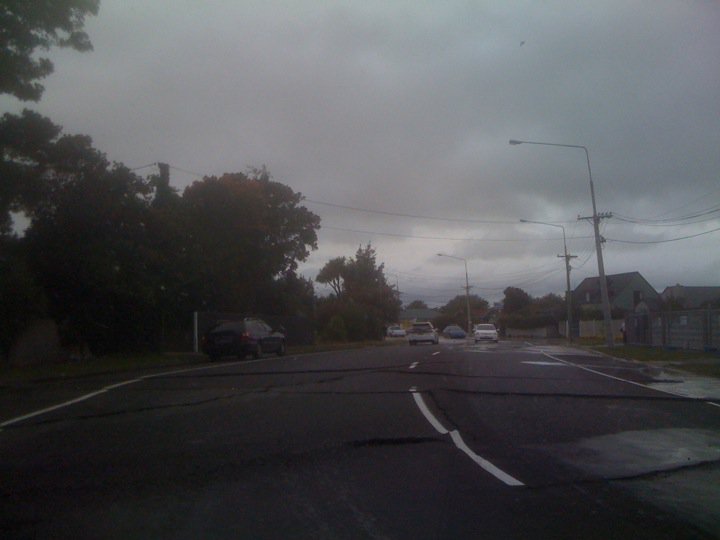 I walked down the streets trying to find Ferner Street, the water was knee deep and I was scared to fall into one of the holes in the ground. When I got to the house I checked on their neighbour (an older lady who lives by herself) the house of my hosts was dammaged too but probably not as bad as some of the others. And another aftershock came and another and another, 4-6 per hour from the main earthquake and most of them between a magnitude of 3-5, so pretty bad too. Everytime I was shaking and seeking a safe shelter.
Now all I wanted to do was to get out of this town...as quickly as possible. I knew that the airport was closed and that I wouldn't be able to fly to Honolulu tomorrow. So I called the airline asking if I could fly from Queenstown, but unfortunately it was all booked out. She said that there were flights available from Auckland and Wellington (both on the north island and I was on the south island). Auckland was too far away and even to Wellington you have to get on the ferry. I would have to catch it and make it on time. And I still had my rental car which I was supposed to return in Christchurch on the 23rd. So I called the rental company asking if I could drive the car to Picton and return it there. The guy was very friendly and understood my situation, he said it was okey. So I called the ferry company, if they had a seat available for 6 a.m. in the morning. I was able to book it over the phone.
I packed my stuff and went to find my car hoping that the roads and the highway north weren't closed and I could leave. Like I said it looked like a bomb had hit..police, army, ambulances everywhere. I could get on the highway but I was short on gas and all the gas stations were closed or out of petrol. It was 6 p.m. when I left Christchurch and I had a 4.5 hour drive to Picton ahead of me. I stopped in Kaikoura and got gas and kept on driving until I arrived in Picton at 11 p.m. Off course all the motels were booked out and all the hostels were closed. So I just walked into a hostel that wasn't locked, took a shower and laid on the couch. I couldn't sleep though, I was too anxious and that's when the tears came rolling down my face. I though about the whole day and I couldn't stop crying. I definitely had a guardian angel, I was happy to be alive and not hurt! At 5 a.m. I left there, returned my car at the ferry terminal and got onto the 6 o'clock ferry to Wellington.
When I arrived in Wellington, I still had to wait for 5 hours till my flight to Sydney departed. I arrived in Sydney at 5 p.m. and flew to Honolulu at 8 p.m. I got on the plane, sat down and fell asleep straight away and woke up when we arrived in Honolulu, that's how tired and exhausted I was.
I had a great time in New Zealand, it really is a beautiful country and the people are very nice. I am just very sad that it had to end like this. I will never forget about this day in my whole life because it was the worst day of my life.
I feel a great sadness for all the people who lost their lives that day...and my prayers and thoughts are with their families. I can't imagine what they are going through right now. You would just have to be at the wrong time at the wrong place..I think about it every day...and I probably will for a long time.
Farewell New Zealand...