Thailand 2008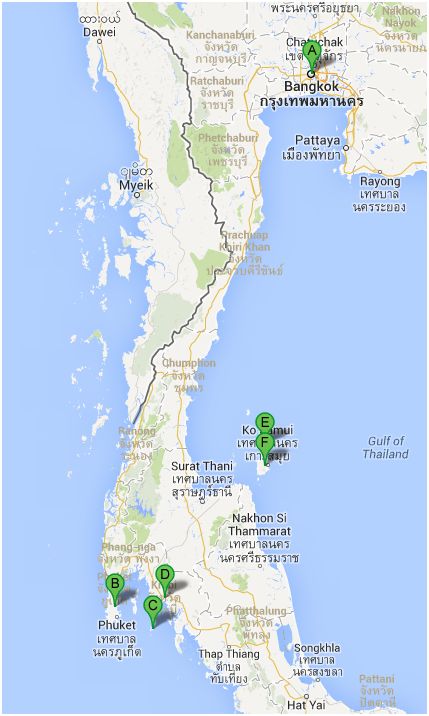 We left Zurich on March 18 on a Singapore Airlines flight to Bangkok. I thought American Airlines was pretty good, but Singapore WOW! The service is great, the flight attendants are super friendly, the entertainment system is awesome, you can watch over 100 movies, listen to 700 new cd's and create your own playlist, you can plug in your laptop and you can play games.
I made friends with all the flight attendants and I was babysitting this cute little kid who cried all the time in his fathers arms lol
we had a stopover in Singapore and had to run to the Terminal 2 cause we were late. It took us another 2 hours and we landed in Bangkok.
Bangkok
The first night we spent at this fancy hotel a bit out of town and then we got a hotel right on Kao San Road (the one I stayed at in 2004).
My friend Sara from Switzerland and her friend Anja were in Thailand for 2 weeks, so we met them at the Wat Po temple and went for lunch afterwards.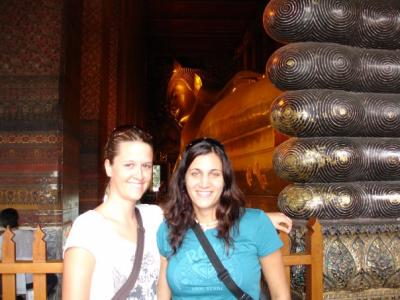 reunion in Thailand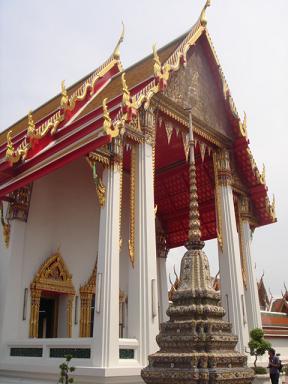 Wat Po temple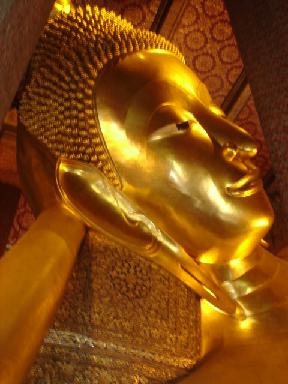 the laying buddha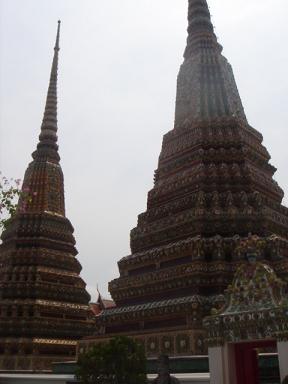 We went back to Kao San Road and did some shopping and afterwards my sister and I had our second thai massage and then we met Sara and Anja again for supper.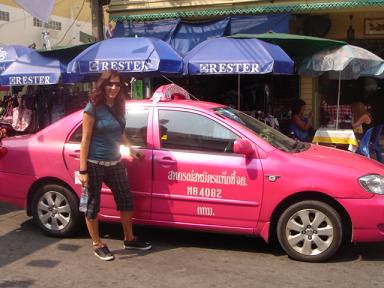 I wanna be a cab driver now lol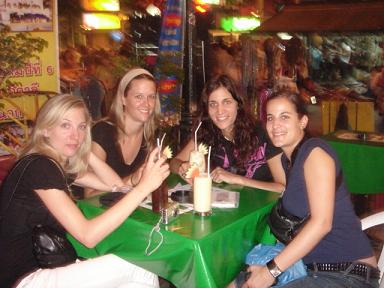 Anja, Sara, myself and my sister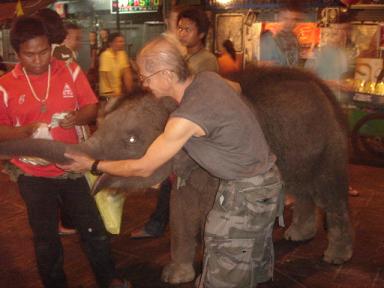 cute little baby elephant on Kao San road
Phuket/Patong Beach
The next day we had our flight from Bangkok to Phuket, it only took one hour and we got picked up there and got a warm welcome at the Aloha Villa in Patong beach. It is a very nice hotel and we only paid 150 Swiss Francs for the flight and 3 nights at the hotel.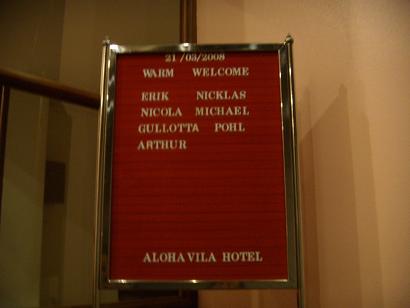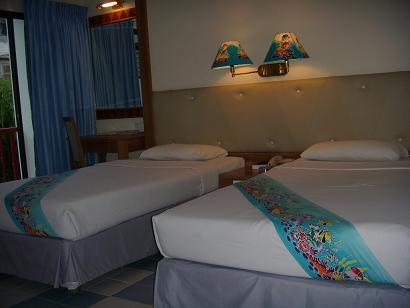 It is kinda sad to be back here after the Tsunami, if you think of how many people lost their lives here. They rebuilt everything and the tourism is bigger than ever.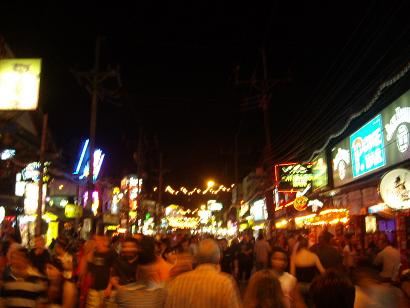 mainstreet in Patong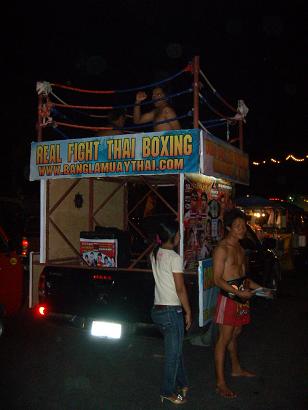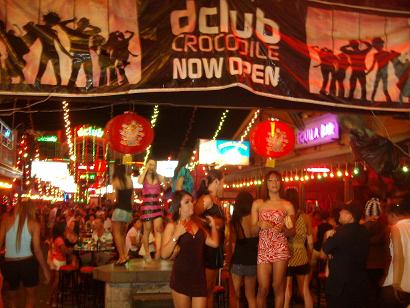 lady boys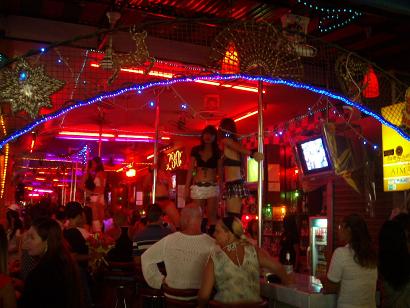 sex tourism bigger than ever
We have been here for 2 days, but haven't been doing much, we slept in until 2 o'clock (we were in a coma I think) and went to the beach and got a massage. dolce vita is what you would call that;-)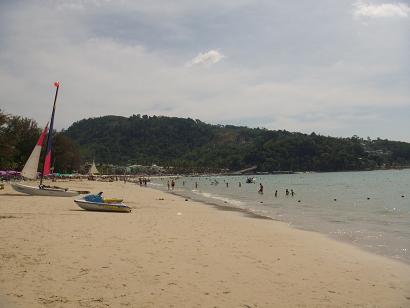 Patong Beach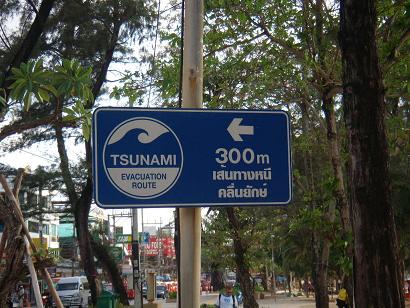 signs all over the town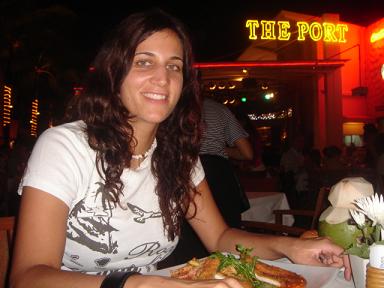 sunset over Phuket
Phi Phi Islands
On March 24 we left Patong Beach by boat and came to Phi Phi Island.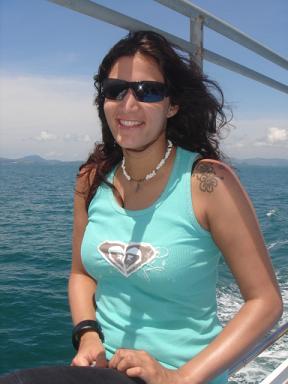 boatrippin'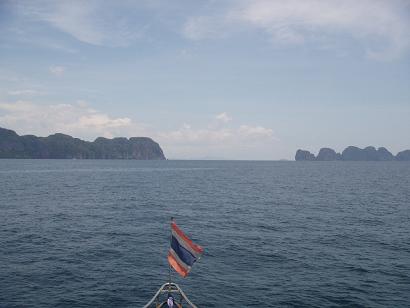 Phi Phi Don and Phi Phi Leh (sister islands)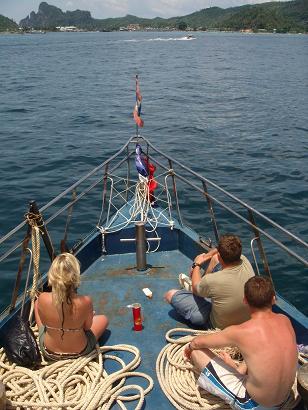 boat trip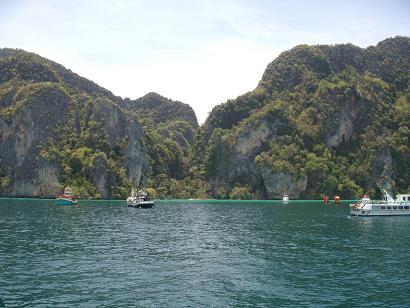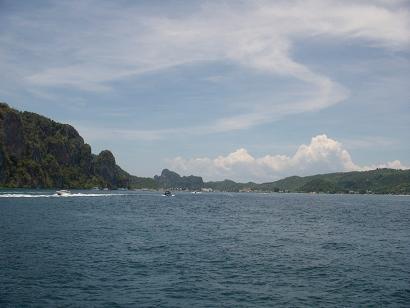 Koh Phi Phi Don
Phi Phi was my most favorite place in Thailand (when I was here in August 2004), after the tsunami, approximately 70% of the buildings on the island had been destroyed.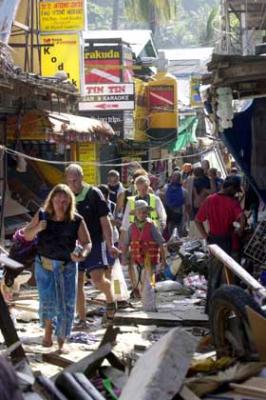 December 2004
By the end of July 2005, an estimated 850 bodies had been recovered, and an estimated 1,200 people were still missing. The total number of fatalities is unlikely to be known however local tour guides cite the figure of 4,000. Of Phi Phi Don residents, 104 surviving children had lost one or both parents.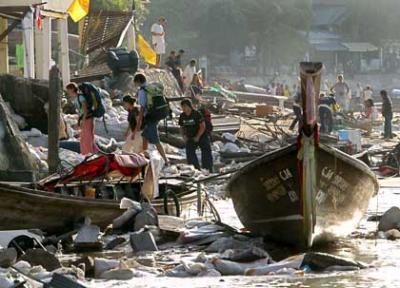 after the wave of destruction hit Koh Phi Phi
It's weird to be back here if you think of what had happened here only 3 years ago and it doesn't look and feel the same anymore. They rebuilt everything, but now it's more expensive and it's not the cute little chilled out hippie island it used to be. Lots of tourists, but the atmosphere changed, it's still a beautiful place though. And it is nicer than the other islands cause there are no cars.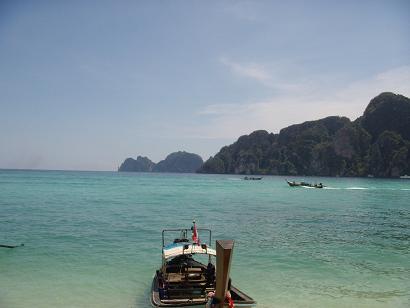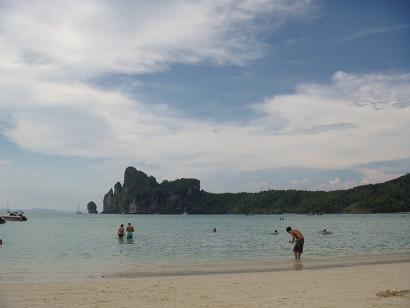 still awesome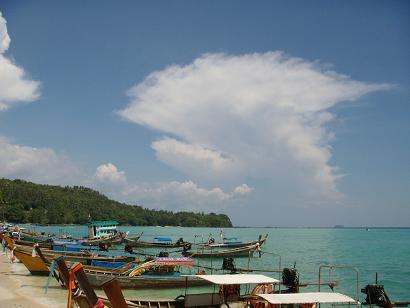 Our bungalow is very expensive and it's stinky, very hot (no aircon) and the water reeks like rotten eggs, so disgusting (I am gonna puke every time I am taking a shower:-(, but at least the view's nice lol
Hotel Phi Phi Don Chukit
We met a French Canadian couple Mat and Steph from Montreal and we went to the beach with them, got my first sunburn in Thailand.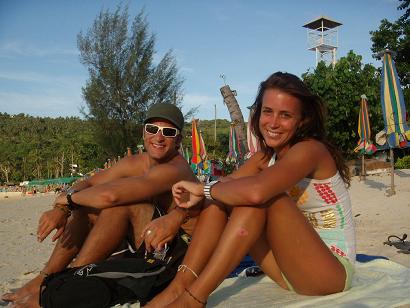 Mat and Steph from Montreal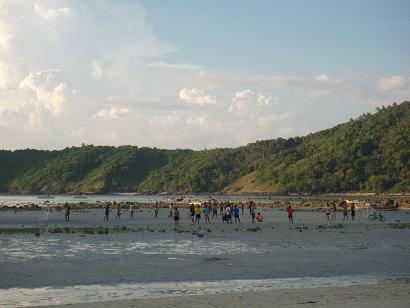 Thai's playing soccer in the ebb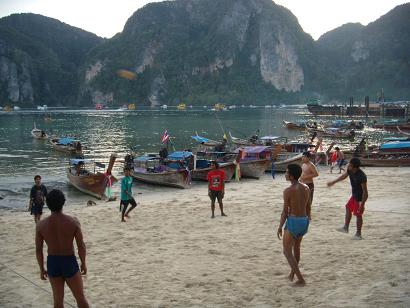 very sporty those thai people
At night we had a delicious meal at a restaurant right at the beach and I wanted to get a thai massage, but they we're already closed. I guess this is not Bangkok where everything's open 24h:-(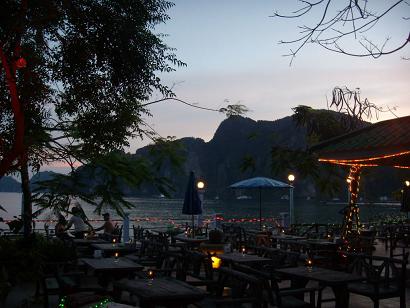 our restaurant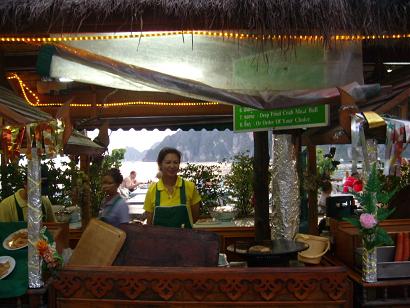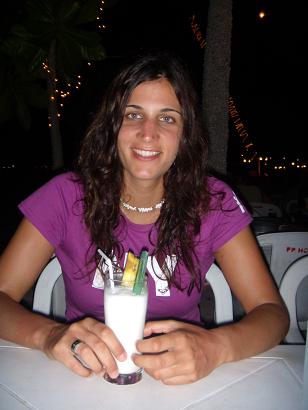 my alltime favorite - the coconut shake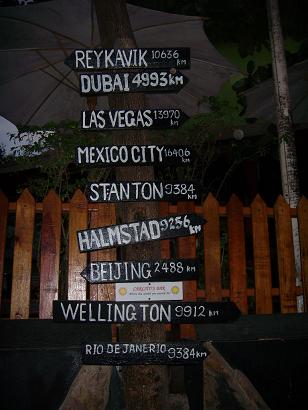 what!? that far?!
Today Tuesday we went to the Pier at 9 o'clock to go on a full day snorkelling trip. First we went to Koh Phi Phi Leh (the sister island of Koh Phi Phi Don), that's where they filmed the movie the beach with Leonardo Di Caprio. Koh Phi Phi Leh is a national park, so there's no people living there. I was there in 2004, but even that island has changed, they even have a snackbar there now!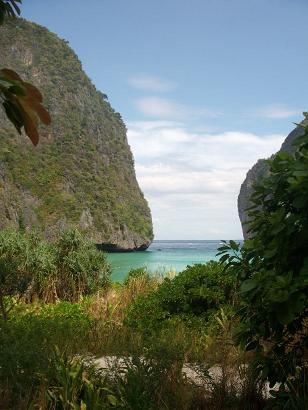 the famous maya bay where the beach was filmed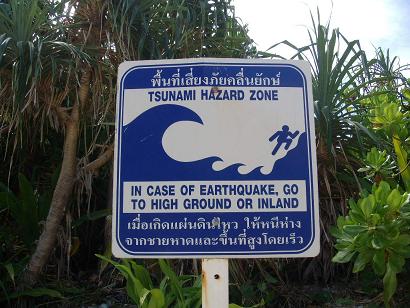 warn signs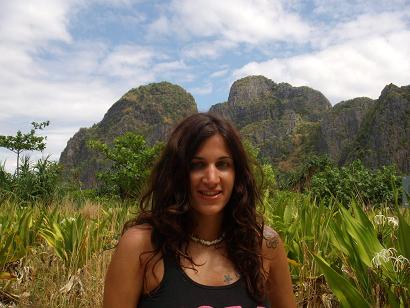 lost? not really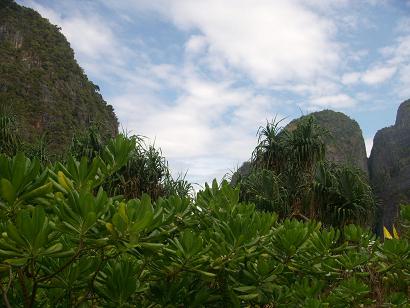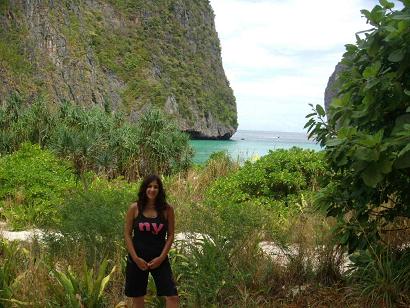 I landed in paradise
We went back to the boat by kayak and then we were off to the viking cave and after that we snorkeled at the shark point, didn't see any sharks though (how disappointing).
After snorkeling we had lunch and then it started raining, I couldn't believe it, but oh well I was still in paradise, who cares about rain, right?
The next stop was bamboo island, I snorkeled ashore and walked a little bit, then I had the great idea to walk around the whole island, not knowing how big it was. First it was easy cause it was all sandy beach, but then it got rocky and there were cliffs and I had to climb over them or swim around them. After 30 minutes I started to wonder when this survivor expedition would be over, but it didn't end. gosh it took me an hour around the whole island.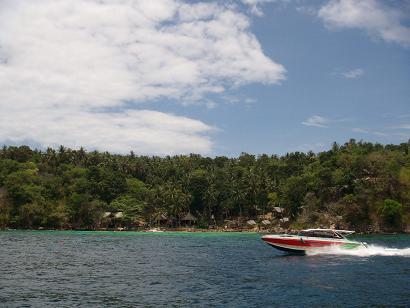 The last stop was monkey beach, there are alot of monkeys there, but I guess they didn't like me cause I didn't see any. No monkeys, no sharks:-(
monkey beach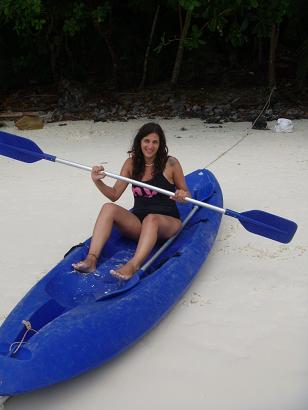 paddle paddle paddle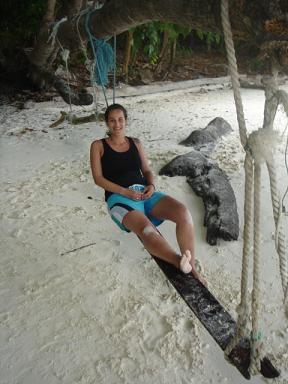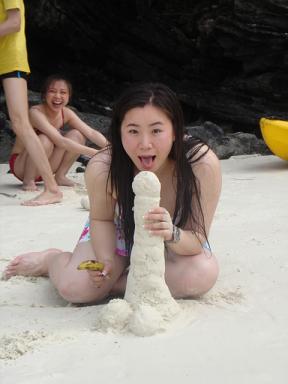 what???!!!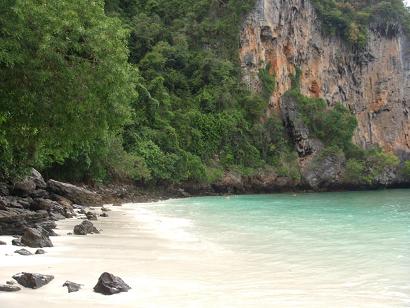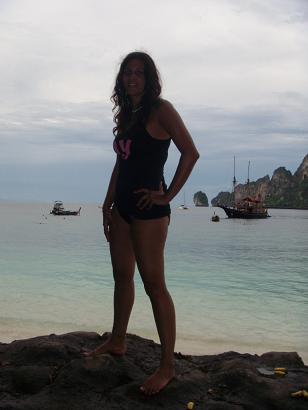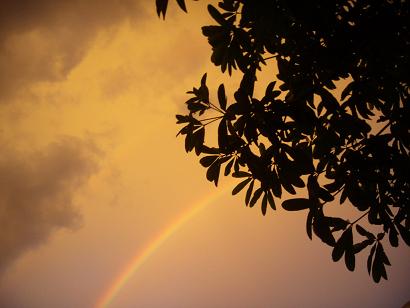 Every night before we go to bed, we have a big battle with the cockroaches (f***** hate them), there's even some screaming involved. We used everything we had to kill them, deodorant, perskindol, we tried to hit them with a shoe, but they can even fly. I am glad when we can move out of this nasty room!
Today Wednesday it's been a week that we have been in Thailand for. We had breakfast right on the beach.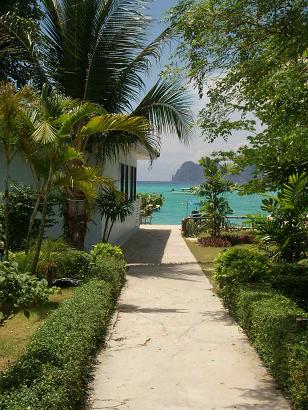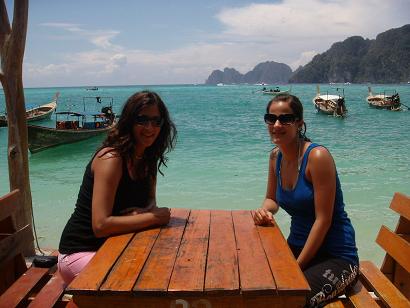 a nice way to start the day
Then we thought it would be nice to explore the island a little bit so we walked to the viewpoint (the highest point of the island) we had to walk 30 minutes up the hill, it was very exhausting, but definitely worth it!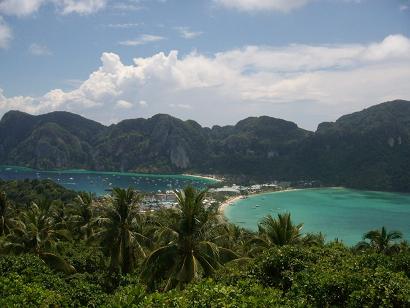 Koh Phi Phi Don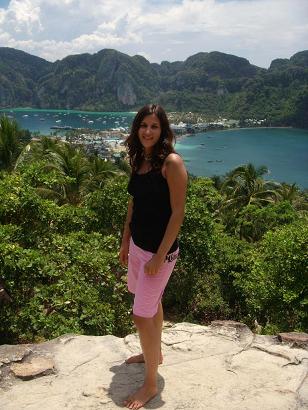 definitely worth the walk up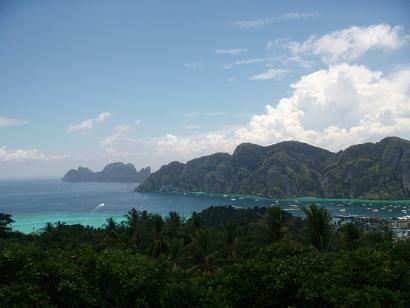 sister island's to the left Phi Phi Leh and Phi Phi Don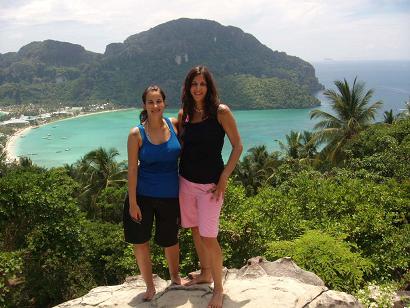 sister act
On the way up we met really nice Italian people and they offereed to walk down the other side off the island to a bay where we could share a longtail boat, so we walked with them. We realized we should've worn shoes and not flip flops cause it was really steep and rocky and we had to really concentrate that we didn't fall. always the same thing with us lol. When we were at the beach we went for a swim and it was wonderful, so refreshing, worth everything!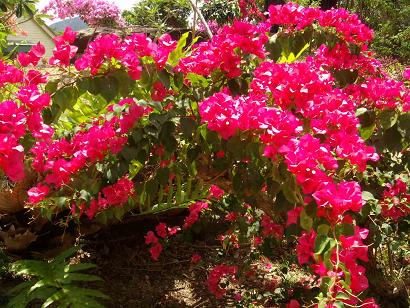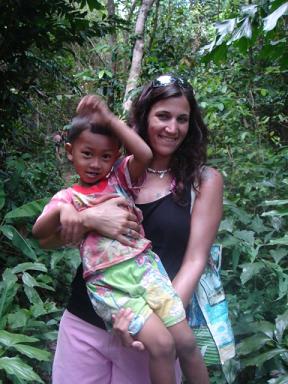 my new friend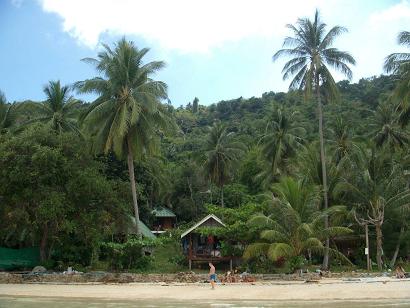 was very refreshing after the long hike up and down
hippie community
After we got back to Tonsai we had a really late lunch at an Italian restaurant. The owner acutally wrote a book cause he is one of the people who survived the tsunami. We bought the book, it's for a good cause and I am interested what has happened to him. The food was great.
Krabi/Ao-Nang
The next the we left beautiful island by boat and arrived in Krabi at 5 o'clock. We checked into the J Mansion which was recommended by Sara who stayed there aswell. And then we enjoyed the beautiful sunset.
On Friday we took a lontail boat to Railay, Railay is supposed to be the new paradise in Thailand, it's a peninsula and truly very beautiful. We spent the day there at the beach.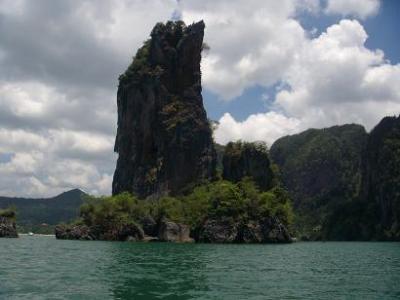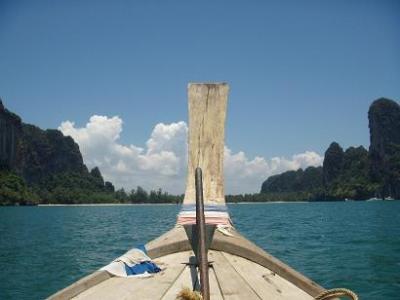 Railay, I see you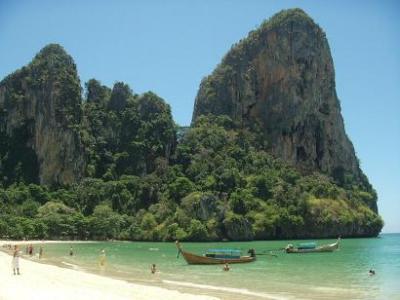 the new star in Thailand Railay
When we got back I had the best Oil Massage ever, wow for only 8 Swiss Francs, one hour! And when we were waling along the beach we found a Swiss restaurant, so why not eat Roesti when it's 35 degrees right?;-)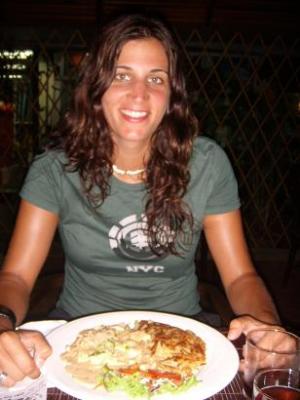 eating Roesti and Zuerigschnetzlets in Thailand
On Saturday we did the James Bond Island tour, they picked us up at the hotel and the tour started in Krabi. We drove 1 hour and twenty minutes to a little pier and from there we left by longtail boat. Out on the boat the water was very filthy cause it's on Krabi river. Lumps of forest covered rocks and mountains protude out of the water in various patterns. There is a forest of trees sticking out of the water on one side of us. We were taken closer to the rocks and saw that they are limestone and that the limestone has dripped to make stalagtites. There were also cave paintings that our guide claims were made by Vikings. We sailed through a limestone cave called Tam Lad - The Grotto and then onto the island Kao Tapoa the James Bond island where the man with the golden gun was filmed. It was a very touristy - I know what a shocker - I had expected more.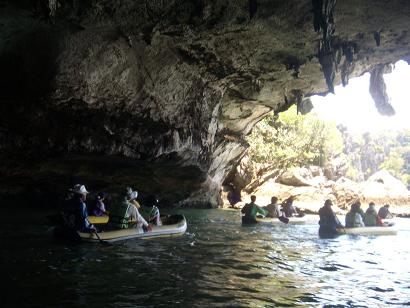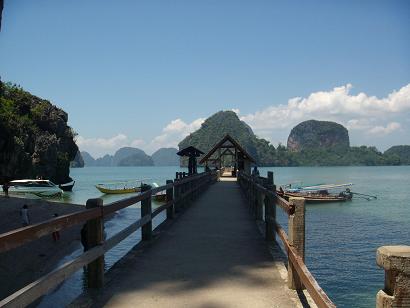 little pier on James Bond Island
Nestled against one of the outcrops of stone is the town of Koh Panyee, a floating Muslim village where we had a rather simple lunch. We also had time to investigate the villages, going through the market place. I don't know how people can live there. It was worth a visit though.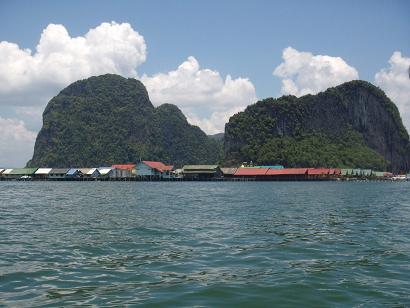 Koh Panyee, floating muslim village
thanks, but no thanks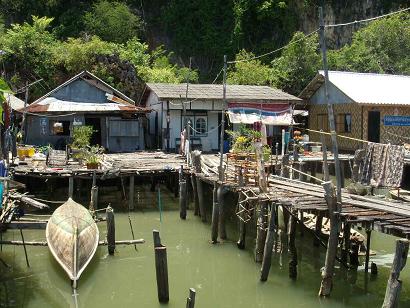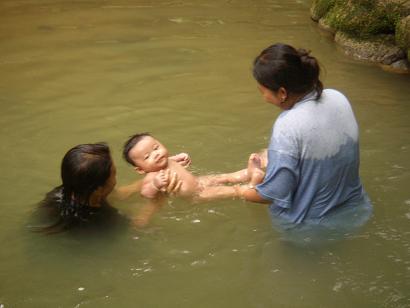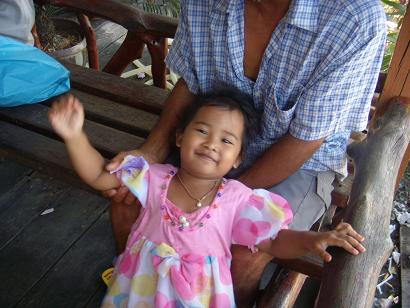 cute
We returned to dry land and drove to the buddhist temple called the monkey Temple - lots of monkeys were around and we bought bananas to feed them, but there was one big monkey - the boss of all the monkeys who was really mean! When I fed the little monkey he got jealous and started grouning and chasing after me. I was scared so I threw him a banana hahaha that was hilarious. One of the monkeys tried to steal stuff from our bags! bad bad monkey! We then went to a park for a while and those who wanted to went for a swim and then exhaustedly headed back to Ao-Nang.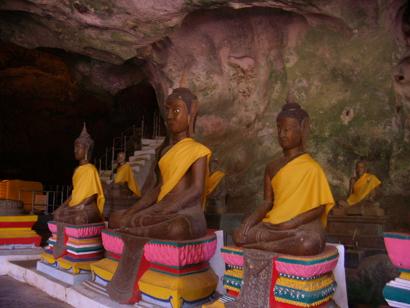 monkey cave temple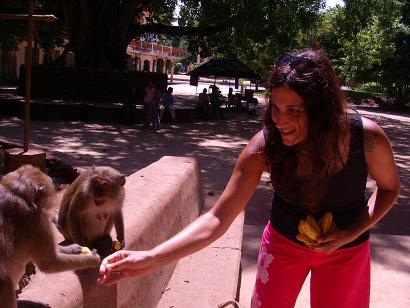 feeding the mean monkeys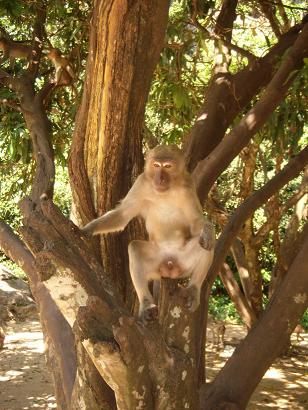 exhibitionist monkey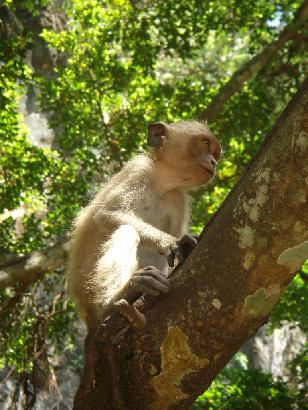 vicious monkey
Koh Phangan
From Krabi we took a bus to Surat Thani and then changed to another one to Donsak, in Donsak we got on to a ferry which took us (after a 9 hour trip) to one of my favorite islands: Koh Phangan.
Haad Rin is like the cutest village ever and the beach is so nice. It's very famous for the full moon party, people from all over the world come here just for that party. We missed it though, but it's still nice.
We have a really nice hotel and we are only paying 12 dollars each.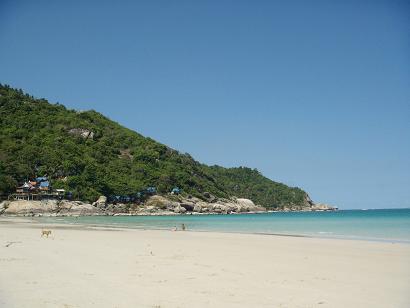 The first day we had delicious breakfast and after that an oil massage, which was awesome, really enjoyed that. After being so relaxed I wanted some action, so the jetski was just right. We rented two jetski's and went out on the open ocean and it was so much fun, I don't remember when I was laughing that hard. At night you can watch the newest movies in restaurants, they all have big screens, that's so cool!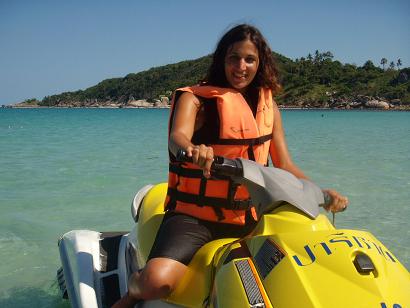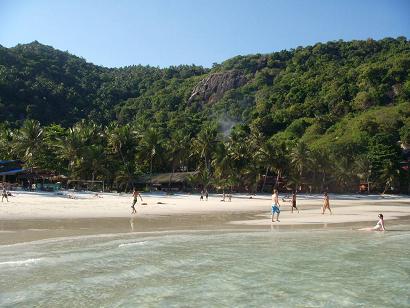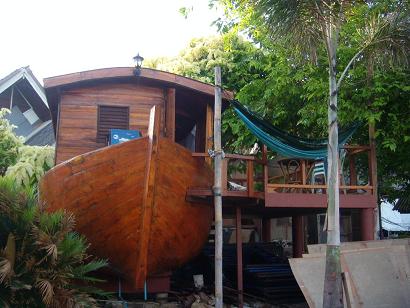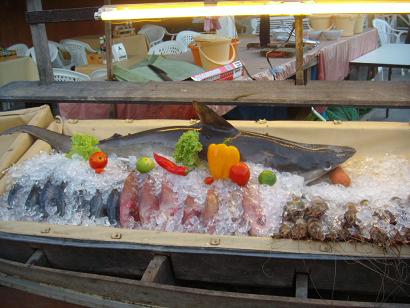 little dead shark:-(
On Tuesday (our last day on the island) we got picked up at the Delight Resort and we went elephant trekking, which was fun, I did that before in Chiang Mai in the jungle, so it wasn't the same, but still alot of fun. They also had baby monkey's and I couldn't take my eyes off of them and I had to touch and hold them all the time, that's the thing about baby animals, I just love 'em.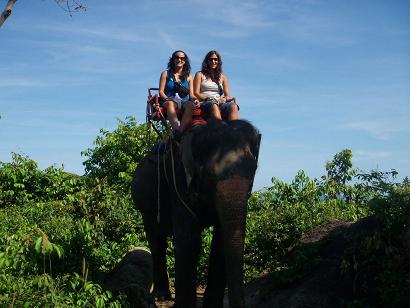 elephant trekking
baby elephant all talented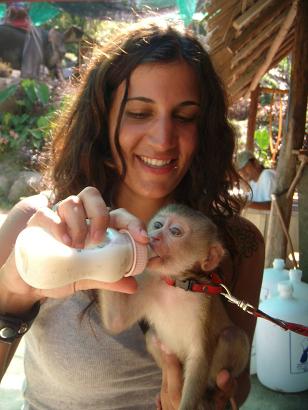 yes I am a mommy now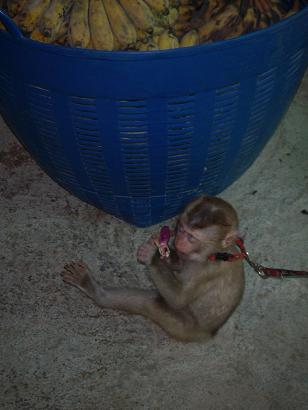 isn't he just the cutest thing ever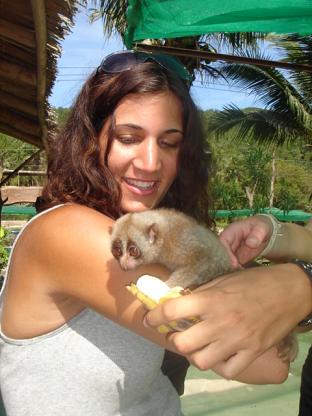 don't be scared, it's just a banana baby
After the trekking we sat onto the back off the pick up truck and we drove to a Chinese temple, some of the tourists even prayed there, but since I am not a buddhist, I just enjoyed the nice weather then the others went swimming in a waterfall, but I forgot my bikini so I had to watch them getting a refreshed:-( After lunch we went back to Haad Rin cause we've only booked a half day tour, but realized that we payed 30 dollars less than all the other's lol.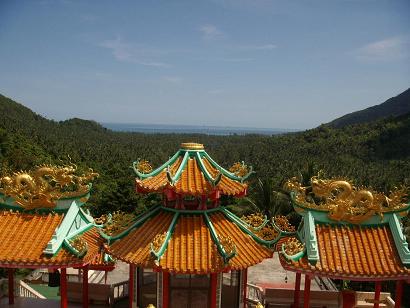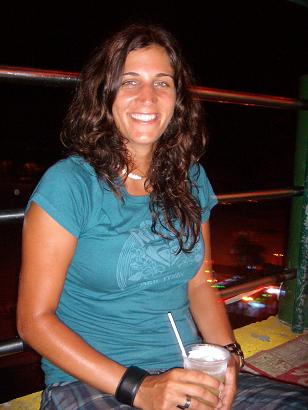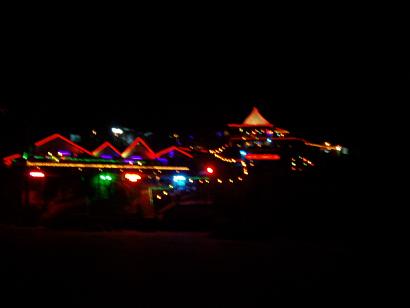 mellow mountain bar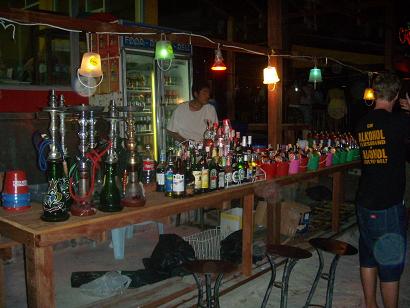 all you need for a beach party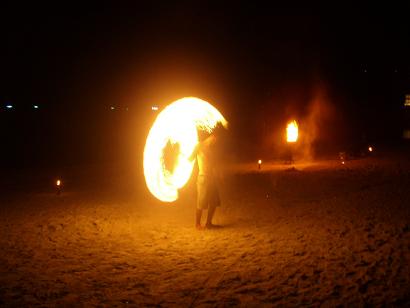 fire show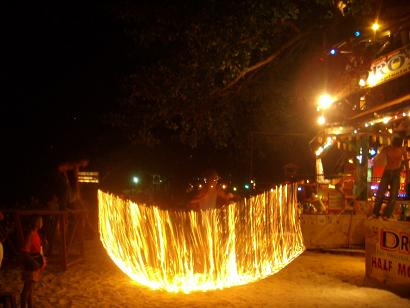 skipping when the rope's on fire
Koh Samui/Chaweng Beach
Now the time had come to leave the beautiful island of Phangan and come to Koh Samui. The ferry only took 45 minutes. I was in Koh Samui four years ago and it was very nice, off course not as nice as Phi Phi Island or Phangan Island, but still beautiful. We checked into the same hotel I had stayed at before, the Mandalay Resort.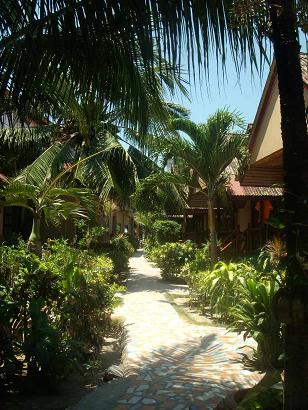 The Mandalay Resort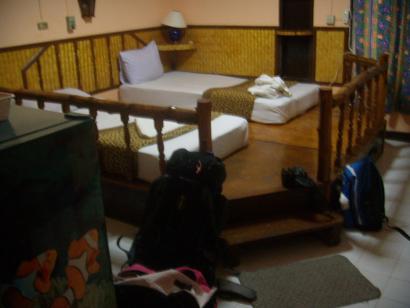 our bungalow
The first thing I did was walk down to the beach (only 30 meters:-) and I had to realize that paradise had changed, it wasn't paradise anymore! It has become so touristic it's not even funny, you feel like you are in Ibiza or some place like that. The crystal blue water turned into a dark gross swimming pool. disgusting! And everything has become more expensive, like double the price because tourists come and the pay, so why wouldn't they charge more right.
The first night we just chilled out, had a massage at the beach and then went for dinner&a movie.
The second day we did some serious tanning (yes we still can get darker lol)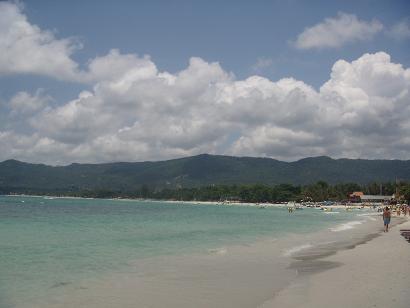 Chaweng Beach
At night we went to a ladyboy show, this island's full of transvestits. some even look like real women.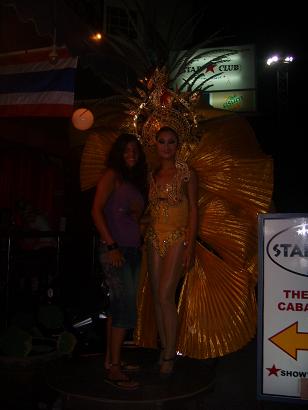 who's the real woman?;-)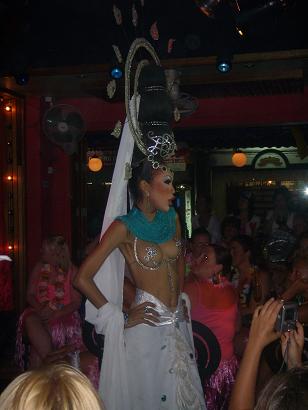 ladyboy show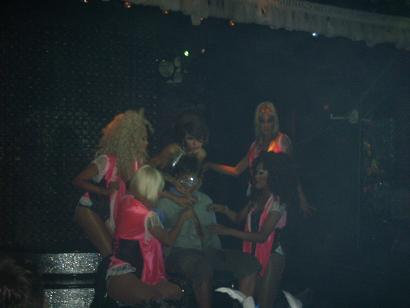 poor guy
On day three we did an island tour and it was 40 degrees! The first stop was Wat Leam Suwanaram, this temple which is over 100 years old. The Chinese lady monk is placed in the middle of a pond full of fish. That's where people also go and attend meditation courses.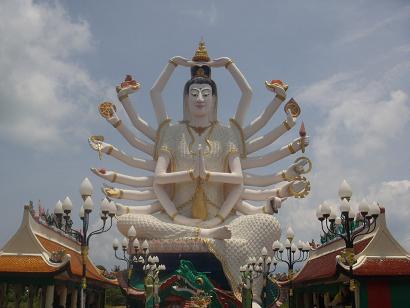 "Jao Mae Kuan Im" the Chinese Buddha is a woman
Second stop the Big Buddha. The BB is probably the most famous landmark on Koh Samui. Placed on a small island you drive across a short jetty to the imposing golden Buddha. The Buddha is 12 metres high and placed at the top of 73 steps. At the top you can take in the amazing view overlooking Koh Phangan and Maenam Beach.
Big Buddha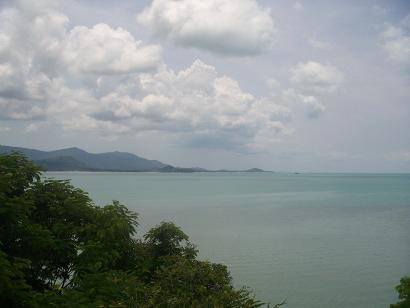 Third stop, the viewpoint. There you can take a view of the longest beach on Koh Samui 7 km. of white sand, local wildlife and nature.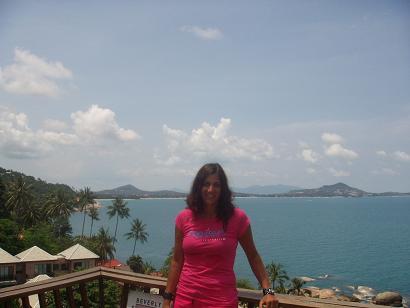 the viewpoint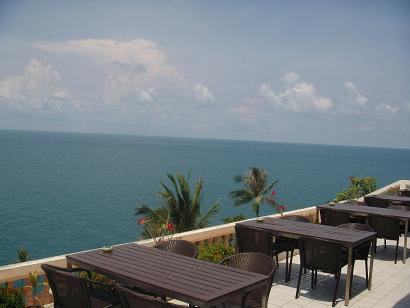 Fourth stop, Grandmother&Grandfather Rock, away from Lamai centre on the beach there are two famous granite rocks shaped like female and male genitalia. A love story of a young man and woman ending their life together during the big storm and the symbol of their life together turning the granite rocks into these shapes.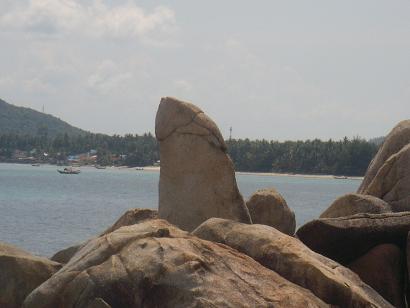 Grandfather rock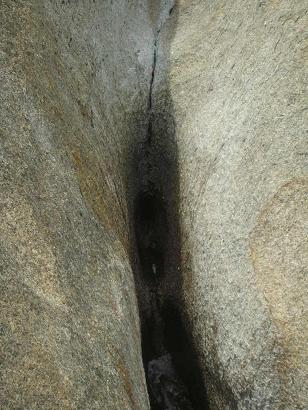 Grandmother rock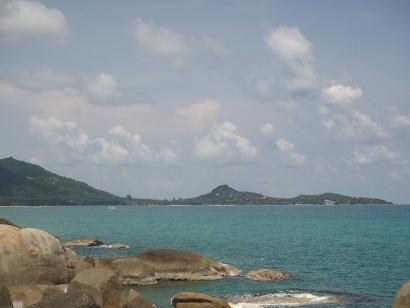 Fifth stop, the monkey show: the monkeys in this show used to be seen all over the island when selling the coconuts was the main income for the local people. Now you can visit them and see the working relationship between man and moneky in harvesting the coconuts.
monkey picking the coconuts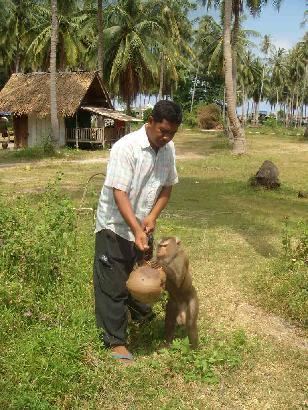 The next stop was the Khunaram temple, the body of Samui's most famous mummified monk loung Pordaeng is on dislplay here in the same meditation position in which he died in over 30 years ago.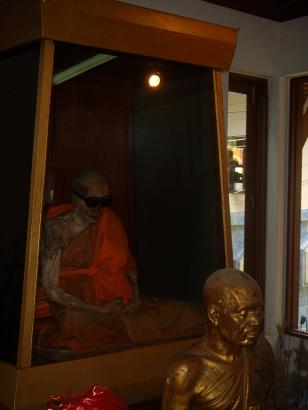 the mummified monk
After the monk we drove to the Namuang fall, it's famous on Koh Samui. It originates from the Mountain in the heart of the island and falls from the Cliff 30-40 metres high.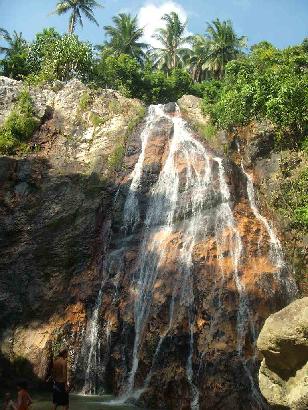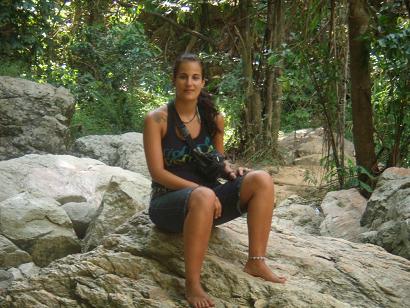 The last stop was Nathon Town, the largest and oldest town on the island. There's also the biggest port on the island where you can take the ferry to the mainland. We did some shopping there and then drove back to Chaweng Beach.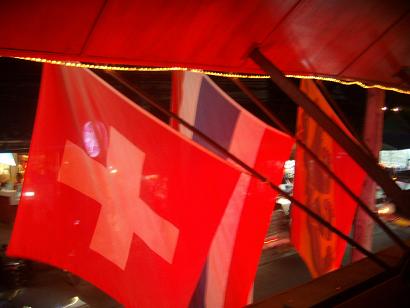 Swiss Restaurant in Koh Samui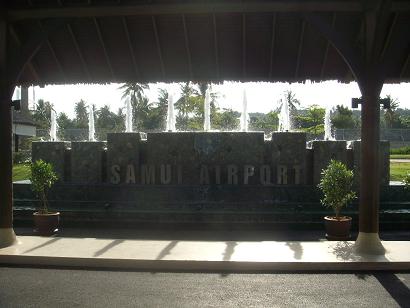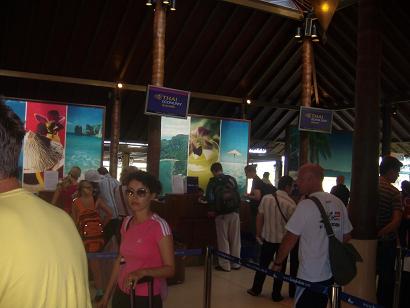 the check-in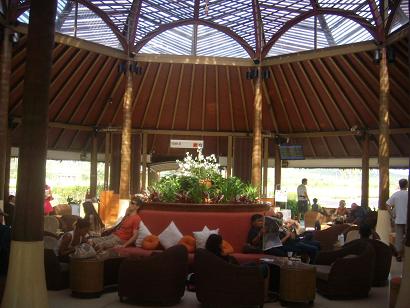 the gate
the domestic terminal
Bangkok
Today April 6th we flew from Koh Samui Airport to Bangkok. The check-in took forever and we almost missed our flight, very unprofessional, but probably the cutest airport I have ever seen. We met this Swedish guy and shared a cab with him to Kao San Road.
After we checked into the hotel we went to the weekend market, it's the biggest market in Bangkok and believe me it's huge. After 3 hours of shopping we felt really sick (cause it's like 45 degrees) and had no money left. Everything is so cheap though. It would take you one full day to see the whole market.
On every corner we are greeted with shalom and even Isrealis think we are from Israel too. So now we admitt that we are from Israel, it's easier cause you get stuff cheaper cause the Thai's don't like them and so they give up quickly lol. Good for us:-)
The following day we had to get up at 6.30 because we did a tour to the floating market and that's a 3 hour drive. When we got there it started raining. I have to admitt, I wasn't in the best mood:-(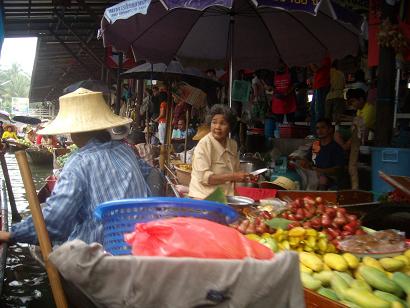 the floating market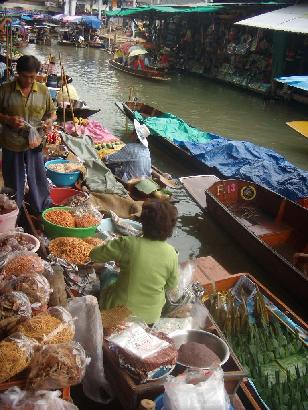 After the market we were supposed to go to the tiger temple, we had lunch first and then started fighting with some Chinese people on our van about the aircon. Great so they all hated us, we were the only white people there.
Then the guide which by the way was a total creep told us that we would have to hike for over an hour and nobody told us so we were wearing flip flops, so we were really upset. Then he also said that we weren't aloud in the the temple because of the way we are dressed and that we would have to buy new clothes eventually! Oh and the admission for the temple was really high too and I thought that was included in the fee for the trip, that really pissed me off, so we took a taxi back to Bankok, took us 2 hours but we got there...
At night we went to Suanlum square, a really big night market.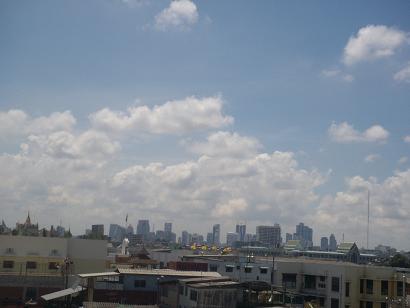 Bangkok
On Tuesday our last day we decided to take a cab to MBK the biggest mall in Bangkok. It was great, seven floors and so many cool and cheap things to buy. I bought 3 pairs of Diesel jeans and they even shortened them for me and I paid 55 bucks for the 3 of them. great deal. We were in the mall for about 5 hours and had Korean lunch there, it was delcious, kinda like Fondue Chinoise.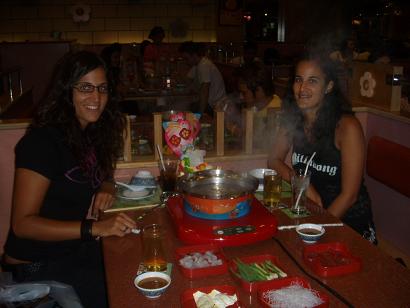 eating Korean
When we got back we walked up and down Koa San Road, it's one crazy road, you can almost do and buy everything there. I bought myself a fake ID for 5 bucks lol. Love Bankok;-)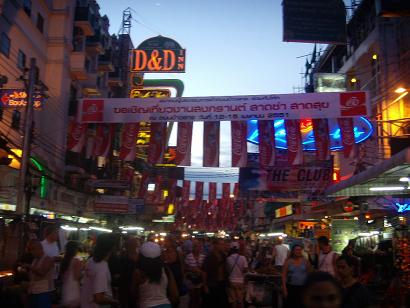 crazy Kao San Road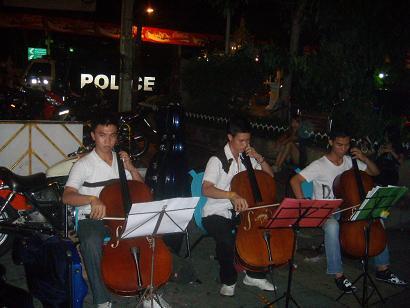 anything on Kao San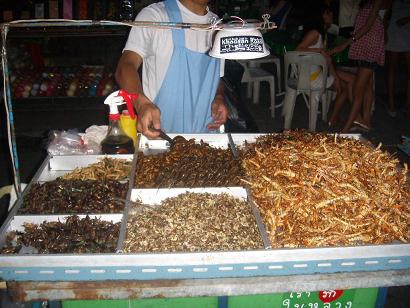 hungry? would you like some grasshoppers? cockroaches?
We had our last massage which was probably the worst ever and then went to sleep.
On Wednesday we got up at 5.30 to go to the airport. Our flight was at 7.45, first to Singapore and from Singaopore to Zurich. The airplane was almost empty so each of us had one row to ourselves, so we could actually lay down and sleep.
We got to Zurich very tired but on time and my parents came to pick us up.
3 months went by really quickly and I am very sad it's all over, but at the same time very happy and lucky that I had the chance to see all those amazing places and travel all over the world. I start work on Monday...thank God my next vacation is in December to Singapore, Bali and Lombok:-)