Hanoi
Vietnam Blog Part 1 - Hanoi Traffic and other fun things
It's been a long time coming...my last longer trip (around the world) was 5 years ago. I do know I am lucky because I get to travel alot, in my spare time but also for work (3 months per year in total). Traveling for a couple of months on a piece though, that's what freedom is for me. Just living day by day, not worrying about work or appointments.
I set up my out of office reply and off I went to the airport on Nov. 19. It was a long trip, flying from Zurich to London, London to Hong Kong and finally Hong Kong to Hanoi. Good thing I arrived at night, I had my first Vietnamese massage (of many to come), took a sleeping pill (to fight the jetlag) and I slept tight for 10 hours straight. I need sleep so much nowadays. In Switzerland I wake up at 7 a.m. everyday (fu** my inner clock), no matter if it's the weekend or the holidays, would be so nice to sleep in once in a while, but no way, not possible!
My first day in Hanoi was packed full of good stuff! walked down the busy Hang Dao shopping street until I reached the Dong Xuan Market. It was packed with people, the aisles so narrow, you could hardly pass one another without throwing down the merchandise. From electronics to shoes you can buy anything there. Just as I left the market a Vietnamese cyclo rickshaw driver approached me and asked if I wanted to do a tour with him, and I thought why not. Might be tacky to have a guy drive you around on his bicycle, but I didn't care. It's part of the Vietnam experience :-) After 2 hours, seeing the top landmarks, he dropped me off at this cute little restaurant for my first Vietnamese lunch.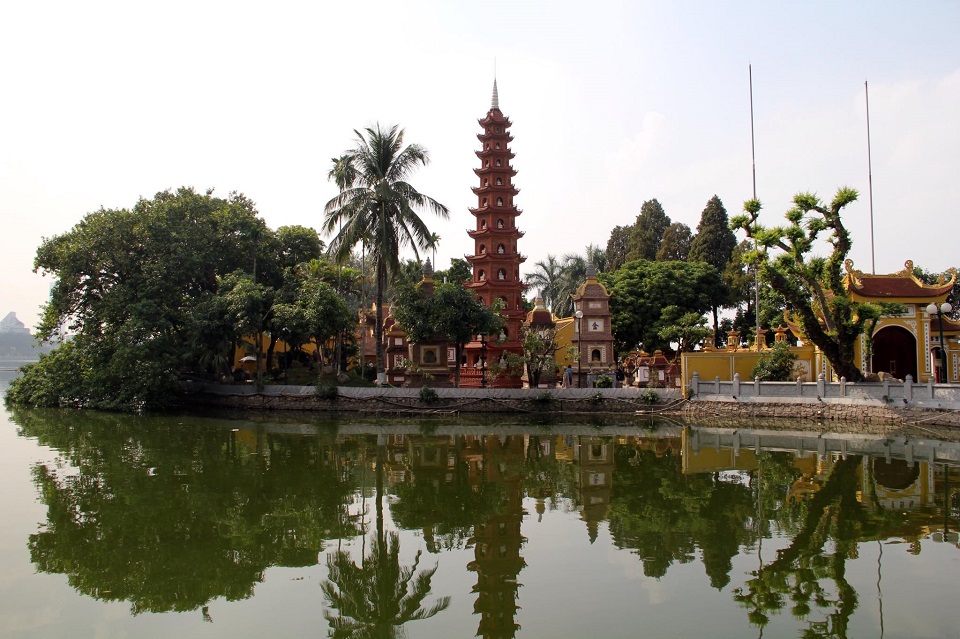 Taran Quoc Pagoda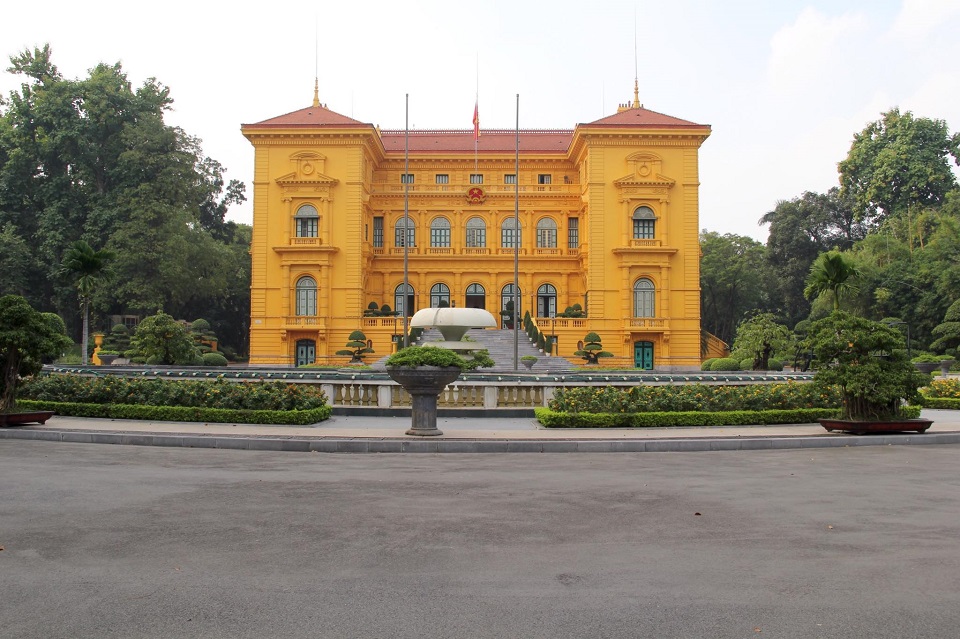 Presidential Palace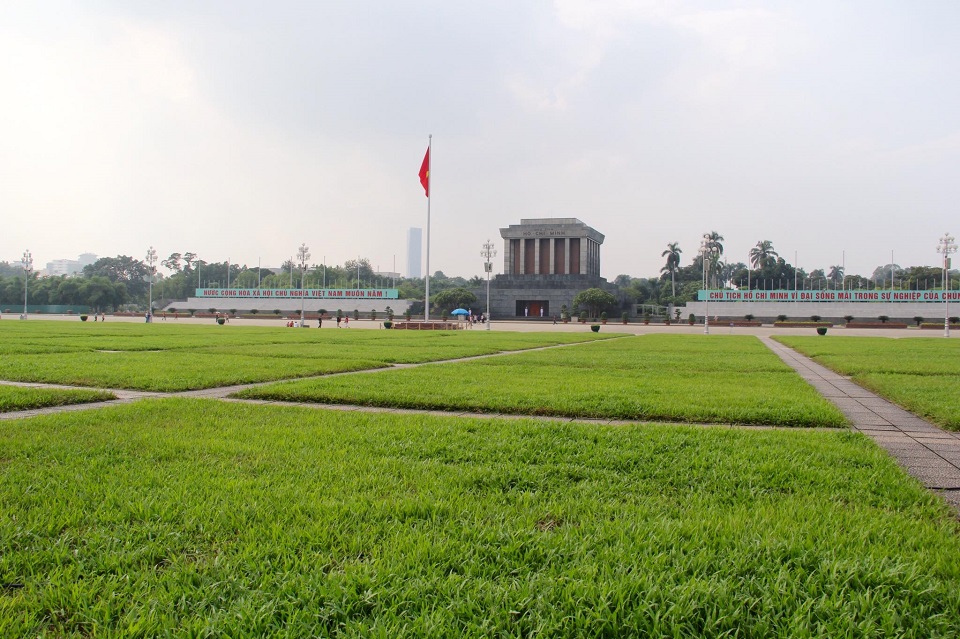 Ho Chi Minh Mausoleum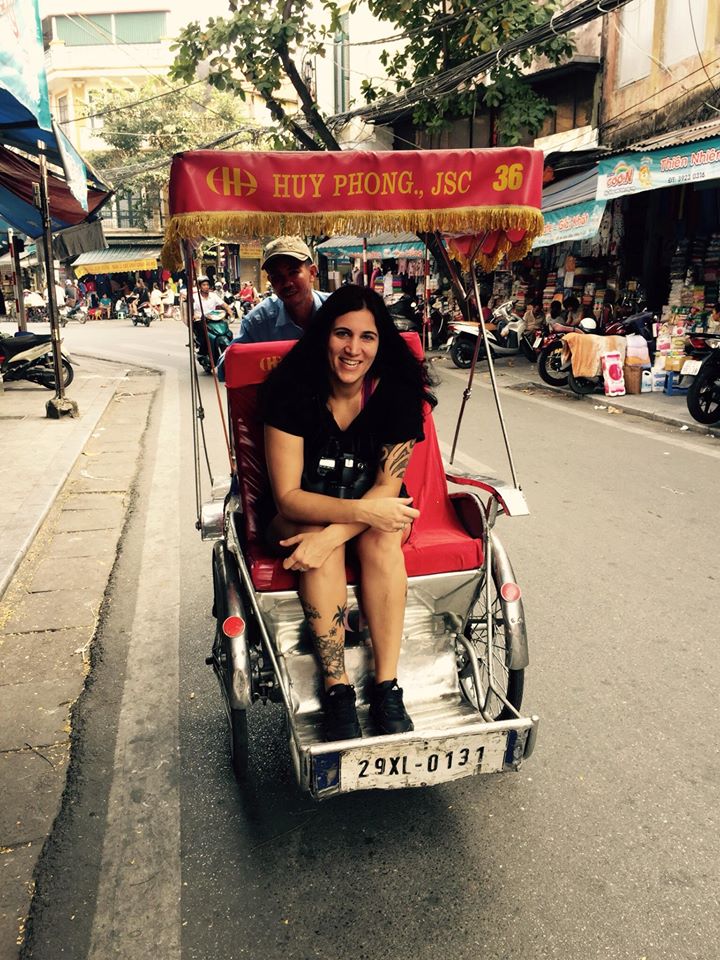 my ride for the day, I know it's tacky, but I had to do it lol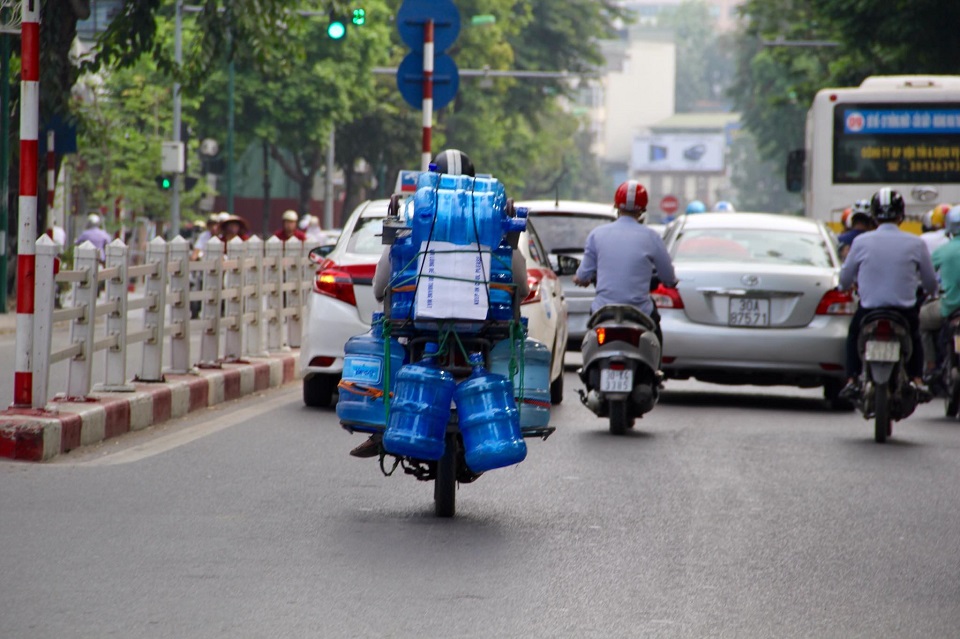 I think one more watertank would've fitted
Those of you who have been to Hanoi, know how crazy the traffic is, for the ones who haven't, it's crazy I am telling you! There are 8 milllion people living in Hanoi and 6 million scooters, yes you heard right SIX MILLION! And the rules are: there are none! Just drive as you please! So imagine wanting to cross the road! There is only one way to do it: close your eyes, take a deep breath, pray to god and go for it! I usually have the tendency to exaggarate, but this time I am not! Also good to know, the scooter wasn't built for just one or two people, it can carry up to 5 people, chicken, water tanks, furniture...anything really..I'll have to keep that in mind for when I ride my scooter back in Switzerland.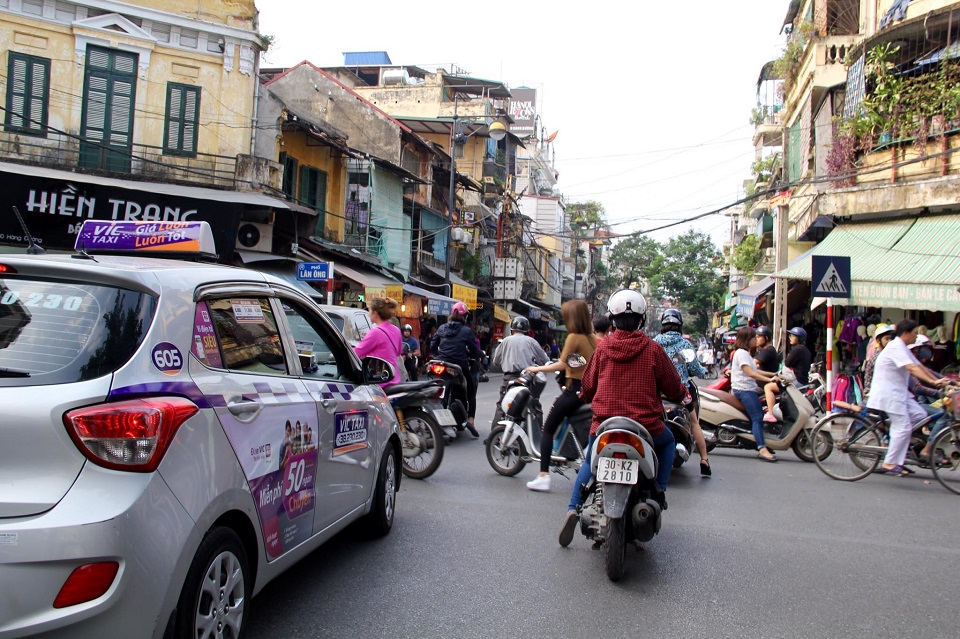 Hanoi traffic: the rules are..there are none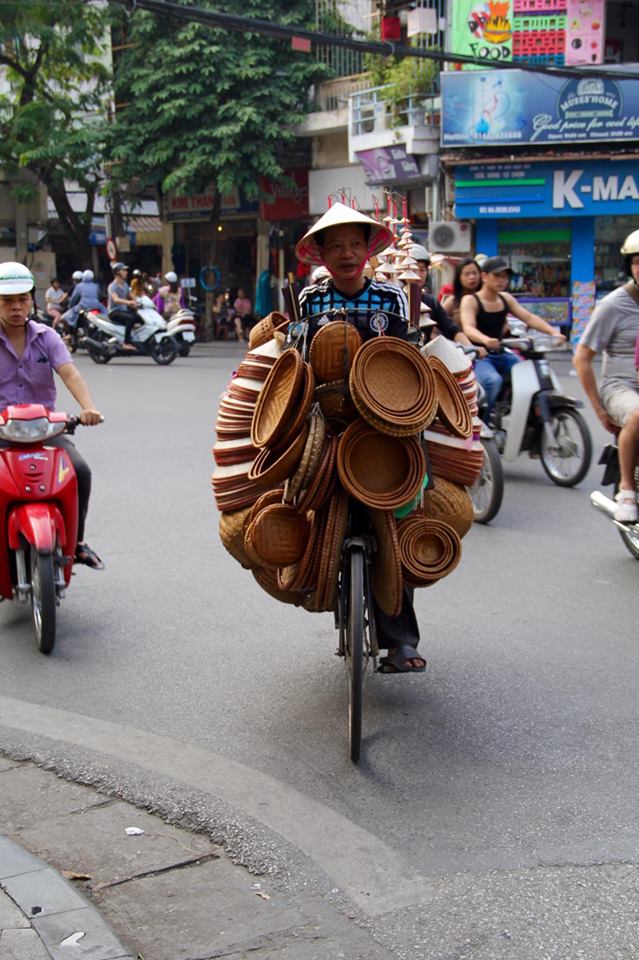 haha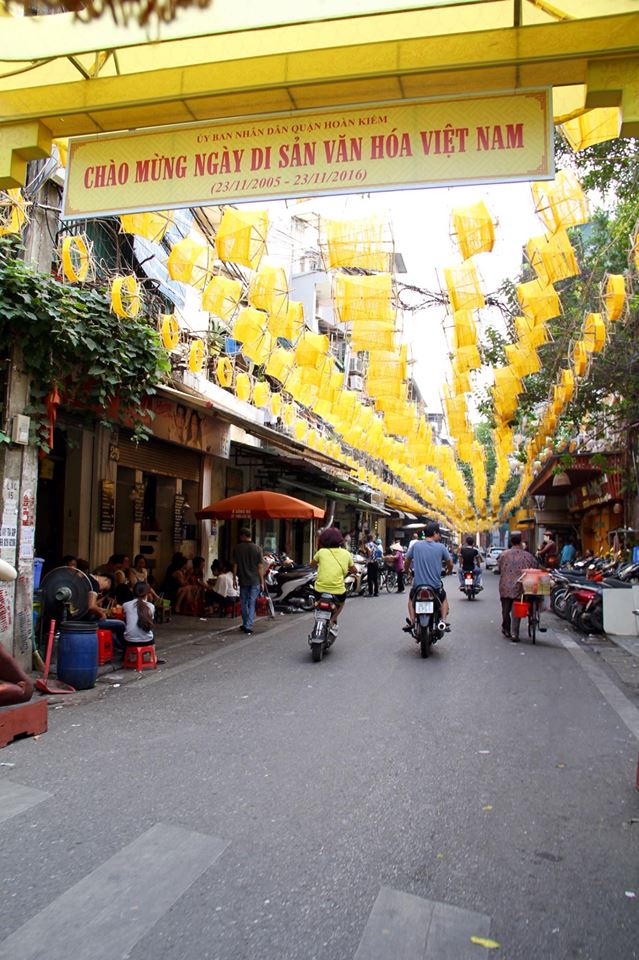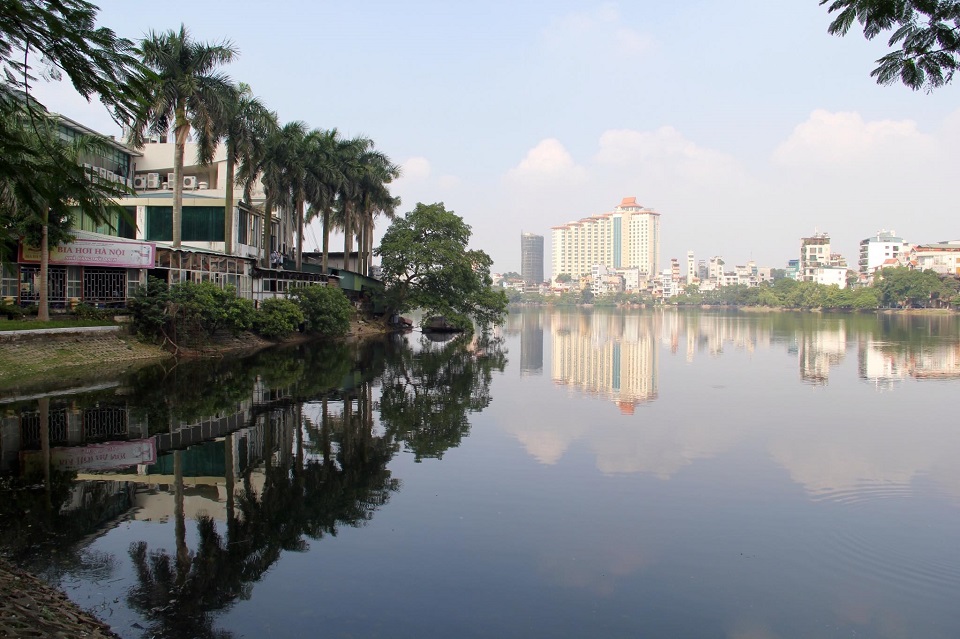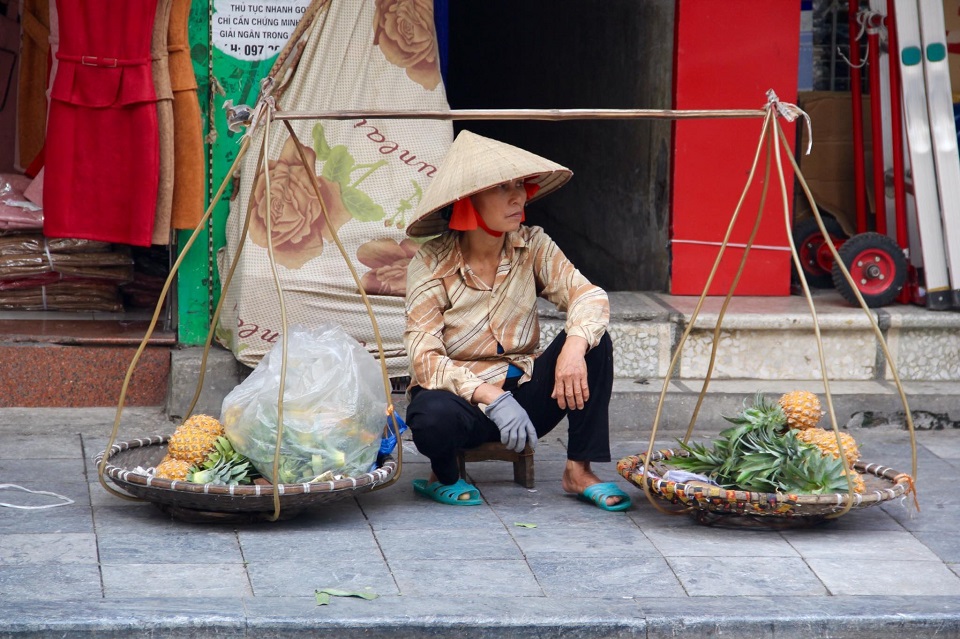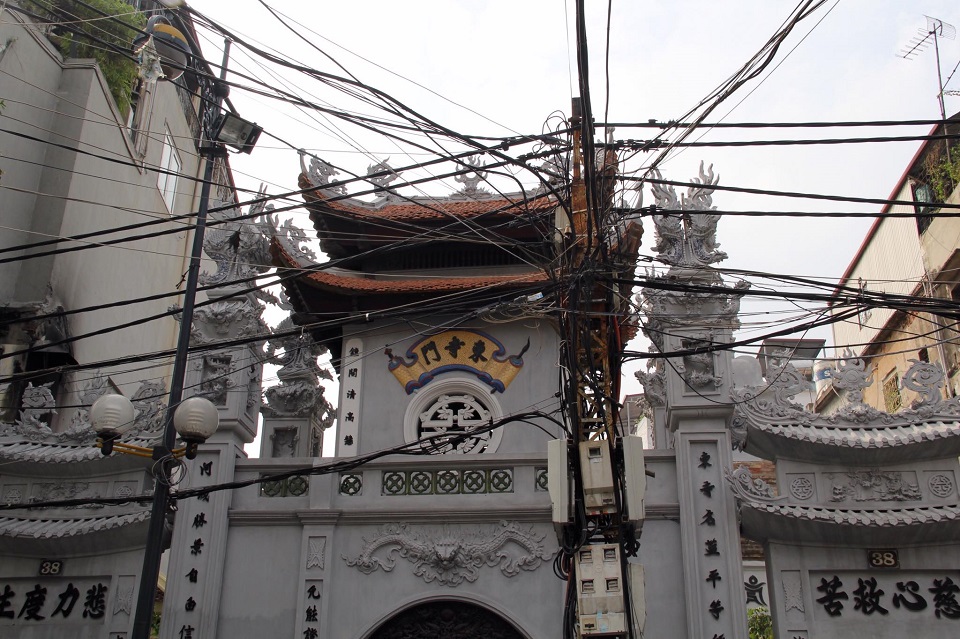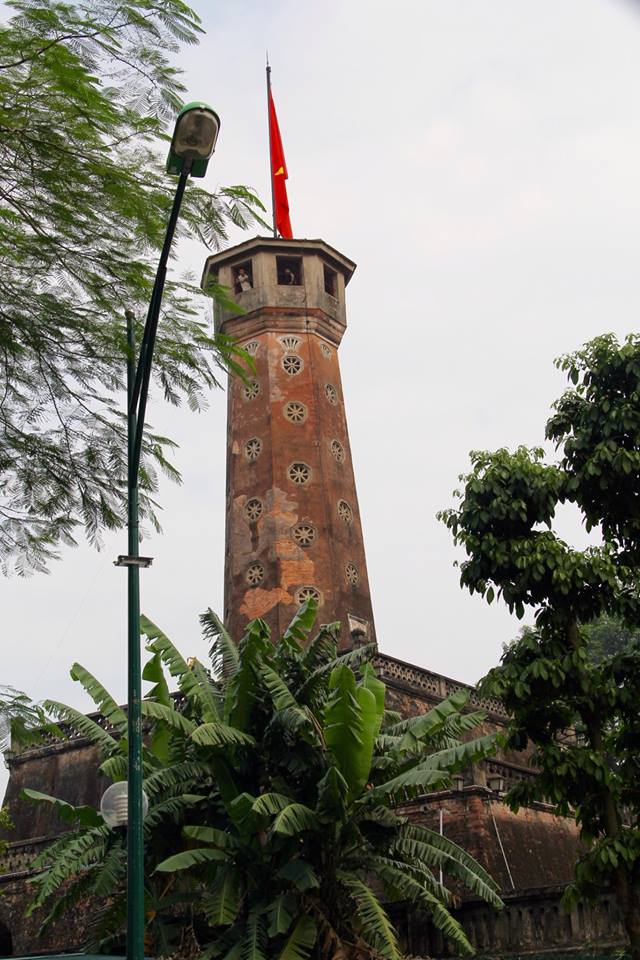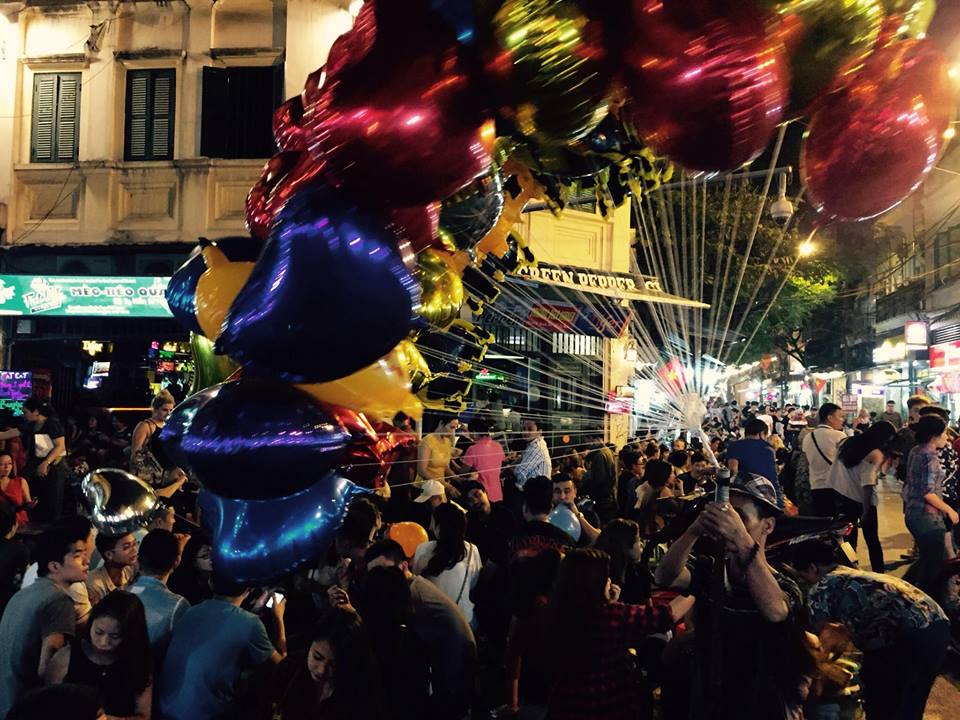 just a regular Sunday night in Hanoi's old quarter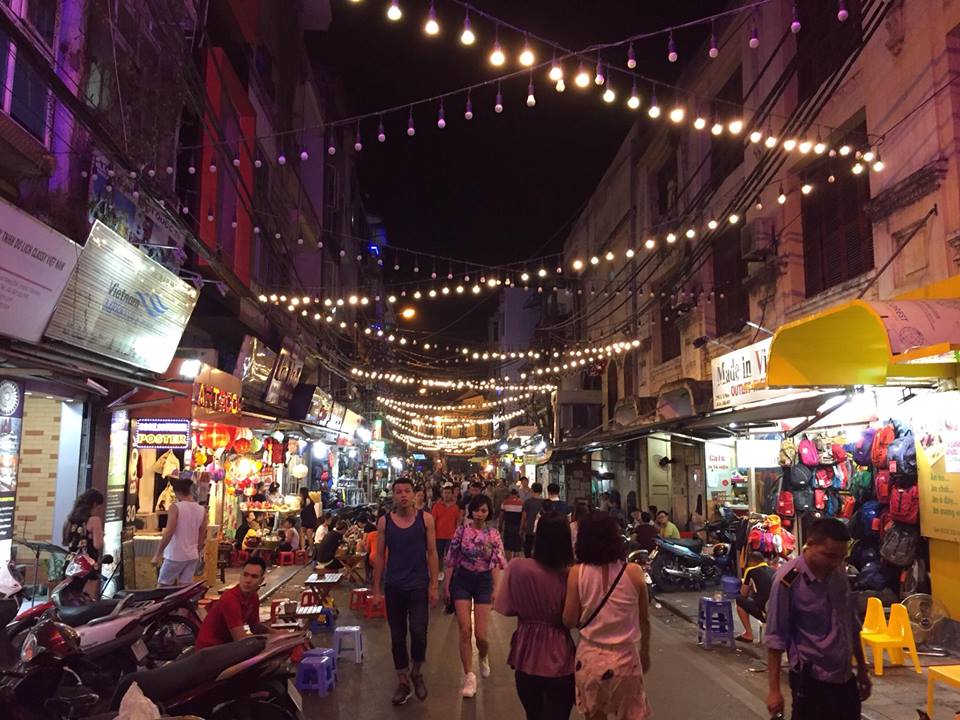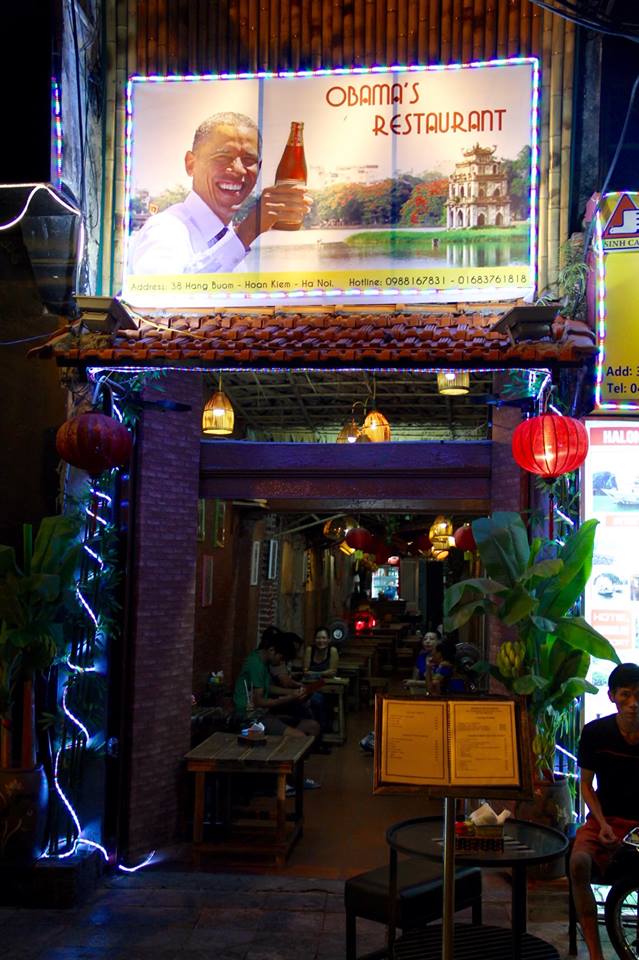 I hope it will still be called Obama's restaurant! Because Trump's dump wouldn't attract as many guests!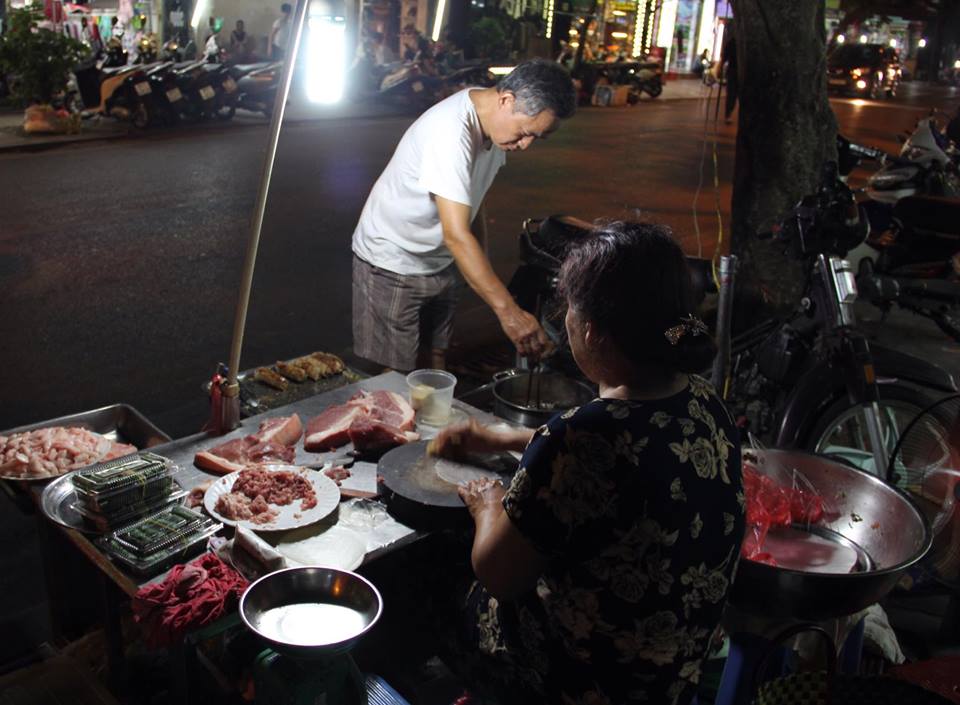 hmmm I've had salmonella once, thanks, but no thanks
A few of my friends recommended that I'd do the Hanoi Walking Street Food Tour, it's got good reviews on tripadvisor, so that's what I did. We were a group of about 10 people, a good mix of nationalities and our guide Teddy, a 21-year old law student. I am very picky when it comes to food, so I was a little afraid of what we might have to eat. We walked around the city for 3 hours and had 10 different Vietnamese street food specialties. Just to name a few: crab soup, papaya salad, lemon and sticky rice ice cream, steamed pancakes filled with beef and mushrooms, coconut coffee etc. I am really glad I mastered my fear because it was a great experience and I did like most of the things we've tried.
The second night (without the sleeping pill) was not so great, took me 3 hours to fall asleep and the constant honking and the loud techno music didn't help much either.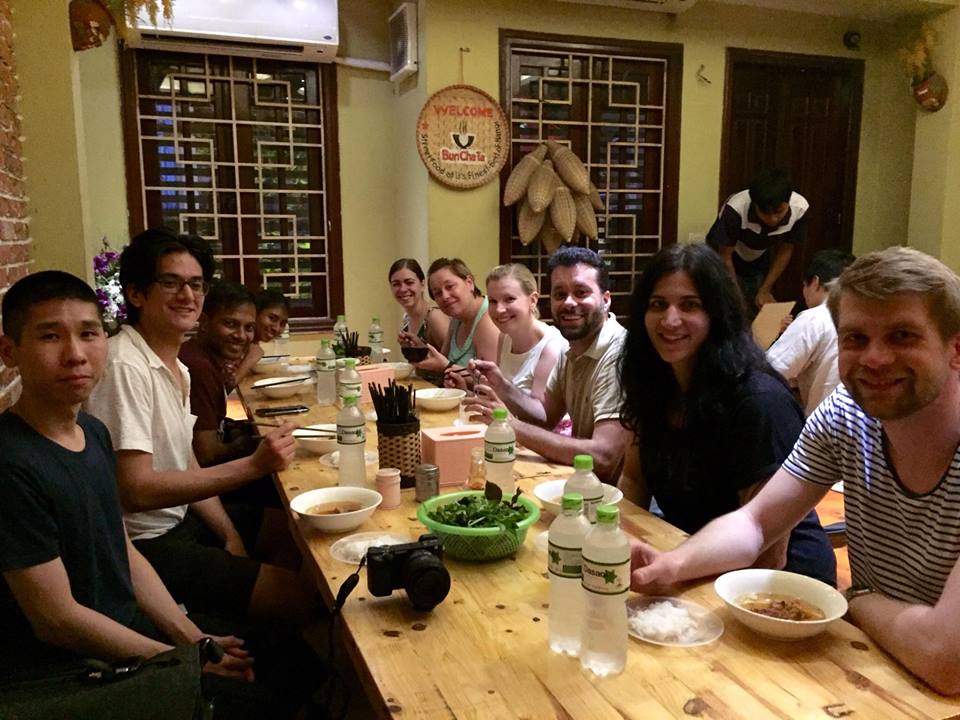 Hanoi Street Foood Tour, a really nice experience
Halong Bay
Vietnam Blog Part 2 - Halong Bay Cruise
So the Halong Bay 2-days/1-night cruise was definitely worth it...The drive was interesting, not so much the scenery,but the people riding their scooters. This one guy was carrying a dead pig on the back, then you have toddlers standing in between two adults on the motorbike, without a helmet of course. Or a guy texting (still talking about scooters!) and driving in the wrong direction. In Switzerland he would be callled a ghost driver (Geisterfahrer), lose his license, get a huge fine and possibly go to jail, but here, just another regular day in Vietnam.
After 4.5 hours we had arrived in the harbour where many of the wooden ancient Chinese sailing ships (they are called junks here) start their journey. So did we on the Legacy. We were a group of about 21 people, most of them around my age, a few older. There was Karen, an American who's an US Aid worker in Micronesia (never met anyone that lives there, but when she told me it's close to Palau and Guam, I knew right then I wanna visit:-), a Canadian living in L.A. and working for Disney, a doctor and dentists from Swtzerland and Liechtenstein, definitely interesting and always something to talk about.

pretty relaxing I would say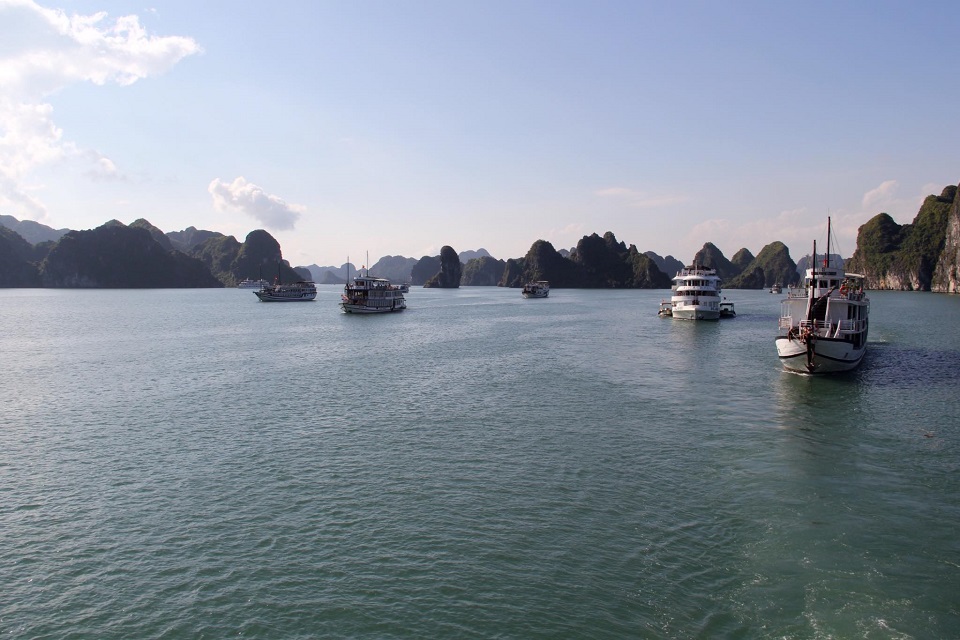 Halong Bay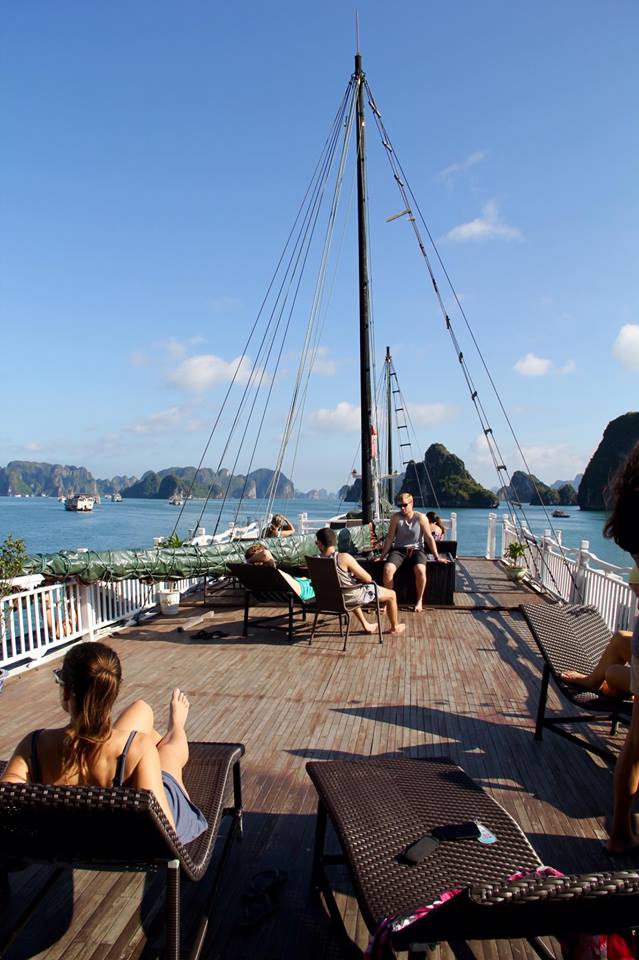 our vessel the Legacy
People back home always ask me, how is it to travel by yourself as a woman? Isn't that weird? Doesn't it get boring? First of all there are many women traveling solo, especially in Vietnam (I've met tons already). Most of the time I do travel with my girlfriend or my friends. From time to time though, I do enjoy some alone time. And I think also, that when you are traveling alone, you meet more people, you have to be more outgoing, make an effort. The only thing I would say kinda bothers me, is to eat by myself, that's probably because we are used to making conversation while eating.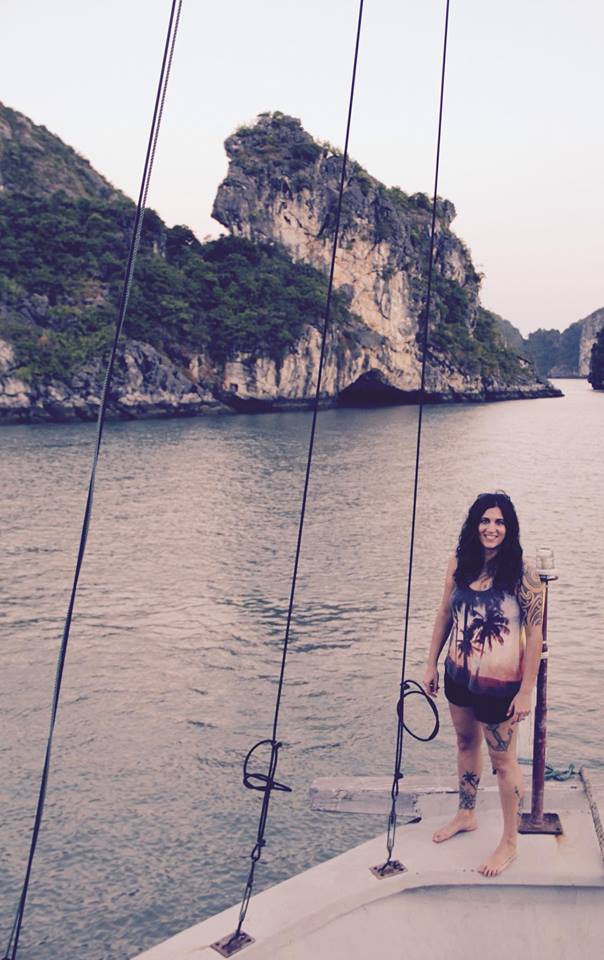 in my element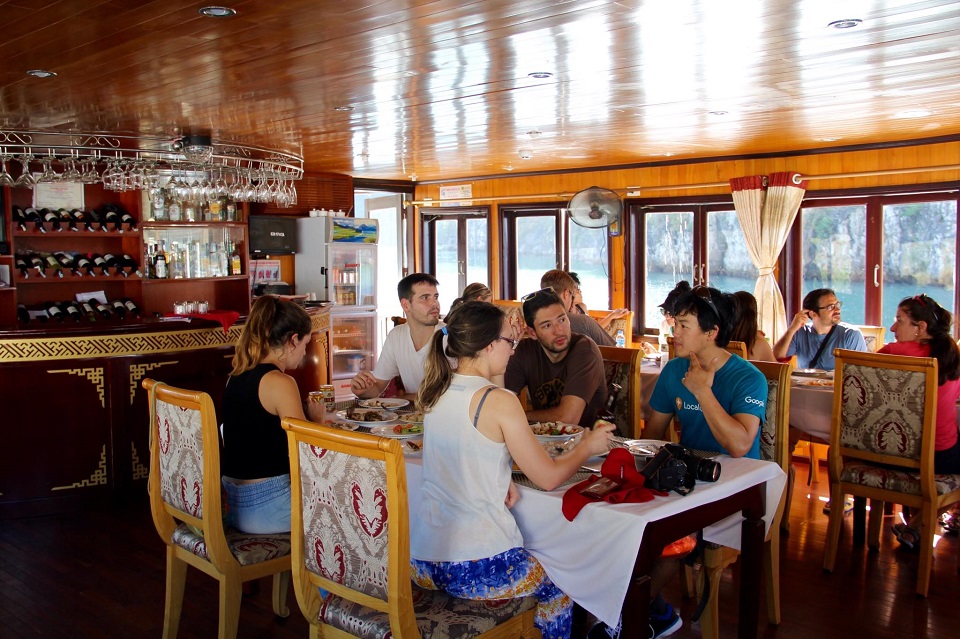 it's lunch time on board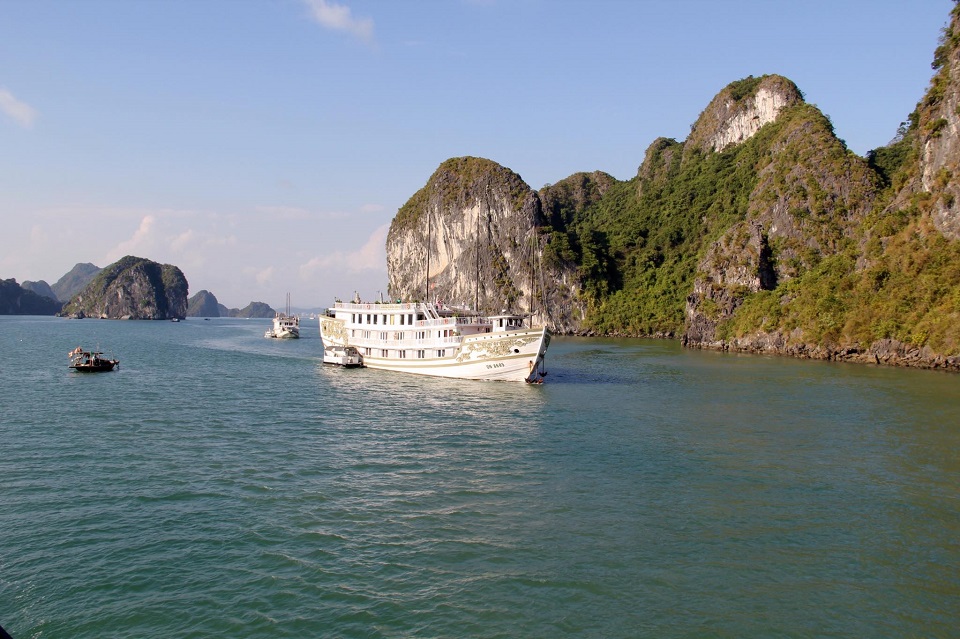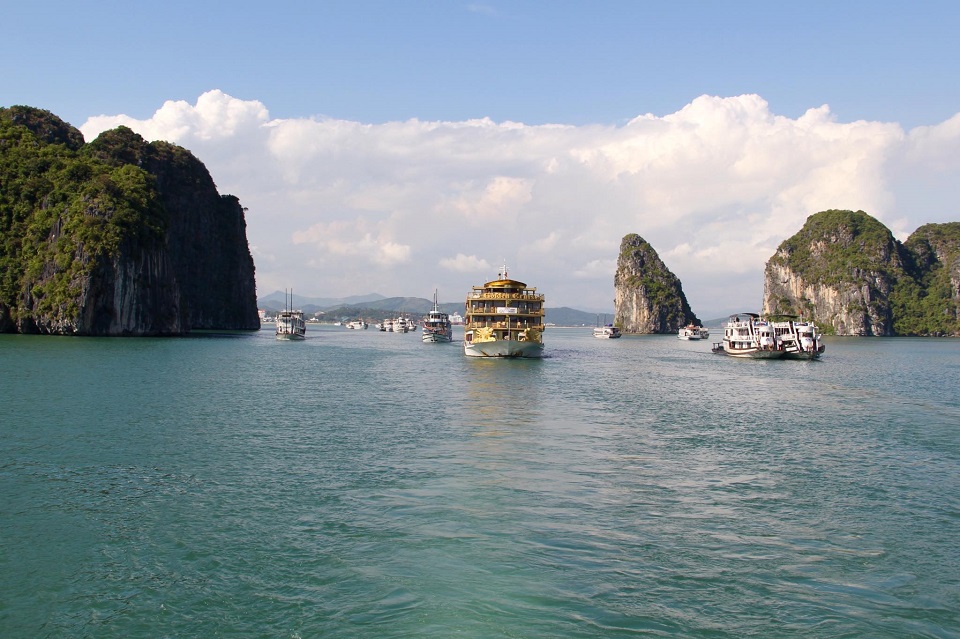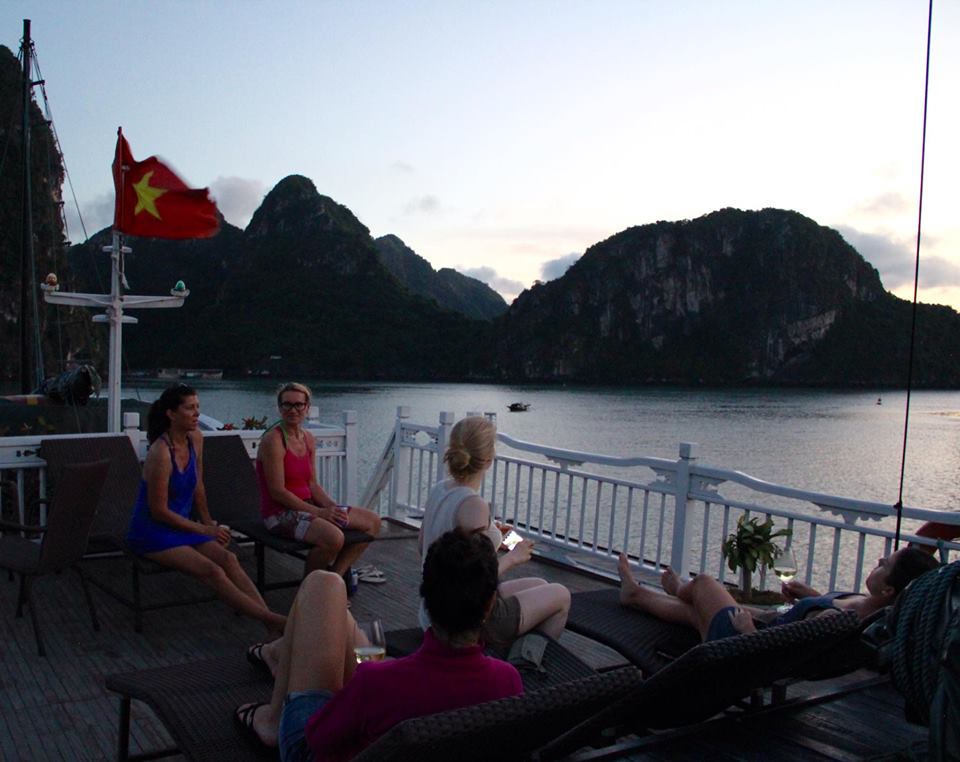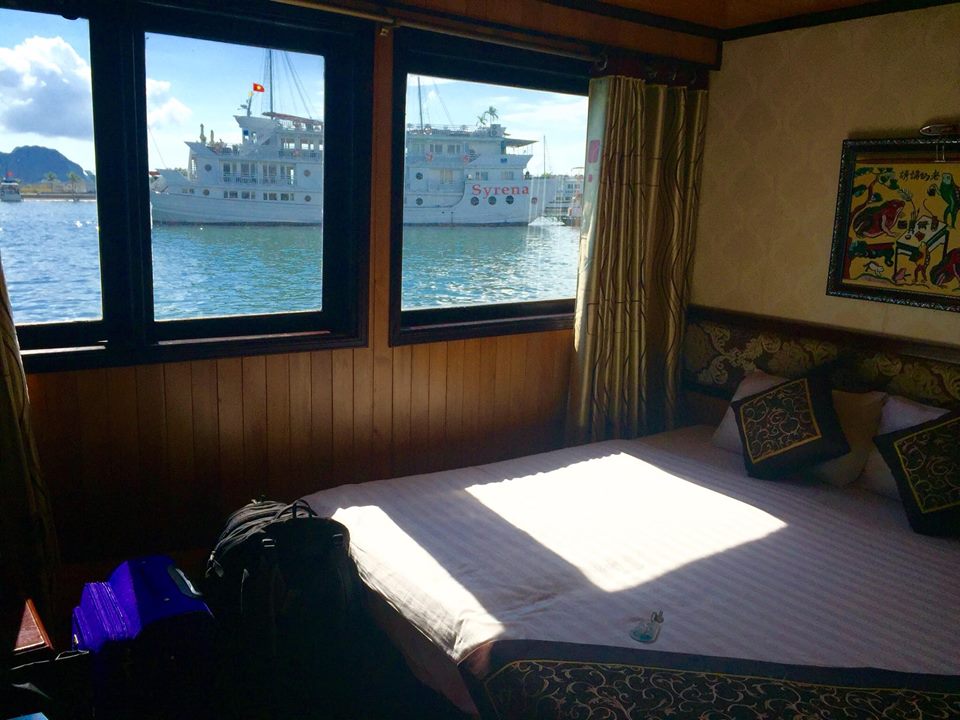 my cabin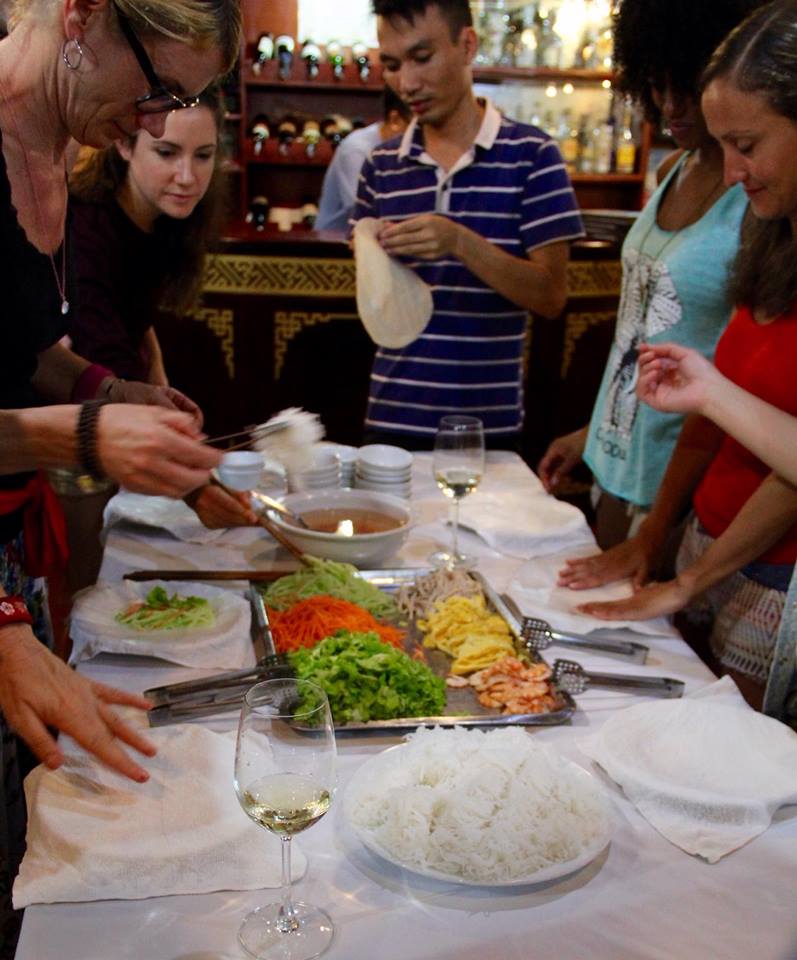 cooking lesson in making Vietnamese spring rolls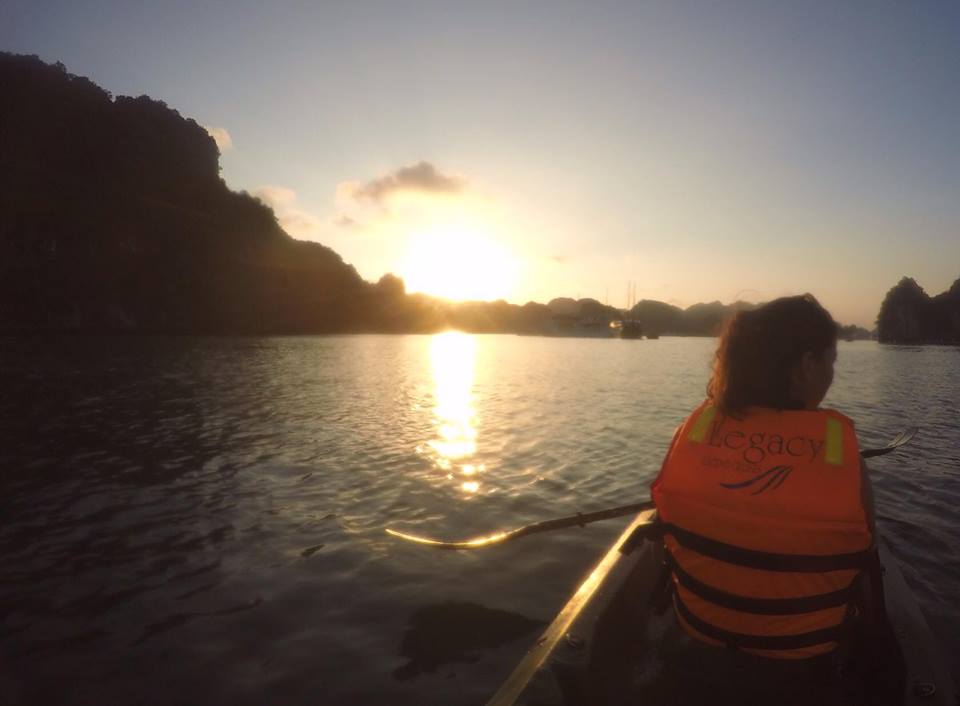 enjoying the sunset on this kayak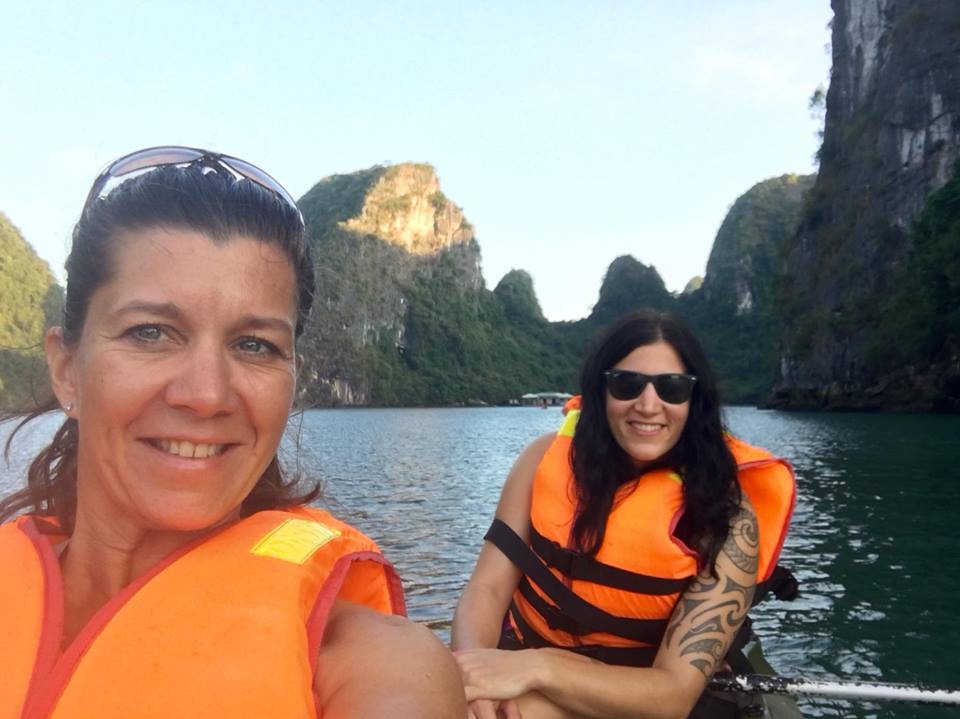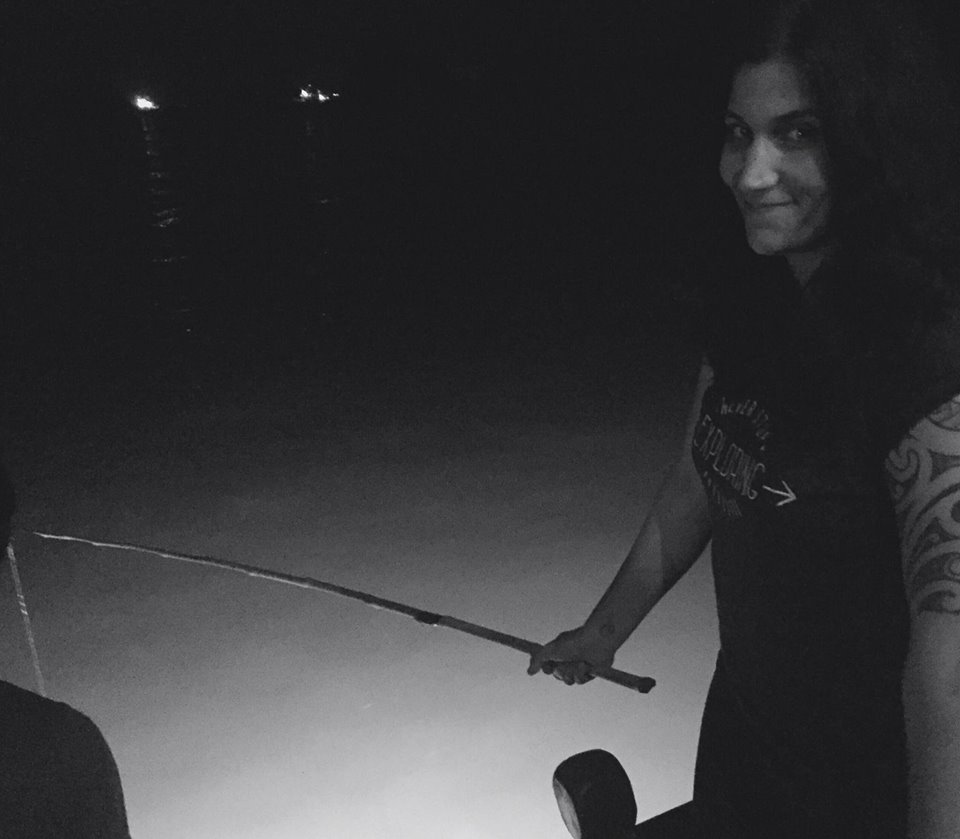 fishing for octopus
Back to the tour though, the vessel had a rustic feel to it, my cabin was cozy with a queen bed and there were sunchairs on deck and enough sun for everyone ;-) the staff was great, always smiling, forthcoming, working hard, so we could have a good time. The first two hours we had time to get to know each other, then we visited a fishing village and kayaked into the sunset (sounds cheesy but it's true). The night was short because we got up to see the sunrise and then at 6.30 a.m. it was time for Tai Chi on deck. That was kinda fun I gotta admit, even though my version looked more like chasing away a bee. After that we had breakfast and then we did a little hike up the highest mountain in Halong Bay (I am Swiss, so it was a hill). I was lucky I didn't book the 2-night tour because that was canceled due to a storm that was coming in.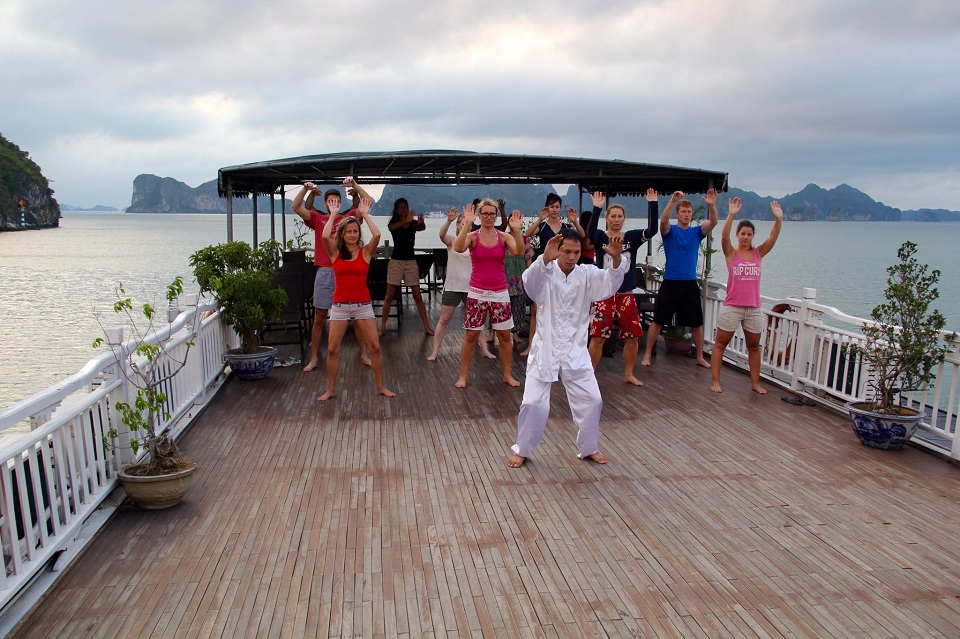 Tai Chi lesson at 6.30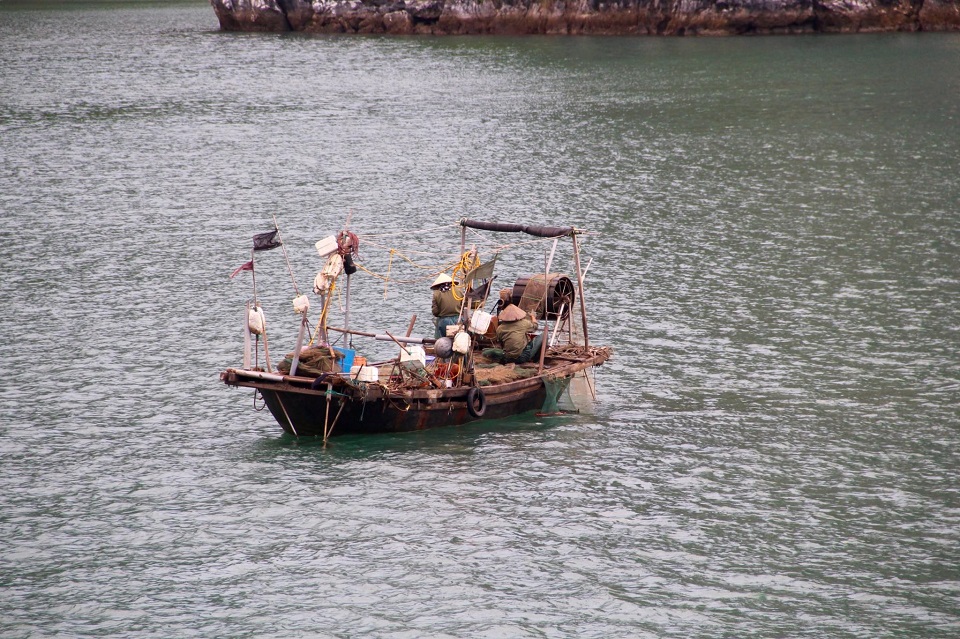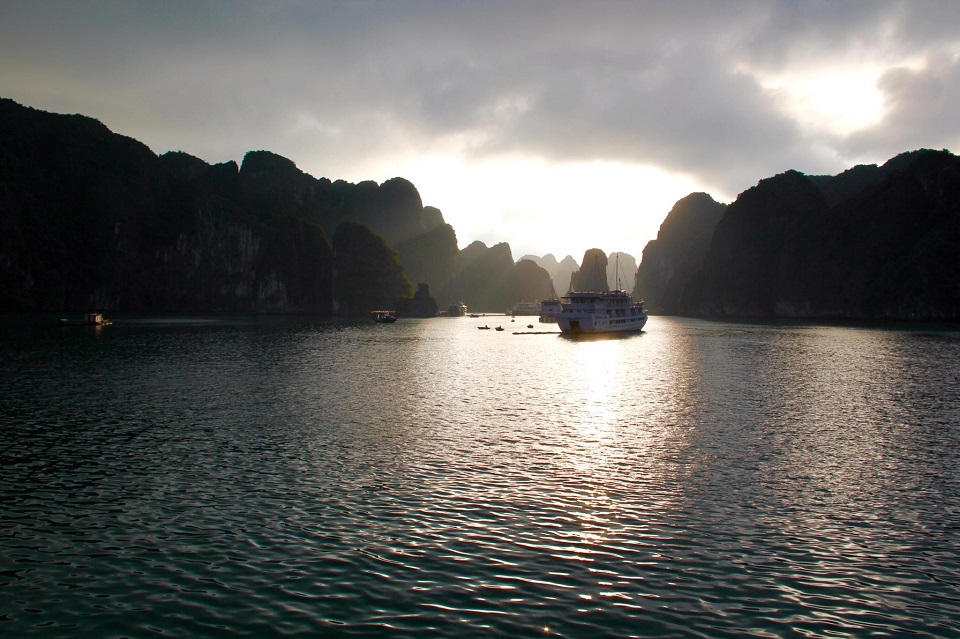 beautiful sunrise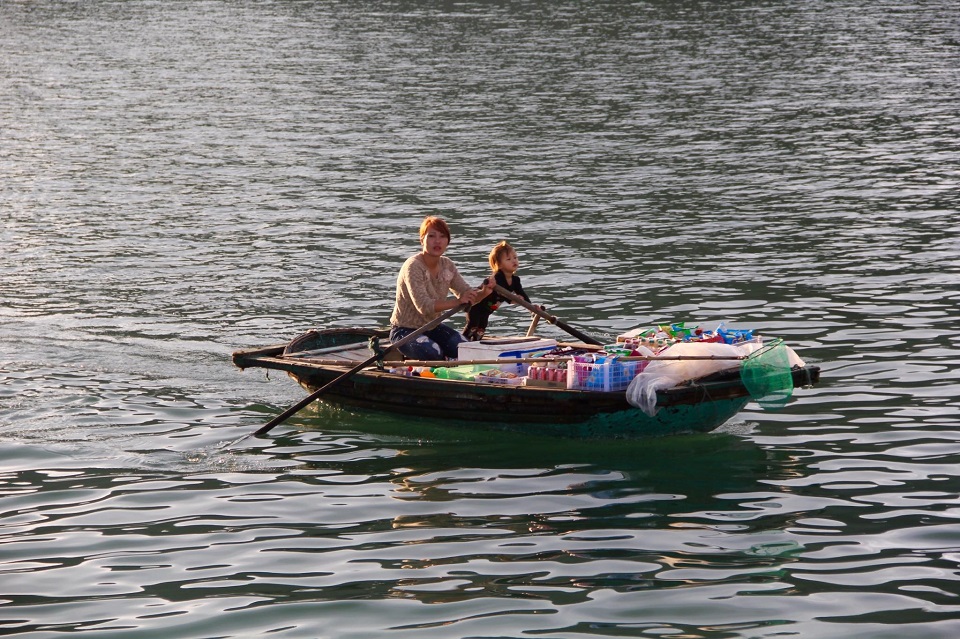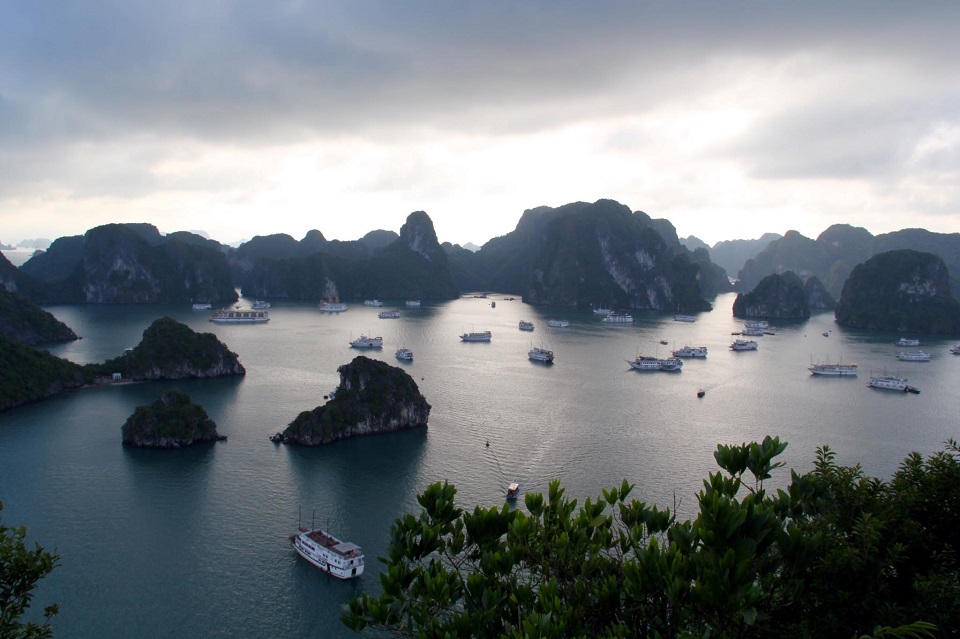 view from the mountain top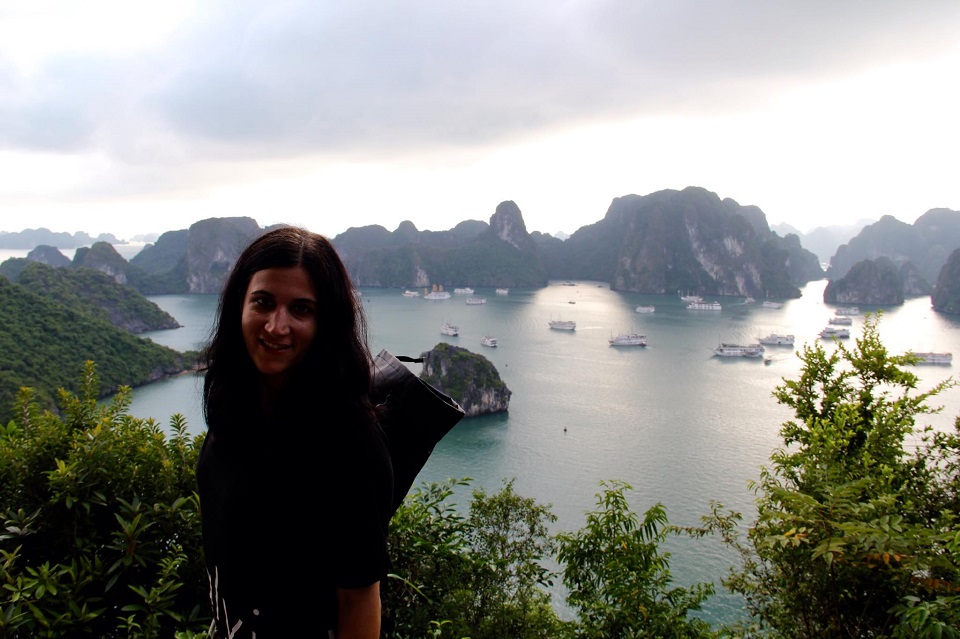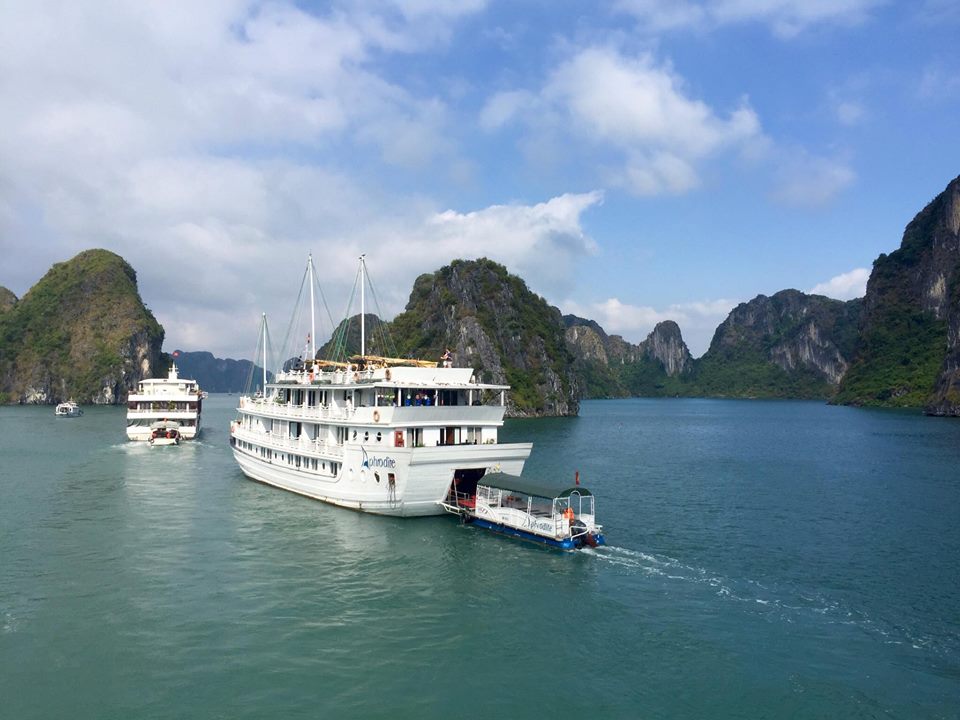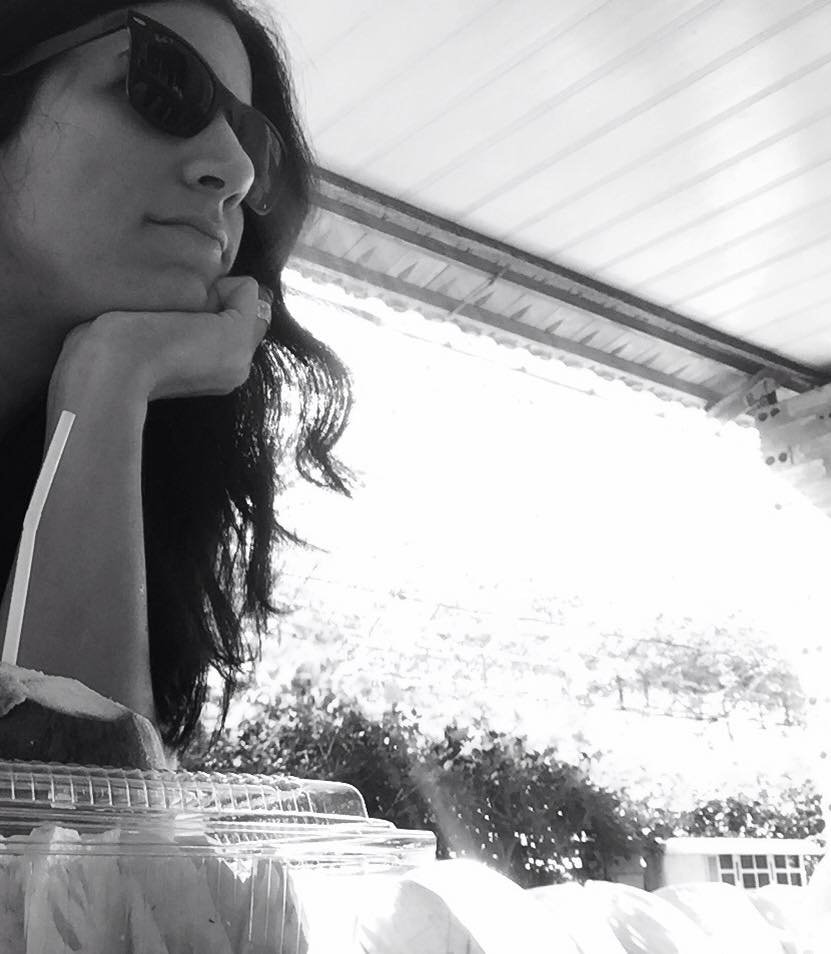 coconut water and fresh pineapple to start the day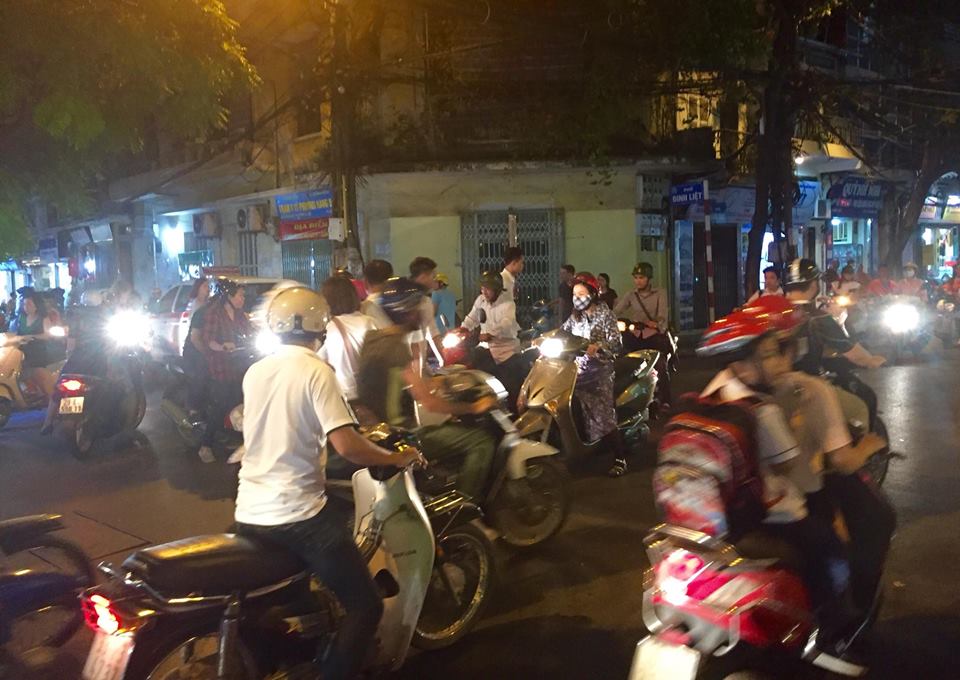 crazy Hanoi traffic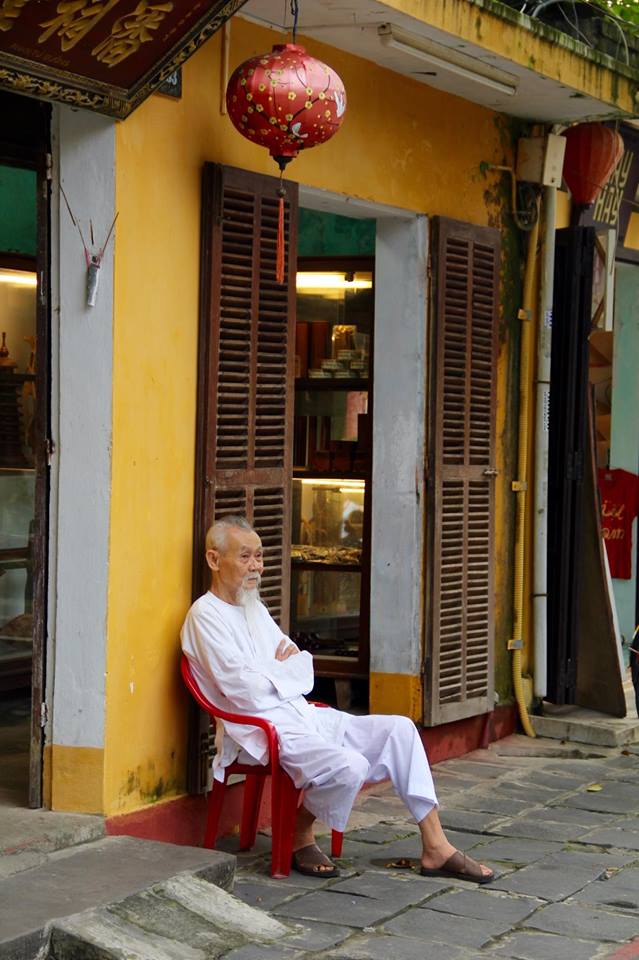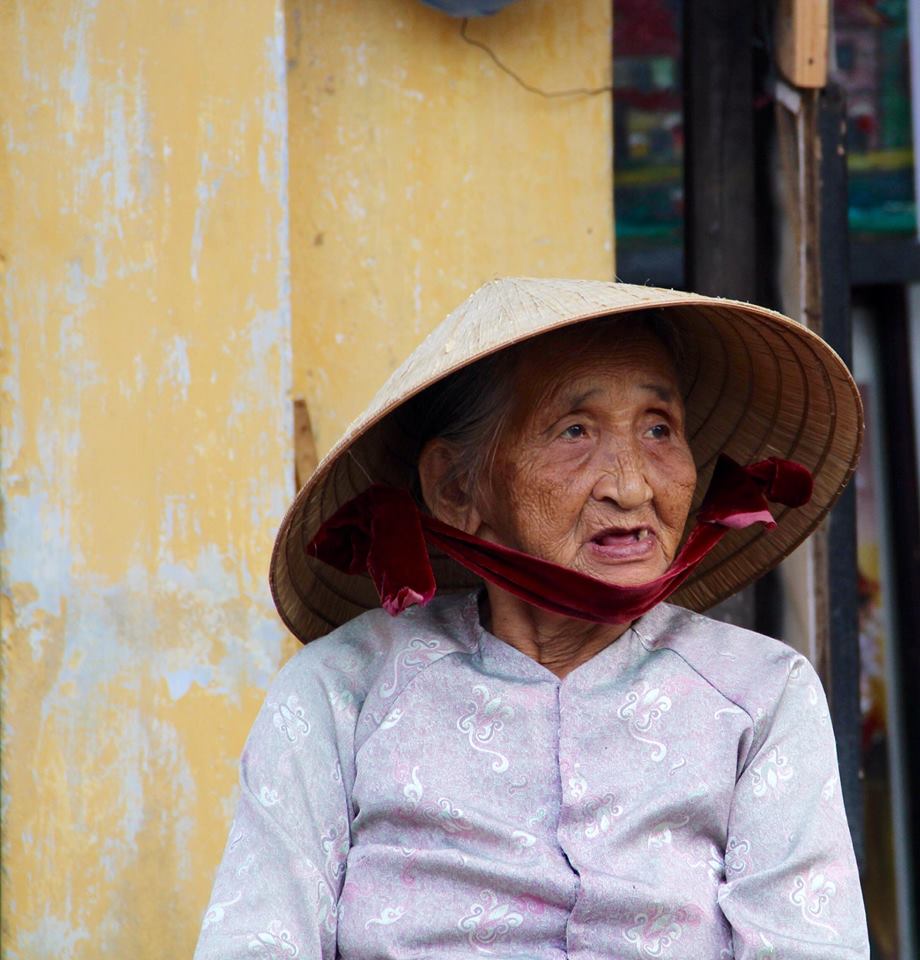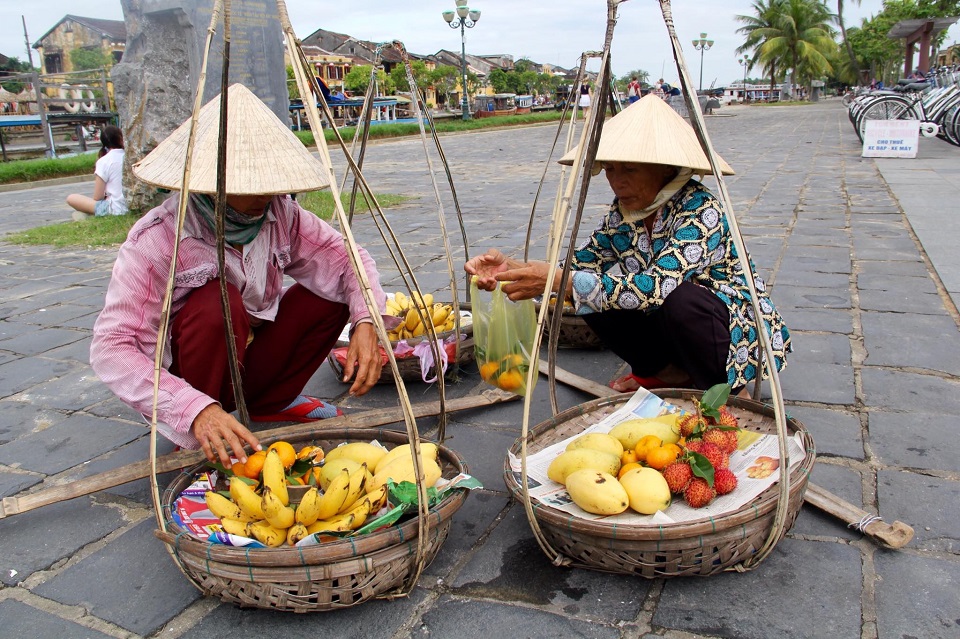 buying some fruit from these ladies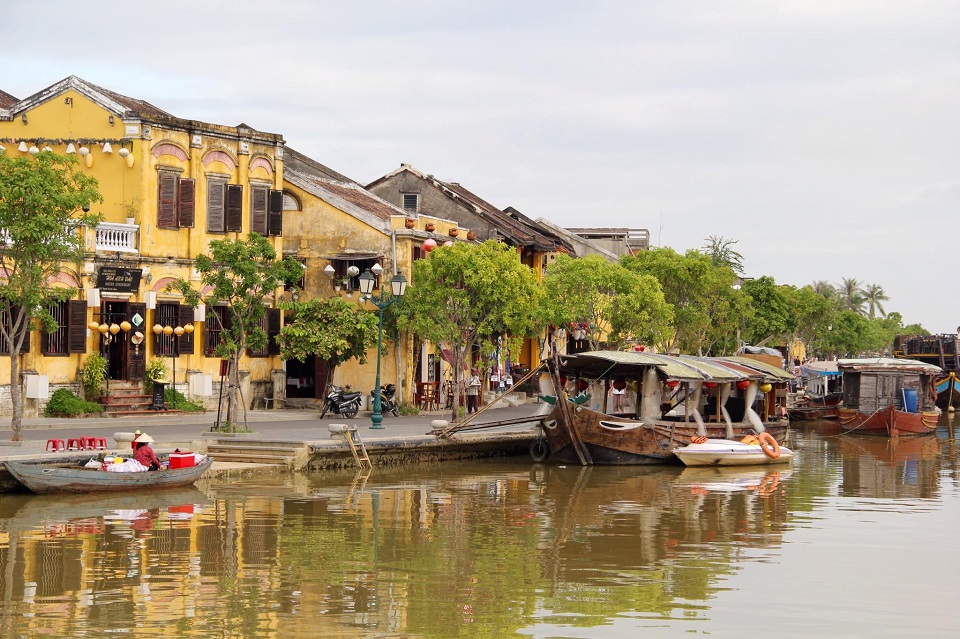 Hoi An part of the UNESCO World Heritage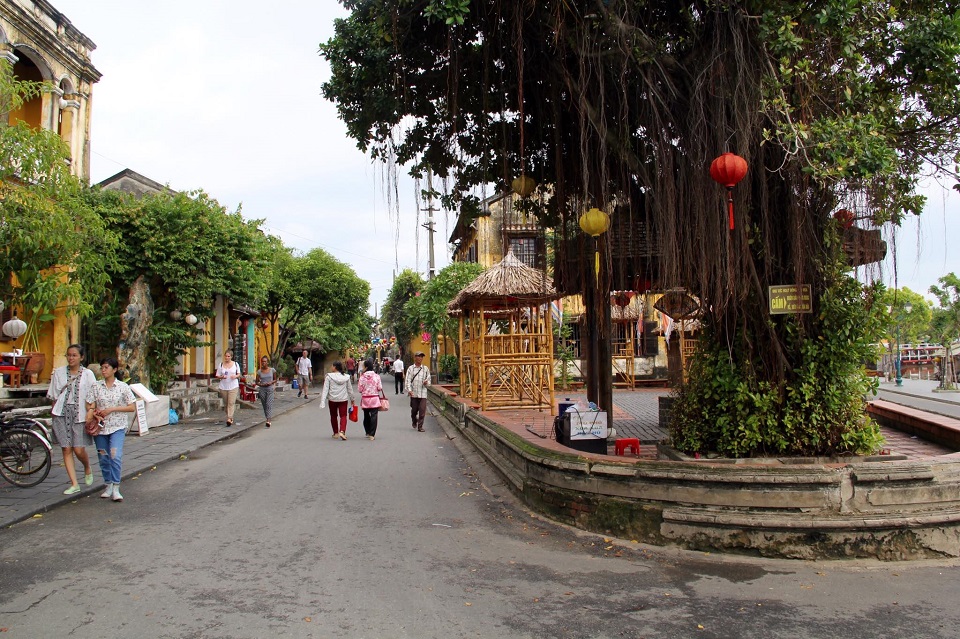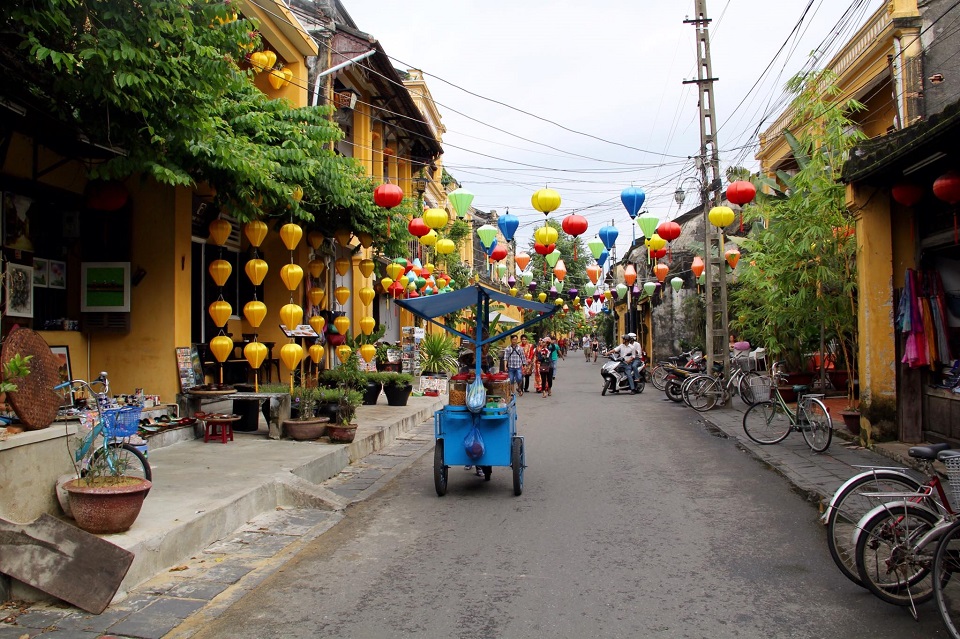 the lantern town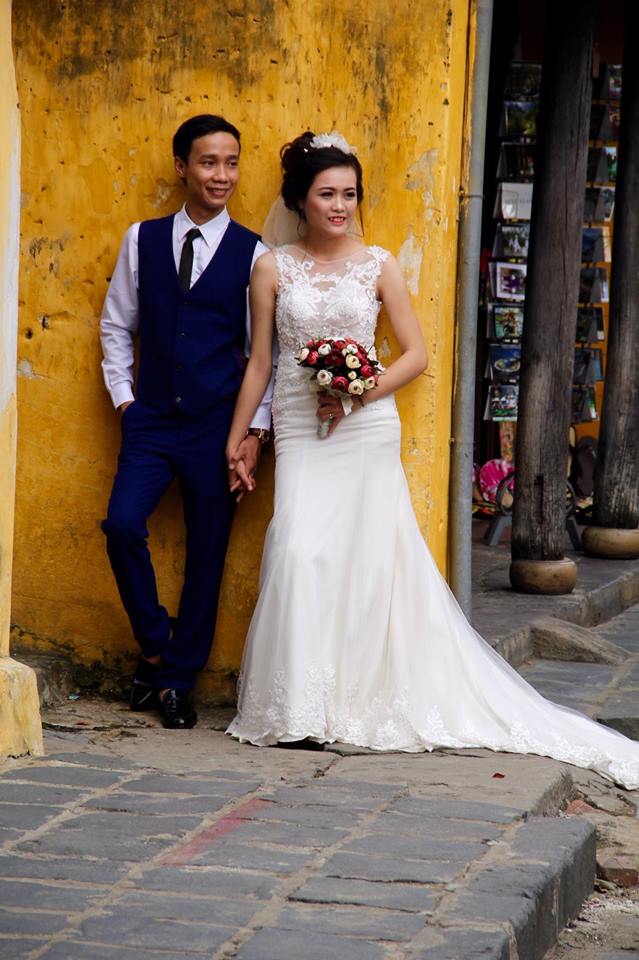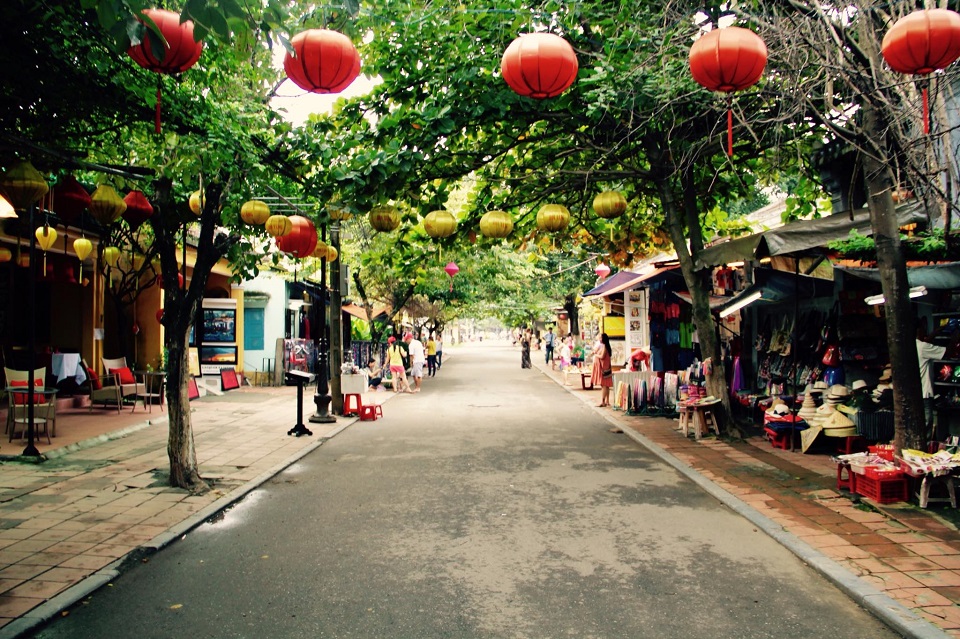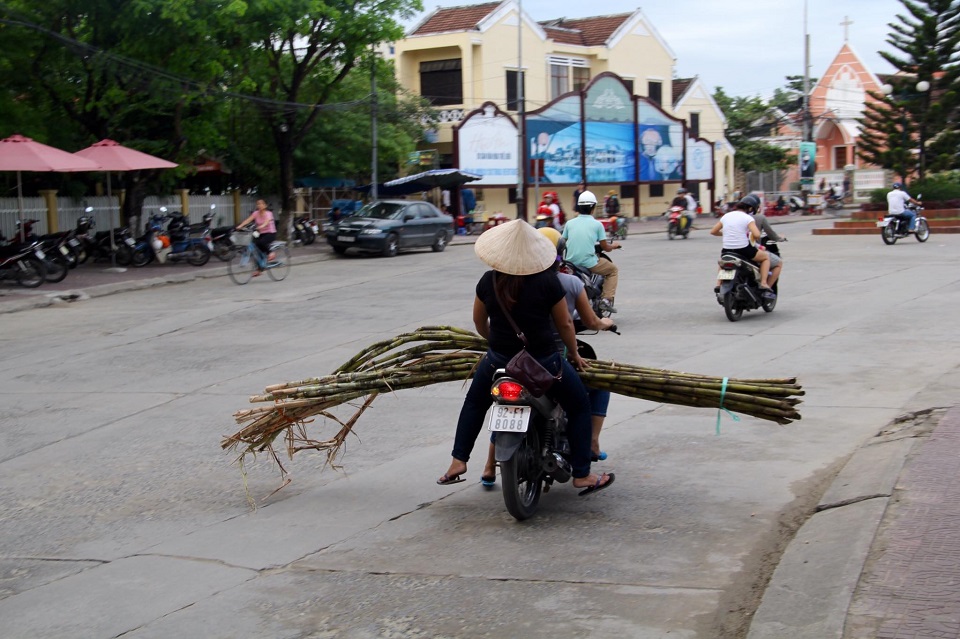 as long as it fits it's legal
It was time to leave the North of Vietnam and my next stop was Hoi An. Instead of taking the sleeper train, I booked a flight for only $25 with Vietjetair, Vietnam's low cost airline. The only trouble with that was, that everyday for a week, I kept on receiving notifications with time changes. Honestly I couldn't even keep track anymore when exactly the actual flight time is. You get what you pay for, I guess lol. At the airport they said that my hand luggage was too heavy, but they just let me check it in without additional cost. There wasn't even waiting time, so after all I am happy with my decision to fly at lowcost haha.
Just as we landed in Danang, a woman was giving her child the bottle and when the passengers were leaving the aircraft, the toddler barfed it all out like a waterfall (somehow I saw it in slow motion). Covering innocent bystanders and a whole row with vomit. I felt bad in a way but just so happy I wasn't affected.
To end this story on a good note, parents let little kids ride on the baggage carousel and my cab driver listened to Celine Dion's schmaltzy songs and hummed to it all the way from Danang to Hoi An.
Hoi An
Vietnam Blog Part 3 -Ancient City of Hoi An
Lonely planet describes Hoi An as follows: beautiful ancient town, bursting with gourmet Vietnamese restaurants, hip bars and cafes, quirky boutiques and expert tailors.
Hoi An is one of the cutest little towns I have been too (lead by Mykonos town), so I was happy to spend four days here.
After the hustle and bustle of Hanoi, I was looking forward to some beach time. Unfortunately the forecast predicted 4 days of rain and that's exactly what I got. The weather is one of the few things you can't control I guess. So since the old town of Hoi An is a walking and cycling town, I explored it on foot first, I was very impressed by the 800 buildings that are part of UNESCO World Heritage. I had a mission for my time being here: Have a pair of glasses and a leather handbag made, get as many massages and drink as many coconuts as I can! I can proudly say: mission achieved lol
Even though my mom is an optometrist and I have a good discount there, I have problems finding a model that actually fits my weird shaped head (I have a small head but a big brain;-). So at this one shop they had a few glasses that I liked and for the price of USD 200.- I had two pairs made. They even do it overnight, same with the taylor made leather handbags.
A little bit later in the day, I decided to rent a bicycle and explore the outskirts of the city, at one time though I decided to buy a helmet because traffic is crazy here and what good are my new glasses gonna do, if I don't have a head to put them on!
I found this really good massage place and the women there are so funny and friendly, the Vietnamese people are like that in general. They are humble, kind and always so helpful. Even at my hotel, every employee greets me with my name, knows my room nr., asks me how my day was and if they can help me with anything and not in a fake way like in other places. I kinda feel like the queen of England here!
stuck in rush hour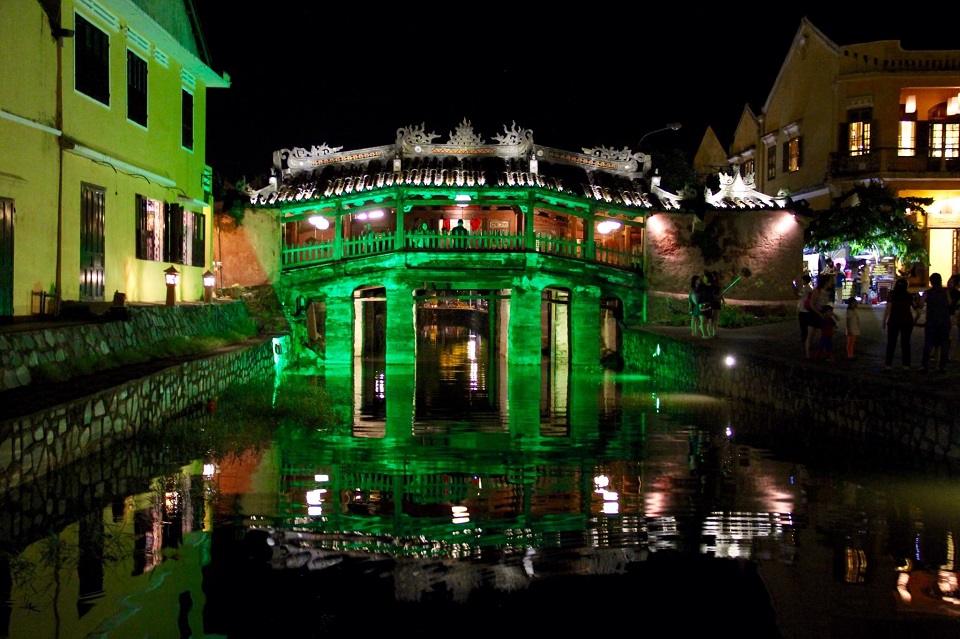 the Chinese bridge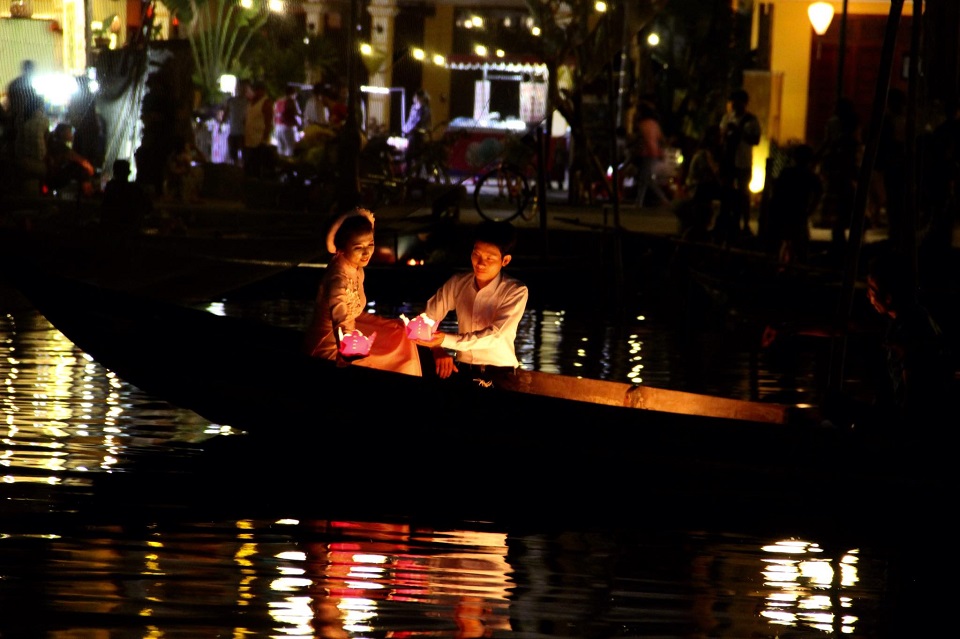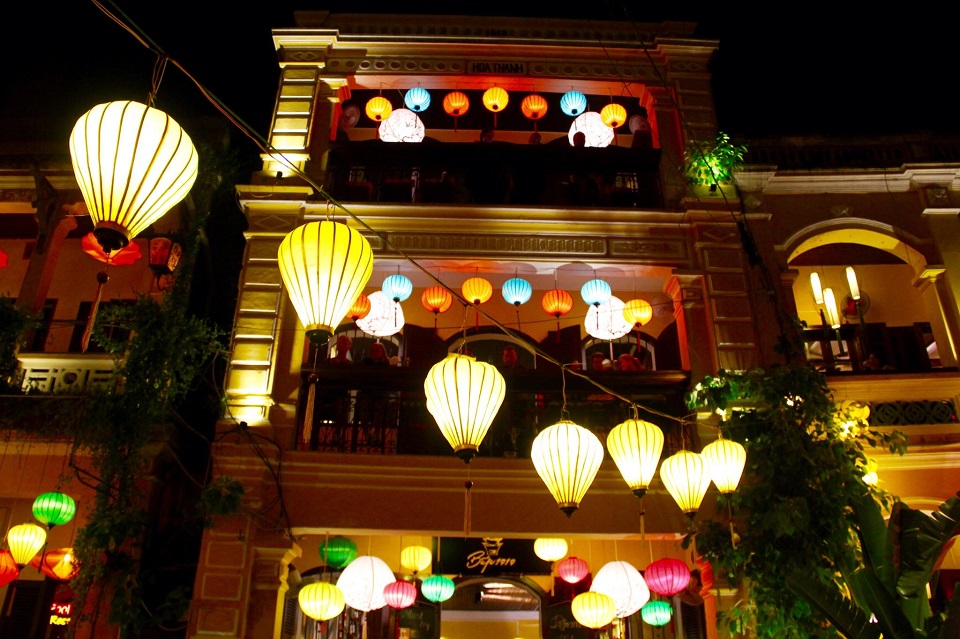 in love with this town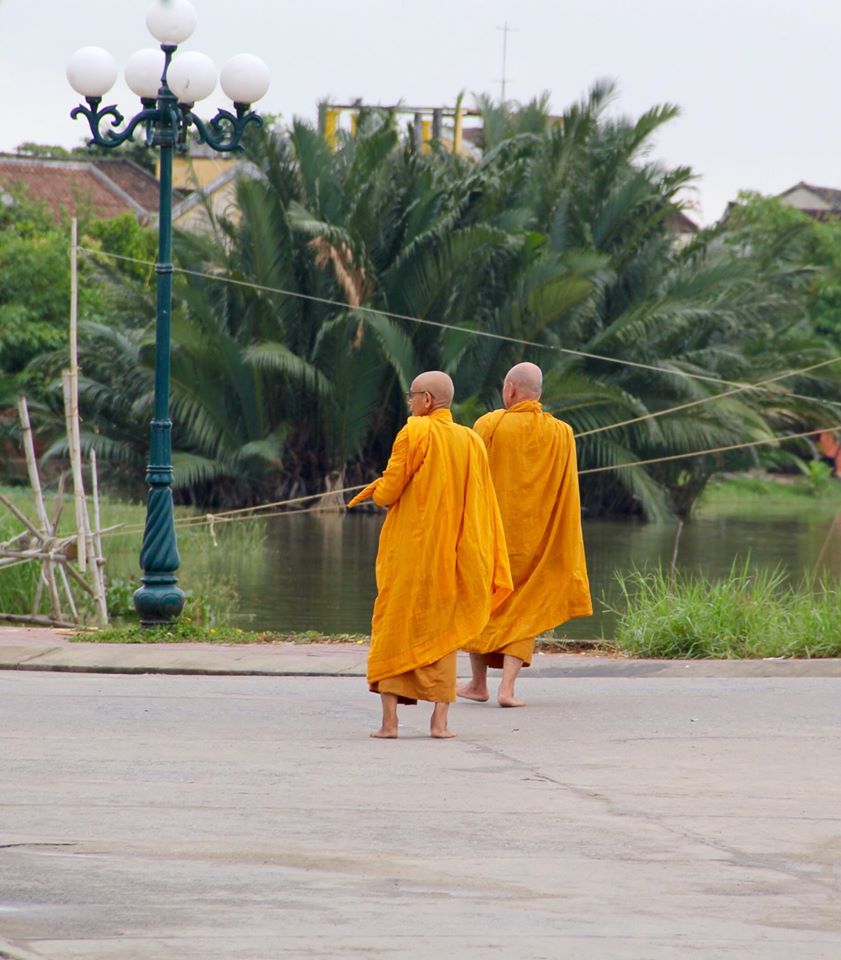 For the Friday, I booked a half day taste of Vietnam cooking masterclass at Vy's marketplace and restaurant. We were about 15 people and the teachers took us to the market first, by boat, which was cool. The market for me was very interesting, you can buy anything from exotic fruit to live animals. And that's where I decided to be a vegetarian for the remaining time in Vietnam haha! But even more fascinating for me were the people, so I was taking pictures of the vendors rather than paying attention to what the group was doing. Back at the restaurant we got to taste different foods and one station was called wonderful weird foods. They served jelly fish, worm and pig ear salad, duck embryo, pig brain etc. So this one Australian girl actually tried it all except for the duck embryo. When she ate the pig brain I choked and so did she lol. Did I try anything? Hell no!
Then it was time for the actual cooking class, everyone had their own cooking station and the teacher showed us how to prepair different dishes and then we got to do it on our own, it was lots of fun! After the class I felt that I needed some relaxation so I had a massage of course, followed by a coconut lol
You might think it's boring to get one or two massages a day, but it's not. I switch it up a little, back, foot, full body, vietnamese, thai, hot stone :-) And for the price I pay for one in Switzerland I can get 10 here!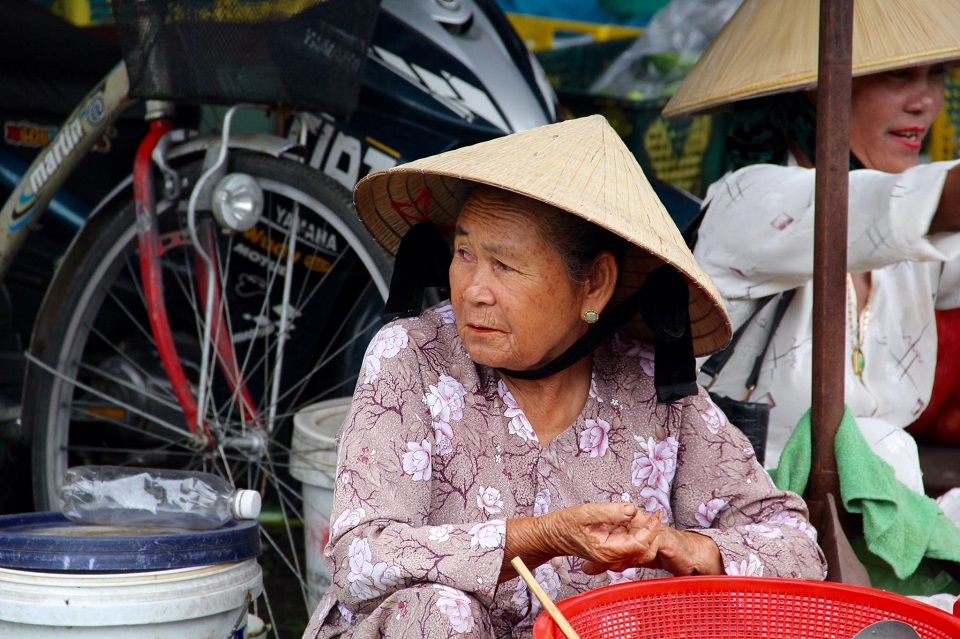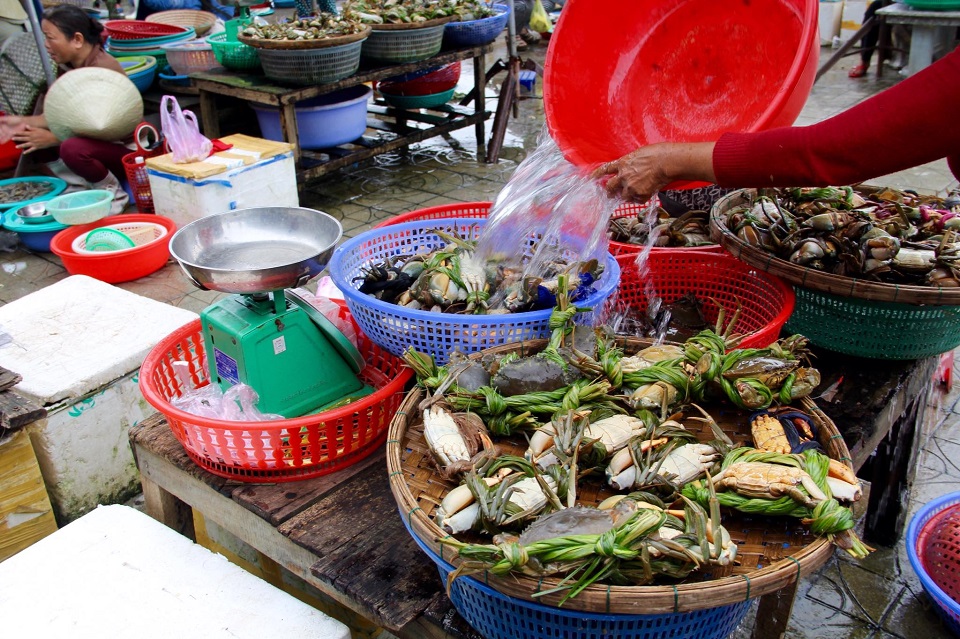 this morning at the market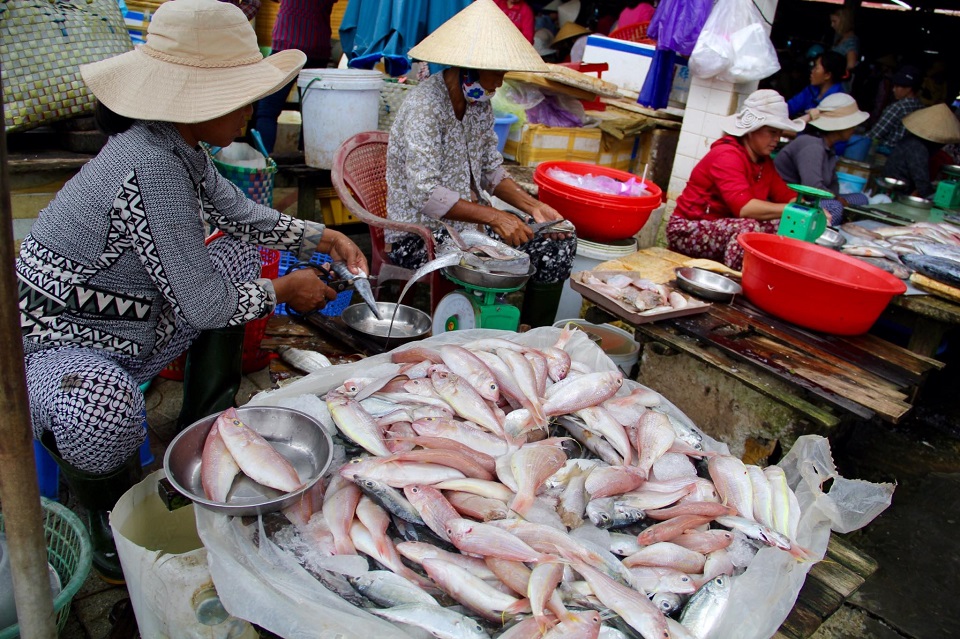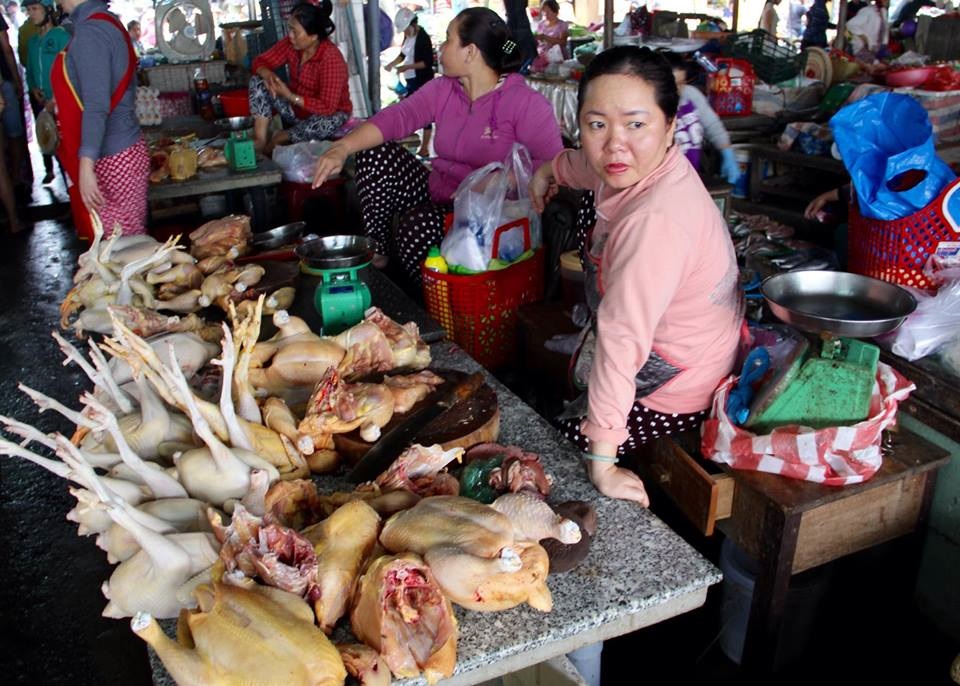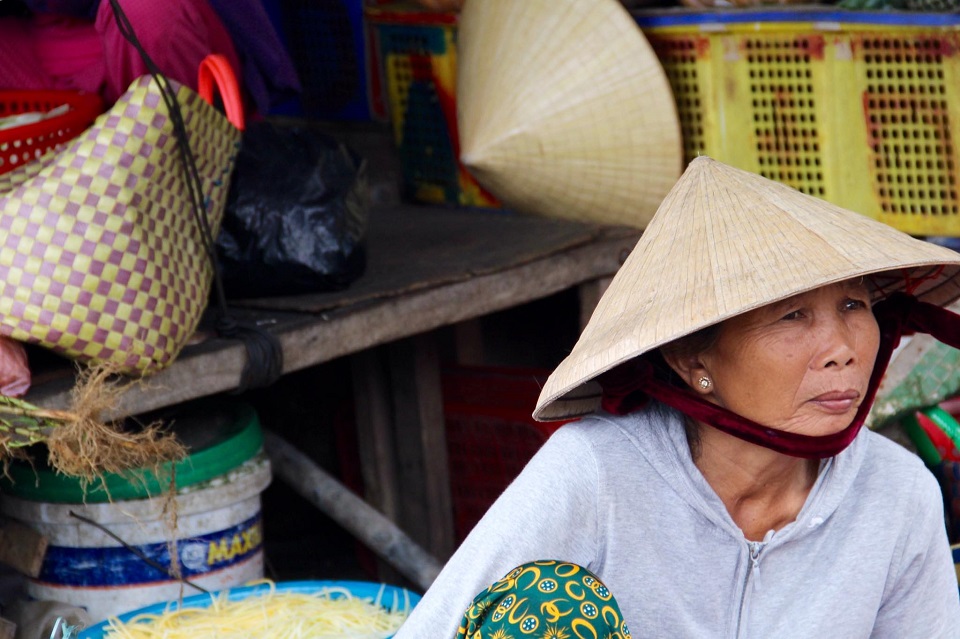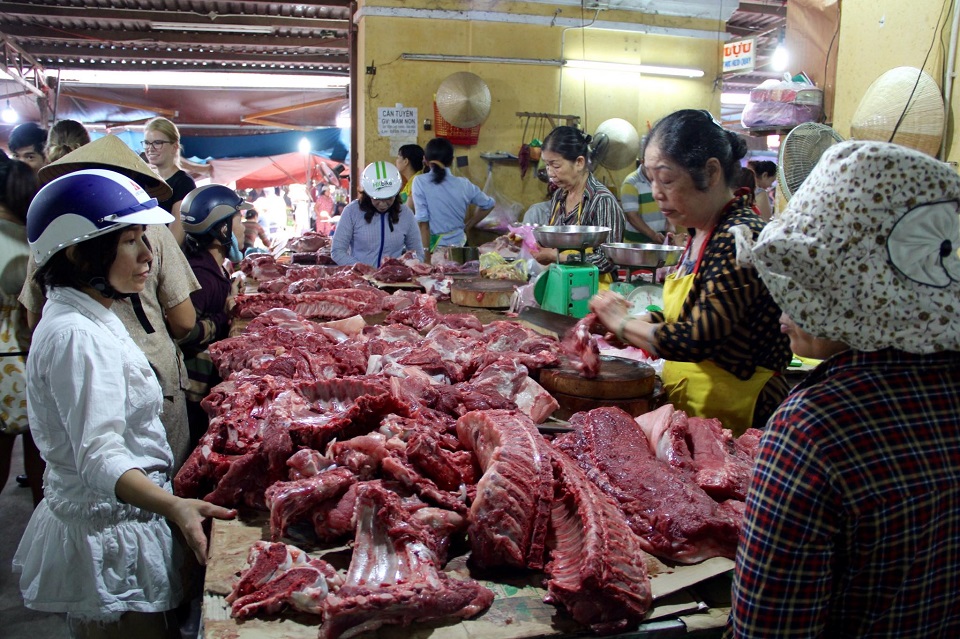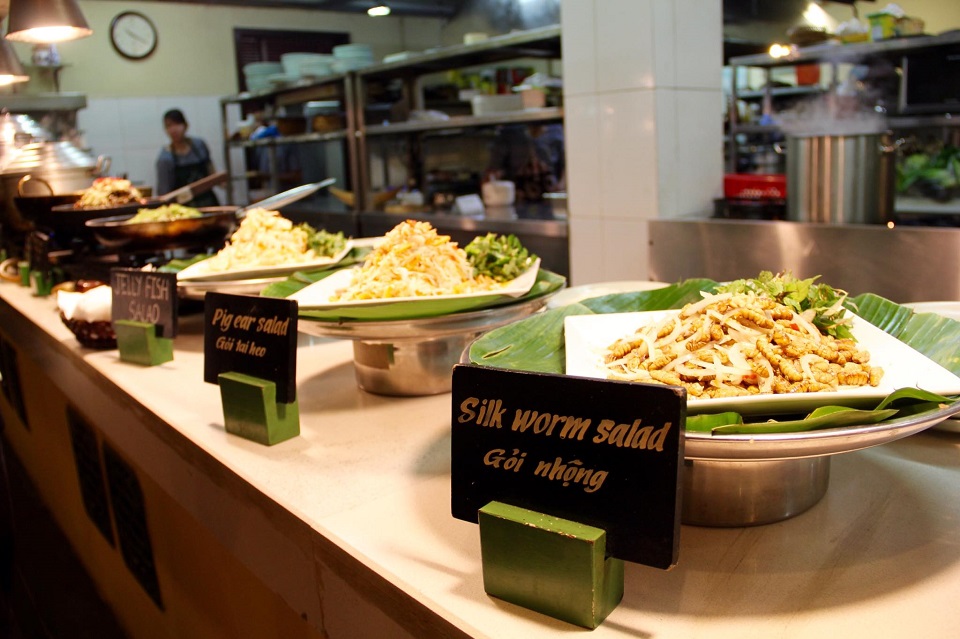 worm, pig ear and jelly fish salad..and no no I did not try, but was the only one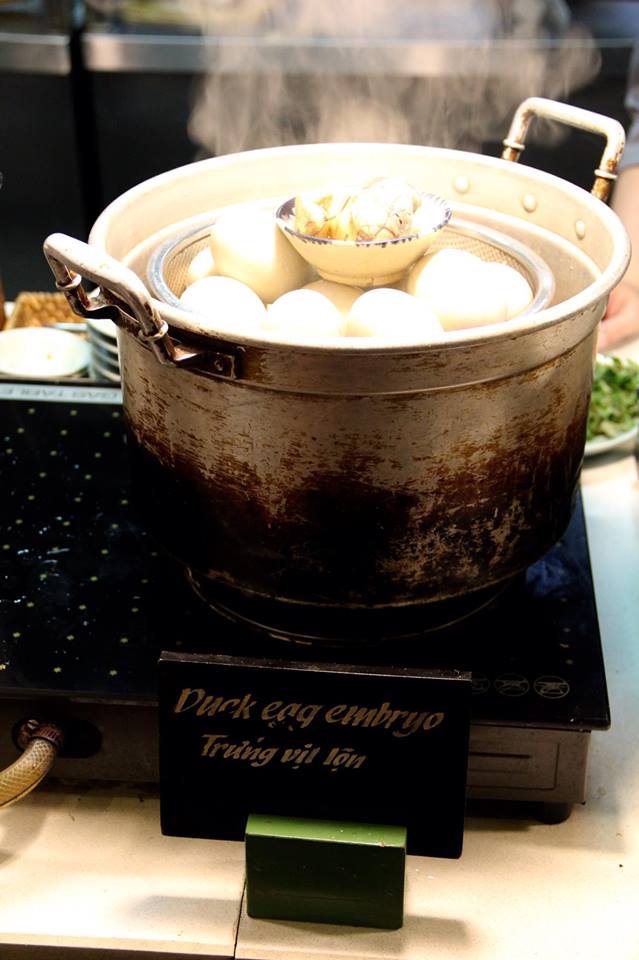 Duck egg embryo! OMG! almost had to throw up!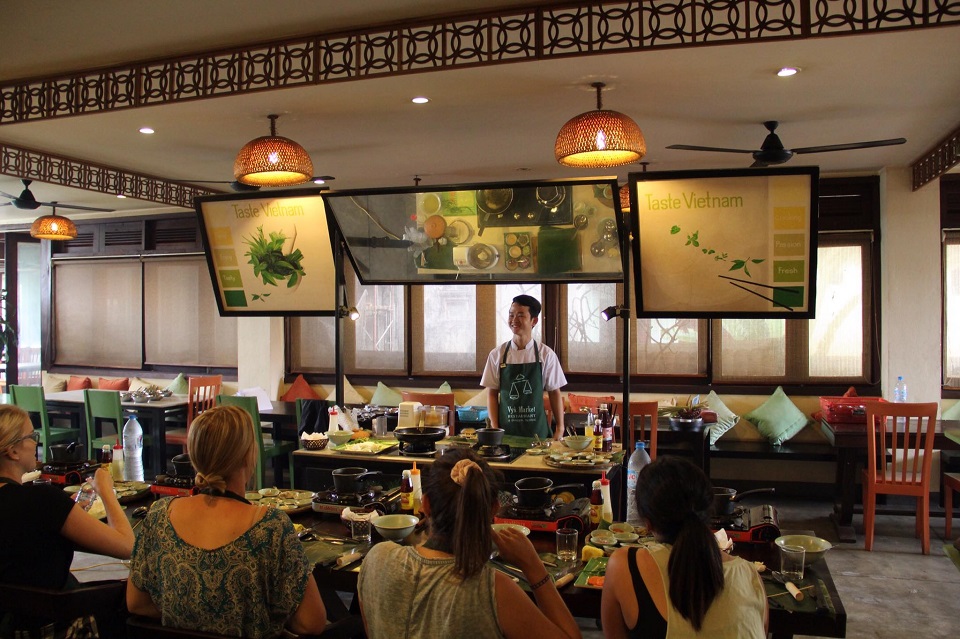 Today in cooking masterclass - taste of Vietnam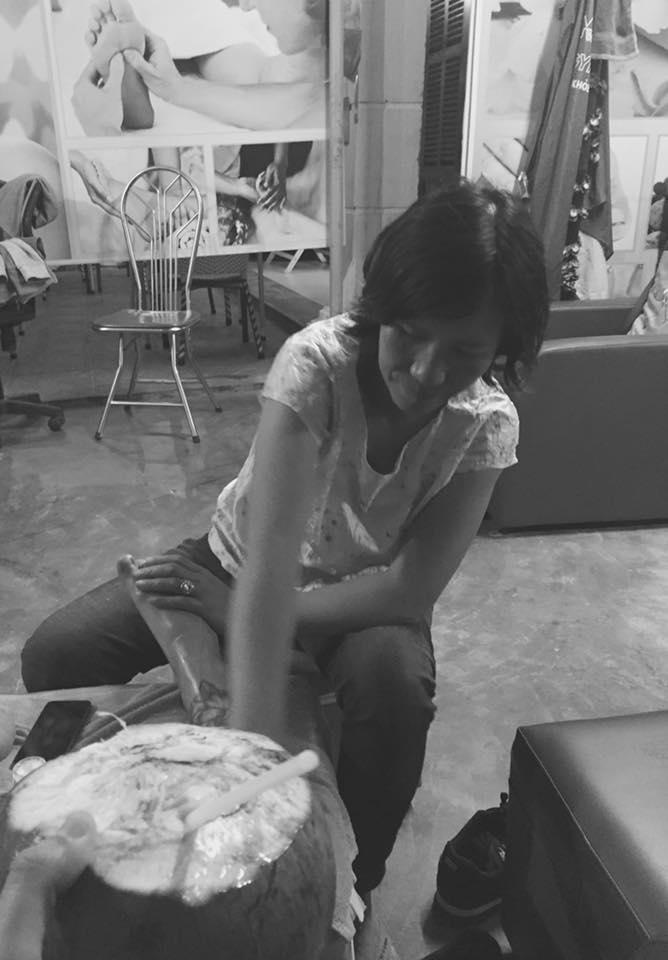 life is good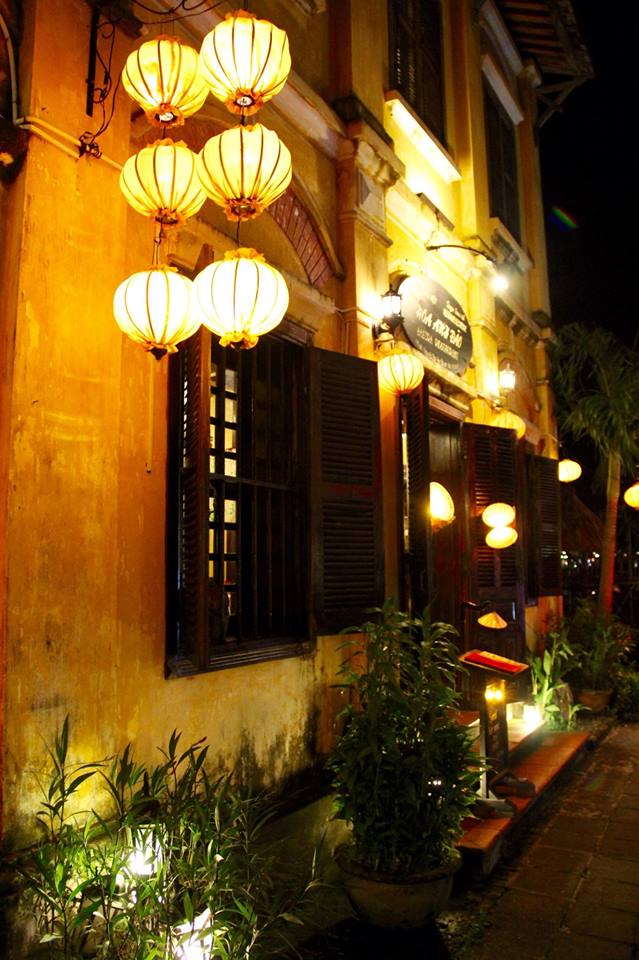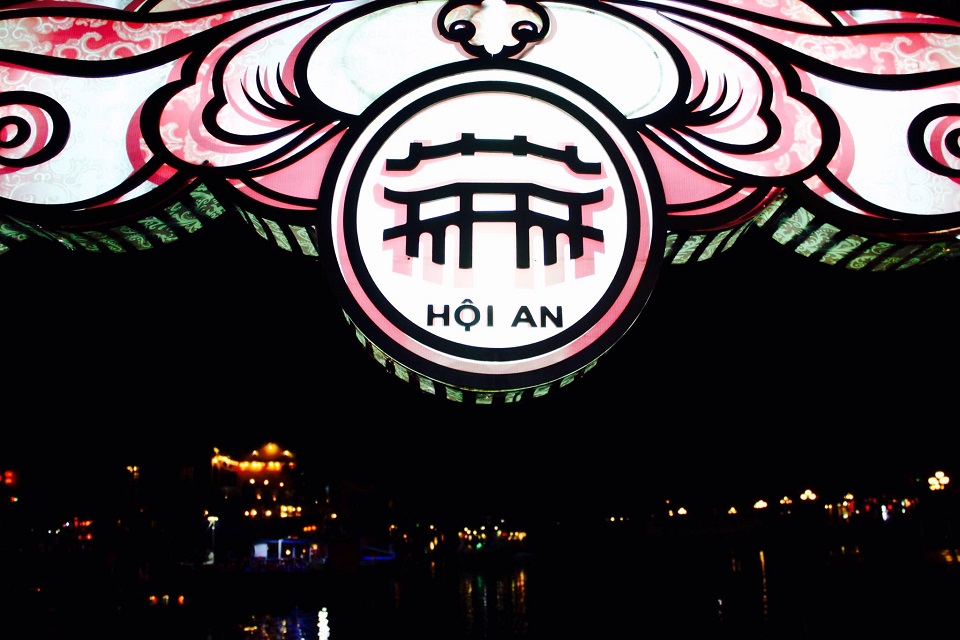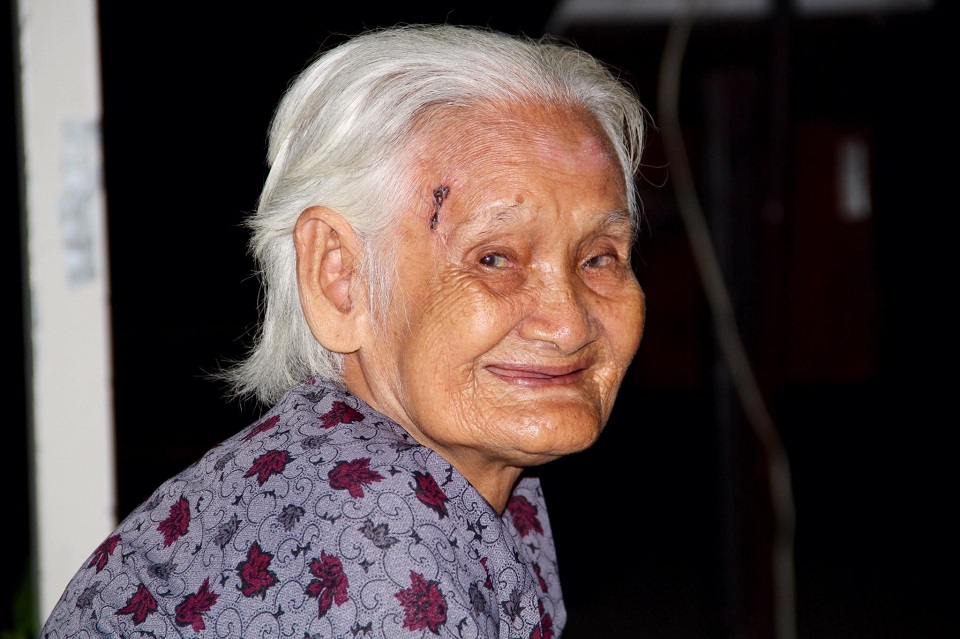 Weather-wise my last day in Hoi An was the worst, it was just pouring down!!! Not really much you can do!
Had coffee with Karen whom I met on the cruise and bumped into this cool Canadian couple living in Hong Kong. She is a pilot for Cathay Pacific (never met a female pilot before) and he is a stay-at-home dad (very cool). They live on a yacht in Discovery Bay and invited me to stay with them when I come to Hong Kong. Unfortunately the airline wont let me change my flight, but I will go back to Hong Kong for sure, I love that city.
They invited me to dinner at Mango Mango, one of the best restaurants in town. We had interesting conversations, they have been all over the world and I got to ask all the questions I had about flying. The benefits pilots get are insane, not to mention the pay! The way Melanie talked about it, made me regret not becoming a pilot as well!
After the 4 days of rain I was happy to leave central Vietnam. Again I had booked flights with Vietjet, one from Danang to Ho Chi Minh City and another HCMC to Phu Quoc, an island closer to Cambodia, but still part of Vietnam. So because they had changed the flight times, I now only have one hour to claim my baggage (lowcost airlines wont check the bags through), check in again, go through security and make it in time for boarding. Cross fingers I'll make it..
Phu Quoc
Vietnam Blog Part 4 - Phu Quoc Island, a tropical paradise
For the 5 people who actually read my blog (probably all part of my family too) and were wondering if I caught my flight...yes I did:-) Only with the help of ground staff though. The flight from HCMC to Phu Quoc only takes 45 minutes. The island is actually closer to Cambodia, but is still part of Vietnam (its biggest island).
White sand beaches and tropical rainforests, just what I was looking for. I just love love love islands, doesn't really matter where: Caribbean, Pacific, Greek...I love them all! I am sure in my previous life I was Polynesian.
When I arrived at my hotel, the Tropicana Resort, I did not regret booking this at all, even though it's not cheap. Beautiful resort with a big swimming pool, lots of palm trees and other tropical plants, bungalows and directly on the beach. My home for the next four days..the only downside to this place: it's full of Russian's!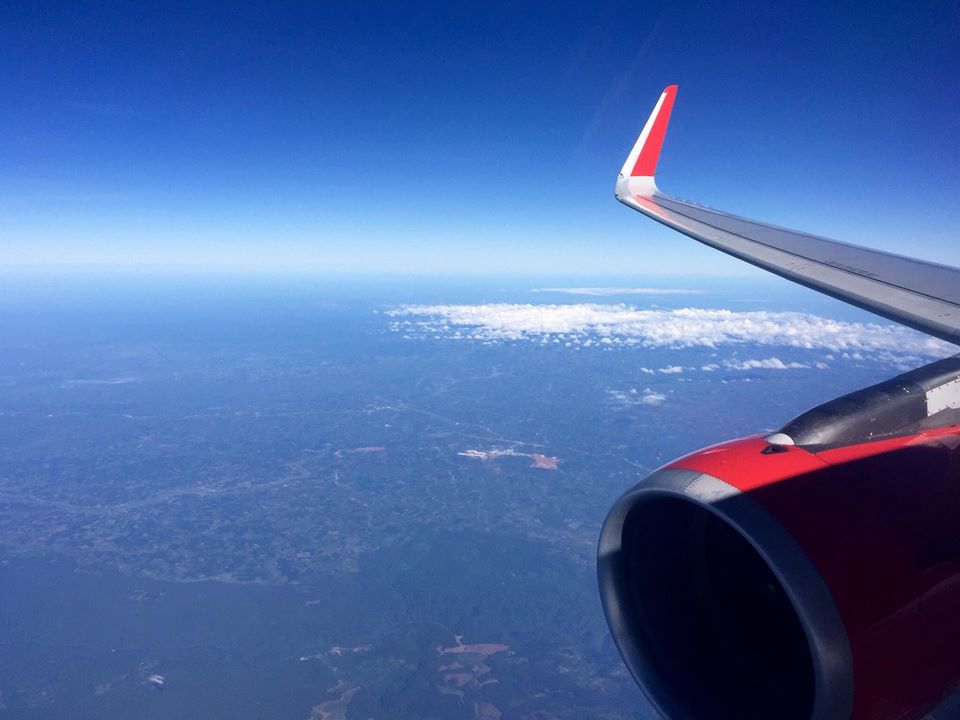 flying from Saigon to Phu Quoc
The first thing I did was rent a scooter, you can't get anywhere on an island without some kind of transportation and I like to be independent and flexible. Am I scared of driving here? No. I adapt really quickly to crazy driving. That one time in Mexico, after one week, I was driving around like a cartel member being chased by la policia. Here everyone honks when they overtake you or sometimes it feels, for no reason. So I started doing the same thing, just honking around like a Vietnamese. They always look confused when they see a white chick with a pink helmet.
In the afternoon I checked out the town, which is kinda ugly, but who cares, the beach is perfect. At night there is a night market that starts at around 5 p.m.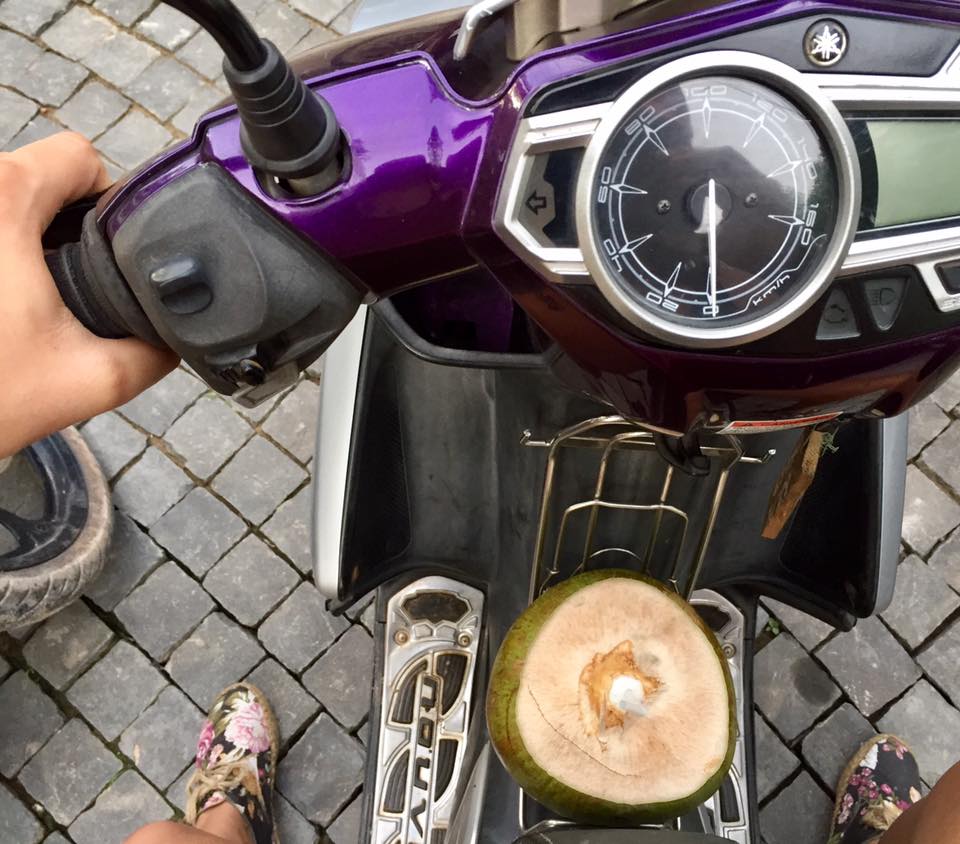 this is how I transport my coconuts, how about you?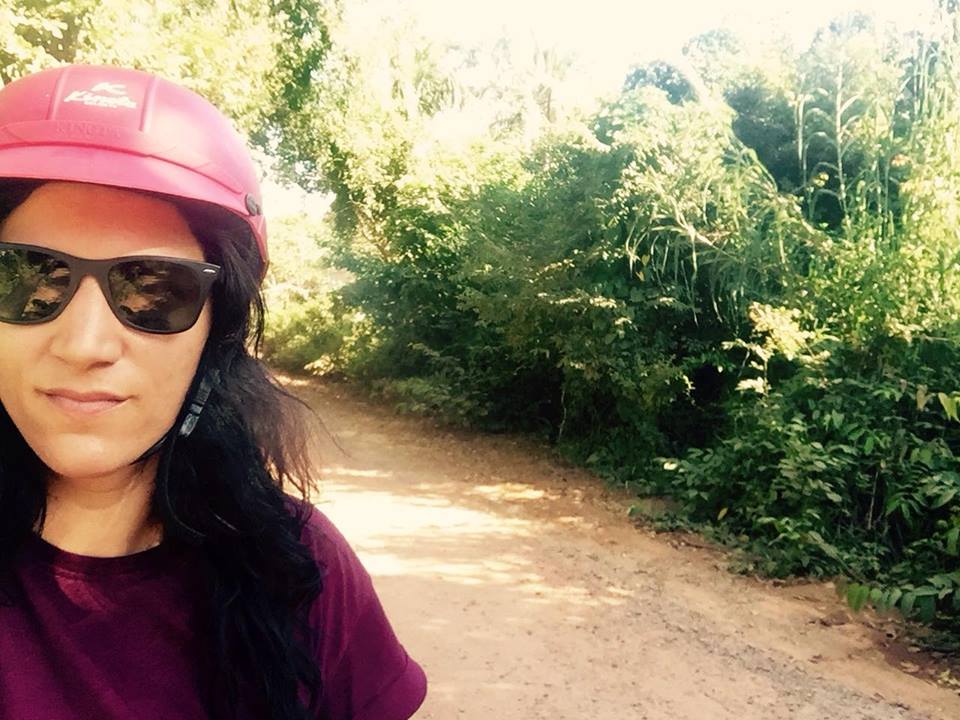 Pink the only color i'll buy a helmet in lol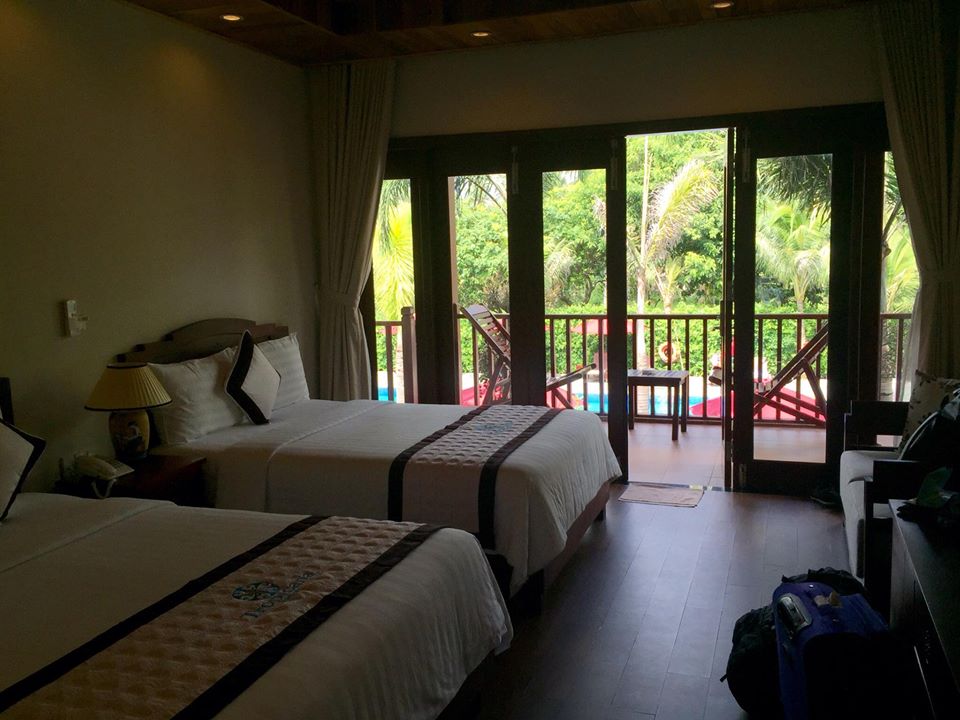 my room @ Tropicana Resort, Phu Quoc

beach @ Tropicana Resort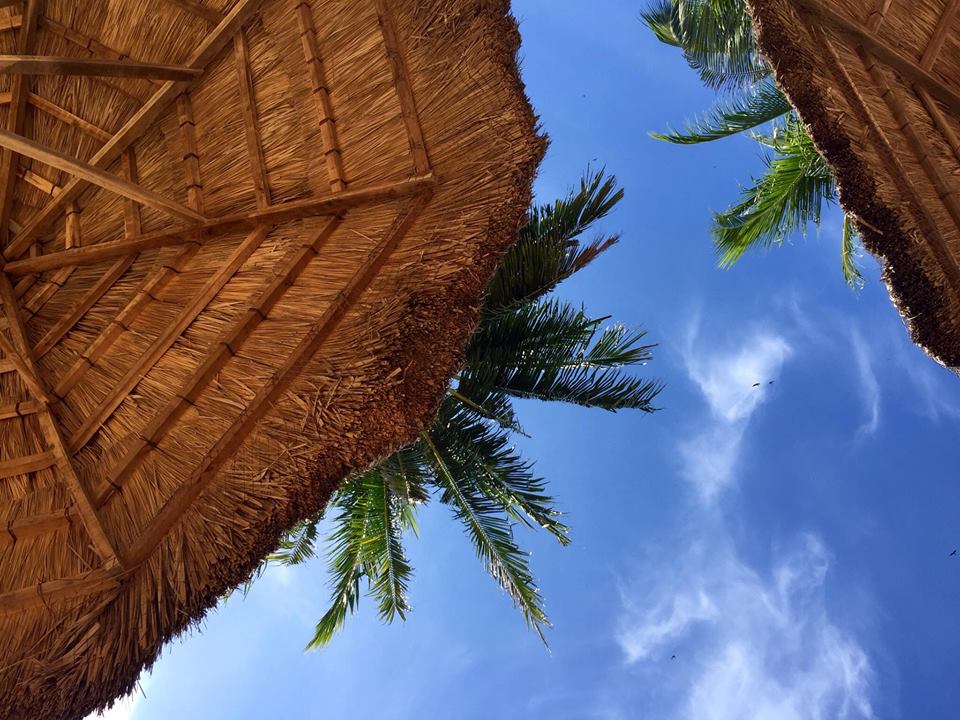 love it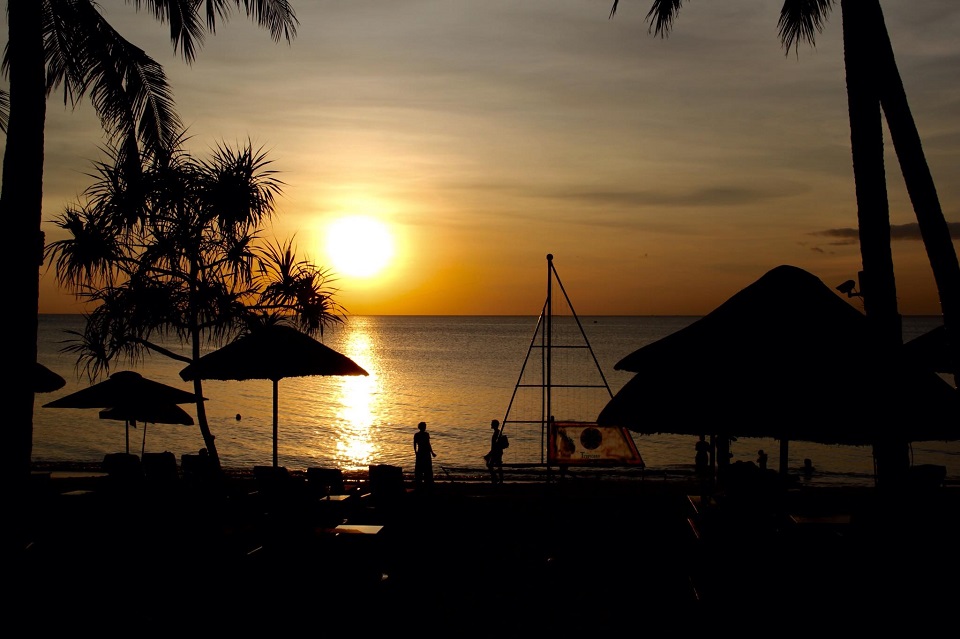 Canon vs...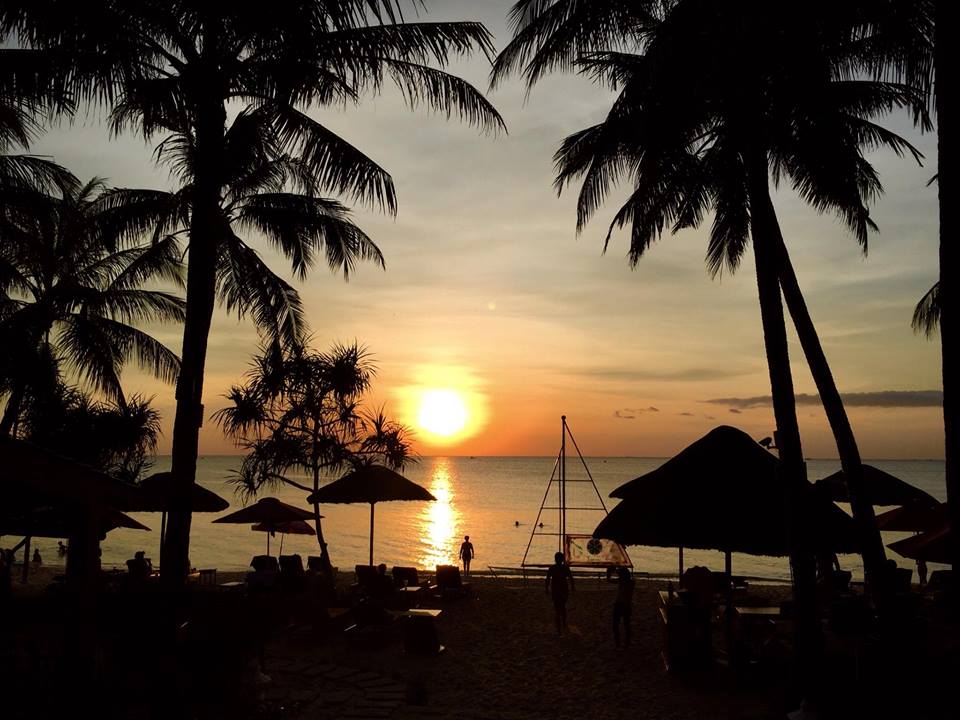 ...Iphone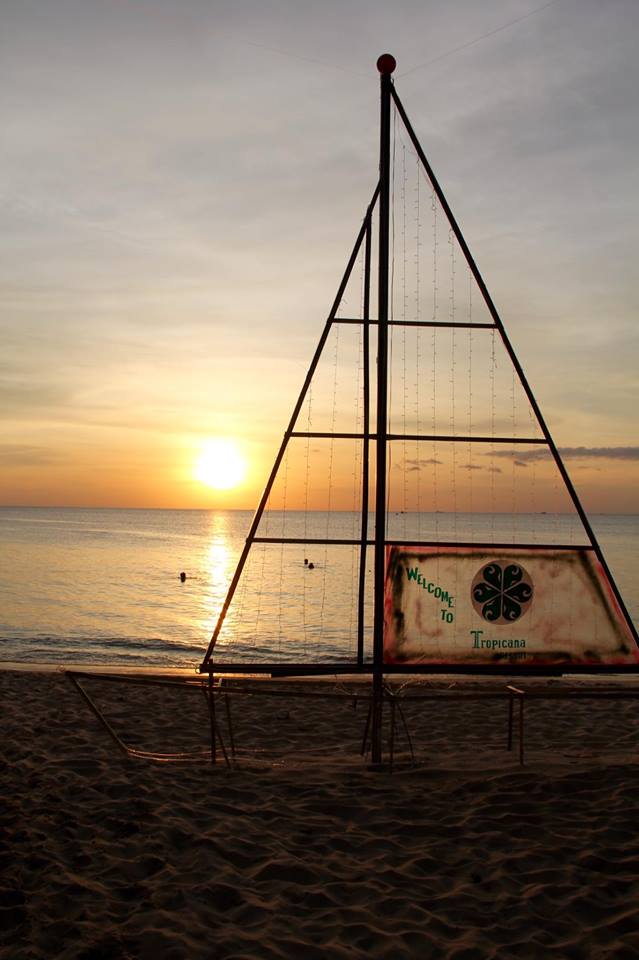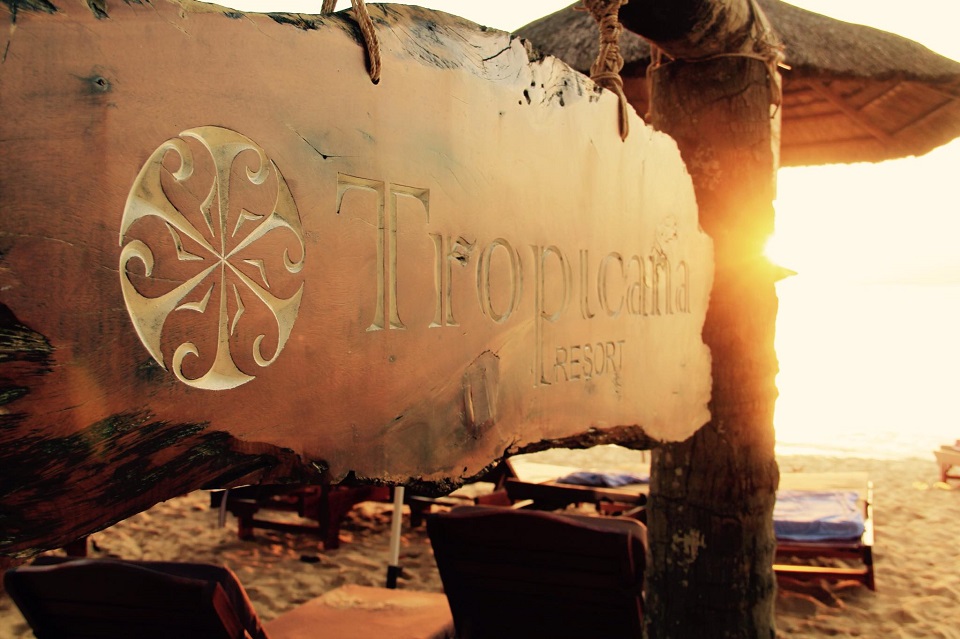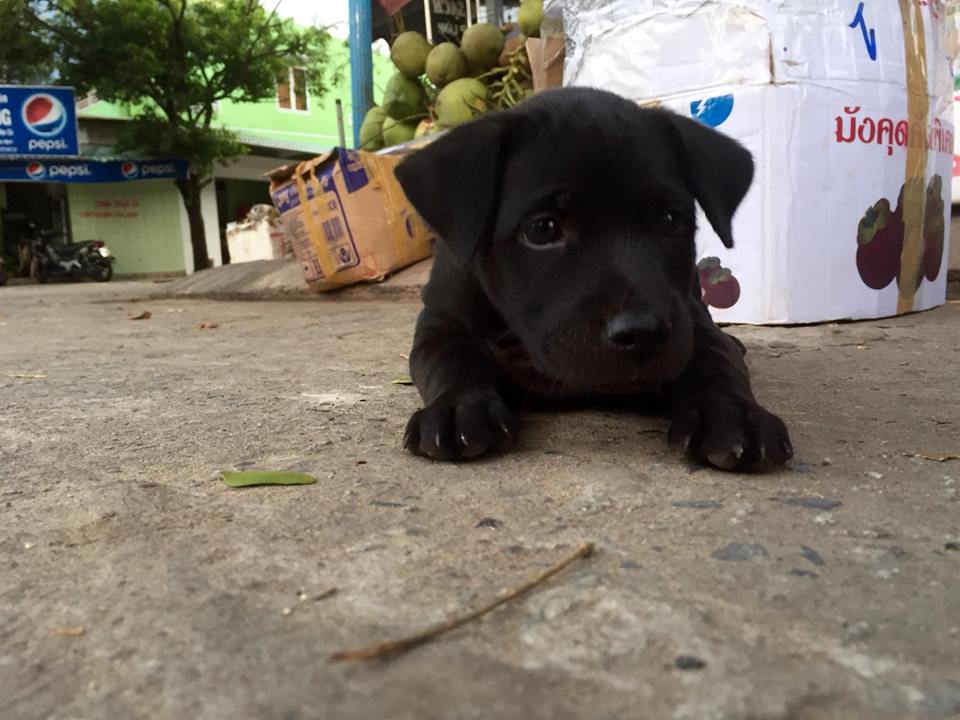 I am taking you with me
😍
The next day I decided to explore the nicest beach on the island: Bai Sao Beach, which was 22 km away. I had a map so I thought I was driving in the right direction, when I hit construction. Then I realized that they are building or rebuilding a highway. All the signs were in Vietnamese, so I kept on driving and it was alot of fun because I was riding on new asphalt with no traffic whatsoever. Sometimes though the road would end abruptly and all there would be is a gravel or dirt road for a few km. Felt like I was dirtbiking, with the difference that I was riding a shitty scooter. Reminder to myself, I wanna try dirtbiking. The construction workers along the way found that hilarious and would wave and smile at me. I did not see any police, which was probably a good thing since I didn't know if I was doing something illegal.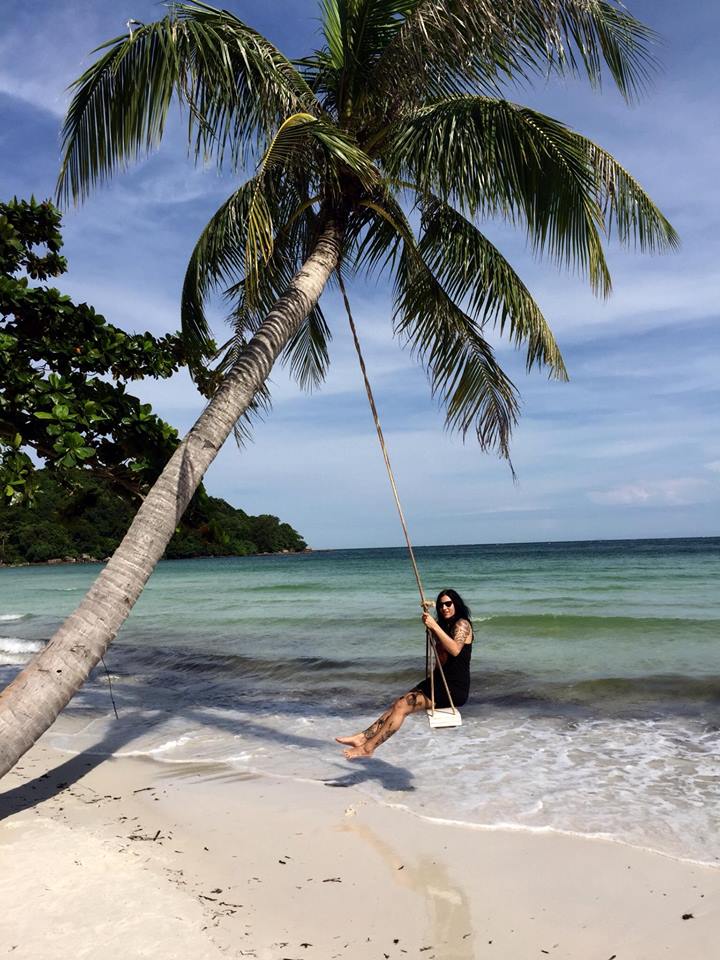 in paradise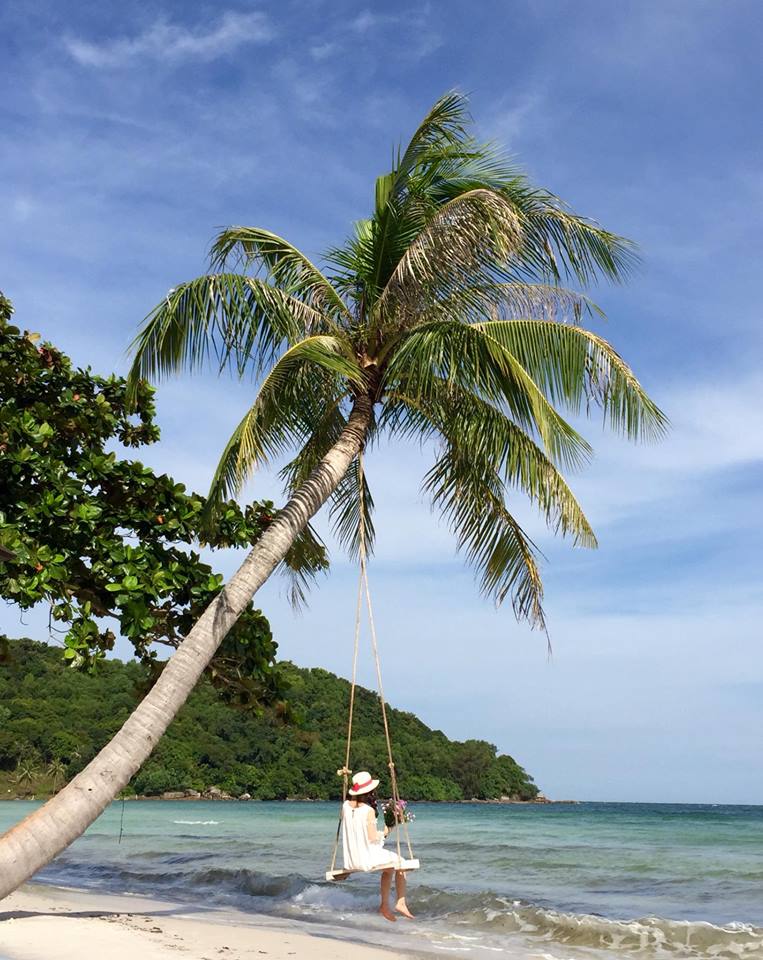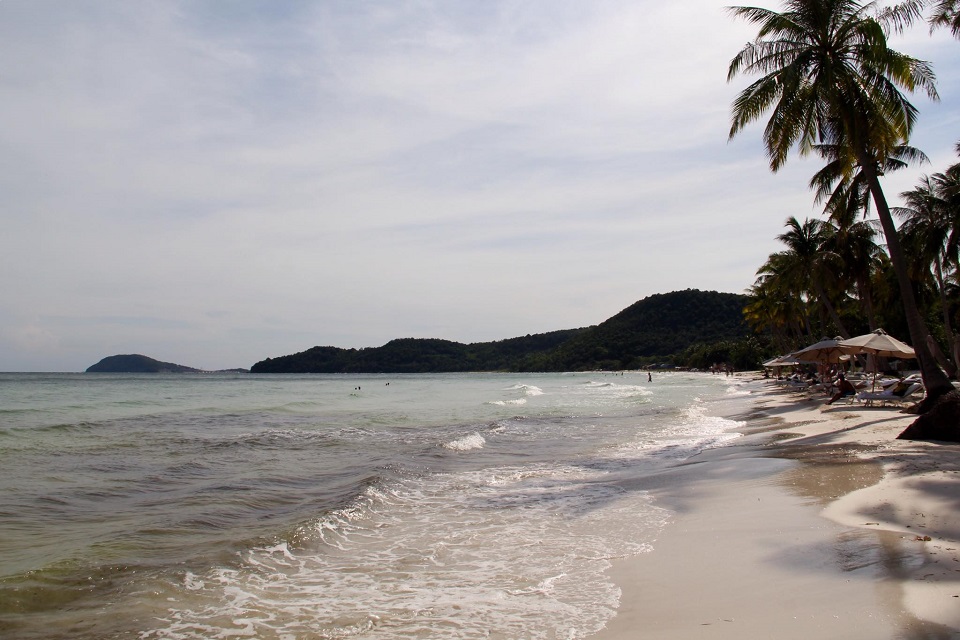 Bai Sao Beach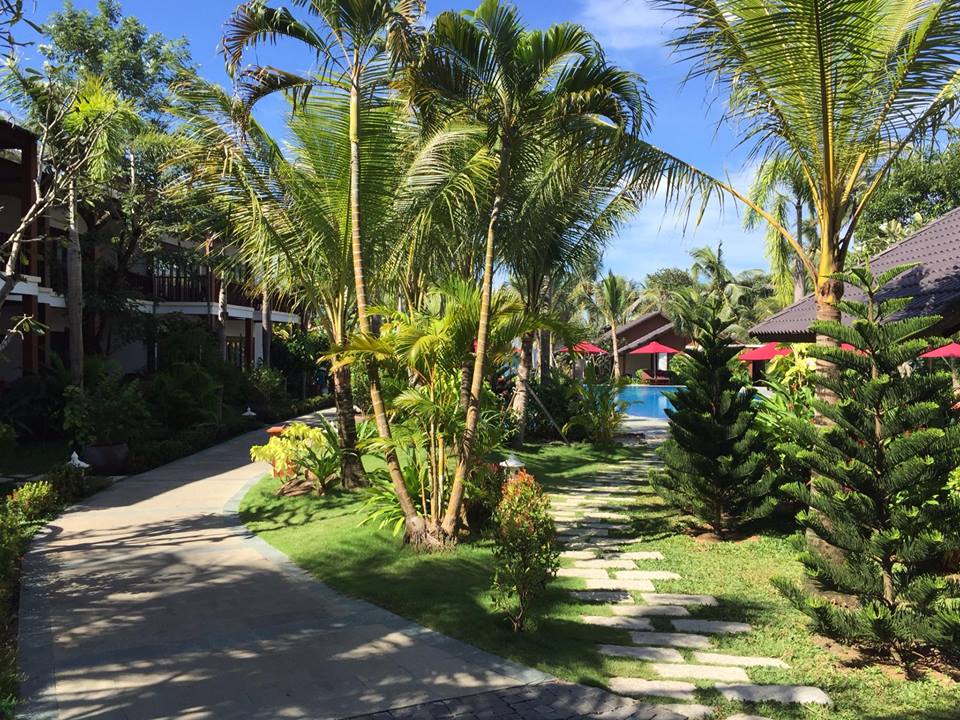 Tropicana, great resort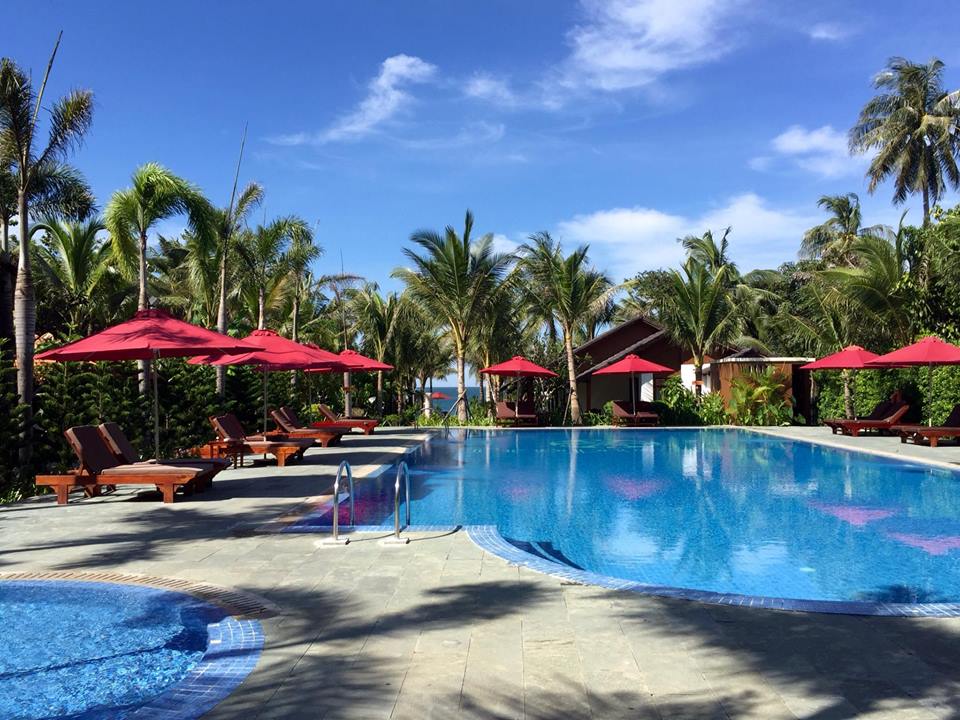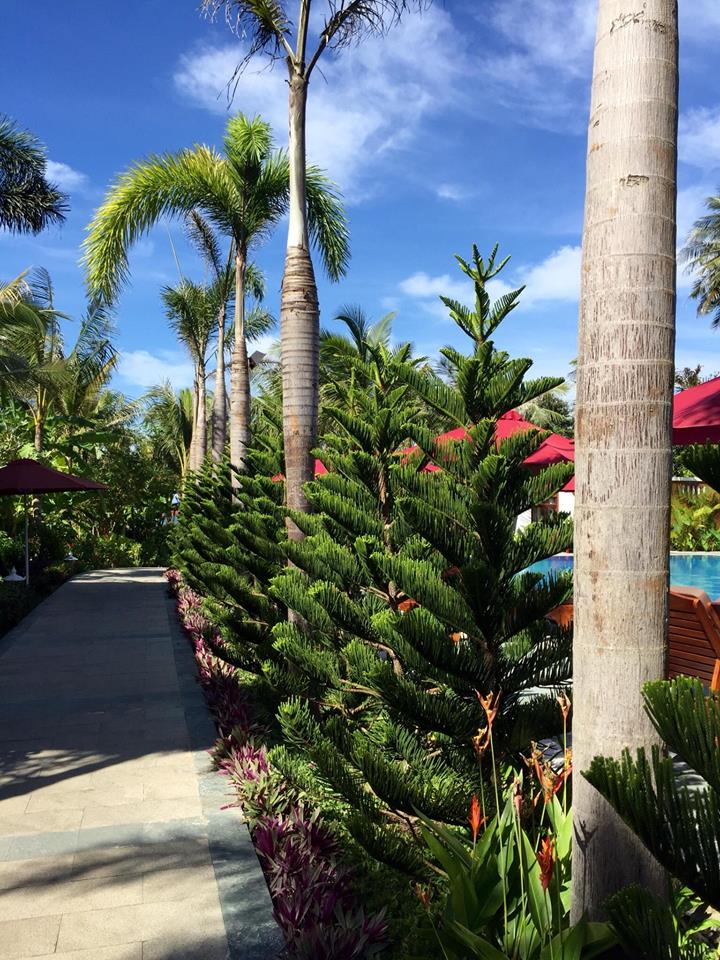 On Tuesday after breakfast I decided it was finally time for a some exercise. At home I am working out 2-4 times a week (TRX Bootcamp, Zumba and Gym), it's the eating healthy part that's harder! Anyway, I found this really cool free app (sworkit) a couple of weeks ago and put on a youtube workout playlist and exercised for 30 minutes. I was sweating like hell in the 30 degrees heat, but felt great afterwards. Then it was beach time combined with a massage of course. I just never get bored...life is short and there's so much I wanna do.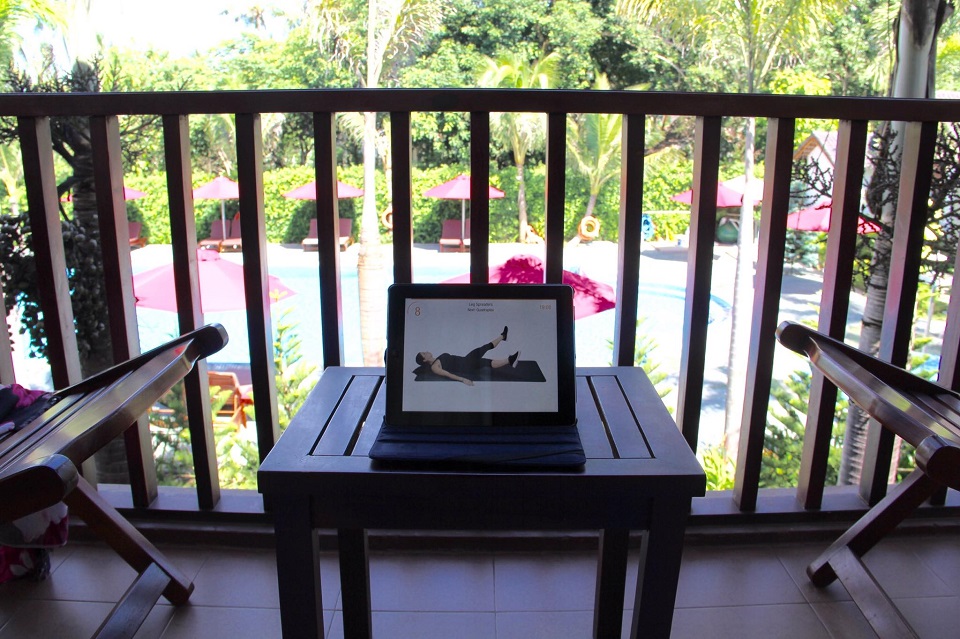 morning workout

Bai Sao Beach - or as I call it: Paradise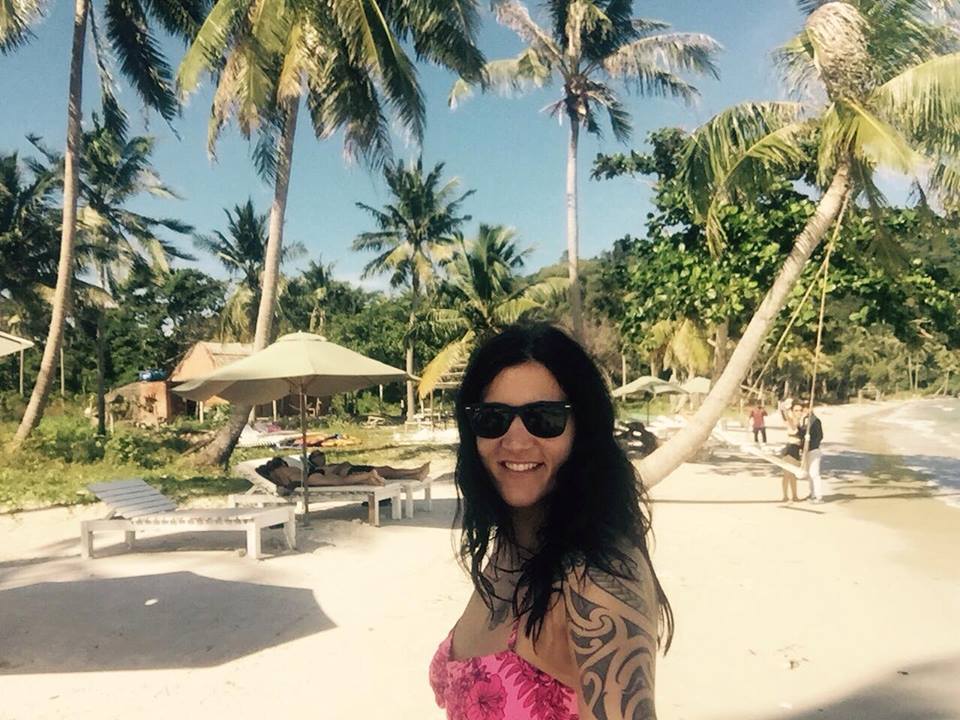 beach time is my favorite time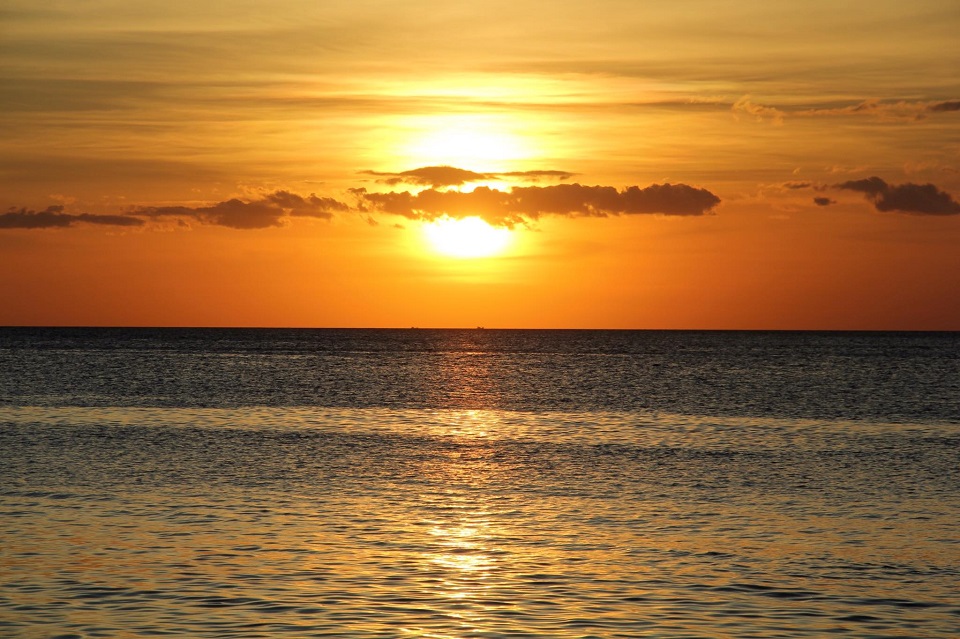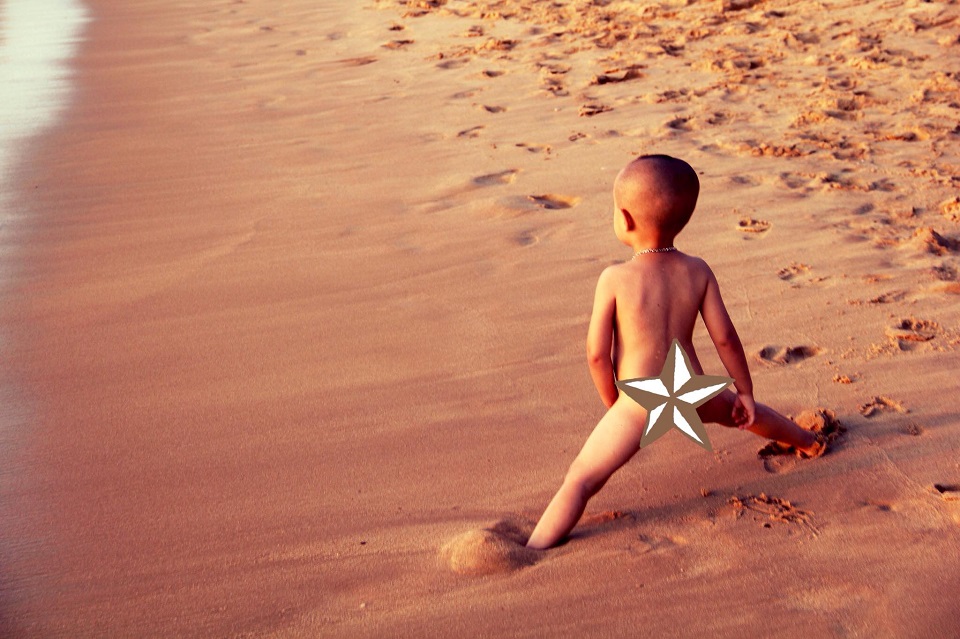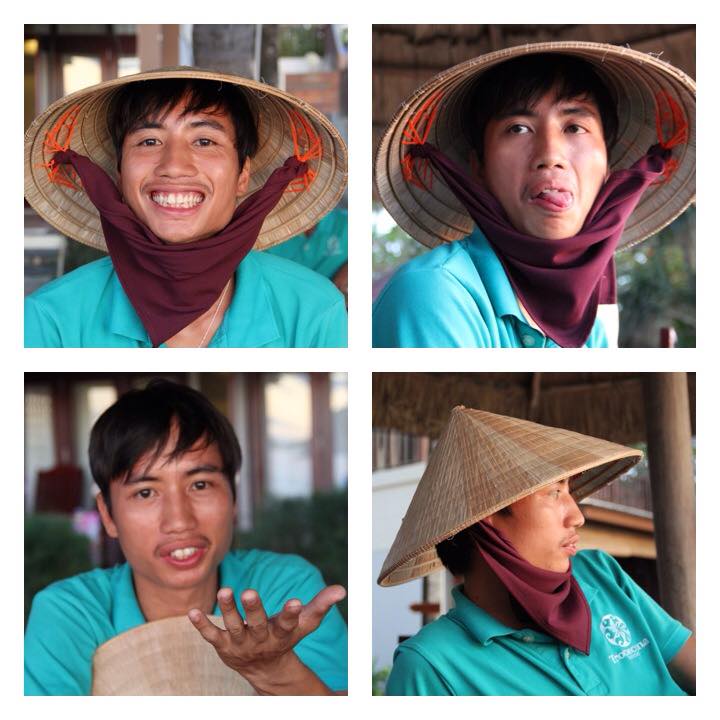 funny dude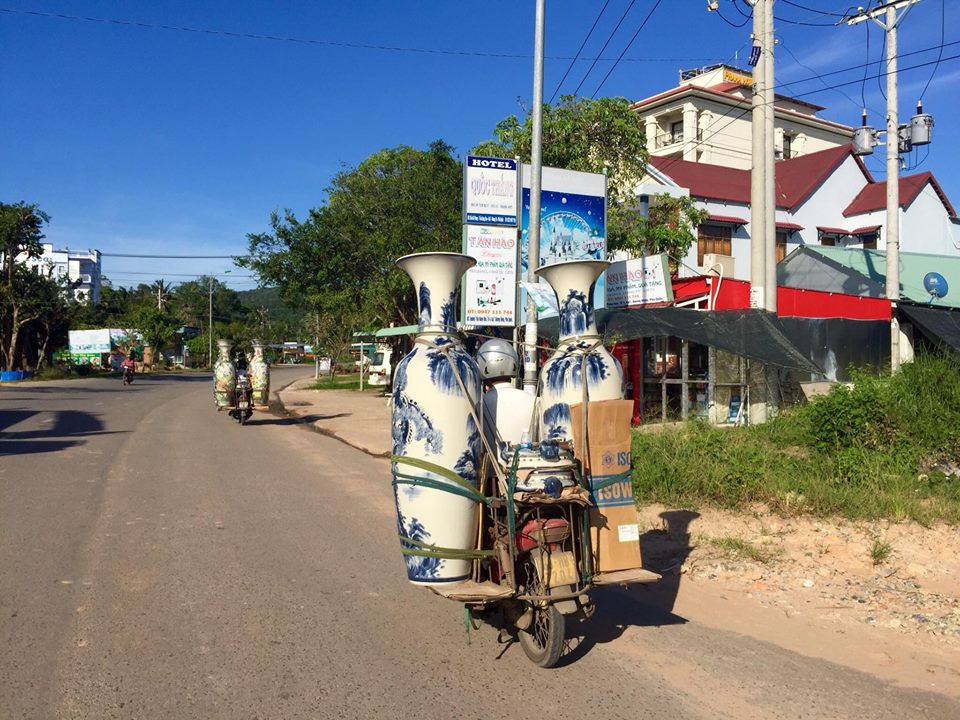 I was just about to throw out a pair of shorts and a t-shirt because they had holes in them, when I saw this older man on the side of the road with a sewing machine (looked antique). He mended both for only $ 1.50 in like 10 minutes, so of course I gave him a good tip.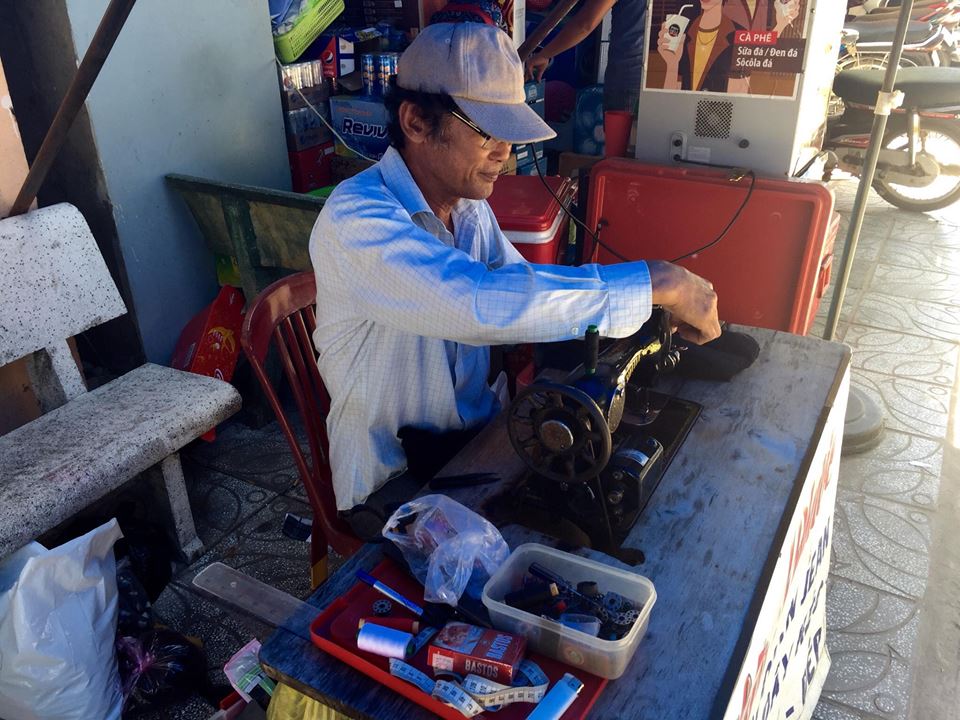 he was mending my clothes for $1.50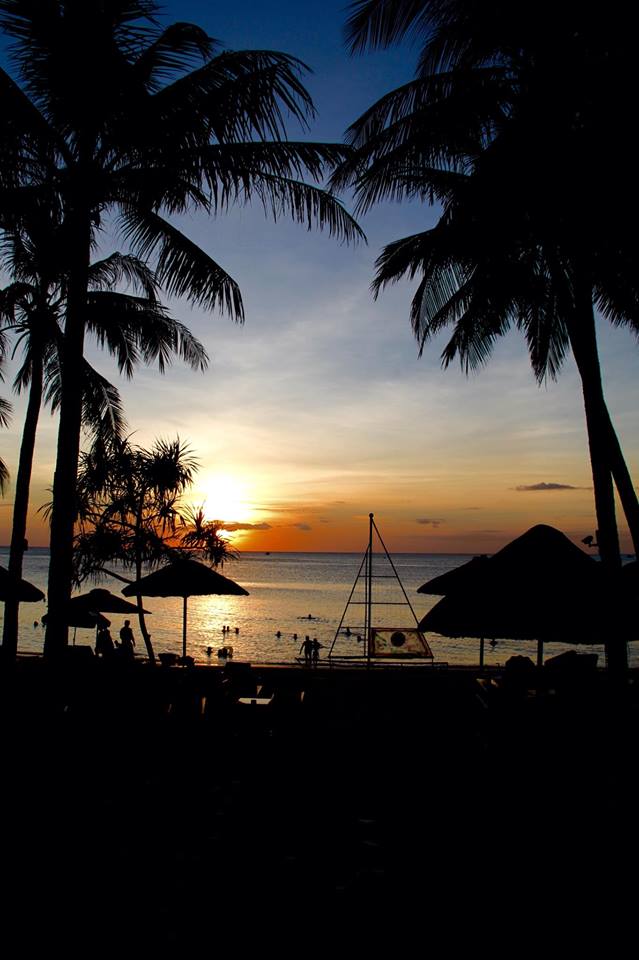 last sunset
After 4 days in paradise it is already time to leave...I left the cleaning crew a few t-shirts and the massage lady my pink helmet. She was very happy about that, I guess she loves pink just as much as I do!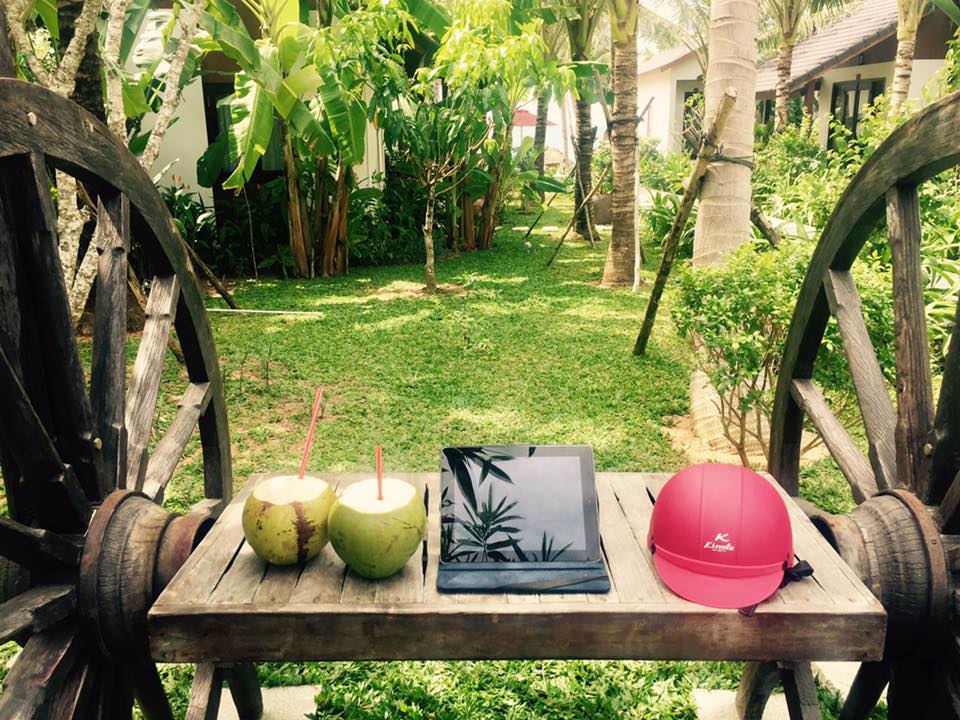 On my second coconut already and it's not even noon yet! #ilovecoconuts — at Tropicana Resort.
Mekong Delta
Vietnam Blog Part 5 - Saigon and the Mekong Delta
When I arrived in Ho Chi Minh City (former Saigon) there was this big rain storm, so landing the bird was quite hard. My hotel (Ailen Garden Hotel $30 per night) was in District 1. I felt like I was in the Hunger Games, always waiting for JLaw to show up and teach me how to use the bow and arrow.
It was already 9 p.m. and I decided to get some food and check out the surrounding area. If you have been to Kao San Road in Bangkok, you know that's crazy, but Bui Vien Street in HCMC is another league.
So guess what, that night I was thrown out of a restaurant for the first time in my life and not because I was drunk, on the contrary. For those of you who know me well, I hardly drink any alcohol. So long story short: I walked into this random restaurant and a guy called my name. It was the German doctor whom I met on the streetfood tour in Hanoi (small world!). He was sitting there with a few other people and asked me to join. Then this woman (must have been the owner) comes up to me with this mean look and asks me what I want to drink. I said a water please and she answers No No you go away! I thought I misheard, so I am like okey a soft drink. And she's like no you leave right now! Pardon me, what did you just say? You not want to order alcohol you leave restaurant right now! You have got to be kidding me!!! I was shocked! The other guys were stunned too and said that they were all gonna leave. I told her that she was the rudest person ever and to f off! So the whole party left with me and we went to the bar across the street where I was allowed to consume a non-alcoholic beverage!
When I got back to my hotel, I went straight on tripadvisor to write a really bad review. I read the other reviews and they were mostly terrible ones. A few people even telling the same story as me.
The next day I had to be at the Saigon Opera House at 8 a.m., pick up point for the Mekong Delta Tour with Intrepid Indochina. When everyone introduced themselves, I realized that I was the only non-American.
The Mekong Delta is the region where the Mekong River approaches and empties into the sea. The drive there was approx. two hours. When we got to the Delta, we boarded a boat. We visited different islands, ate fresh tropical fruit that was growing there and saw how the local people supported themselves by fishing or producing coconut products like candy, oil etc. Linda our guide was very professional and gave us alot of useful information.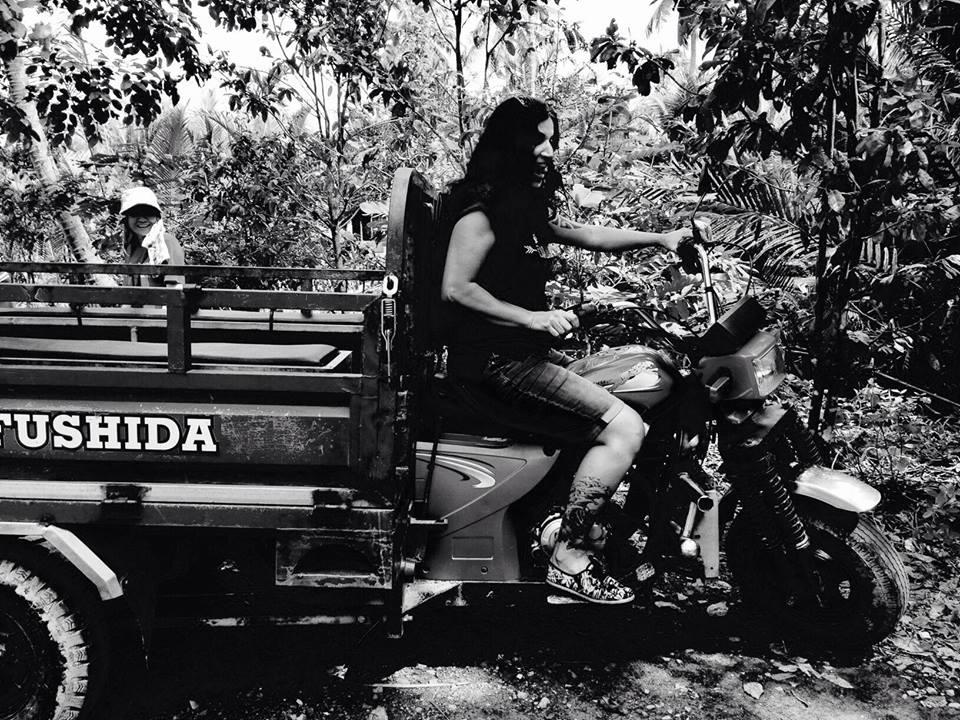 when I became a Tuk Tuk driver in the Mekong Delta...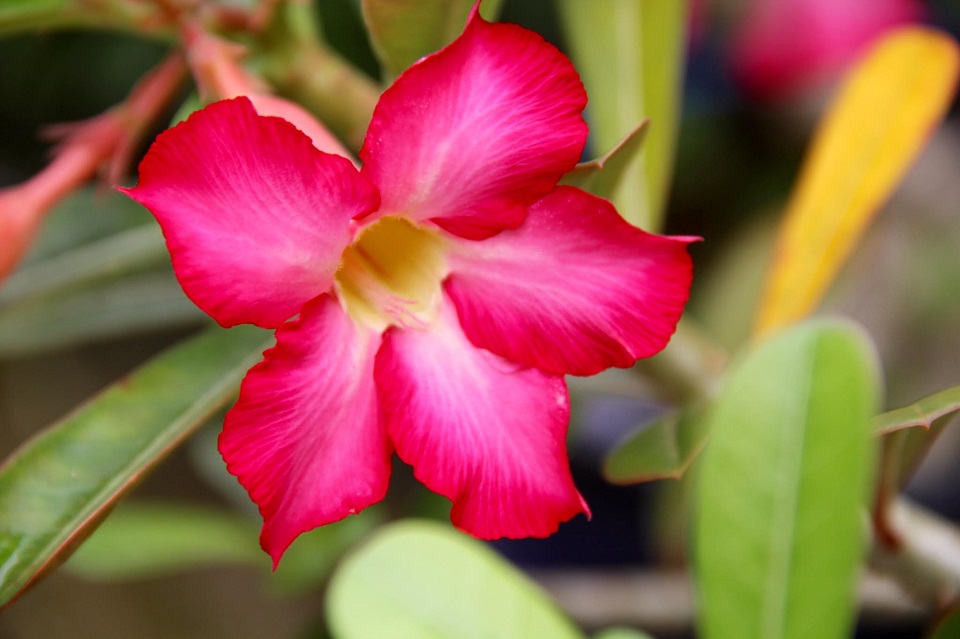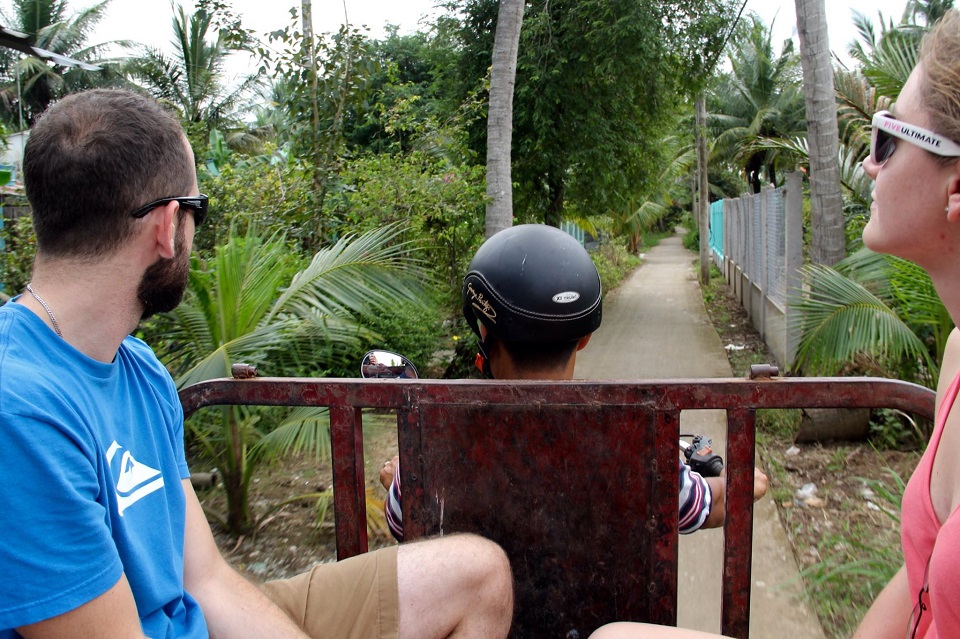 in the Mekong Delta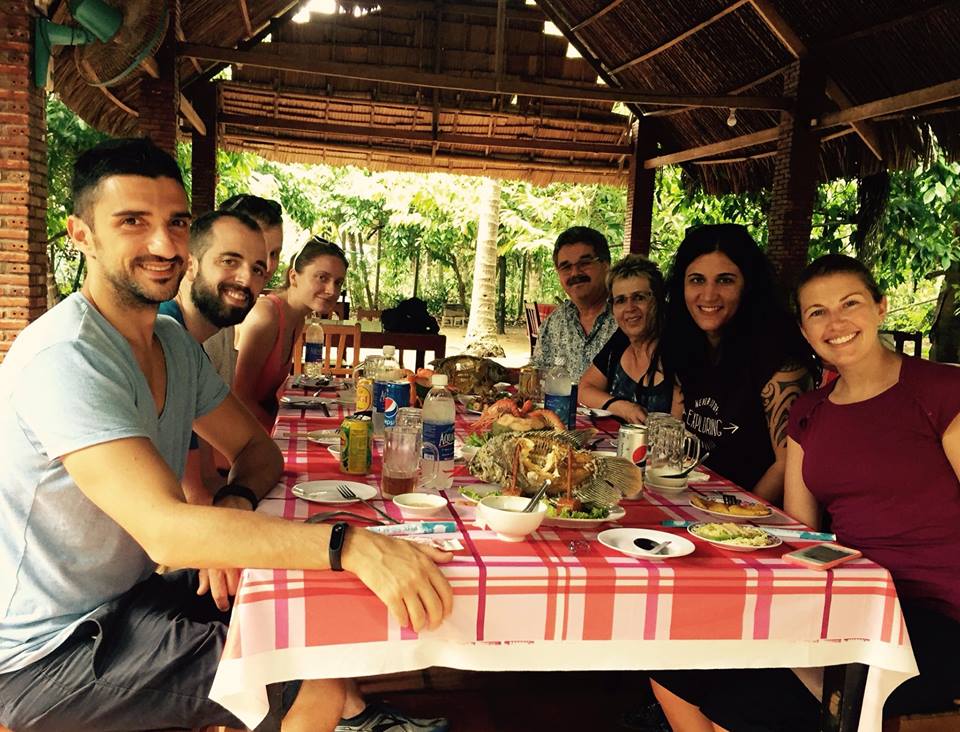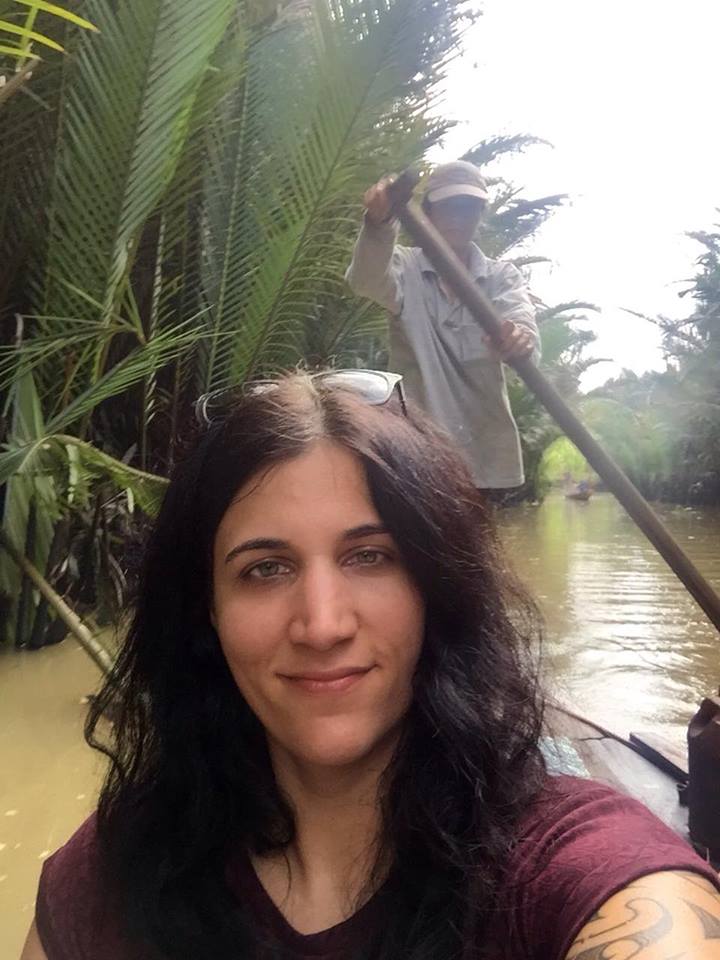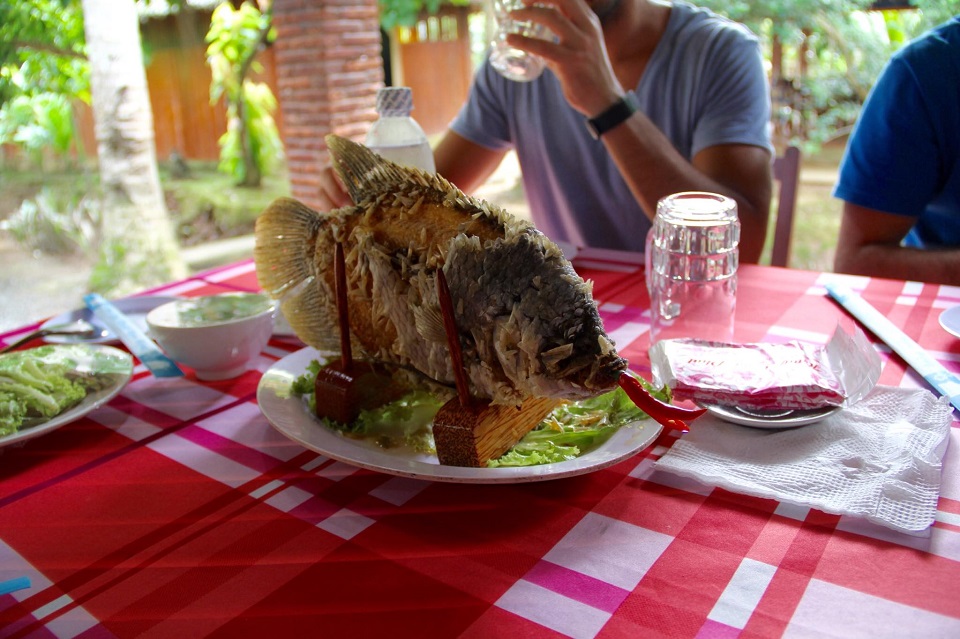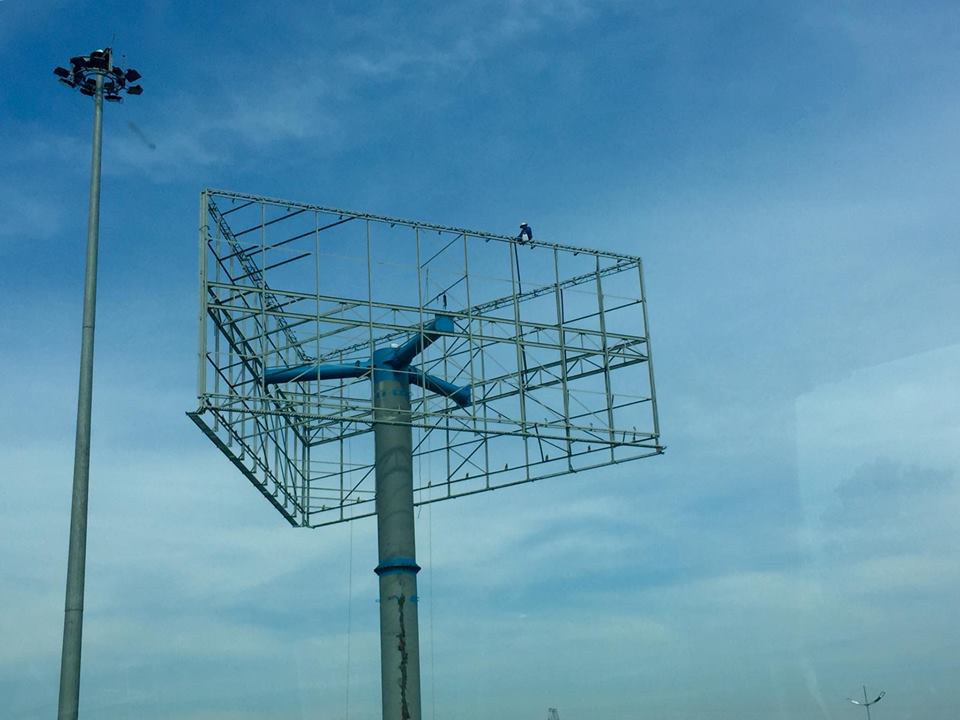 this guy likes the danger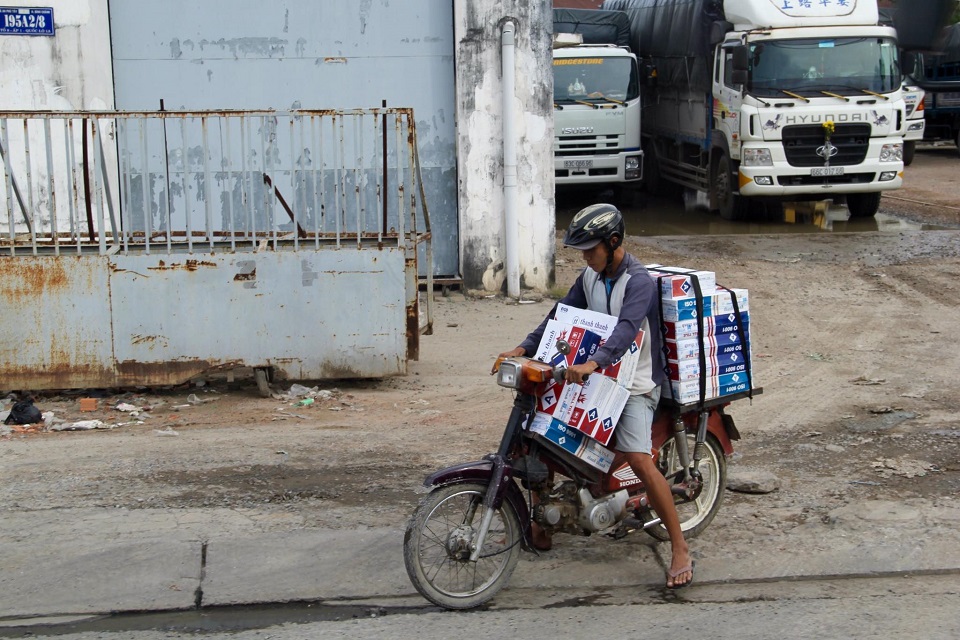 muahaha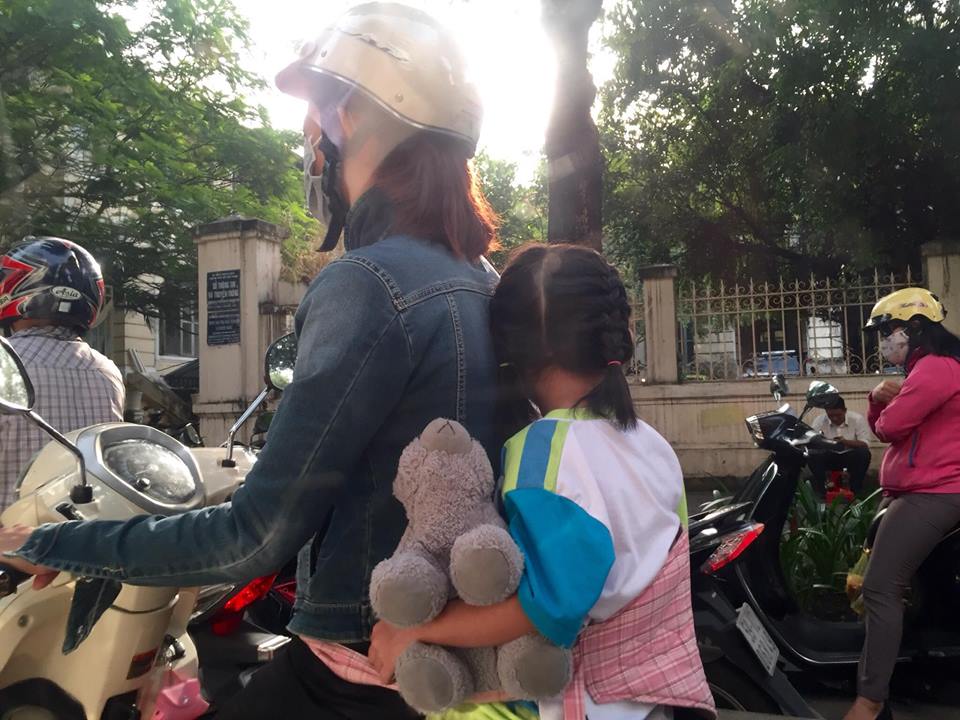 When I got back to Saigon and older man on a motorbike approached me and asked if I wanted to do a two hour city tour with him (on the back of his bike). He said it would cost me $8 and because he seemed trustworthy, I agreed. Dong showed me all the sights like the Notre Dame Church, the post office, the Saigon river and because this guy did a really good job, I invited him to dinner. He said I was the first person not being afraid of the traffic here lol. At the end of the tour, he dropped me off at the night market where I bargained for shoes and bags.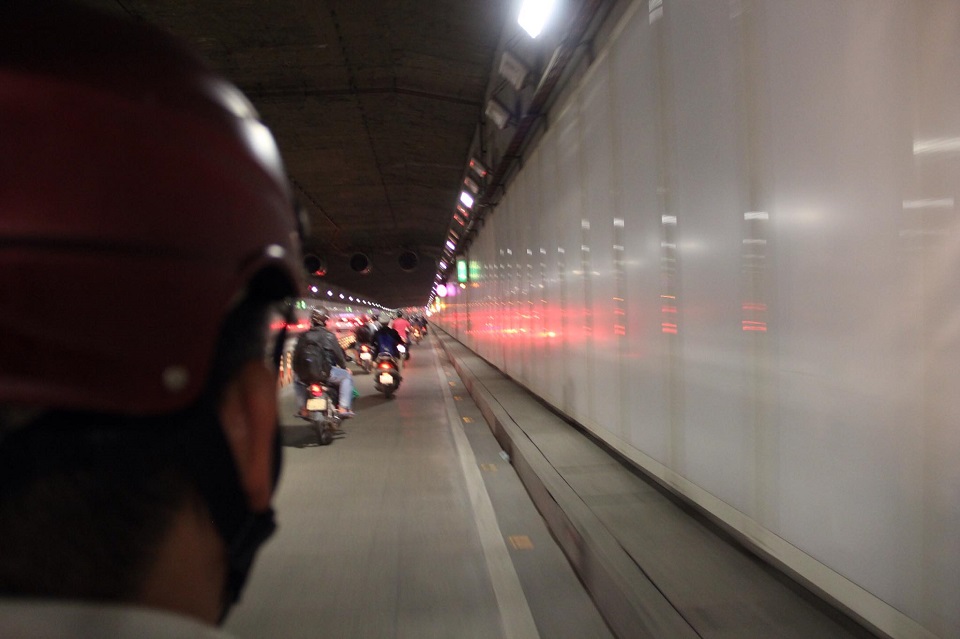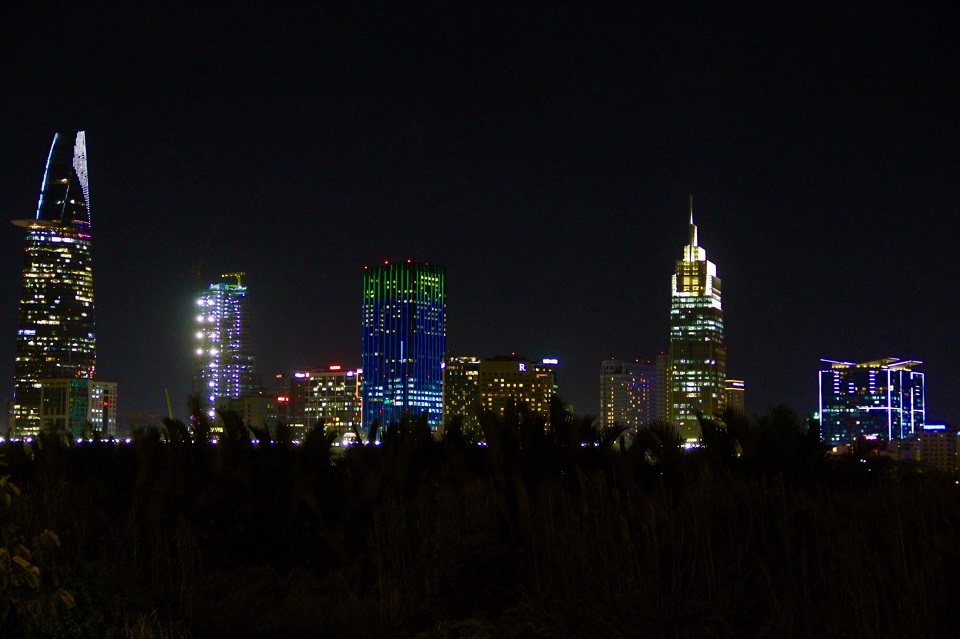 skyline of Ho Chi Minh City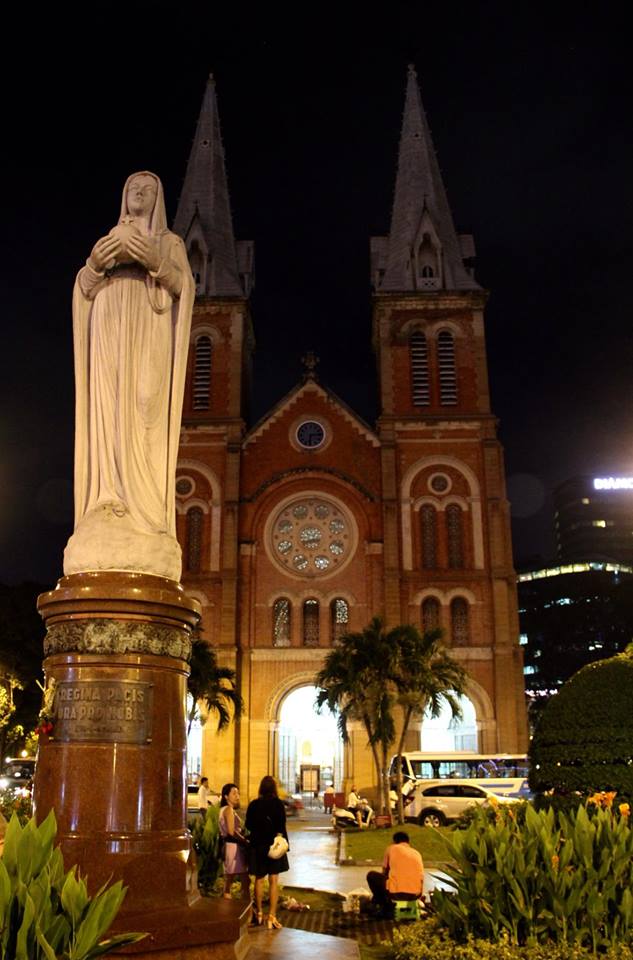 Notre Dame church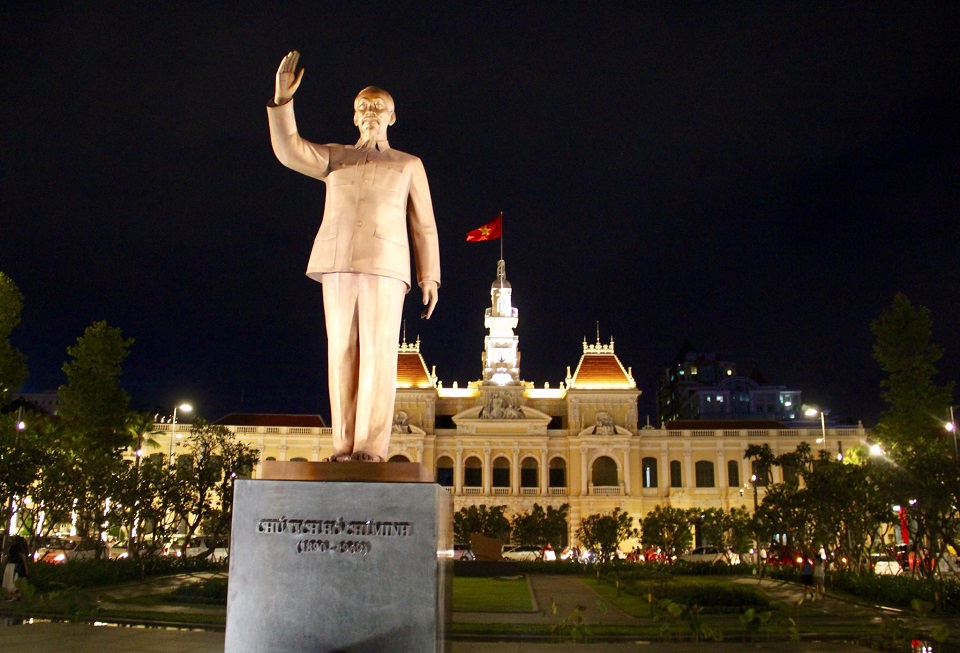 city hall with the Ho Chi Minh statue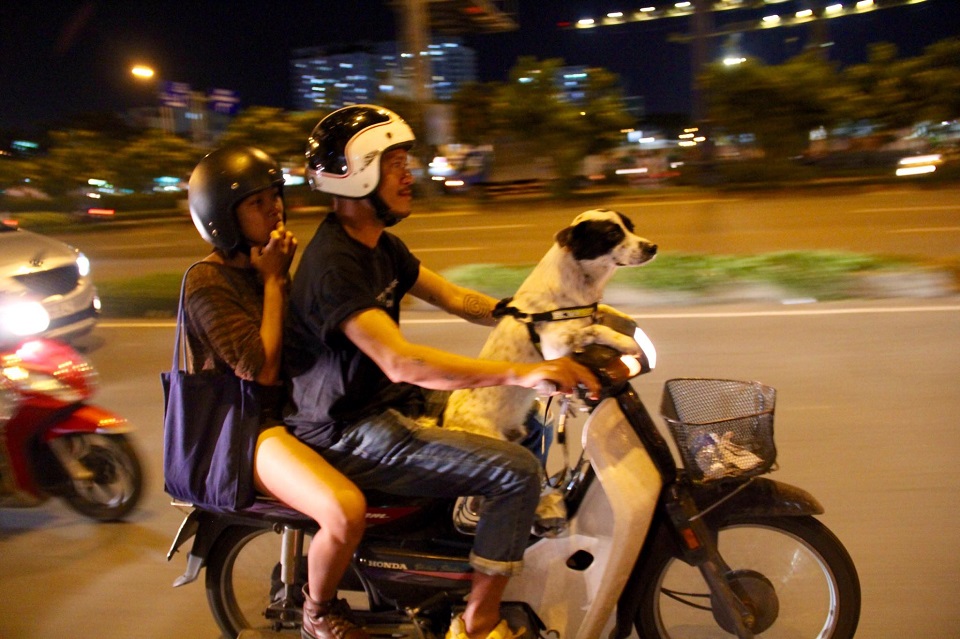 too cool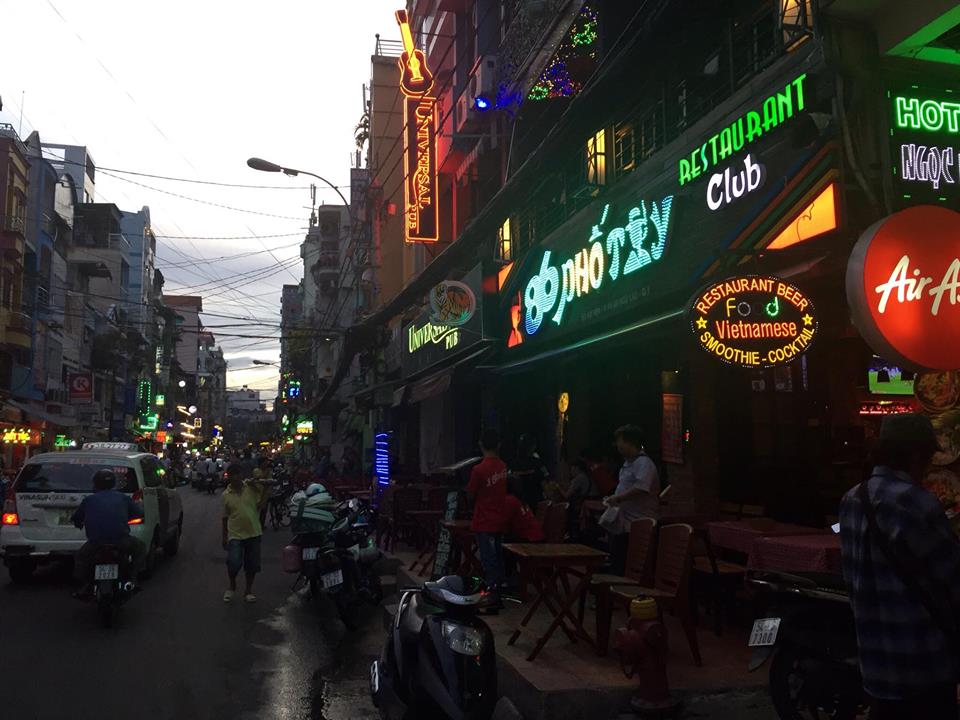 Bui Vien street — in Ho Chi Minh City, Vietnam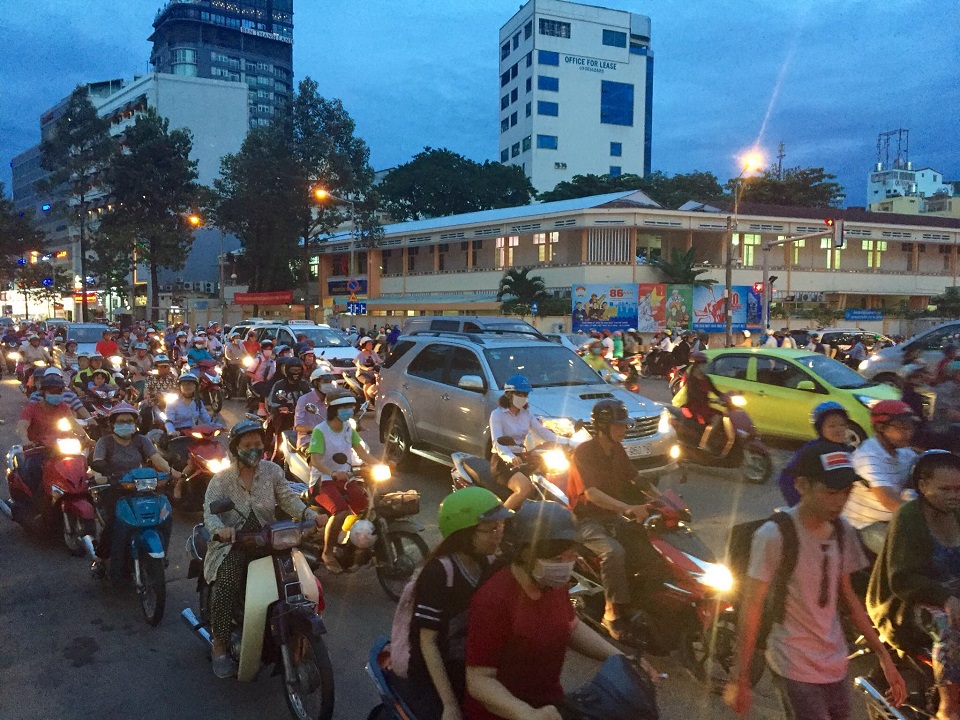 traffic in Saigon just as crazy as in Hanoi!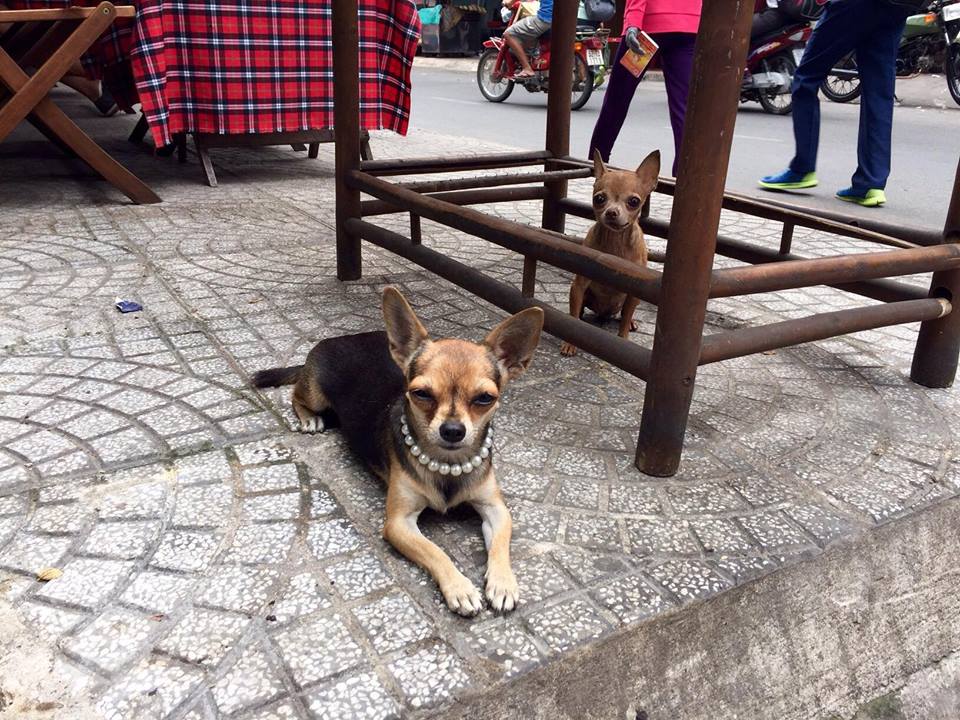 queen of the dogs
On my last day in Vietnam I had plans to visit the Benh Thanh Market in the morning and the war remnants museum in the afternoon because I wanted to learn more about the Vietnam war. The museum left me saddened and I've thought alot about, how much suffering this country endured.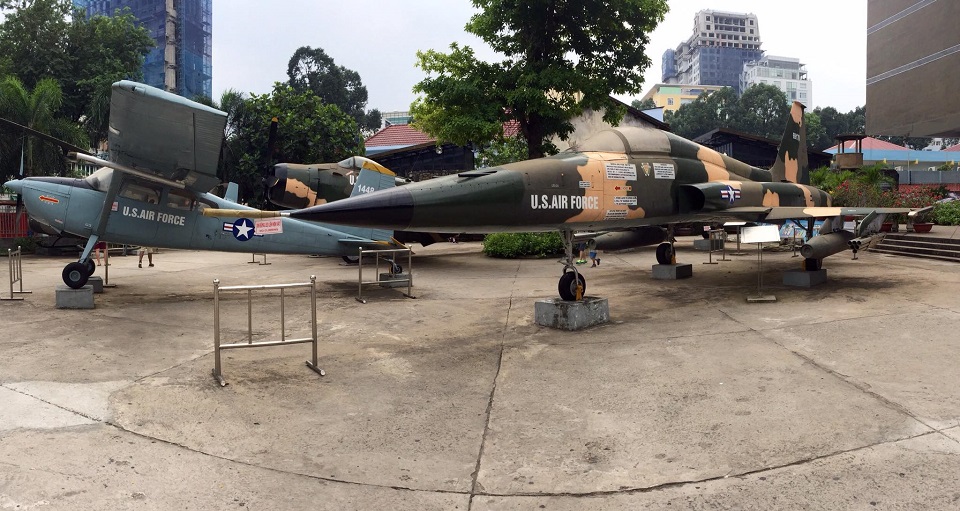 War Remnants Museum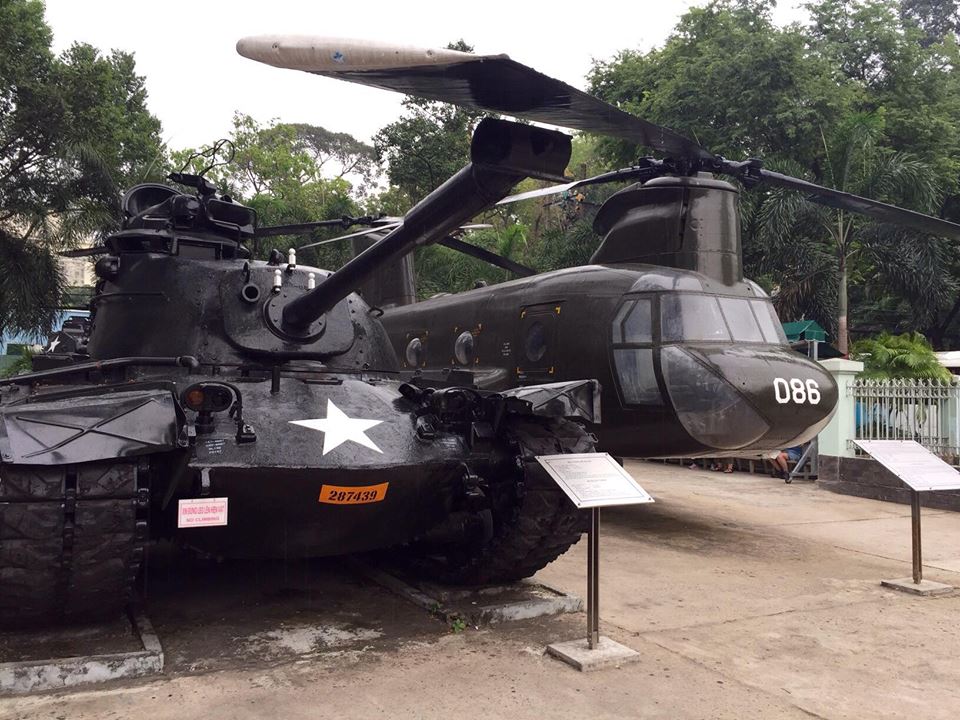 War Remnants Museum
At night it was time to say goodbye to Vietnam...I had a great two weeks but was also happy to leave because especially the cities (Hanoi & Ho Chi Minh) are very exhausting. Millions of motorbikes, honking 24/7 and you have to really be careful where you are walking or you'll get run over. I met alot of nice and interesting people, Vietnamese and foreigners and am grateful for the experience.
Next stop Tokyo :-)