Cambodia 2012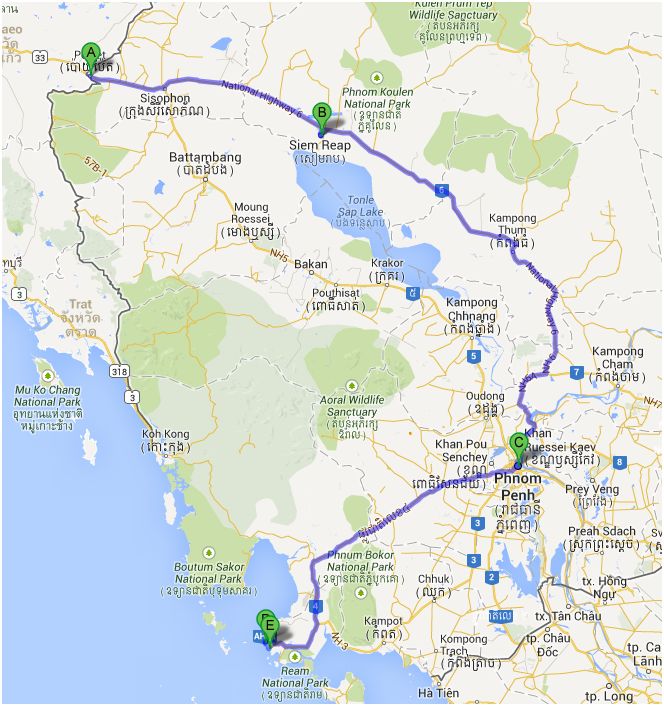 We had breakfast at the hotel and left Kao San Road at 8 a.m. right in time for the rush hour. It took forever to get to the Nothern Bus Terminal in Bangkok, but our cab driver was hilarious! he was telling us about ladyboys and how his wife got really fat after she had a baby and now he had to work to earn more money for food.

When we arrived at the terminal we were lucky because there was just a bus leaving for poipet the boarder of Cambodia. The ride took about 4.5 hours and i can't complain about anything so thats good. Once we got there it was a long process, the tuk tuk driver dropped us of at the wrong place intentianally, an office where the charge you more for the visa, they try to rip you off everywhere they can. So we had to walk some more to get to the actual boarder, it was very hot and humid, worse than Bangkok.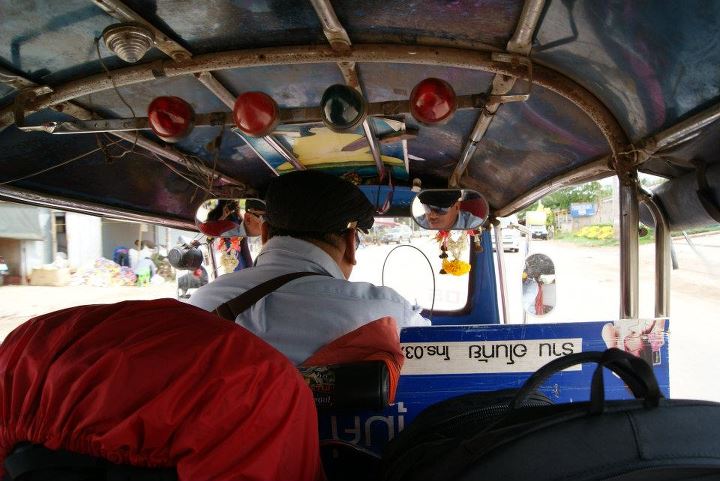 stupid tuk tuk driver
First we had to get a stamp from the Thai immigration then walk along a line to get the visa, but I didn't have cash (I thought I could pay by credit card) so I asked around if there was an ATM anywhere and some guy told me there was one at the casino. I left my backpack with sandra and started walking. the guy was following me, At first I thought he was helpful but as it turned out later he was a creep. it took me half an hour to get the money and we proceeded to the visa service desk. The gross police officer smiled at me and touched my tattoo a few times, he even pretended to kiss me, I wanted to scream but I had to smile. Once we had to the visa we walked along another line and saw that the guy from before was following us. he talked to a man in a pink shirt and pointed at us. We walked faster and had to wait in another line which was supposed to be immigration for Cambodia. After 30 minutes in that line we got like 5 stamps and look who was waiting outside for us, the two shady guys from before. now I was actually afraid that they put drugs in my backpack or wanted to rob us. And considering it's the the death penalty for drug smugglers I felt sick to my stomach. They told us we had to wait for the shuttle bus to the bus terminal at the wrong place, we didn't listen and kept on walking. We saw the actual shuttle bus and the guy said to us it was full still wanting us to stay there. Especially now we didnt listen and got on the bus. The younger guy got on as well the one with the pink shirt didn't. When we arrived he was waiting for us. I was scared and pissed off at the same time. What do they want from me??(they must have been after me because they always looked and pointed at me). We hurried to the ticket counter and got on the bus. I was nervous always checking on my backpack and my belongings. Finally the bus left the station. I still didn't know what they wanted but I was glad to get away from them.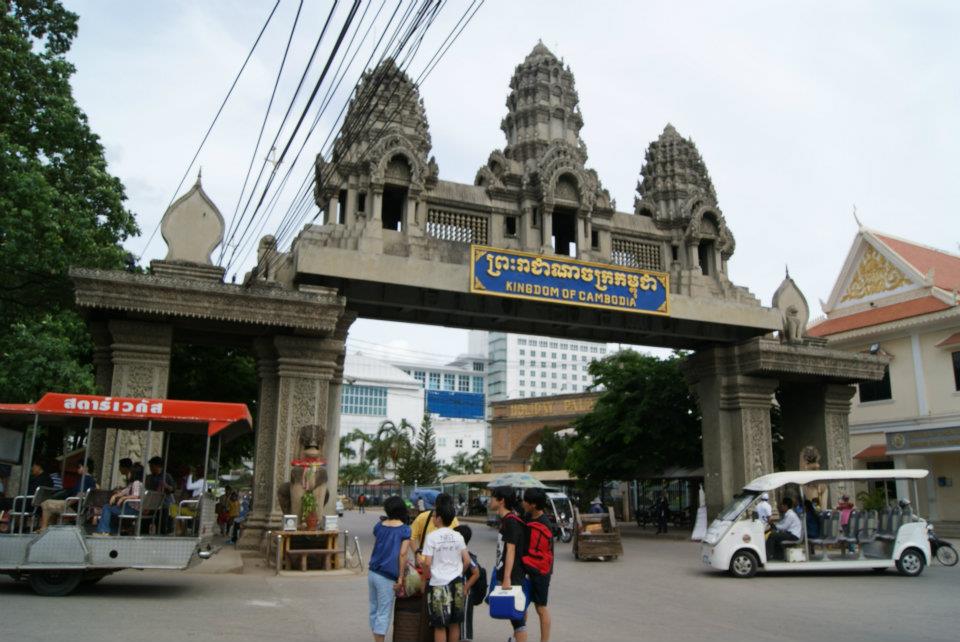 The second bus was really uncomfortable and it was freaking hot. But after 4 hours we arrived in Siem Reap.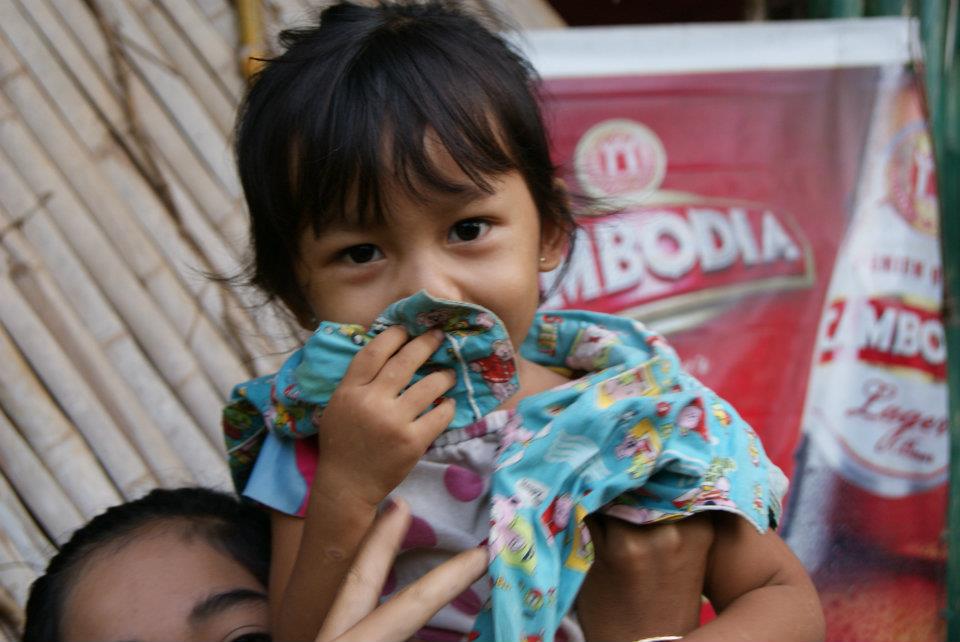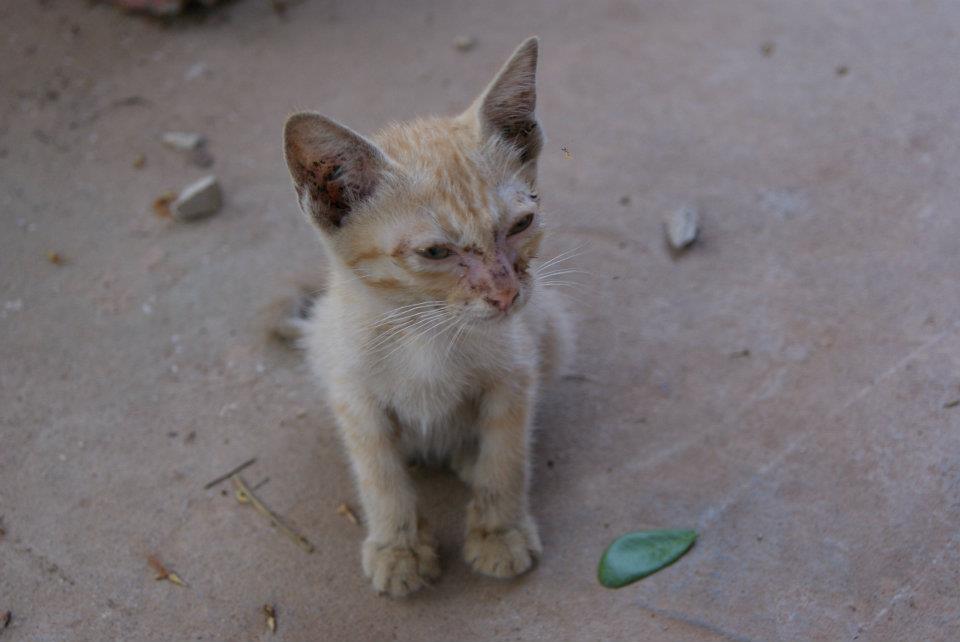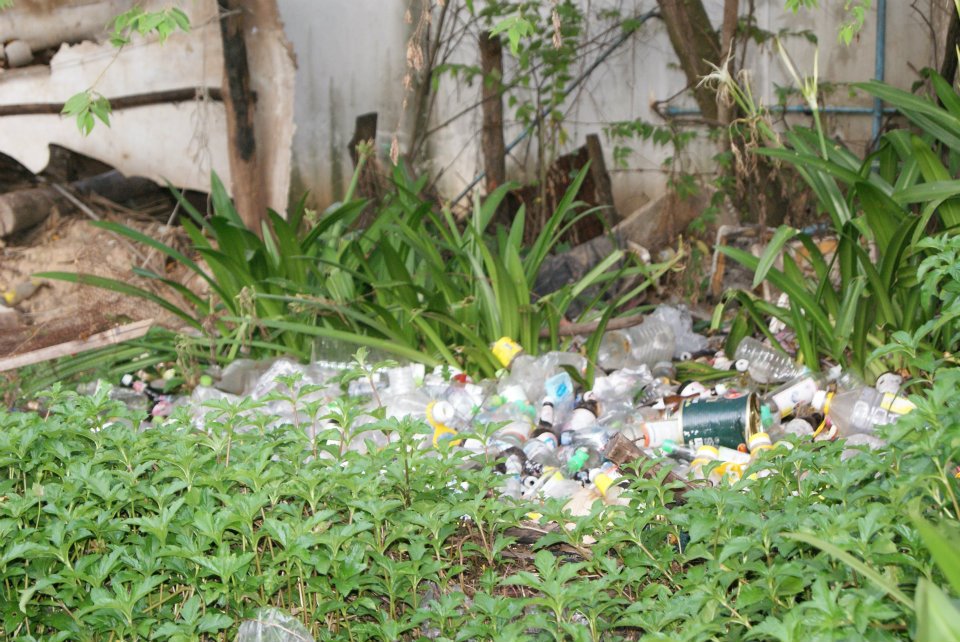 recycling Cambodian style
Siem Reap

We checked into the Golden Temple Villa, a pretty decent hotel with aircon and wifi for 19 bucks. We started to realize how cheap Cambodia really was. $4 for one hour massage, 50 cents for a beer, 25 cents for a water and $ 3 for a meal. It's weird to pay in US Dollars but for us its better cause it's a good rate.
Golden Temple Villa, our hotel in Siem Reap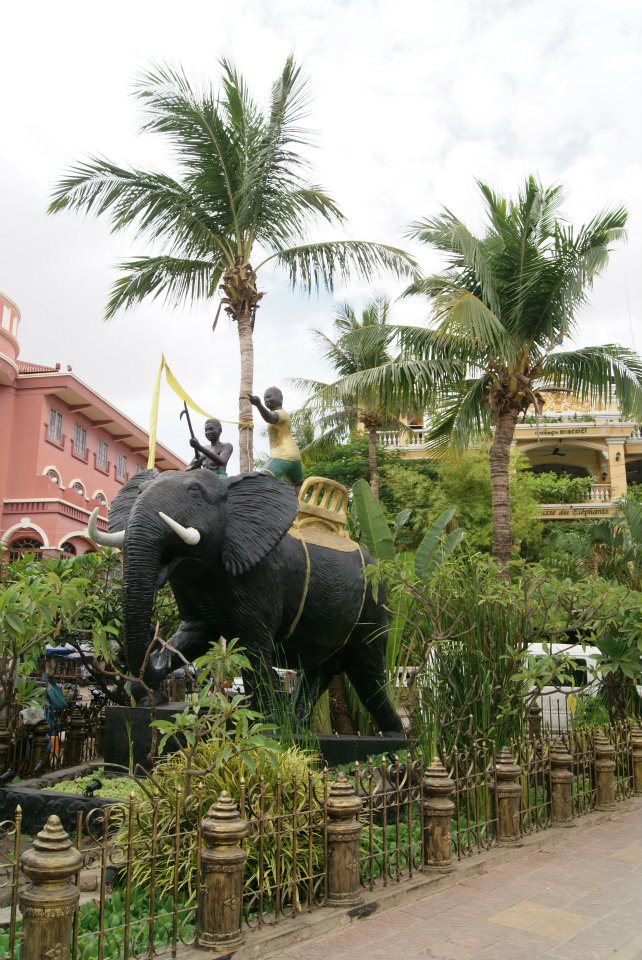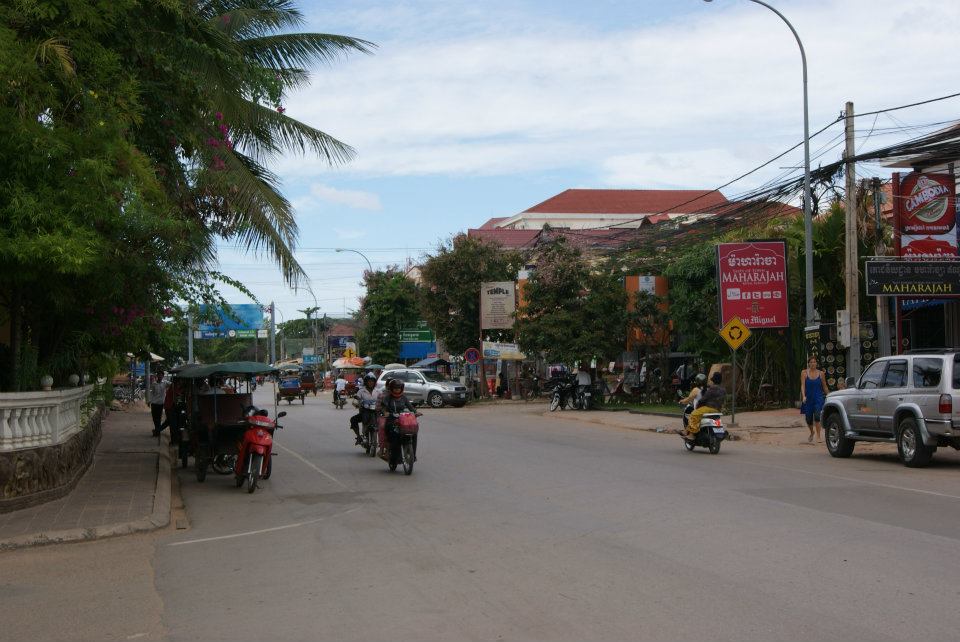 The first day in Siem Reap we got a tuk tuk and went to the floating village about 45 minutes outside of town. We had our own boat for $15 per person. Those villages are pretty interesting, they live in little floating houses on the river, they got a supermarket, a basketball court, schools, crocodile farm etc. There are over 120 orphans who live by themselves, most of them lost their parents when they went fishing and drowned. The guide told us that we should buy rice or noodles for the children at the supermarket. a small bag of rice $40 and noodles for $25 dollars. We felt obligated and wanted to do something good so we bought water and noodles for 30 bucks. We thought it was expensive for Cambodia but bought it anyway. Then we visited the school to distribute those things to the children. It all seemed kinda fake, the school, the kids werent happy to get food, they seemed annoyed that once again tourists came to give them food that was taken away from them later. We realized it was all a big scam. They probably put it all back in the store and sell it to the next naive tourist that falls for this. The floating village is all one big cash cow, a rip off! And then the boat driver and the guide wanted money too even though we had allready paid for the boat trip, now we were really annoyed and were glad to see our tuk tuk driver again, he seemed to be the only honest person that day.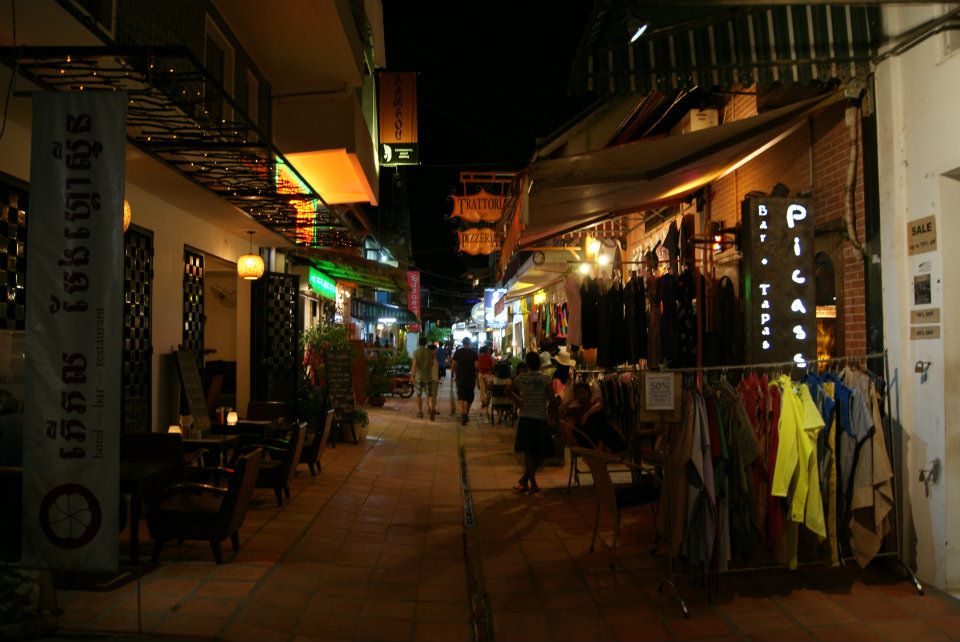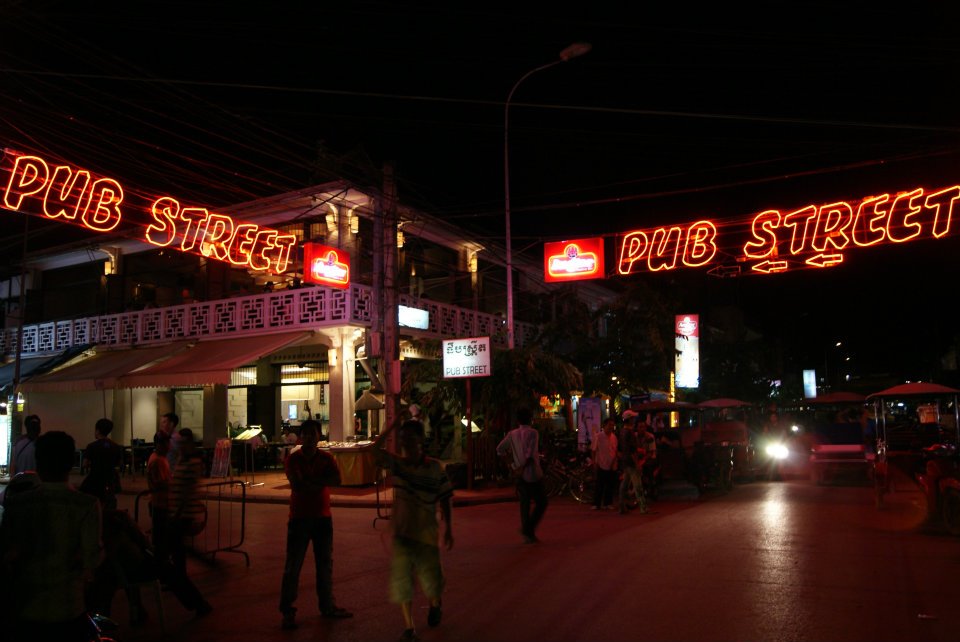 nightlife in Siem Reap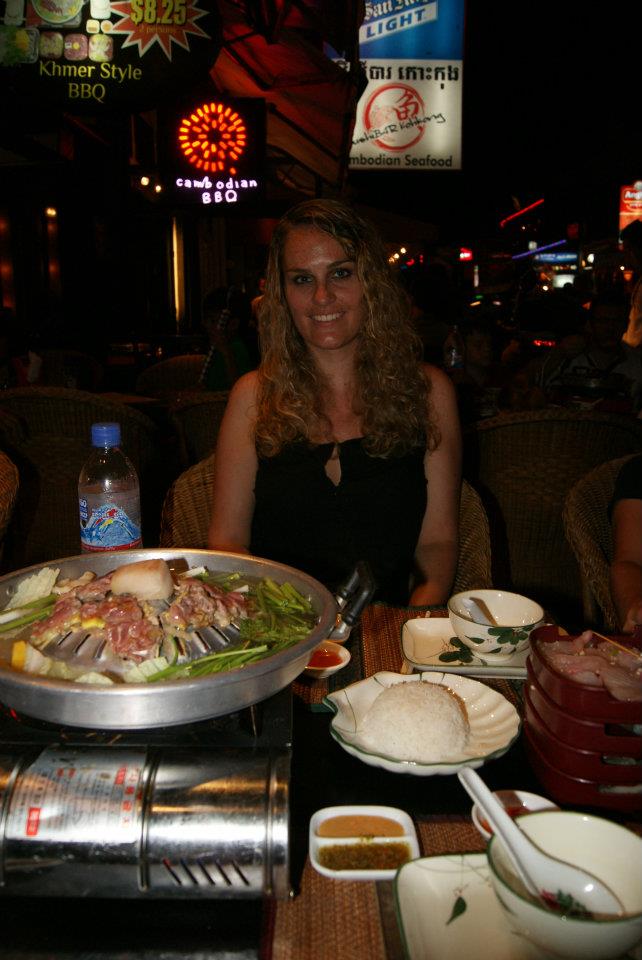 Khmer BBQ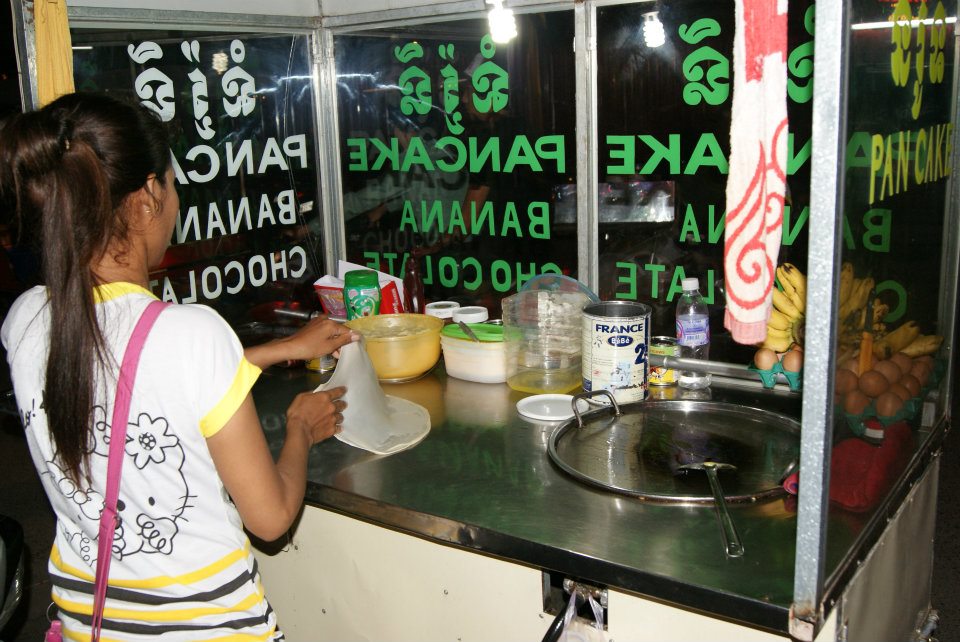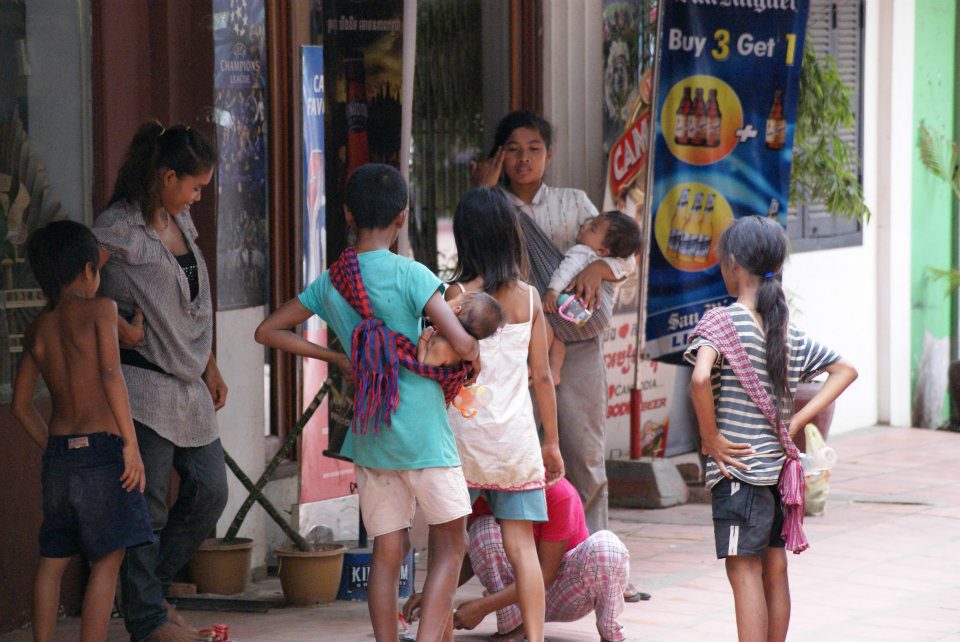 children mafia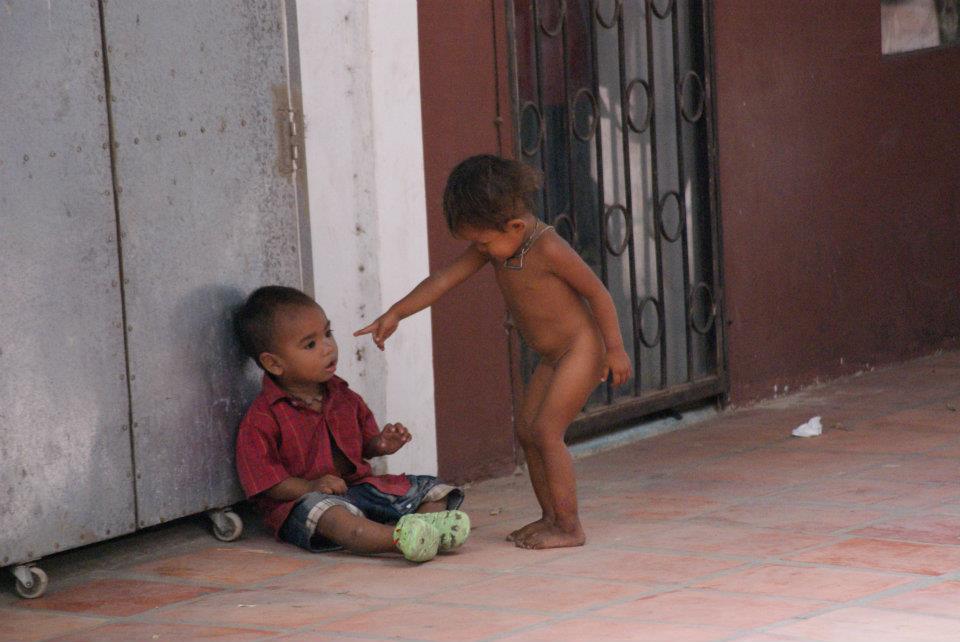 it was you!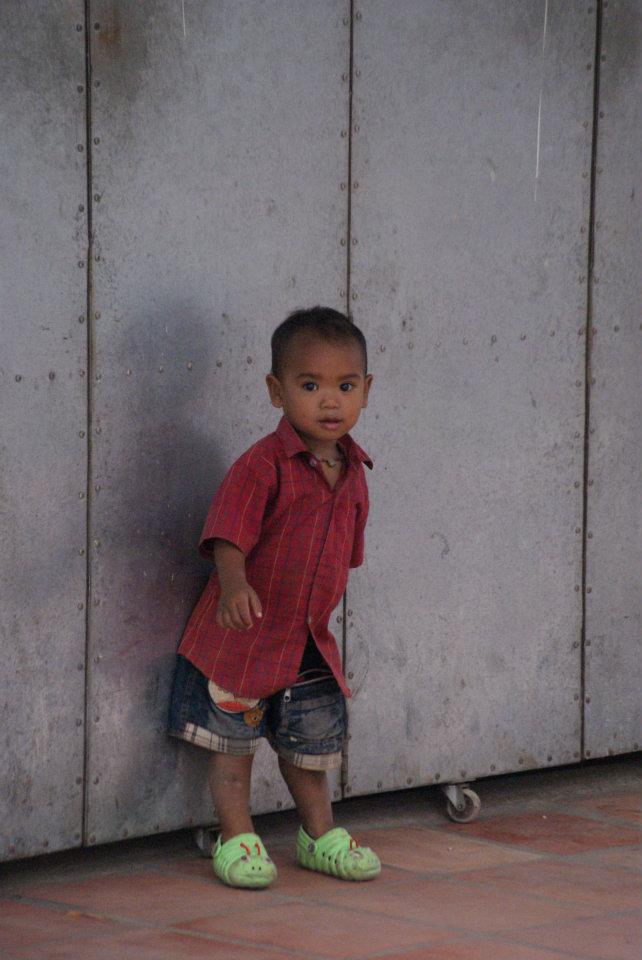 cutie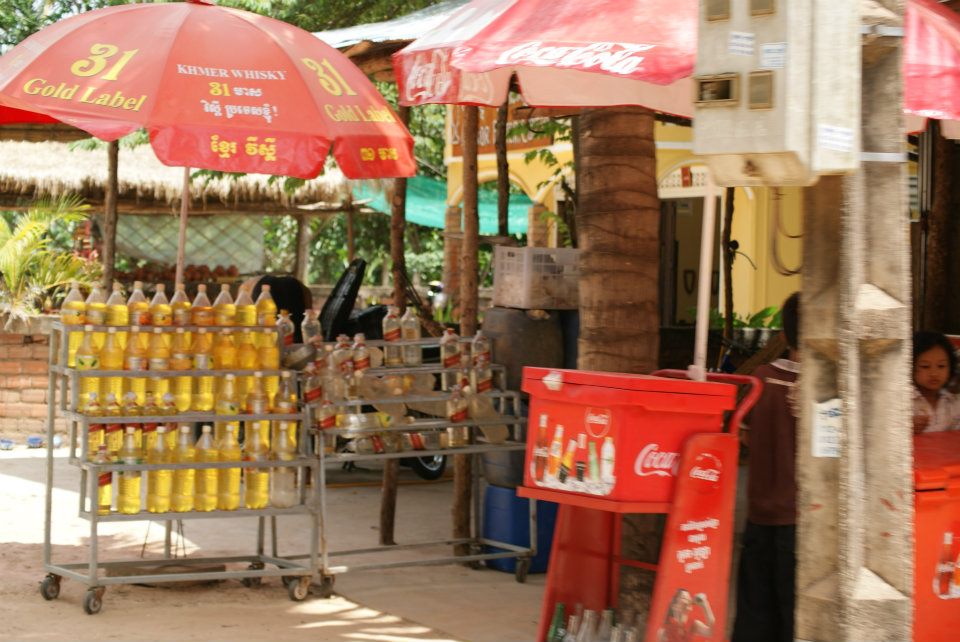 gas station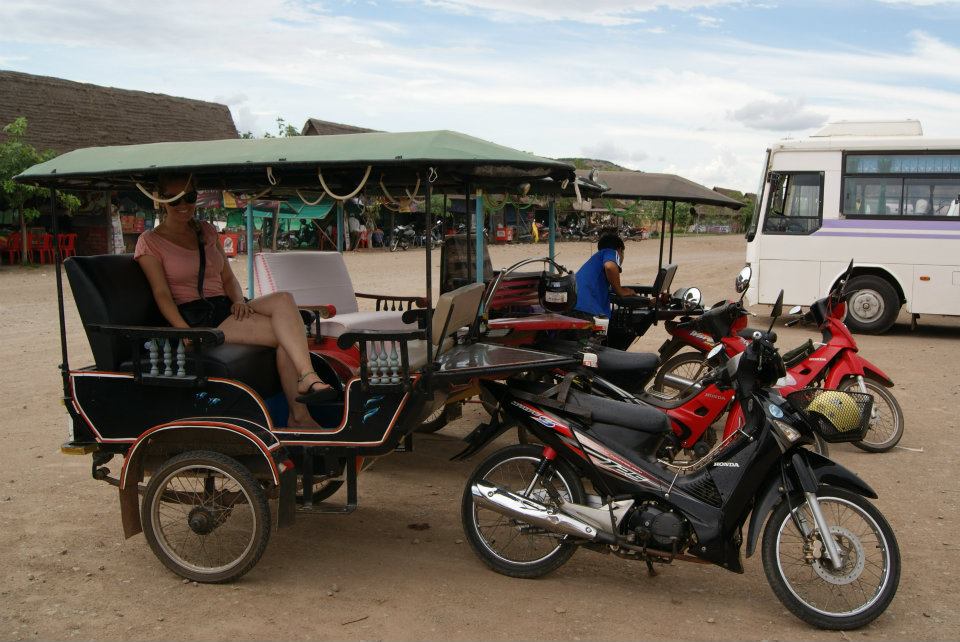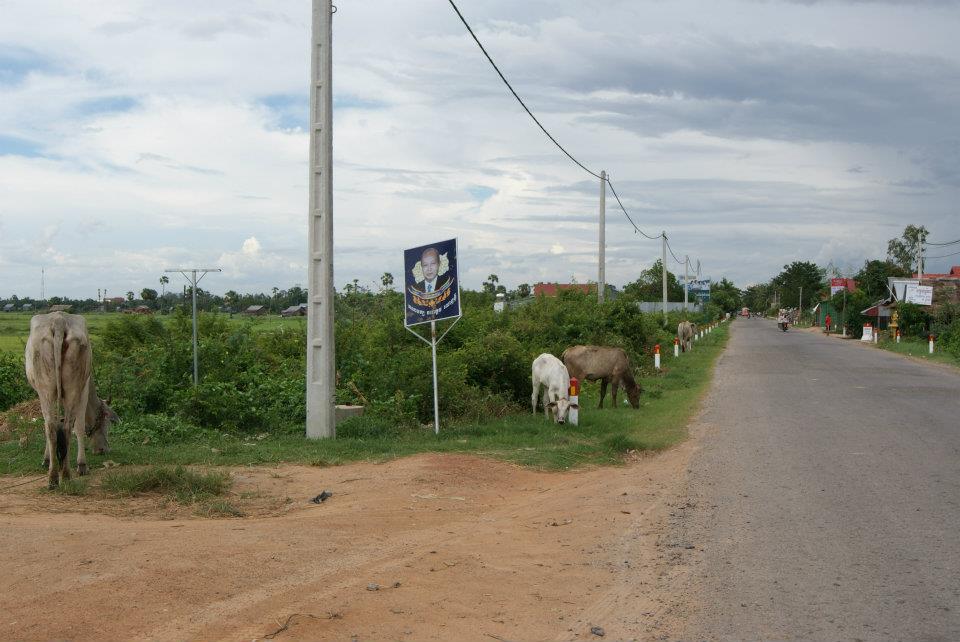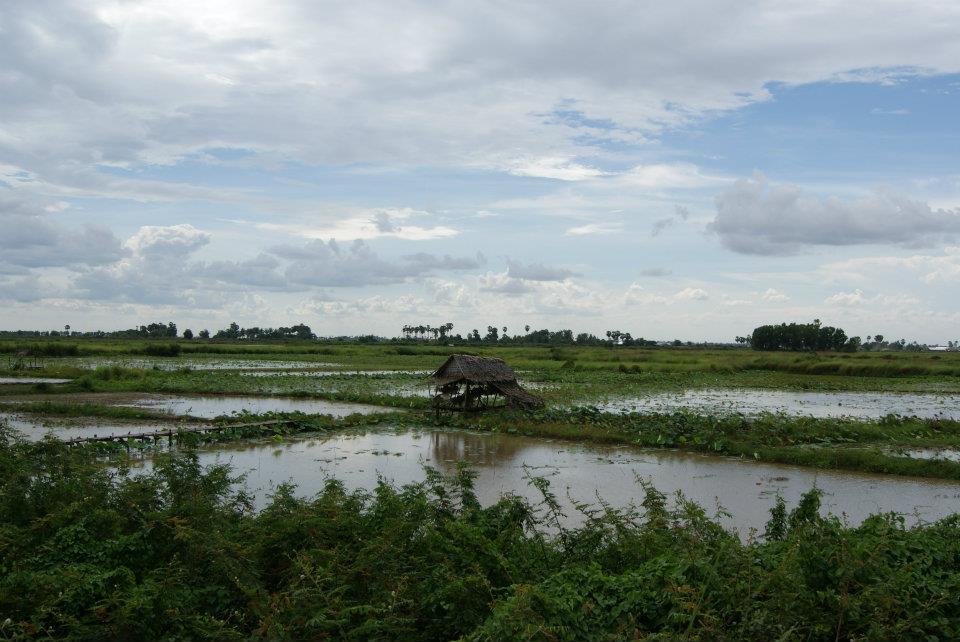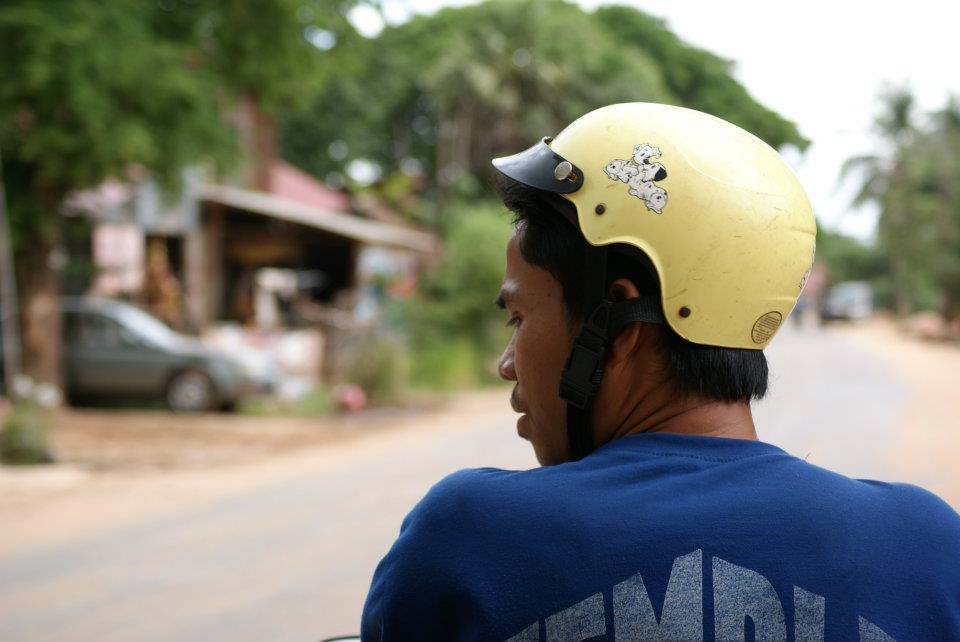 our tuk tuk driver, he was very nice
on the boat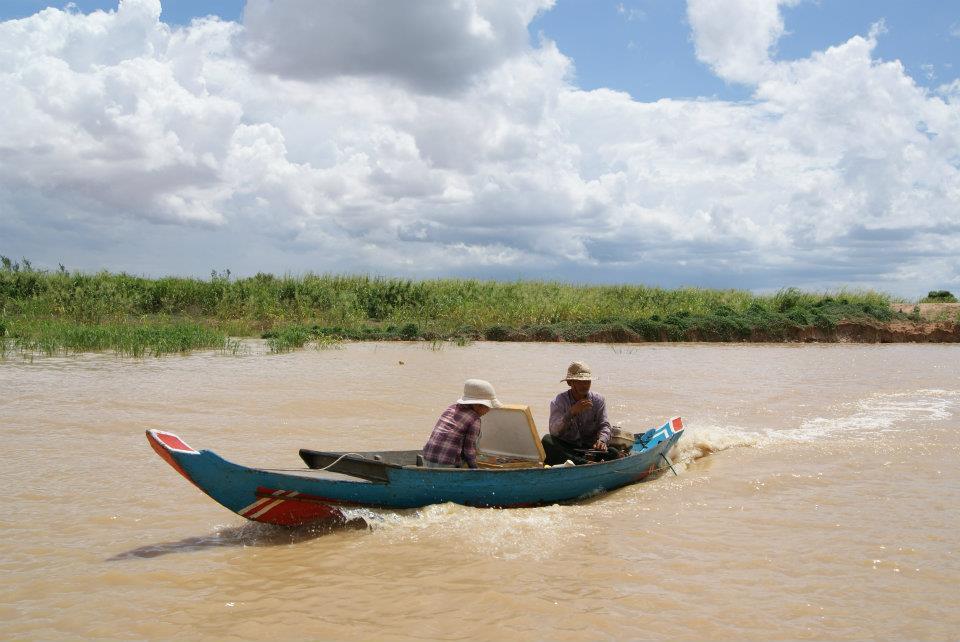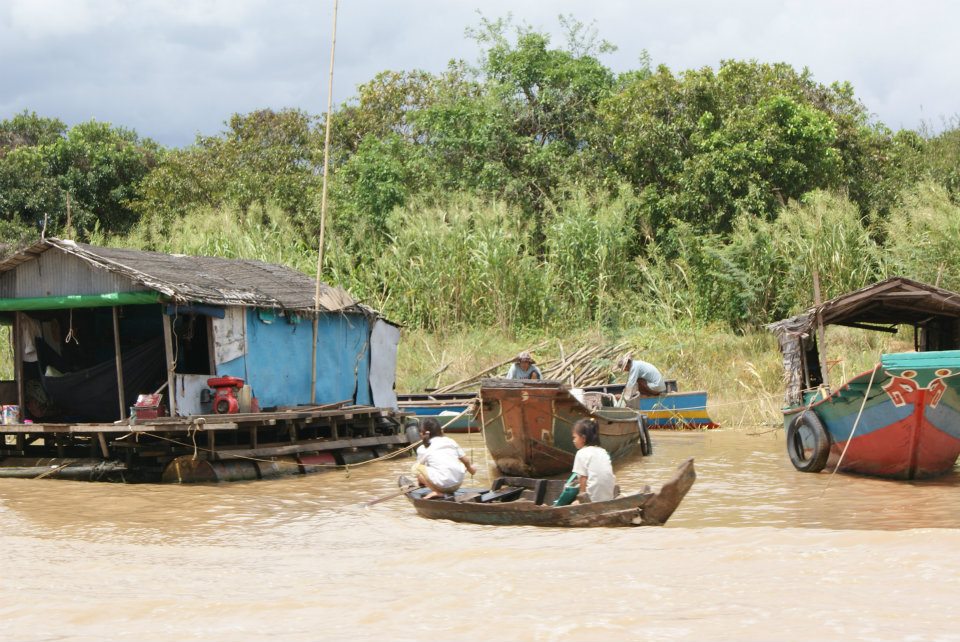 floating village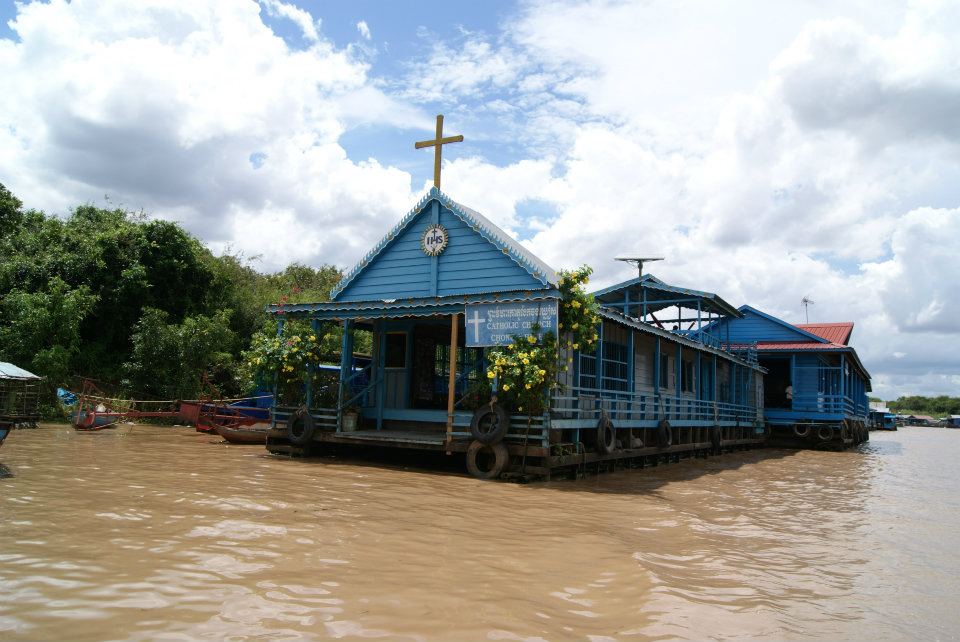 floating church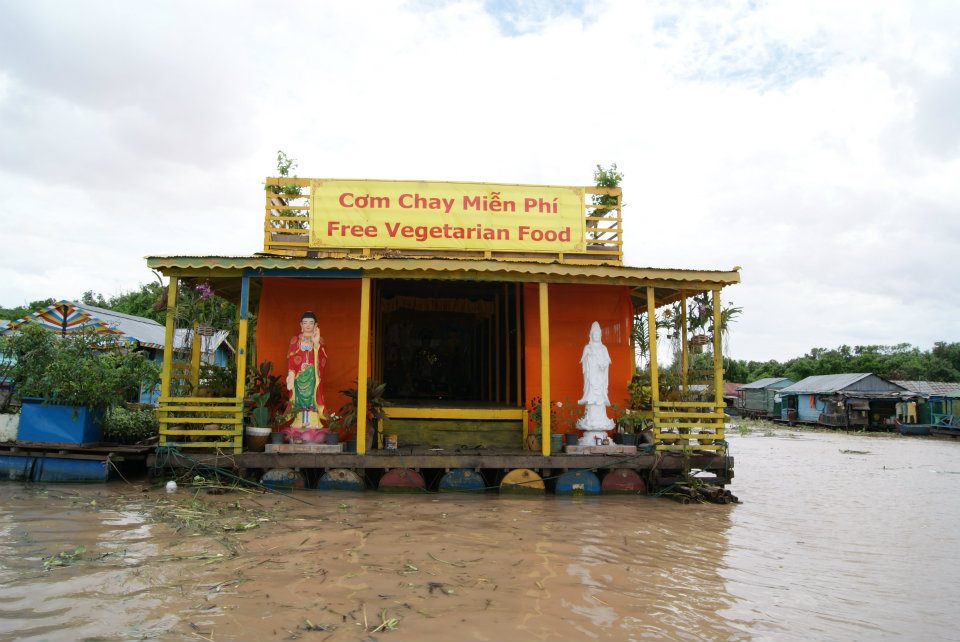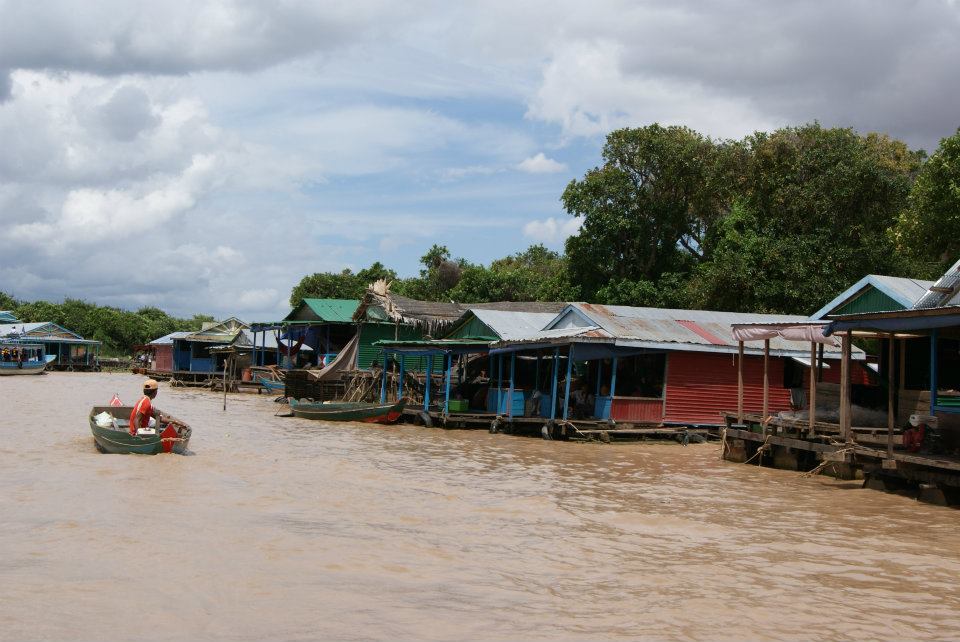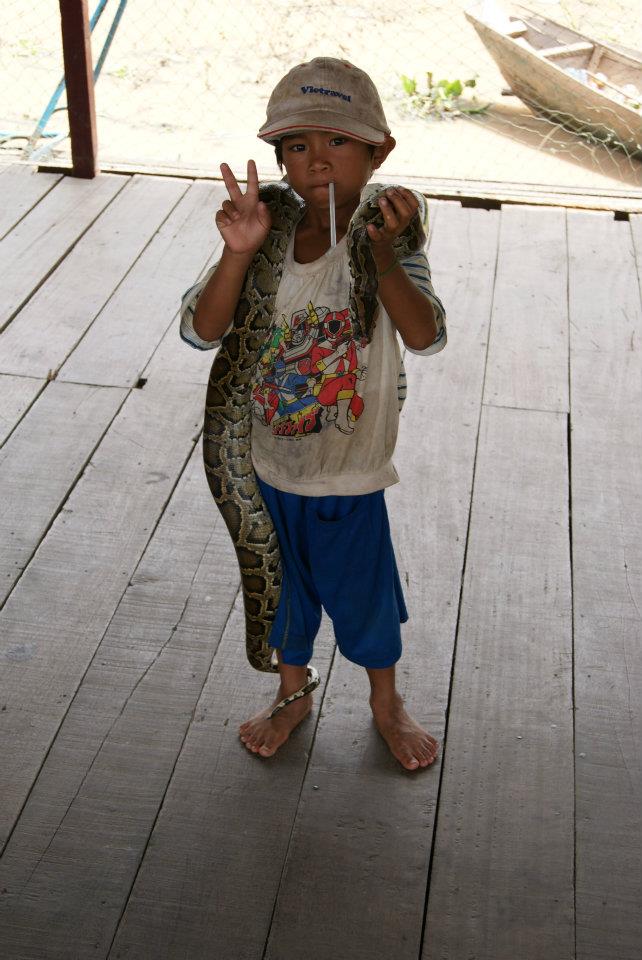 little poser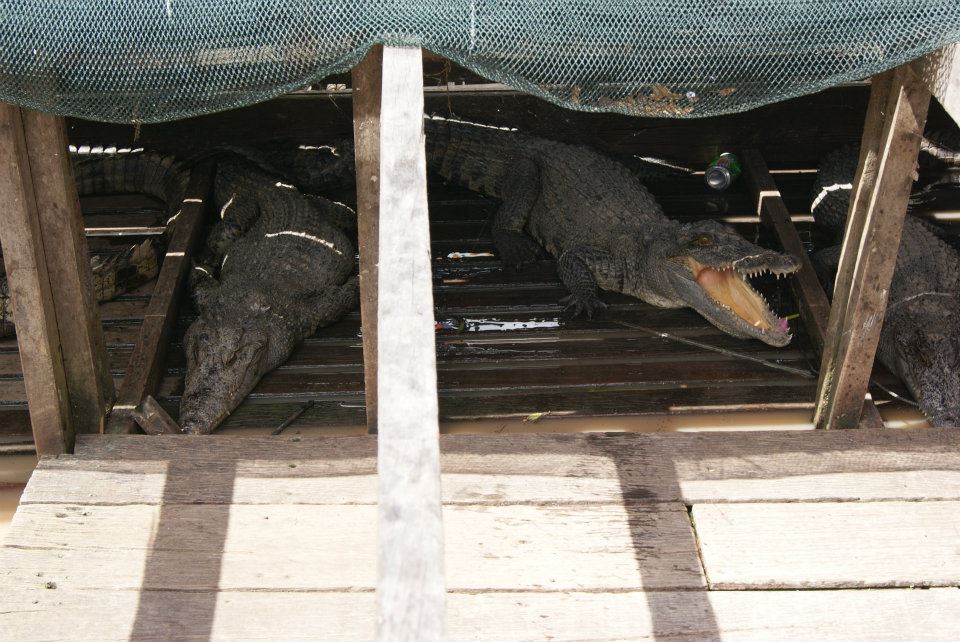 crocodile farm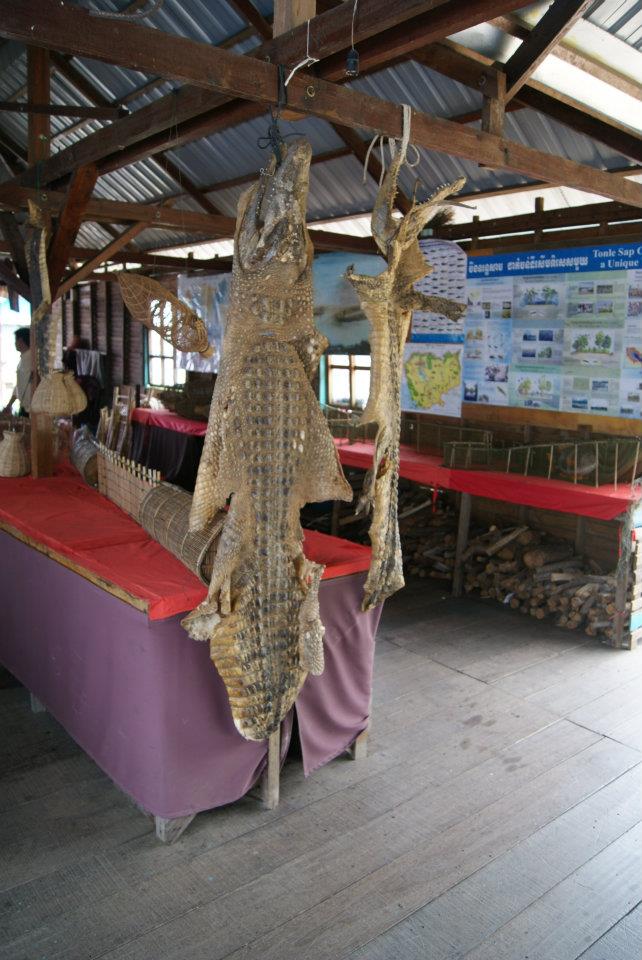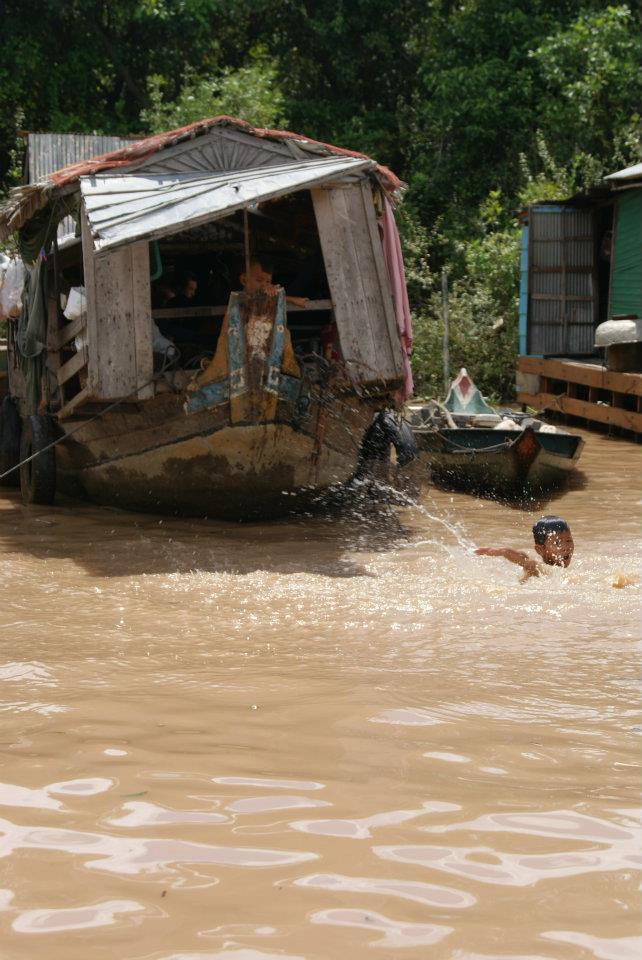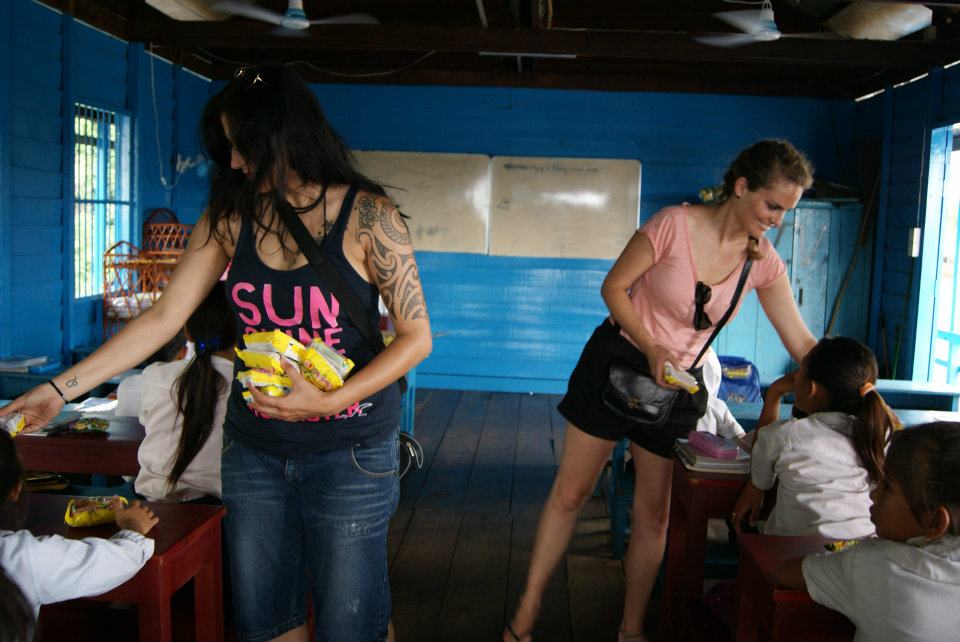 orphan school in the floating village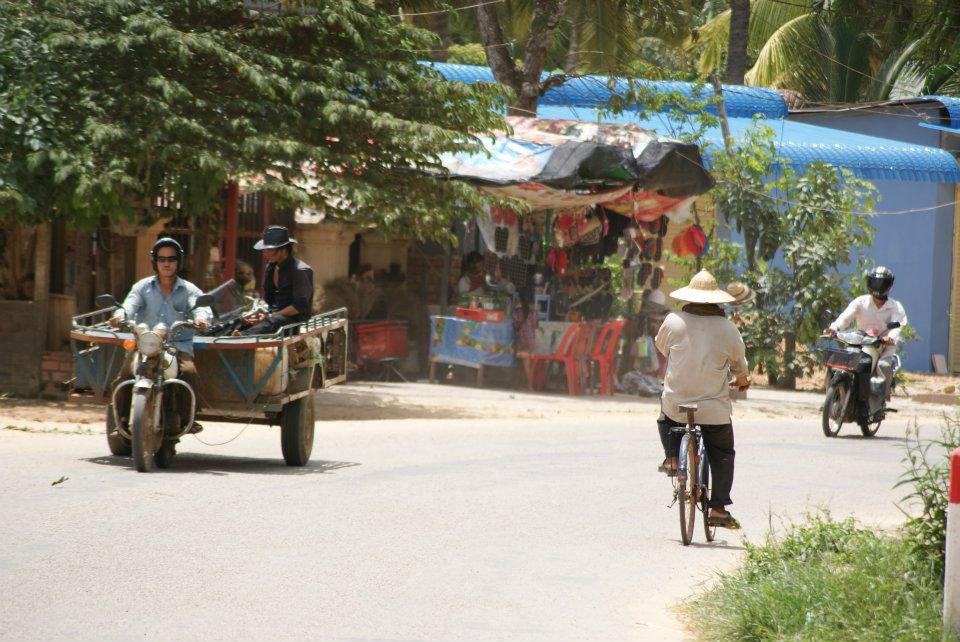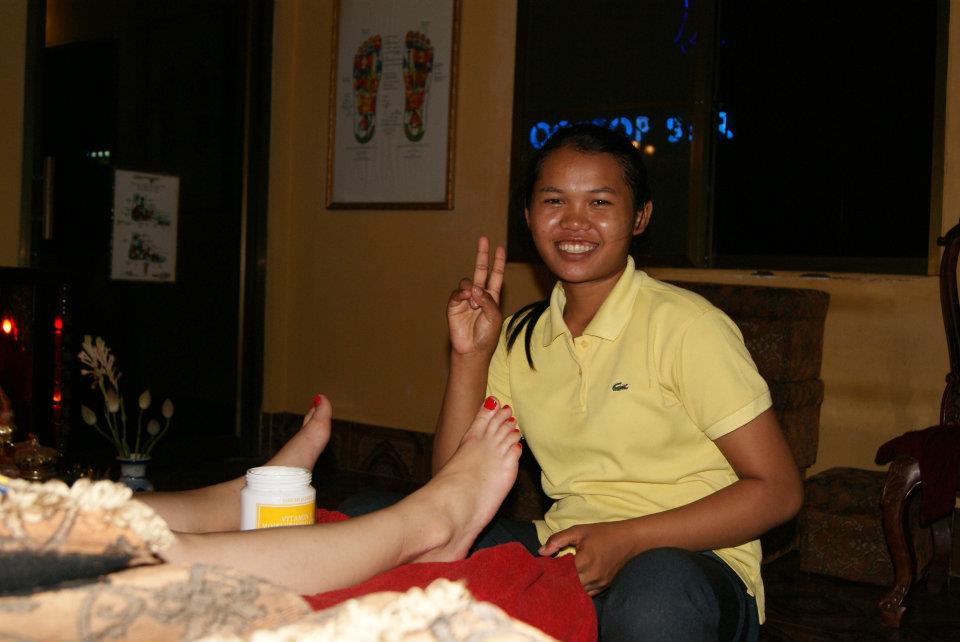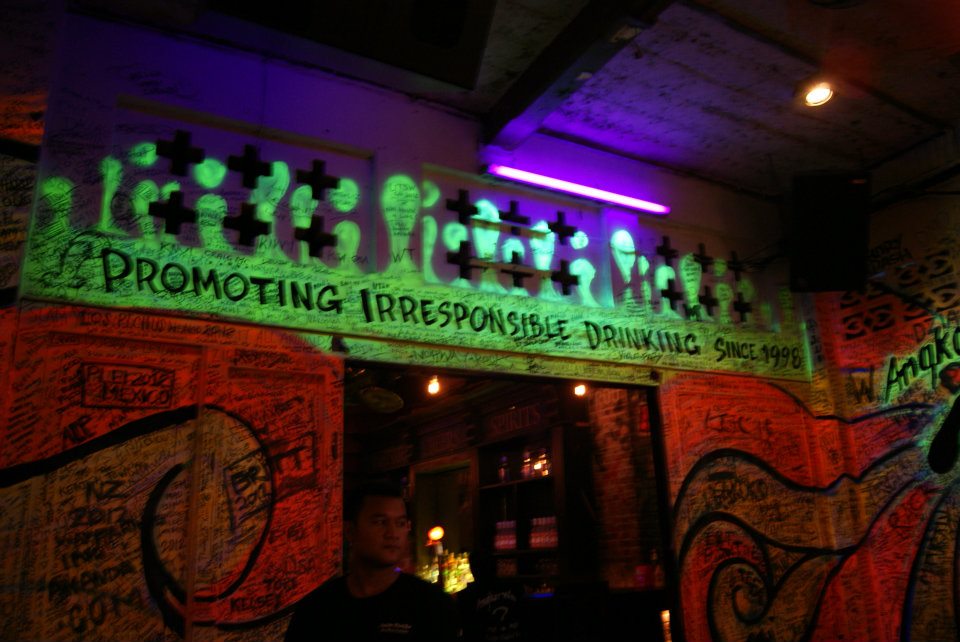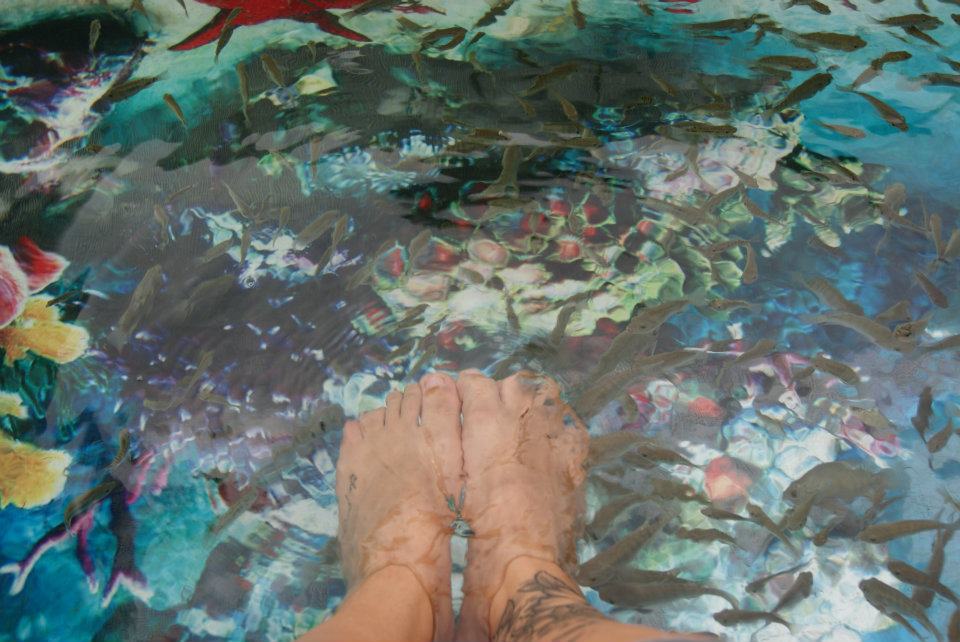 weird feeling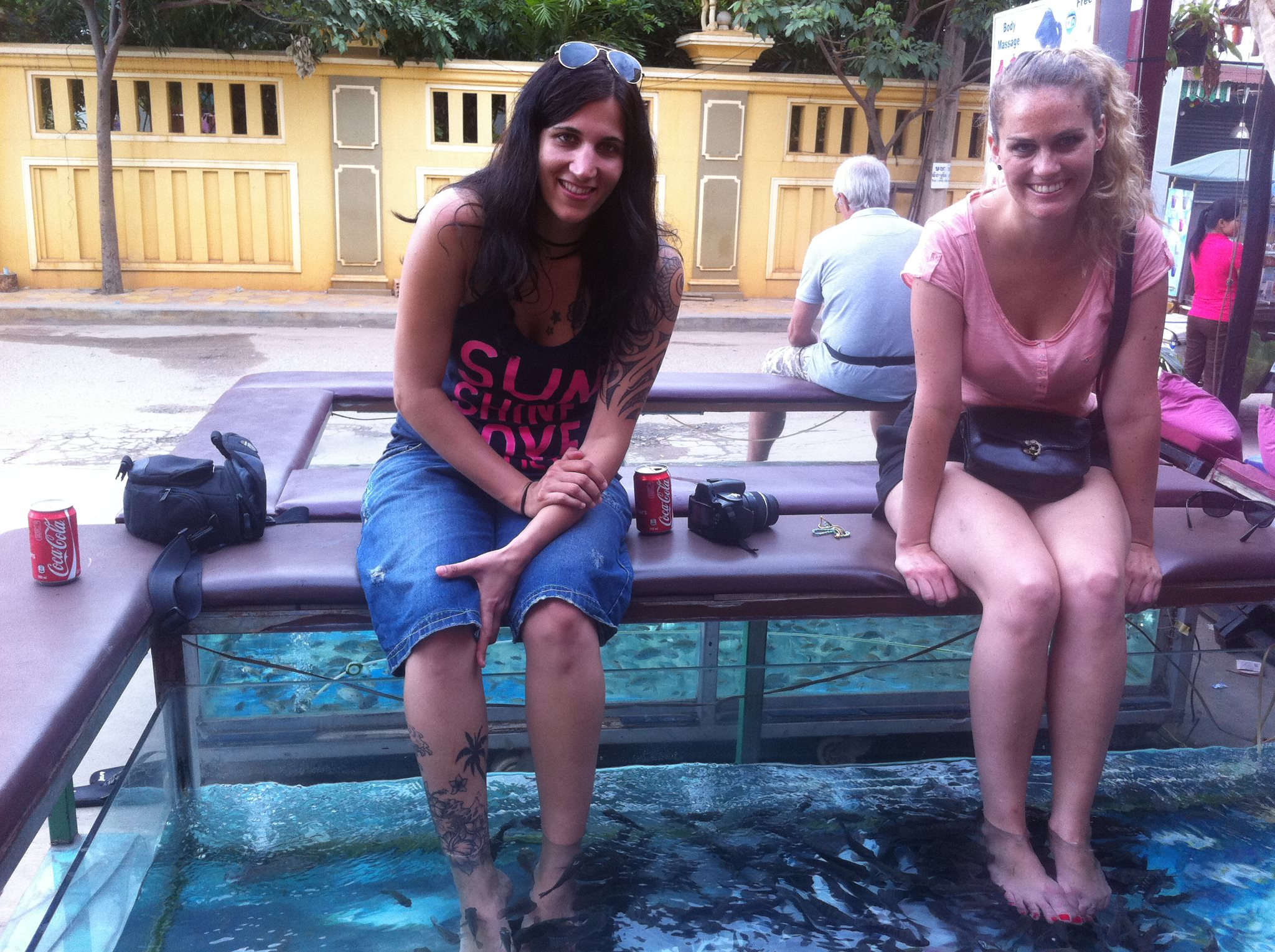 On Friday, July 20 we rented bikes for $2 per day and left Siem Reap at 9 a.m. heading to the famous Angkor temples. There is no greater concentration of architectural riches anywhere in the world. Some people say that Angkor is the 8th wonder of the world. Angkor is one of the most impressive ancient sites on earth, with the epic proportions of the great wall of China, the detail of Taj Mahal and the symbolism and symmetry of the Egyptian pyramids rolled into one.

It was an easy 7km ride to the first temple which actually is Angkor Wat. There are many many more though, hundreds of temples survived until today. Several sequences for the film Tomb Raider, starring Angelina Jolie as Lara Croft were shot around the temples of Angkor.

After the 3rd temple, Bayon and a few km more on the bike I started to feel sick, having migraine. It was from the heat. We stopped for an hour to eat, drink and lay down for a while. I was silly not to wear a hat, it was 37 degrees. It turned out to be a really long day. At 6 p.m. after 40 kms and many bottles of water we returned to busy Siem Reap where we had drive carefully so we didn't get run over in the rush hour.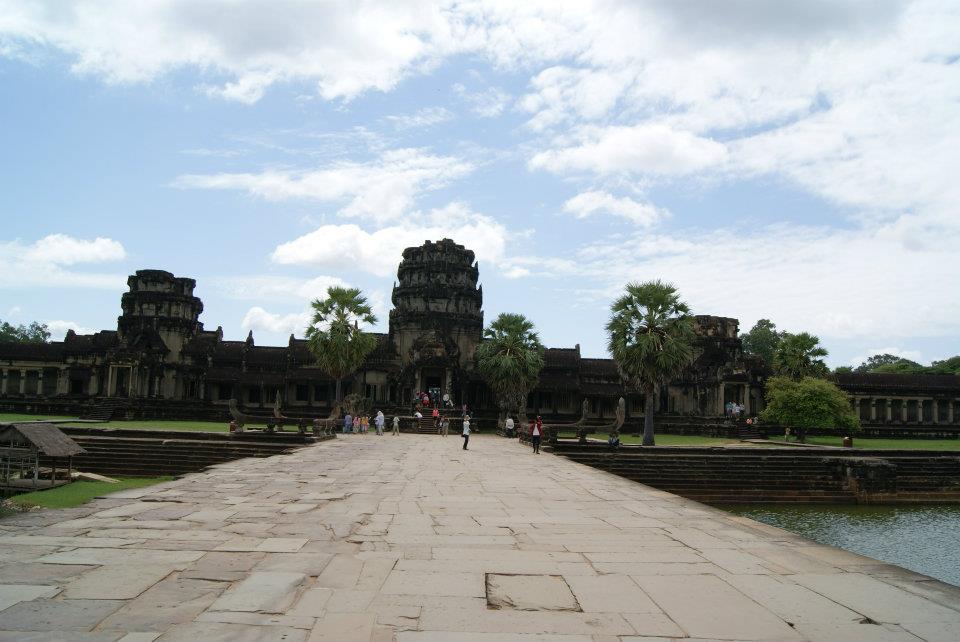 famous Angkor Wat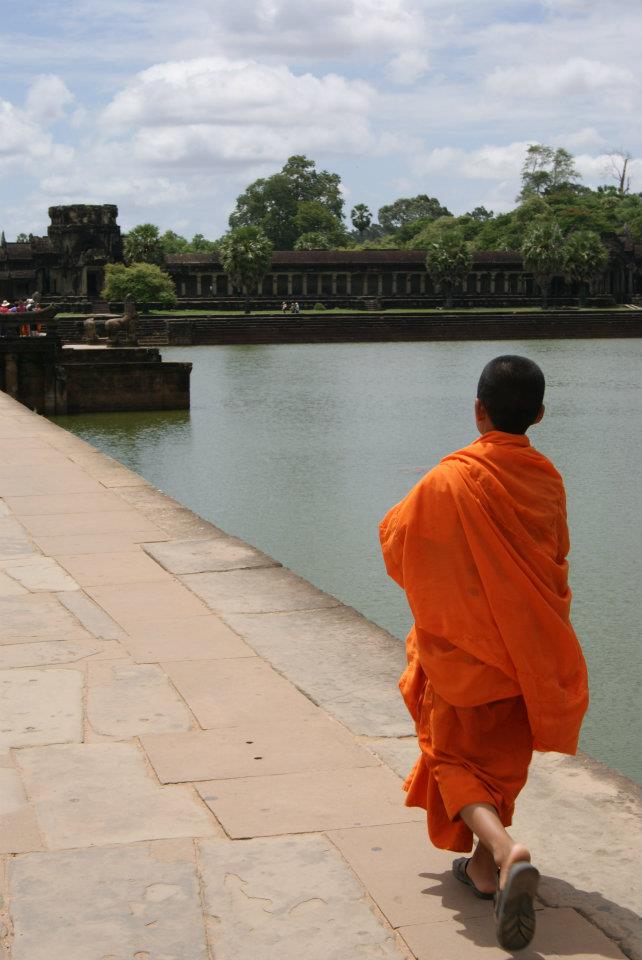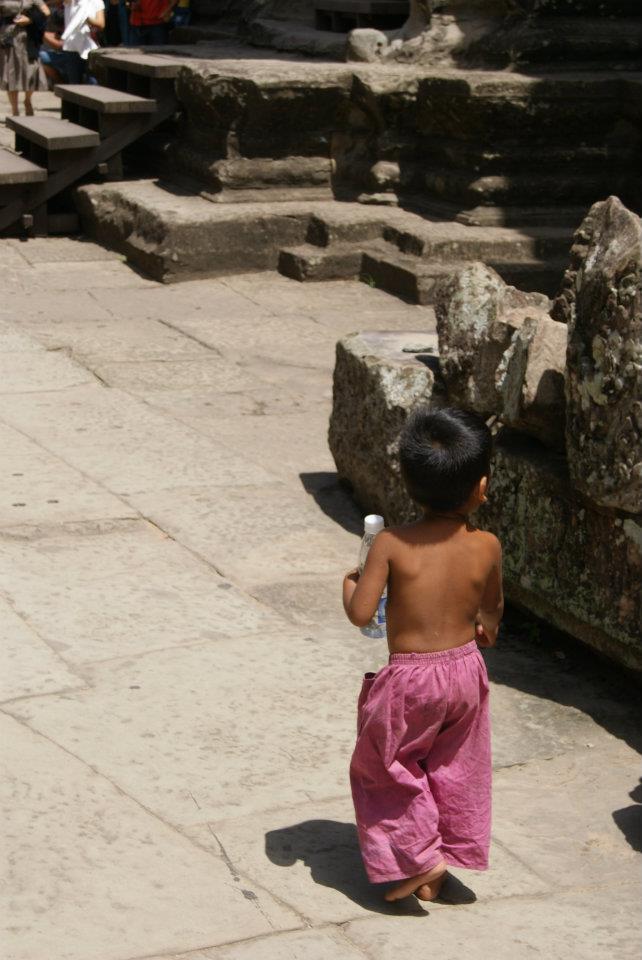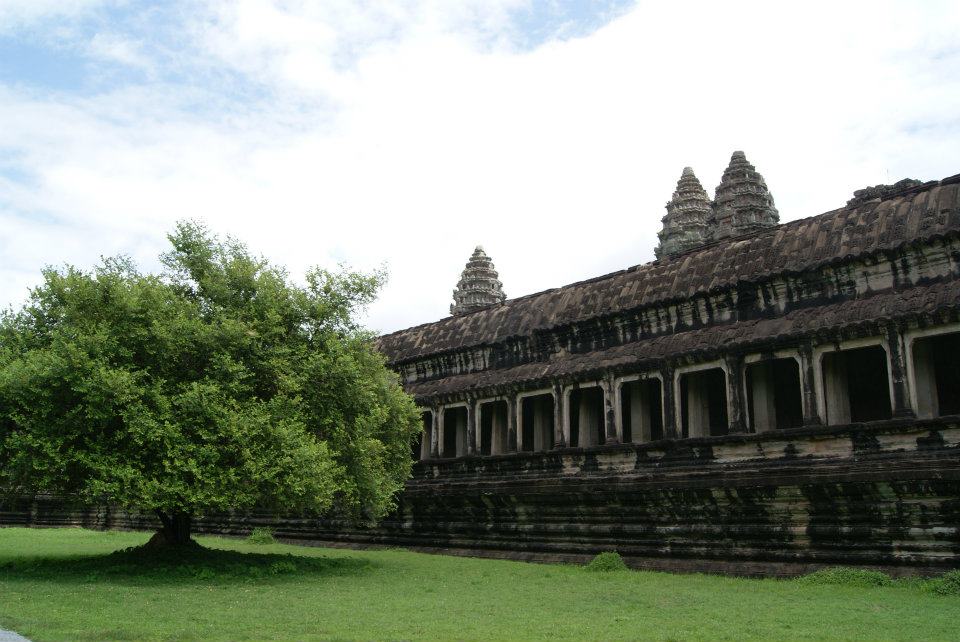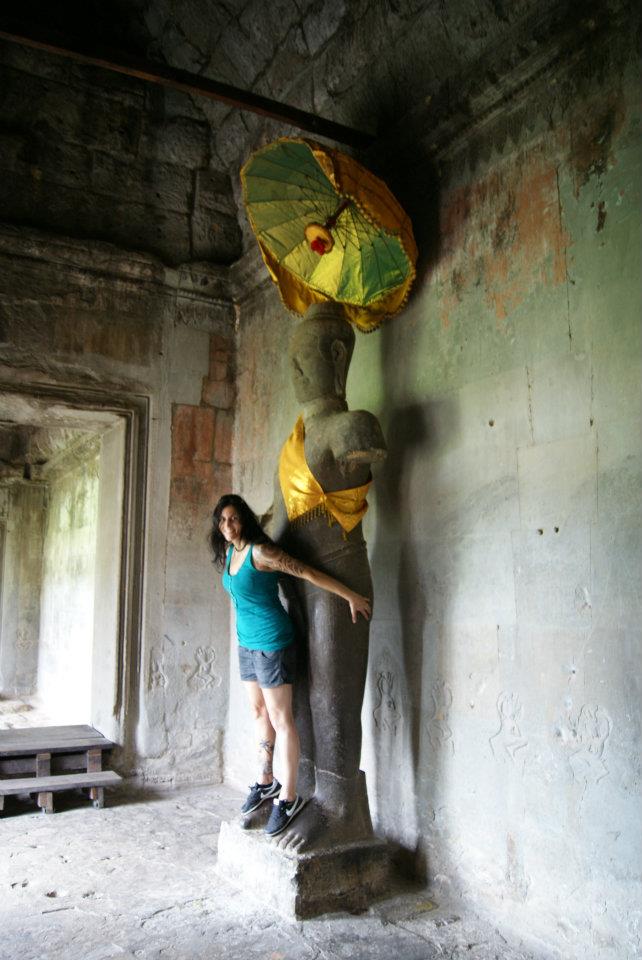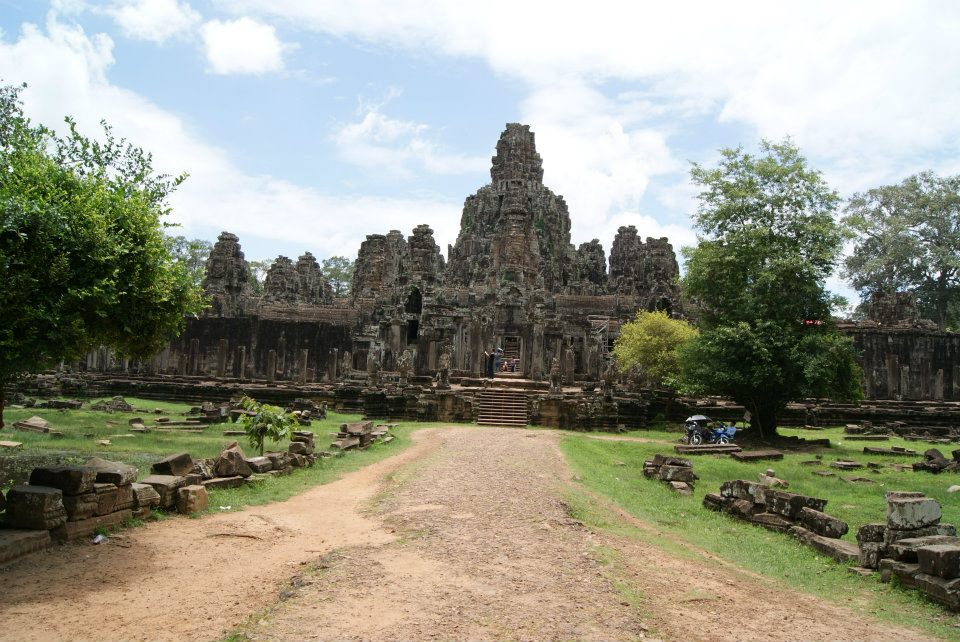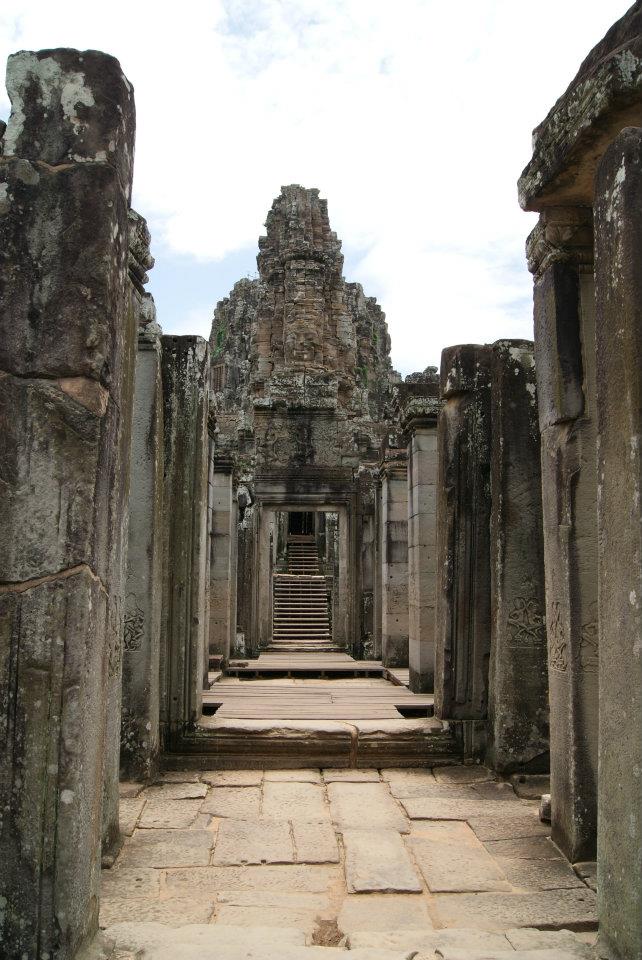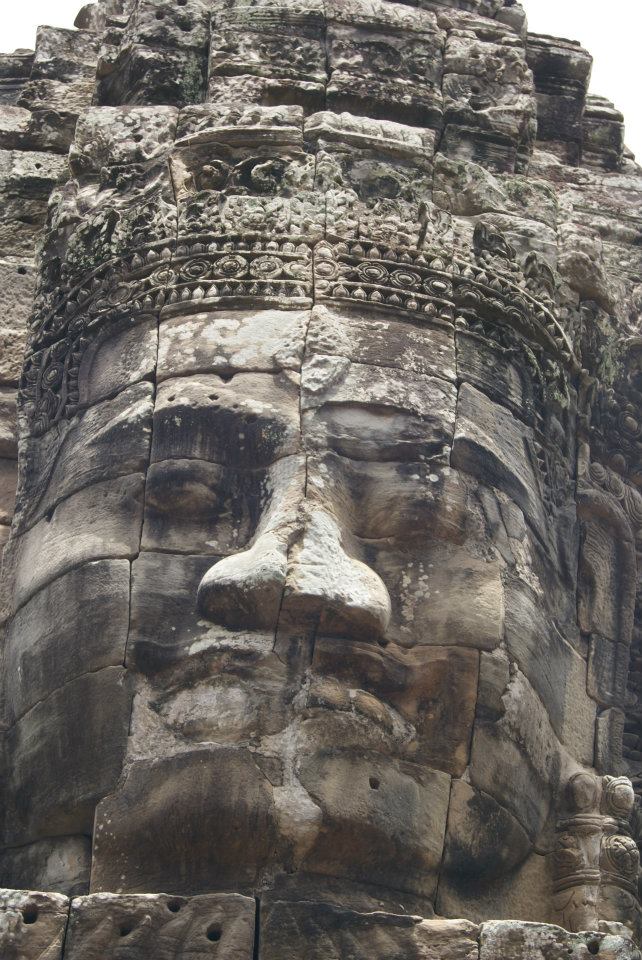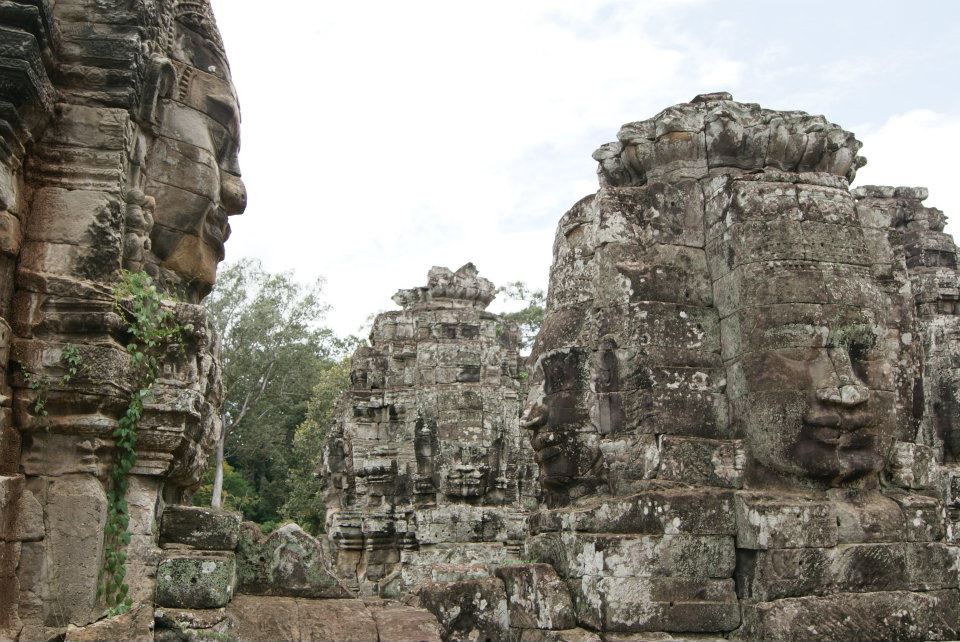 Bayon temple, coolest temple I've ever seen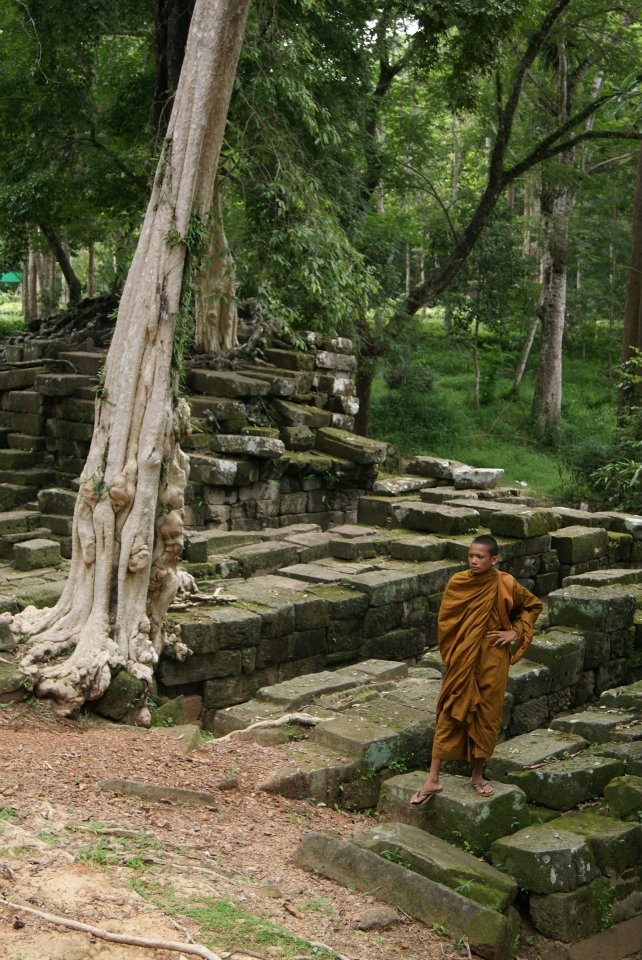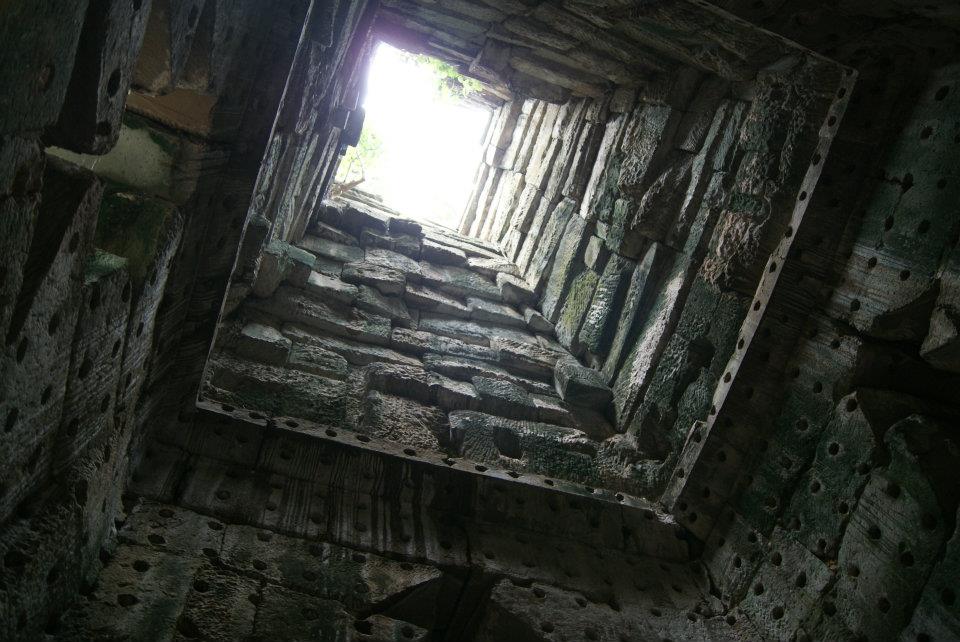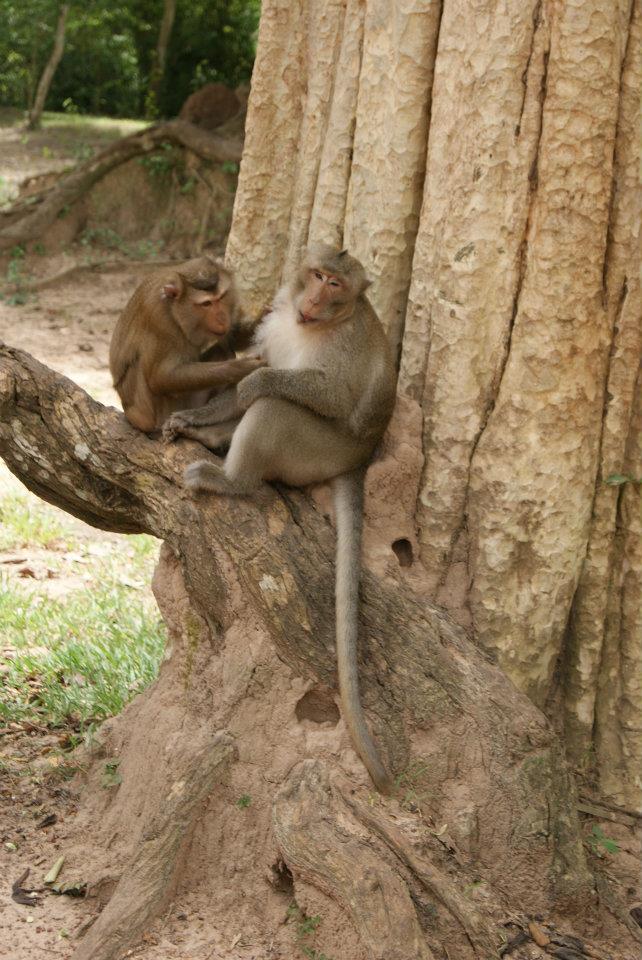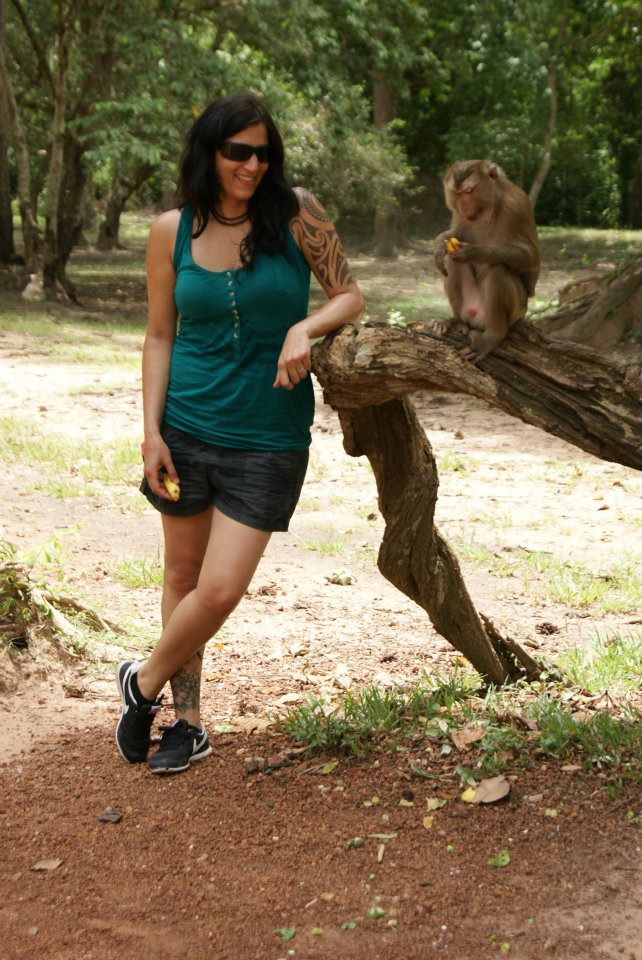 it seemed we were friends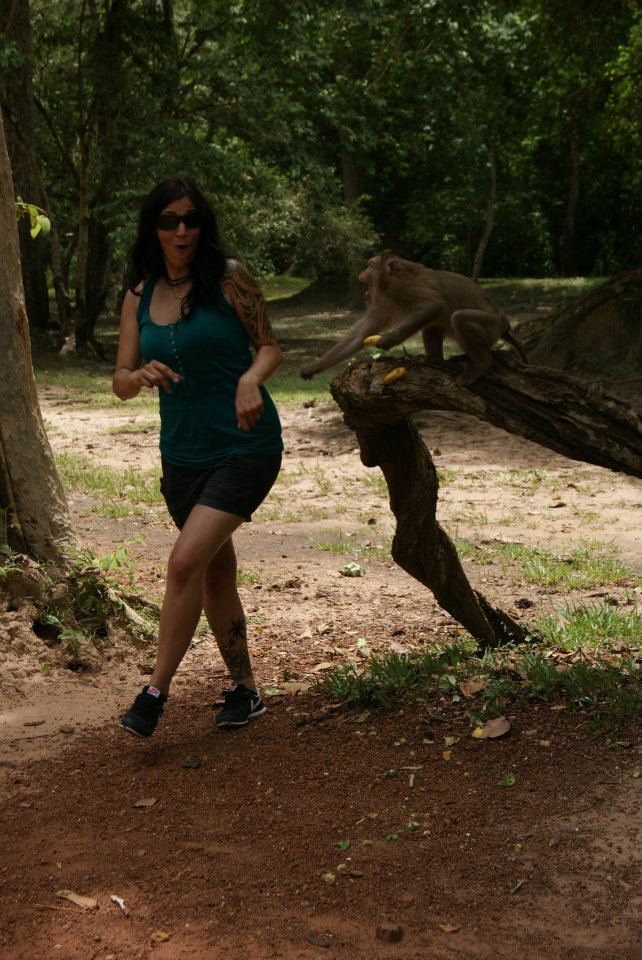 getting attacked by a vicious monkey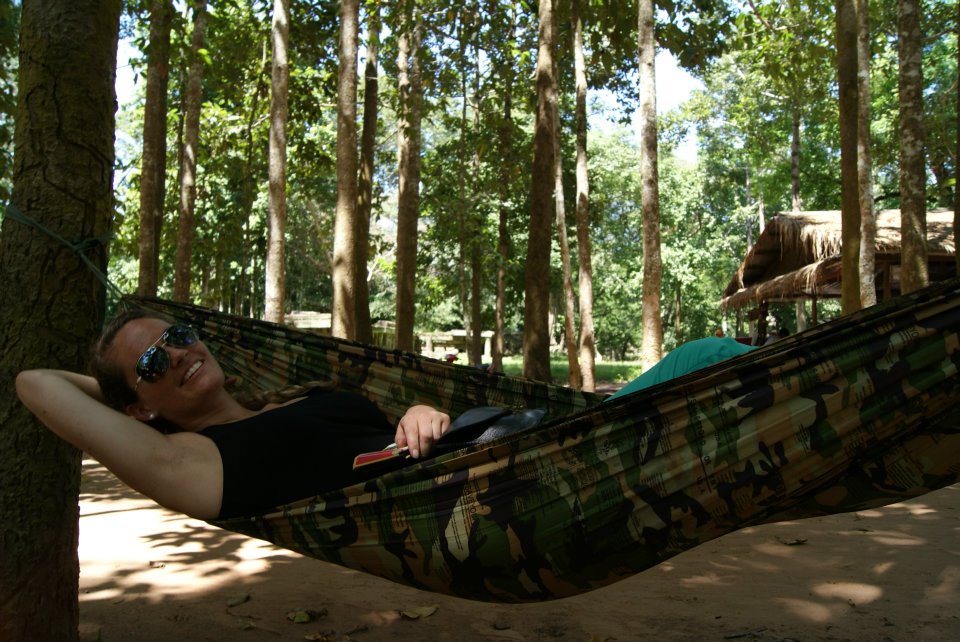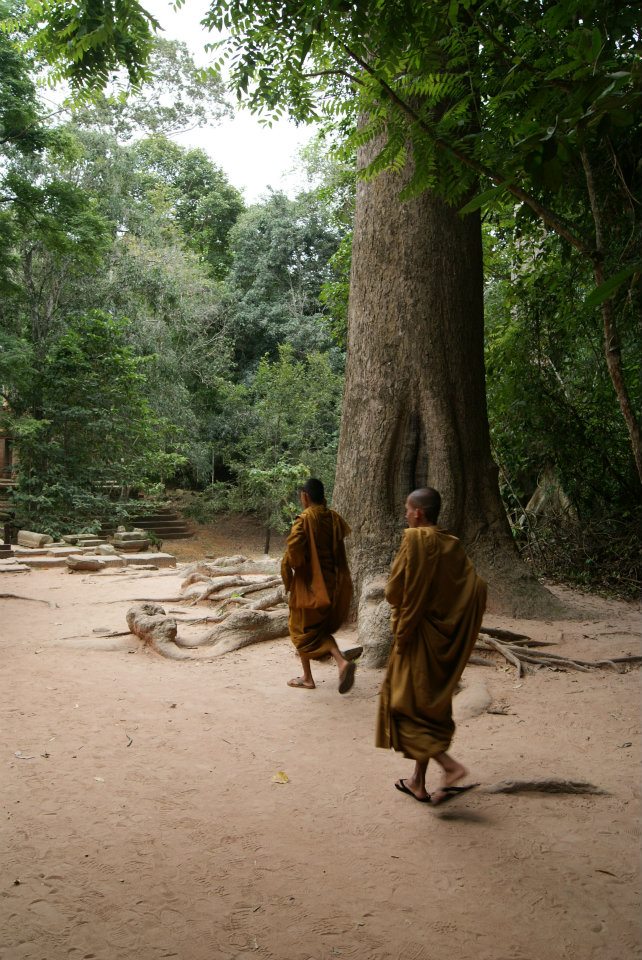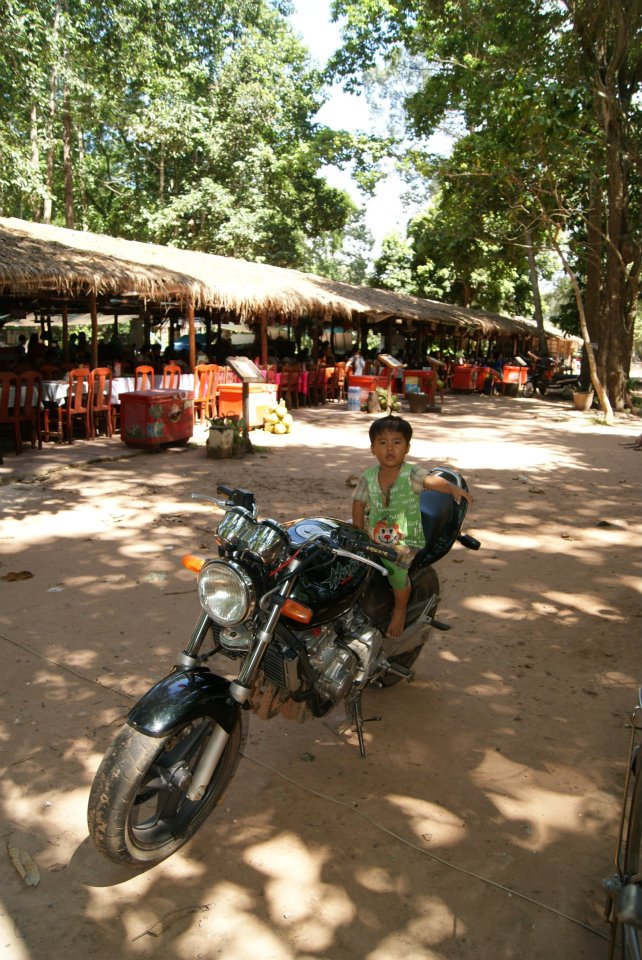 it's never too early to start riding a bike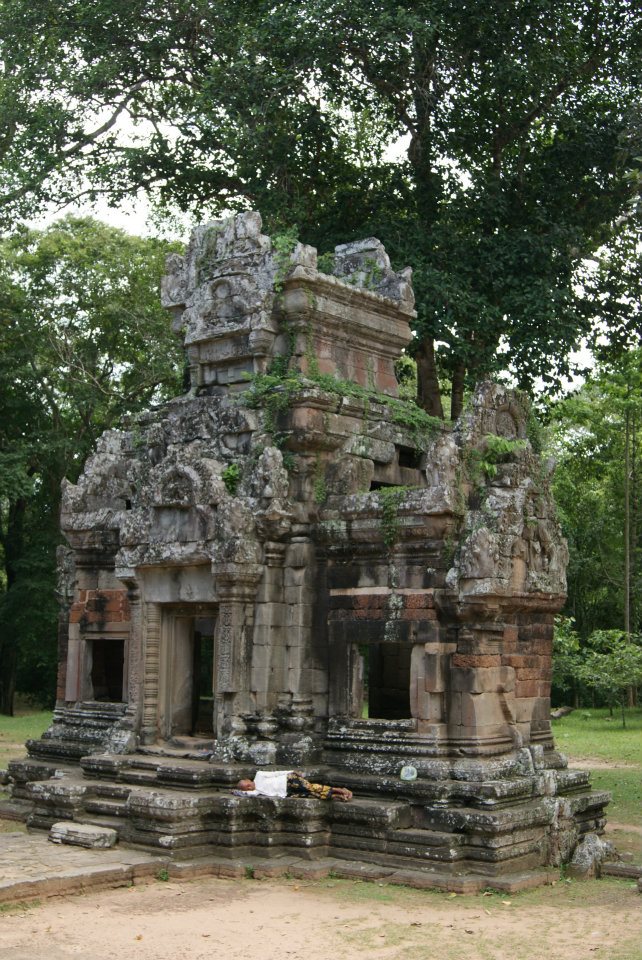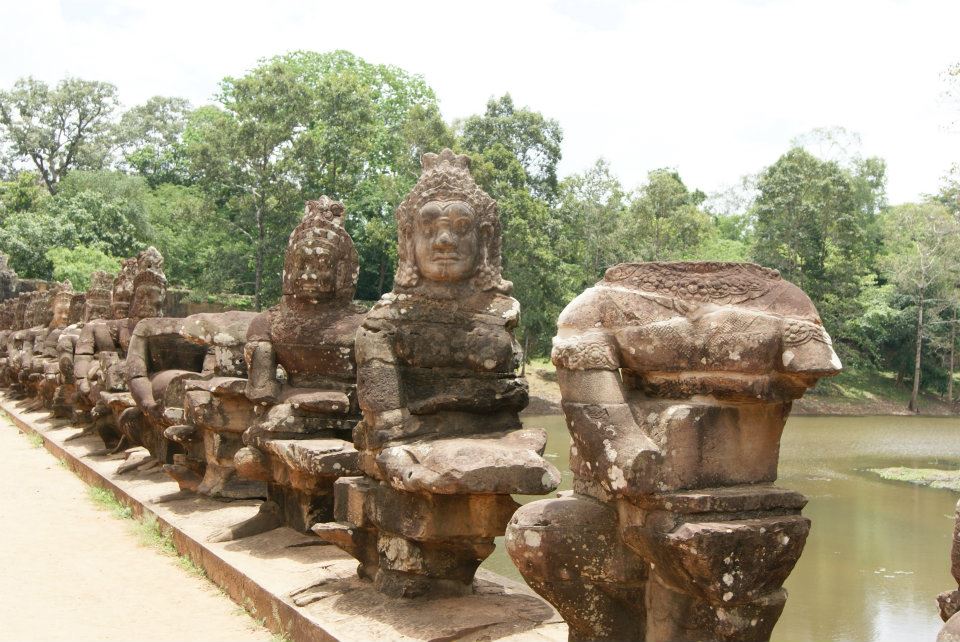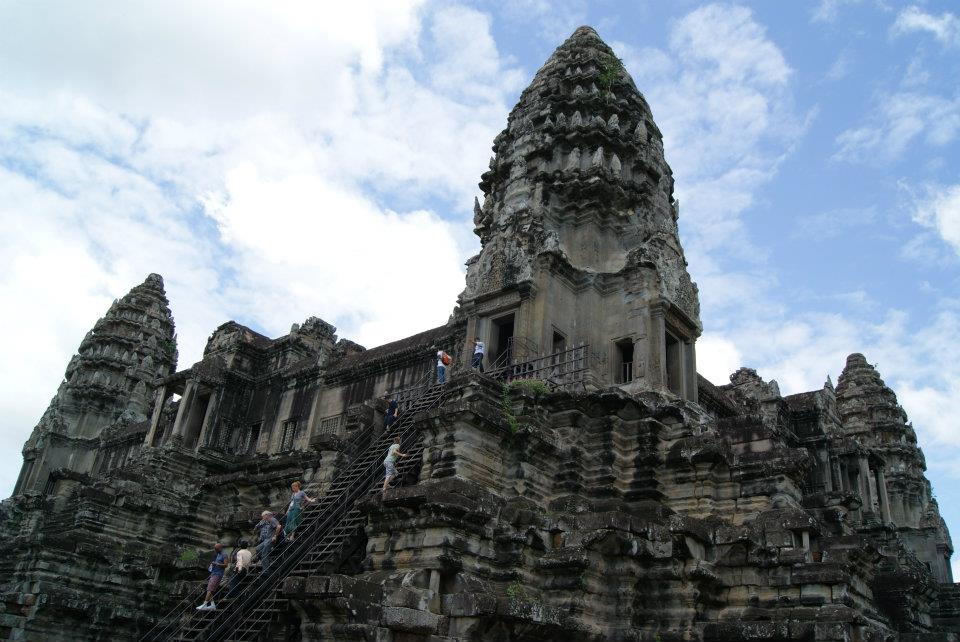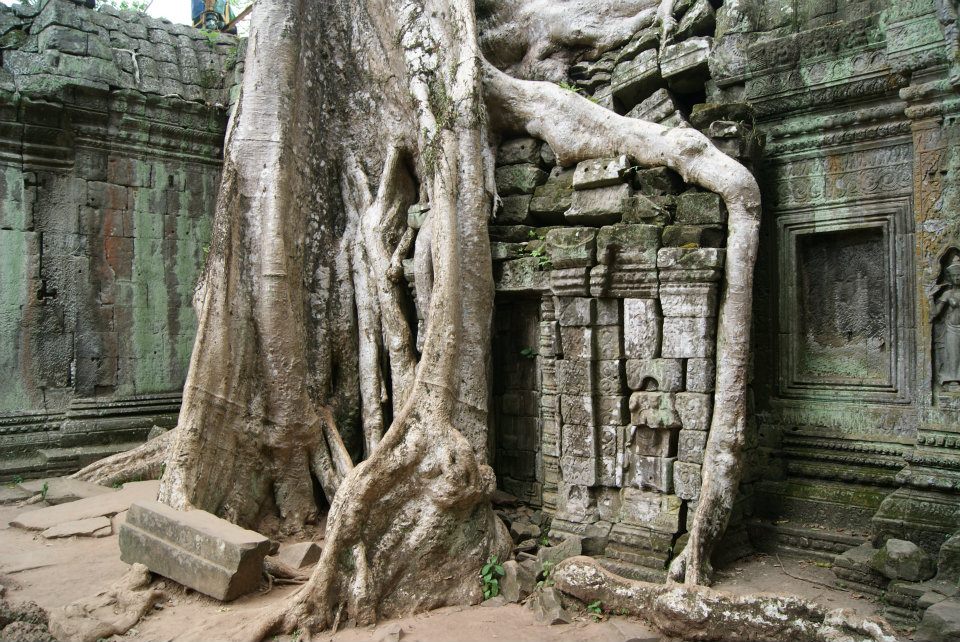 Ta Prohm, one of the most famous temples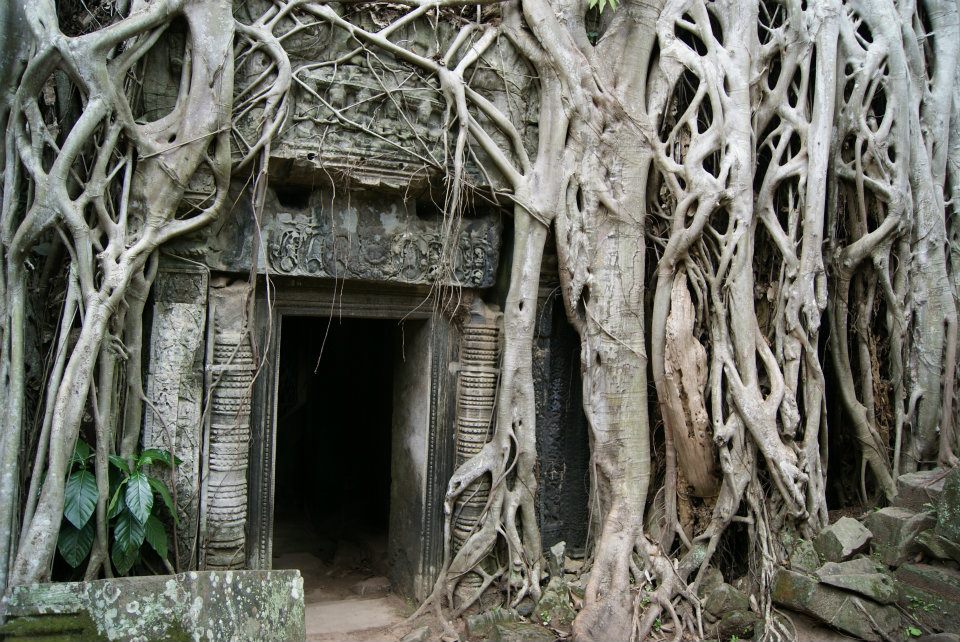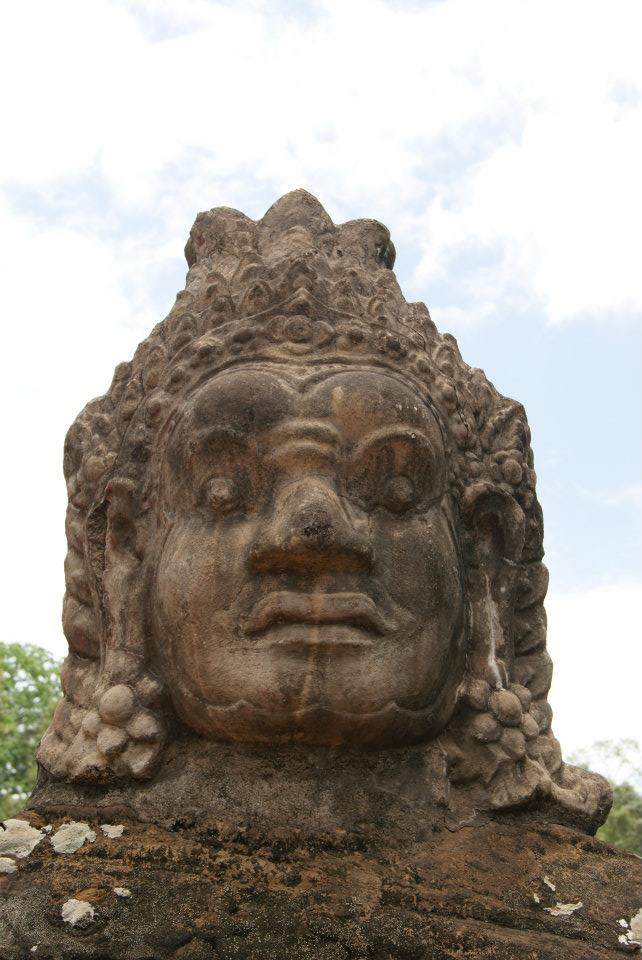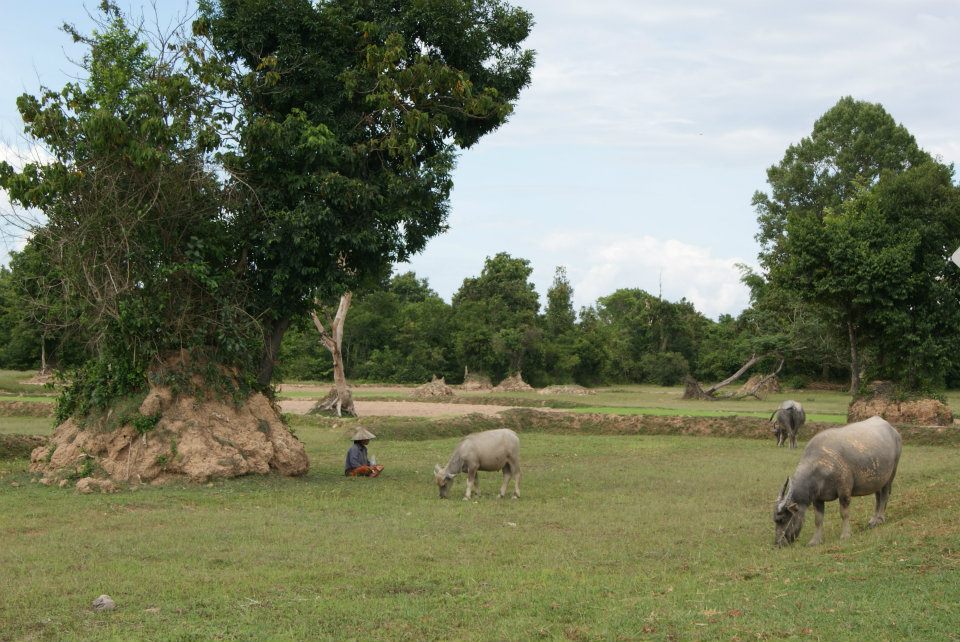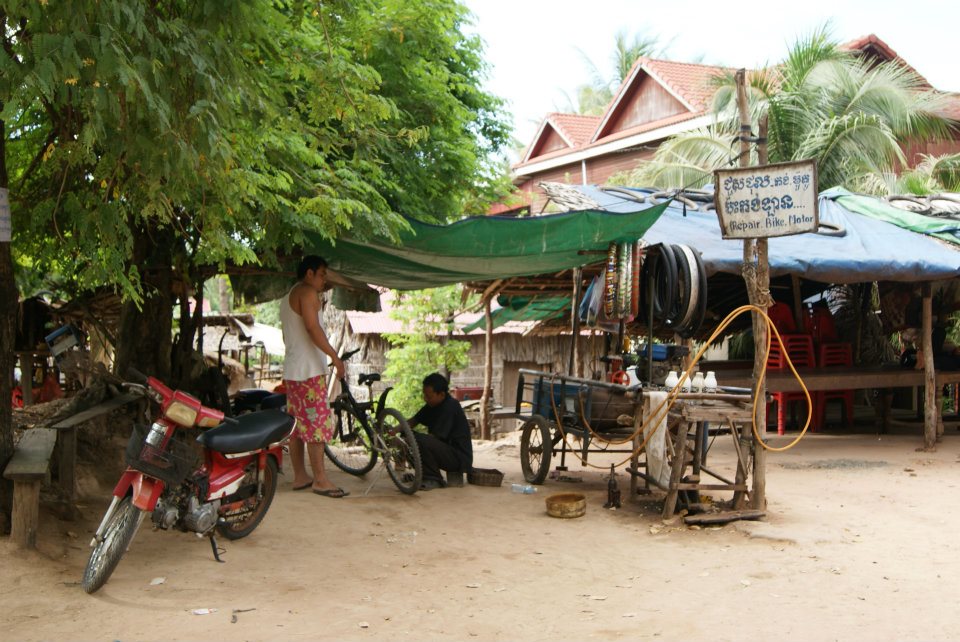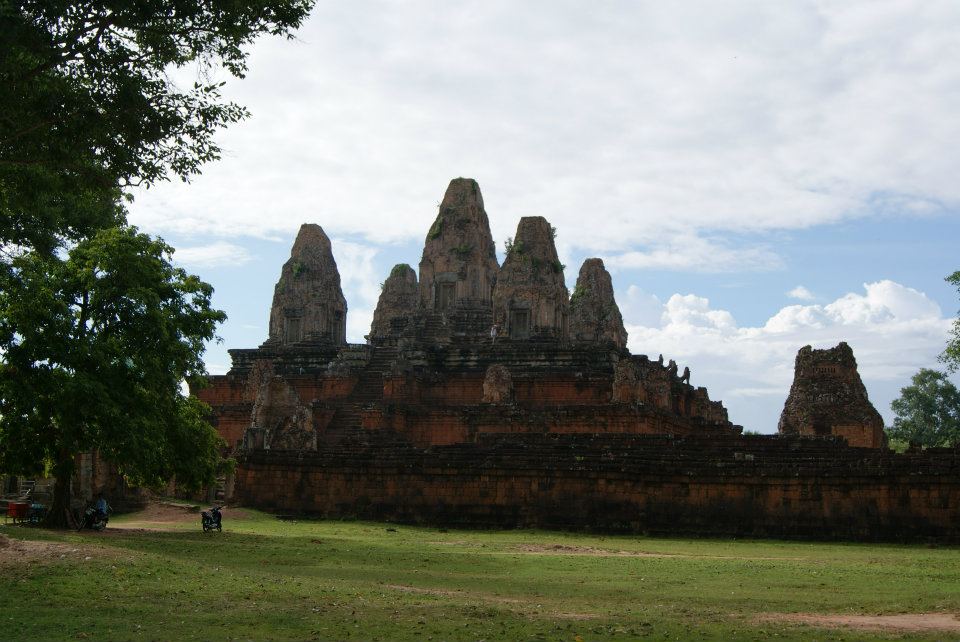 Tomb Rider Temple, where parts of the movie with Angelina Jolie (Lara Croft) were filmed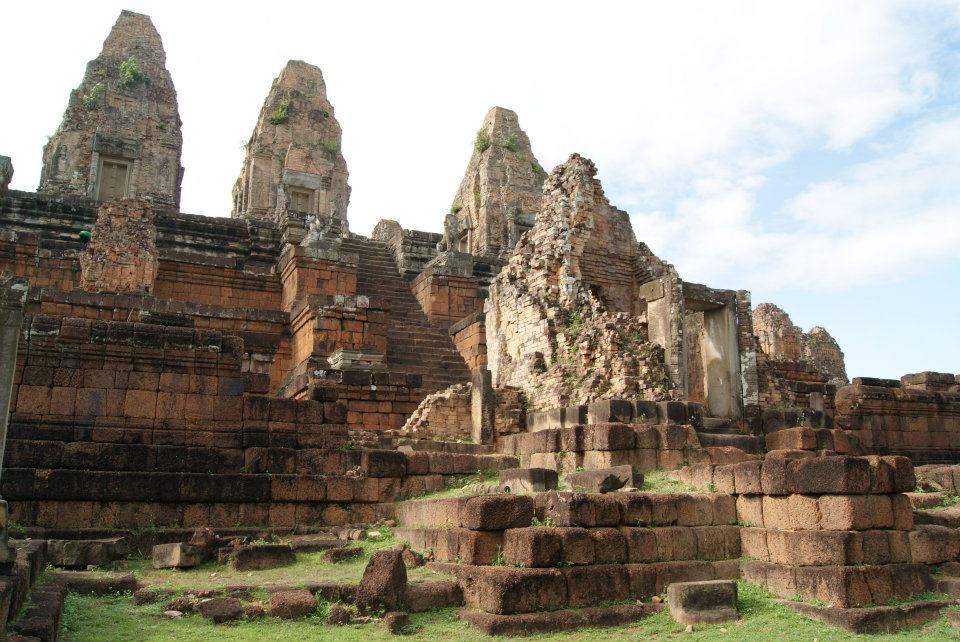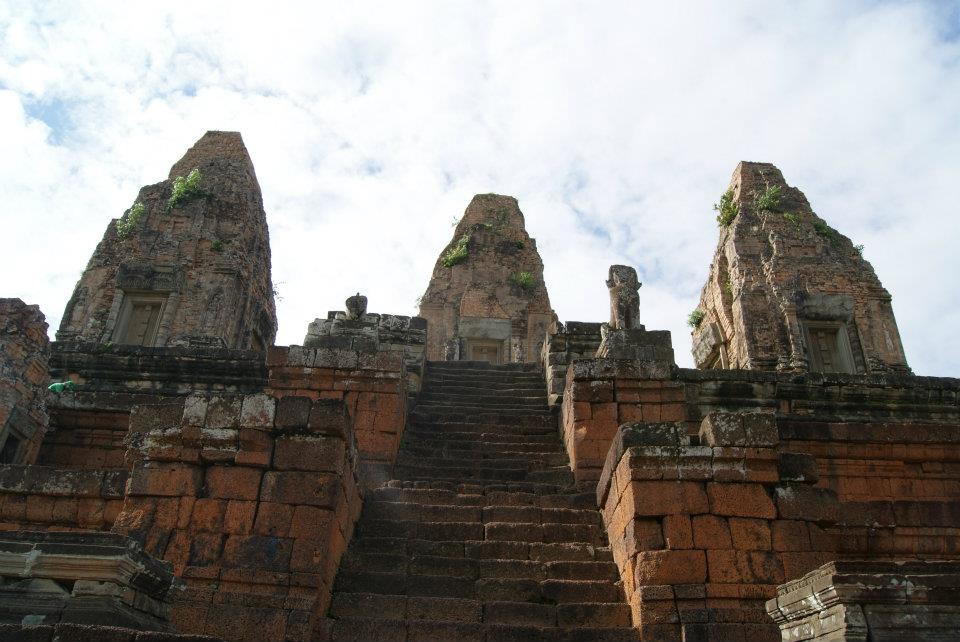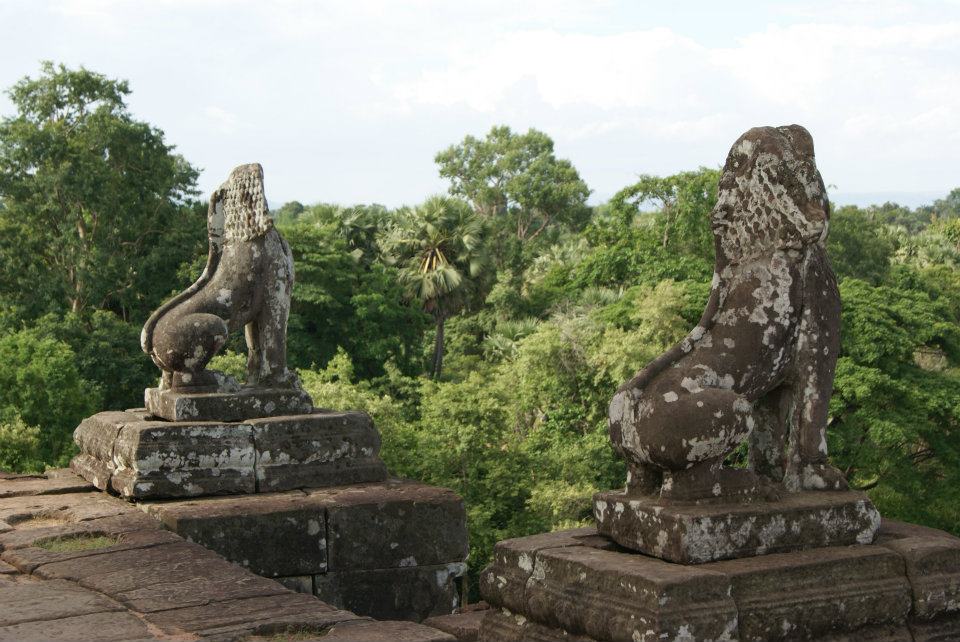 Phnom Penh

On Saturday it was time to pack our bags and get on another bus to Phnom Penh. The bus ride was the worst so far, they played really loud karaoke videos, it was hot and tight seats and the bumpy road didn't really invite to a comfortable 6.5 hours which even turned out to be 9 hours trip to the capital of Cambodia (for 300 km's)!!!

We checked into a rather expensive hotel near the waterfront and the Kings Palace which wasn't worth the money. We had a tapas dinner at a Chinese restaurant near the river and while we were eating I felt something on my foot. I pulled my feet up right away, didn't see what it was though. A littlle while later we saw a few really big rats running around the restaurant. We were really grossed out and left immediately!

After the rat experience it was time for another foot massage, we just walked into a massage studio and it seemed that all the women were on drugs. We talked to them and they told us that they had to work 15 hours per day, get 2 days off per month, no holidays and all of that for a sallary of 50 dollars per month! From now on we will give them a really good tip when we get a massage.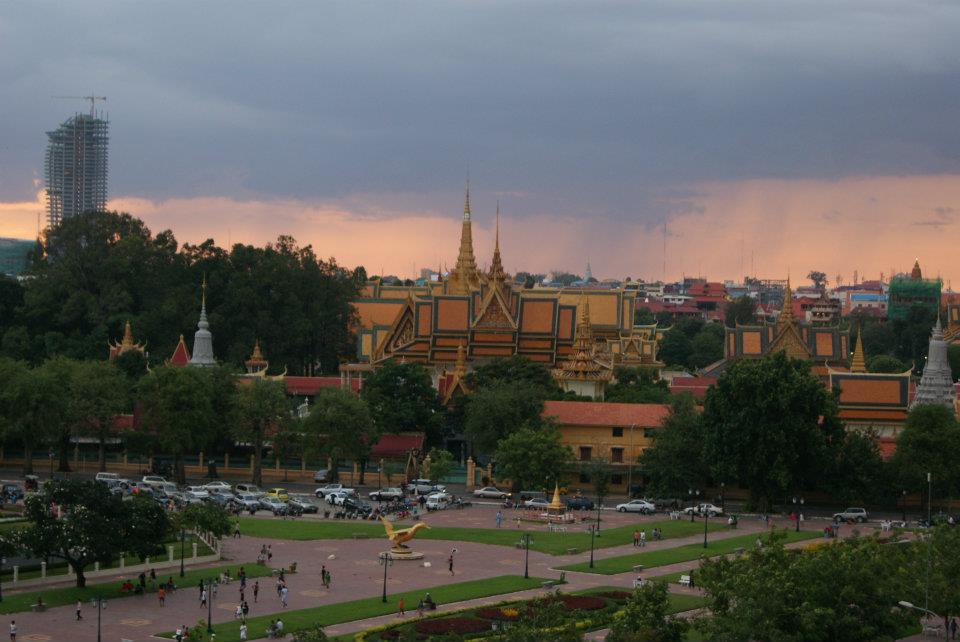 Kings Palace, Phnom Penh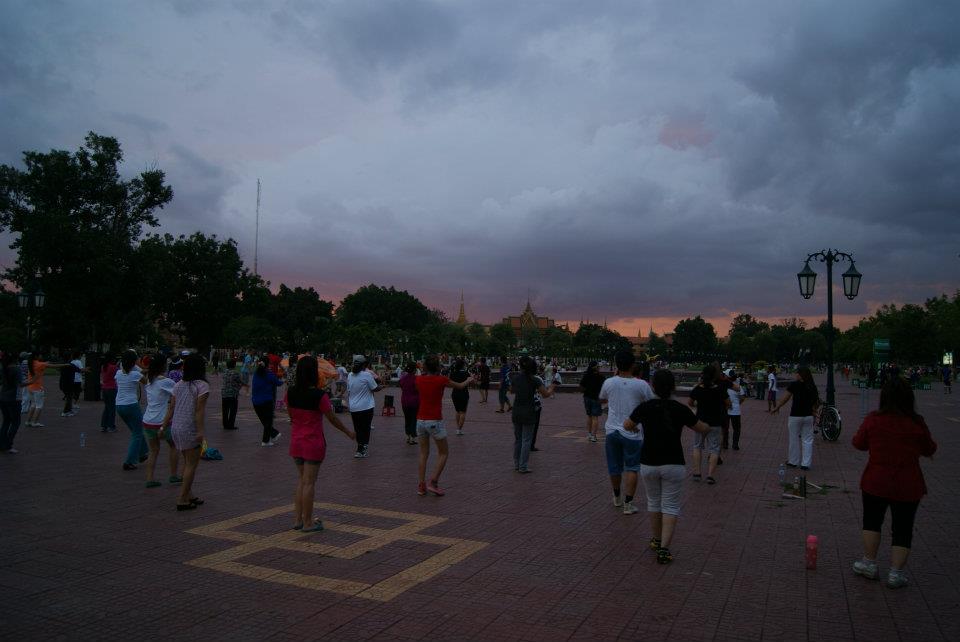 aerobic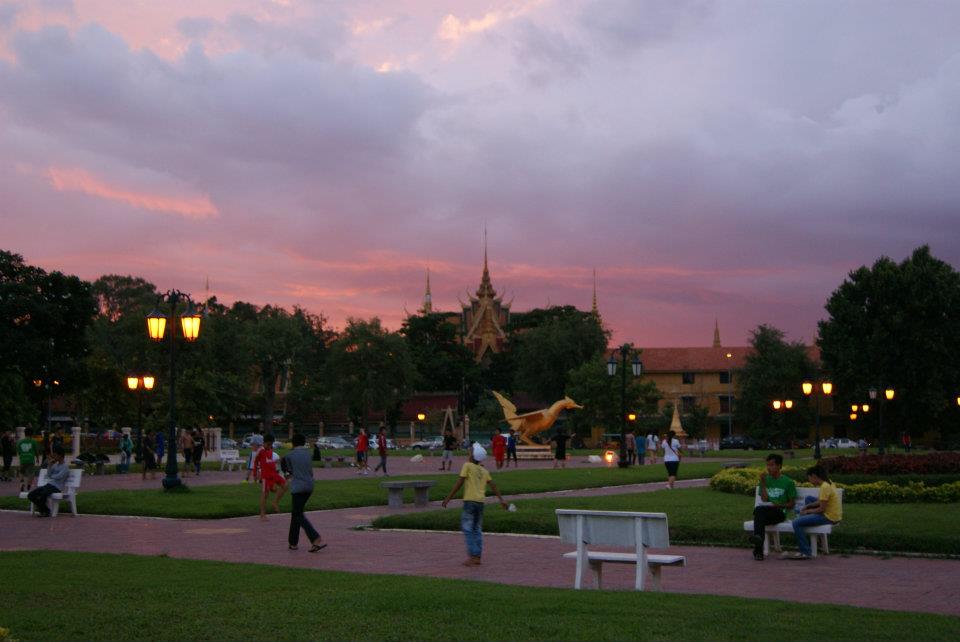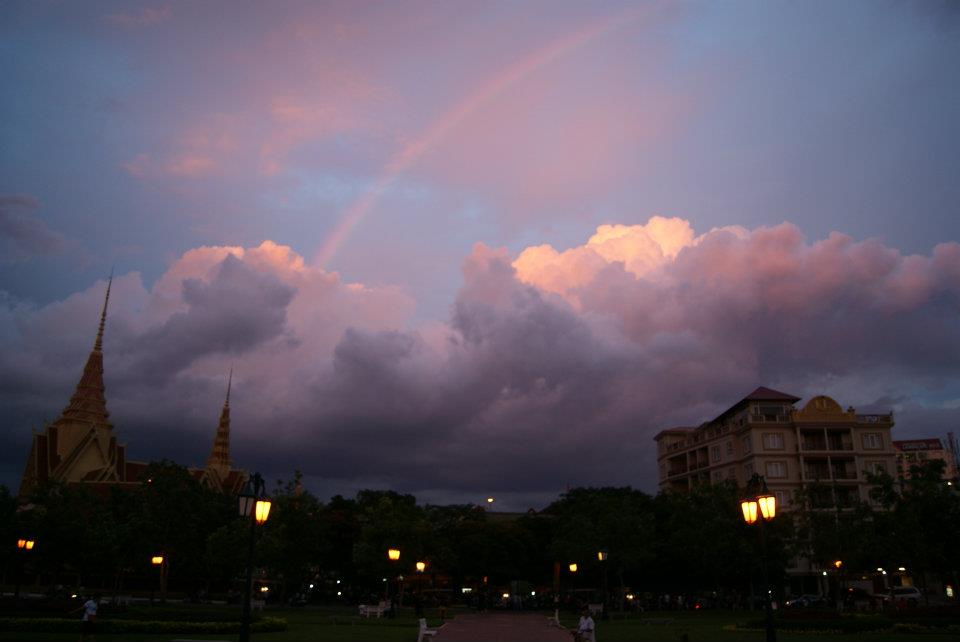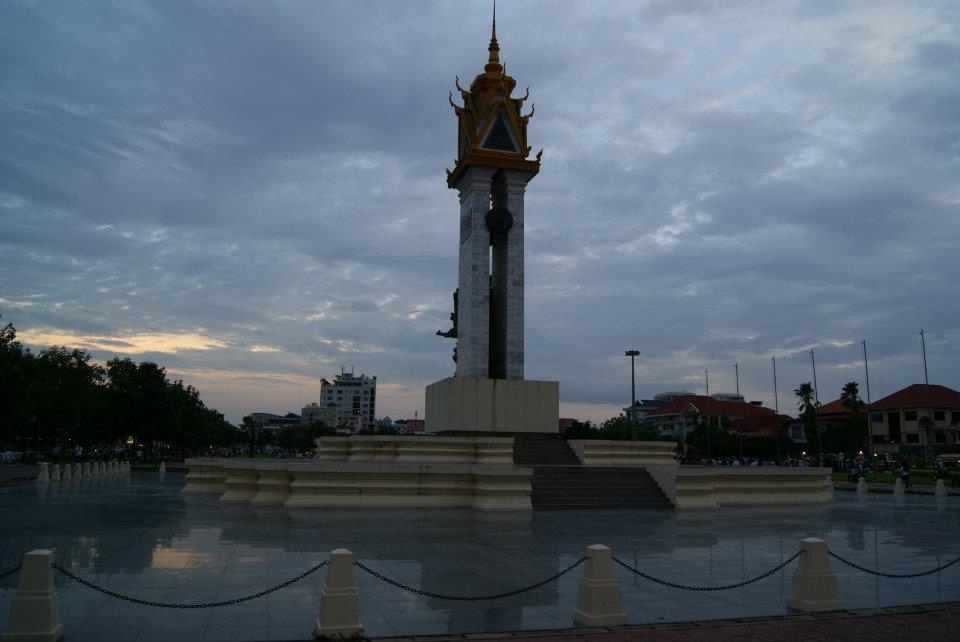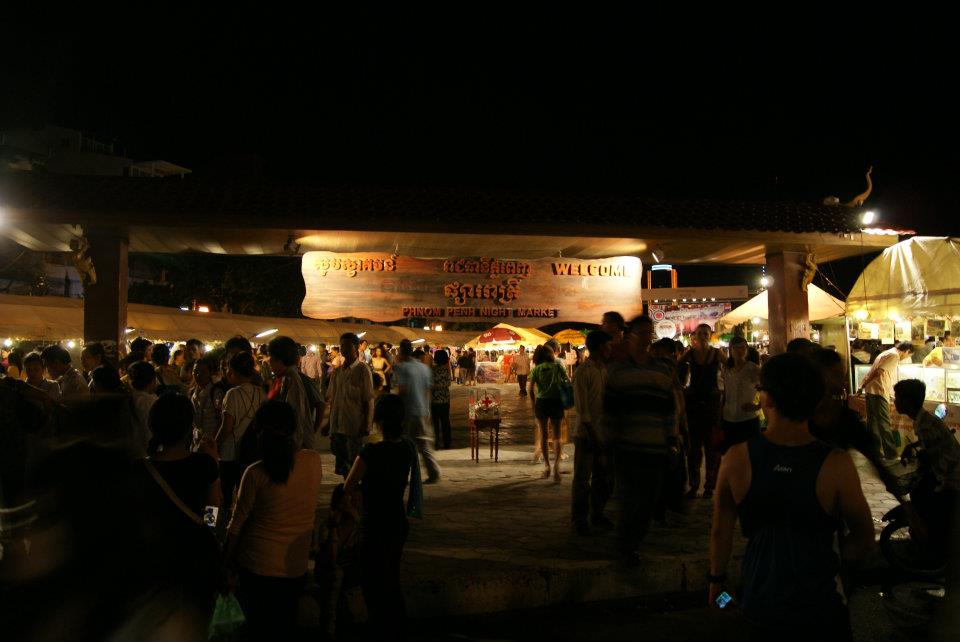 Phnom Penh night market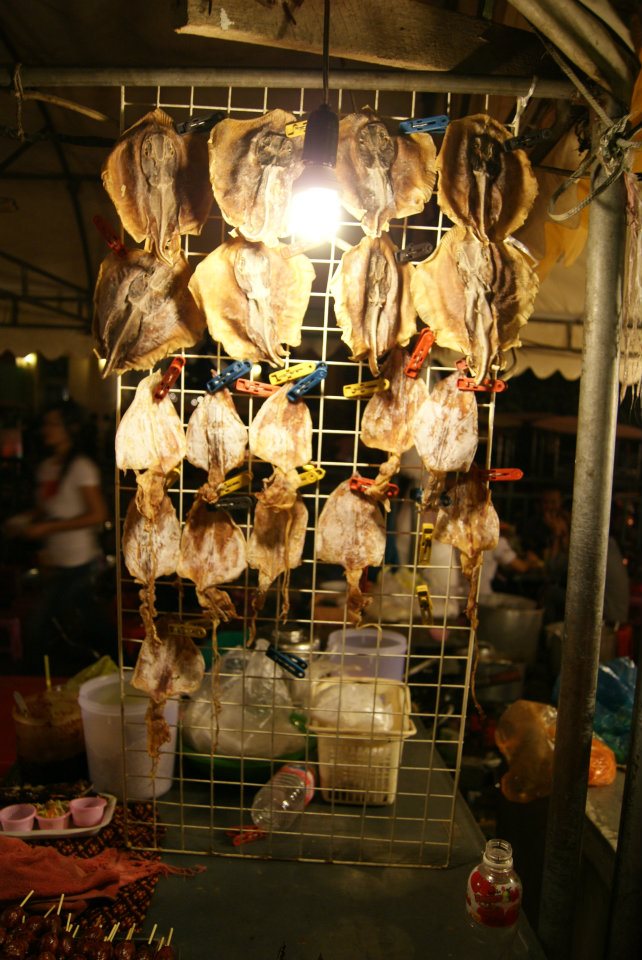 looks delicious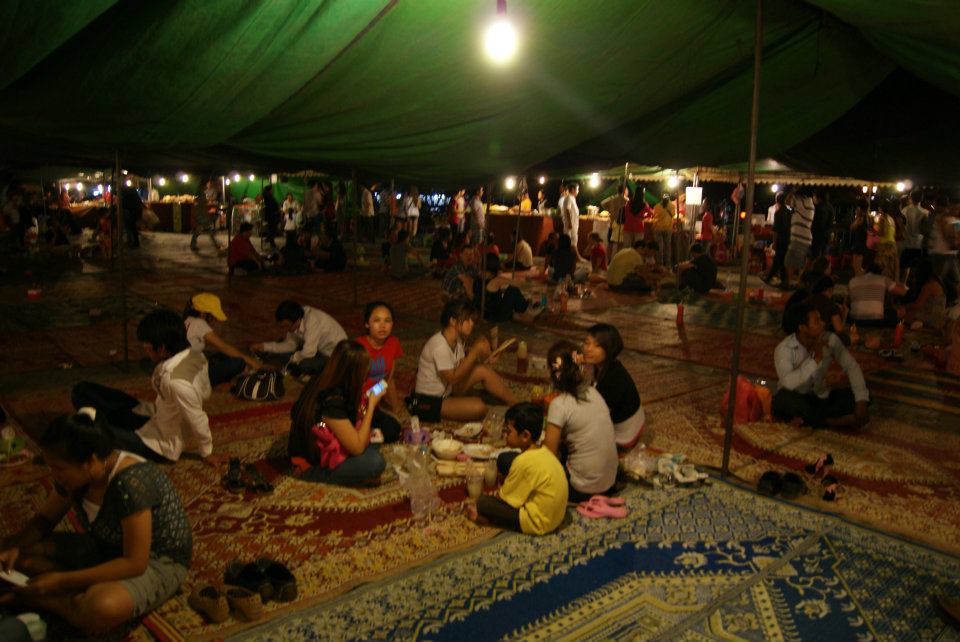 Combodian food court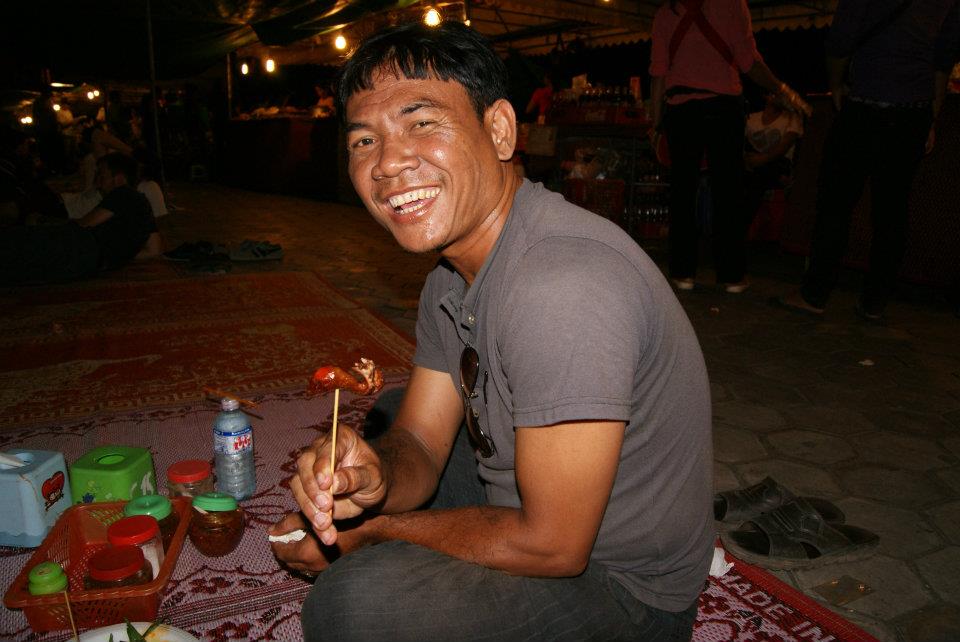 On Sunday we got up early and took a tuk tuk to the Tuol Sleng Museum. Although I had read a book about Pol Pot and his regime (the Khmer Rouge) I wanted to know more about it. The Khmer Rouge killed 3'000'000 Cambodians between 1975 and 1979! 3 years, 8 months and 20 days!!! Mostly people who were educated (teachers, doctors, lawyers anyone who had some kind of education) Pot wanted a communist country, they didn't stop from killing babies, children and sometimes whole families.
Tuol Sleng (S-21) prison where 20'000 innocent people were imprisoned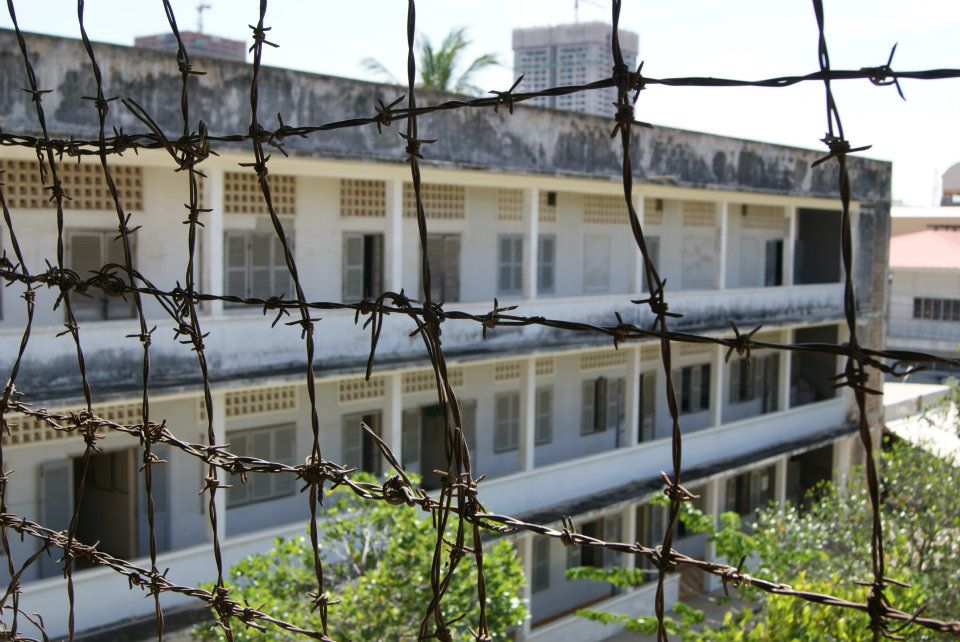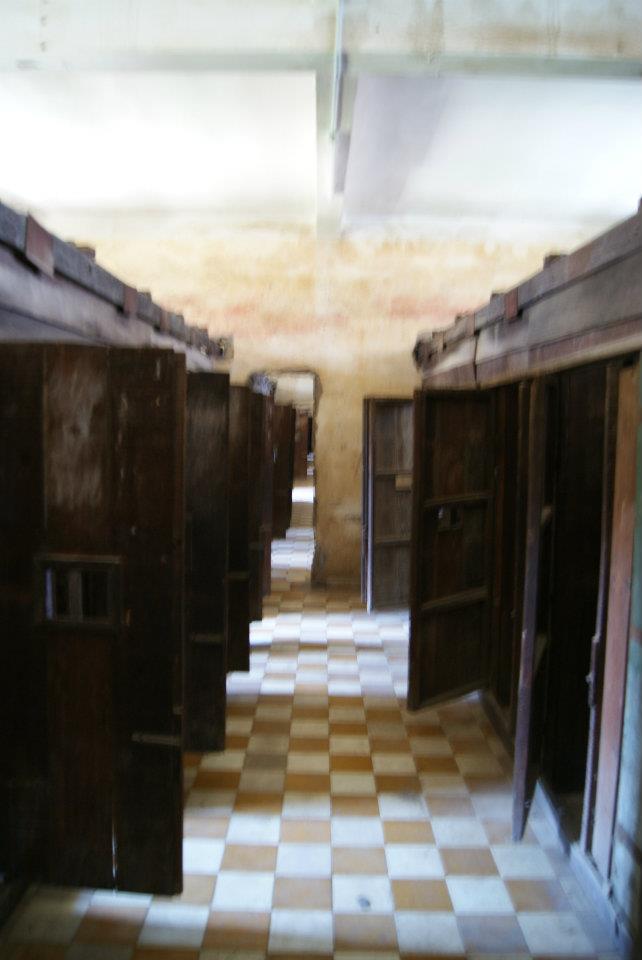 hallways of ghosts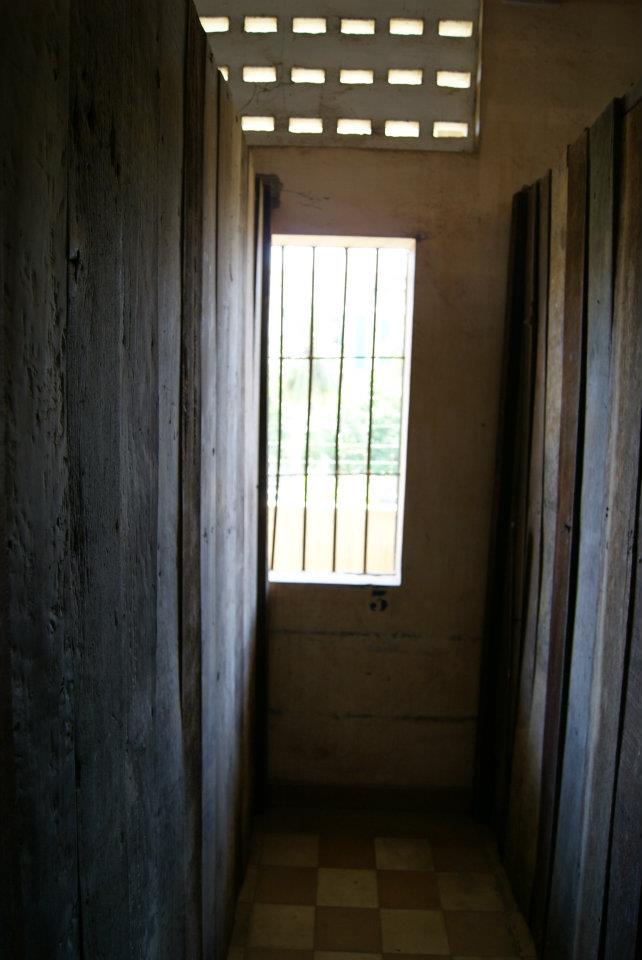 prison cell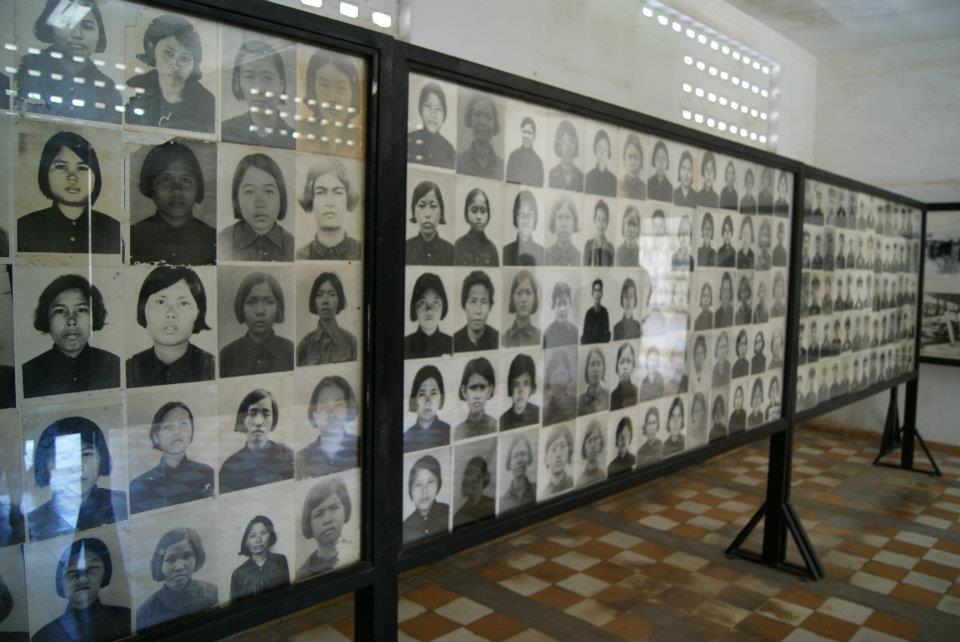 the Khmer Rouge photographed every prisoner that went through Tuol Sleng prison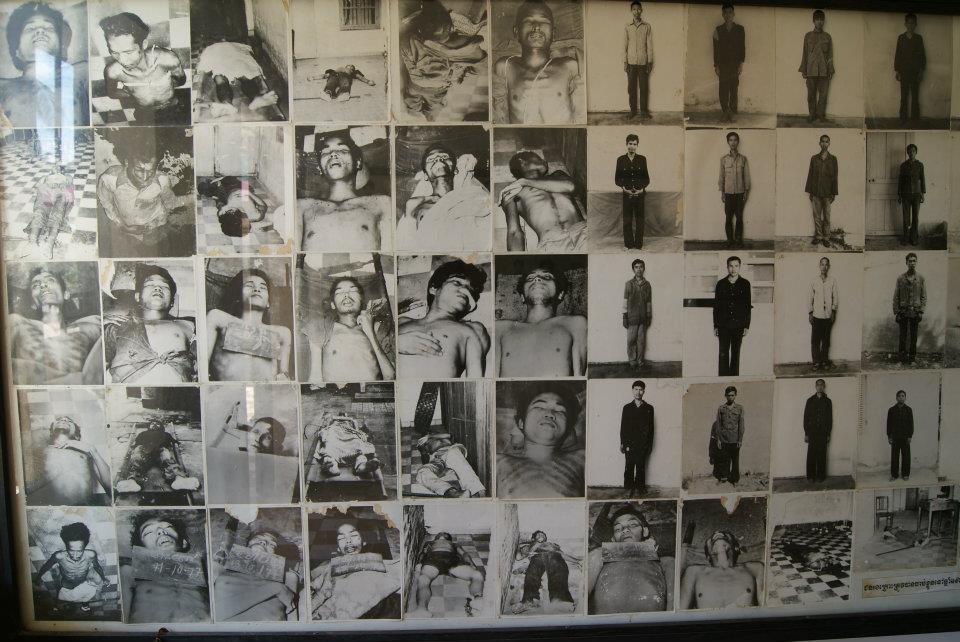 The really schizophrenic thing about all of this is that Pot himself was a teacher, he even studied in Paris and was into politics there. After his return to Cambodia he obviously turned into a cruel monster!

Tuol Sleng used to be a high school but was transformed into a Security prison. The classrooms were turned into torture chambers and equipped with various instruments to inflict pain, suffering and death. The long corridors are hallways of ghosts containing haunting photographs of the victims, their faces staring back early from the past. Like the Nazis, the Khmer Rouge leaders were meticulous in keeping records of their barbarism and each prisoner who passed through Tuol Sleng was photographed, some even dead, tortured to death. I was shocked to see these images and felt sick to be in these prison cells where only 30 years ago a part of a genocide took place. Around 20'000 victims of Tuol Sleng were taken to Choeung Ek a killing field to be executed the rest of them were taken to over 300 killing fields throughout Cambodia.

a mass grave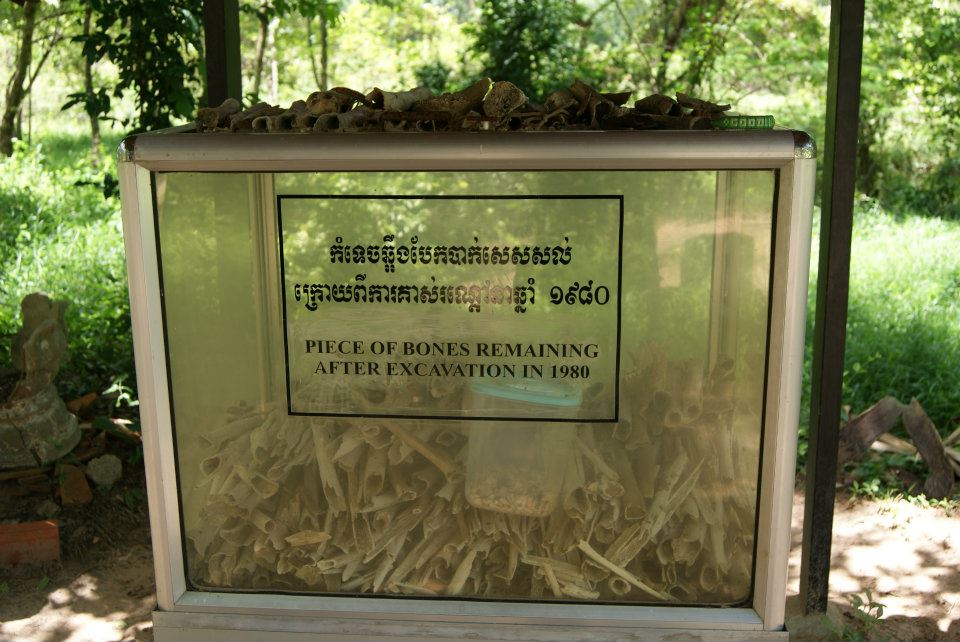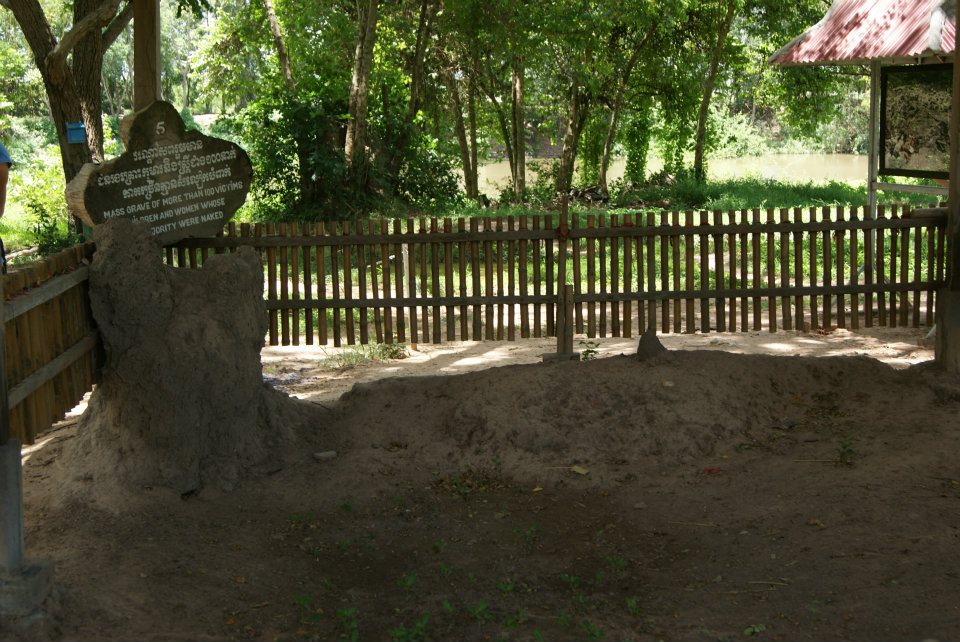 mass grave for women and babies
So we wanted to visit the killing fields of Choeung Ek which is a genocide memorial today. We got headphones and audio which told the whole story about Pol Pot, the Khmer Rouge and the Genocide.

Prisoners were taken to the killing fields at night where they were often bludgeoned to death to avoid waisting preciois bullets. At first 50 victims a day in the last two years of Pots Regime 300 in one night! They were burried in mass graves, in some just women and children.

It's hard to imagine the bruatility that unfolded here when wandering through this peaceful, shady former orchard, but the memorial stupa soon brings you back to reality displaying more than 9000 skulls of victims and their ragged clothes.

I was sad to see all of this and most Westerners dont even know about this tragedy..what Pol Pot and the Khmer Rouge had done in this small country and even worse to their own people. The Cambodians went to hell and back.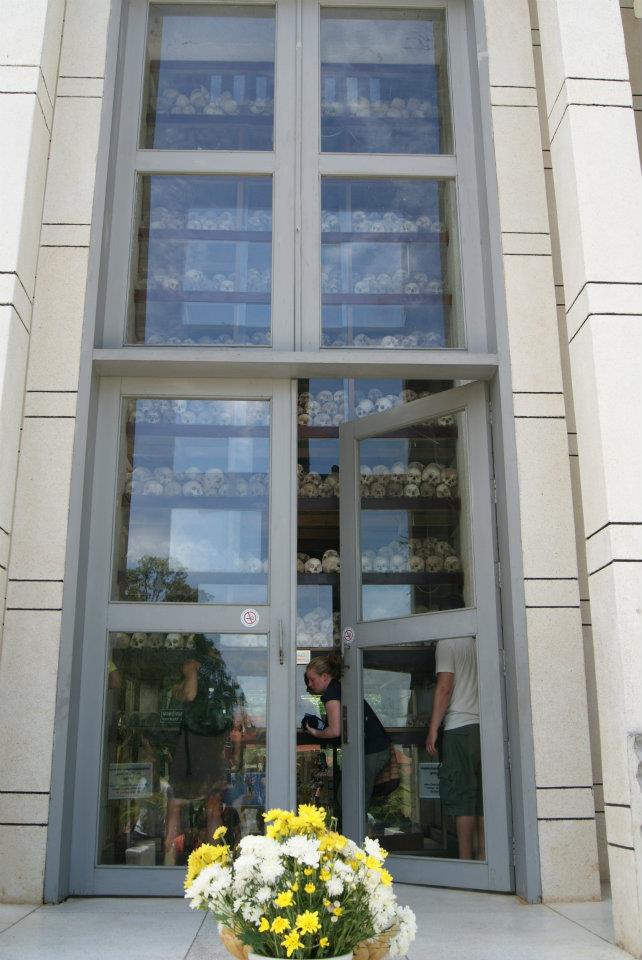 the genocide memorial with 9000 skulls, surreal and very sad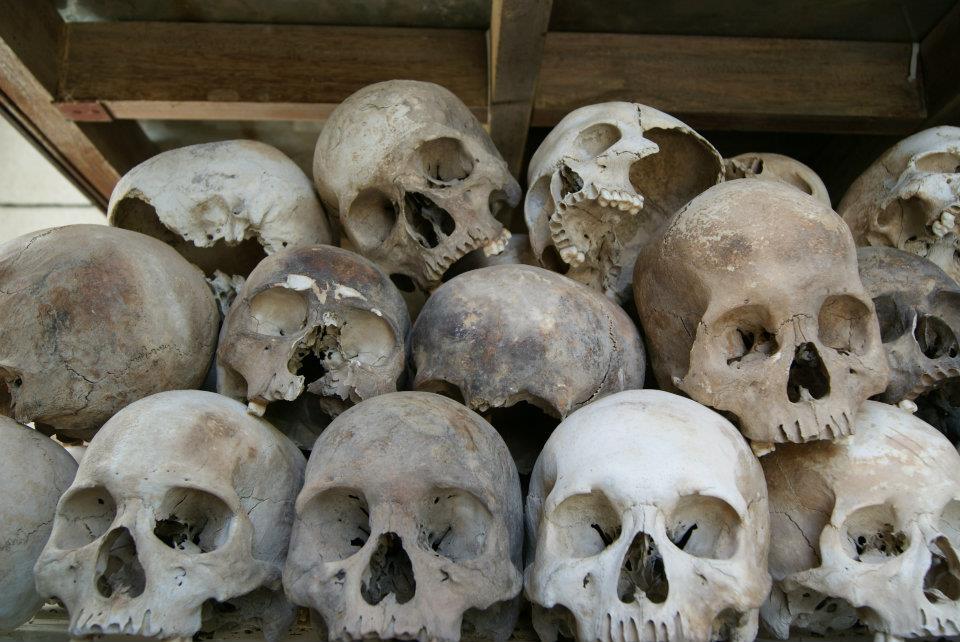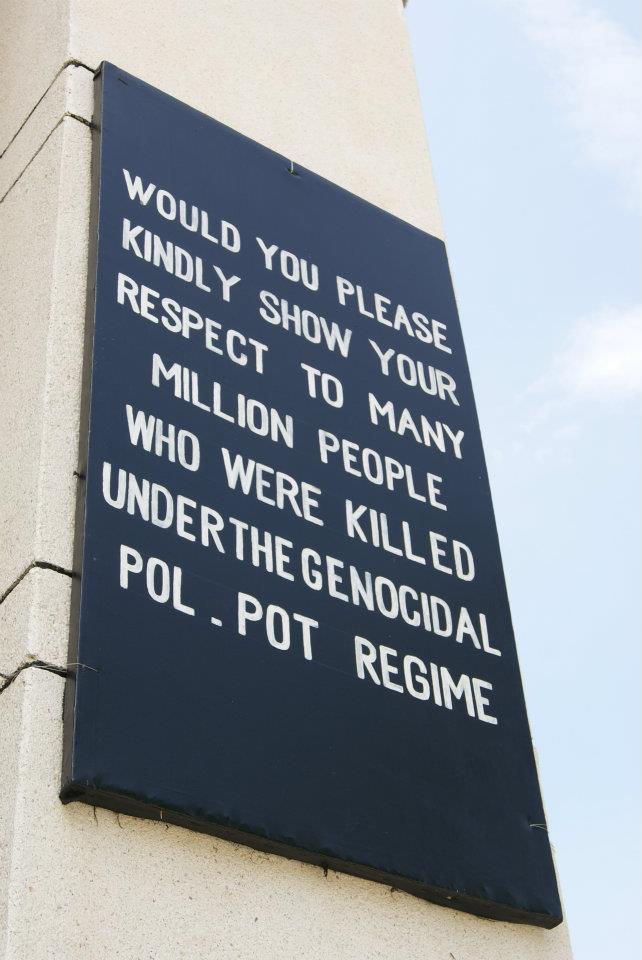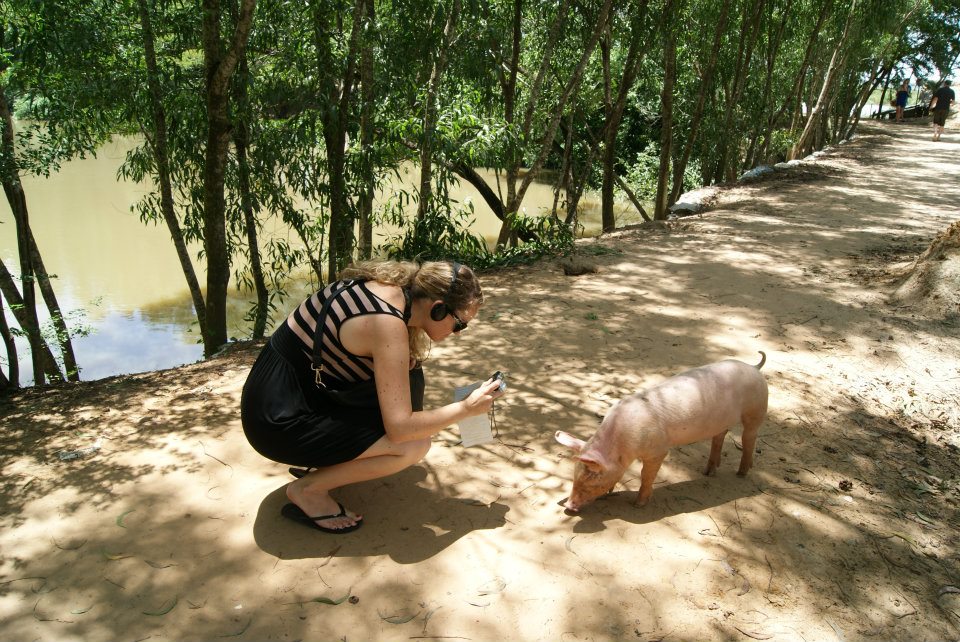 Sihanoukville/Otres Beach

After just one day it was already time to leave Pnom Penh, we took a bus to Sihanoukville. Finally we were on our way to the beaches of Cambodia. For those who know me know that I love islands and beaches.

The busride was supposed to be four hours but of course it took 8 to get to Sihanoukville. When we arrived I was disappointed, the town wasn't nice at all, I was hoping for some nice little beach town.

We had problems finding a hotel, either the rooms were dodgy or it was booked out and one even creepy. So the beach road hotel where we finally checked in was pretty weird too, the guests were either 20 year old English party travellers or old gross sex tourists with Cambodian minors!

Sandra and I decided to leave the next day, she had heard of a place called Otres Beach which was supposed to be nice. Otres Beach is pretty far off from anything and good thing we had the Lonely Planet Cambodia because we checked into the right hotel, Mushroom Point, the only hotel that had more than one guest. All of the others were either being renovated or dead because of the low season. We met some other backpackers all different nationalities and had dinner with them. Afterwards we went to a bar where your first drink is free but it was one big freakshow, lots of foreigners with young Cambodian chicks, even a lesbian with one, backpackers that were on drugs and some really young british girls that got really drunk and didn't know how to behave..it was funny and interesting for a while until we've had enough and went back to our bungalow.

The 3 days at Otres Beach were pretty mellow, sleep in, hang out by the beach, suntan, read, swim, get a massage, eat, enjoy the slow but free wifi, lay in the hammock or watch a movie. hard life;-)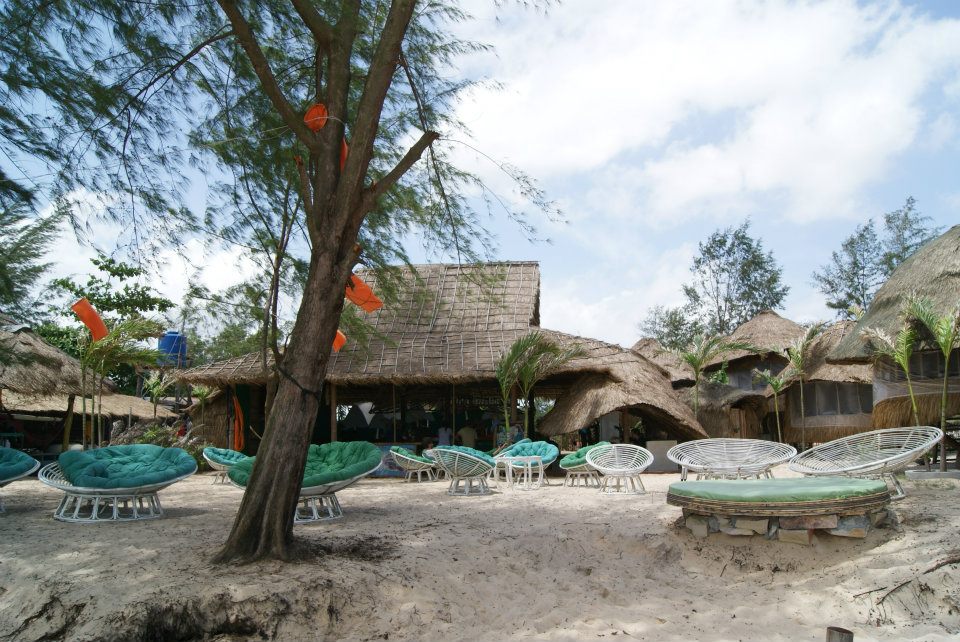 Mushroom Point, Otres Beach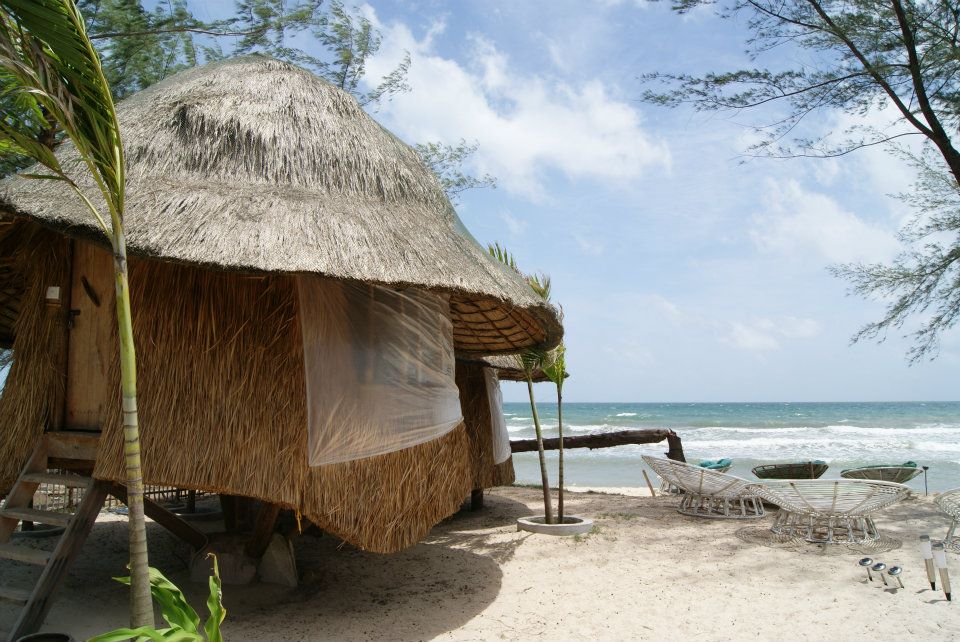 our Bungalow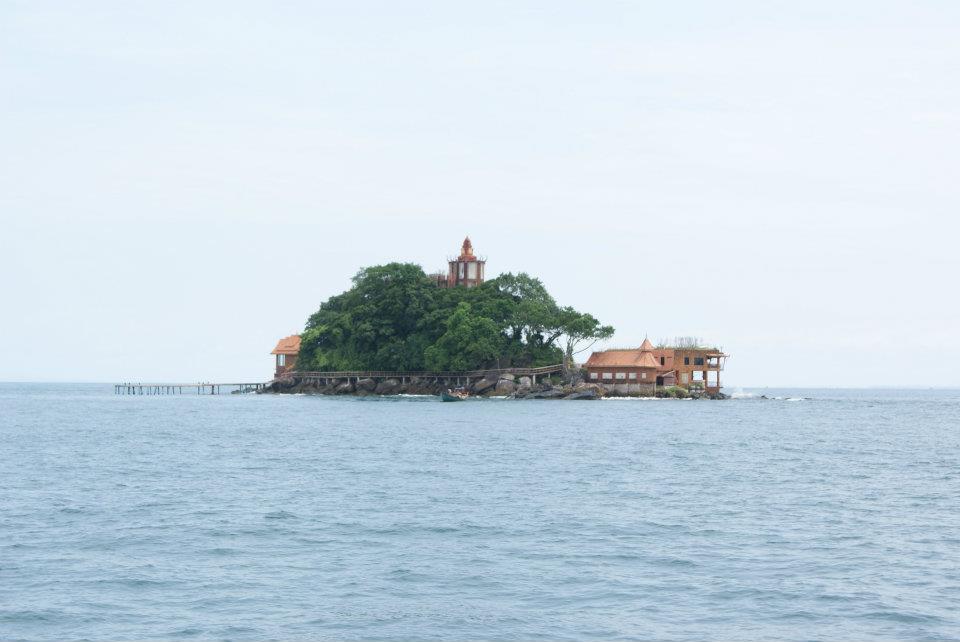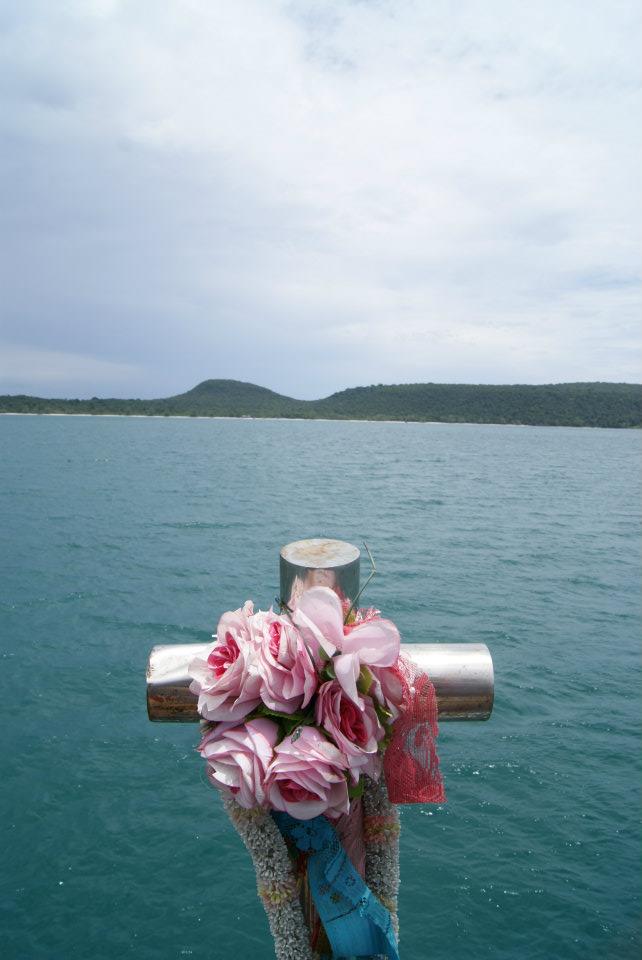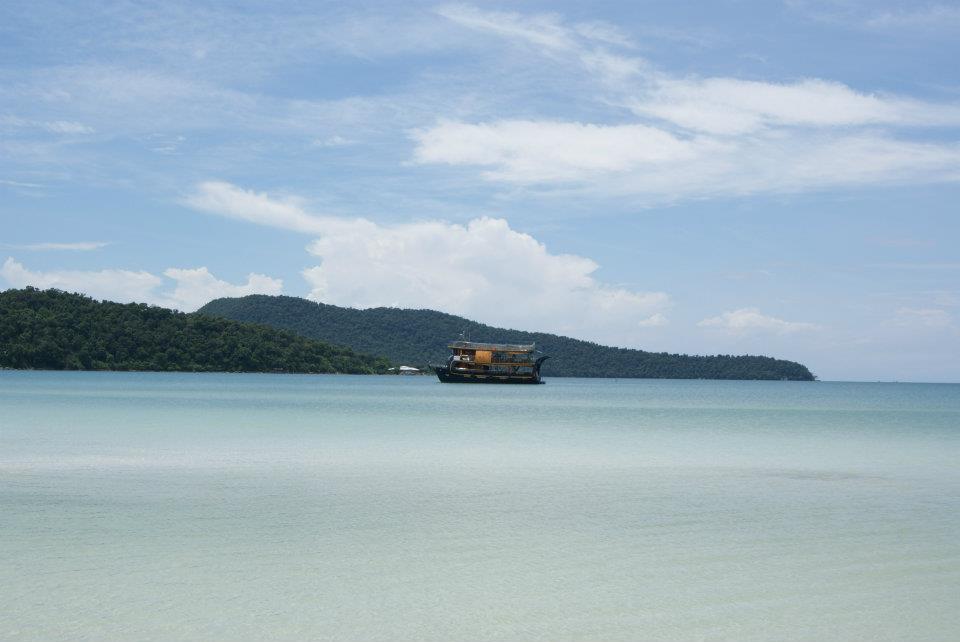 r
Koh Rong, beautiful island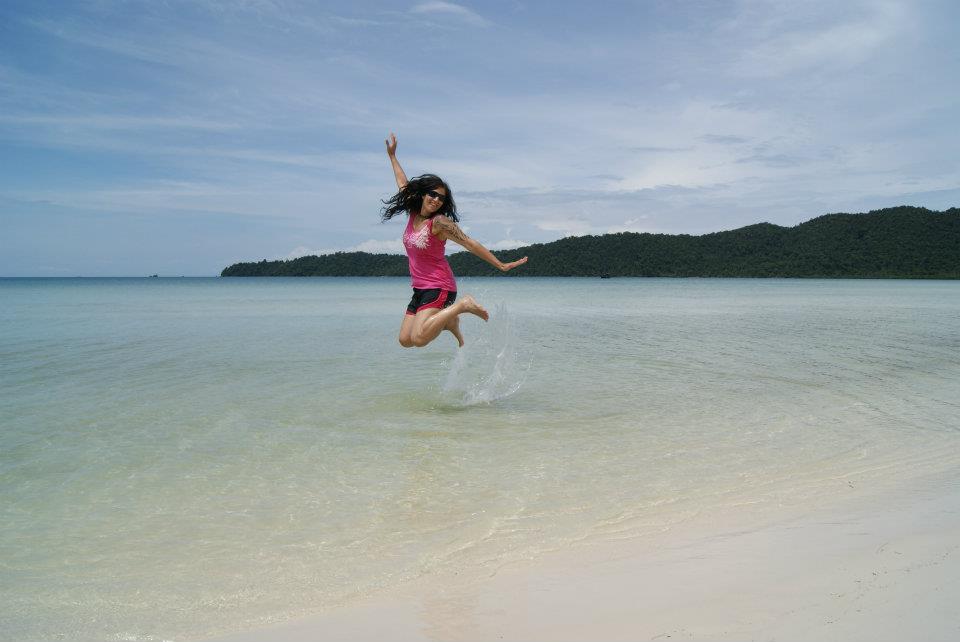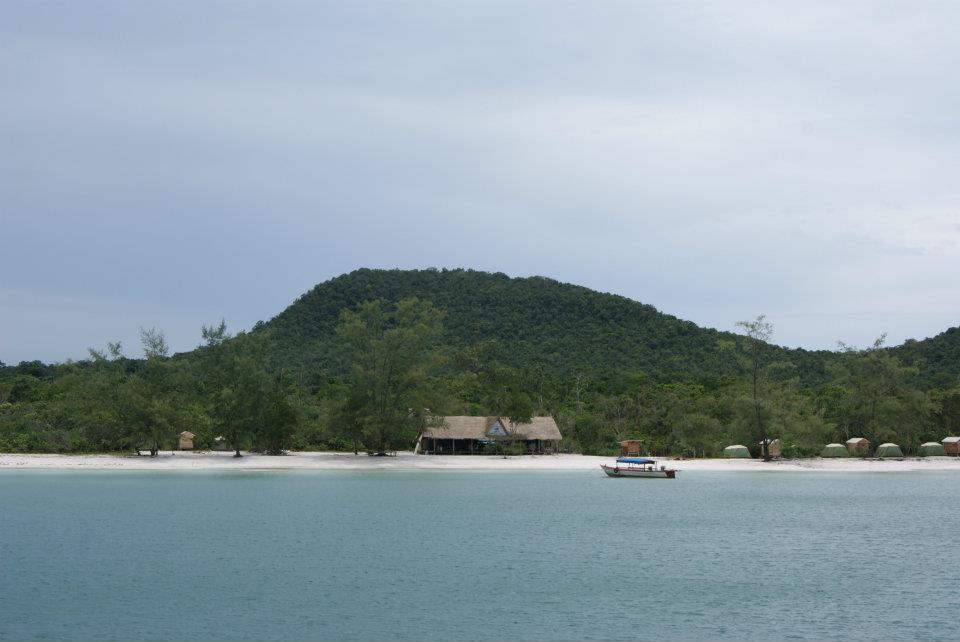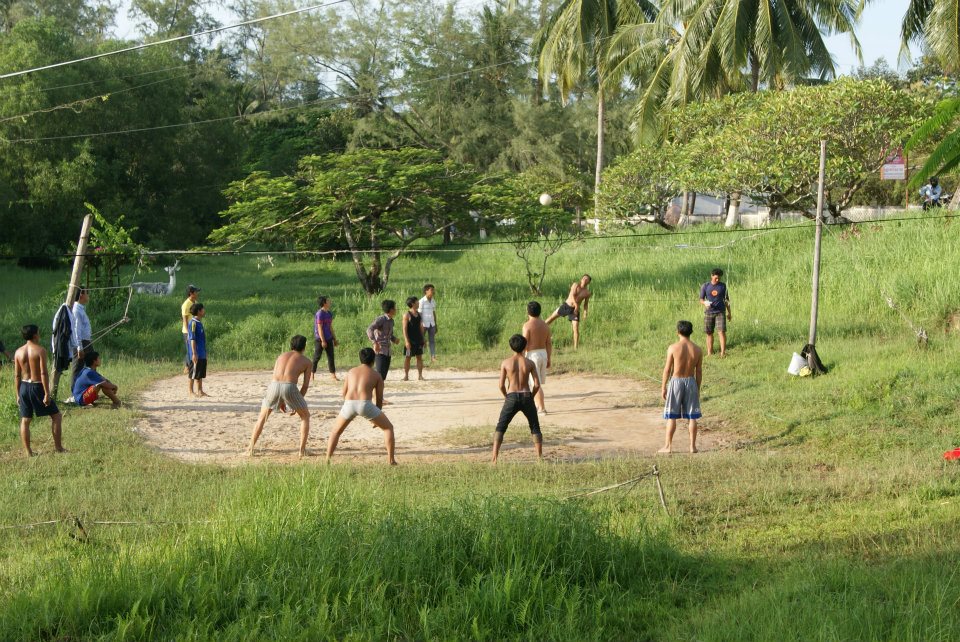 One night we had dinner at a restaurant on the beach in Sihanoukville and it was already 10 p.m. and maybe 20 children between the age of 4-17 were walking along the beach, trying to sell selfmade bracelets. The kids were drinking energy drinks and we didn't see any parents around. They would talk to the tourists, sing, dance, play even 2 hours later they were still on the beach. Their parents probably don't even send them to school because they make more money selling bracelets, it's really sad. They are never gonna have a real childhood. And I mean with all the gross sex tourists there is also a big risk of the kids being taken by a paedophile. I guess we were born in the right time in the right place, but where you are born shouldn't determine whether you live.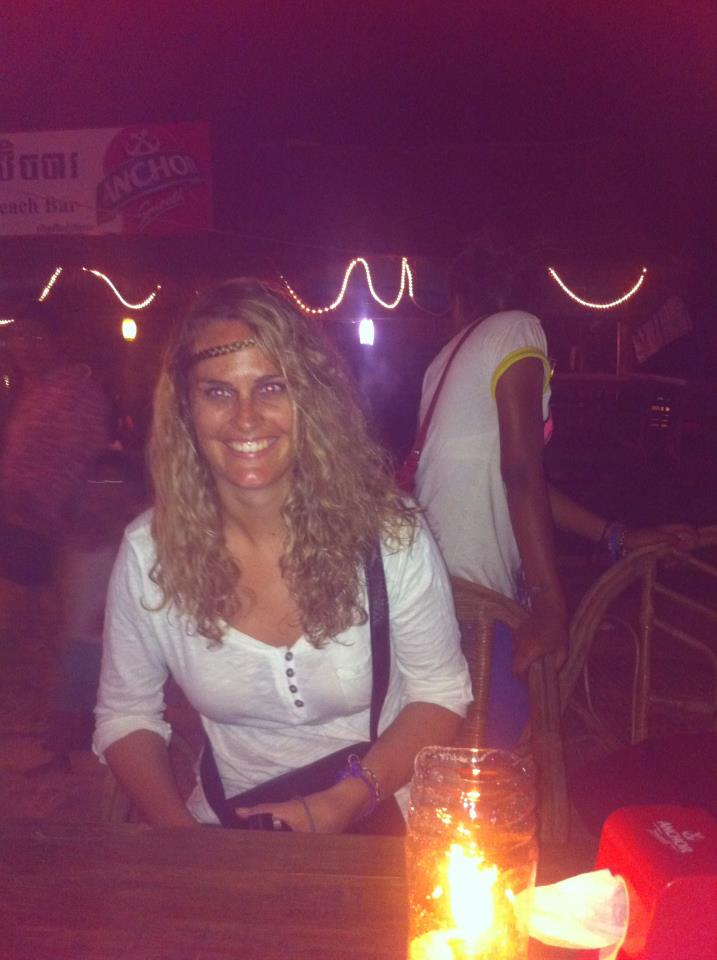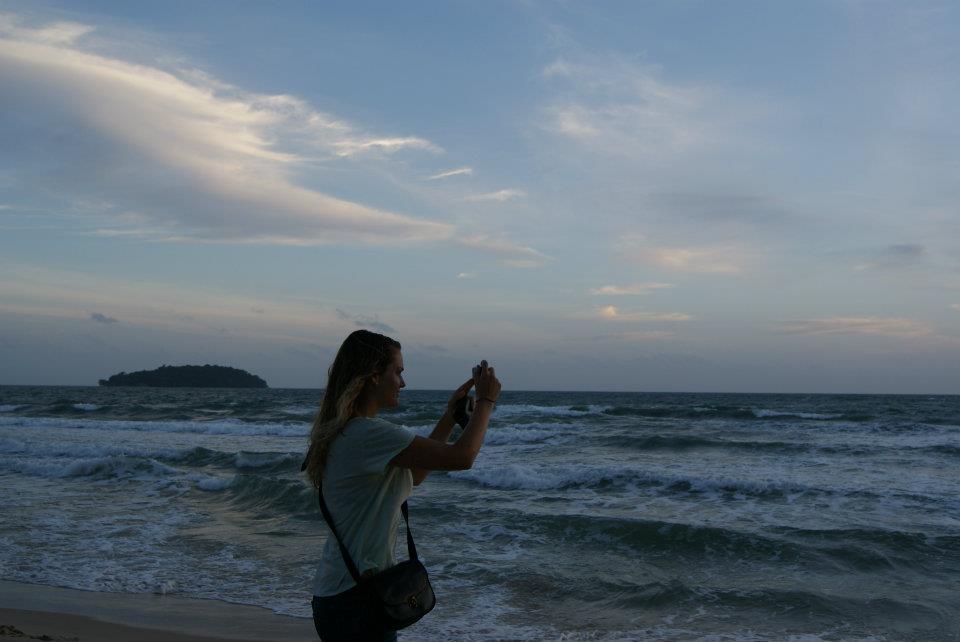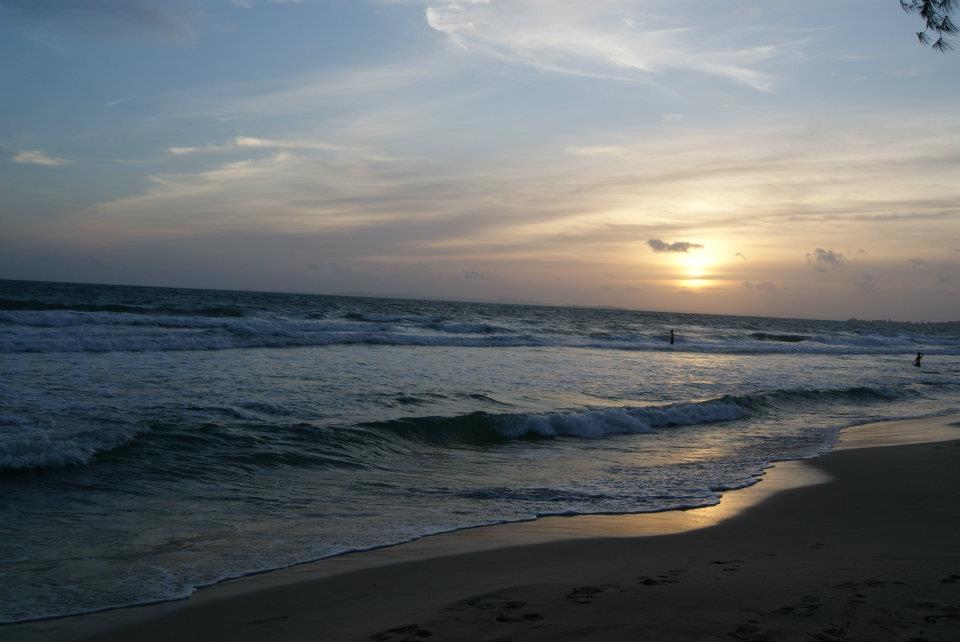 Otres Beach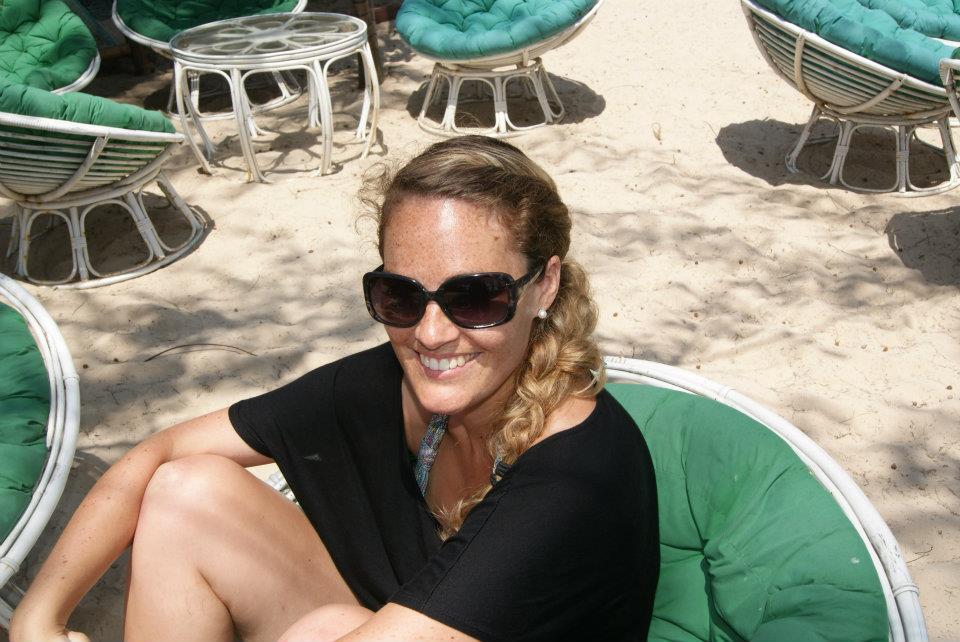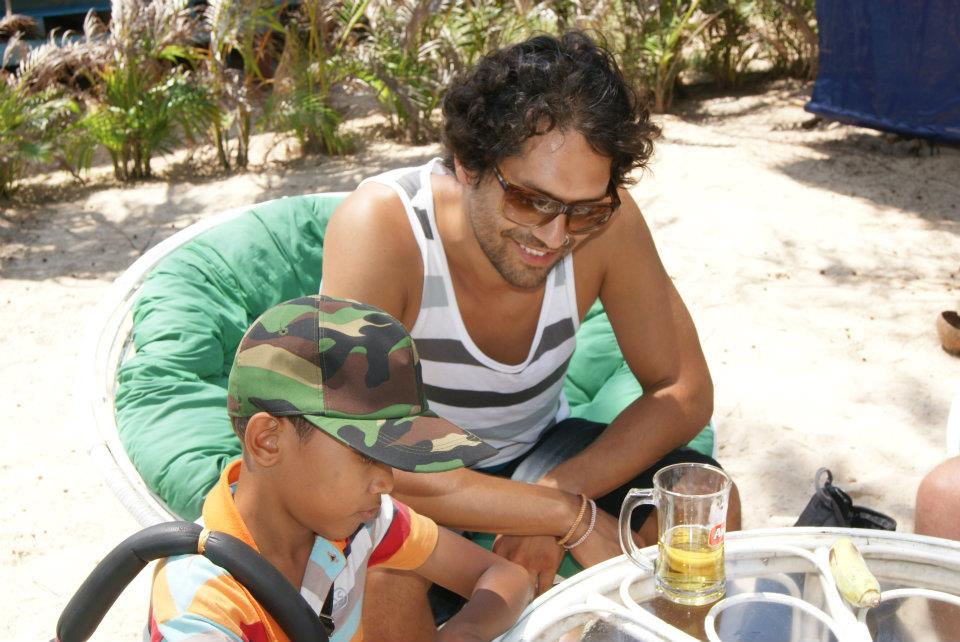 little Chan taking a math test with Alejandro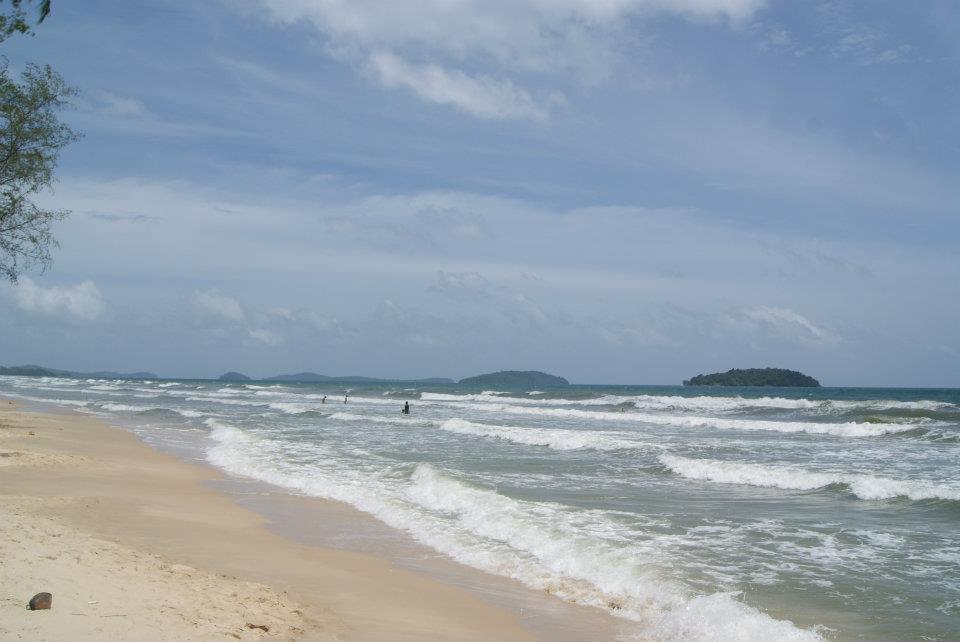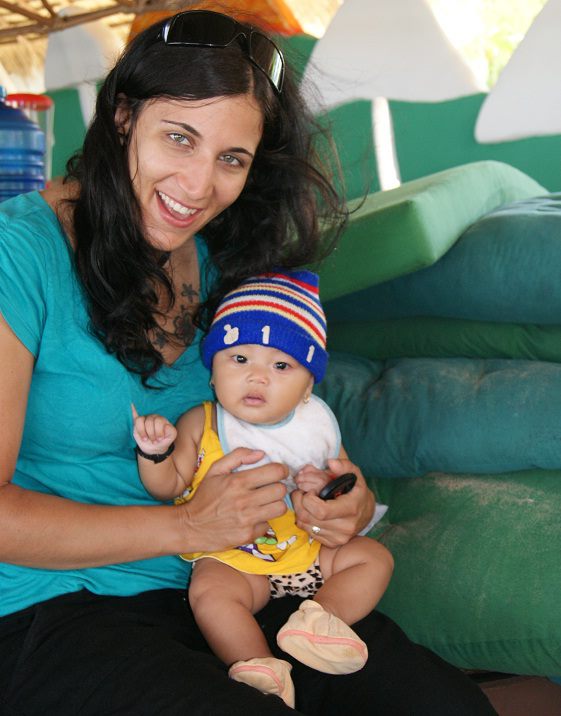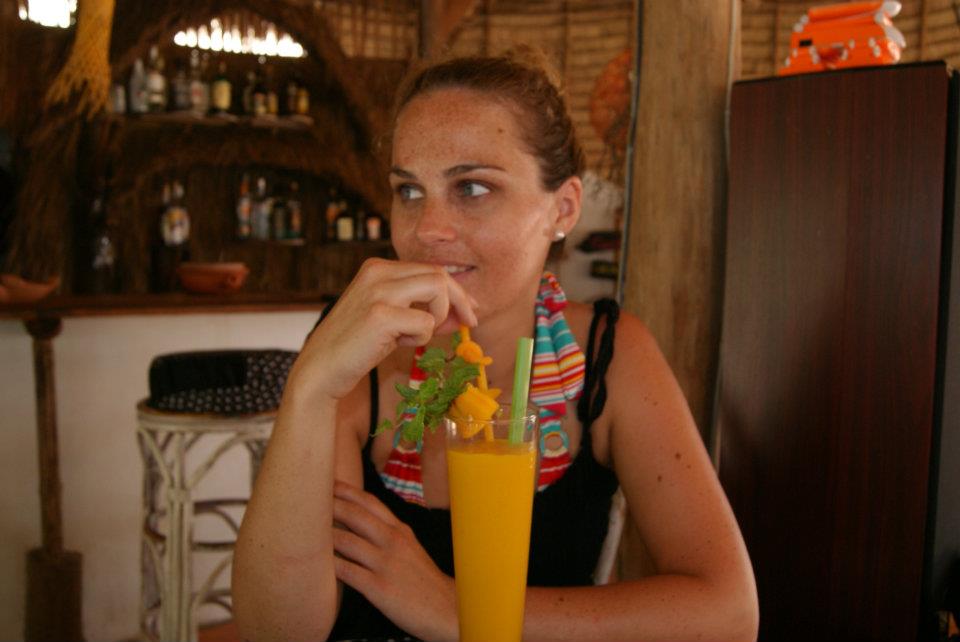 pura vida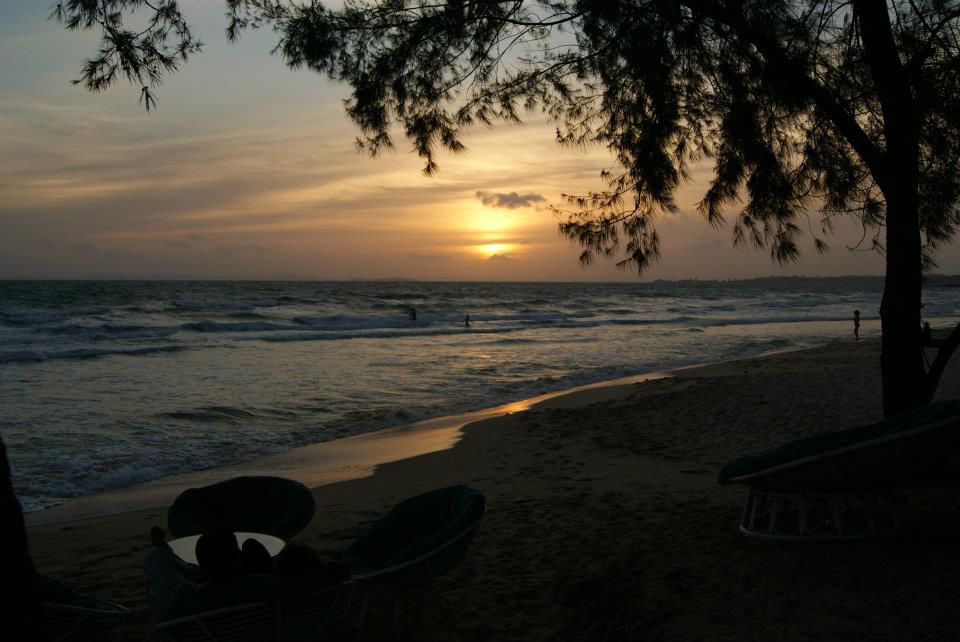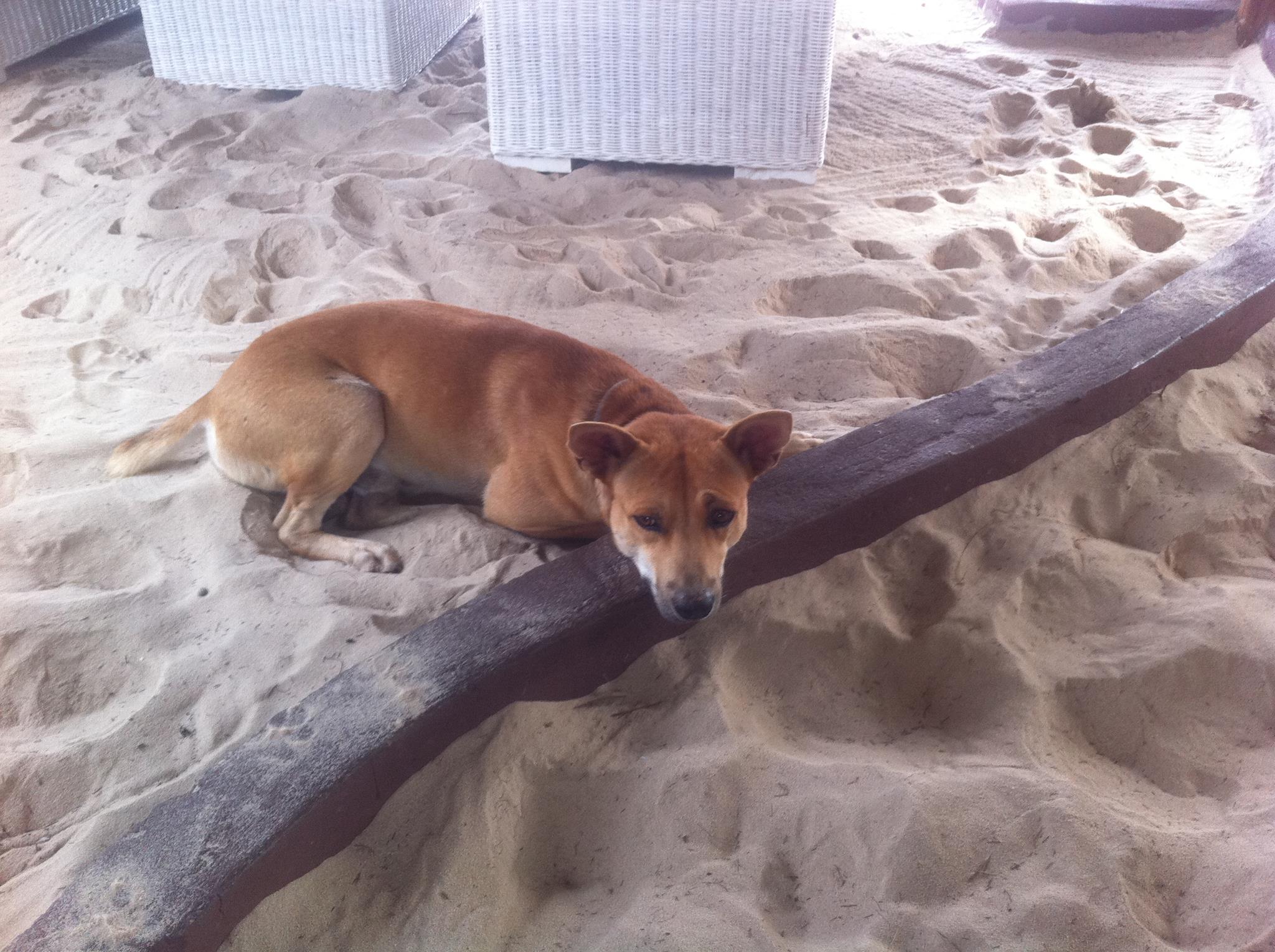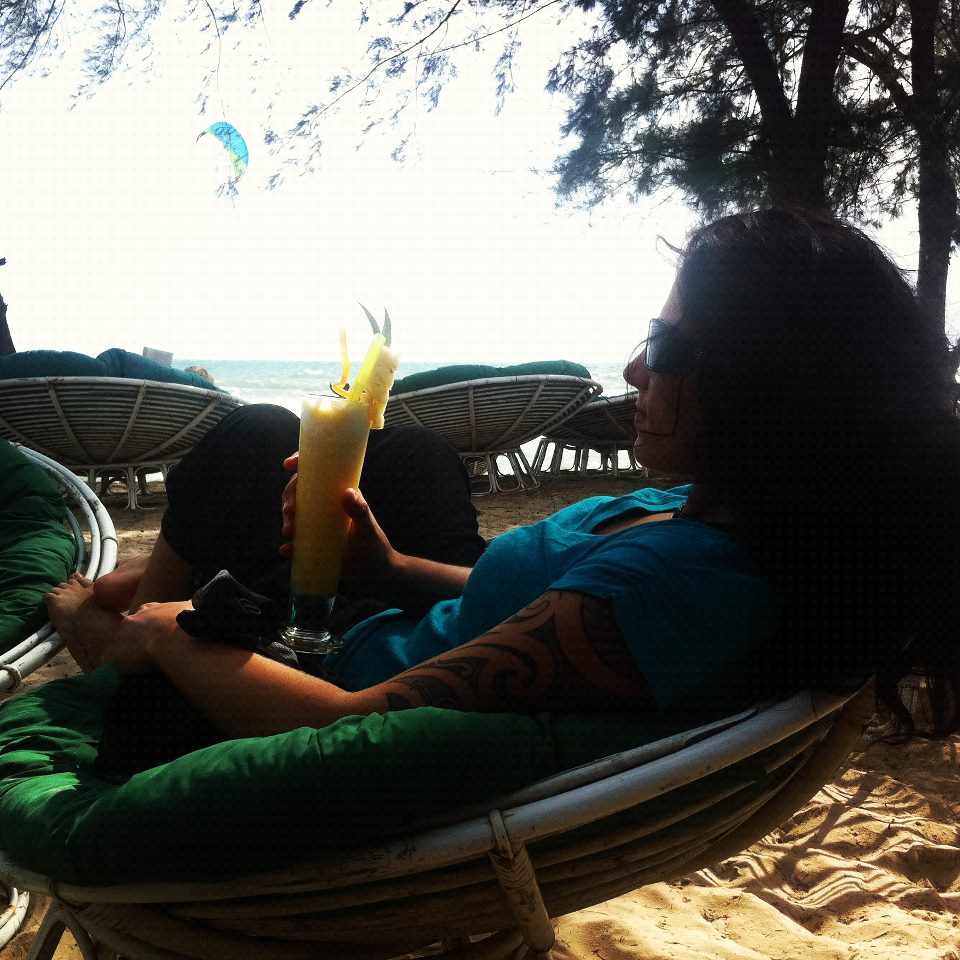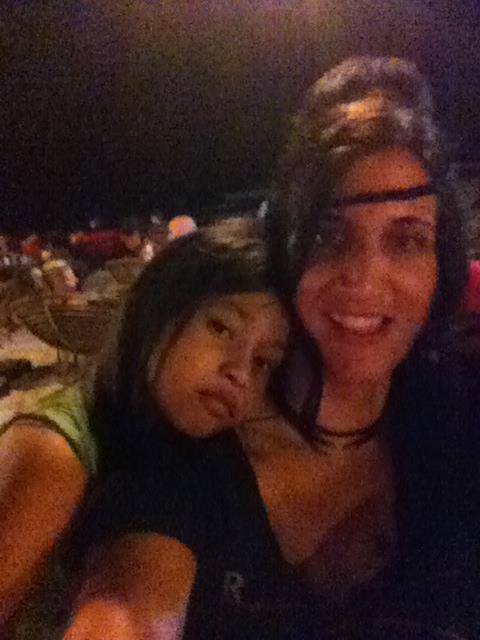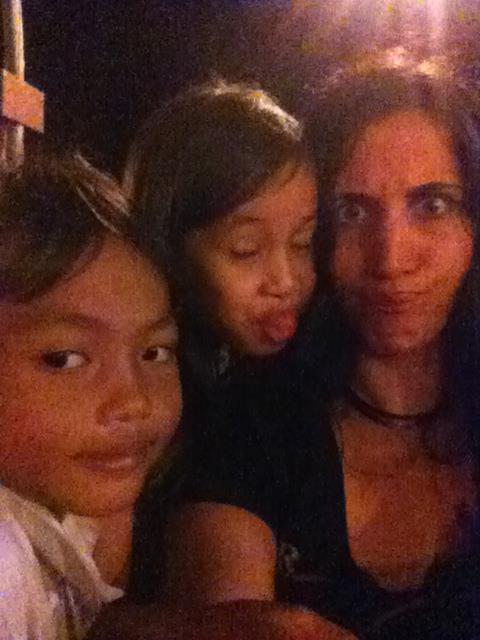 my new friends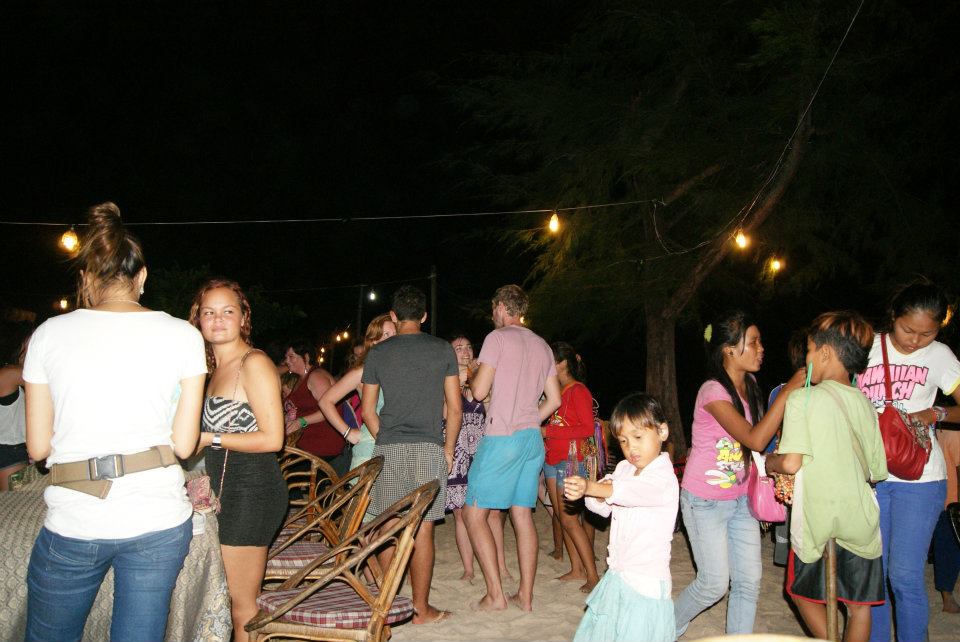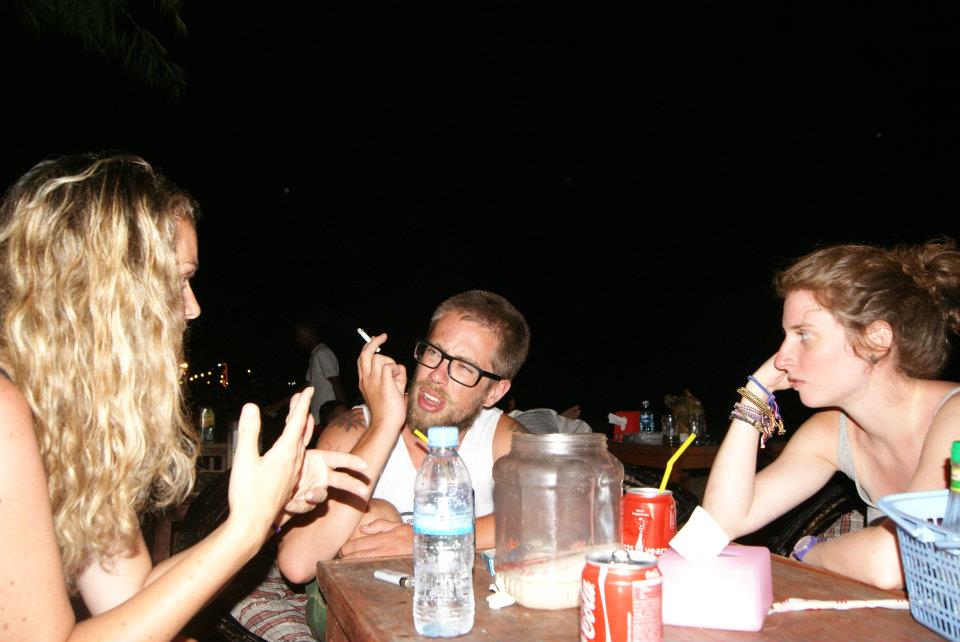 Ticinese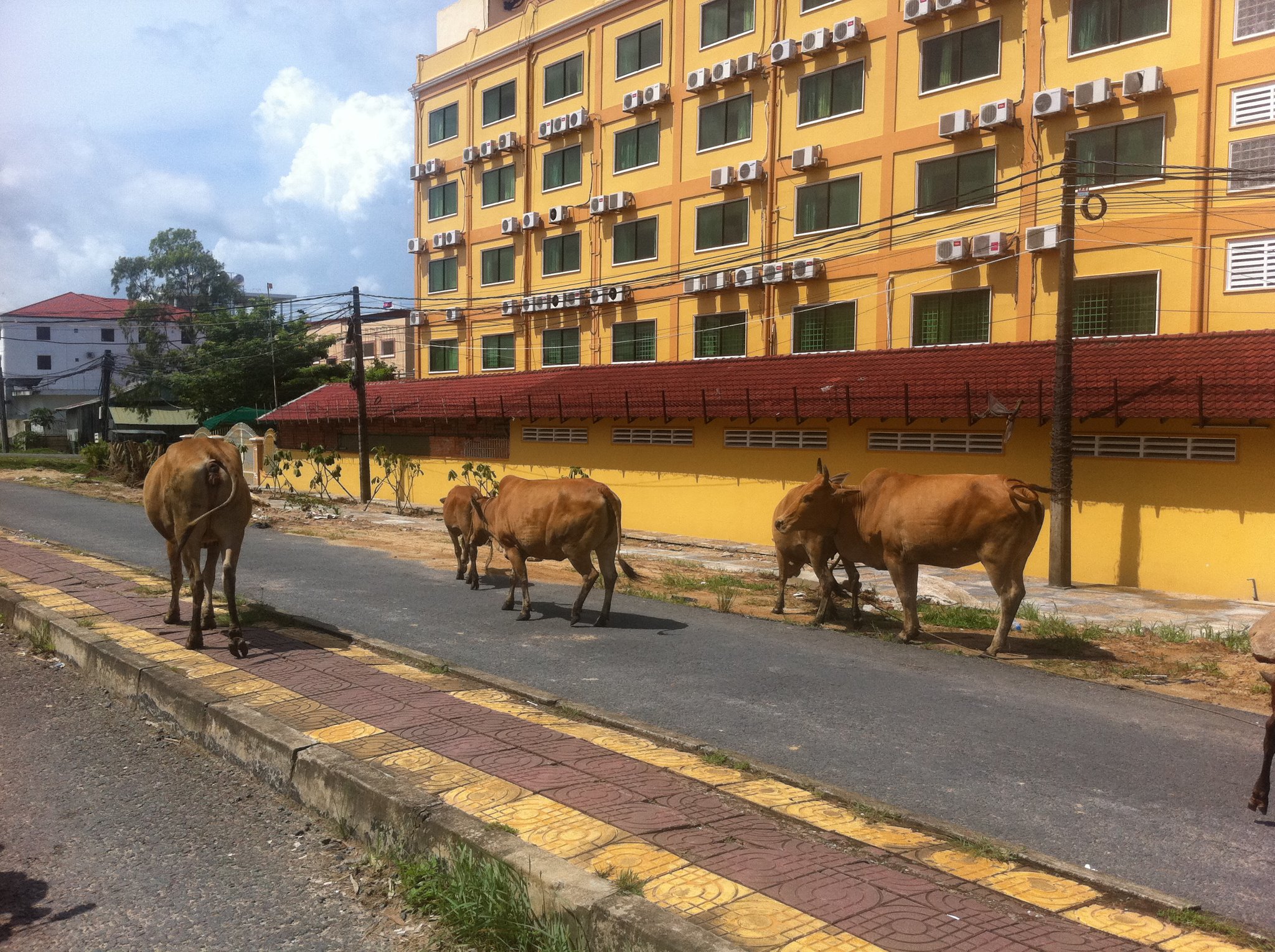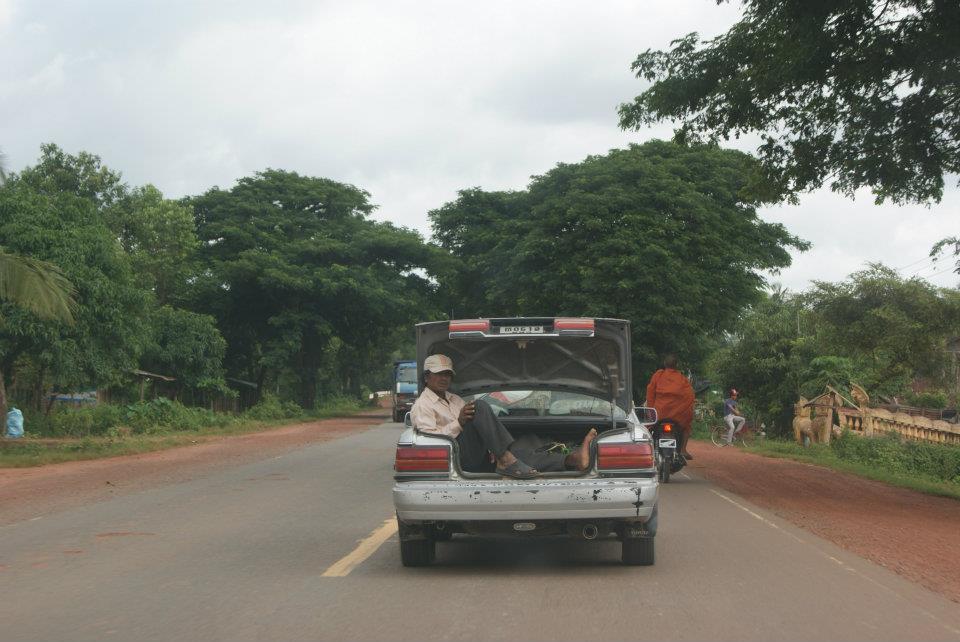 The original plan was to go from Sihanoukville to Koh Chang, an Island in Thailand, but we realized that it would take to long to get there by bus, so we stayed a couple of days longer in the South of Cambodia and took a bus back to Phnom Penh were we caught a flight back to Bangkok. We had 2 days left in Bangkok, to go to the weekend market and do some more sightseeing, it all worked out well.
Goodbye Cambodia....